Fan of bruschetta? Add a touch of luxury to it with this smoked salmon and smashed avocado and feta version. From a fancy dinner appetizer to a simple breakfast or lunch, this is light but fancy. Perfect with a glass of chilled white wine or champagne!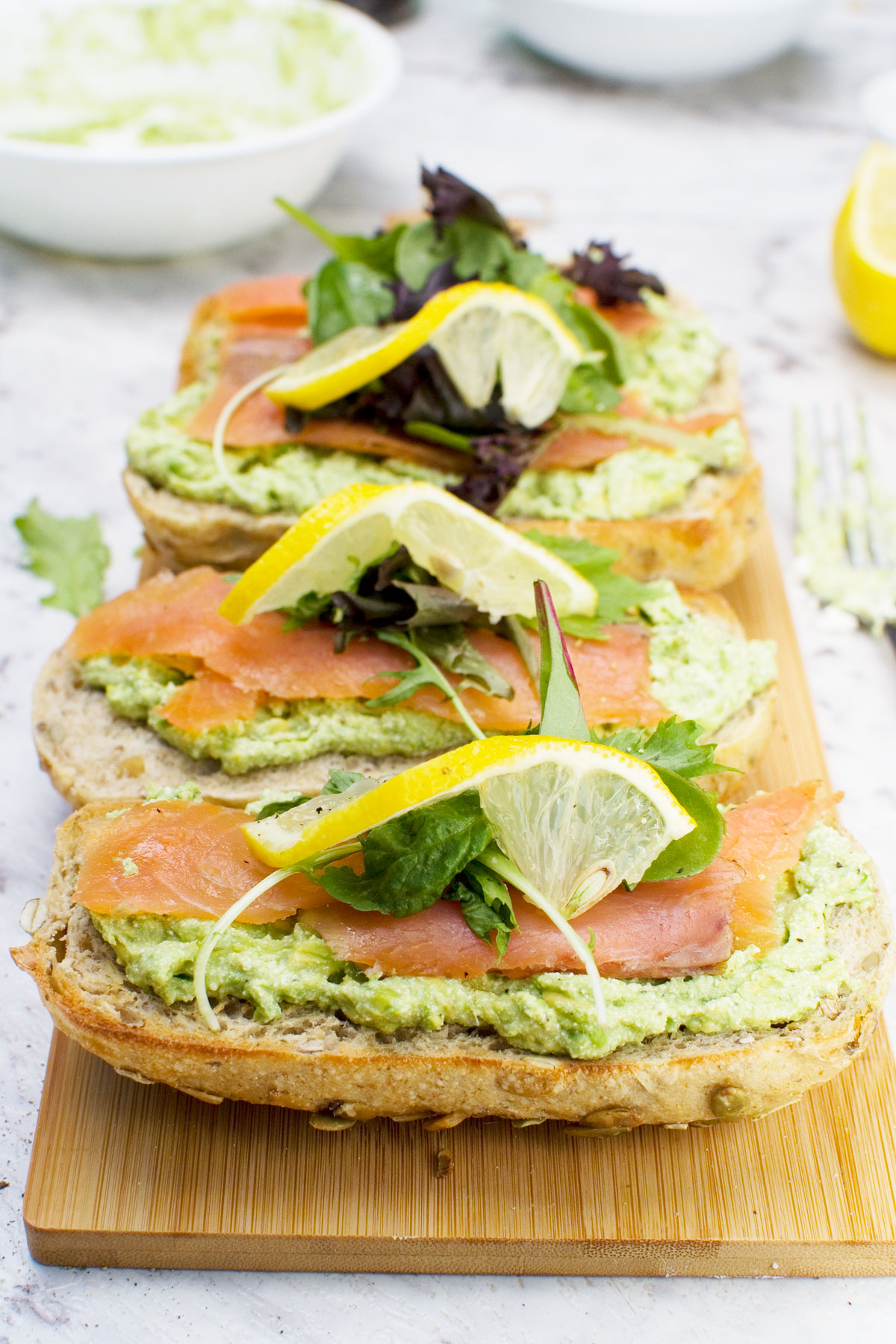 A luxury meal or snack in minutes
There's a lot to love about this simple but luxurious version of bruschetta.
Essentially, I'd describe it as a cross between a fancy smoked salmon bruschetta and a particularly yummy smashed avocado toast recipe.
To get to the point, it's simply avocado mashed with feta and lemon and topped with thin slices of delicious smoked salmon. It's simply perfect for a fancy brunch for a loved one or friend, an easy but impressive appetizer for your guests, or just a snack for yourself when you feel like treating yourself.
Ingredients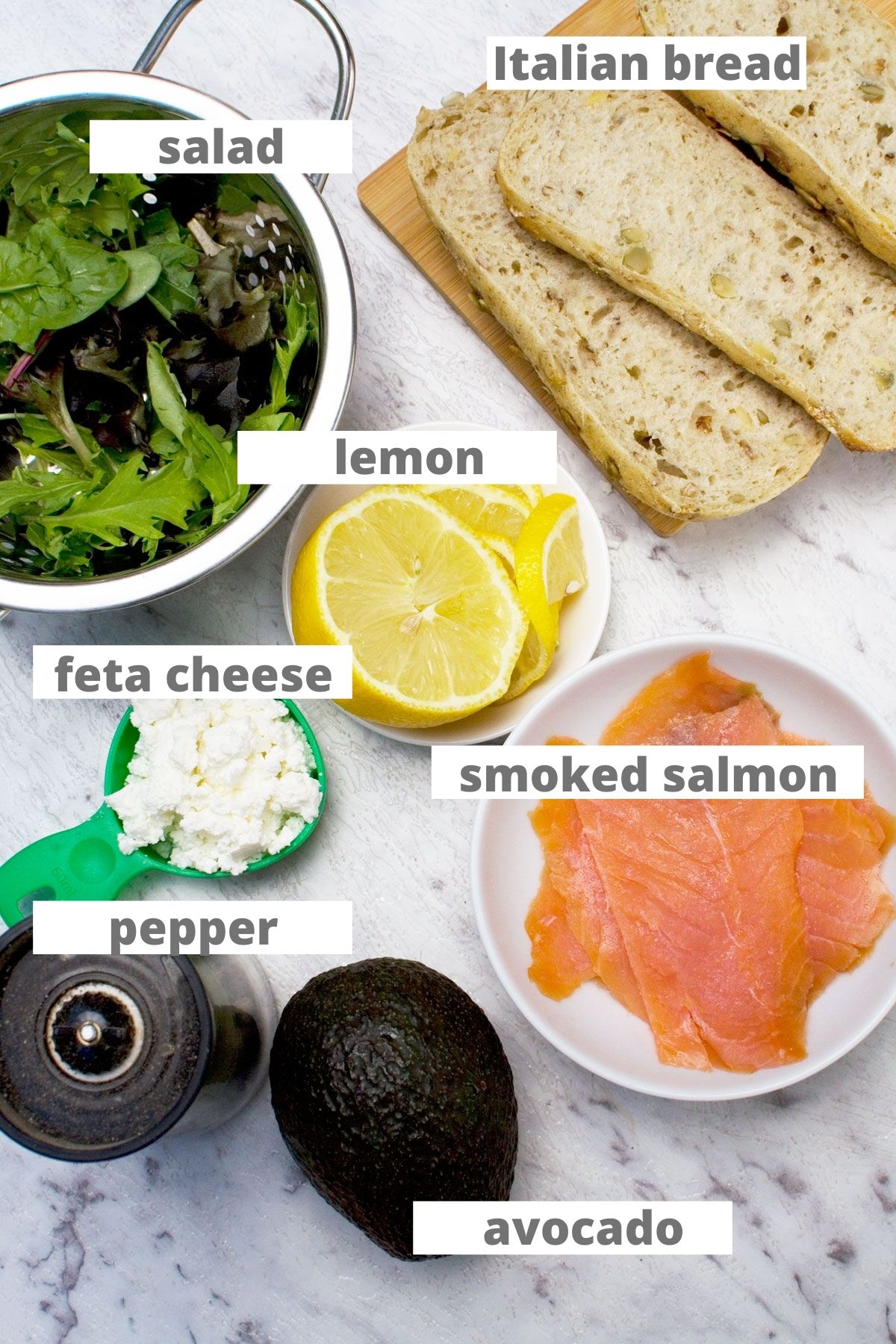 You might ultimately like to think of this as a fancy sandwich! 😉
Apart from your favourite Italian style bread (more on that later), this is all you need:
a ripe avocado
good quality feta cheese
a few squeezes of lemon juice
salt and pepper
some green salad leaves for garnishing
A little goes a long way
You might not think this is the cheapest of lunches. It isn't. But then again a little of each of the ingredients goes a pretty long way. For lunch for two you only need one avocado, about a quarter cup of crumbled feta cheese and a few thin slices of smoked salmon.
What kind of bread is best for bruschetta?
You can use any kind of rustic Italian style bread to make bruschetta. Lengths of French baguette work well, as does focaccia or ciabatta bread.
I happen to have an easy focaccia recipe here if you're interested in trying it. I call it shockingly easy!
You can even buy thin pre-packaged 'bruschetta' bread, but really you can use any kind of toasted flat bread you like.
How to make it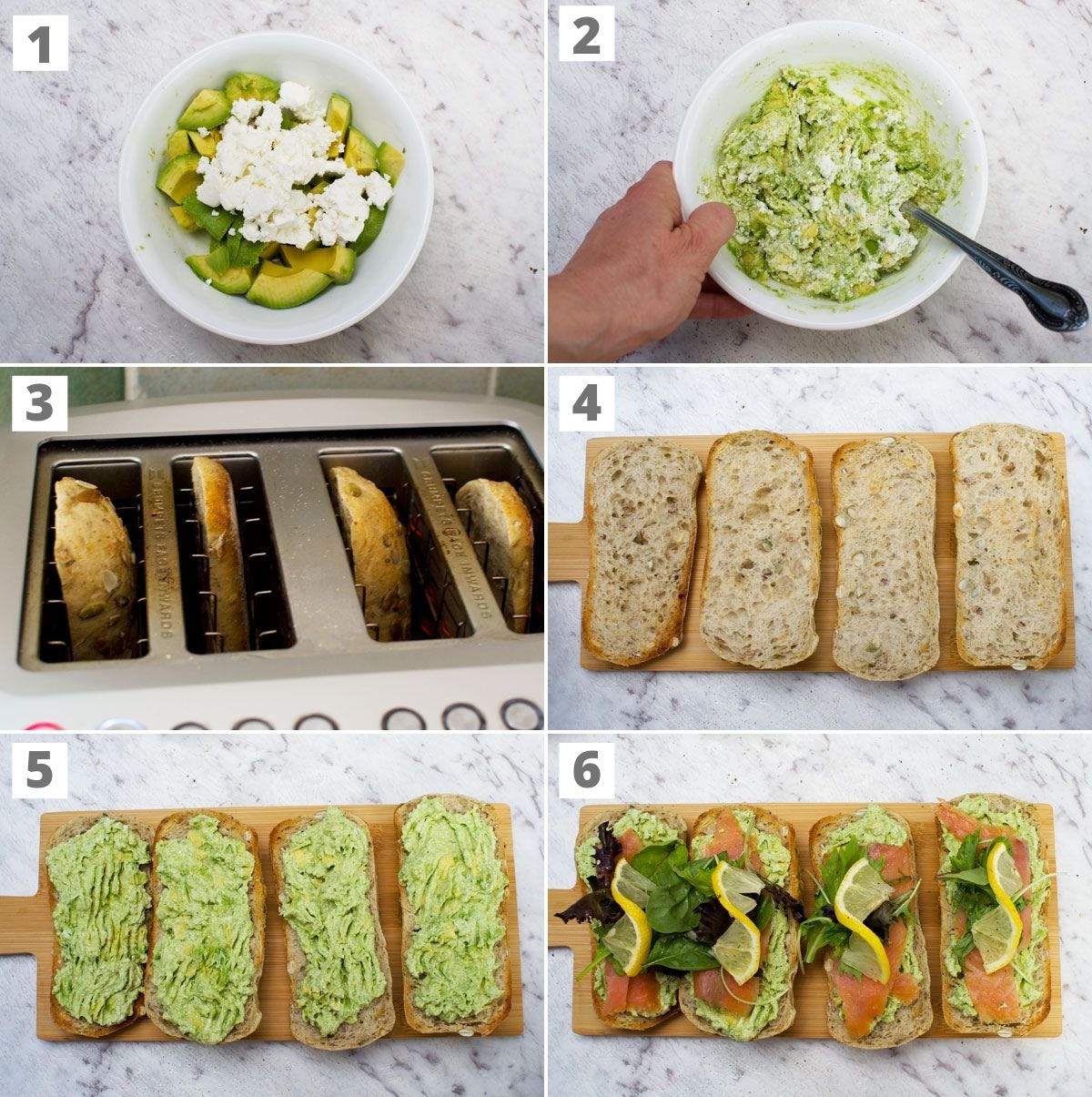 It's as easy as…
Step 1: Mash avocado. Add chunks of feta. Season.
Step 2: Lightly toast good rustic Italian style bread. Pile avocado feta smash on top.
Step 3: Top with thin slices of smoked salmon, a small handful of salad leaves, and a bit more lemon to garnish.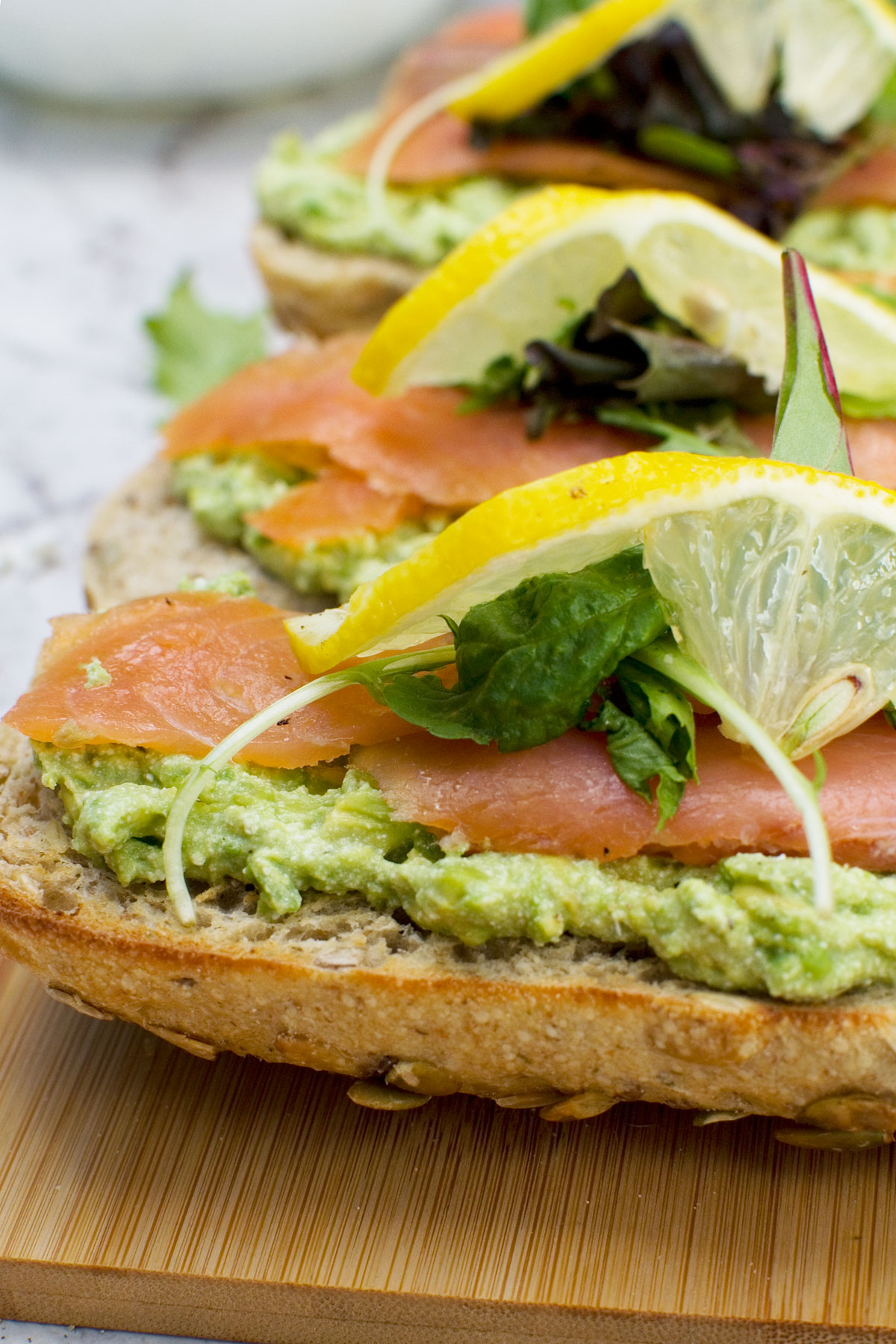 How to eat it
This salmon bruschetta is best made and served immediately when it tastes and looks beautifully fresh.
It's surprisingly adaptable. Serve it as:
a fancy but simple appetizer at a dinner party
a simple canape for a share plate or buffet (I'd make mini bruschetta for this)
an easy, healthy lunch to add a touch of luxury to an otherwise ordinary day 😉
a fancy brunch for your valentine (or for yourself – why not?)
Variations
Not a big fan of smoked salmon? This recipe works equally as well with prosciutto, pan fried chorizo or any kind of fancy ham on top.
You can even skip the fish/meat topping and just make an avocado smash bruschetta for yourself. Perhaps add some sundried tomatoes into the mix.
Here are more ideas of things you could add or sprinkle on top instead of (or as well as!) the salmon:
poached eggs
mixed nuts (pistachios, hazelnuts or crushed macadamias all work well)
dukka
chopped cherry tomatoes, basil and a drizzle of balsamic vinegar
bacon
your favourite salsa or chutney
More fancy-but-easy bruschettas
IF YOU MAKE THIS RECIPE, LET ME KNOW HOW YOU GET ON BY LEAVING A COMMENT AND RATING BELOW… AND DON'T FORGET TO SIGN UP TO RECEIVE ALL MY NEW RECIPES BY EMAIL!
FOLLOW ME ON FACEBOOK, INSTAGRAM, PINTEREST AND YOUTUBE.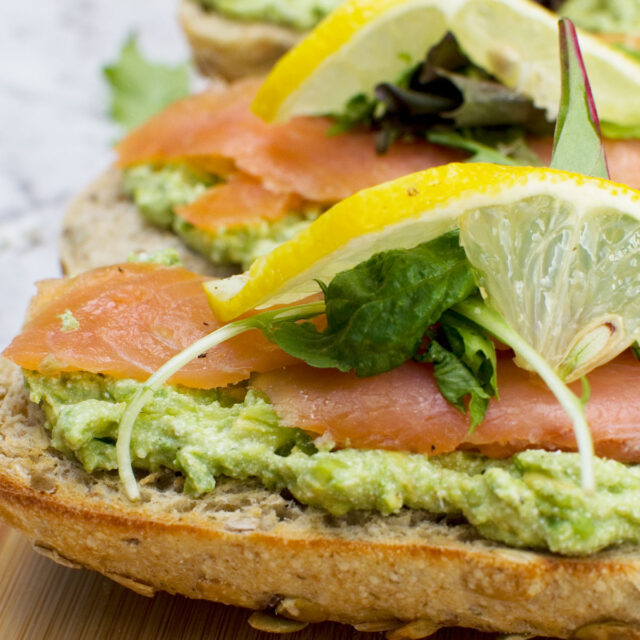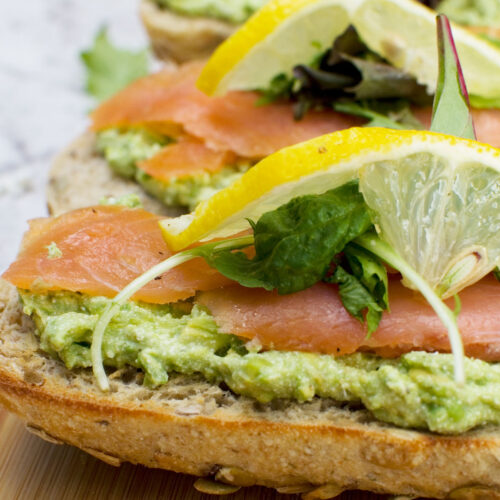 smoked salmon bruschetta with smashed avocado and feta
A light but luxurious lunch of thin and crispy Italian bread topped with smashed together avocado and feta cheese and smoked salmon. Perfect with a glass of chilled white wine or champagne!
Ingredients (UK/Australia? Click below for grams/ml)
1

avocado

ripe

¼

cup

feta cheese

1

lemon

black pepper

to taste

4

slices

bread

any flat(ish) Italian style e.g. ciabatta, focaccia, Turkish bread, bruschettini, even French style baguette

2.5

ounces

smoked salmon

(thin slices)

a few fresh salad leaves

I use a mix of fresh green leaves, but any are fine.
Instructions
Cut 2 thin rounds off one half of the lemon. Cut each in half and set aside.

In a medium dish, mash up the avocado. Then crumble in the feta and grind in some freshly ground black pepper. Stir in a few squeezes of lemon juice, or add more or less to taste.

Toast your bread in a toaster. Then top with the avocado-feta mixture and a slice of salmon (fold it a little if necessary).

Top each bruschetta with a few salad leaves. Twist each of the lemon slices slightly and add those to the top as well. Serve immediately.
Notes
What kind of bread to use: Any kind of fresh and flat(ish) Italian or French bread works.
You can easily replace the salmon with prosciutto or crispy bacon.
Note that the avocado feta mixture doesn't keep well so just make as much as you need to eat immediately.
Nutrition
Calories:
419
kcal
Carbohydrates:
42
g
Protein:
18
g
Fat:
22
g
Saturated Fat:
6
g
Cholesterol:
25
mg
Sodium:
786
mg
Potassium:
726
mg
Fiber:
11
g
Sugar:
6
g
Vitamin A:
257
IU
Vitamin C:
39
mg
Calcium:
196
mg
Iron:
3
mg