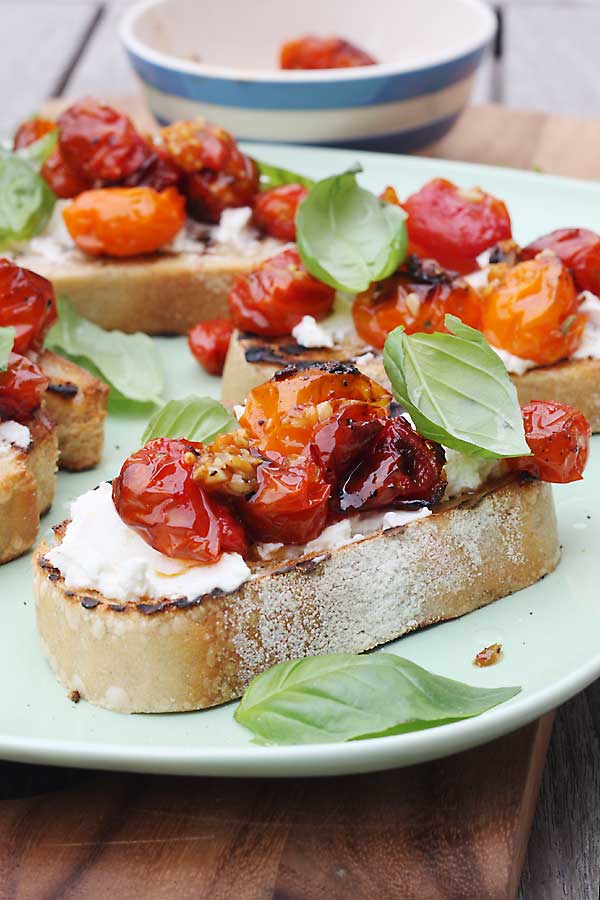 For years I shared an apartment in Greece with my wonderful friend Sarah. If the walls had had ears, they could probably write a book or two about the conversations we had. We cooked and giggled and gossiped and stayed up far too late watching episode after episode of whatever TV series we were hooked on at the time (Alias or 24, anyone? Yes, it was that long ago!) We had so much fun, but one thing I realised pretty quickly was that it wasn't a good idea to talk about anything I was even a bit concerned about at night.
A typical such not-a-good-idea conversation would go something like this. Me: 'Oh no, I've got to go to the tax office tomorrow before work. Oh my goodness, I'm going to be tired. I bet there'll be a really long queue and I'll be late for work.' Sarah: 'Oh no, don't be silly. It'll be fine.' Me: 'I don't think so. Everyone's going to start pushing and shoving and I might not have all the papers they need. Then I'll have to go again and that'll be awful, too.' And so we went on. As far as I was concerned, it was ALL bad!
In the morning, the glass would be half full again and I'd wonder why I'd freaked out so much over such a tiny little thing as having to go to the tax office (in Greece, that usually is a pretty frightful experience, but still, in the grand scheme of things it was nothing, let's face it). I still have a tendency to react like this (< Mr. Scrummy nodding in the background), so now I try to follow my self-imposed 'rule' about not dealing with tricky things when I'm tired. This doesn't always work, though. Take a few days ago when I decided to try making some veggie burgers. Basically, they didn't turn out how I was hoping. OK, no big deal really, but I was left feeling a bit frustrated about all the ingredients I'd bought and lugged home from the shops on foot and all the time I'd spent trying to create these burgers that had been so great in my mind.
Afterwards, Mr. Scrummy and I went for a little walk and, tired, I started to grumble and worry aloud about all sorts of things (Me: 'Now I need to find another recipe to post tomorrow. I can't find any ricotta cheese. We don't have a car to go and look for some. How come we can't just get somewhere to live and be normal?' etc. etc. etc.) Everything was baaaaad, just like in my midnight conversations with my friend.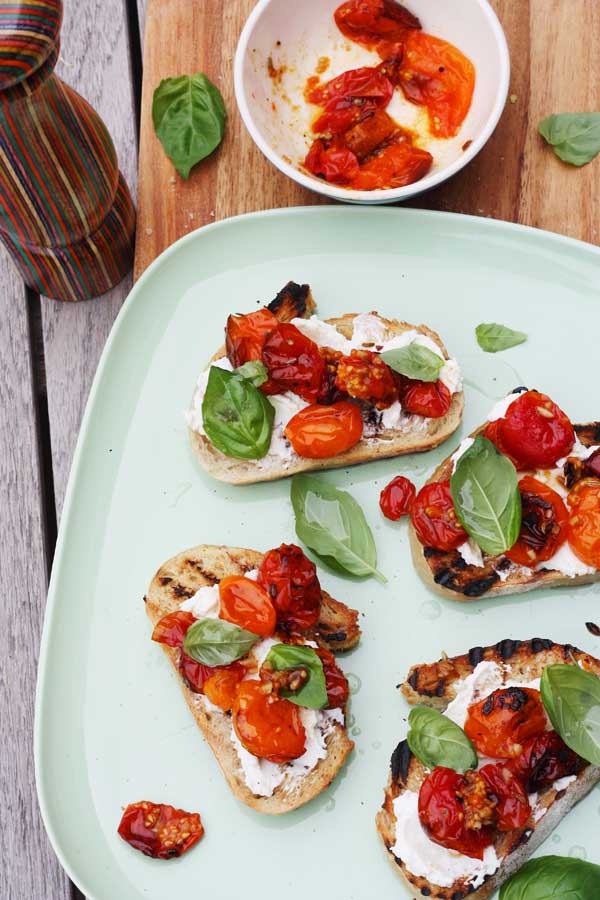 Oh dear. Time to chill out and make something simple that I knew couldn't really fail. Enter these slow-roasted tomato and ricotta bruschetta, the recipe for which I shamelessly barely adapted from the latest issue of the UK Delicious magazine where I always seem to find a great recipe in a pinch. To make these I knew I wouldn't have to struggle too much to manage without my favourite appliances or find everything in a kitchen not my own; just because it was so simple.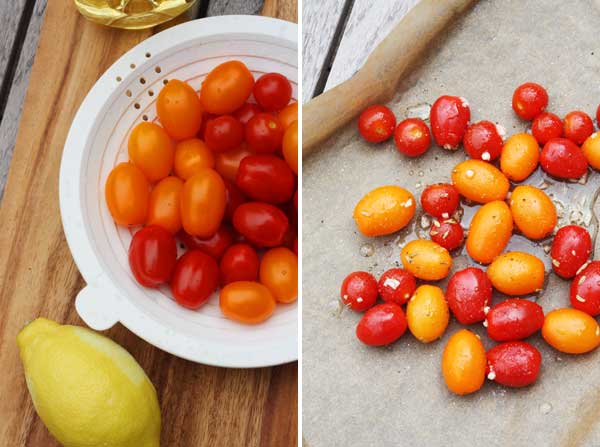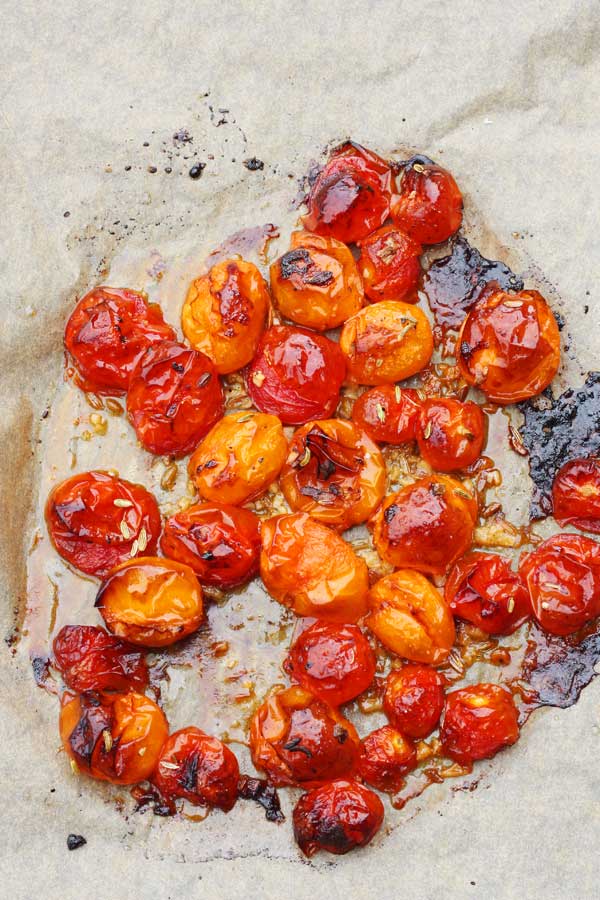 So, so simple, in fact. Just toss a selection of mini tomatoes (different colours, if you can find them) with good quality olive oil, crushed garlic, fennel seeds and a little sugar, then slow roast for an hour. Char-grill slices of crusty bread on a griddle pan such as this one, then top with a mixture of ricotta and lemon zest followed by the beautifully sweet and sticky tomatoes and some fresh basil leaves. Honestly, one of the most delicious little snacks I've had in ages. And I even had this 'little helper' while I was taking my photos: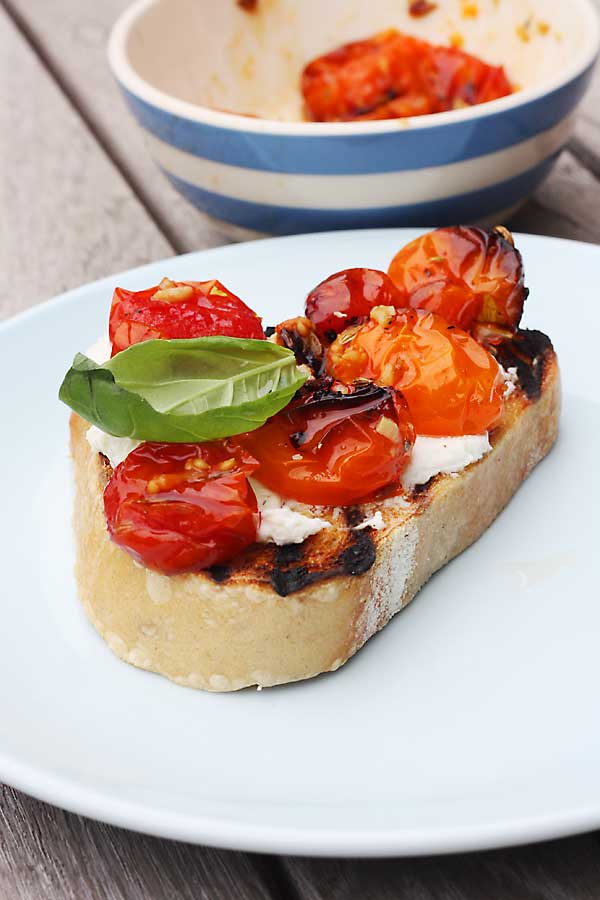 So how do you react when things don't go according to plan? Do you freak out a bit like me (especially when tired!) or take it all in your stride? If you're in the second group, give me some lessons … please!
Oh, and I just joined Instagram (= addictive already) so do follow me if you feel so inclined. Thank you!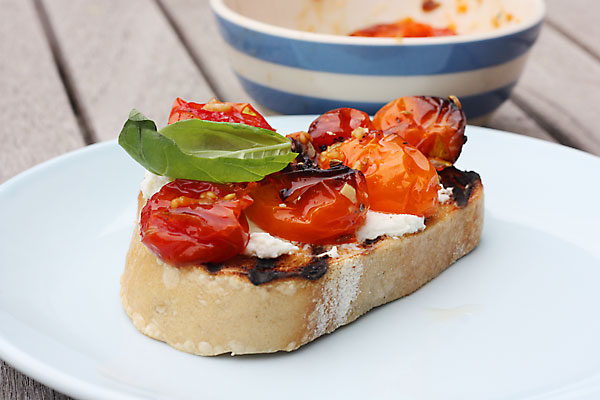 slow-roasted tomato & ricotta bruschetta
Char-grilled fresh crusty bread topped with lemony ricotta and sticky slow-roasted baby tomatoes. A beautifully tasty little snack!
Ingredients (UK/Australia? Click below for grams/ml)
10

ounces

mixed baby tomatoes

I used a pack of 3 different types

2

tablespoons

extra virgin olive oil plus a little extra for drizzling

1

garlic clove

crushed

1/2

teaspoon

fennel seeds

crushed

1/2

teaspoon

sugar

3/4

cup

ricotta cheese

zest of 1/2 a lemon

4

slices

of fresh crusty bread

I used sourdough

fresh basil

to serve

salt and pepper for seasoning
Instructions
Pre-heat the oven to 300F/150C and line a baking tray with baking paper. Put the tomatoes, oil, garlic & fennel in a bowl and toss to combine, then tip out onto the baking tray and bake for 1 hour.

Meanwhile, mix the lemon zest into the ricotta. After the tomatoes are done (they should be golden and sticky), set them aside to cool a little while you char-grill the bread on both sides on a hot

griddle pan

.

Spread the toasts with the lemony ricotta, spoon over the tomatoes and juices (pour and scrape the juices off the baking tray and onto the toasts) and scatter each with a few of the basil leaves. Lastly, grind over plenty of salt and a little pepper, drizzle over a little more olive oil and serve. Mmmm!
Notes
Barely adapted from 'slow-roast confit tomato and ricotta crostini' from UK Delicious magagine (June 2014 edition). Thank you for the inspiration!
You could make this with a different soft cheese such as goat's cheese if you like. Or you could spread your toasts with a good quality pesto instead of cheese if you want to go dairy-free or vegan.
Nutrition
Calories:
234
kcal
Carbohydrates:
18
g
Protein:
8
g
Fat:
14
g
Saturated Fat:
5
g
Cholesterol:
23
mg
Sodium:
192
mg
Potassium:
253
mg
Fiber:
1
g
Sugar:
4
g
Vitamin A:
550
IU
Vitamin C:
16.4
mg
Calcium:
145
mg
Iron:
1.7
mg
I hope you enjoyed this post! You can subscribe to receive posts directly to your inbox by entering your email address in the box below or at the top of the sidebar on the right.
You can also find more from Scrummy Lane on Facebook, Pinterest, Twitter and Instagram and follow me on Bloglovin! Thanks so much for reading!
*This post contains affiliate links which means that if you click on a link and make a purchase I get a small percentage of the amount you spend. At no extra cost to you, of course! Thank you!*