Bruschetta – one of my favourite appetizers. And guess what – you can branch out a little from the traditional tomato and garlic version!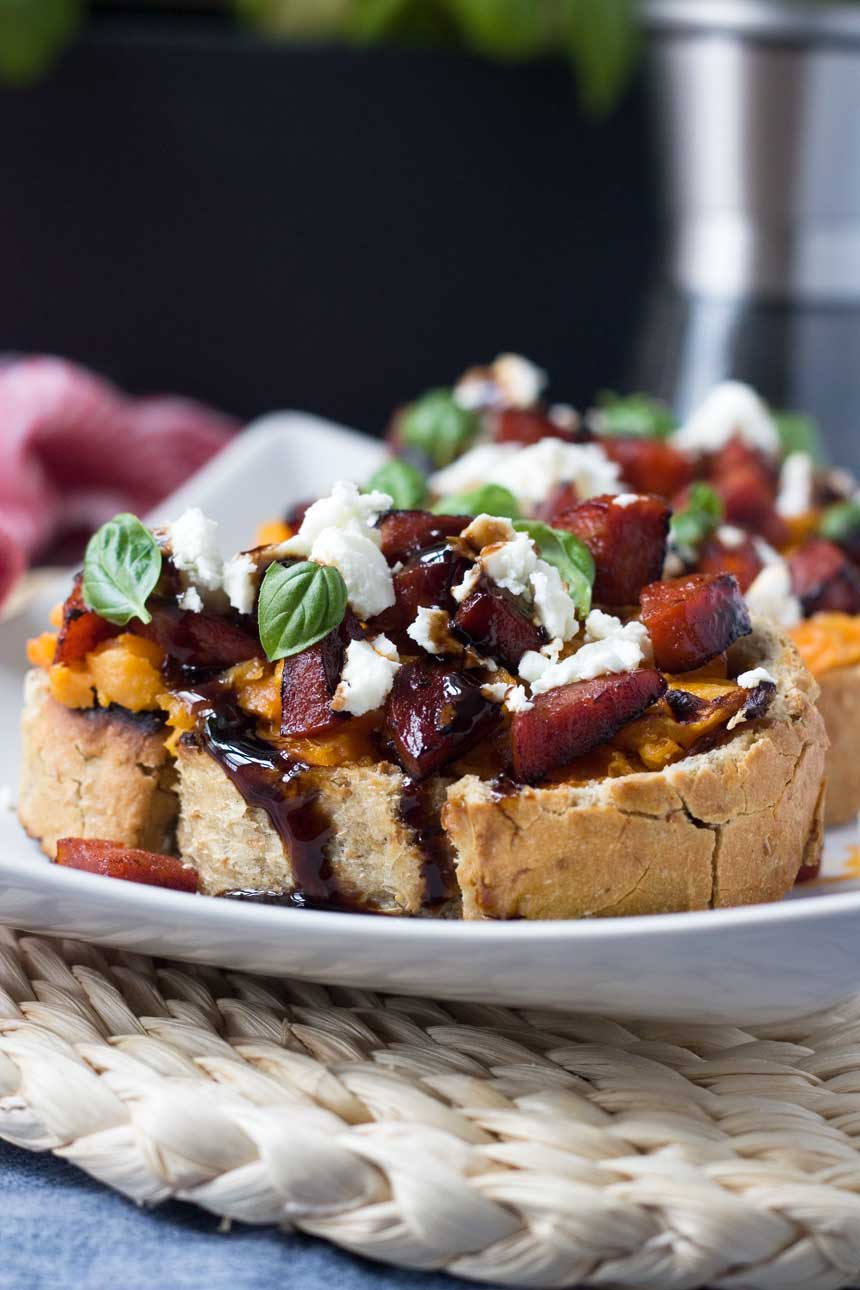 Mr. Scrummy and I often go out for a local 'cheap and cheerful' breakfast at the weekend, which means that we usually don't need any lunch.
But you know how it is. You may feel like you're never going to be able to eat a morsel again, but come mid afternoon and you're reaching for the snacks to get you through to dinner. And if you're in our house those snacks generally aren't of the healthy variety!
So this past weekend I decided to whip up a slightly healthier little pre-dinner bite when the munchies hit several hours after our big breakfast.
I'd bought some delicious fresh bread and just happened to also have sweet potatoes, chorizo and feta to hand.
I LOVE this combo of flavours and similar (take this pumpkin, chorizo and feta salad, for instance – it's heavenly!). There's just something about the sweetness of the sweet potato, the saltiness of the feta, and the smoky 'umami' quality of the chorizo that really is a match made in heaven.
And this is SO easy to make (but of course!). Just chop and roast the sweet potatoes with a little oil, then pan fry the chorizo for a few minutes. Smush the softened potatoes onto toasted bread drizzled with olive oil and sprinkled with salt, then scatter over the chorizo and a bit of crumbled feta.
Finish with a nice drizzle of balsamic glaze – if you like!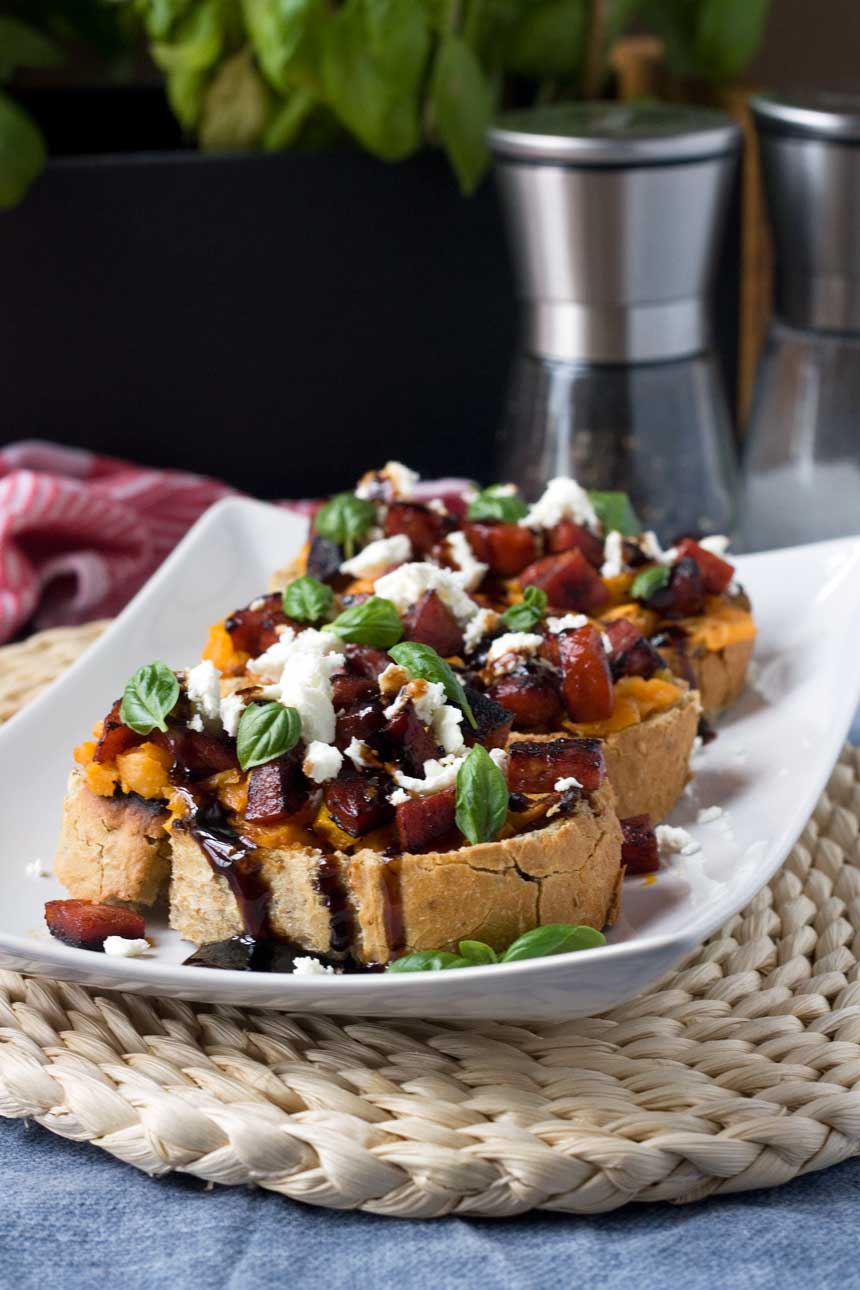 This is a pretty posh little snack to make for yourself between meals, don't you think? Nothing wrong with that of course, but I reckon this 'posh' bruschetta would make a great little appetizer at a gathering or dinner party, too. You could stick with these large-ish versions, or use slices of French bread to make smaller bite-sized treats.
These are a different sort of bruschetta to the usual, but still very simple, in the proper Italian tradition. There are only 3 main ingredients, after all.
So tell me… do you ever go out for brekky at weekends, and what do you order? Do you still get hungry later on, and what do you have for a snack?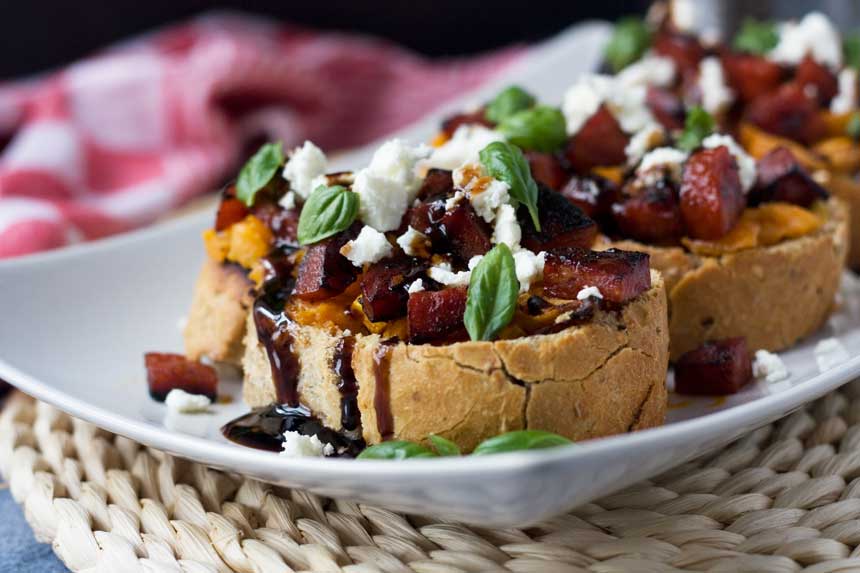 Sweet potato, chorizo and feta bruschetta
I love brushcetta, and I love the combination of these three delicious ingredients - sweet potato, chorizo and feta. This unusual Italian snack is well worth a try!
Ingredients (UK/Australia? Click below for grams/ml)
1

sweet potato

peeled and chopped into fairly small cubes*

oil for roasting

dried herbs and seasoning of your choice

basil, oregano, thyme, sage, salt and pepper…

3.5

ounces

chorizo

peeled and cubed

fresh crusty bread of your choice e.g. ciabatta

french baguette

olive oil for drizzling

a little feta cheese for crumbling over

balsamic glaze

optional
Instructions
Pre-heat the oven to 180C / 355F.

Scatter the sweet potato cubes over a baking tray, drizzle with a little oil and shake over any herbs you'd like to add, as well as plenty of salt and pepper

Roast for 20 to 30 minutes or until soft and starting to caramelize.

Five minutes before the sweet potatoes are done, dry fry the chorizo cubes.

Toast slices of bread, then drizzle with a little olive oil and grind over a little salt.

Pile on the sweet potato, and squish into the bread. Scatter the chorizo and feta over the top.

Drizzle with balsamic glaze (if using). Enjoy!
Notes
*Butternut squash or regular pumpkin works well too (about 270 grams / 9.5 ounces) - just roast for about the same amount of time or until tender
Nutrition
Calories:
281
kcal
Carbohydrates:
14
g
Protein:
12
g
Fat:
19
g
Saturated Fat:
7
g
Cholesterol:
43
mg
Sodium:
648
mg
Potassium:
416
mg
Fiber:
1
g
Sugar:
2
g
Vitamin A:
9220
IU
Vitamin C:
1.6
mg
Calcium:
19
mg
Iron:
1.2
mg
Why not save this to your Appetizers Pinterest board for later? 🙂
Would you like to follow me on Pinterest, too? I'm always pinning tasty food!