Last Updated on
Satay lovers stop right here! I love chicken satay, but it takes a while to thread the meat on the skewers, cook up the peanut sauce, marinate, etcetera etcetera. This spicy Thai peanut chicken is cooked in one baking dish … and you can have it on the table in under an hour! 
I often have a Saturday morning cooking show on in the background while I'm pottering around, and one regular little feature they do is have a celebrity face their 'food heaven' and 'food hell'.I enjoy this, although strangely I mostly find myself mouthing 'mmm' at their food hells and 'yuck' at their food heavens!
Maybe you can guess roughly what I'm going to say next … pretty much any meal with peanuts in it is my food heaven. I'm also a huuuge fan of quick one-pan chicken meals, for quite a few reasons (hardly any time, hardly any washing up, shove in oven and forget etc. etc.).
Now I know you're sitting there wondering what my food hell is! Well, the one that immediately jumps to mind is the big fat sausage of black pudding type stuff (called boudin) that I was once virtually force-fed in France. It's a whole story, but even now I can remember the awful taste and it makes me feel a bit queasy, so I think I'd better get back onto this delicious spicy Thai peanut chicken instead!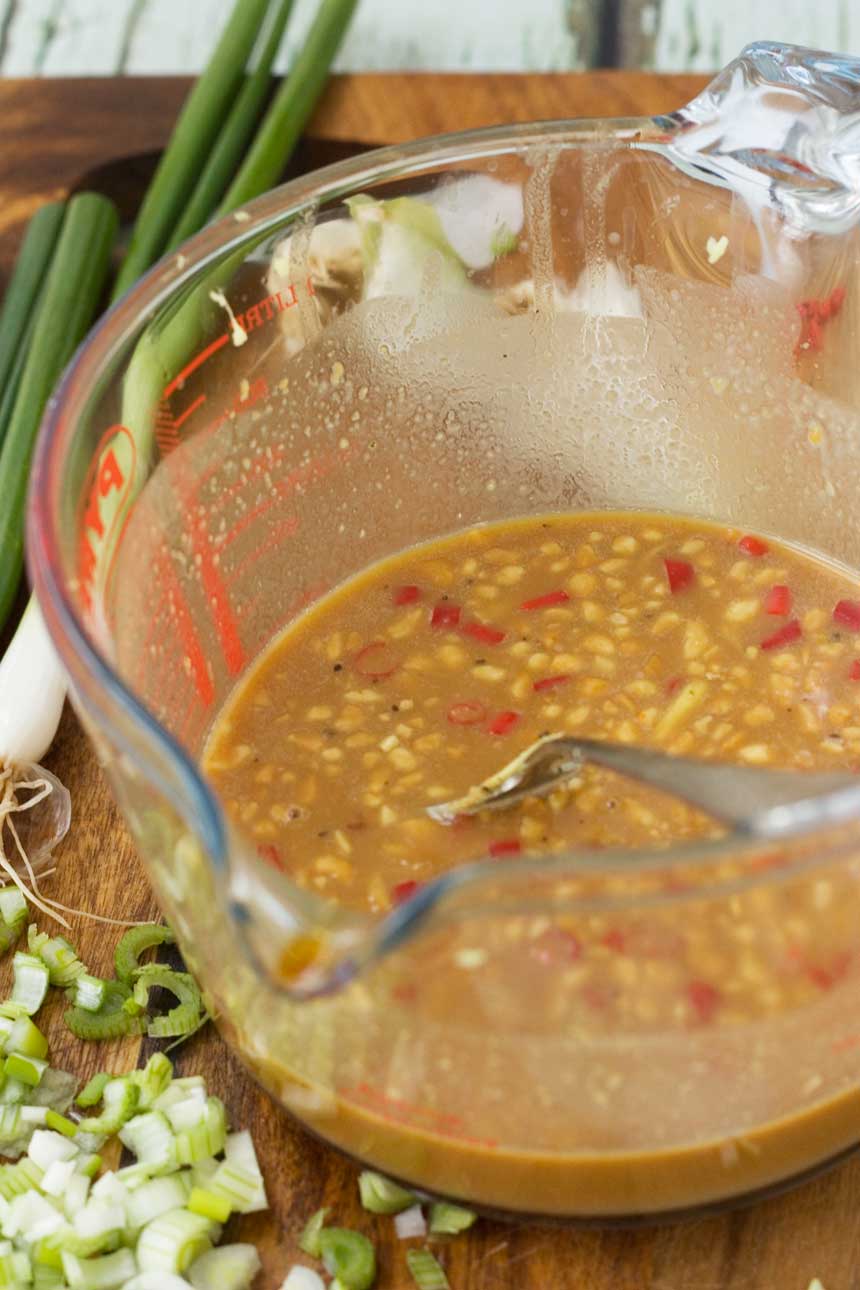 Oh, spicy Thai peanut chicken, you are adorable! And if you like chicken satay, I think you will DEFINITELY find it adorable, too. As I was eating it, the phrase 'spicy Thai peanut chicken, where have you been all my life?' kept running through my mind. I didn't want the meal to end. Honestly, it was DE-licious times about 50.
So, so easy to make…
The best thing is it took hardly ANY effort to make at all. It's one of those meals that pretty much makes itself. You just whisk together a sauce of:
peanut butter
coconut milk
chicken stock
rice wine vinegar
soy sauce
fresh red chili
garlic
honey & ginger
then pour the whole lot over chicken thighs and bake for just over half an hour.
And that's it. Done. Just spoon the chicken and sauce into a nice serving dish, sprinkle over colourful chopped green spring onions, red chilis and extra crushed peanuts chopped up in a mini food chopper/processor
(and lime if you aren't as dim as me and actually remember!). Then serve with rice and maybe a simple green salad and a bit of something like naan or popadoms to mop up all that lovely sauce. And let me tell you there is a LOT of sauce, because that's how we like it around here!
I actually think this would be a great dish to serve to guests – so long as no one regards peanuts as their food hell. OK, so maybe check that … 😉
One more word of warning. I stupidly forgot to wear gloves when chopping up my chilis. Total rookie mistake. So … ooouch! Aieee! Ooooh! Moments after finishing eating, my hands were on fire. I had to sit there on the couch with my hands in a glass of cold water to try to cool them down. They hurt ferociously for HOURS. So please do try making this yummy meal, but DON'T DO THAT.
So… food heaven? Food hell? What are they for you?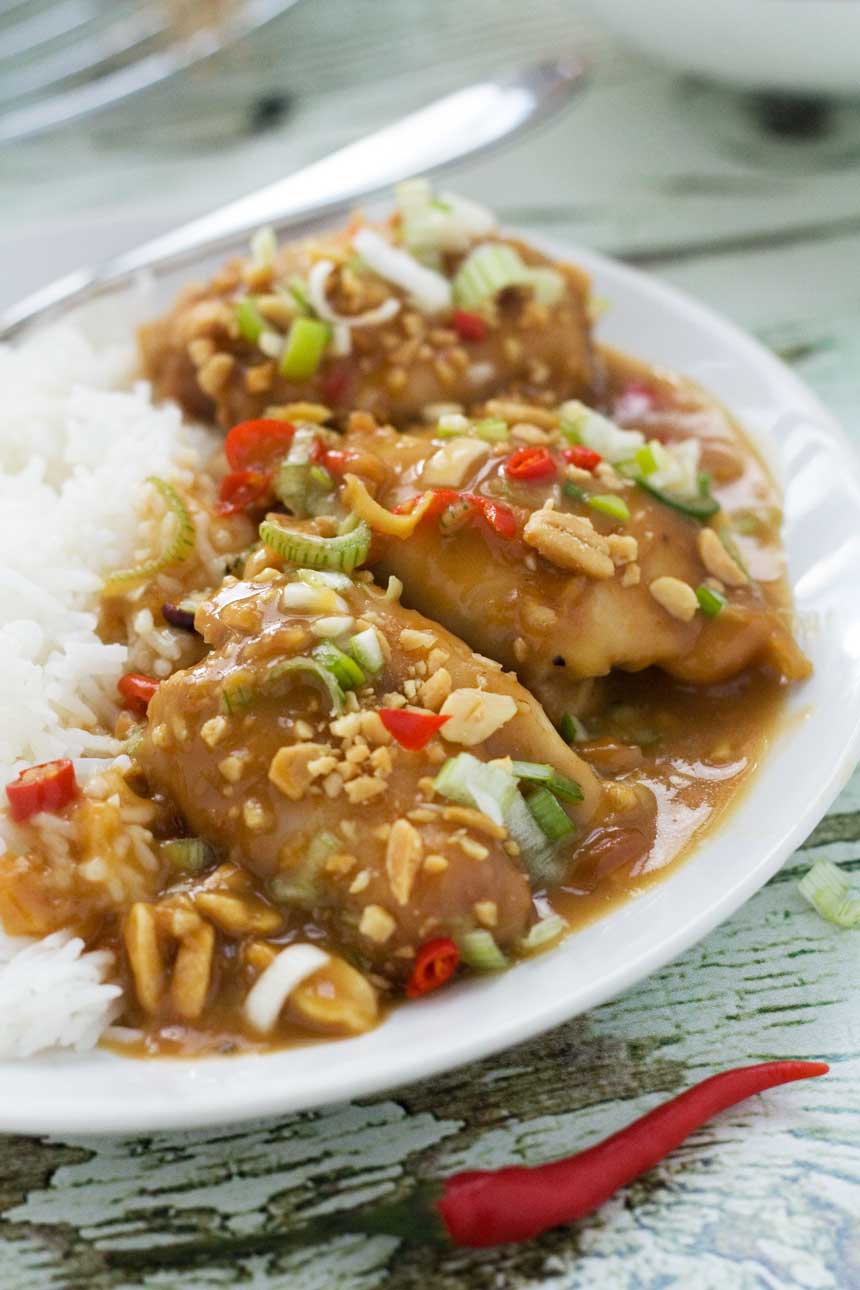 If you like this recipe, I have a feeling you'll also love this chicken and butternut squash satay curry. It's aMAZing, and on the table in only 40 minutes.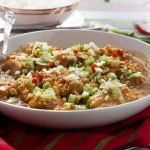 Print
One-pan spicy Thai peanut chicken
Chicken thighs cooked in a spicy Thai-style peanut sauce. If you like satay, you'll LOVE this. It takes moments to whisk up the sauce and just over half an hour to bake. The finished dish is drowned with sauce and tastes absolutely delicious. Sprinkle with spring onions, fresh red chilli and more nuts and devour. Mmmm!
Ingredients (UK/Australia? Click button below for grams & ml)
Chicken
0.25

cups

peanut butter

0.25

cups

soy sauce

0.25

cups

coconut milk

0.25

cups

chicken stock

blended into 2 tablespoons cornflour

3

cloves

garlic

crushed

ginger

(thumb-width piece, at least)

2

tablespoons

honey

2

tablespoons

rice wine vinegar

(I used Japanese mirin, but Chinese is fine, too)

2

chilis

small red

1.5

pounds

chicken thighs

skinless boneless (I used 10 smallish ones)
Toppings & accompaniments
3

scallions

(spring onions), chopped finely

1

handful

peanuts

salted is fine, crushed in a food processor or bashed with a rolling pin in a plastic bag

1

more red chili

chopped finely

lime wedges

rice or rice noodles

to serve
Instructions
Preheat the oven to 180C/355F.

Slowly blend the soy sauce into the peanut butter in a jug or medium bowl, then blend in the coconut milk & stock/corn flour. Stir in the garlic, ginger, honey, rice vinegar & chilis.

Arrange the chicken thighs in a large baking dish, then pour the sauce all over them. Cover with aluminium foil and bake for about 35 minutes or until the chicken is cooked through and the sauce bubbling and thickened a little (10 minutes before the end of cooking time, remove the foil, spoon the sauce all over the chicken again and then return to the oven uncovered - you might need to cook for a tiny while longer depending on the size of your chicken thighs. Also see notes below for another tip!)

Spoon the chicken and sauce into individual bowls over rice or rice noodles (or into one nice larger serving dish with a separate bowl of rice/noodles) and sprinkle the spring onions, peanuts and remaining chili over. Eat immediately with lime squeezed over.
Notes
Just a note on the thickness of the sauce

. For some reason every time I've made this the sauce has turned out a tiny bit different. As in, sometimes it's a bit thicker, sometimes a bit thinner. I think it all depends on how much chicken you use as obviously the juices run out during cooking and mingle with the sauce. Taste-wise, it's exactly the same (yummy!) but if you think your sauce is a bit too thin for your liking when it comes out of the oven, just add another tablespoon or so of corn flour blended with a bit of water or stock, drizzle and stir it roughly into the sauce, then return to the oven for 5 more minutes. 🙂
Use

gluten free

soy sauce & chicken stock to make this dish gluten free!
Nutrition
Calories:
796
kcal
|
Carbohydrates:
24
g
|
Protein:
48
g
|
Fat:
57
g
|
Saturated Fat:
16
g
|
Cholesterol:
222
mg
|
Sodium:
1392
mg
|
Potassium:
919
mg
|
Fiber:
3
g
|
Sugar:
16
g
|
Vitamin A:
580
IU
|
Vitamin C:
46.3
mg
|
Calcium:
63
mg
|
Iron:
3.9
mg
This post may contain affiliate links to products I use to make this recipe!