Something like this chicken with pineapple Chinese stir-fry was always a childhood takeout family favourite! If you can relate, why not try making your own Chinese pineapple chicken at home? It's so delicious with its colourful, crunchy vegetables and cashews. The easy sweet and sour sauce contains just six every day ingredients and it's on the table in less than 30 minutes!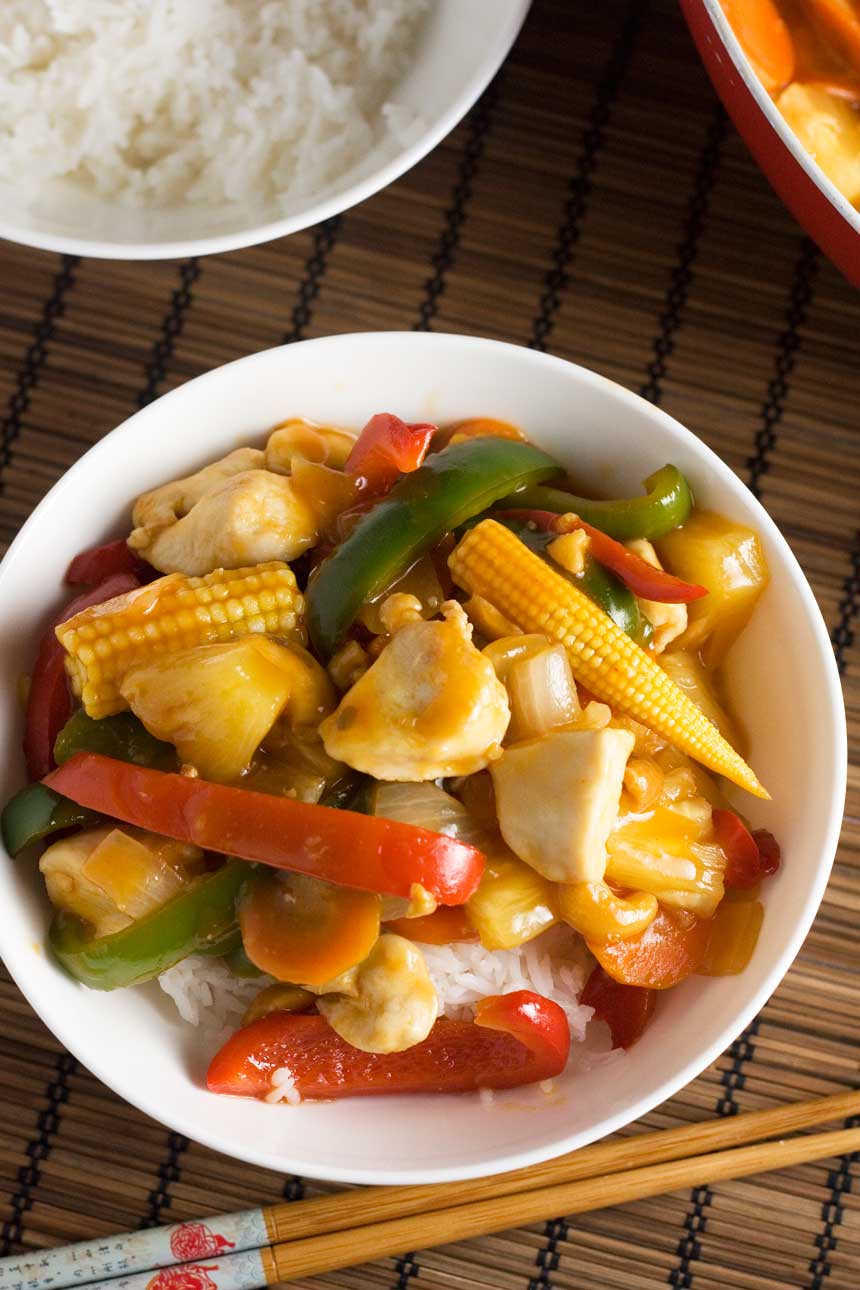 Why you'll love it
Coming up with an easy homemade version of a takeout classic always makes me happy. Especially when it's as easy and delicious as this easy chicken pineapple stir-fry.
Perhaps sweet and sour dishes are one of those 'love it or hate it' kind of things. But if you're a lover, here's why I think you should give this version a go:
It's on the table in around 30 minutes – less time than you can order a Chinese takeout, really.
This is an EASY sweet and sour pineapple chicken. You only need 6 simple ingredients to make the sauce. Then all you need is chicken, a can of pineapple and a few healthy veggies. Add crunchy cashews for extra texture if you like.
It's healthy, made with pretty simple and innocent store cupboard ingredients… and lots of vegetables.
About the ingredients
Apart from the easy sauce (see below!), this is all you need to make this:
chicken breast: chopped into small(ish) pieces. Or you can use chicken thigh if you prefer.
onion, garlic and ginger: for awesome flavour
vegetables for stir-frying: peppers, baby corn and snow peas are perfect, but there's a bit of flexibility on which veggies you can use
a can of pineapple: use the juice in the sauce, and the actual pineapple in the stir-fry
cashew nuts: this one's optional, but I like to toss in around a handful of cashews for extra taste and crunch
the sauce
The cool part about this is that you use the juice from a can of pineapple in the sauce. Yum!
So here are the 6 ingredients you need:
cornflour / cornstarch to thicken the sauce
pineapple juice from a can of pineapple
vinegar
a bit of sugar
tomato ketchup (yes, really!)
a little soy sauce
The first thing you do is whisk a little of the pineapple juice into the cornflour/cornstarch to make a paste. Then you whisk in the rest of the sauce ingredients and set aside, ready to add to your stir-fry.
So easy, right? And apart from the pineapple, all things you probably have in your cupboard already.
How to make the stir-fry
Pro tip: When making any stir-fry, prepare all the ingredients before you start cooking. You can even do this earlier in the day. When you're ready to eat, you can throw dinner together in minutes!
You've made your easy sweet and tangy sauce, you've chopped up all your vegetables and opened a can of pineapple. Now what?
Easy.
Step 1: Stir-fry chicken pieces until just cooked. Then take out of the pan for now.
Step 2: Stir-fry the vegetables for a few minutes.
Step 3: Add the cooked chicken back into the pan.
Step 4: Pour the sauce into the pan with everything else. Let it bubble for a few minutes to thicken.
Step 5: Stir chopped pineapple and cashew nuts through the stir-fry. Enjoy!
Variations
Prefer a different protein? No problem. Just stir-fry pork or prawns instead of chicken.
You can also vary the vegetables. Any vegetables that cook in a few minutes in a pan will work well. Some examples include:
broccoli chopped into small pieces
zucchini
thin slices of carrot
Chinese vegetables like bok choy
mushrooms
small lenths of asparagus
different kinds of peppers e.g. yellow, orange
Amazing pro tip: For a fun twist, why not serve your pineapple chicken in hollowed out pineapples? I could even see this going down well at a dinner party!
How to serve it
As with most stir-fries, a side of plain rice is all you need to go on the side.
If you prefer, noodles would work, too – either egg noodles or rice noodles.
It's best to serve your stir fry immediately, but if you have leftovers you can keep them in the fridge for up to a few days. The cashew nuts will go soft and soggy though if you reheat them, so if you think you're going to have leftovers you can leave out the cashews.
Or just don't stir them into the stir fry. Just let everyone sprinkle a few over the top of their own dish.
Really want to impress your friends? Why not serve your Chinese chicken and pineapple inside a hollowed out half a pineapple?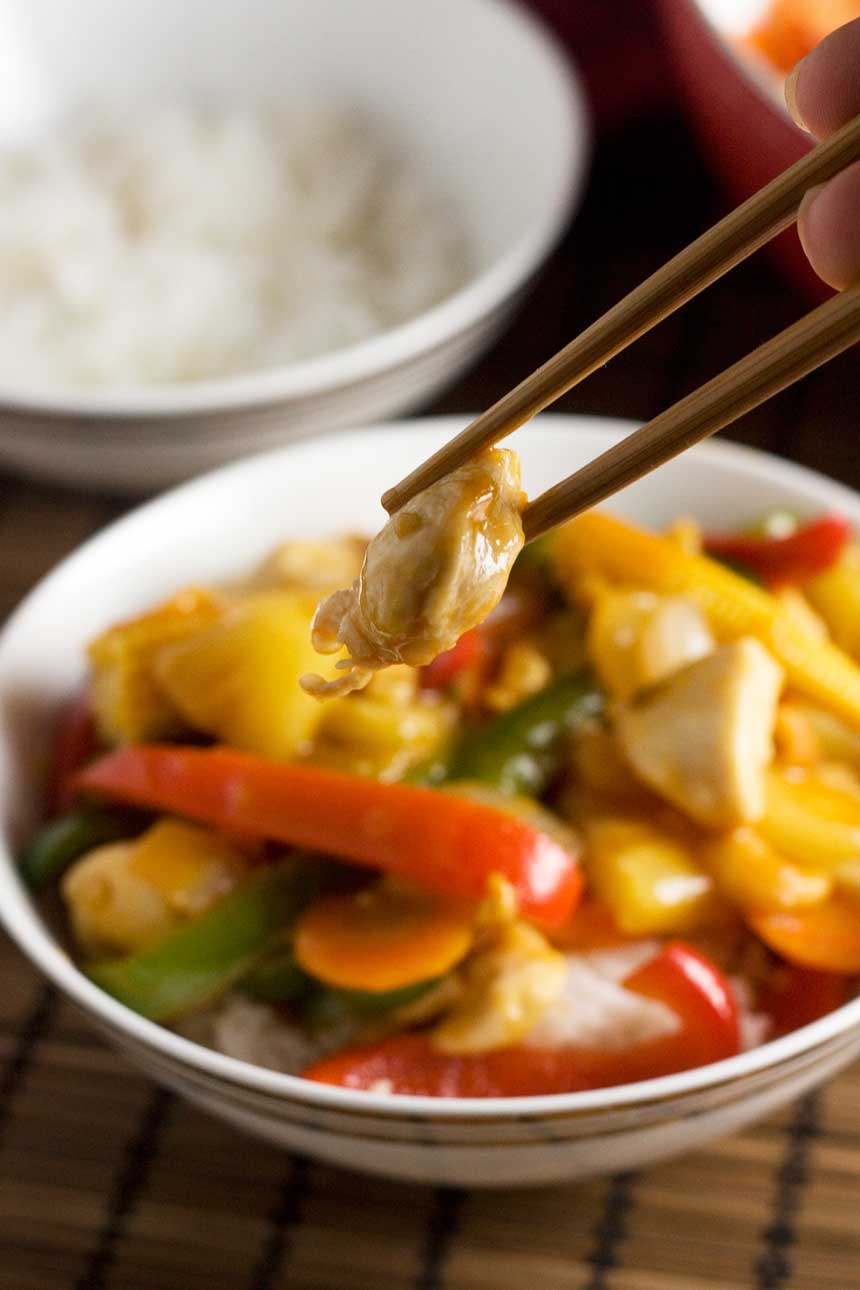 More things to know (recipe FAQ)
Not chicken again! Can I use another protein?
Absolutely! The cook time for pork will be around the same as the chicken (a few minutes). Prawns take from 3 to 7 minutes to cook depending on their size. Cook until they turn pink.

You can even use tofu. Cook for 4 to 5 minutes until brown and crispy. Then remove the protein from the pan as you would the chicken while you cook everything else.
Can I use chopped chicken thighs instead?
You absolutely can! In fact arguably thighs are better as they're more moist and forgiving if you accidentally overcook them by a minute or two. On the other hand, breast is easier to buy already chopped up, just in case you want to make this meal even easier than it already is 😉
Can I use fresh pineapple?
You can, but you'd also need to get a small amount of pineapple juice to make the sauce. This is wonderful served in hollowed out pineapples, so it might be worth going this route if you'd like to impress your family (or guests!).
Is this dish gluten free?
It can be – very easily. Just make sure that you use a gluten free brand of soy sauce that uses rice instead of wheat. Why not finish your meal off with these incredible gluten-free brownies?
Does this make good leftovers?
It does, except… make sure that if you think you're going to have leftovers, don't stir the cashew nuts into the whole pan of food before serving it. Instead, sprinkle them over each dish at the end.

If you reheat leftovers with cashew nuts in, they'll go a bit soggy! Not the end of the world, but you can prevent this by only adding the nuts to the dish just before serving.
More quick and easy Asian dinners
Love to make Asian recipes for dinner sometimes? Me too! Take a look at my Asian recipes collection for more ideas.
IF YOU MAKE THIS RECIPE, LET ME KNOW HOW YOU GET ON BY LEAVING A COMMENT AND RATING BELOW… AND DON'T FORGET TO SIGN UP TO RECEIVE ALL MY NEW RECIPES BY EMAIL!
FOLLOW ME ON FACEBOOK, INSTAGRAM, PINTEREST AND YOUTUBE.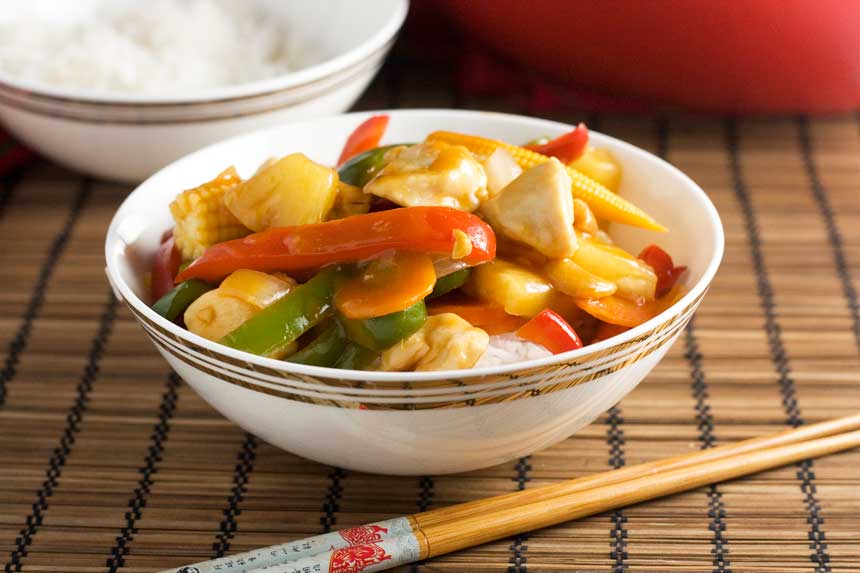 Easy Chicken With Pineapple Chinese Stir-fry (Sweet And Sour)
If you're a fan of sweet and sour takeout dishes, this easy homemade chicken pineapple stir-fry (aka sweet and sour chicken and pineapple!) could become a new family favourite. Make it in under 30 minutes with just a few simple store cupboard ingredients!
Equipment (affiliate links)
Ingredients (UK/Australia? Click below for grams/ml)
for the sauce
2

tablespoons

cornflour

1

can

pineapple juice

from a 14 ounce can of pineapple

2

tablespoons

vinegar

2

tablespoons

sugar

2

tablespoons

tomato ketchup

1

tablespoon

soy sauce
rest of ingredients
14

ounces

chicken breast

chopped into small bite-size pieces (usually about 2 to 3 chicken breasts)

1

onion

chopped into chunks

2

garlic cloves

crushed

1

piece

ginger

(about the thickness of your thumb) peeled and thinly sliced

2

peppers

(I usually use 1 green and 1 red)

4

ounces

baby corn

roughly (I usually use a 125 gram pack and throw it all in!)

4

ounces

snow peas

(sometimes called mange-tout or sugar peas)

1

ounce

cashew nuts

about a handful – optional

14

ounces

pineapple

roughly one can, chopped into chunks
Instructions
In a jug or bowl, add a bit of the pineapple juice to the cornflour to make a runny paste. Then whisk in the rest of the sauce ingredients. Put aside.

2 tablespoons cornflour,

1 can pineapple juice,

2 tablespoons vinegar,

2 tablespoons sugar,

2 tablespoons tomato ketchup,

1 tablespoon soy sauce

Stir-fry the chicken in a little oil for a few minutes until cooked through. Remove from the pan and set aside.

Add a little more oil to the pan, then stir-fry the onion for a minute or two. Add the ginger, pepper pieces, and sweetcorn and mange-tout/snow peas. Stir-fry on high for another few minutes.

1 onion,

2 garlic cloves,

1 piece ginger,

2 peppers,

4 ounces baby corn,

4 ounces snow peas

Add the chicken back into the pan along with the sauce. Let bubble for a minute or two. Stir through the pineapple, and cashew nuts if using.

1 ounce cashew nuts,

14 ounces pineapple

Serve immediately over rice.
Notes
You can easily replace the chicken with pork or prawns if you prefer.
If you are hoping to save some of this for the next day, don't stir the cashew nuts into the whole pan of food before serving it out. Instead, sprinkle them over each individual plate of food. Reheated cashew nuts = soft and soggy!
Nutrition
Calories:
322
kcal
Carbohydrates:
41
g
Protein:
26
g
Fat:
6
g
Saturated Fat:
1
g
Cholesterol:
64
mg
Sodium:
443
mg
Potassium:
839
mg
Fiber:
3
g
Sugar:
23
g
Vitamin A:
671
IU
Vitamin C:
80
mg
Calcium:
48
mg
Iron:
2
mg