Last Updated on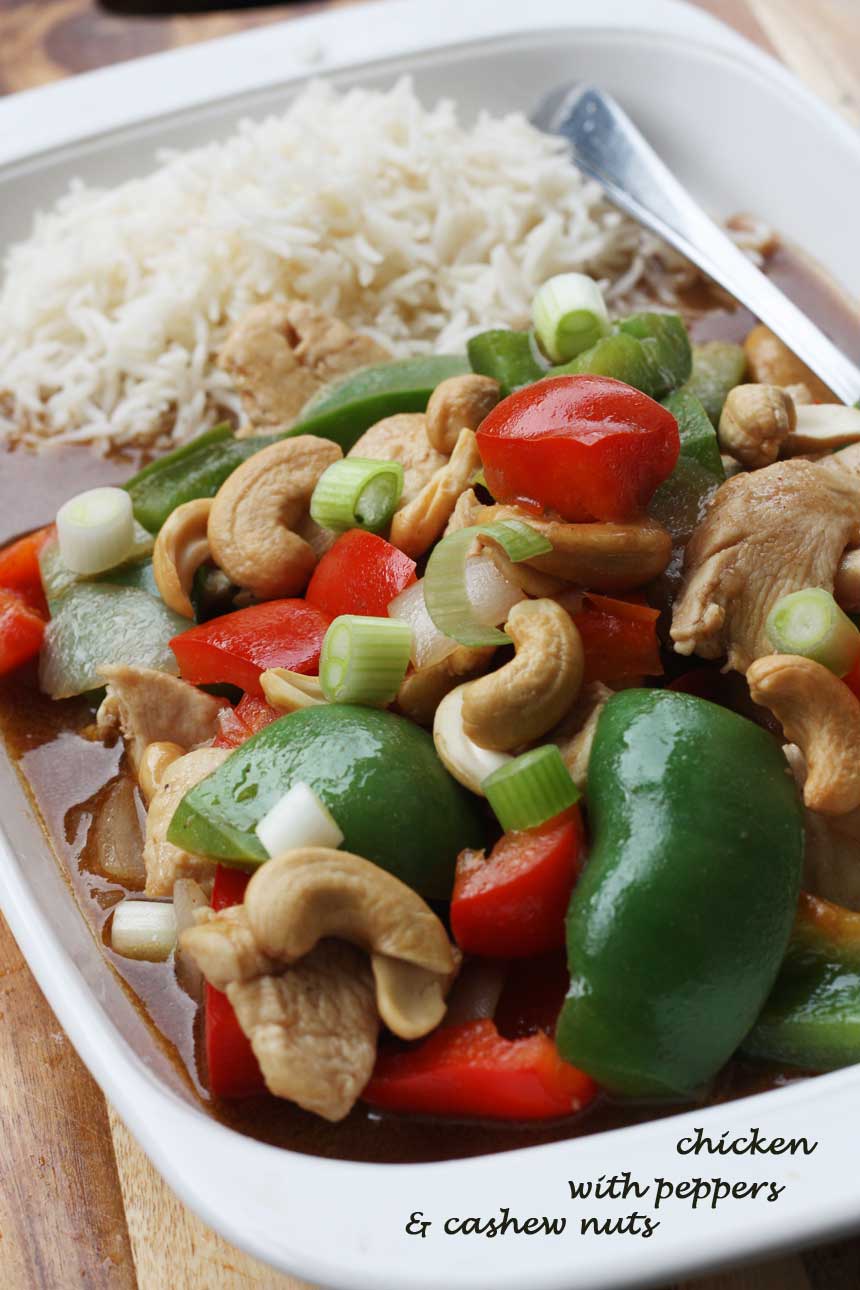 When I visited China about five years ago, every element of the trip fascinated me. I loved the open-fronted shops and snack stalls, the smiling children who played in the streets and followed us around, and looking at the curious packages of snacks on sale such as black bean popsicles and boiled chicken feet (note I didn't say 'eating' there!)
The highlight, though, probably not surprisingly, was the meals. As I was travelling with a group, our Chinese guide knew exactly where to take us for what I can only describe as feasts with all sorts of different dishes to share from one of those tables that you can push around. All for a grand total of about 1 or 2 dollars a head. To be honest there wasn't too much all that surprising or totally different to what I'd had in Chinese restaurants at home, but I remember that it was always good. Fresh, plentiful and varied with flavoursome sauces.
Most of the time on this trip we even had our very own little dining room. Even, if you can believe this, at a highway café stop on our way up to the foothills of the Himalayas. We were enjoying it so much that the public bus we were travelling on nearly left without us. It beat the floppy sandwiches and greasy, expensive stodge sold at the British equivalents of these road stop eating places so many times over that it even made the fact that my friend and I were sitting behind a broken, smelly toilet on the bus for ten hours on that journey seem totally worth it. Well, almost, anyway.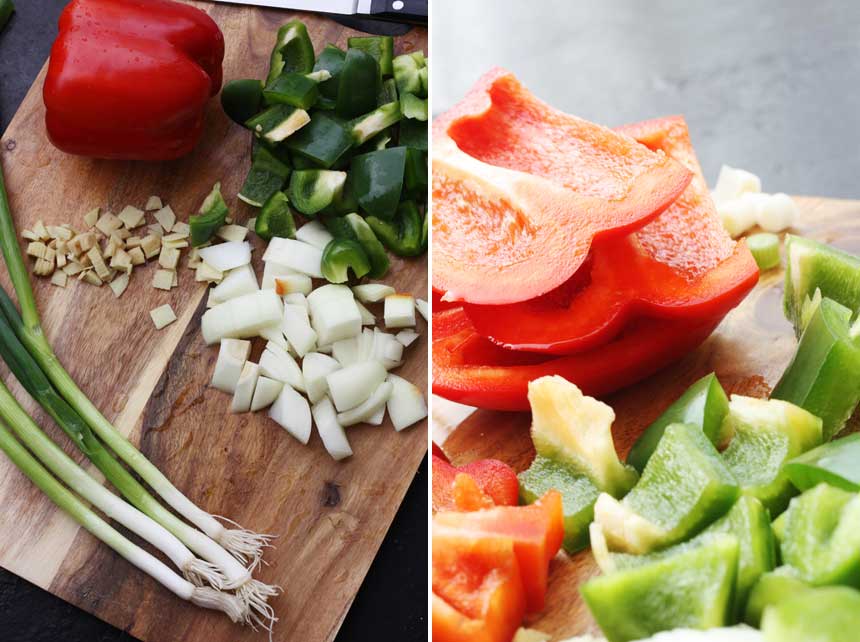 Apart from the chicken head that emerged from a sort of chicken stew we were later served in the mountains (sorry, vegetarians), and the disgusting intensely buttery yak milk drink we also had (sorry, yak-milk lovers), I can say that I didn't have a bad meal on that trip.
Now, unfortunately I'm not going to get the chance to return to China any time soon and the last Chinese takeaway Mr. Scrummy and I ordered left us underwhelmed, to say the least (think gloopy, tasteless, more sauce than meat & veggies = not good), so what are we to do? Find some delicious 'cheat's' versions of Chinese dishes, that's what. Starting with this simple and classic (with a few minor twists) chicken with peppers & cashew nuts.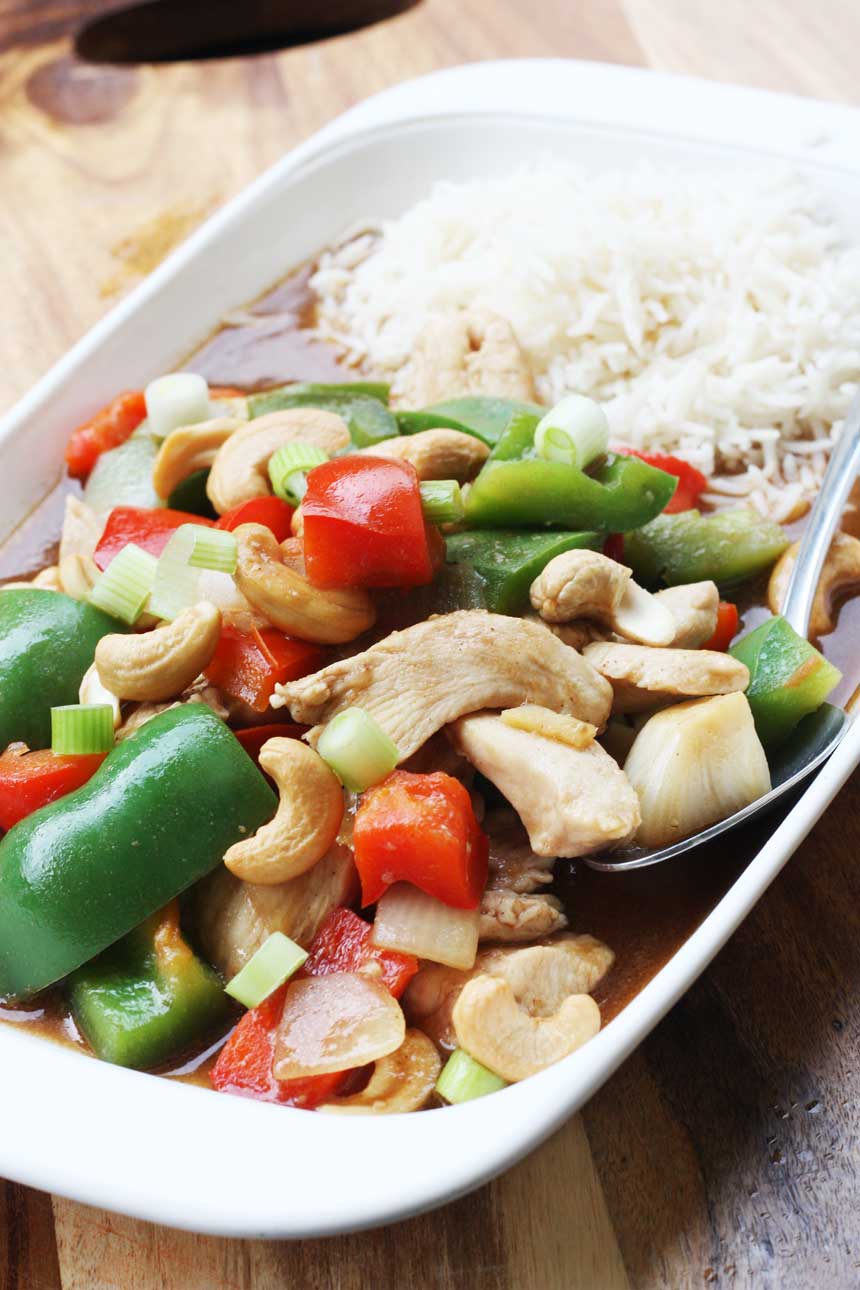 I started with a basic cashew chicken recipe from Bee at Rasa Malaysia (great go-to site for Asian food!) All I did to make my version was 'marinate' chopped chicken breast in corn starch and rice wine vinegar while I made a sauce from oyster sauce, soy sauce, rice wine vinegar, sesame oil, sugar, water aaaand … now here, I think, is my 'magic' ingredient that lifts the dish up to 'delicious' status … a teaspoon of Chinese five-spice, which combines the lovely flavours of cinnamon, star anise, cloves, fennel and pepper. I then stir-fried chicken, red and green peppers, ginger and garlic slices and onion before pouring in the sauce. The sauce thickens a little (not too much) and right at the end you throw in your cashew nuts, give it all a final few stirs … and you're done!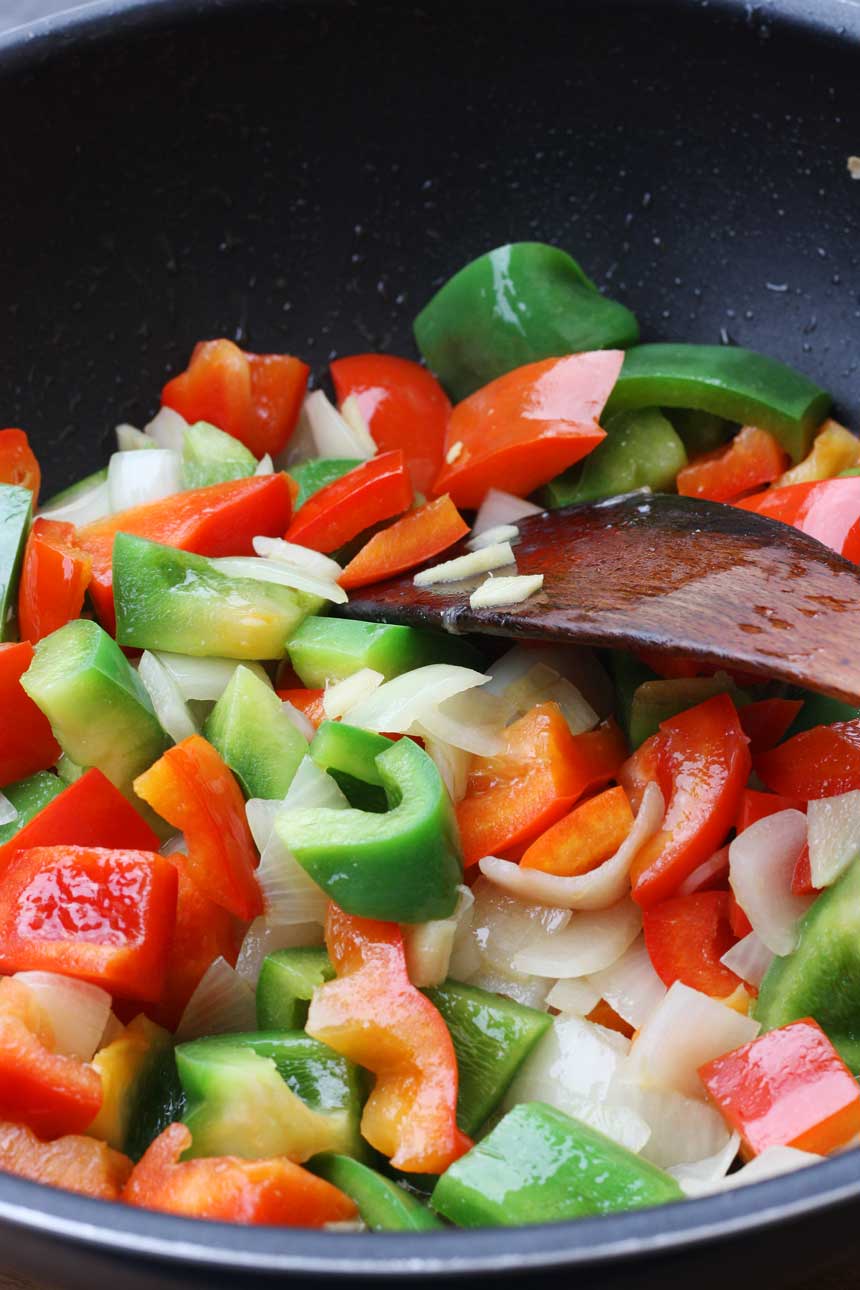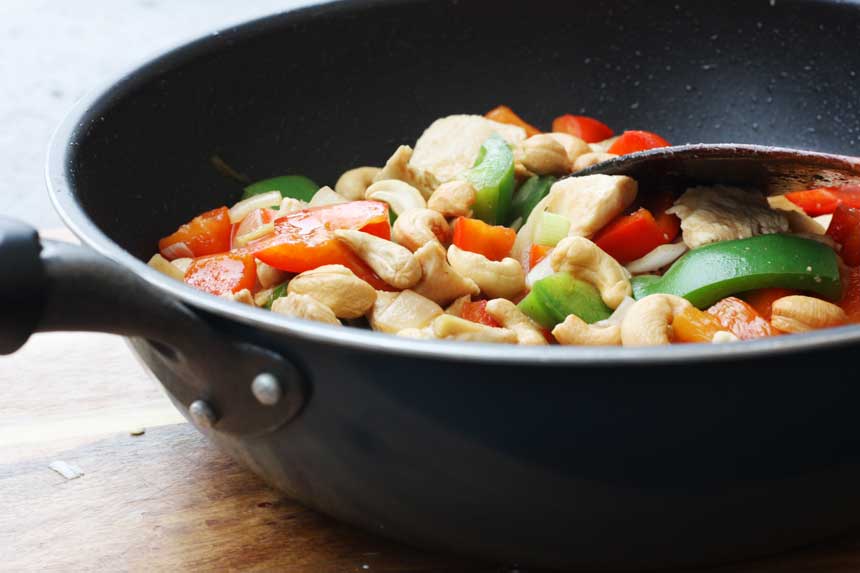 Warning: once you add the sauce your kitchen will smell rather a lot like a Chinese takeaway! I'll leave you to decide whether that's a good thing or not, but believe me when I tell you that you definitely won't be worrying about that when you're enjoying this wonderful dish. The extra bonus is that you can have it on the table within about 30 minutes.
So tell me, do you have any go-to recipes for Chinese takeaway-style dishes, and do you think they are better than what you can get from your local takeaway?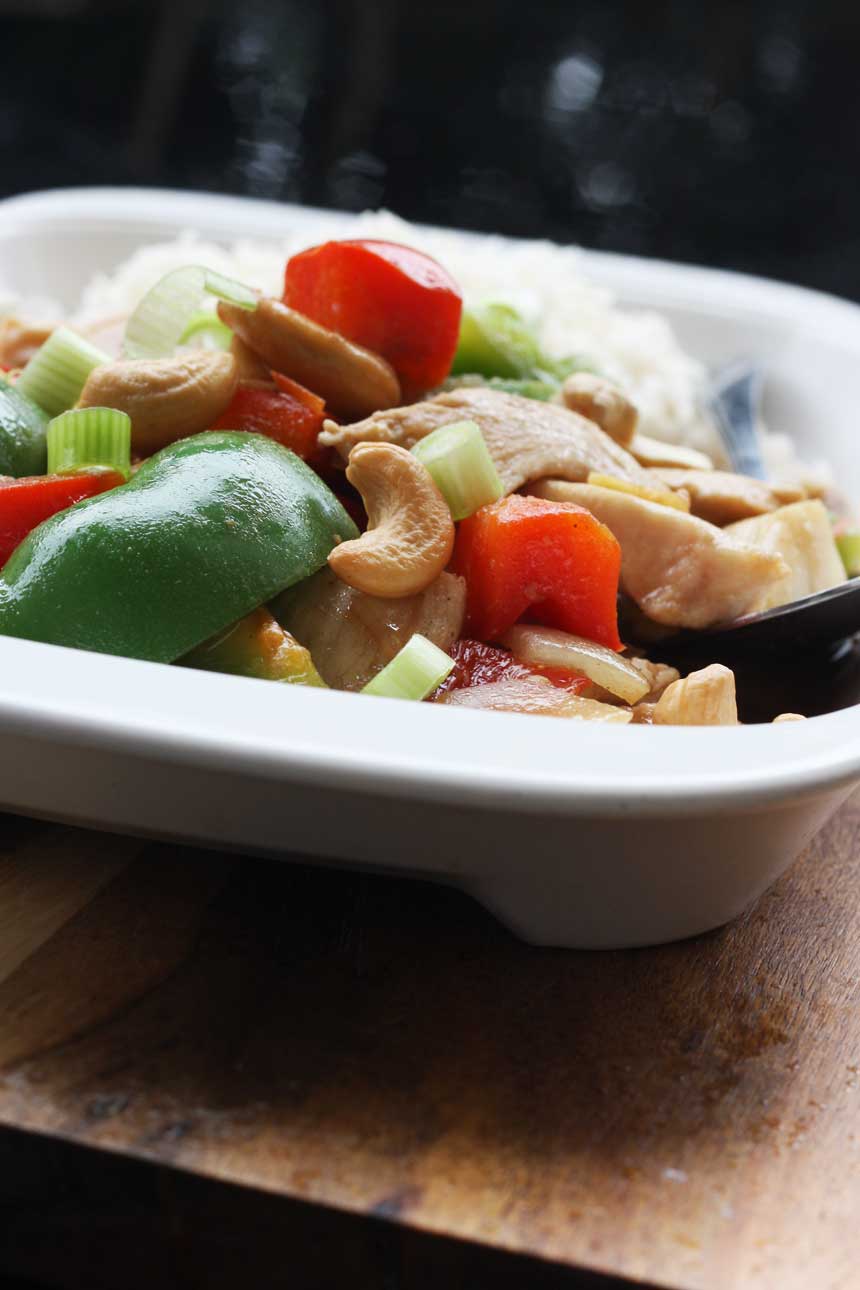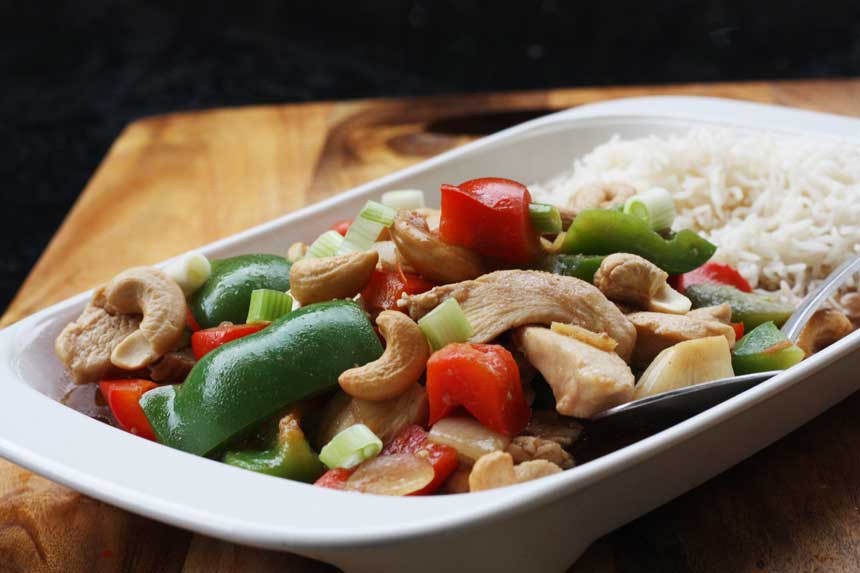 'Better-than-a-takeaway' chicken with peppers & cashew nuts
A homemade version of the classic Chinese takeaway chicken with peppers and cashew nuts. The magic ingredient in this is Chinese five-spice. You'll never need to order this from your local takeaway again!
Ingredients
For the stir-fry
2

boneless

skinless chicken breasts, cut into smallish pieces

2

teaspoons

cornstarch

1

teaspoon

rice wine or rice wine vinegar

2

peppers

preferably one green & one red, chopped into rough pieces

2

garlic cloves

5

cm-long piece of fresh ginger

peeled and sliced into small pieces

1

large onion

chopped into chunky pieces

4

spring onions/scallions

finely chopped (optional)

1/2

cup

of roasted unsalted cashew nuts
For the sauce
2

tablespoons

oyster sauce

1 1/2

teaspoons

soy sauce

1

teaspoon

rice wine or rice wine vinegar

1/4

teaspoon

sesame oil

1

teaspoon

Chinese five-spice

1

teaspoon

sugar

6

tablespoons

water

1/2

teaspoon

salt
Instructions
'Marinate' the chicken in a bowl with the cornstarch and 1 teaspoon of rice wine/rice wine vinegar while you prepare the other ingredients.

Prepare the sauce by whisking together all of the ingredients in a medium-sized bowl, then set aside.

Heat up a wok or heavy-based wide pan with about a tablespoon of vegetable oil, then stir fry the chicken pieces for a few minutes until they have turned white and are mostly cooked. Take the chicken out of the pan, put it onto a plate and set aside.

Add a little more oil to the pan and stir fry the peppers, garlic, ginger and onion together for a few minutes on a high heat.

Add the chicken back into the pan along with the sauce and cook for a few more minutes until the sauce has thickened slightly and the chicken is cooked through.

At the last minute, add in the cashew nuts and scallions/spring onions and give everything a final quick stir. Serve immediately with rice or noodles.
Notes
Basic recipe adapted from Rasa Malaysia.
I'd recommend only making as much of this as you need for one meal because the cashew nuts go a little soft when re-heated. Another option is to sprinkle the cashew nuts over each dish as you serve it so that if you have any leftovers your nuts will be safe!
Nutrition
Calories:
282
kcal
Carbohydrates:
17
g
Protein:
28
g
Fat:
11
g
Saturated Fat:
2
g
Cholesterol:
72
mg
Sodium:
803
mg
Potassium:
742
mg
Fiber:
2
g
Sugar:
4
g
Vitamin A:
375
IU
Vitamin C:
54.6
mg
Calcium:
46
mg
Iron:
2.4
mg
I hope you enjoyed this post! You can subscribe to receive posts directly to your inbox by entering your email address in the box at the bottom of this page or at the top of the sidebar on the right.
You can also find more from Scrummy Lane on Facebook, Pinterest, Twitter and Instagram and follow me on Bloglovin! Thanks so much for reading!