No need to call for takeout. This 20-minute easy chicken with cashew nuts and peppers recipe is quick, colourful, and healthy. Most importantly, it's delicious every time!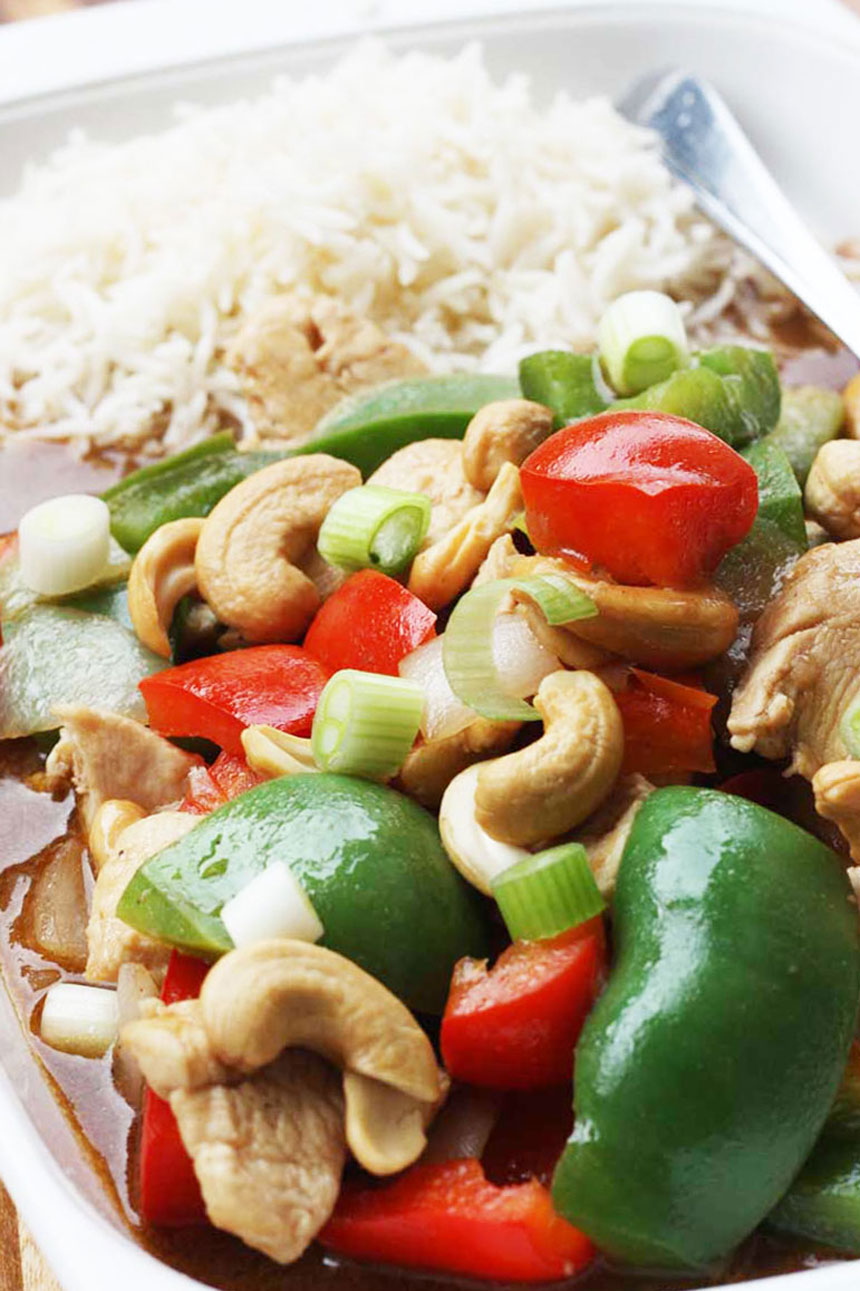 One of my favourite dishes to order from a Chinese takeaway has always been something along the lines of this chicken cashew stir-fry.
Asian restaurants are generally very good here in Australia. But I love that I can make a pretty good effort at my own version of this delicious meal in under half an hour!
Why it's better than takeout (or at least as good!)
I don't claim that this is a completely authentic chicken and cashew nut recipe. But hey, so what? It's delicious, colourful and healthy. And did I mention it's on the table in just 20 minutes? Less time than you could order a takeout, right?
This recipe contains generous amounts of all the major components – chicken, peppers, onions, crunchy cashew nuts, and of course the yummy sauce.
Speaking of the sauce, it contains a 'secret ingredient'. Well, not so secret really, but it takes the dish from good to delicious.
Another simple trick gives you super tender and tasty chicken. Just marinate the chicken in a little corn starch / corn flour and rice wine vinegar while you're preparing all the other ingredients.
This makes a great simple weekend dinner! Need more options? Check out this list of 100 easy lazy Sunday meal ideas.
Preparing the ingredients
There are 4 simple components to this stir-fry: chicken, vegetables, sauce, and of course the all-important cashew nuts. When making any stir-fry, I always prepare everything first. You can even do this earlier in the day to get ahead.
chicken: You can use either chicken breast or thigh. I like to chop the chicken into small bite-sized pieces. While you're preparing everything else. pop the bits of chicken into a bowl and stir through a teaspoon of corn flour / corn starch and a teaspoon of rice wine vinegar.
vegetables: Crush or slice some ginger and garlic. Chop up a whole onion into chunks. Then slice 2 peppers (I like 1 red and 1 green) into bite-sized chunks. Finally, slice a few spring onions / salad onions, ready to stir through at the end.
sauce: I keep the sauce for my cashew chicken simple but with a good balance of flavours. You'll need oyster sauce, soy sauce, rice wine, sesame oil, sugar, salt and water. Plus… can you guess what the 'magic' ingredient is? It's Chinese 5 spice! I call it 'magic' because to me it's what gives your cashew chicken its distinctive (and very delicious) Chinese flavour.
Don't skip the rice wine, either. Strictly speaking, use Chinese rice wine (Shaoxing Wine) in this dish. But I find it's delicious with rice wine vinegar (Japanese mirin) too if that's all I have. Just use what you have in the cupboard!
cashew nuts: Stir them through at the end so that they get coated in the sauce but stay crisp and delicious.
Bringing your stir-fry together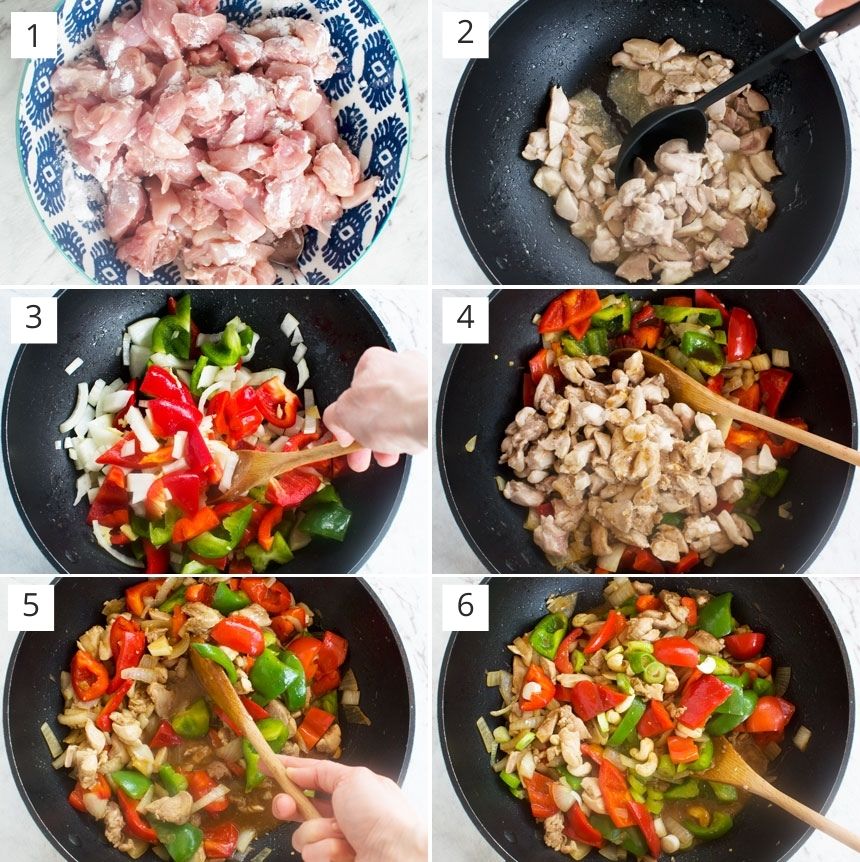 Step 1: Stir-fry the chicken until just cooked through. Remove from the pan.
Step 2: Stir-fry the rest of the veggies.
Step 3: Add the chicken back into the pan. Pour over the sauce and let cook for a few more minutes.
Step 4: Briefly toss through the spring onions / salad onions and cashew nuts.
Step 5: Serve immediately. I prefer rice, but noodles would be delicious too.
Once you've added the sauce and tossed everything together, your kitchen will even smell like you've just brought takeout home!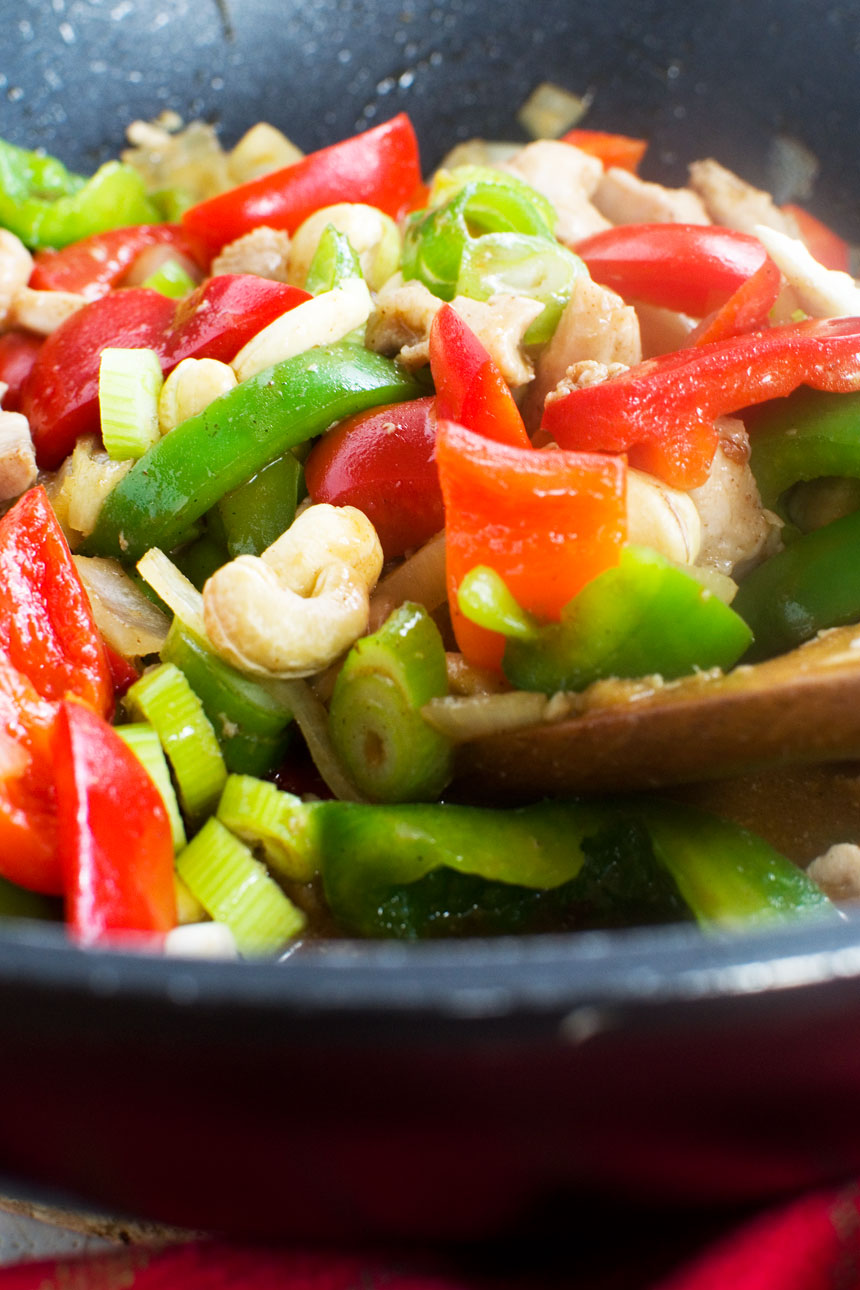 How to serve it
This chicken and cashew nut stir-fry is best served immediately. I prefer to serve it in bowls over rice but noodles go really well too.
Somehow I also think it tastes better eaten with chopsticks, but no judgement if you prefer a knife and fork!
Variations
I love making this recipe with the crunchy, colourful peppers. You can however very easily make it with different vegetables.
All of these possibilities would work well:
snow peas / mange-tout
zucchini / courgette
broccoli (chopped into small pieces and stir-fried until tender)
thin rounds or batons of carrot
asparagus, chopped into short lengths
Got leftovers?
Leftovers will keep really well in the fridge in a sealed container for a few days. You can even freeze them if you like for another week.
If you think you're going to have leftovers, however, it's best to anticipate this. Here's why: cashew nuts don't reheat very well. They tend to lose their crisp.
To get around this, take the food you don't think you'll eat out of the pan BEFORE adding the nuts. Then just add half of the amount of cashew nuts stated in the recipe to the food you're about to eat.
This way you can reheat the leftovers and THEN stir through more crunchy cashew nuts!
Cashew allergy in the house? I think this recipe would also work well using peanuts instead of cashews!
More thing to know (recipe FAQ)
What can I use instead of rice wine (Shaoxing Wine)?
If you don't have Chinese rice wine (Shaoxing Wine), the best substitute is rice wine vinegar (Japanese mirin). Another possibility is dry sherry.

If you'd rather skip the wine altogether, that's OK! Just swap out the water in the sauce for chicken or vegetable broth (stock).
What can I substitute for oyster sauce?
Whoops – you don't have any oyster sauce. That's OK. Do you have hoisin sauce? Use that instead. If you don't have that either, add a little more soy sauce and sugar, but not too much!
What's the difference between cashew chicken and kung pao chicken?
Kung pao chicken is another mouth watering delicious Chinese takeout dish. It's very similar to this chicken with cashew nuts, but it has an intensely flavoured spicy sauce. It also usually contains peanuts rather than cashews.
More easy Asian meals
IF YOU MAKE THIS RECIPE, LET ME KNOW HOW YOU GET ON BY LEAVING A COMMENT AND RATING BELOW… AND DON'T FORGET TO SIGN UP TO RECEIVE ALL MY NEW RECIPES BY EMAIL!
FOLLOW ME ON FACEBOOK, INSTAGRAM, PINTEREST AND YOUTUBE.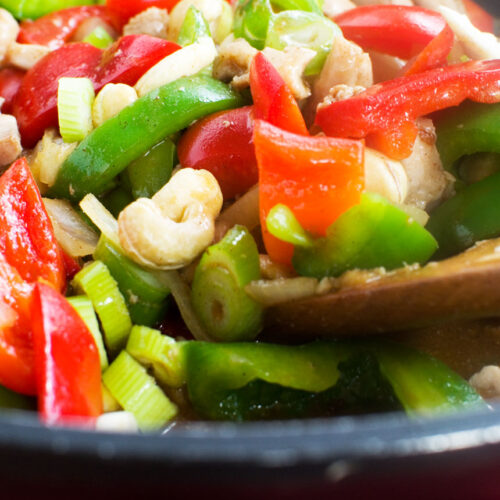 20-minute Chicken With Cashew Nuts And Peppers
A homemade version of the classic Chinese takeout chicken with cashew nuts with peppers. The magic ingredient in this is Chinese five spice. Make it once and it'll become a family favourite!
Equipment (affiliate links)
Ingredients (UK/Australia? Click below for grams/ml)
For the stir-fry
2

chicken breasts

or 4 thighs, cut into smallish pieces

2

teaspoons

cornstarch

(UK/Australia = cornflour)

1

teaspoon

rice wine

or rice wine vinegar (I just use whichever I have)

2

peppers

(US bell peppers, Australia capsicum) preferably one green & one red, chopped into big(ish) pieces

2

garlic cloves

crushed or sliced thinly

5

cm-long piece of fresh ginger

peeled and sliced into small pieces

1

large onion

chopped into chunky pieces

4

spring onions/scallions

finely chopped (optional)

½

cup

cashew nuts

roasted unsalted are best
Instructions
'Marinate' the chicken in a bowl with the cornstarch and 1 teaspoon of rice wine/rice wine vinegar while you prepare the other ingredients.

Prepare the sauce by whisking together all of the ingredients in a medium-sized bowl, then set aside.

Heat up a wok or heavy-based wide pan with about a tablespoon of vegetable oil. Then stir fry the chicken pieces for a few minutes until they are just cooked. Take the chicken out of the pan, put it onto a plate and set aside.

Add a little more oil to the pan and stir fry the peppers, garlic, ginger and onion together for a few minutes on a high heat.

Add the chicken back into the pan along with the sauce and cook for a few more minutes until the sauce has thickened slightly and the chicken is cooked through.

At the last minute, add in the cashew nuts and spring onions/scallions. Give everything a final quick stir. Serve immediately with rice or noodles.
Notes
As with any stir-fry, I highly recommend preparing all the ingredients and whisking together the sauce before you start cooking. Then it's just a case of cooking the meat, taking it out of the pan, cooking the veggies, then tossing everything together with the sauce.
Chicken breast or thighs? Your choice, honestly! I used to mostly make this with breasts, but these days I usually buy thighs because they're cheaper. Just trim the thighs to get rid of any excess fat.
A note on the cashew nuts: I'd recommend only making as much of this as you need for one meal because the cashew nuts go a little soft when re-heated. Another option is to sprinkle the cashew nuts over each dish as you serve it so that if you have any leftovers your nuts will be safe.
Alternatively, take the food that you think you aren't going to eat today out of the pan BEFORE adding the cashew nuts. This way you can reheat any leftovers without the cashews and stir them in afterwards so that they are nice and crisp.
Nutrition
Calories:
275
kcal
Carbohydrates:
17
g
Protein:
29
g
Fat:
11
g
Saturated Fat:
2
g
Cholesterol:
72
mg
Sodium:
803
mg
Potassium:
753
mg
Fiber:
3
g
Sugar:
5
g
Vitamin A:
374
IU
Vitamin C:
55
mg
Calcium:
45
mg
Iron:
2
mg