Nothing all that different about this salad … until we start talking about the blueberries! They go brilliantly with the crispy smoked bacon and avocado. And that blueberry dressing … wow!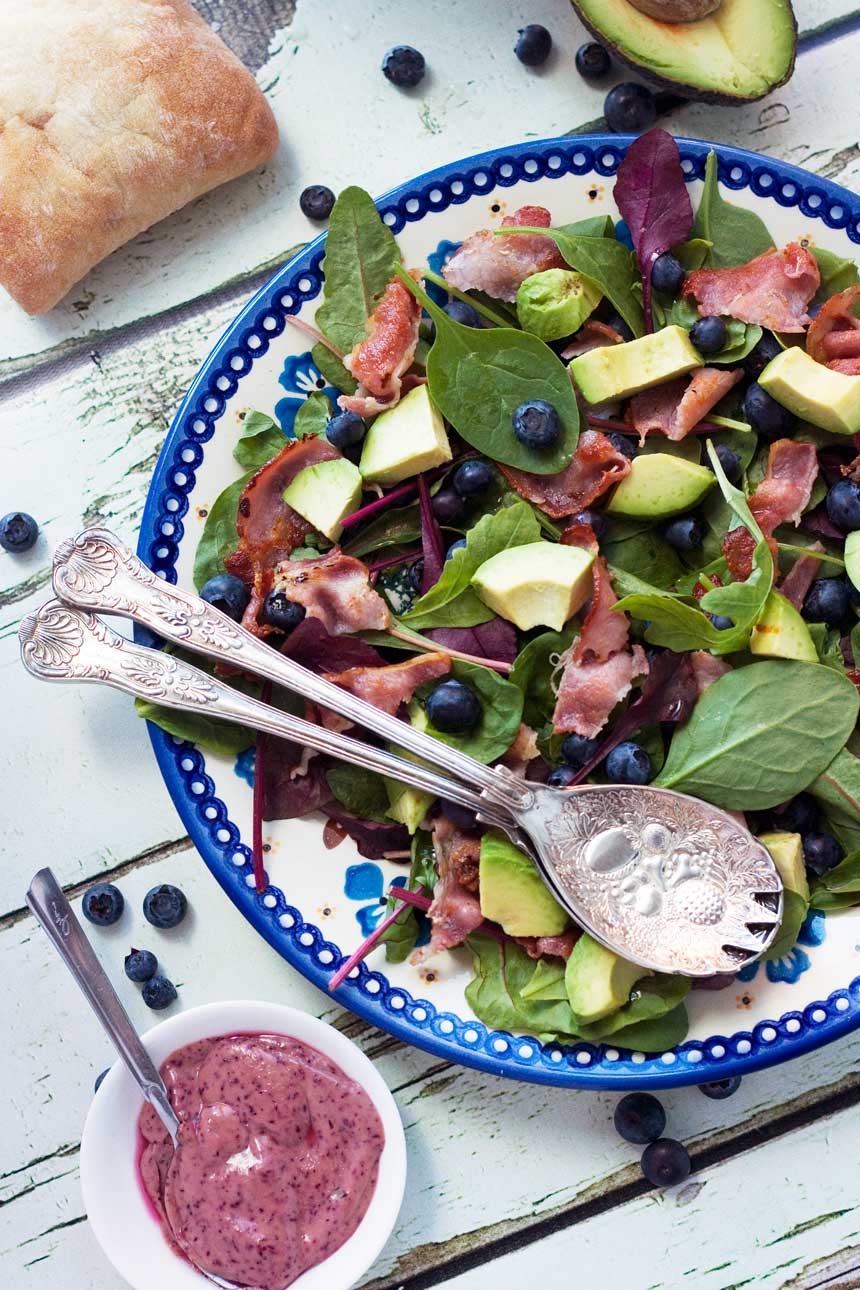 Mr. Scrummy and I sometimes have a bit of a dilemma. He loves to stay in and potter around, do things on his computer, watch movies and relax, but I love to go out. For me, having to stay in all day is like torture. Even on a rainy day I want to get out, if only for just a short while.
But this past Saturday, we didn't have this problem. It was one of those perfect summer days, neither too hot nor too cold, and the only thing we both wanted to do was find a nice traditional English country pub with a garden for a lazy lunch. So off we went, and we couldn't have asked for a more pleasant afternoon (apart from the runny hay fever-y nose I ended up with!).
Now, a couple of days later, and we're having a 'heatwave'. British style, which means a few days of heat, more than likely followed by a tremendous thunderstorm and then a return to chilly temperatures (Aren't I the cynic!).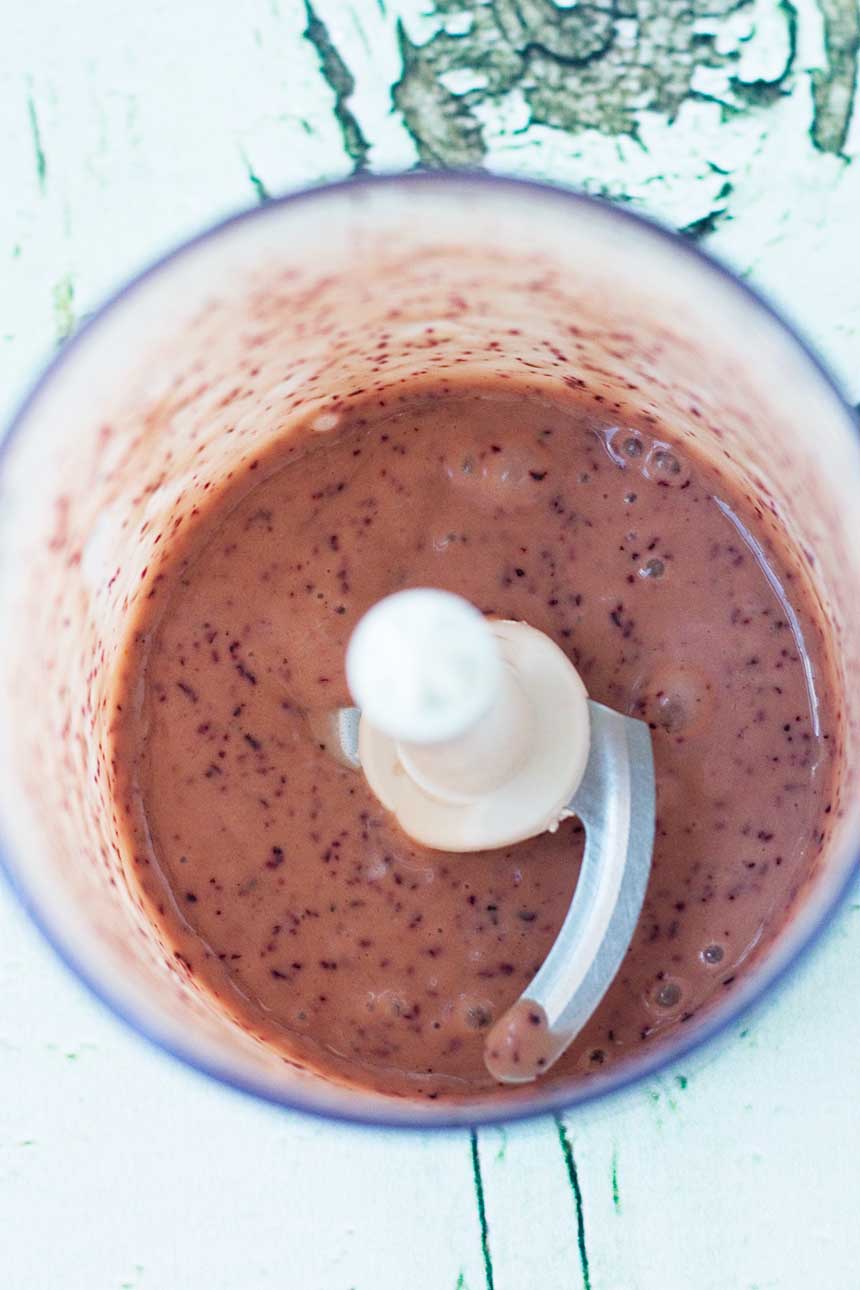 So, in celebration of our first spell of proper hot weather (finally I can get out the summer gear!) I decided to make a tasty salad. Nothing too unusual on the face of it … just some nice green leaves tossed with crispy bacon, avocado aaand … here's the twist … blueberries!! Maybe it sounds a bit strange to you to add the blueberries, but hear me out. Bacon is pork and pork often gets paired with fruit, and blueberries are fruit … so why not?
The pièce de résistance of this salad though is definitely the blueberry dressing! I don't know how you feel about drizzling something purple all over your food, but I promise you it tastes really really good! All it is is olive oil, Dijon mustard, balsamic vinegar, a little squirt of honey and blueberries, and as you can see it ends up looking like purple mayonnaise!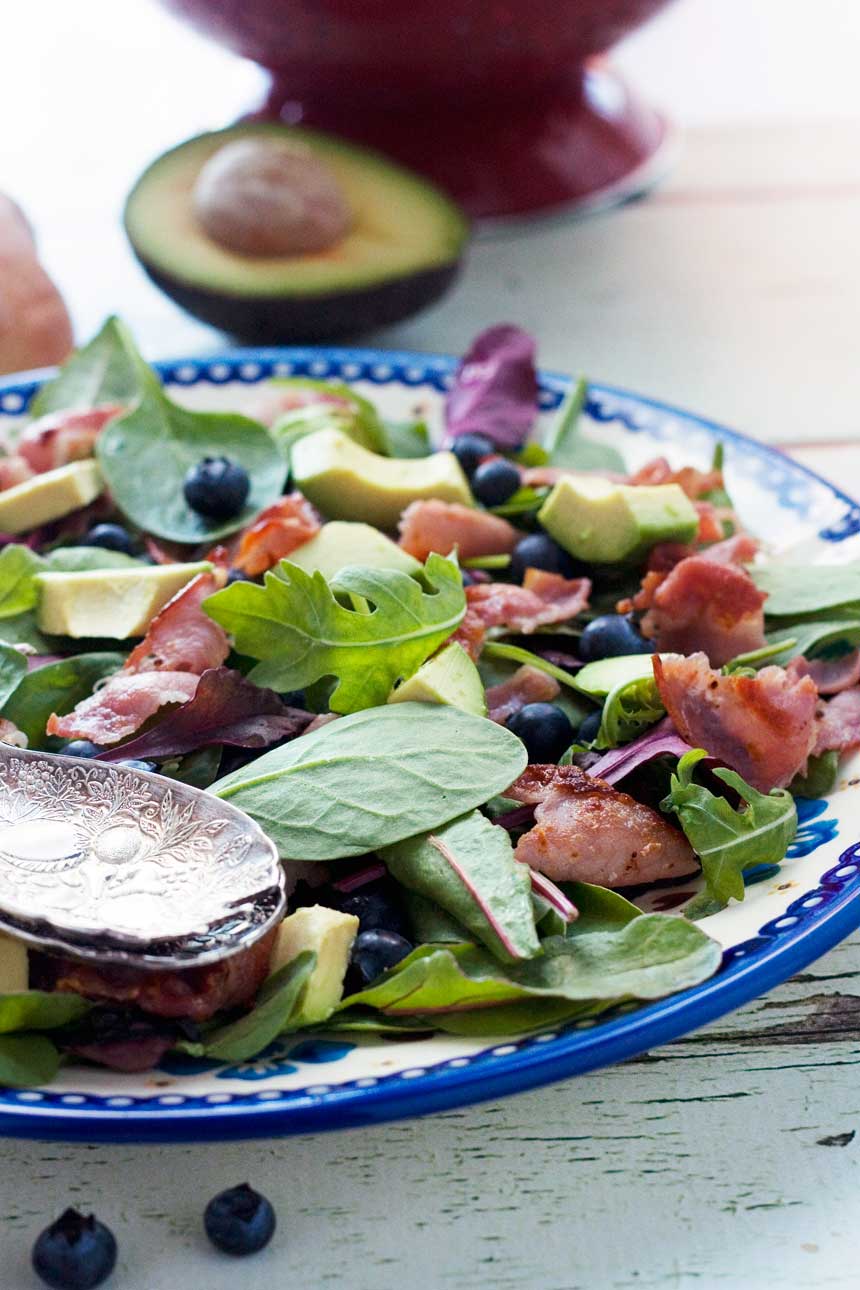 We made a simple dinner of this with some toasted Italian bread drizzled with olive oil and salt (mmm … try that, it's gooood and goes with so many things!) I sprinkled a little feta cheese over a bit of it just to see if it worked or not, but I decided that it didn't. The bacon, blueberries and fruity, mustard-y dressing are flavourful enough without needing to add another thing.
So the verdict? This one's a keeper and I hope you give it a try. Enjoy!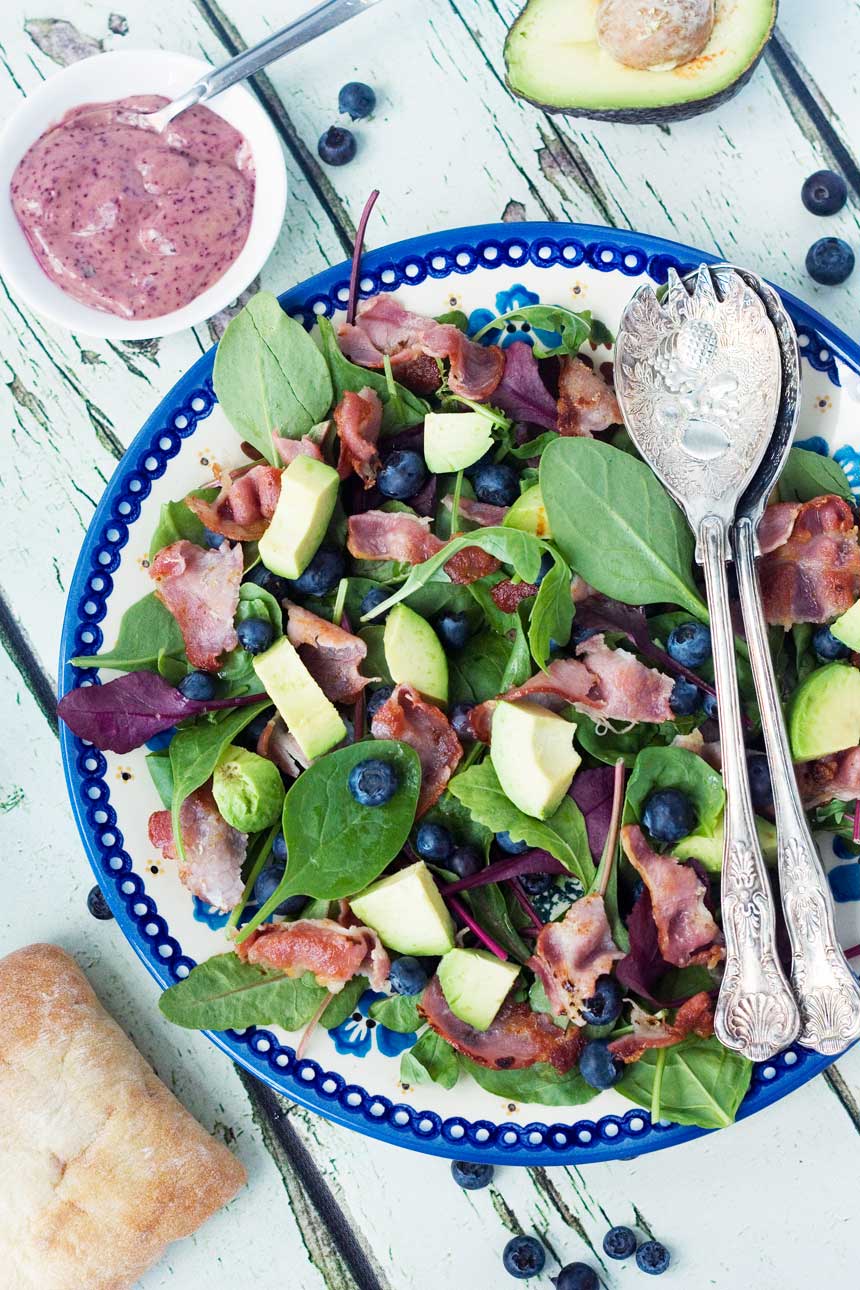 Blueberry, bacon & avocado salad (with a blueberry dressing)
A simple salad of fresh green salad leaves, avocado, bacon and ... wait for it ... blueberries! I promise you, it all goes really well, and the pièce de résistance is the tangy mustard-y blueberry dressing. Delicious!
Ingredients (UK/Australia? Click below for grams/ml)
For the salad
4

rashers smoked bacon

1.75

ounces

salad leaves of your choice

I used a mixture of rocket, baby spinach & red chard

1/2

a large avocado

sliced into chunks

2.5

ounces

blueberries
For the dressing
1

ounce

blueberries

2

tablespoons

olive oil

1/2

tablespoon

balsamic vinegar

1/2

tablespoon

Dijon mustard

1

teaspoon

teaspoon clear honey
To serve
toasted bread drizzled with olive oil & salt

optional
Instructions
Heat a frying pan over a high heat and cook the bacon for a couple of minutes or so on each side until golden and a bit crispy. Transfer to a plate and set aside.

Scatter the salad leaves over a large plate or platter, then sprinkle over the avocado and blueberries. Tear the bacon over the salad, too.

To make the dressing, combine all the ingredients in a food processor (hand-held works well) and whizz until smooth.

Serve the salad with the dressing drizzled over and the toasted bread (if using).
Notes
Recipe slightly adapted from Tesco magazine June 2015 edition.
Nutrition
Calories:
436
kcal
Carbohydrates:
16
g
Protein:
7
g
Fat:
39
g
Saturated Fat:
8
g
Cholesterol:
29
mg
Sodium:
345
mg
Potassium:
400
mg
Fiber:
4
g
Sugar:
8
g
Vitamin A:
355
IU
Vitamin C:
15.6
mg
Calcium:
6
mg
Iron:
0.7
mg

You can also find more from Scrummy Lane on Facebook, Pinterest, Twitter and Instagram and follow me on Bloglovin! Thanks so much for reading!
*This post may contain affiliate links which means that if you click on a link and make a purchase I get a small percentage of the amount you spend. At no extra cost to you, of course! Thank you!*