This blueberry vinaigrette is a great simple recipe to have up your sleeve! A healthy salad dressing made with just blueberries and a few pantry ingredients, can you believe you only need 5 minutes to make it? It's tangy, mustard-y, and sweet, and will go well with loads of your favourite salads.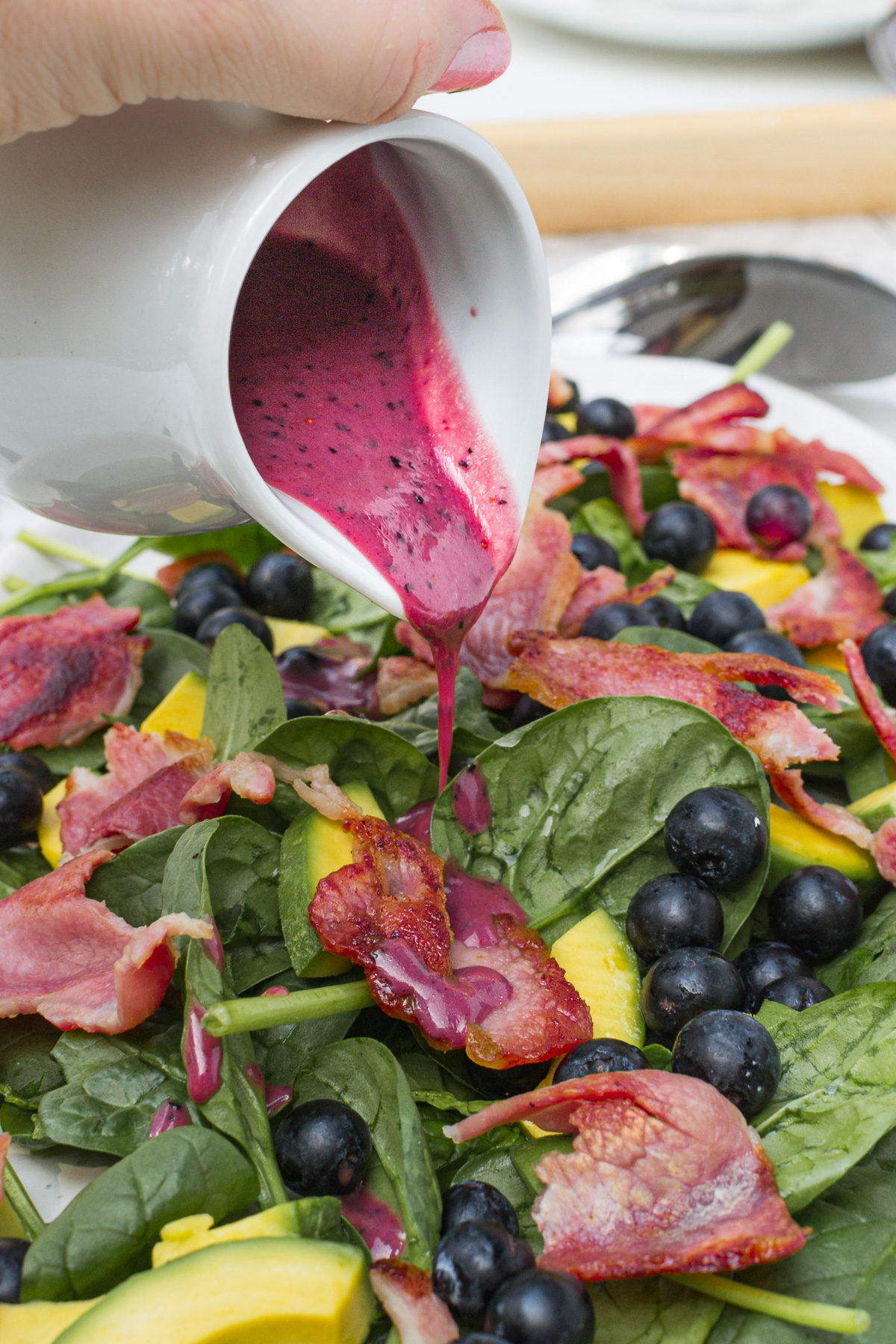 Why make a blueberry vinaigrette
I'll let you into a secret. I'm not one for salad dressings. Since living in Greece I drizzle 90% of my salads with just olive oil – plus occasionally a little lemon juice and honey.
But this blueberry vinaigrette I'll make time for – well, 5 minutes that is, because it only takes 5 minutes to make it!
This is one of those recipes you'll want to use time and time again. Blend just 5 ingredients together and it's ready. That's it. You could say it's a one-step recipe!
It's a fruity, tangy dressing that can take a simple salad from good and healthy to over-the-top delicious. You can even skip the added water to make it more like a dip than a dressing.
Ingredients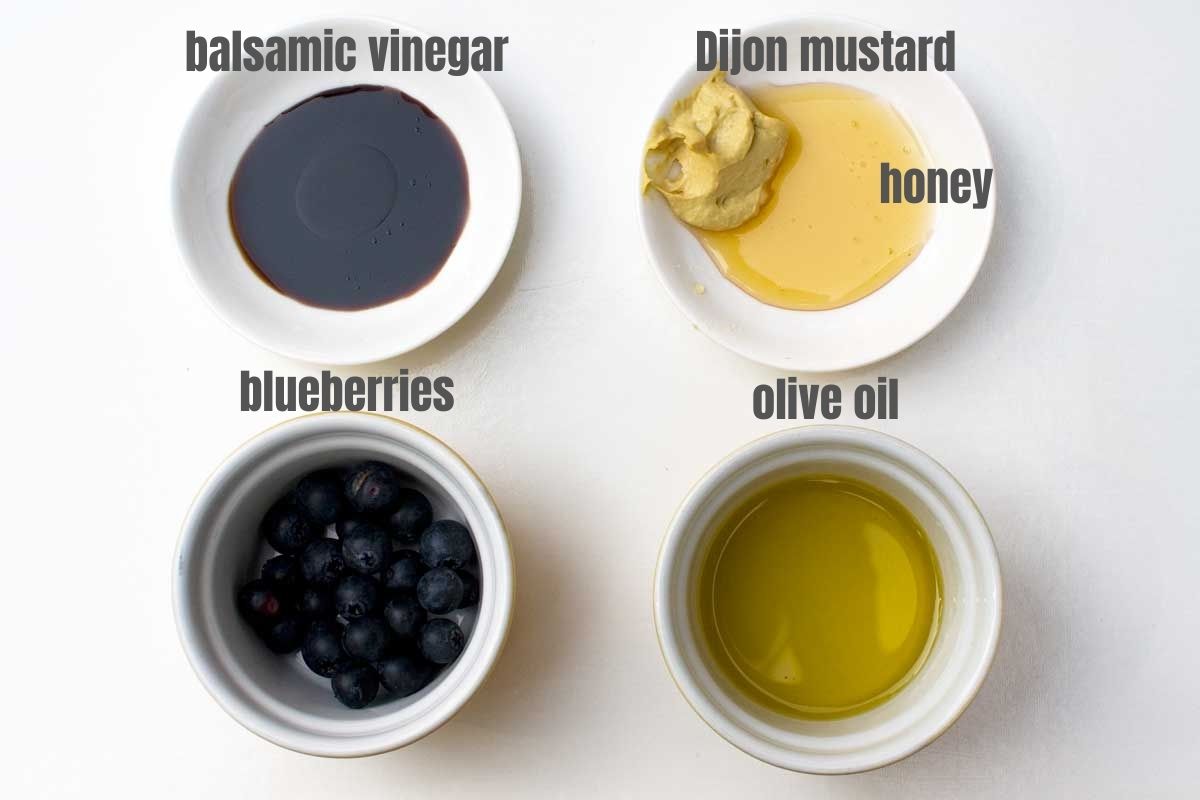 You only need blueberries plus 4 other ingredients to make this: olive oil, balsamic vinegar, Dijon mustard and honey.
Blueberries: Surprisingly, you only really need a small(ish) handful (about 1/4 cup) to make enough of this vinaigrette for two. I often make just the amount I'm going to need for my salad. Leftovers will keep for up to a week in the fridge, but as it's so easy to make I prefer to make it fresh each time. If you like you can use frozen blueberries. Why not?
Olive oil: Any olive oil is fine, but I usually use a good quality one. Look for extra virgin olive oil in a dark glass bottle, and check for a recent harvest date. It's amazing how much difference this makes to the taste!
Balsamic vinegar: Any brand is fine. I've even used balsamic glaze before – your dressing will just be a little sweeter. If you don't have balsamic vinegar, you can use another type of vinegar. Apple cider vinegar, raspberry or blueberry vinegar, and white vinegar will all be fine.
Dijon mustard: Or any kind of mustard, really! Just remember that an English mustard will generally be stronger than a French or American mustard, but it's all down to personal taste.
Honey: Once again, I would always recommend using a good quality local honey. If you don't have honey, you can use maple syrup instead.
Water: Add a tablespoon or two just to thin out the dressing so it's pourable. If you'd like to use this as a dip instead of a dressing, just skip the water or add a little less.
How to make it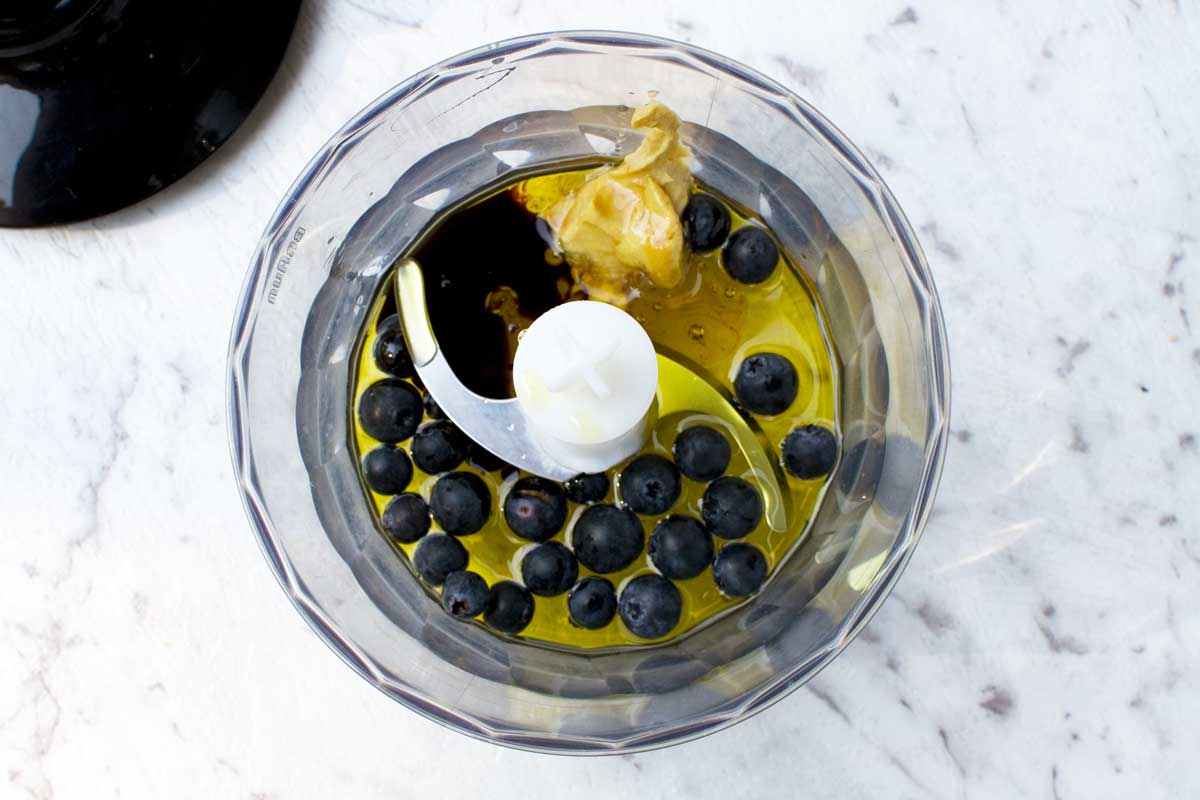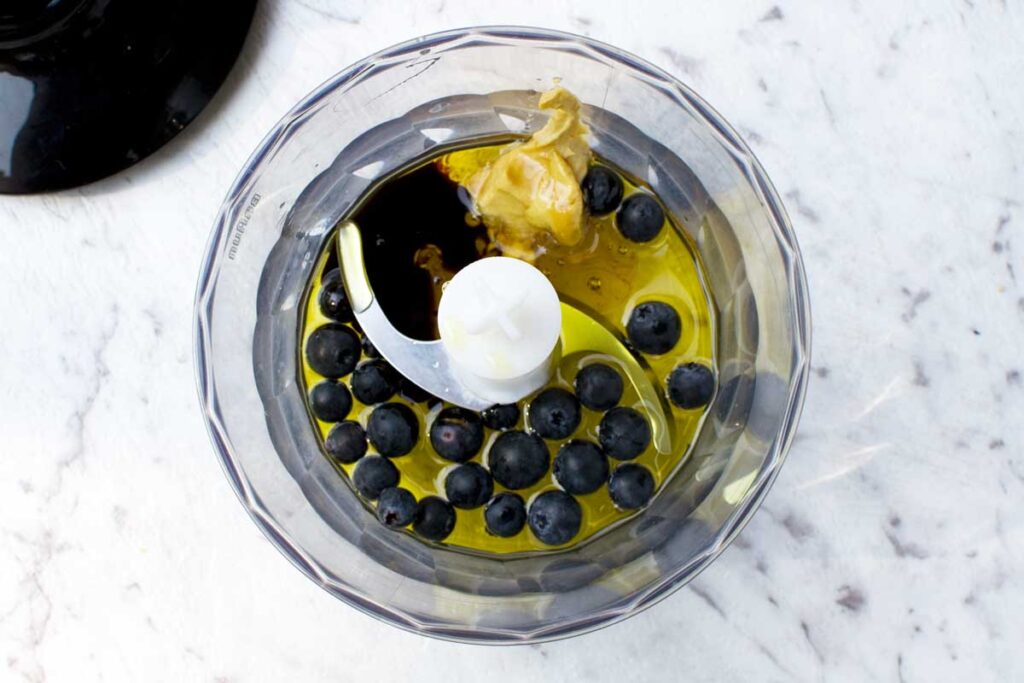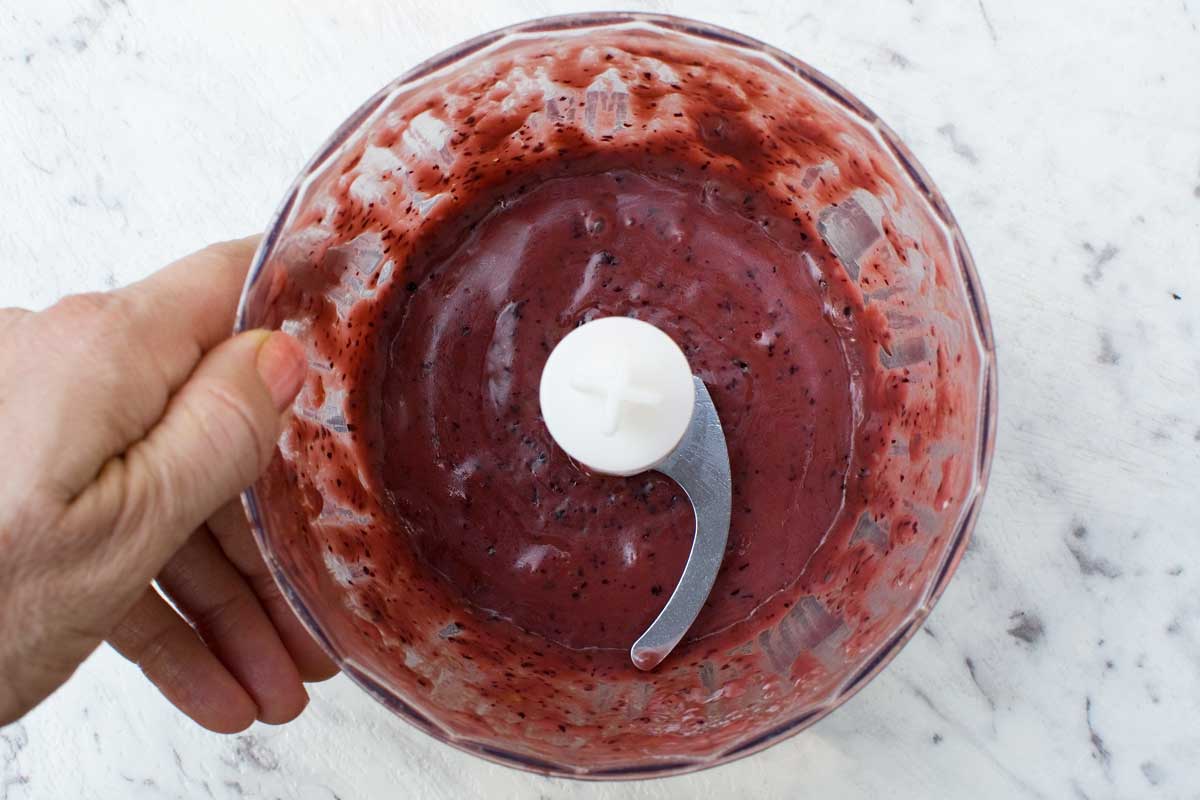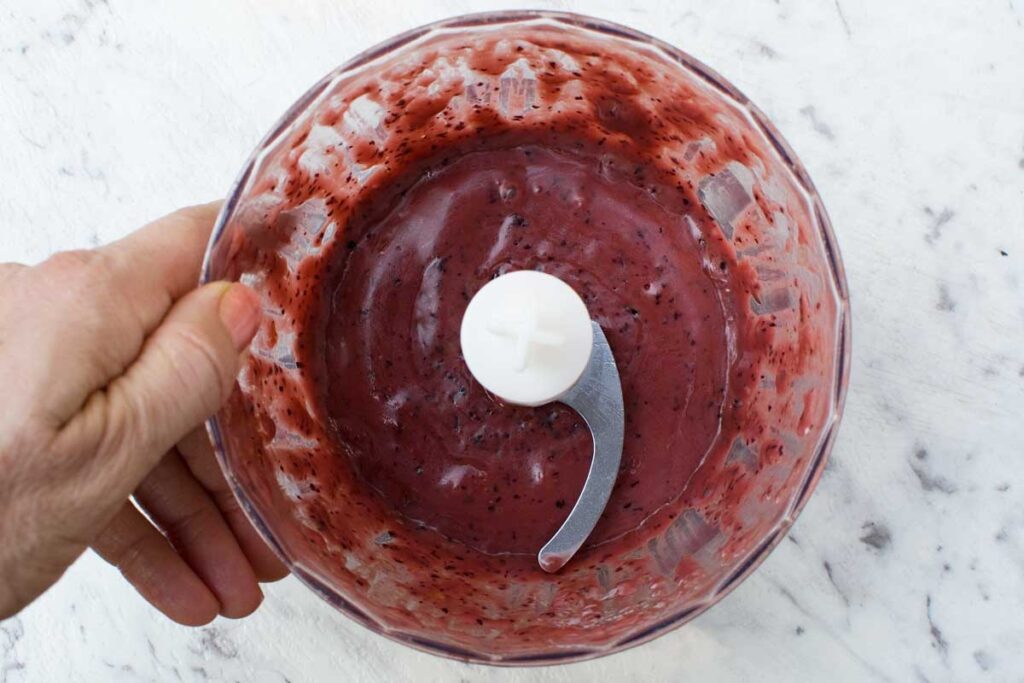 This is a very short section because all you have to do is throw all the ingredients into a mini food processor or blender and blend for a few seconds until smooth!
Sometimes I add a bit more water if the dressing still seems too thick to pour.
If you don't have a mini food processor, you can use a hand-held stick blender. Alternatively you can make more of the dressing (3 or 4 times more) and make it in a normal sized food processor.
Store leftovers in a glass jar in the fridge.
I usually pour the dressing into a small jug. I pour a little over the salad then let everyone serve themselves to some more if they wish.
How to use a blueberry dressing
My favourite way to eat this is drizzled all over this spinach blueberry salad with bacon and avocado. You won't believe how delicious this warm salad is, and you only need 4 ingredients to make it! Bonus: You only need around ⅔ cup blueberries for both the salad and dressing. I buy one little 100 gram container and still have some left for my young son to munch on!
I think this blueberry dressing would dress up a simple salad really well. Think a baby spinach salad, a kale salad, or any fresh green salad. Keep it really simple, or maybe add some chopped nuts such as walnuts or hazelnuts and some tangy cheese like feta, goats cheese, or even blue cheese.
Lastly, it goes well on a chicken salad. I'd keep it simple again with just fresh salad leaves of your choice, shredded or chopped chicken, some kind of fruit such as canned mandarin segments, peach pieces or strawberries, and possibly some nuts or cheese. Yum.
Expert tip: If you're packing up the dressing to go on a salad for lunch or while out and about, take it along separately in a small sealed container until ready to eat.
Variations and substitutions
Skip the water in the recipe and what happens? You get a thicker version that's perfect to use as a dip. Double or even triple the ingredients for a delicious and healthy blueberry dip to wow your guests. Dip veggies, chips, bread, whatever in and be amazed!
Try raspberries instead of blueberries and you'll get a just-as-easy-and-yummy healthy raspberry vinaigrette.
Don't have honey and/or balsamic vinegar? Use maple syrup and any other kind of vinegar you happen to have (apple cider, white, red wine, even blueberry).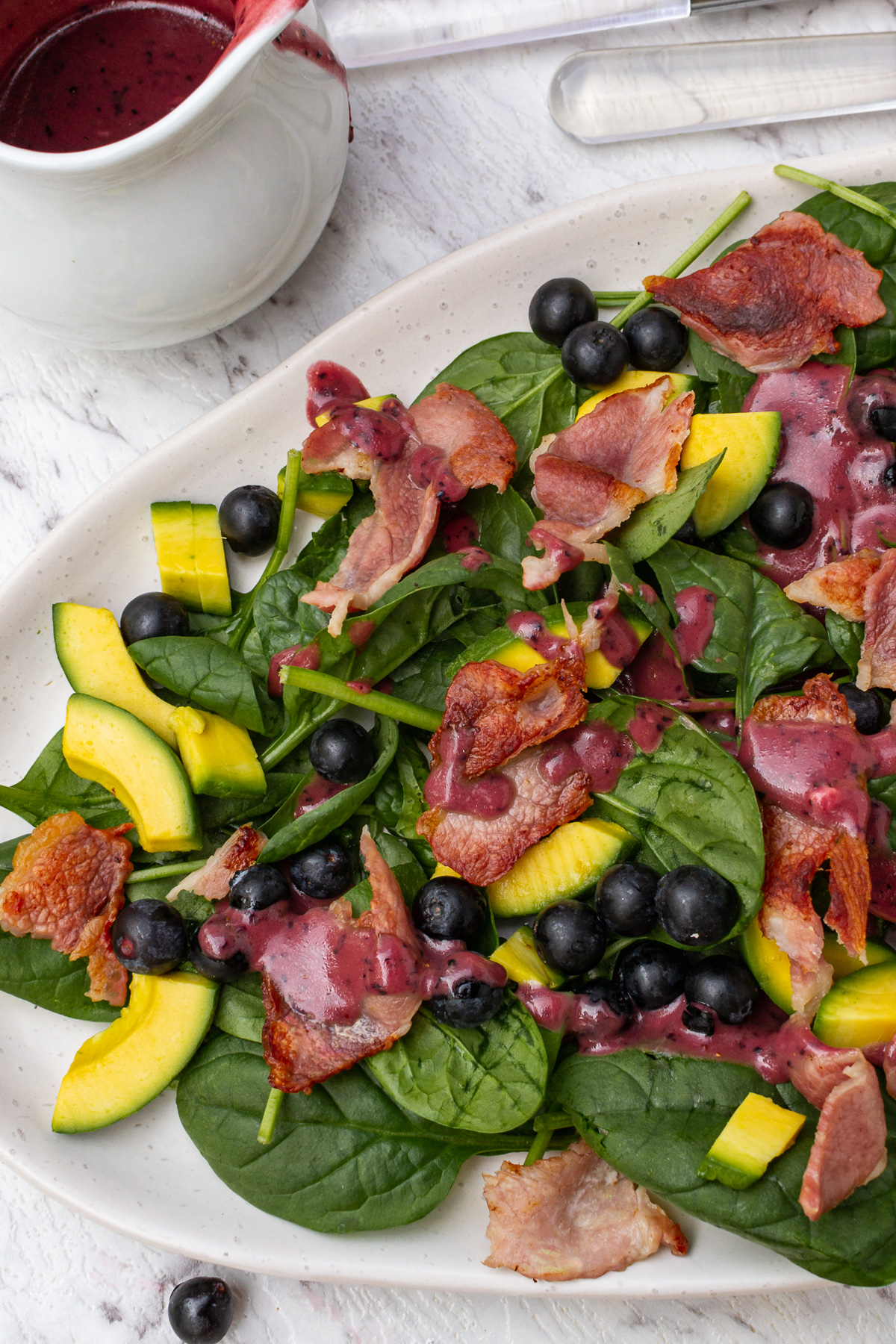 More things to know (recipe FAQ)
What's the difference between a vinaigrette and a dressing?
The main ingredients of a vinaigrette are oil and vinegar, but there can be other ingredients too. A dressing can be similar to a vinaigrette, but its main ingredients might not be oil and vinegar. In other words a vinaigrette is also a dressing, but a dressing might not be a vinaigrette. Confused? Don't worry, all you really need to know is that they both make salads taste great!
Is this a healthy vinaigrette?
Yes, I'd say so. It's made of all natural ingredients, and blueberries are a so-called super food. So it's a win-win situation, really!
How do you store a homemade vinaigrette?
The best way to store it is in the fridge in a glass jar with a lid. This way you can shake it up well before pouring it over your salad.
How long does it keep?
This contains a fresh ingredient (blueberries!) so it won't keep for as long as most vinaigrettes. But as the blueberries are combined with vinegar and oil, it'll still keep for up to a week in the fridge. Just cover it well or keep it in a sealed container.
Can I freeze it?
Actually, you can as there's no dairy in this dressing. Just pour into a sealed container and freeze for up to 6 months. When you want to use it, defrost and whisk well again with a small whisk or even just a fork. Alternatively just pour it into the mini food processor again and pulse for a few seconds until smooth.
More yummy blueberry recipes
IF YOU MAKE THIS RECIPE, LET ME KNOW HOW YOU GET ON BY LEAVING A COMMENT AND RATING BELOW… AND DON'T FORGET TO SIGN UP TO RECEIVE ALL MY NEW RECIPES BY EMAIL!
FOLLOW ME ON FACEBOOK, INSTAGRAM, PINTEREST AND YOUTUBE.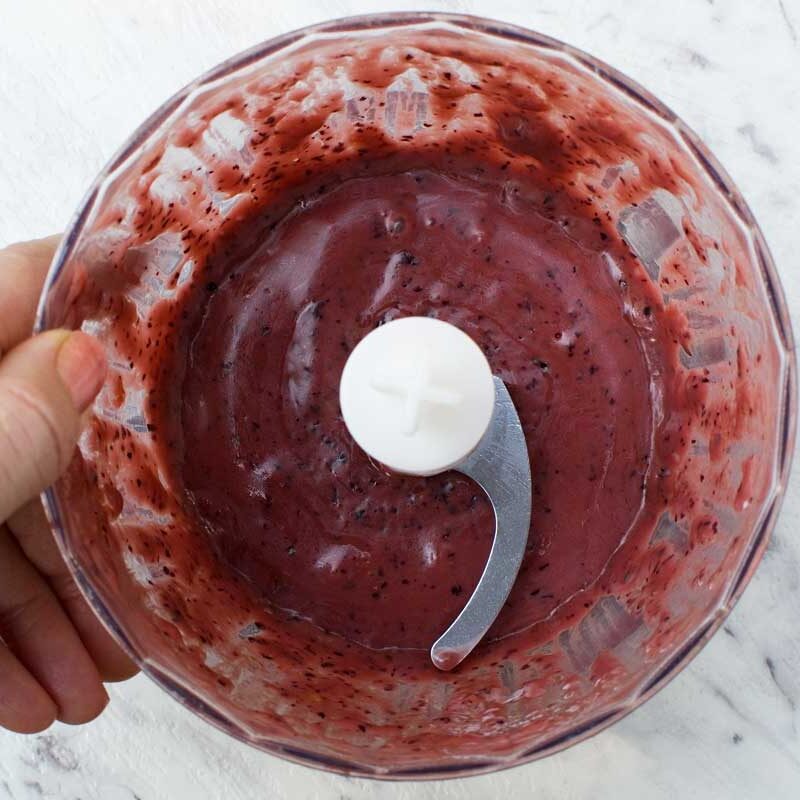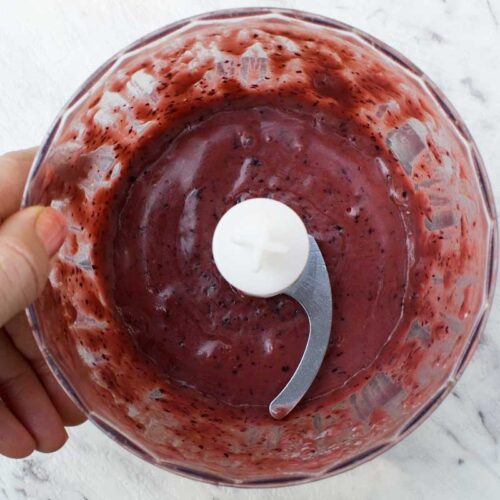 5-minute Blueberry Vinaigrette
Whether you're a vinaigrette lover or not, this blueberry vinaigrette's a keeper! Ready in just 5 minutes, all you have to do is throw everything into a mini food processor and blend. Pour over simple salads to give them a delicious flavour and health boost.
Ingredients (UK/Australia? Click below for grams/ml)
¼

cup

blueberries

2

tablespoons

olive oil

½

tablespoon

balsamic vinegar

½

tablespoon

Dijon mustard

Another type of mustard is fine.

1

teaspoon

honey

Substitute with maple syrup if you like.

2

tablespoons

water

salt and pepper

to taste (optional)
Instructions
Combine all the ingredients in a mini food processor and whizz until smooth. Alternatively use a hand-held blender.

Pour into a small serving jug, then drizzle a little over your salad. Serve the rest of the vinaigrette on the side for people to help themselves to.
Notes
How to blend it: I use the mini food processor that came with my Breville stick blender. It's brilliant. Alternatively just use an ordinary stick blender.
Getting the right consistency: Sometimes I add a little more water to get the right pourable consistency. Alternatively, if you'd prefer to use this as a dip, skip the water altogether or add less until you get a mayonnaise-like consistency.
How to serve it: I think this vinaigrette goes really well with simple salads e.g. a baby spinach or kale salad. I also think it goes well with the following on a salad: bacon, chicken, other fruit (peaches, mandarins, strawberries), cheese (any, but especially feta, goat cheese, blue cheese), avocado, nuts (any, but especially hazelnuts, pistachios, walnuts).
I usually make it to go with this spinach blueberry salad with bacon and avocado.
If you want to make more: This recipe makes about the right amount of dressing to go on a salad for two. But of course it's easy to make enough for more people, or for more than one salad. Simple double, triple or quadruple the ingredients for more.
How to store: As this recipe contains fresh blueberries, the dressing won't keep for as long as some other vinaigrettes. Still, if stored in a sealed container or covered well, it will keep for about a week in the fridge. I like to store mine in a sealed glass jar so that it's easy to shake up before serving.
Perhaps surprisingly, you can also freeze it. Just pour into a sealed container and freeze for up to 6 months. After defrosting, whisk again with a mini whisk or even a fork. Alternatively pulse briefly again in a mini food processor.
Nutrition
Calories:
151
kcal
Carbohydrates:
6
g
Protein:
1
g
Fat:
14
g
Saturated Fat:
2
g
Sodium:
45
mg
Potassium:
26
mg
Fiber:
1
g
Sugar:
5
g
Vitamin A:
13
IU
Vitamin C:
2
mg
Calcium:
5
mg
Iron:
1
mg