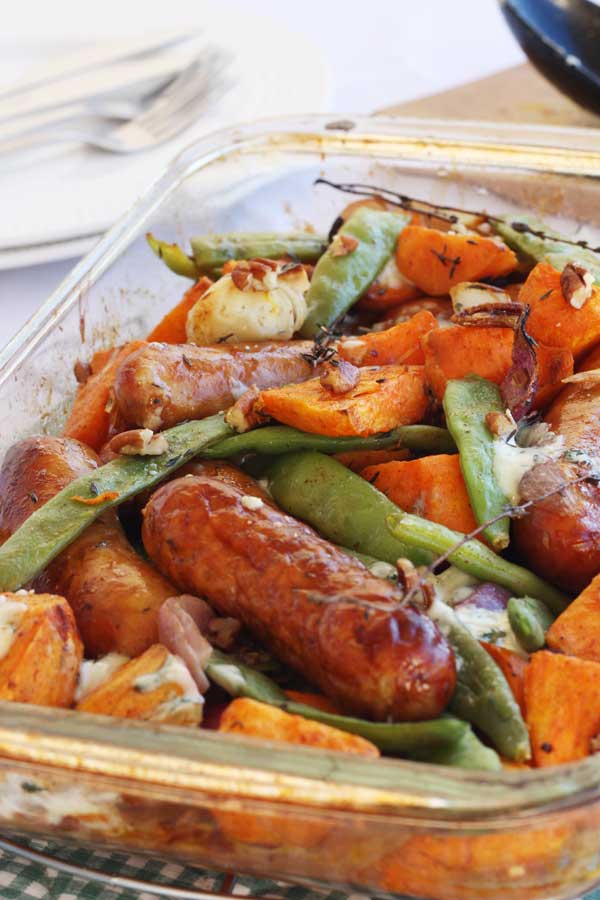 How do you feel about recipes with lots of ingredients and steps? Personally, I am realising more and more what a lazy cook I am! I love the idea, and most definitely the beautiful photographs, of recipes with amazing combinations of ingredients and flavours and three different parts. Perhaps a dish like pepper-crusted tenderloin stuffed with goats cheese and roasted apple served with sautéed Cajun-spiced seasonal vegetables and a red wine jus. Oooh, I know, sounds awful … TOO much going on! But I think you probably get my point!
Actually, I'd love to be invited to a dinner party where the host cooks me an amazing Michelin star-worthy dish! Are you taking note, any gourmet chef friends who happen to be reading? But, I definitely don't want to go to the trouble of making a meal like that myself!
Don't get me wrong, though. I don't mind a bit of effort. Honestly, I don't. Or the odd recipe where there are a few more ingredients or steps than usual. But on the whole the recipes that really excite me are the ones that are super easy to make but still turn out wonderfully tasty as if you have actually gone to a whole lot of effort.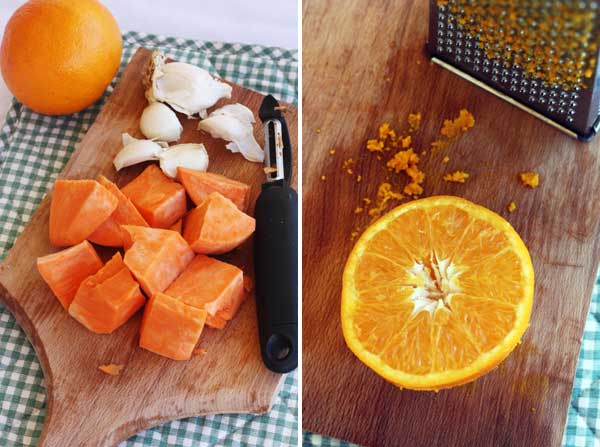 In particular, to me there is no better meal than one which you can throw together in one big baking dish, put in the oven and go off and do your laundry … or sneak in an episode of House of Cards, more like. It might need a quick shuffle or stir half way through, but that's pretty much all the loving attention it needs after you've done the initial peeling and chopping. Personally, I just need to remember to set a timer on my phone though so I don't forget all about that wonderful deliciousness cooking itself up in my oven. Yes, the voice of experience of ruined dinners speaks!
Cue this easy one-tray sausage, sweet potato and orange bake! It takes no longer than about 10 minutes or so to prep everything and another 45 minutes to cook (almost) by itself. Brilliant!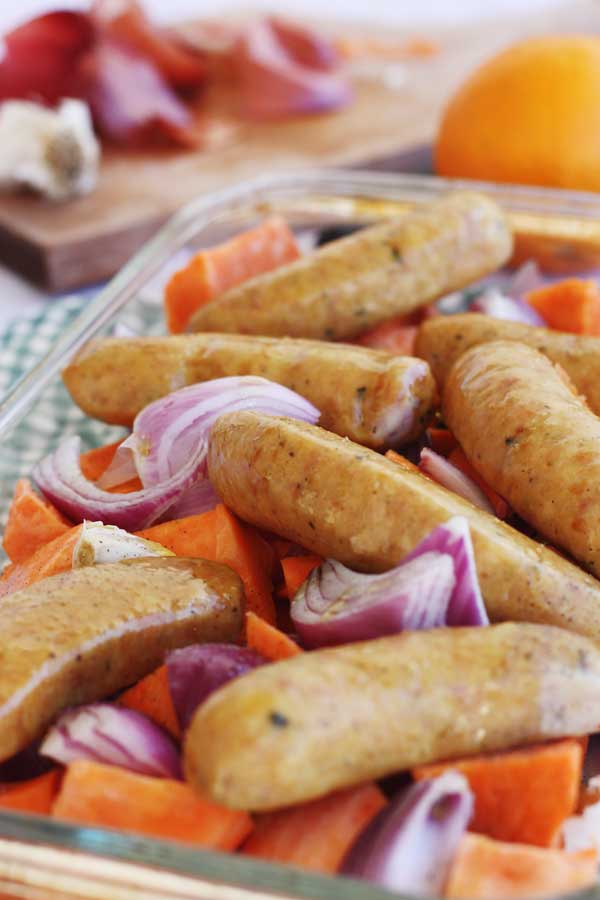 To begin with, all you need are sweet potatoes, an onion, a few cloves of garlic and a packet of sausages. I used chicken sausages, which worked really well, but I honestly think you could use any sausages you fancy. I would only recommend buying the very best, meatiest sausages you can find, from a good local butcher preferably. This is not a dish to be putting your local discount supermarket's value brand pork sausages with only 30% meat and goodness knows what else in! Save those for your summer BBQ hot dogs! (?? Or maybe not …)
So chop your sweet potatoes into wedges and dump them with the unpeeled garlic cloves and your sausages into a large baking dish and whack the whole dish, uncovered, in the oven to roast for half an hour or so, just tossing occasionally so that the sausages brown nicely on all sides.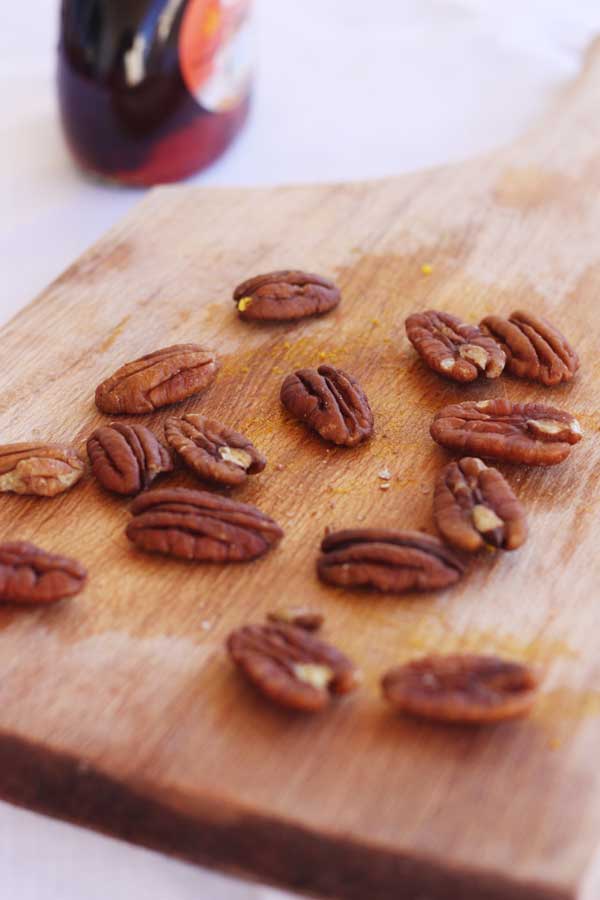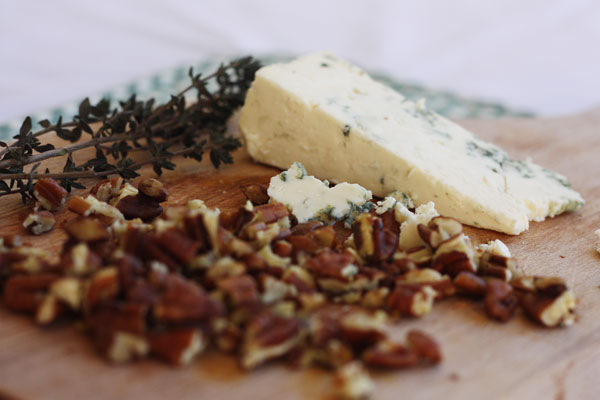 Then there's the lovely marinade, or juice, or gravy, or whatever you want to call it. To prepare that just whizz together the grated zest and juice of an orange with some maple syrup and cinnamon and you're done. Then add the rest of the ingredients to the tray and pour the whole marinade over everything and let it cook for a little longer to get all sticky and bubbly.
The only thing that's left to do is to crumble over a little blue cheese 5 minutes before the end of the cooking time, if you choose to. I know not everyone is a fan of blue cheese, but honestly it goes so so well in this dish. If you really can't handle it, you could use another sharp crumbly cheese instead, or just omit the cheese altogether. It's actually flavourful enough already, but for me the cheese really complements the orange and cinnamon in the sauce and adds a delicious extra tang to the dish.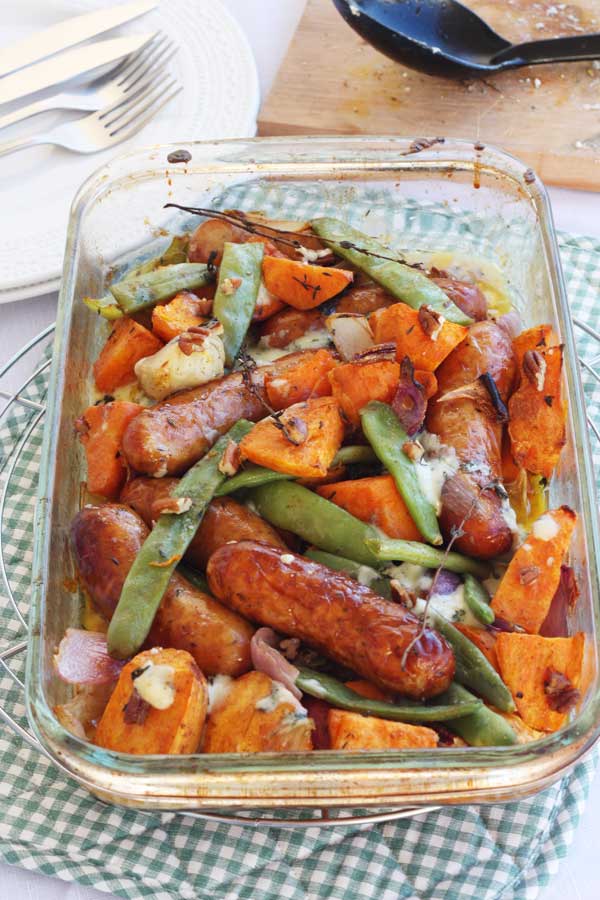 I served this with a little bit of creamy mash on the side. I know, there are already potatoes in the dish but, well, a different kind! So that's OK. In my humble opinion! I couldn't resist, just to soak up all that lovely juice, but I think this would also be great with polenta, quinoa, crusty bread or even just some crisp green salad leaves.
Oh, and I'm probably stating the obvious here, but don't forget to squeeze the lovely sweet roasted garlic out of its 'skin' and squash it into the sauce as you eat. Delicious!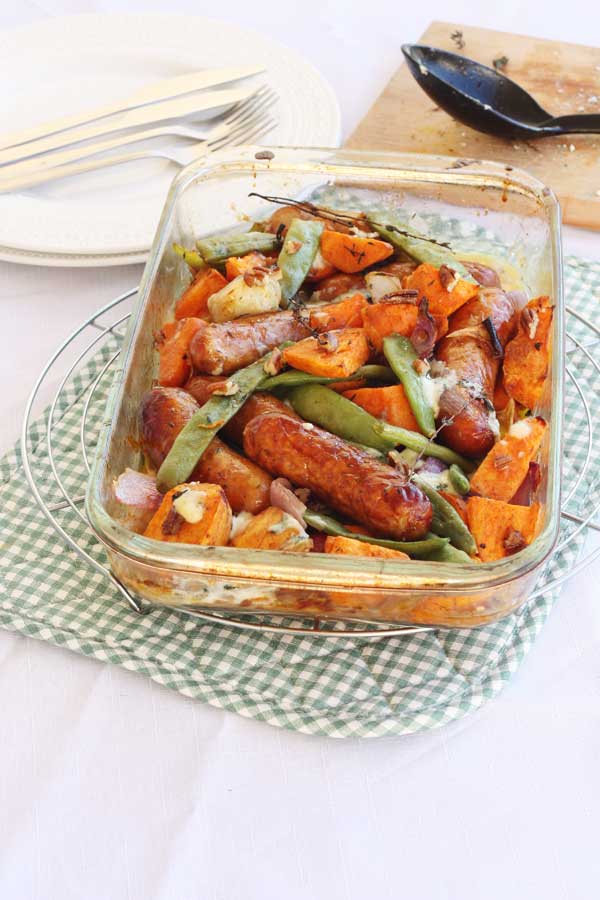 So … as I love these kinds of recipes so much, please give me some more inspiration! What are your favourite almost-cook-themselves one-dish or tray-bake meals?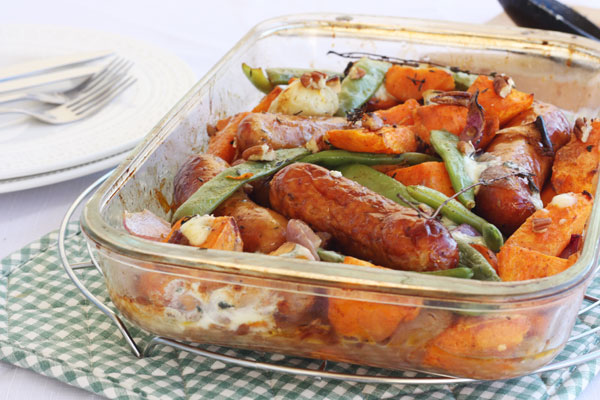 Sausage, sweet potato & orange tray-bake
A flavourful and extremely easy to throw together sausage tray-bake with sweet potatoes, green beans and pecan nuts in a lovely orange, maple syrup and cinnamon gravy. And it's even tastier with a little melted blue cheese on top. Perfect for a quick midweek meal!
Ingredients (UK/Australia? Click below for grams/ml)
1

onion

3

medium sweet potatos

or 2 large!, peeled

4

garlic cloves

unpeeled but 'squashed' a little with your palm

8

best quality sausages

I used chicken sausages

a good drizzle of olive oil

for cooking

7

ounces

green beans

a good handful of chopped pecan nuts

or another kind of nut such as walnuts or hazelnuts if you prefer

4

or 5 sprigs of thyme

grated zest and juice of an orange

2

tablespoons

maple syrup

or honey

1

teaspoon

cinnamon

1/4-1/2

cup

blue cheese (optional)
Instructions
Preheat the oven to 200C/390F.

Cut the onion into medium-sized chunks and the sweet potatoes into medium-sized wedges and throw them all into a large baking dish with the garlic cloves.

Add the sausages to the dish and toss everything together with a good drizzle of olive oil. Bake uncovered for about 30 minutes or until the sausages are nice and golden, tossing half way through cooking.

Whisk together the orange zest and juice, maple syrup and cinnamon, then add the green beans, nuts, leaves from the thyme sprigs and salt and pepper to taste to the dish before pouring the marinade over everything.

Bake for about another 15 minutes (or until the sweet potatoes are done), scattering the blue cheese over the top of the dish 5 minutes before the end of the cooking time to melt.

Serve with creamy mashed potatoes, polenta, crusty bread or a simple green salad.
Notes
Fairly heavily adapted from a recipe for One-pan Sausage and Sweet Potato Bake from January 2014 edition of UK Good Housekeeping magazine.
Use any sausages of your choice in this dish. Just make sure they are the best quality you can find!
Nutrition
Calories:
689
kcal
Carbohydrates:
33
g
Protein:
30
g
Fat:
47
g
Saturated Fat:
16
g
Cholesterol:
128
mg
Sodium:
1258
mg
Potassium:
951
mg
Fiber:
5
g
Sugar:
12
g
Vitamin A:
14365
IU
Vitamin C:
12.5
mg
Calcium:
135
mg
Iron:
3.1
mg
Another easy and delicious one-dish meal: Stove-top Mediterranean chicken casserole.
I hope you enjoyed this post! You can find more from Scrummy Lane on Facebook and Pinterest and you can also follow me on Bloglovin! Thanks so much for reading!