Sausage and mash like you've never had it before! This amazing one pan sausage tray bake with sweet potatoes combines the concept of a humble sausage and mash with the gourmet flavours of maple, orange, pecans and blue cheese. It might sound fancy, but you only need 10 minutes of prep time, and it's on the table in just 45 minutes.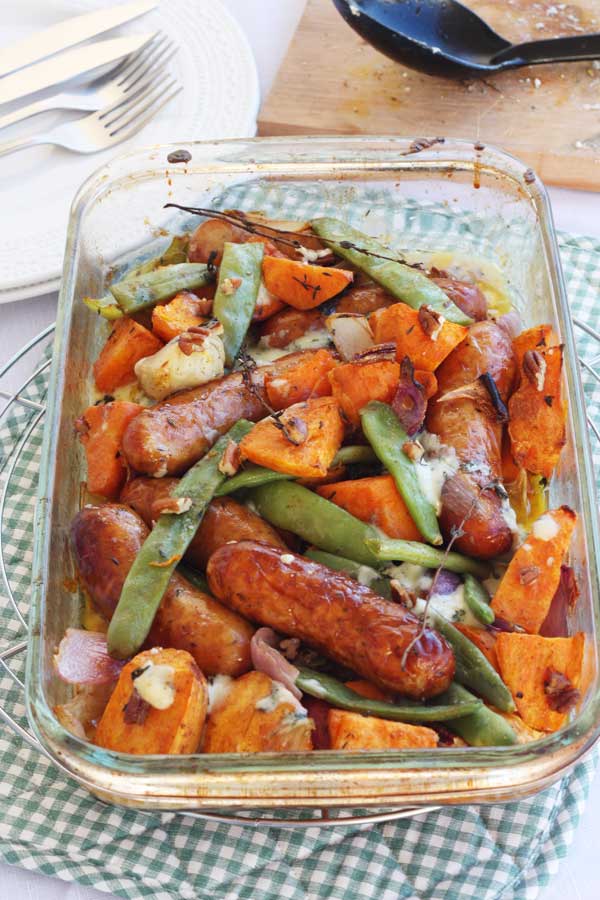 There's so much more you can do with a humble pack of sausages than throw it in a hot dog bun (although there's nothing wrong with that!).
This easy baked gnocchi with sausages, peppers and tomatoes can be (unbelievably) ready in just over 30 minutes. This sausage bolognese is made with just 6 ingredients and you can repurpose the leftovers as a pizza topping.
But this sausage and sweet potato sheet pan dinner adds a bit of extra class to a one pan dinner.
What you'll love about it
It's one of those 'magic' one pan meals that take mere minutes to prepare. Throw everything in the oven together and you're rewarded with a delicious and balanced meal within an hour.
It's pretty economical, healthy… and a sweet and salty crowd pleaser! It'll look 'ordinary' enough to a fussy 4-year-old (trust me) and yet 'fancy' enough to serve to guests.
It's made with basic, easy-to-find ingredients. And yet… the combination of flavours is just that little bit different. The pecans and blue cheese take it over-the-top delicious, but feel free to skip one or both of these and you'll still have a very delicious meal.
You can make it ahead! Spend 10 minutes chopping everything and throwing it all into a big baking dish in the morning. Throw it into the oven when you're ready to eat and hey presto, dinner is served!
About the ingredients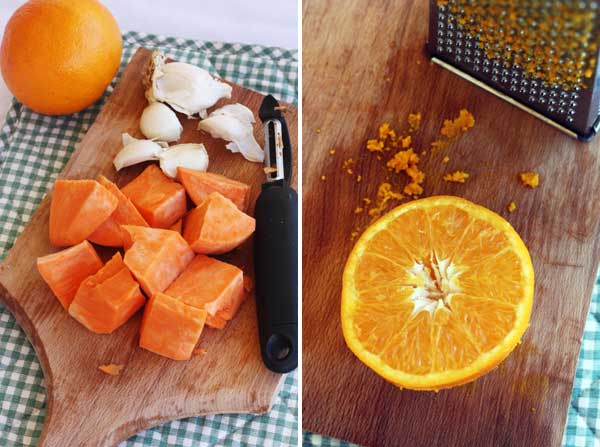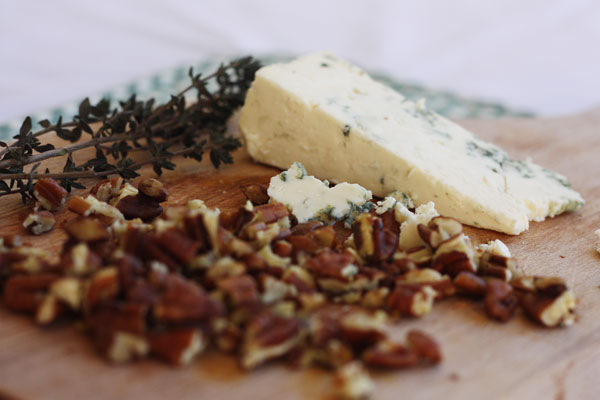 Onion, sweet potato and garlic: You need a large onion to chop into large(ish) chunks, a medium sweet potato chopped into small chunks so they cook easily, and loads of garlic cloves. You don't need to peel the garlic! When it's roasted it squeezes easily out of its skin and into the juices on your plate. Yum!
Sausages: Any good quality sausages work. The higher quality the better. I sometimes like to use chicken sausages.
Green beans: You need a couple of handfuls. Just top and tail and either throw in whole or slice in two. You can replace the beans with mange-tout/snow peas/sugar snap peas if you like.
Pecan nuts: These go really well with this dish. Feel free to replace with another type of nut though such as walnut, hazelnut or macadamia. We have a nut allergy in our house though so we just skip the nuts altogether, or sprinkle over individual dishes at the end rather than with the rest of the ingredients in the baking dish.
Fresh thyme: Thyme goes really well with the other flavours in the dish, and it also makes the dish look fancy. But we all know it can sometimes be tricky to get hold of specific fresh herbs unless you happen to have them in your garden! So no worries if you'd like to use dried thyme, oregano, basil or a mixture of Italian herbs instead (about a teaspoon).
Zest and juice of an orange: Adding the zest to the marinade as well as the juice makes all the difference to the flavour. I like to take it a step further and grate the zest on the large side of the grater so that there are chunky bits of zest on top of the dish.
Maple syrup: Feel free to use honey, rice malt syrup or another kind of syrup instead.
Cinnamon: If you aren't a fan, feel free to skip this part!
Blue cheese: Now this is totally optional. I know blue cheese is one of those love it or hate it sorts of things! If you're a hate it kind of person, you could easily use feta cheese or goat's cheese instead. Or just skip the cheese altogether!
How to make it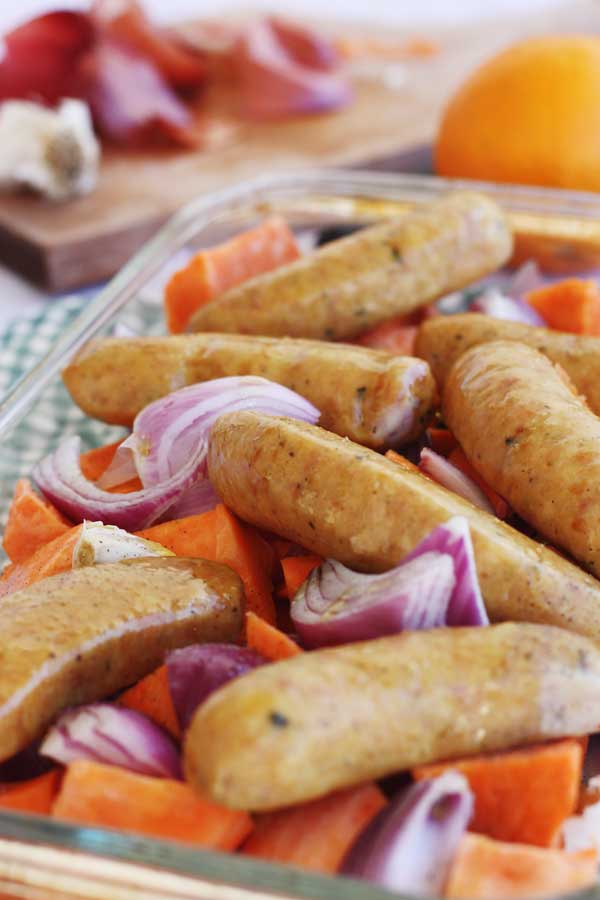 Step 1: Chop your sweet potatoes into small chunks so that they cook quickly. Put them into a large baking dish with the unpeeled garlic cloves. Put the sausages on top.
Step 2: Drizzle with a little olive oil (or another kind of oil) and roast in the oven for half an hour or so. Toss occasionally so that the sausages brown nicely on all sides.
Step 3: To prepare the lovely orange marinade or sauce, just whisk together the grated orange zest and juice, maple syrup and cinnamon and you're done. Add the rest of the ingredients to the baking dish, then pour the whole marinade over everything.
Step 4: Let everything cook for around 15 to 20 minutes longer until the green beans/veggies are cooked and everything is sticky and bubbly.
Step 5: Crumble over the blue cheese or feta cheese 5 minutes before the end of the cooking time, if you choose to, just to let it melt into the top of the dish a little. Serve and enjoy!
How to serve it
I often serve this with a little bit of creamy mashed potatoes on the side.
I think this would also be great with polenta, quinoa, rice, crusty bread, this amazing 2-minute toast with olive oil and salt (the easiest side dish!), or even just some crisp green salad leaves.
Oh, and I'm probably stating the obvious here, but don't forget to squeeze the lovely sweet roasted garlic out of its 'skin' and squash it into the sauce as you eat. Delicious!
I think this is a great crowd pleasing midweek meal, but it's also a pretty good option for easy entertaining. You can prepare everything beforehand, then just throw the dish in the oven just before your guests arrive.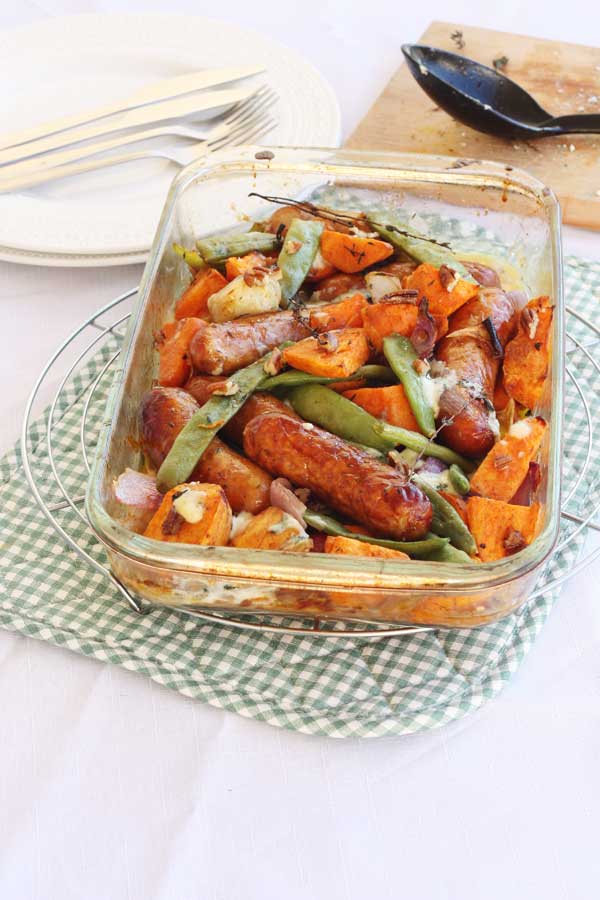 Variations
If you like, you can vary the vegetables in this dish a little. Use pumpkin instead of sweet potato, and mange-tout/snow peas instead of green beans.
You can even replace the sausages with chicken. I have a recipe very similar to this one on the blog as well, for chicken and sweet potatoes with maple orange sauce. You might prefer to follow this recipe if you'd like to try making something similar with chicken!
More things to know (FAQs)
What kind of sausages are best?
You can honestly use any kind you like. However… I would get the very best you can find or afford. Try a good butcher or the high end range at your supermarket. I find Italian style pork or chicken sausages to be the best, but it's really up to you.
Are you sure I don't need to peel the garlic?
Nope! When roasted, garlic squeezes out of its skin really easily. It's fun (and tasty) to squeeze it out onto your plate and smoosh it into the gravy. Yum!

It's also a lot easier to NOT have to peel the garlic when you're trying to make a quick meal, right?
What if my vegetables aren't cooked at the end of the cooking time?
To try to make sure everything is cooked around the same time, cut the sweet potato into small (around 2cm) chunks and halve the green beans.

Don't worry though if you think the veggies need slightly longer. I find sausages pretty forgiving so just pop the dish back into the oven for 5 or 10 minutes more.
I can't stand blue cheese/We're a nut free household.
No worries! This dish is actually still extremely delicious without either the cheese or nuts. There's still a LOT of flavour in it from the sausages, maple syrup, orange and herbs. Sweet and salty lovers – you're in for a treat!
More easy tray bakes
IF YOU MAKE THIS RECIPE, LET ME KNOW HOW YOU GET ON BY LEAVING A COMMENT AND RATING BELOW… AND DON'T FORGET TO SIGN UP TO RECEIVE ALL MY NEW RECIPES BY EMAIL!
FOLLOW ME ON FACEBOOK, INSTAGRAM, PINTEREST AND YOUTUBE.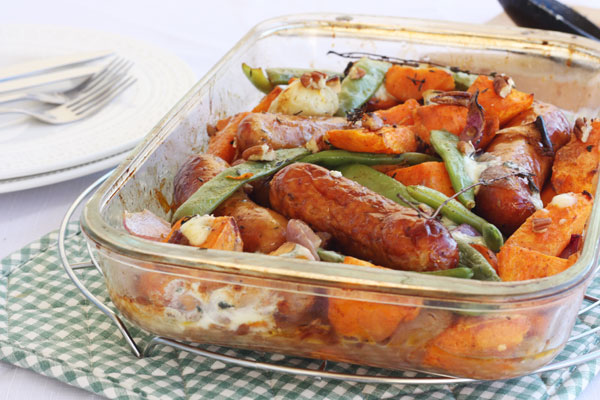 Easy Sausage Tray bake (With Sweet Potatoes And Orange)
A flavourful and extremely easy to throw together sausage tray bake with sweet potatoes, green beans and pecan nuts in a lovely orange, maple syrup and cinnamon gravy. And it's even tastier with a little melted blue cheese on top. Perfect for a quick midweek meal!
Equipment (affiliate links)
Ingredients (UK/Australia? Click below for grams/ml)
1

onion

chopped into chunks

1

medium sweet potato

peeled and chopped into small chunks (about 2cm)

6

garlic cloves

unpeeled but 'squashed' a little with your palm

8

sausages

good quality (I like Italian style pork or chicken)

1

tablespoon

olive oil

for cooking

7

ounces

green beans

(about 2 handfuls)

1

ounce

pecan nuts

(a handful) or another kind of nut such as walnuts or hazelnuts if you prefer

4

sprigs

fresh thyme

(or 1 teaspoon dried)

1

orange

zest and juice

2

tablespoons

maple syrup

or honey, rice malt syrup, rice bran syrup

1

teaspoon

cinnamon

¼

cup

blue cheese

optional (or feta or goat's cheese)
Instructions
Preheat the oven to 200C/390F.

Put the onions and sweet potato chunks into a large baking dish with the garlic cloves.

Add the sausages to the dish and toss everything together with a good drizzle of olive oil. Bake uncovered for about 30 minutes or until the sausages are nice and golden, tossing half way through cooking.

Whisk together the orange zest and juice, maple syrup and cinnamon. Then add the green beans, nuts, leaves from the thyme sprigs and salt and pepper to taste.

Pour the marinade all over everything in the dish. Bake for about another 15 minutes (or until the sweet potatoes are done). Scatter the blue cheese over the top of the dish 5 minutes before the end of the cooking time to melt.

Serve with creamy mashed potatoes, polenta, crusty bread or a simple green salad.
Notes
Type of sausages: Any you like! I prefer pork or chicken. Make sure you choose good quality sausages though.
Sweet potato: I usually cut the sweet potato into small chunks (about 2 cm) so that it cooks well in the same amount of time as the sausages and other vegetables.
Gluten free? In theory this dish is gluten free, but do check that the sausages you use are gluten free.
Preparing ahead: You can prepare the sweet potatoes, onions, garlic and sausages in the baking dish ahead of time. Keep covered in the fridge until ready to bake. You can also prepare everything else and whisk together the marinade ready for adding to the dish.
Alternative: You can make a very similar dish with chicken. Here's my recipe for chicken and sweet potatoes with maple orange sauce.
Nutrition
Calories:
753
kcal
Carbohydrates:
31
g
Protein:
31
g
Fat:
56
g
Saturated Fat:
18
g
Polyunsaturated Fat:
8
g
Monounsaturated Fat:
26
g
Trans Fat:
1
g
Cholesterol:
129
mg
Sodium:
1236
mg
Potassium:
916
mg
Fiber:
5
g
Sugar:
15
g
Vitamin A:
8677
IU
Vitamin C:
31
mg
Calcium:
148
mg
Iron:
3
mg