Everyone should know how to make this 15-minute classic pasta carbonara. With a few simple tips you can make it just as well as any fancy restaurant version. And guess what? No cream!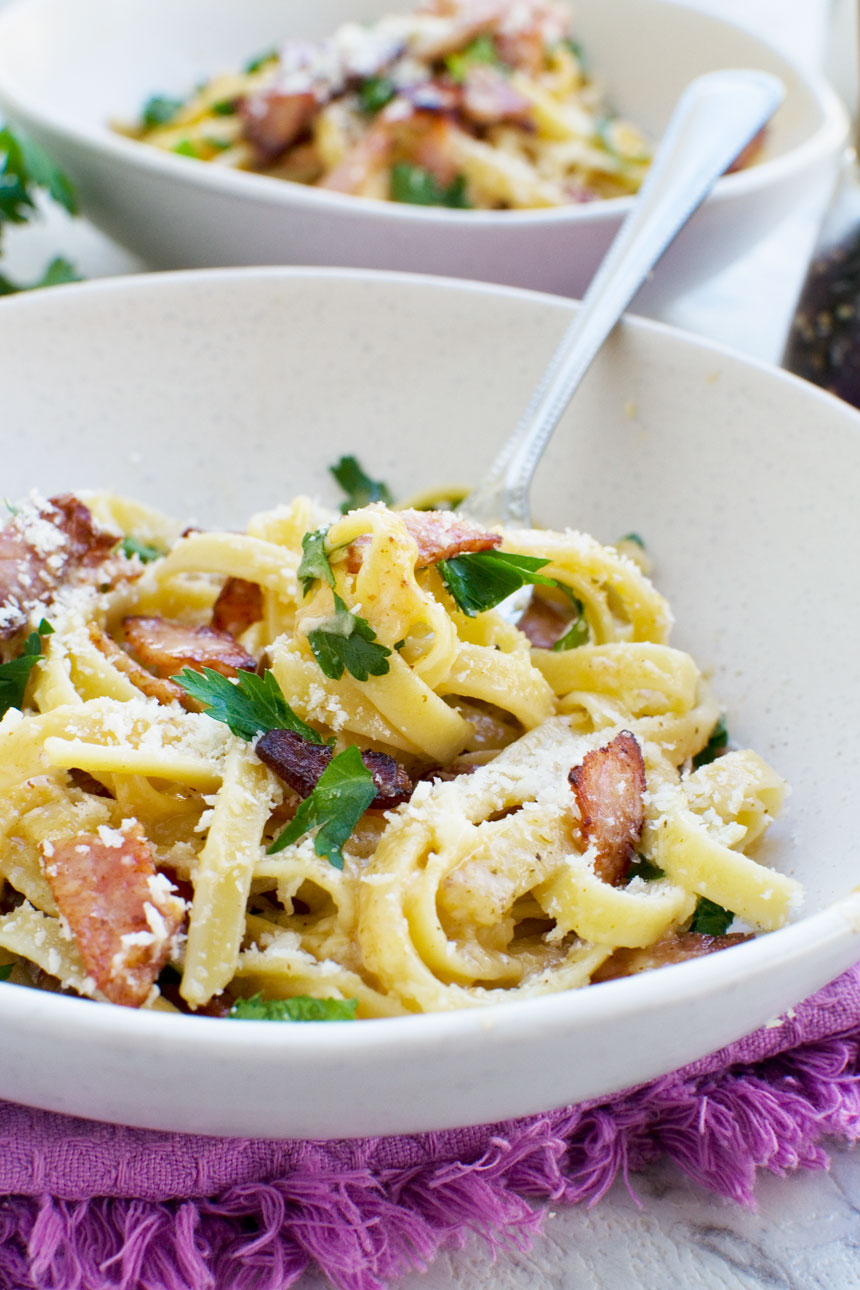 Why you'll love this recipe
I love the idea of a lush creamy pasta, but I don't like my pasta to be drenched in cream. The perfect compromise? A classic pasta carbonara!
I've eaten some really terrible, sickly versions of a spaghetti carbonara, and I've eaten some fantastic ones. Each to their own, but the carbonaras I've enjoyed the most have a few things in common:
There's no cream. Not a single drop. Eggs alone are enough to make a delicious, silky, creamy and flavourful carbonara… if you follow my simple tips!
They're very simple, made with just a few basic ingredients.

About the ingredients
One of the best things about this recipe is that you probably already have most of the ingredients in your fridge. Typically all I have to buy is the bacon.
No prizes for guessing which ingredient I mistakenly missed out of the photo below. Oops.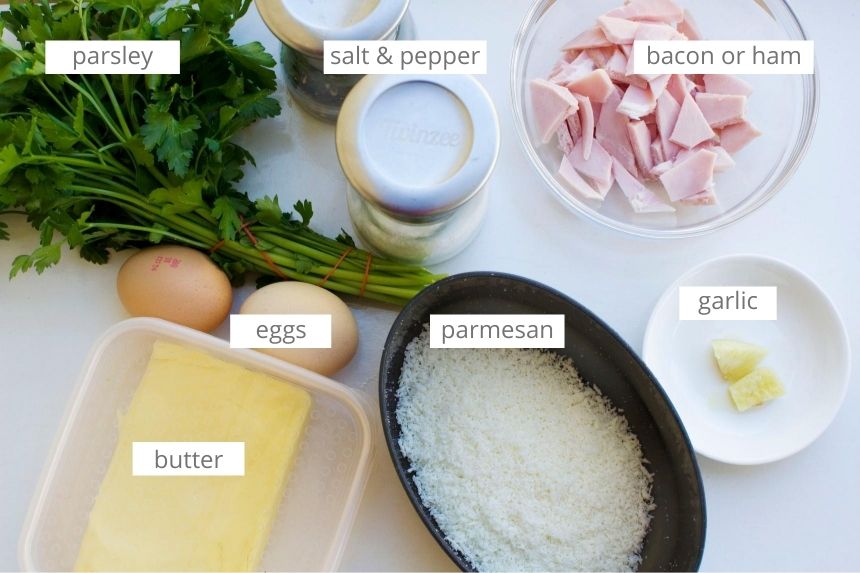 What pasta to use: I like to use linguine which is just slightly thicker and flatter than spaghetti. But carbonara made in this classic 'just eggs' way is both light enough and rich enough to make with a variety of pasta types. Use spaghetti, pappardelle, tagliatelle, penne… anything you have, really!
Butter: Butter adds great flavour, but feel free to use olive oil instead.
Eggs: 2 large, lightly whisked.
Meat: I prefer bacon to ham, but you can make a delicious carbonara with ham too. Just remember to only cook it lightly for a minute or two, as it's already cooked.
Garlic: This isn't essential, but I like to add a couple of whole cloves just to flavour the meal as it cooks. Sometimes I squish them around a bit before removing them.
Parmesan: Ready-grated or grate-your-own are both fine. Just don't use the ready-packaged powdery stuff you find in the pasta isle!
Parsley: For sprinkling over at the end. Not essential to a traditional spaghetti carbonara, but I think it makes all the difference.
Salt and pepper: For grinding over generously. Again, makes all the difference!
So… how do you make the best pasta carbonara of your life?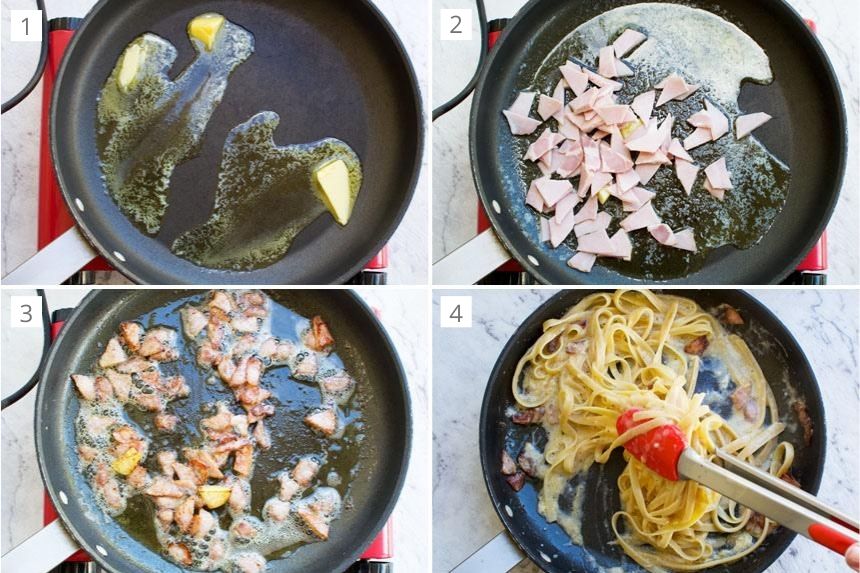 It's as simple as these 6 easy steps…
Step 1: Melt butter in pan.
Step 2: Cook bacon for 10 minutes with garlic.
Step 3: Take half of bacon out of pan. Transfer pasta straight from the cooking water to the pan with tongs.
Step 4: Take off heat (very important!). Add whisked eggs and toss.
Step 5: Layer pasta, bacon, cheese, and salt and pepper. Top with parsley.
Step 6: Eat immediately. Savour every delicious mouthful!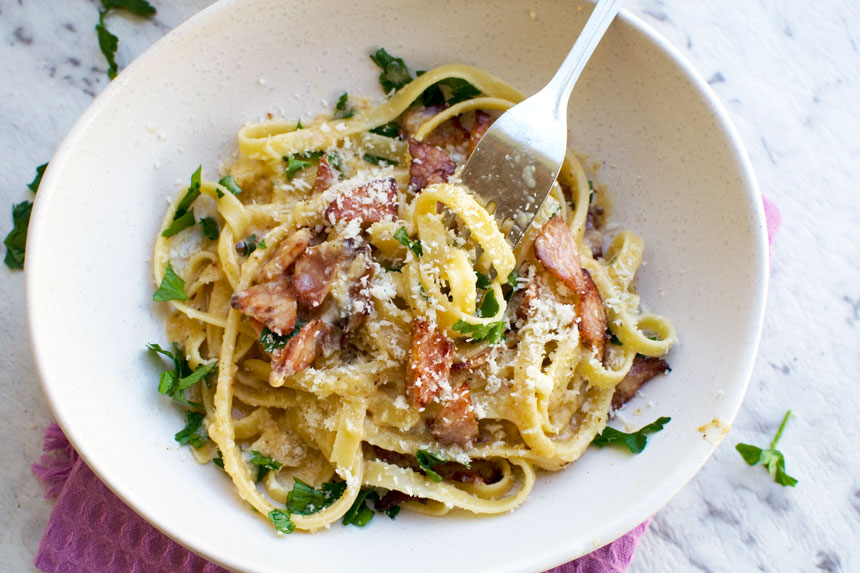 Top tips for success
I have 7 essential tips to take your quick and easy carbonara from average to exceptional.
Top tip: Read through the recipe once or twice and have all the ingredients ready before you start. You need to be able to work fast and confidently for the best results!
Be sure to cook your bacon in butter. I hardly ever use butter for cooking, but you'll have to trust me on this one.
Add two cloves of garlic to the pan while cooking the bacon – for great extra flavour!
Add the pasta to the bacon pan straight from the cooking water. This way you don't lose any of the delicious bacon cooking juices. You also automatically transfer some of the pasta cooking water which helps you to make a silky, creamy sauce.
Take the pan off the heat before you add the eggs. You don't want to end up with scrambled eggs!
Layer up the different components on each person's plate! So… start with pasta, sprinkle over bacon, parmesan, and salt & pepper. Repeat. Bacon and cheese in every bite. Yum.
Serve immediately. This is definitely a dish that's at its best when eaten straight away. Enjoy!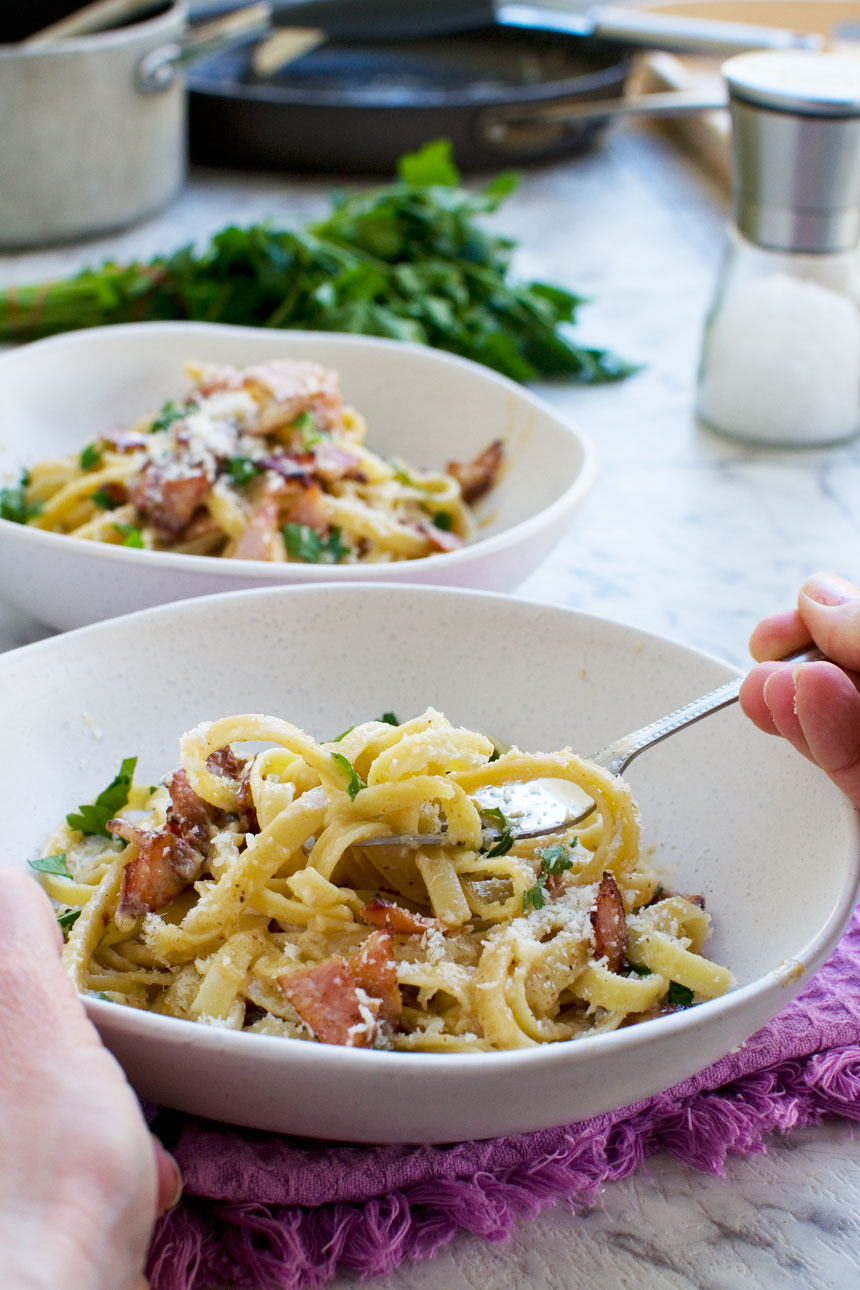 Recipe FAQ
Are the eggs in a carbonara sauce raw, and if so is it safe to eat?
Nope, they aren't raw. And so yes, they are perfectly safe to eat. The eggs cook as you stir them into the hot pasta with a bit of the cooking water. They're smooth and silky, not yucky and gooey, or rubbery!
How do I stop the eggs turning to scrambled eggs?
I'll be honest – this has happened to me more than once. The key is to take the pan off the heat before you add the pasta and eggs, to only briefly toss the eggs through the hot pasta, to add a bit of extra hot cooking water if the dish needs it, and to assemble and serve the meal as fast as you can!
What do you serve with pasta carbonara?
You can serve it as it is, or with a very simple green salad or some green vegetables on the side.
More easy pasta recipes
Or take a look at all my pasta recipes.
IF YOU MAKE THIS RECIPE, LET ME KNOW HOW YOU GET ON BY LEAVING A COMMENT AND RATING BELOW… AND DON'T FORGET TO SIGN UP TO RECEIVE ALL MY NEW RECIPES BY EMAIL!
FOLLOW ME ON FACEBOOK, INSTAGRAM, PINTEREST AND YOUTUBE.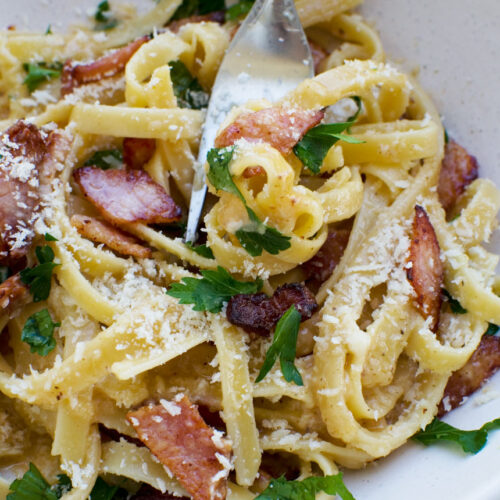 The best classic pasta carbonara of your life (without cream!)
No cream, no heavy sauce, just a really good eggs-only classic pasta carbonara. It's a real crowd pleaser – both light and decadent at the same time – and takes just 15 minutes to make!
Ingredients (UK/Australia? Click below for grams/ml)
3.5

ounces

bacon or pancetta

chopped

2

tablespoons

butter

2

garlic cloves

peeled but left whole

2

eggs

lightly whisked

⅓

cup

grated or shaved parmesan cheese

4½

ounces

linguine

or spaghetti, or any pasta of your choice

salt and freshly ground black pepper

a little chopped fresh parsley

optional
to serve (optional)
simple green salad; OR

green vegetables
Instructions
Cook the pasta according to the cooking instructions. Whisk half of the parmesan into the eggs, grind in some salt and pepper, and set aside.

While the pasta cooks, melt the butter in a large frying pan. Add the bacon and garlic cloves and let cook, stirring often, for about five minutes until golden and starting to crisp. Then throw away the garlic.

Take about half of the bacon out of the pan with a slotted spoon and set aside. Take the pan off the heat (very important!).

Use kitchen tongs or a spaghetti server spoon to lift the pasta straight out of the cooking water and into the bacon pan.

As quickly as you can, pour the eggs and parmesan mixture over the hot pasta in the pan. Also add a little more pasta cooking water. Briefly toss everything together so that the eggs `just` cook (without scrambling!).

Serve out a little of the pasta onto each dish. Top with a little of the reserved bacon and parmesan and grind over a little more salt and pepper. Top this layer with more pasta and the rest of the bacon and parmesan.

Scatter with a little fresh parsley if using. Serve immediately by itself or with a simple green salad or green vegetables.
Notes
What kind of pasta to use
I really like to use linguine. Spaghetti works well too, of course, but you can use any pasta you like. Carbonara sauce is both light enough and rich enough for any type of pasta.
Your recipe is only for 2 people. Can I make it for more?
Absolutely! Just use the slider next to the 'servings' label above to change the ingredient amounts for the number of people you want to make the recipe for.
I sometimes like to make this recipe just for myself. In this case slide the 'servings' slider to just '1'.
What kind of bacon to use
I like to use 'middle' smoked bacon as it's nice and thick and has a lot of taste. Traditionally streaky bacon is used to make carbonara, but I prefer less fat! Really any kind of bacon is fine. If the bacon is thin, however, be careful not to overcook it. Crispy is OK, but burnt to a crisp, not so much! 😉
Ham's OK too. I'd advise choosing a good quality ham and just cooking it for 2 or 3 minutes to release some flavour into the butter.
How to make sure you don't get scrambled eggs instead of a loose, silky and creamy sauce
My best advice is to read carefully through the recipe instructions before starting and try to memorize the steps.
It's really important to take the pan off the heat before you add the eggs. Lift the pasta straight out of the cooking water into the bacon pan so that some water goes into the pan. Add a little more of the cooking water as you add the eggs.
Work quickly and confidently!
Nutrition
Calories:
541
kcal
Carbohydrates:
22
g
Protein:
22
g
Fat:
40
g
Saturated Fat:
18
g
Cholesterol:
238
mg
Sodium:
759
mg
Potassium:
187
mg
Fiber:
1
g
Sugar:
1
g
Vitamin A:
718
IU
Vitamin C:
1
mg
Calcium:
227
mg
Iron:
2
mg