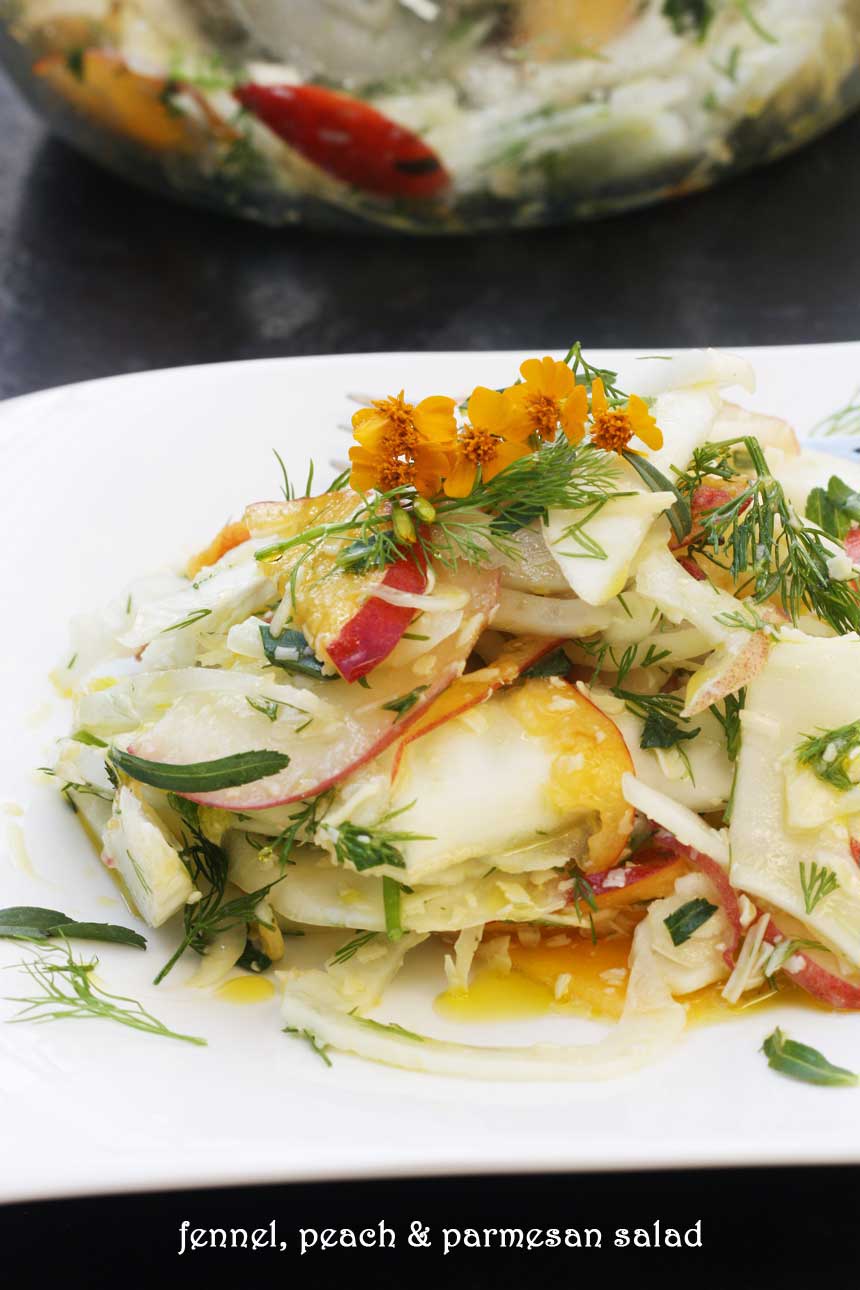 While working from home over the last year and a half or so, by the end of my work day, let me tell you, I've got cabin fever big time. Rain or shine, I NEED to get out and seek out a different environment and interaction with someone other than our household's sweet but slightly psycho cat.
Not having my own transport over here and not being particularly near to the city, more times than not this involves a ten-minute walk down the long road I am living on to the local supermarket to pick up ingredients for a recipe. How uninspiring, you might think. Well, not necessarily. Over the months I have come across a fair bit of wildlife on this route, for instance. There are sheep in a field at the end of the road that I somehow only just noticed. There are also flocks of pink cockatoos called galahs and multi-coloured parrots flying noisily overhead. One time when rounding the corner two chickens even ran out in front of me and dangerously close to the busy road. I have to admit that at this point cheesy and childish 'why did the chicken cross the road?' jokes flooded into my head. Don't worry, I won't go as far as telling you one.
(Oh, OK then, I will tell you one. Why did the chicken cross the road? It was trying out a new pair of roller blades. Sorry, but I did warn you they were childish.)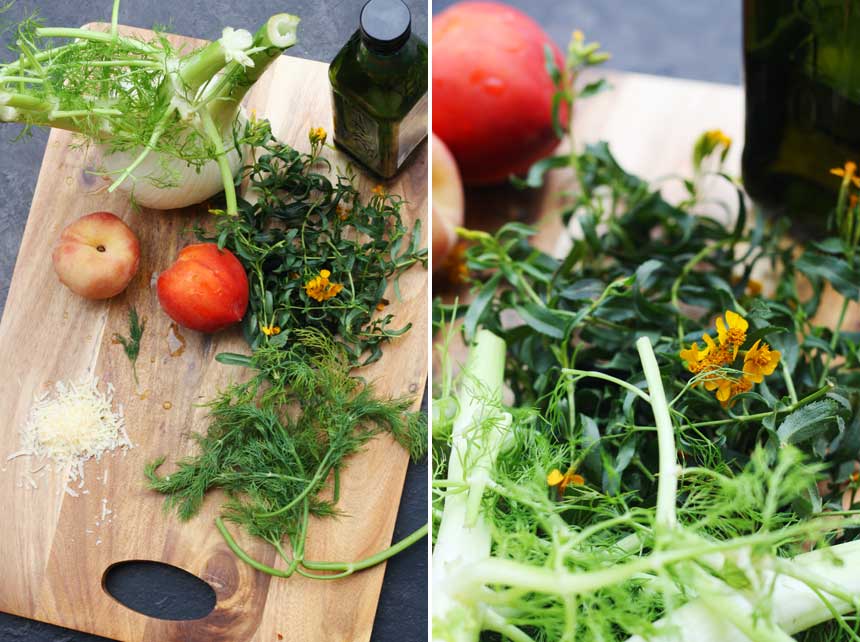 And then, a few days ago, on my almost-daily little walk, I decided to simply see what was on offer at the supermarket to get inspiration for a salad. Not only did I unexpectedly spot and grab some out-of-season peaches but on my way home along this very same 'uninspiring' route, what did I find? Only two boxes full to the brim with lemons and limes with big signs stuck on them saying 'FREE LEMONS' and 'FREE LIMES'outside someone's house, that's what. Well, of course, I didn't need telling twice. I delved into the boxes and grabbed a good few of each. Never mind that they were vastly overgrown and misshapen and the limes curiously looked like lemons. All the more juicy! And all the more of a bargain considering that lemons from the supermarket cost one whole dollar here (yes, you read that right – for one single lemon – grrrr).
So add to the lemon and peaches that found their way onto my impromptu ingredients list a fennel bulb, a packet of parmesan cheese I already had in the fridge and some fresh tarragon and dill and I had myself a simple and fresh salad idea. A fennel, peach & parmesan salad.
You might think that tarragon would be an unusual choice of herb to pair with fennel as they both have an aniseed taste, but actually as it's sweeter it complements it well. Then there's the complete contrast of the sweet peaches, sharp parmesan and dill. All of these flavours meld together beautifully to make a perfect simple, fresh summer side for a piece of grilled fish or meat. I could also see this going really well with a slice of quiche, a burger or even a rack of ribs. Think posh and extra tasty, juicy coleslaw and you've got it about right.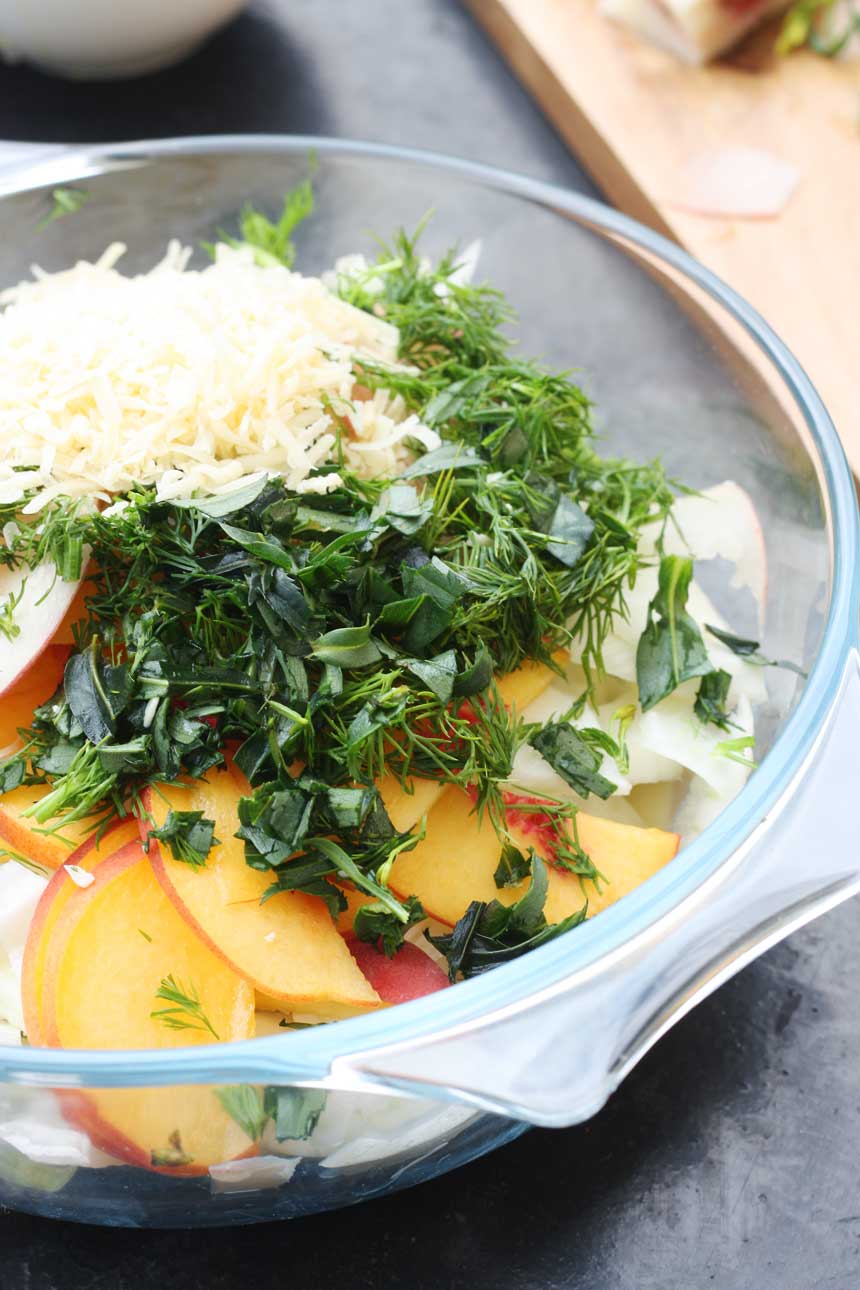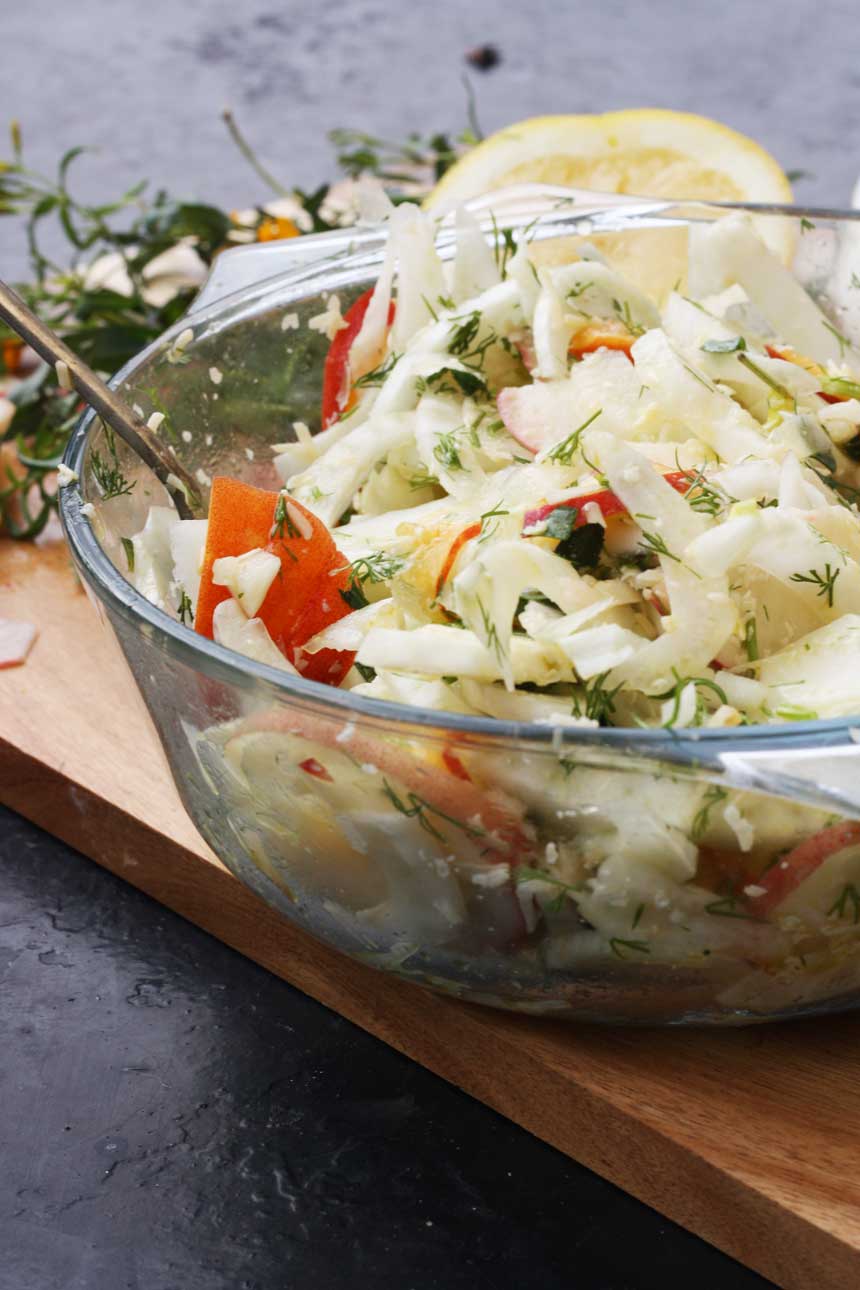 So now I've told you all about my interesting 'boring' route to the local supermarket, it's time for me to leave the little café I'm writing in next door to it right now and make my way home. Who knows what I'll encounter along the way today. There's currently a bright rainbow in the sky. Maybe there'll also be one of those ridiculously dangerous snakes I keep hearing that they have over here blocking my path, and I'll have to fearlessly fend it off before continuing on my way. Or maybe even a bouncing kangaroo …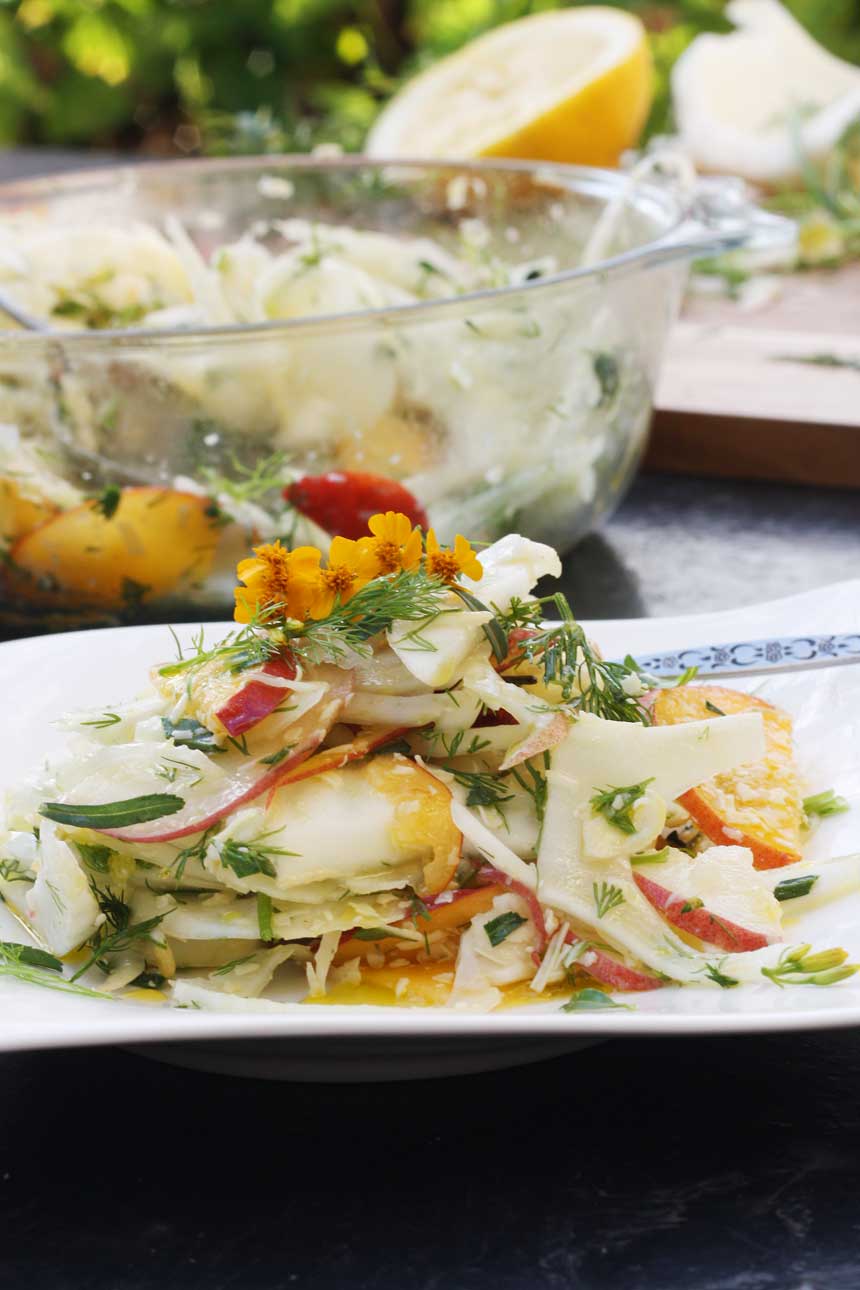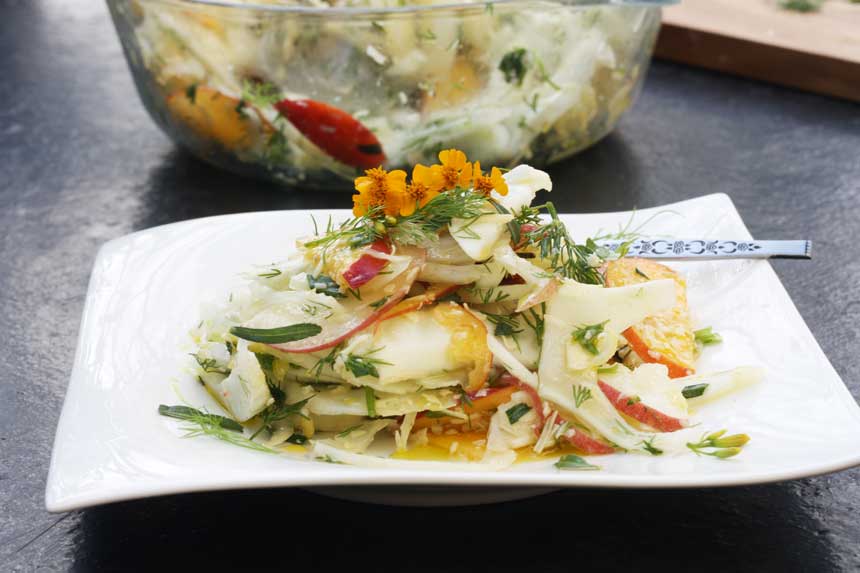 Fennel, peach & parmesan salad
A simple, summery salad combining the aniseed tones of crunchy fennel and fresh tarragon with juicy peaches and sharp parmesan cheese. Drizzle over a light lemon-olive oil dressing and you're done! Perfect with grilled fish or meat.
Ingredients (UK/Australia? Click below for grams/ml)
1

bulb of fennel

sliced into thin rounds. (reserve some of the green fronds for decoration)

2

peaches

washed and sliced into slivers (skin on)

2

tablespoons

olive oil

1

tablespoon

lemon juice

2

tablespoons

parmesan cheese

I used grated but I think chunkier slivers/flakes would be better

a small bunch of dill

chopped

1

tablespoon

fresh tarragon
Instructions
Toss together the fennel and peach slices, herbs and parmesan. Reserve a few of the herbs for garnishing.

Whisk together the olive oil and lemon juice and toss through the salad. Garnish the salad with the reserved herbs and fennel fronds.
Notes
You will see from my pictures that my tarragon had some pretty flowers on it. Hopefully you can find some tarragon with these pretty flowers on, too, because not only are they pretty but you can eat them!
Nutrition
Calories:
166
kcal
Carbohydrates:
16
g
Protein:
3
g
Fat:
10
g
Saturated Fat:
1
g
Cholesterol:
2
mg
Sodium:
95
mg
Potassium:
583
mg
Fiber:
4
g
Sugar:
8
g
Vitamin A:
555
IU
Vitamin C:
19.1
mg
Calcium:
110
mg
Iron:
1.6
mg
I hope you enjoyed this post! You can subscribe to receive posts directly to your inbox by entering your email address in the box at the bottom of this page or at the top of the sidebar on the right.
You can also find more from Scrummy Lane on Facebook, Pinterest, Twitter and Instagram and follow me on Bloglovin! Thanks so much for reading!