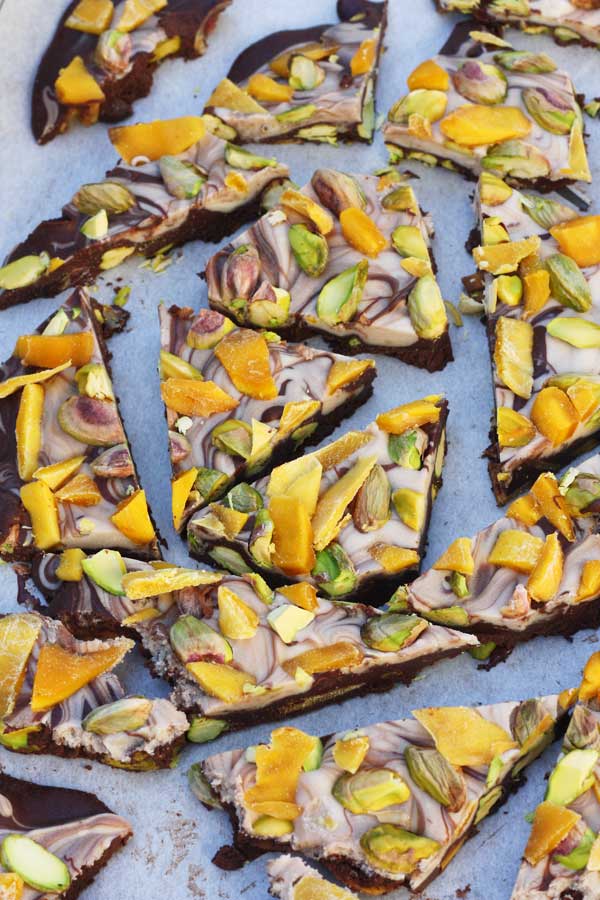 I really hope that you'll forgive me for posting a chocolate recipe in January when everyone else is posting healthy this and healthy that! In my defense, though, it is a pretty healthy chocolate recipe, if that can ever exist 😉 And … you could make it even healthier by buying chocolate with a higher cocoa solids percentage (think of those good-guy bad-busting antioxidants, flavonoids and stress-busting qualities it has!) and even reducing the amount of – or skipping – the white chocolate if you like. Although personally I think that would be a shame as I love the marbled effect and extra 'ooomph' created by adding just those few swirls of white.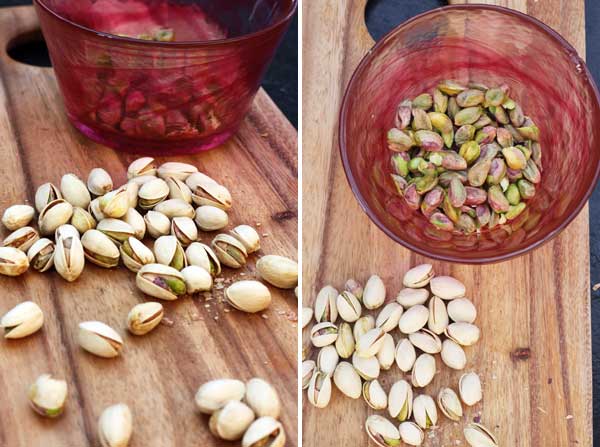 It's OK, it's OK … remember life is all about balance and balance equals …. CHOCOLATE! (well, a bit every now and then anyhow)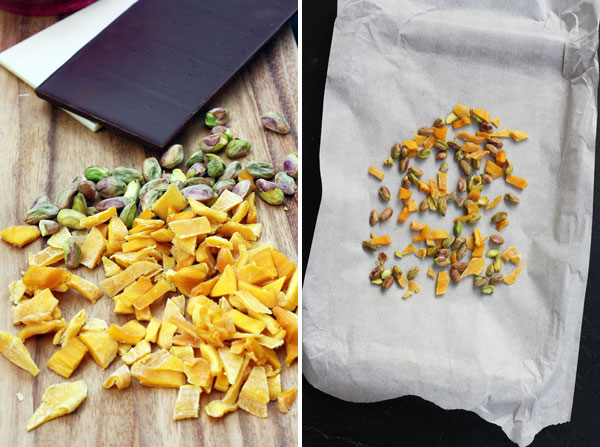 Are you convinced yet?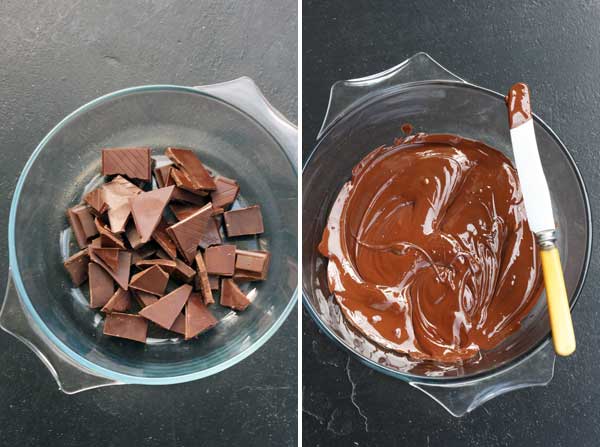 Actually, the main reason I racked my brains to create this 'slightly healthier' (?!) treat was because I wanted a quick homemade birthday gift for my friend that I knew she would eat. She loves food but I've noticed that she usually plumps for the healthier option in restaurants and rarely indulges in super sweet and decadent desserts … unlike myself who often goes straight for the gooey-est, chocolatey-est option on the menu!
I came across the wonderful idea of giving chocolate bark as a gift in a lovely box several months ago … and I haven't looked back! I love that you can change it around in sooo many ways to suit the person you're gifting it to. I love that it looks pretty and impressive and expensive, even though you use just a few simple ingredients and it takes mere minutes to make. And most of all I love that you can put it in a pretty box, tie it up with a ribbon, stick a label on it saying what it is (I thought this was necessary in this case as it wasn't obvious what the mango bits were!) … and, hopefully and most importantly make someone feel a little bit more special on their birthday!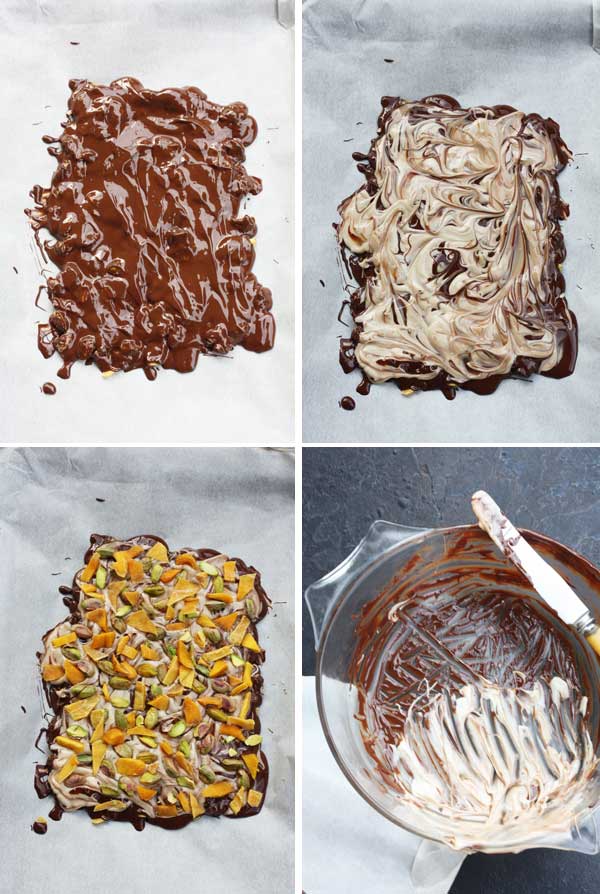 My original idea for this chocolate bark was to pair pistachios with dried cherries of some kind, but of course the cherries were nowhere to be found at my pesky little local supermarket. So … thinking cap went back on and I remembered that I'd seen pistachios matched with mango before. Hmm … the green of the pistachios might look pretty cool against the bright orange of the dried mango, I thought. And what if I used mostly dark chocolate? That would probably go pretty well with the slight saltiness of the shelled pistachios … and a good swirl of white chocolate on top of the dark chocolate would complement the tartness of the mango, too. This was my train of thought and, I'm happy to say, the choccy bark turned out exactly as I was hoping!
And, in case you were wondering, my friend loved her gift and I was very flattered that at first she thought that I'd bought it from a shop … result!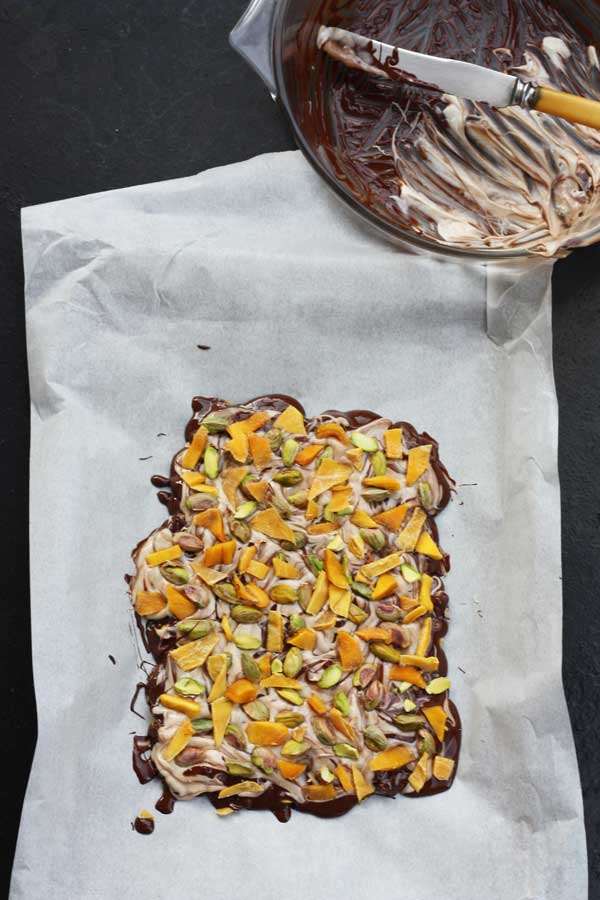 With chocolate bark, the possibilities are endless, of course. I'm thinking cookies and cream, dark chocolate with slivered roast almonds and candied orange peel, a simple milk and white chocolate with a mix of nuts, white chocolate with macadamia nuts and dried cranberries … the variations are only limited by your imagination, really. The only thing I would say is necessary is to buy really good quality chocolate. Don't even think about using cooking chocolate!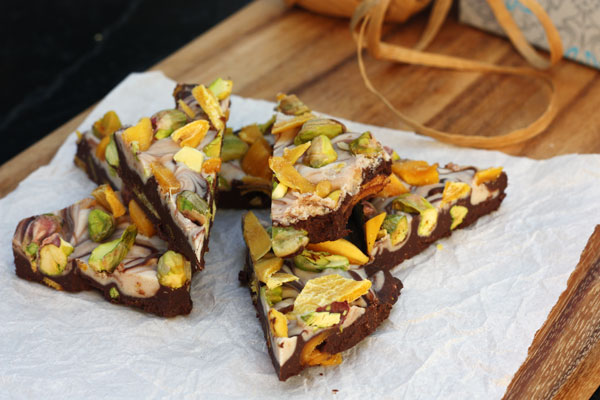 Personally, I'd love to be given a gift like this, personalised a little just for me and nicely packed in a lovely box.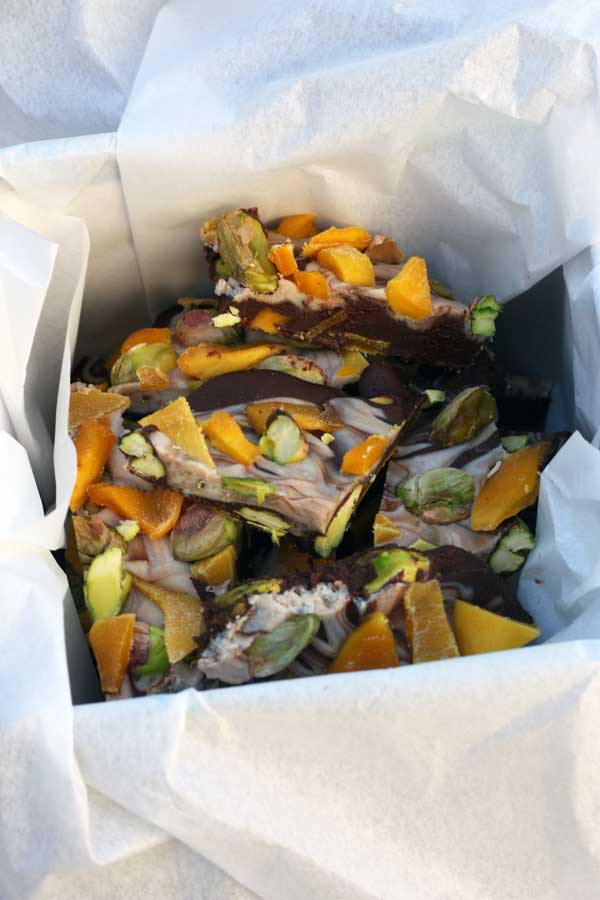 What other chocolate bark flavour combinations do you think would work well?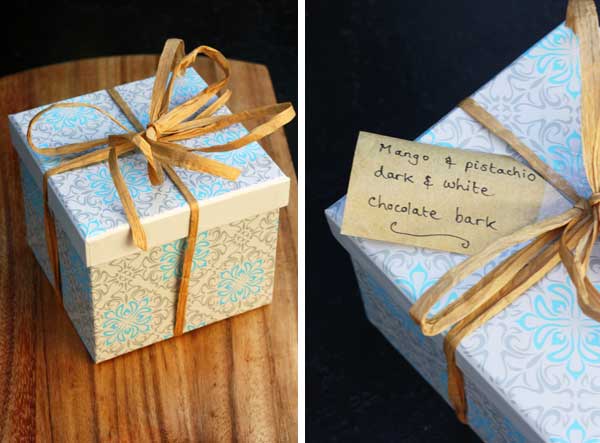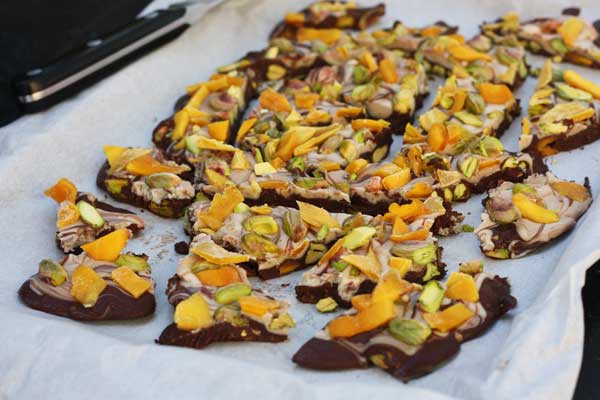 Mango and pistachio chocolate bark
Ingredients (UK/Australia? Click below for grams/ml)
1/2

cup

pistachio nuts

1/2

cup

dried mango

chopped

7

ounces

good quality dark chocolate

3.5

ounces

good quality white chocolate
Instructions
Cover a baking tray with baking paper.

Shell the pistachios and scatter half of them over the tray along with half of the chopped mango pieces (I just scattered them over the middle part of the tray as in the pictures so that the chocolate bark doesn't end up too thin).

Melt the dark chocolate in a dish by microwaving in 30-second spurts and stirring until smooth. (Alternatively, melt it in a 'bain-marie', or a glass bowl placed over a saucepan of boiling water, being careful not to let the bowl touch the water)

Pour the chocolate over the nuts and fruit, smoothing it over slightly with a knife.

Melt the white chocolate in the same way described above and drizzle it unevenly over the dark chocolate layer. Trail a knife through it for a marbled effect if you like.

Scatter the remaining pistachios and mango pieces evenly on top of the chocolate, pressing in a little if necessary to make sure they 'stick'.

Put the whole tray in the fridge for at least half an hour, then break up the bark into uneven pieces.

Package up in a pretty, baking-paper-lined box, tie up with a ribbon, label and give the gift to the lucky recipient!
Notes
Use really good quality chocolate for the best results.
Don't eat all the mango slices while you're making this - they're seriously moreish!
Nutrition
Calories:
243
kcal
Carbohydrates:
25
g
Protein:
4
g
Fat:
14
g
Saturated Fat:
7
g
Cholesterol:
2
mg
Sodium:
12
mg
Potassium:
233
mg
Fiber:
3
g
Sugar:
17
g
Vitamin A:
1280
IU
Vitamin C:
2.2
mg
Calcium:
47
mg
Iron:
3.2
mg