Scenario: It's Autumn. You've been invited to dinner. Hmm … what can you take for the host? Look no further – this easy toffee apple chocolate bark is perfect.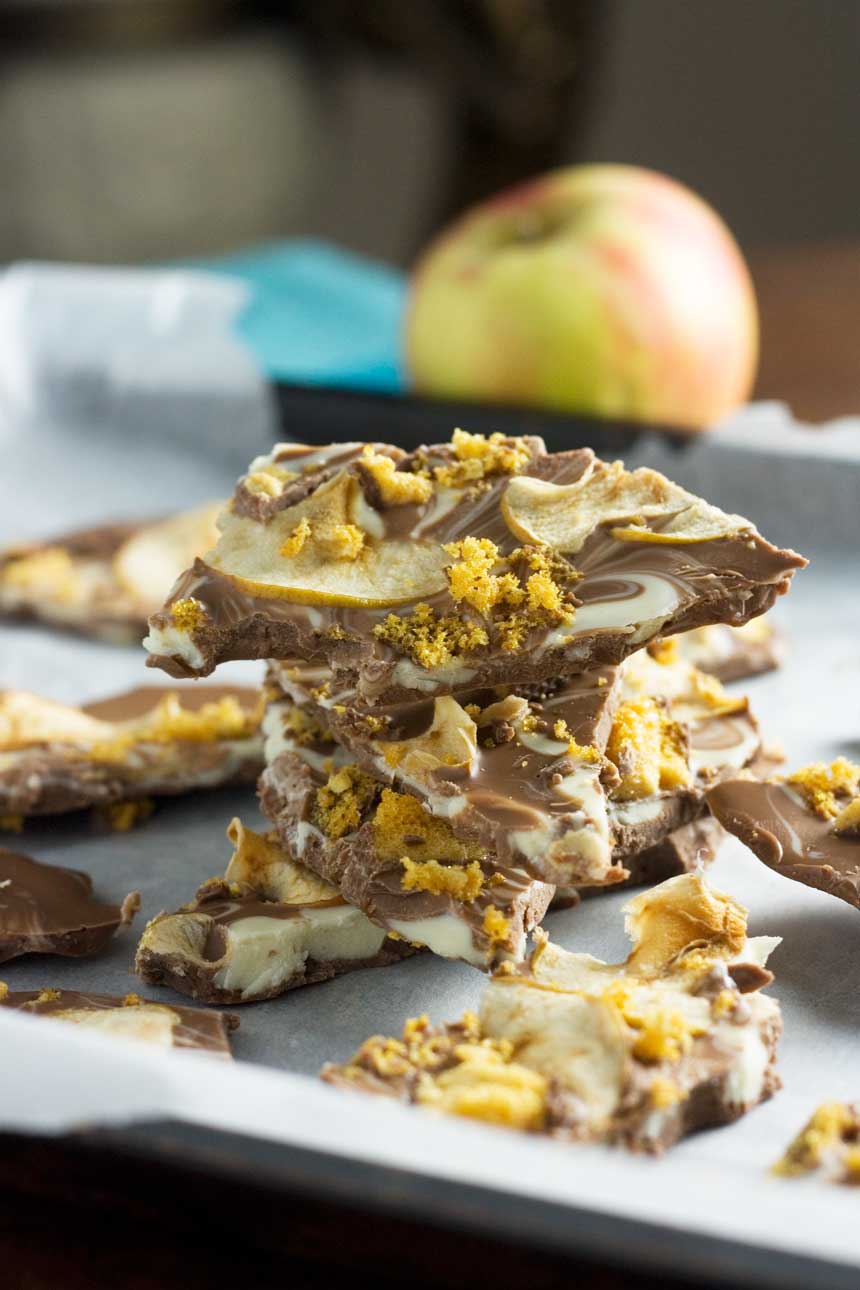 A couple of weeks ago, Mr. Scrummy and I had a rather-more-exciting-than-usual Thursday evening.
Our neighbour who lives in the flat directly opposite us had told us that he was going to be appearing on a popular cooking show called Come Dine With Me. If you're from the UK you'll know all about this show, but if not here's the general idea: 5 strangers (always characters!) go for dinner at each others' homes over the course of a week. The cooking, eating and banter are filmed and then each host gets given marks out of ten for their efforts.
So 'on the night' we watched the film crew and larger-than-life guests arrive and then proceeded to peer through the peepy-hole in our front door to watch the filming begin. Just like the nosy neighbours who stand at their window with the curtains twitching. Except we weren't quite as well behaved as your average Neighbourhood Watch, as we pushed and shoved each other out of the way to get a better slice of the action.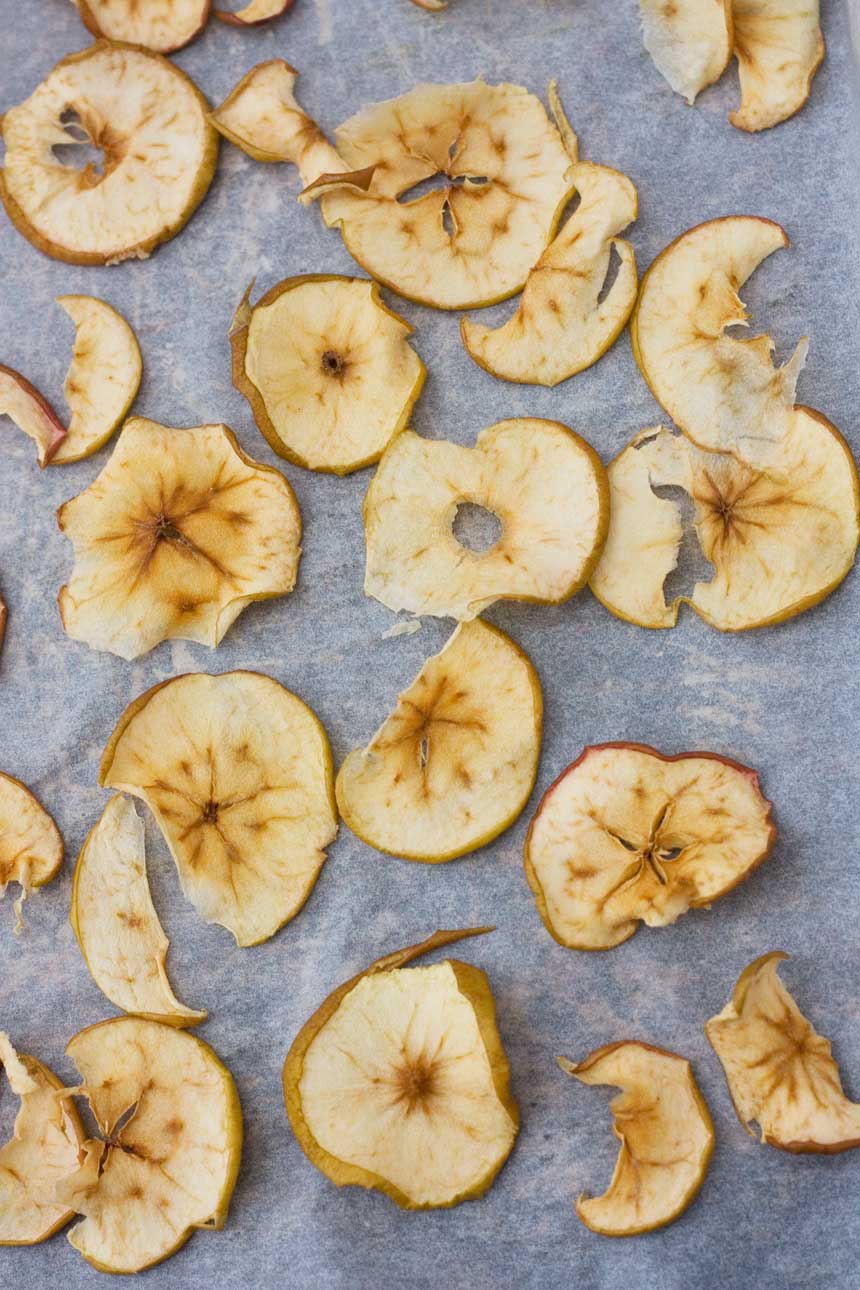 It was great fun, but the biggest treat was being invited over to our neighbour's this past Saturday night to get all the gossip. He also cooked the meal he made for the show again … just for us!
As the show hasn't aired yet, I can't share with you any of the recipes for the delicious dishes we had, but what I can share is the little gift I made to give to my host.
I love making chocolate bark (so simple, impressive and customisable!) and as it's Autumn I decided to have a go at a toffee-apple combo – a classic Autumn British flavour combo. At first I couldn't quite think how to do it, but quickly decided on drying some apple slices in the oven and using crumbled Crunchie candy bars as the 'toffee' element.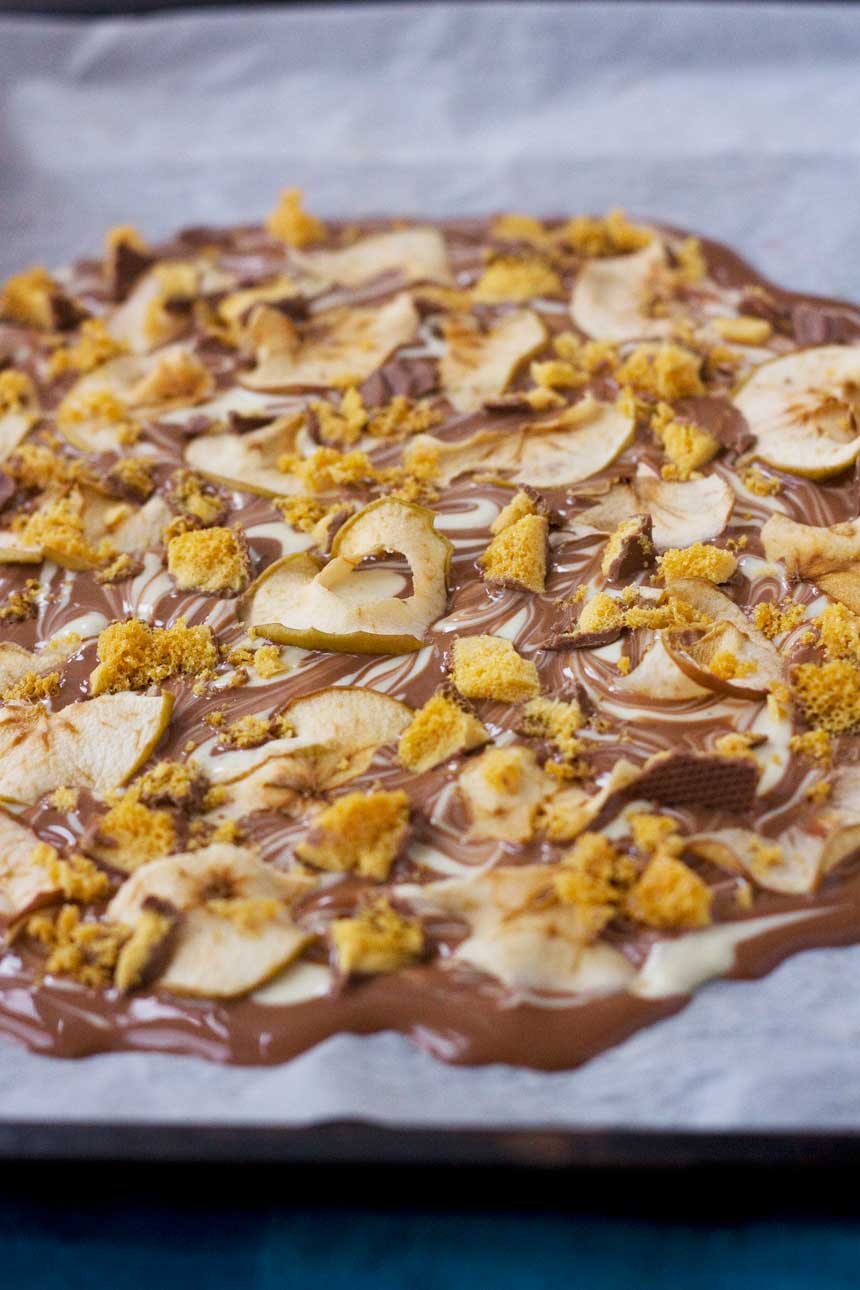 Now I know that Crunchie bars are a British thing, but I'm told that you can find them in some stores in the USA. If you can't, any kind of honeycomb will work. In Australia, a Violet Crumble bar is very similar to a Crunchie. If you can't find any kind of honeycomb bar to crumble, don't despair – in a pinch you can melt wrapped caramels and drizzle that over instead.
What I really love about this recipe is that it's taught me how to 'make' dried apples. Dry a few extra slices and snack on them for the rest of the week! 🙂
Oh, and if you love chocolate bark as much as I do, here's another recipe for you: mango and pistachio chocolate bark.
P.S. Keen to improve your food photography? Check out the ad at the bottom of my sidebar. The Food Photography Book is by my amazing friend Nagi of Recipe Tin Eats, and I really couldn't recommend it more. This book will make you a better food photographer. Guaranteed. 🙂
(& yes, this is an affiliate link. I'm backing this book because I trust my talented friend 100%!!)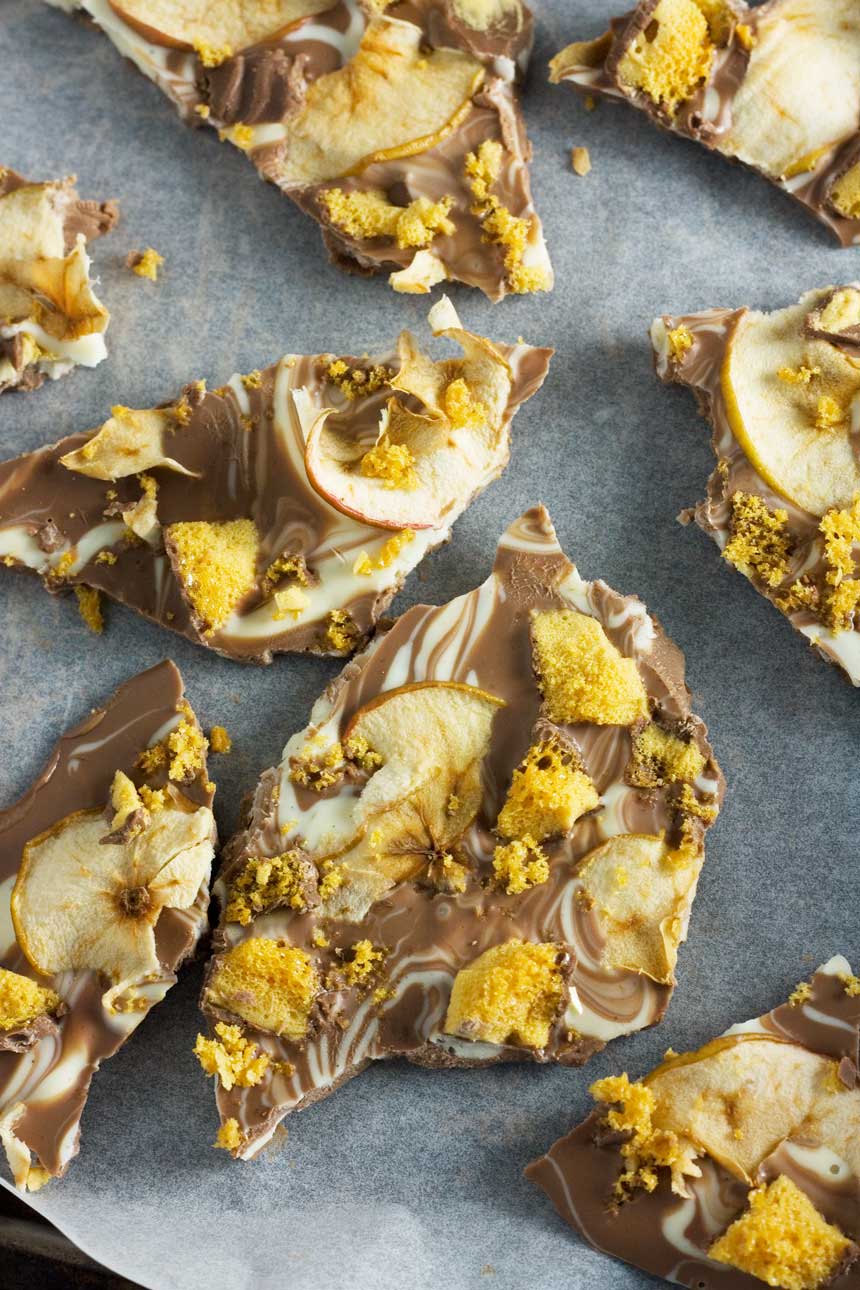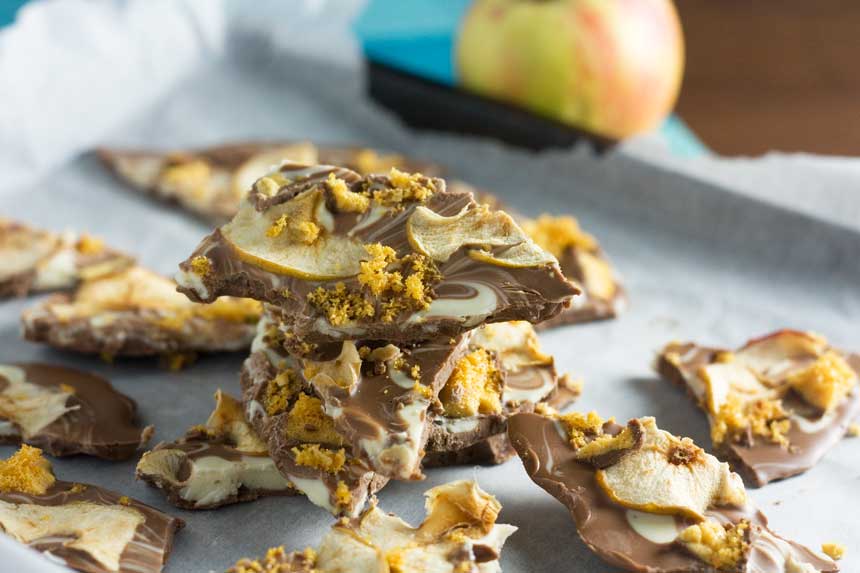 Toffee apple chocolate bark
I've been making chocolate bark as gifts for ages. I just love that it's quick and easy, impressive-looking and so simple to customise in many different ways. This tasty chocolate bark is sprinkled with dried apples and honeycomb. Just perfect for Autumn!
Ingredients (UK/Australia? Click below for grams/ml)
2

small apples

or 1 large one

7

ounces

milk chocolate

3.5

ounces

white chocolate

optional – you can use 10 ounces milk choc if you prefer

1

Cadbury's Crunchie bar or similar

crushed (see note below)
Instructions
Pre-heat the oven to 90C/190F, and line two baking trays with baking paper.

After washing the apple(s) and twisting off the stalk(s), slice them as thinly as you can (so the slices are ideally about 2 or 3mm thick) and lay them on the baking trays in one layer.

Bake the apples for an hour, then turn and bake for another hour. Remove from the baking trays and set aside to cool.

Melt the milk chocolate in a medium bowl in the microwave in 30-second bursts (3 times was about right in my microwave).

Pour the chocolate onto one of the baking trays, spreading out a bit with a knife if necessary.

Now melt the white chocolate in the same way (if using) and drizzle all over the milk chocolate. Drag a knife through it a few times to create a swirl/ripple effect.

Now scatter the dried apple (either whole or torn into smaller pieces – your choice) and the crushed honeycomb over the chocolate, pressing it in lightly.

Let set in the fridge for at least half an hour (or until properly set), then break into pieces (see note below).
Notes
If you can't buy Crunchie bars where you live, any kind of honeycomb bar will do. In Australia, a Violet Crumble is perfect. If you can't find any honeycomb, melt a few caramels (the sort you get wrapped up separately in a big bag) and drizzle that over at the end instead. Or there's a recipe for honeycomb here if you're feeling ambitious!
If you don't have a microwave, melt the chocolate in a glass bowl over a pan of simmering water (don't let the bowl touch the water).
You won't need all of the apple for your chocolate bark. Store the remainder in a plastic container and eat as a snack or scattered over oatmeal later. It will keep in the fridge for at least a week and for at least a few days out of the fridge.
I like to pack the chocolate bark into a cellophane bag and tie with a nice ribbon before presenting as a gift. It looks great and people always think I've bought it!
Nutrition
Calories:
57
kcal
Carbohydrates:
7
g
Fat:
3
g
Saturated Fat:
1
g
Sodium:
4
mg
Potassium:
41
mg
Sugar:
6
g
Vitamin A:
5
IU
Vitamin C:
0.6
mg
Calcium:
9
mg
Iron:
0.2
mg

You can also find more from Scrummy Lane on Facebook, Pinterest, Twitter and Instagram and follow me on Bloglovin! Thanks so much for reading!
*This post may contain affiliate links which means that if you click on a link and make a purchase I get a small percentage of the amount you spend. At no extra cost to you, of course! Thank you!*