These gorgeous chocolate lollipops are just perfect last-minute stocking fillers for your loved ones. Personalize them, package them up with a pretty bow, and you've got a cheap, cheerful and yet classy little gift!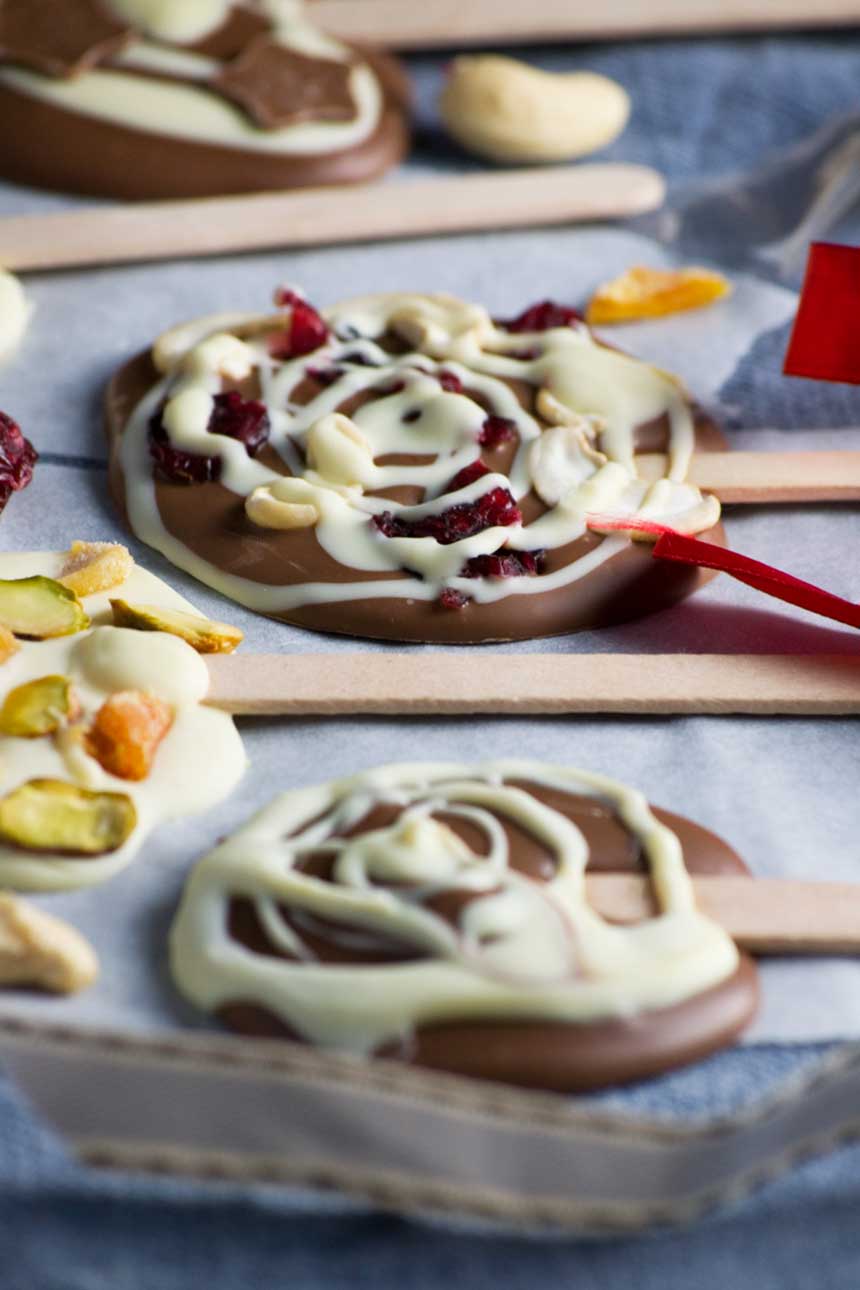 Christmas just wouldn't be Christmas unless I thought of at least one easy homemade food gift to give to pretty much every one I know!
And in true Scrummy Lane style, I don't want it to be difficult or fiddly, and I want it to look impressive when I'm done – more impressive than the sum of its parts!
These chocolate lollipops fit the bill perfectly.
I spotted them a couple of months ago on a re-run of the Barefoot Contessa on the food channel. The lovely Ina Garten was visiting a chocolate maker in London who showed her how to make these wonderfully simple and yet pretty little chocolate treats.
Incidentally, Ina Garten used to be a nuclear analyst at the White House – so we must be in good hands here, folks!
The beautiful thing about these chocolate lollipops is that you can make a whole bunch of them in almost no time at all. All you have to do is spoon tablespoonfuls of chocolate onto baking or non-stick paper, push a little stick into the chocolate, then decorate with treats of your choice.
The only thing that will take a bit of organisation is getting your hands on some suitable lolly sticks and pretty packaging.
And don't worry about all that. I'll add some links at the end of the post to some suitable contenders for the sticks and packaging. Making them look pretty is easy. Any odd bits of material or paper ribbon will work just fine.
I've also included a video today to show you exactly how easy these are to make. I'd say the main thing is to get organised with all your little bowls of decorating treats at the ready. You want to be able to spoon your chocolate out onto your baking paper, push your little lolly sticks in, then decorate away before the chocolate starts to harden!

Another thing I like about this simple idea is that you can easily customize the lollipops. You can decorate with candy for kids (or big kids!), fruit and nuts for a more refined version, or a mixture of both according to what you know different people might like.
I've now got a big bag of these ready to give away for Christmas (look away now, family and friends). I've seen similar in shops and you pay quite a bit for just one little lollipop. Much better to buy a couple of bars of good chocolate, gather up all the yummy bits and bobs you've got hanging around in your kitchen cupboards, and make your own!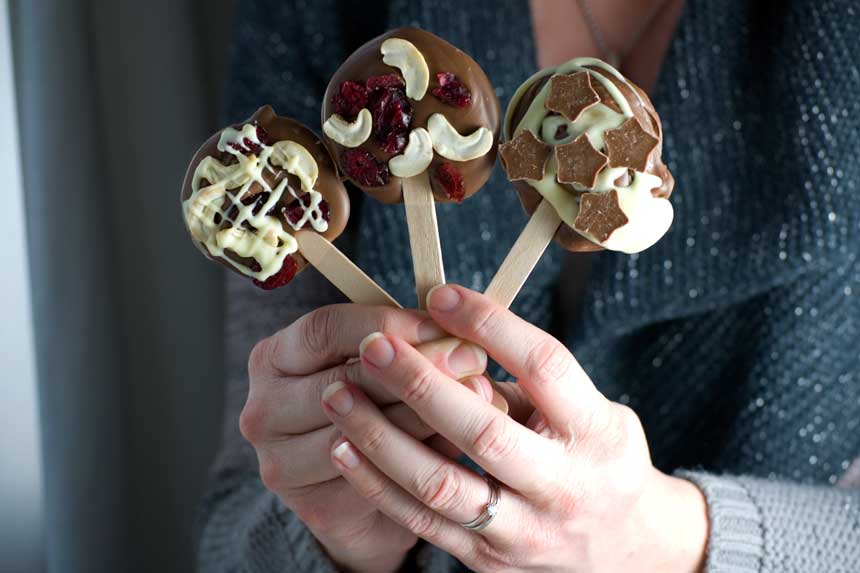 Here are some of the things I used for this recipe::

(*may be affiliate links)
More easy chocolate food gift ideas
IF YOU MAKE THIS RECIPE, LET ME KNOW HOW YOU GET ON BY LEAVING A COMMENT AND RATING BELOW… AND DON'T FORGET TO SIGN UP TO RECEIVE ALL MY NEW RECIPES BY EMAIL!
FOLLOW ME ON FACEBOOK, INSTAGRAM, PINTEREST AND YOUTUBE.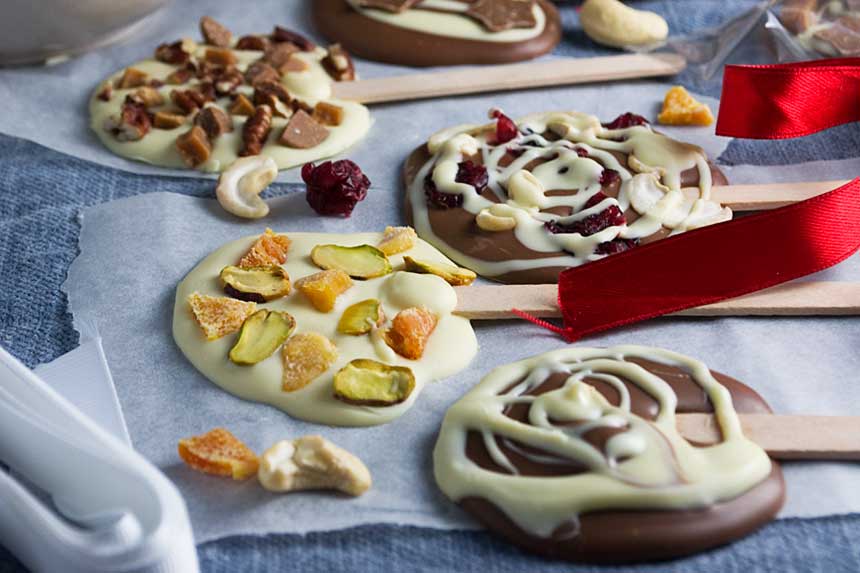 Chocolate lollipops (homemade food gift with video)
Need some last minute Christmas stocking fillers? Or a quick thank you gift for a friend? These gorgeous chocolate lollipops are SO easy to make, and look lovely packaged up with a bow! And they'll cost you a fraction of the price they would in the shops!
Ingredients (UK/Australia? Click below for grams/ml)
7

ounces

chocolate

(I used milk, but use dark or white if you prefer)

1.75

ounces

white chocolate

for decorating (optional)

edible decorations

of your choice e.g. dried mango, other dried fruit, raw cashew nuts, pistachio nuts, chopped fudge, pecans, chopped candies / candy bars…
other things you need
small lollipop sticks

cellophane see-through gift bags

odds and ends of fabric or paper gift ribbon
Instructions
Line baking trays or wooden boards with baking / non-stick paper.

Break the chocolate(s) into pieces in small glass / ceramic bowls and melt (in the microwave in 30-second bursts, or over a double boiler).

Place tablespoons of melted chocolate on the baking / non-stick paper, then push a lollipop stick about a third of the way into the side of it, twisting as you do.

Quickly decorate with your chosen treats, then leave to harden completely.

Wrap each lollipop in a cellophane gift bag, and tie with a ribbon.
Notes
Recipe based on an idea seen on one of Ina Garten's shows (The Barefoot Contessa!).
I always melt my chocolate in the microwave in 30-second bursts. After the 3rd 30-second burst, some of the chocolate is still not quite melted, but I stir it in until it is. This is an easy way to 'temper' your chocolate so that it hardens again nicely.
Nutrition facts below are a rough guide only as they do not include any of the optional decorations. But hey, never mind – we're celebrating so who cares about calories?
Nutrition
Calories:
106
kcal
Carbohydrates:
12
g
Fat:
6
g
Saturated Fat:
4
g
Sodium:
6
mg
Potassium:
59
mg
Sugar:
10
g
Calcium:
12
mg
Iron:
0.5
mg