This authentic pastitsio has to be the ultimate Greek comfort food! With its neat and impressive layers of tube pasta, cinnamon-laced ground beef ragù and soufflé-like, creamy béchamel sauce, it's Greece's answer to a lasagna.
This hearty and classic baked Greek pasta dish is as easy as it is delicious served with an authentic Greek salad on the side. It's perfect for making ahead and there's plenty for freezing. I hope it soon becomes a family favorite!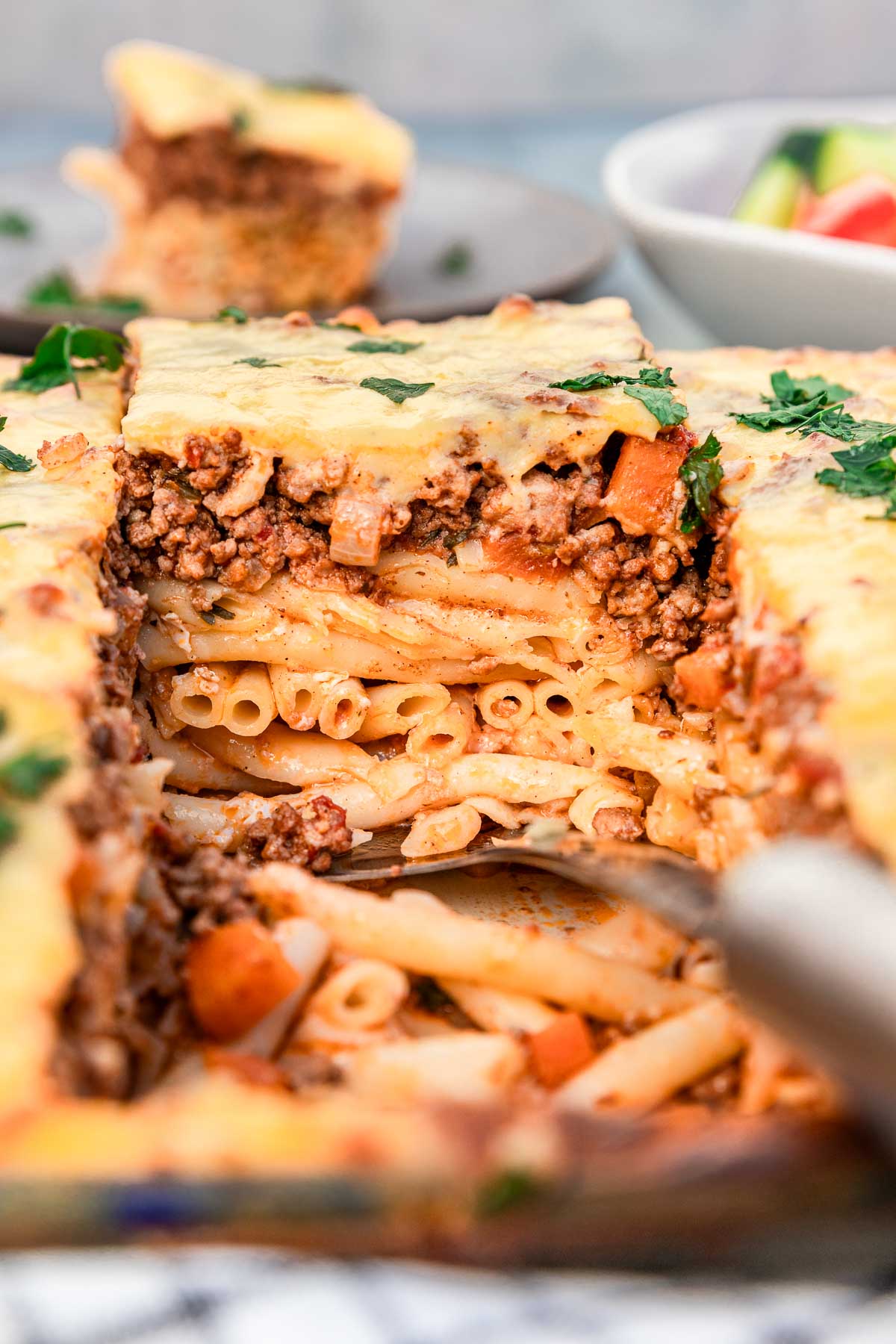 What's pastitsio and why you'll love it
Ahh pastitsio! Together with moussaka and gemista (stuffed peppers and tomatoes), this tasty and hearty baked Greek pasta is a staple at Greek family dinner tables.
Just like other classic Greek recipes, everyone has their own recipe for pastitsio (sometimes called pasticchio or pasticcio!). But the three elements are always the same:
a layer of 'pastitsio pasta', or long tube-shaped pasta with a hole running through it
a layer of aromatic meat sauce (usually made with beef but it can also be a mixture of ground meat such as beef and pork or beef and lamb)
a layer of fluffy, cheesy and creamy Greek béchamel sauce (that might remind you of soufflé!)
You'll find this kind of Greek version of lasagna on the menu in almost every Greek restaurant. But why not put it on the menu at home as well?
I think you'll love this easy and super tasty version. Here are a few reasons why.
✔ It looks fancy and impressive, but it's simple to make with just ground beef and basic pantry ingredients.
✔ I've maximised the delicious Greek flavors while keeping the right balance between the three layers. It isn't too heavy on the pasta and sauce!
✔ An authentic Greek pastitsio makes a perfect midweek family dinner. Traditionally, it is made in a very large baking dish. This way, it can easily feed a small crowd, or a smaller family for a few days on busy weeknights.
✔ It's very make-ahead friendly since It keeps well in the fridge for a few days (and in fact arguably gets better as it sits). It also easy to reheat individual slices if there are leftovers.
✔ It's also a great recipe for freezing. You can freeze individual pieces of pastitsio, or even freeze a whole pan and re-heat it whole.
Ingredients
Yes, there are way more ingredients than you'll usually find on this blog in a single recipe! But bear in mind that you probably have most of them in your pantry already.
Just like making Italian lasagna, making Greek pastitsio might feel like a labor of love. But I promise you it's worth the effort (and you get a very big pan of food to either last you most of the week, or to freeze for later!).
For the ground meat sauce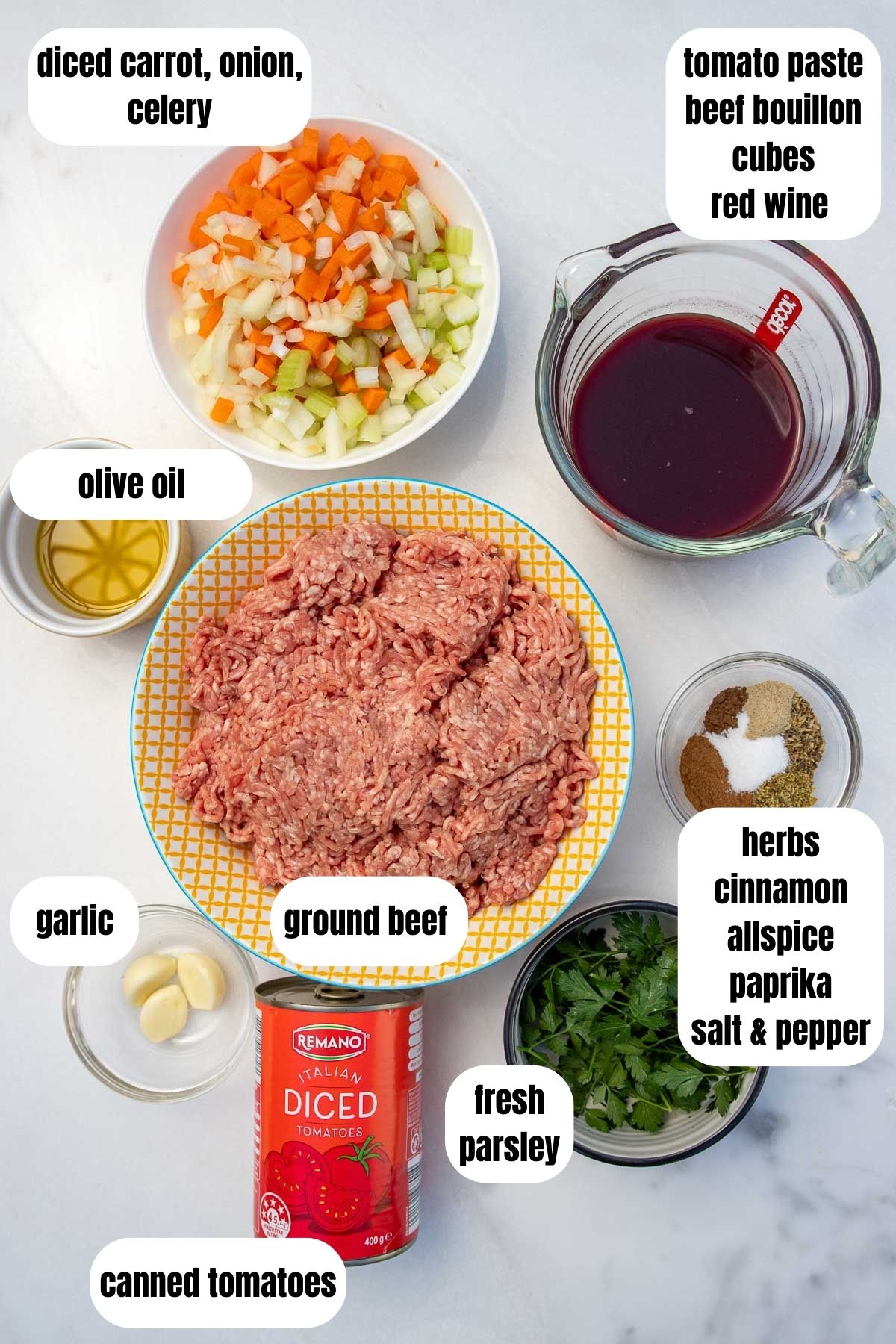 Olive oil: Every classic Greek recipe starts with a good splash of olive oil! I usually use extra virgin olive oil but you can use any kind you have.
Diced carrots, onions and celery: These are not essential to a classic pastitsio (you can skip them if you like), but I add them for extra veggie nutrition, color and flavor.
Ground meat: An authentic pastitsio is made with ground beef. However, feel free to use another kind of ground meat such as lamb, pork, or turkey (mix these together with beef or use them by themselves).
Garlic, dried herbs (oregano and thyme), ground cinnamon, paprika and allspice: I go quite heavy on the herbs and spices for plenty of Mediterranean flavor. You can certainly play around with different dried herbs, but I wouldn't recommending skipping the cinnamon. I think it's mostly what gives the characteristic classic Greek fragrance to the ragù sauce.
Tomato paste (mixed with beef bouillon cubes and red wine): Note that tomato paste is sometimes called tomato concentrate. We're not talking about passata or pasta sauce here. If you don't want to use wine, that's fine – just use a good quality beef broth/stock instead.
A can of tomatoes: I usually use diced or chopped tomatoes for ease.
Fresh parsley: You'll stir this into the sauce at the end, giving a lovely burst of extra freshness and color to the meat sauce. I've used both Italian/flat leaf parsley and curly parsley – either are fine.
For the pasta and béchamel sauce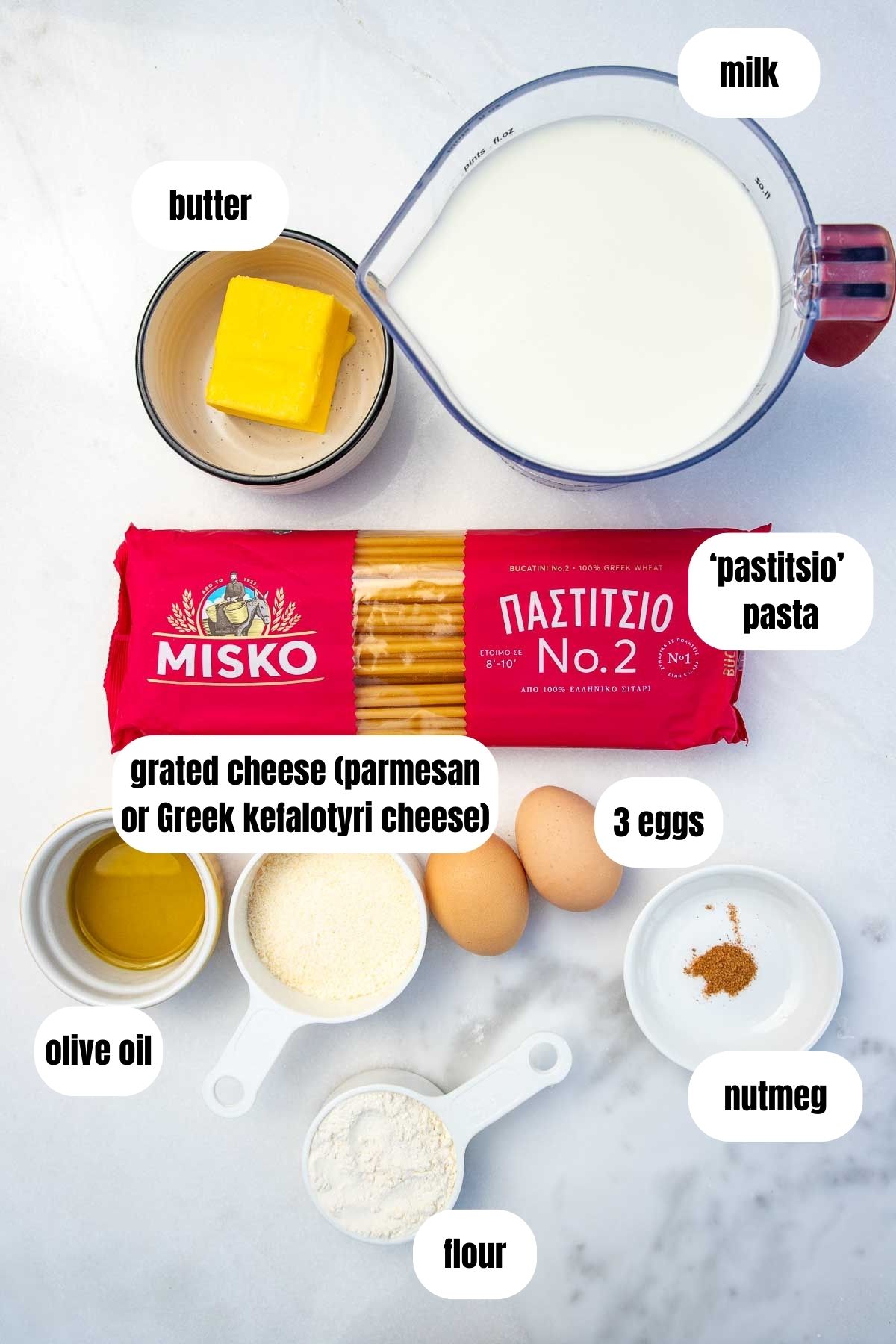 You can boil the pastitsio pasta while you make the ragù sauce. Here's what you'll need.
'Pastitsio' pasta: You can see from the ingredients photo above that I managed to find authentic Greek pastitsio pasta in my local supermarket in the 'ethnic foods' aisle. If you can't find any, however, that's absolutely fine. Any long(ish) tubular pasta will work. Try bucatini pasta, or other good substitutes are penne, ziti or rigatoni.
Olive oil: I add a little olive oil to the cooked pasta to stop it sticking together too much while I'm making the béchamel sauce.
3 Eggs: Stir the egg yolks into the béchamel sauce (these are what make the sauce fluffy and soufflé-like) and two of the egg whites into the pasta (to help it stick together when cooked). You can add the other white to the béchamel so that it isn't wasted if you like.
Butter: Melt it before stirring in the flour to make the base of the Greek béchamel sauce.
Flour: This (along with the eggs and cheese) is what thickens the sauce. Regular all-purpose flour is fine.
Milk: I like to use whole milk to make béchamel, for ultimate creaminess.
Cheese: Traditionally, Greeks add a hard white cheese called kefalotyri to béchamel sauce. This will give it the most traditional flavor. However, some great substitutes are pecorino romano, gruyère, aged asiago, or Spanish manchego. You can also use parmesan cheese as I often do.
Nutmeg: I'd say this is an essential ingredient in the béchamel to get an authentic flavor. You only need a little, and either ready ground nutmeg or a little ground from a whole nutmeg is fine.
How to make an authentic pastitsio
The step-by-step guide below should help you make the recipe perfectly first time. Scroll down to the end for the full recipe including ingredient amounts.
Start by making the tasty ragù sauce.
First, sauté the diced vegetables in a little olive oil for around 5 minutes. I like to use a large cast iron pan (affiliate link), but any large pot or saucepan is fine.
Then add the ground meat. Break up and stir with a wooden spoon until it all turns white.

Next, add the garlic and all the herbs and spices. Throw in the salt and pepper too. Sauté for a minute or two to toast and start releasing all the lovely flavors.
Pour in the mixture of tomato paste/concentrate, red wine and beef bouillon cubes/stock cubes…

… then the can of tomatoes. Stir well again, then let simmer (cook on a low heat) for around 35 minutes or until you've finished making the pasta and béchamel.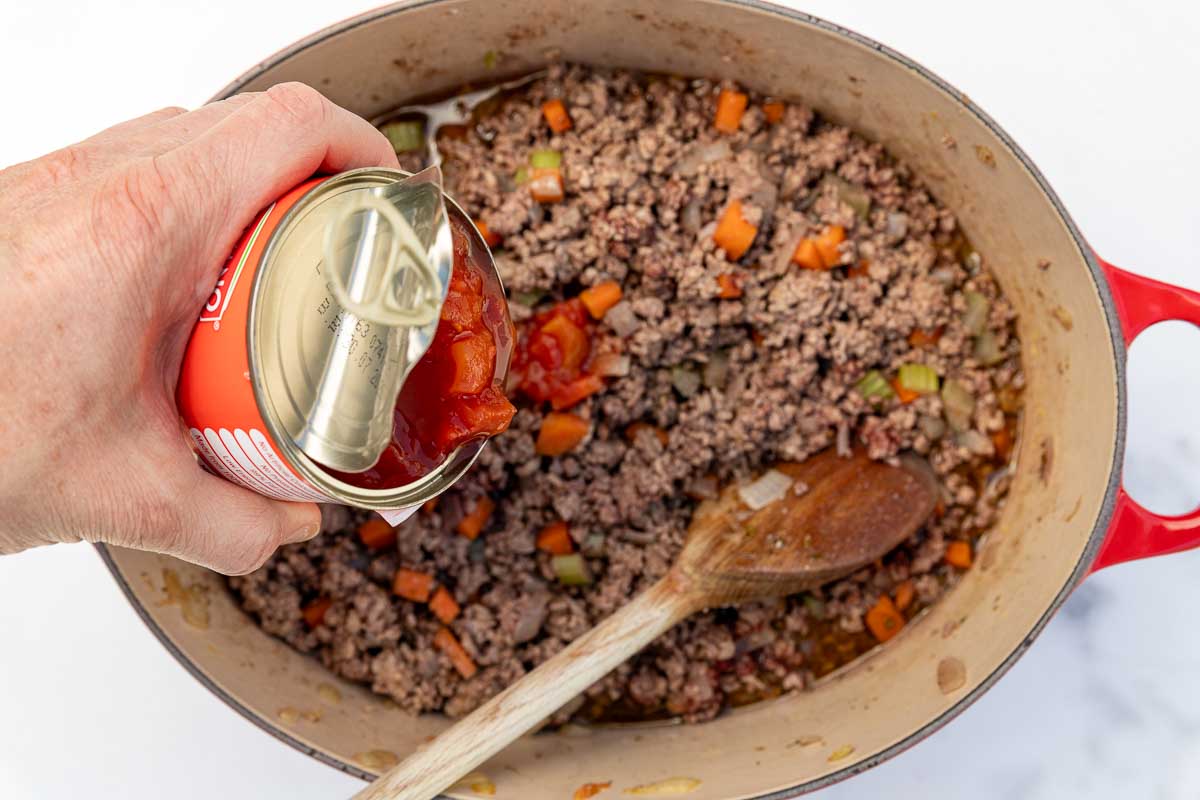 While the lovely sauce is simmering, put the pasta on to boil. Cook for a couple of minutes less time that is advised on the package, so that it's still al dente (cooked but firm since it's going to be cooked again in the oven).
Meanwhile, make the béchamel sauce. Start by melting the butter in a large saucepan. Stir the flour in vigorously, then slowly add the milk.

Stir continuously with a spatula or wooden spoon until the sauce thickens and is nearly boiling. You'll know it's ready when it coats the back of the spatula/spoon.
Take off the heat and set aside for a few minutes to cool slightly. Then stir in the egg yolks, cheese and nutmeg (and the remaining egg white that you didn't stir into the pasta, if you like).

The cheese and eggs will thicken the sauce even more so that it's a little thicker than a classic white or cheese sauce.
Set aside to let cool and thicken a bit more.

When your pasta is ready, you can drain it and add it back into the saucepan. Stir in the oil, two of the leftover egg whites and about a quarter cup of the grated cheese.

Now it's time for the fun part – the layering!
Begin with a layer of the cheesy pasta. Some people like to arrange it so that it's mostly facing the same way along the length of the dish. To be honest, I usually don't bother with this!
Flatten it down as much as possible. Then spread the ragù sauce over the top. Flatten this down too.

Finally, spread over the béchamel sauce. You can go very near to the top of the dish, but of course stop if it looks like it's going to overflow.
Top with a final sprinkle of grated cheese. Then bake for around 35 minutes.
The sauce will puff up in the oven and the top will brown. Delicious!

Helen's top tips
Use the biggest saucepan you have to boil the pastitsio noodles. Push them down into the boiling water slowly and gently with something flat like a potato masher.
Also use the biggest casserole dish you have to make your pastitsio! A 9 x 13 inch dish can work if it is very deep. A larger 10 x 15 inch dish (affiliate link) is even better. Whichever dish you use, don't fill it more than half way with the pasta. If you don't have a big enough dish for all of the ingredients to fit into, simply make one big dish and another smaller one to freeze for later!
Place the baking dish onto a sheet pan/baking tray to catch any drips while baking.
Before adding the meat layer, try stirring in a ladleful of the béchamel sauce. Also let the tasty Greek pasta bake cool down for 15 minutes in the baking dish before serving. These two tricks will help it to 'set' and become easier to cut into neat slices.
How to serve
All you really need with a slice of pastitsio is a serving of a simple salad. My favorite is a classic Greek salad, but Greek lettuce salad works well, too.
Traditionally, you need a really big baking dish for a Greek pastitsio. There is always plenty for everyone, and leftovers for the next few days! It makes a great weekday dinner for the family, take-along dish for a party, or an impressive Greek dinner for a special occasion.
This is one of those dishes that can even be better eaten the next day. The flavors have had time to infuse more. Also, the slices hold together more neatly after they've been refrigerated.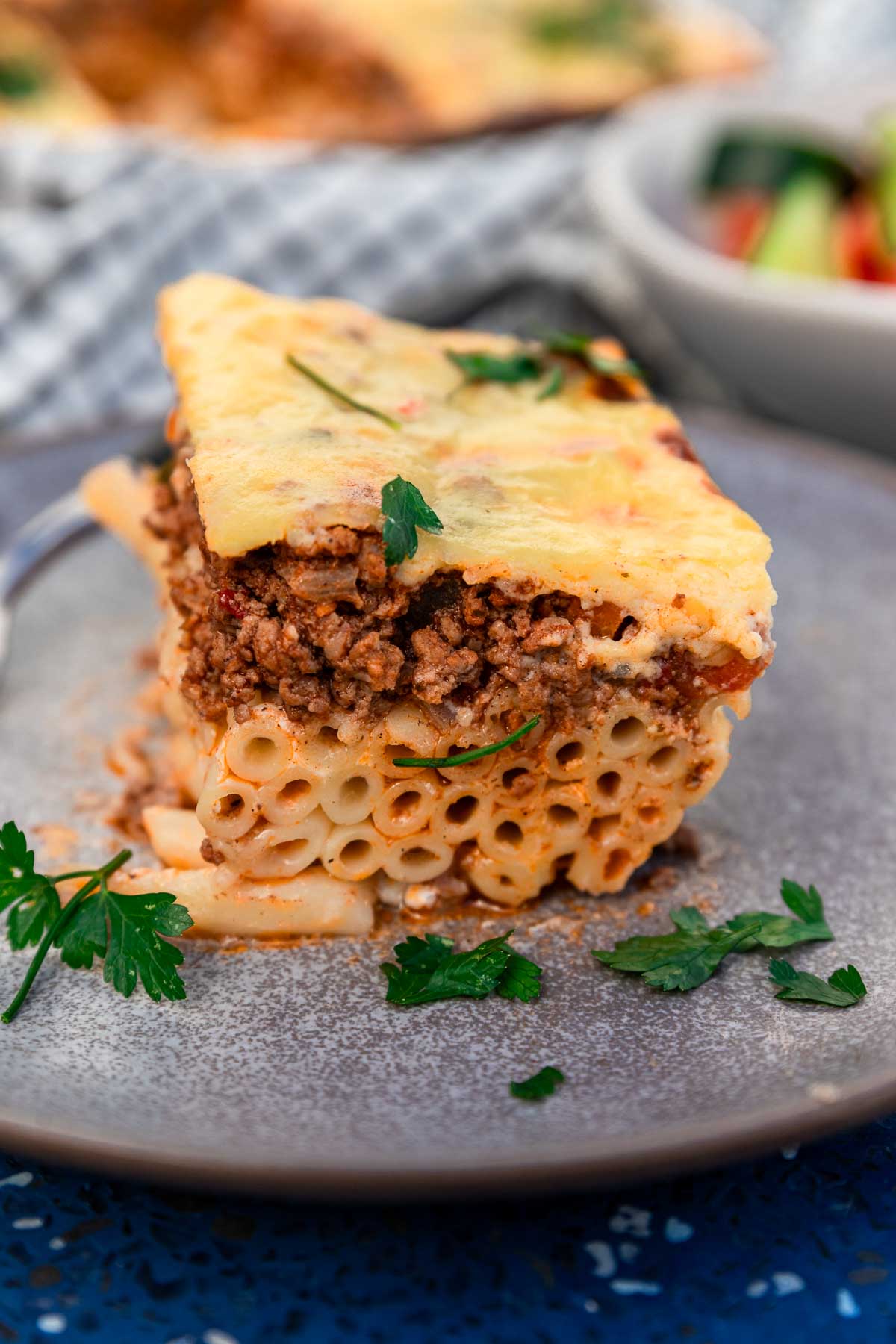 Variations
Play around with different types of ground meat. Try lamb, pork, chicken, or a mixture of these or combined with ground beef.
Add more diced vegetables, a few cooked lentils, chopped eggplant or mushrooms to replace some of the ground meat.
To make it vegetarian or even vegan, use plant-based ground 'meat', and plant-based alternatives for dairy products like almond milk and vegan cheese.
For a faster and lighter pastitsio, you can use ground turkey instead of beef. You can simply mix the ragù sauce into the pasta instead of making layers. You can also make a quicker yogurt-based version of béchamel that you don't have to stir. If this interests you, you can find the recipe in the notes section in the recipe card below!
Crumble feta cheese into the cooked pasta instead of kefalotyri cheese or similar. This might work well if you aren't planning on serving a Greek salad (with feta) with your dinner.
Recipe FAQs
How long does pastitsio last in the fridge?
Greek pastitsio is a great make-ahead option. You can fully assemble it and cook it, then keep it in the fridge before serving for up to 5 days. If you aren't going to finish it by then, you can freeze individual pieces in an airtight container for up to 2 to 3 months.
How do I freeze pastitsio?
You can most definitely freeze a whole dish of pastitsio. Let it cool to room temperature, then wrap tightly in several layers of plastic wrap and/or aluminum foil. Freeze for 2 to 3 months. To reheat, let it defrost overnight in the fridge, then at dinner time simply cover with foil and reheat for around 25 to 30 minutes at 350°F (175°C) or until piping hot all the way through.

Alternatively, you can freeze the pastitsio already cut into individual portions. This way you can thaw and reheat only what you need.
How do I reheat it?
You can absolutely reheat pastitsio in the oven as described above. However, the microwave gets the job done perfectly too. Simply cover individual pieces and microwave for around 3 minutes or until piping hot.
What are some common mistakes to watch out for when making pastitsio?
Don't be tempted to overcook the pasta. Cook it only until it's al dente, as it will continue to cook in the oven. Also remember to let the finished pastitsio rest for around 15 to 20 minutes after it comes out of the oven. The pieces will hold together better when you cut them. Lastly, make sure you use a really large, deep baking dish.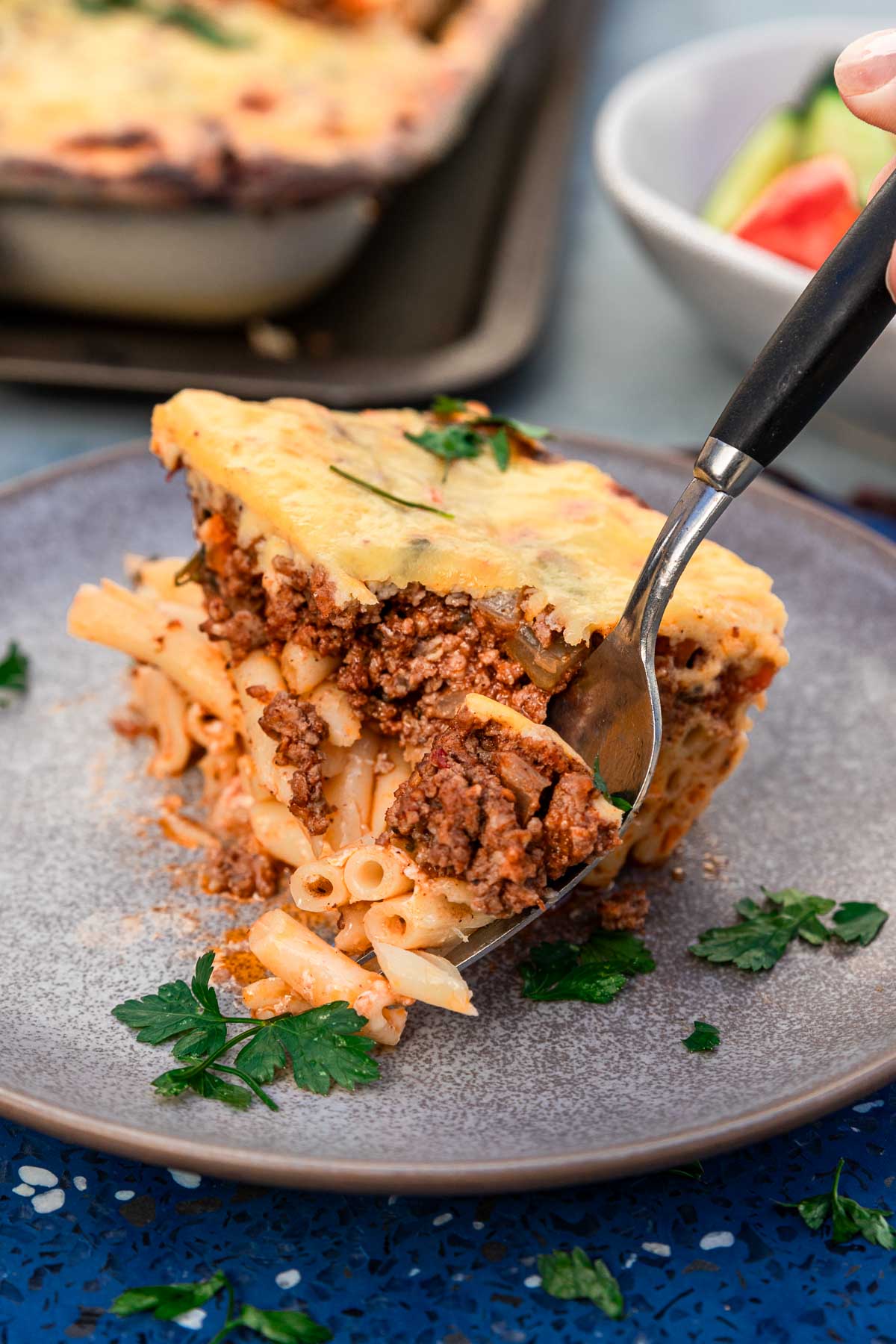 More Greek comfort food recipes
Or if you're just enjoying the whole Greek food vibe in this post, you might like to check out my Greek recipes archives!
IF YOU MAKE THIS RECIPE, LET ME KNOW HOW YOU GET ON BY LEAVING A COMMENT AND RATING BELOW… AND DON'T FORGET TO SIGN UP TO RECEIVE ALL MY NEW RECIPES BY EMAIL!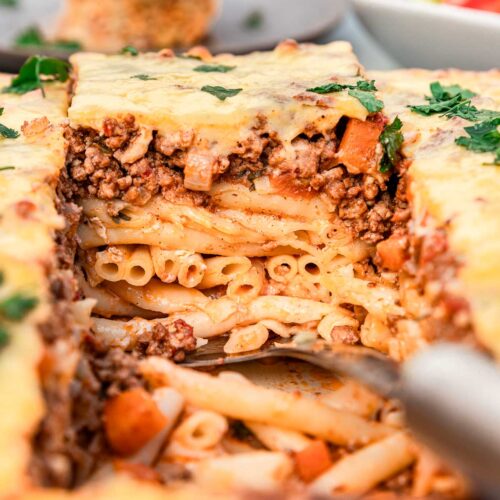 Authentic Pastitsio Recipe (Baked Greek Pasta)
Pastitsio is a delicious everyday Greek classic. You might think it's complicated, but it's actually pretty easy to make at home. With its three delicious layers – tube pasta, fragrant ragu sauce and thick, soufflé-like béchamel sauce, it's like a lasagna, but also a bit different! Perfect for making ahead, this kind of Greek pasta bake keeps and freezes well, is satisfying and comforting, and feeds a small crowd. It's a perfect choice for either a hearty midweek dinner, or to impress family and friends.
Equipment (affiliate links)
Ingredients (UK/Australia? Click below for grams/ml)
For the ragu sauce layer
2

tbsp

olive oil

1

onion

diced finely

1

large

carrot

diced finely

2

sticks

celery

diced finely

2

pounds

ground beef

3

garlic cloves

crushed

1½

tsp

ground cinnamon

½

tsp

allspice

1

tsp

paprika

½

tbsp

dried oregano

½

tbsp

dried thyme

(or replace with more oregano or mixed Italian herbs)

1

tsp

salt

or to taste

½

tsp

pepper

or to taste

3

tbsp

tomato paste

(tomato concentrate)

⅔

cup

red wine

(or beef broth/stock if you prefer)

2

beef bouillon cubes

(stock cubes)

14

ounces

chopped tomatoes

1

bunch

fresh parsley

chopped
For the pasta and béchamel layers
14

ounces

pasta

(long tubular Greek 'pastitsio' pasta, or use Italian bucatini, penne, ziti or rigatoni)

2

tbsp

olive oil

4

ounces

butter

(½ cup or 1 stick)

4

ounces

flour

(½ cup)

4

cups

milk

(I prefer to use whole milk)

3

eggs

separated (use 3 lightly whisked yolks in the béchamel and 2 of the whites in the pasta)

1½

cups

parmesan cheese

(If you can find it, use Greek kefalotyri as a first choice. Pecorino, gruyere, manchego or asiago are other possibilities.)

½

tsp

ground nutmeg
Instructions
To make the ragu sauce
In a very large saucepan or pot, sauté the diced vegetables on a medium heat in the olive oil for around 5 minutes.

2 tbsp olive oil,

1 onion,

1 large carrot,

2 sticks celery

Add the ground beef and break up and stir until white.

Add the garlic, cinnamon, allspice, paprika, dried herbs and salt and pepper and stir briefly. Then mix together the tomato paste/concentrate, red wine and beef bouillon cubes and add this mixture to the sauce as well.

3 garlic cloves,

1½ tsp ground cinnamon,

½ tsp allspice,

1 tsp paprika,

½ tbsp dried oregano,

½ tbsp dried thyme,

1 tsp salt,

½ tsp pepper,

3 tbsp tomato paste,

⅔ cup red wine,

2 beef bouillon cubes

Stir in the can of tomatoes. Then bring the mixture to the boil. Turn down the heat and simmer for 30 to 35 minutes. Finally, stir in the chopped parsley (save a little to sprinkle over the finished dish, if you like).

14 ounces chopped tomatoes,

1 bunch fresh parsley
To make the pasta and béchamel sauce
Meanwhile, cook the pasta until al dente (usually around 2 minutes less than stated on the package), then drain and let cool back in the saucepan for a few minutes. Stir in the olive oil, 2 egg whites and ¼ cup of the grated cheese.

14 ounces pasta,

2 tbsp olive oil,

3 eggs,

1½ cups parmesan cheese

To make the béchamel, melt the butter in a medium saucepan, then stir in the flour until you have a paste.

4 ounces butter,

4 ounces flour

Stir in the milk little by little. Then stir until the sauce has thickened and is just bubbling. Add 1 cup of the grated cheese.

Take off the heat and let cool for a few minutes. Then stir in the egg yolks (and the leftover white if you like) and nutmeg.
To layer and bake
Preheat the oven to 355F/180C.

Now spread the pastitsio pasta mixture over the bottom of a very large baking dish (a very deep 9×13 inch dish, or a larger dish such as 10×15 inches and 3 inches deep). Don't fill the dish more than half way with pasta (if you have leftovers make another smaller pastitsio). Smooth and pack the pasta down well.

Stir a ladleful of the béchamel into the ragù mixture, if you like (this will help this layer to stay together when sliced). Layer the ragù sauce over the pasta, smoothing it down. Then pour and spread over the béchamel sauce. Sprinkle with the remainder of the grated cheese.

Bake the pastitsio for around 35 minutes or until puffed up and golden on top. Let rest for 15 to 20 minutes (important) before sprinkling over a little extra fresh parsley (if you like) and cutting into neat squares. Serve with a Greek salad or other simple side of your choice.
Notes
Baking dish: A common mistake is to use a baking pan that's too small. You'll need at least a 9 x 13 inch dish that's at least 3 inches deep. Even better would be a 10 x 15 inch dish (affiliate link) or similar. If you can't fit everything into the dish you have, no worries – just make a larger pastitsio and another smaller one to freeze for later! A good rule of thumb is to not fill the dish more than half way with the pasta.
How to serve: Serve this authentic pastitsio either with a classic Greek village salad or an even simpler Greek lettuce salad (maroulosalata), or any simple salad of your choice.
Variations: Try the recipe with any ground meat you like (beef, lamb, pork, turkey, chicken or a mixture). Add more chopped vegetables instead of some of the meat e.g. diced mushrooms, zucchini, eggplant, or even a can of cooked lentils. Play around with different dried herbs e.g. basil, rosemary, marjoram, or mixed Italian herbs.
Storing and freezing: Make the pastitsio up to a few days in advance. Cover and reheat individual portions in the microwave for around 3 minutes or until piping hot throughout.
Leftovers will keep well in the fridge (tightly covered or in an airtight container) for 3 to 5 days. You can freeze individual portions of pastitsio in airtight containers for up to 3 months. You can also freeze a whole pan of pastitsio. Wrap well in several layers then defrost overnight in the fridge. Reheat as described above.
'Lighter' and easier alternative: Mix the sauce in with penne pasta instead of layering. Use turkey or chicken ground meat. Make a no-bake béchamel alternative by mixing 1.5 tablespoons of corn starch/corn flour, half a cup of grated kefalotyri (or alternative such as parmesan) and 3 eggs into 2 cups of Greek yogurt. Spread over the top of the pasta and sauce then bake as with the original version of the recipe.
Nutrition
Calories:
606
kcal
Carbohydrates:
42
g
Protein:
28
g
Fat:
35
g
Saturated Fat:
15
g
Polyunsaturated Fat:
2
g
Monounsaturated Fat:
14
g
Trans Fat:
1
g
Cholesterol:
133
mg
Sodium:
807
mg
Potassium:
652
mg
Fiber:
3
g
Sugar:
7
g
Vitamin A:
2151
IU
Vitamin C:
12
mg
Calcium:
317
mg
Iron:
4
mg