Looking for a fancy but easy breakfast, brunch, lunch or appetizer idea? These cute puff pastry asparagus tartlets are the perfect choice. Keep it simple by adding parmesan and basil, add bacon or an egg – or bacon and an egg. So simple and delicious, and on the table in just 30 minutes.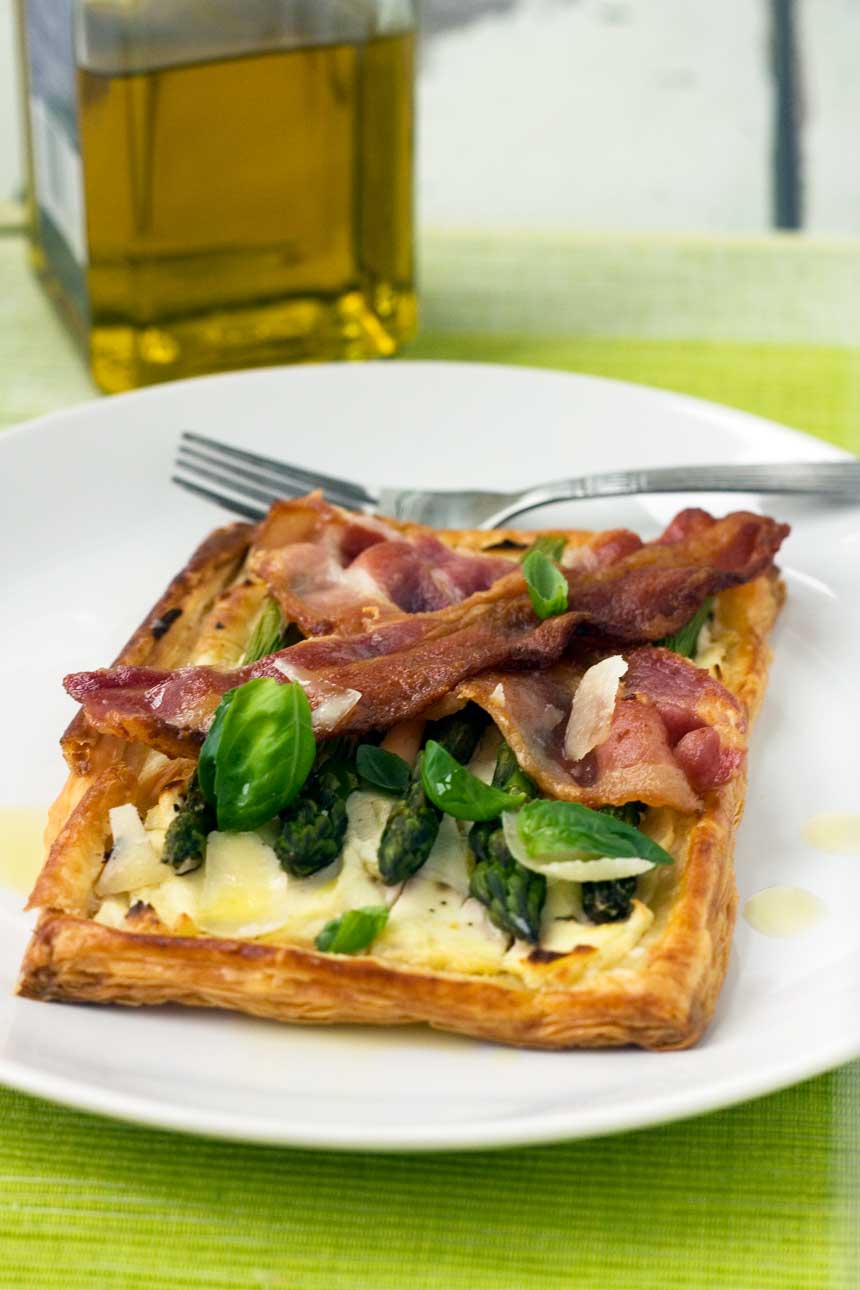 Why you're going to love these tartlets
EASY TO MAKE (RIDICULOUSLY SO). Throw together in just a few minutes, and cook in around 20.
IMPRESSIVE. They may be easy, but with a name like asparagus tartlets, they're impressive enough to serve to lunch/brunch guests, don't you think?
VERSATILE. Serve as a breakfast tart, or add sides and serve for dinner!
EASY TO CUSTOMIZE. Adapt to make with whatever is in season (tomatoes, prosciutto, goat cheese & leeks…). Also, serve as they are, or top with an egg for more of a breakfast vibe.
This makes a great simple 'breakfast for dinner' recipe as well! If you need more ideas, check out this list of 100 lazy Sunday dinner ideas!
About the ingredients
Store-bought puff pastry: One of the reasons these yummy cheesy asparagus tarts are so easy to make! I always look for an all-butter puff pastry. I also tend to check the back for the shortest ingredients list possible!
Cream cheese: Just basic spreadable cream cheese is fine. If you like however get flavoured cream cheese with herbs, garlic etc. Ricotta works well, too.
Lemon zest: You don't need much, but it will make all the difference. Trust me.
Asparagus: You'll need 5 to 7 spears for each of your asparagus tarts. This might sound like a lot, but asparagus tends to shrink as it cooks. Choose bright green, firm spears when they're in season for the best results.
Eggs and bacon: Topping your tartlets with an egg and/or bacon is purely optional. Fry or poach your eggs, and fry the bacon until lightly crisp. Air fry the bacon if you like (in just 8 minutes) – it's quick, easy, hands-off and avoids grease splatters.
Parmesan, basil and olive oil: Sprinkle just a little of all 3 of these over the top of your tartlets before serving. Another one to trust me on.
How to make them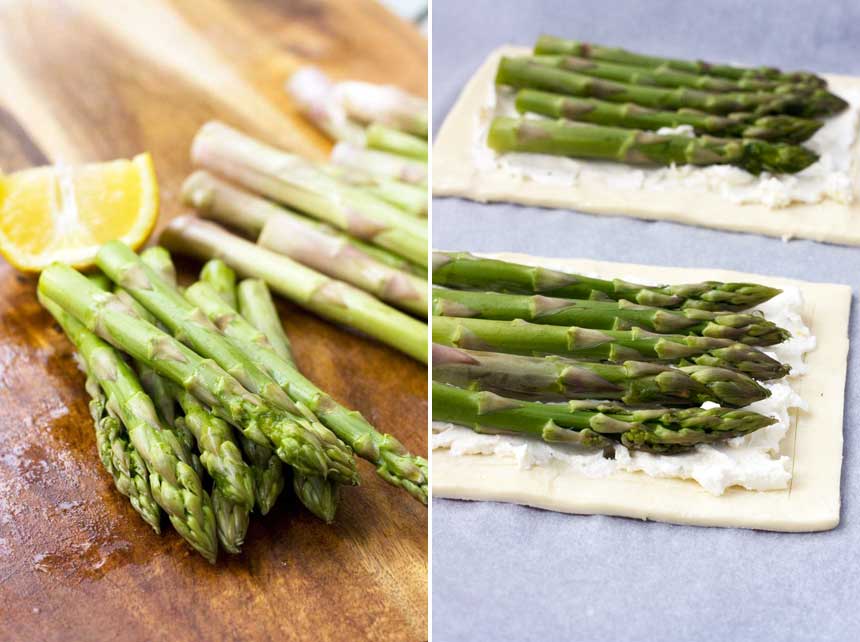 Step 1: Cut rectangles out of a large puff pastry sheet.
Step 2: Score around the edges with a sharp knife, being careful not to cut all the way through!
Step 3: Spread the inside of the tart with cream cheese mixed with lemon zest, then lay asparagus across the top.
Step 4: Bake for about 20 minutes, then top with egg and bacon, if you like (I like!). Sprinkle with parmesan and basil.
Pro tip: Squeeze as much asparagus as you can on top of the layer of lemony cheese, as the asparagus will shrink a bit in the oven.
How to serve and variations
BREAKFAST TARTS: Pop bacon and/or an egg on top. If you have an air fryer, air fried bacon will change your life!
LIGHT(ISH) BRUNCH/LUNCH: I'd serve with a simple green salad on the side (and perhaps a sneaky glass of white wine).
FOR A MORE SUBSTANTIAL MEAL: Why not serve with these crispy smashed potatoes (quick and easy in an air fryer!), lemony Mediterranean rice with chickpeas (stovetop or instant pot) or this delicious quinoa salad with crispy chickpeas?
VARY THE TOPPINGS: Not asparagus season? Use tomatoes, mushrooms or baby broccoli instead. As long as it's something that cooks in around 20 minutes, you're good to go.
VARY THE CHEESE: Use Boursin or ricotta instead of ordinary cream cheese. Just make sure you strain the ricotta first or it might make your pastry soggy. Instead of sprinkling parmesan over the top, how about crumbled feta, goat's cheese or small slices of brie?
MAKE ONE BIG PUFF PASTRY ASPARAGUS TART INSTEAD: As long as it's a bit wider than the asparagus, it doesn't matter how long the tart is. The prep and cook time are the same as for the individual tartlets!
PREPARING AHEAD: These tarts are best cooked just before eating, but you can definitely prepare your pastry and toppings ahead so that everything is ready to go.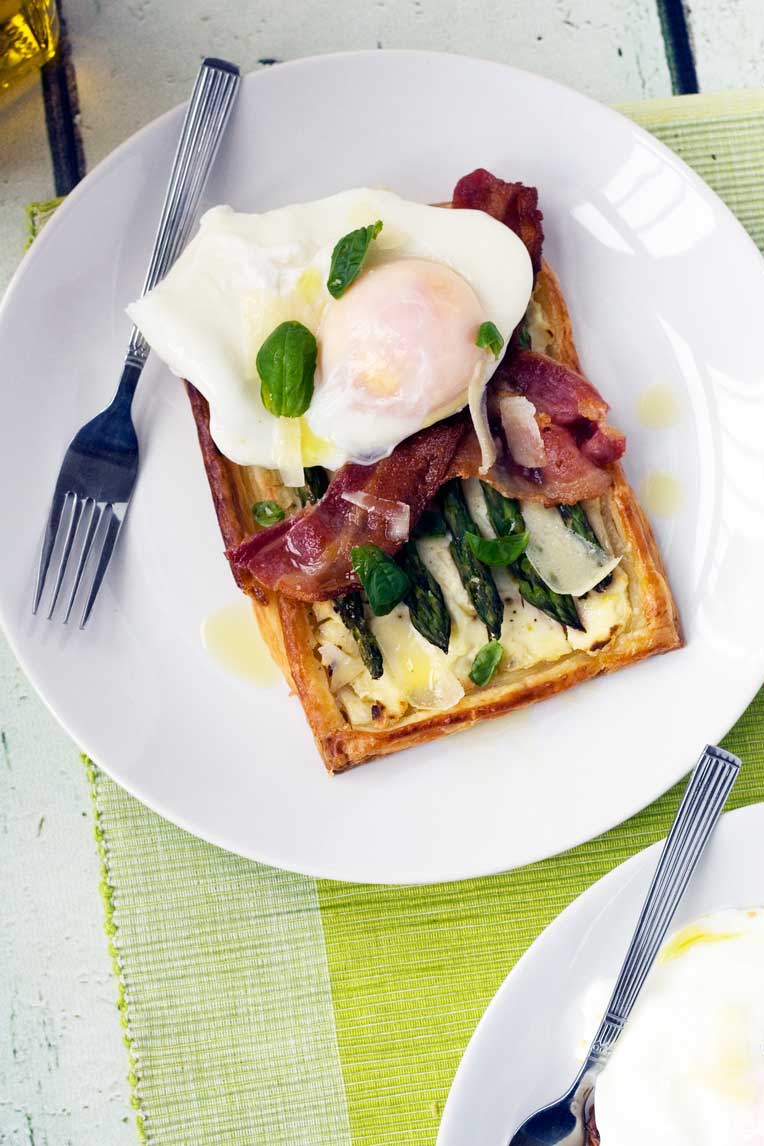 Top tips
It's best to use thin (very fresh) asparagus so that it's nicely tender and a little crispy by the time the pastry is cooked.
If you can remember to defrost the puff pastry in the fridge overnight it will be perfectly defrosted but still chilled when you're ready to use it.
Don't forget the finishing touches. Sprinkle over a little parmesan, fresh basil and olive oil before serving for an extra fancy (and tasty) touch.
More things to know (recipe FAQ)
How do I keep the puff pastry from getting soggy?
Make sure that your oven is fully pre-heated before cooking your tartlets. Don't forget to prick the pastry all over with a fork inside the border you've marked out. Also try to use pastry that's still cold. This way the fat won't melt before baking and there'll be more chance of getting a crisp tart.
Can I use frozen puff pastry?
Yes, absolutely. In fact here in Australia I think that's the only type that's available. Just remember to thaw it in the refrigerator (about 4 hours) until you can unroll it without it breaking but it's still cold.
What size should the tarts be?
About 10x14cm/4×5.5in. However… pastry sheets come in different sizes. There are no absolute rules here! Just make sure that the trimmed asparagus spears can fit on the tartlets, with room for about a 1cm border around the edge.
How long will they keep and can you freeze them?
These puff pastry asparagus tarts are best made and eaten immediately. However… if you have any leftovers, by all means cool them and keep them in the fridge for a few days. Alternatively you can freeze them in an airtight container for up to 3 months, then defrost in the fridge when ready to eat. Reheat for 5 to 10 minutes at 355F/180C to warm through and crisp up again nicely.
More asparagus recipes
It's in season for such a short time, so make the most of it!
More savory puff pastry recipes
Or check out all of my breakfast recipes!
IF YOU MAKE THIS RECIPE, LET ME KNOW HOW YOU GET ON BY LEAVING A COMMENT AND RATING BELOW… AND DON'T FORGET TO SIGN UP TO RECEIVE ALL MY NEW RECIPES BY EMAIL!
FOLLOW ME ON FACEBOOK, INSTAGRAM, PINTEREST AND YOUTUBE.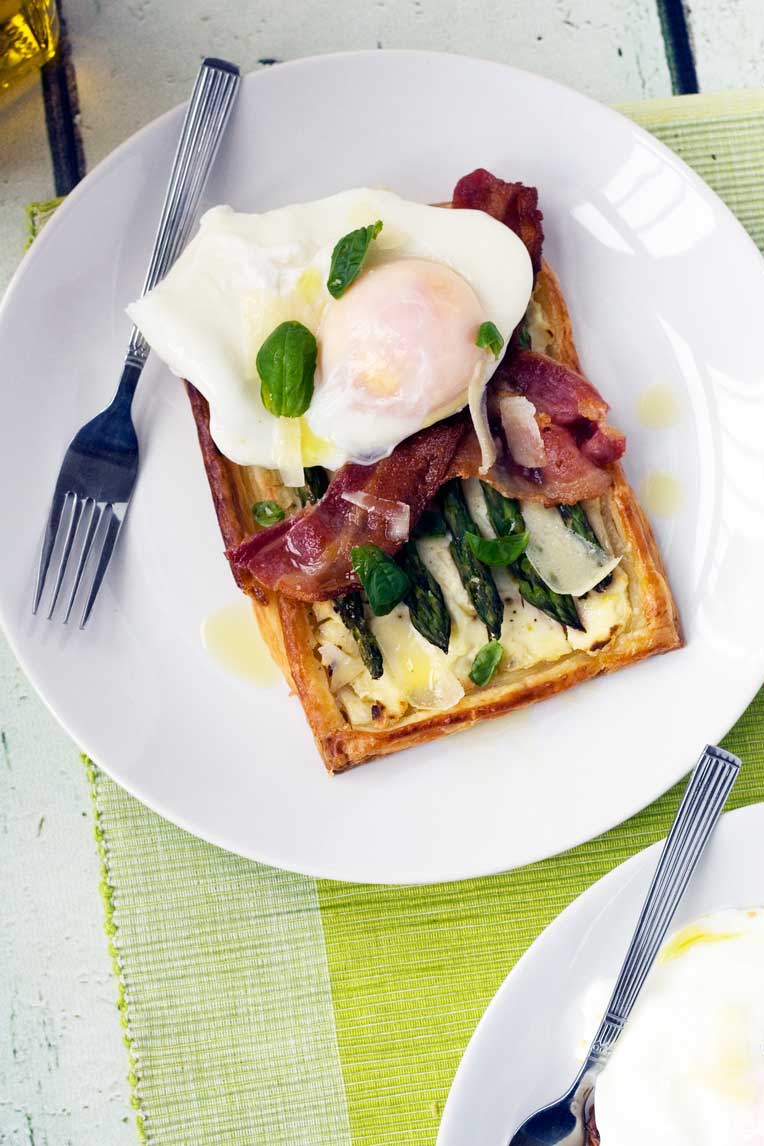 Puff Pastry Asparagus Tartlets With Bacon
Individual puff pastry asparagus tartlets that are easy to customise (add an egg, bacon or both!). It's great for throwing together at the last minute but also impressive enough to serve to guests. This delicious and healthy tart is perfect with the parmesan and basil scattered over at the end and takes just 30 minutes to make.
Ingredients (UK/Australia? Click below for grams/ml)
ready-rolled puff pastry

de-frosted if frozen

2

ounces

cream cheese

a few gratings of lemon zest

salt and pepper

asparagus

about 5 to 8 spears per tart

a little milk for glazing

2

eggs

optional

2

large slices of bacon

optional

parmesan shavings

shaved with a vegetable peeler

fresh basil

a drizzle of extra virgin olive oil
Instructions
Line a baking tray with baking paper. Unroll the puff pastry and lay out on a board or work surface. Cut out rectangles about 10x14cm/4×5.5in and place them on the baking tray.

Preheat the oven to 220C/425F. Then mix the lemon zest and a bit of salt and pepper into the cream cheese. Trim the asparagus so that it's about 10cm/4in long.

2 ounces cream cheese,

a few gratings of lemon zest,

salt and pepper,

asparagus

Score a 1cm/½in border all around each pastry rectangle, then prick the inside all over with a fork (this is to stop it puffing up in the oven). Brush the border lightly with a little milk.

a little milk for glazing

Spread half of the cheese all over each tart (inside the border), then lay half the asparagus over the tarts lengthways and all facing the same way. Bake for 18-20 minutes or until the pastry is puffed and golden.

About 5 minutes before the tarts will be ready, poach the eggs in a pan of boiling water for 3-4 minutes until cooked but still runny (if using). Also pan fry the bacon (if using. or air fry the bacon). Arrange the bacon over the top of the tart (I split a large rasher in half and placed it in a criss-cross pattern), then carefully place the egg over the top of that.

2 eggs,

2 large slices of bacon

Just before serving, scatter some parmesan shavings and fresh basil over each tart and drizzle over a tiny bit of olive oil.

parmesan shavings,

fresh basil,

a drizzle of extra virgin olive oil
Notes
Making ahead: These tarts are best made just before eating, but you can prepare your pastry and toppings ahead. Reheating/Freezing: Let cool, then store in the fridge for up to 3 days or freeze for up to 3 months in an airtight container. Reheat at 355F/180C for 5 to 10 minutes or until warmed through and crisp again.
Nutrition
Calories:
251
kcal
Carbohydrates:
1
g
Protein:
9
g
Fat:
22
g
Saturated Fat:
9
g
Cholesterol:
209
mg
Sodium:
299
mg
Potassium:
143
mg
Sugar:
1
g
Vitamin A:
620
IU
Calcium:
52
mg
Iron:
0.9
mg