Make your nachos a little healthier, but no less delicious, by topping them with a super easy and economical 5 bean chili. Make enough for 10, eat some, and pop the rest in the freezer for another day!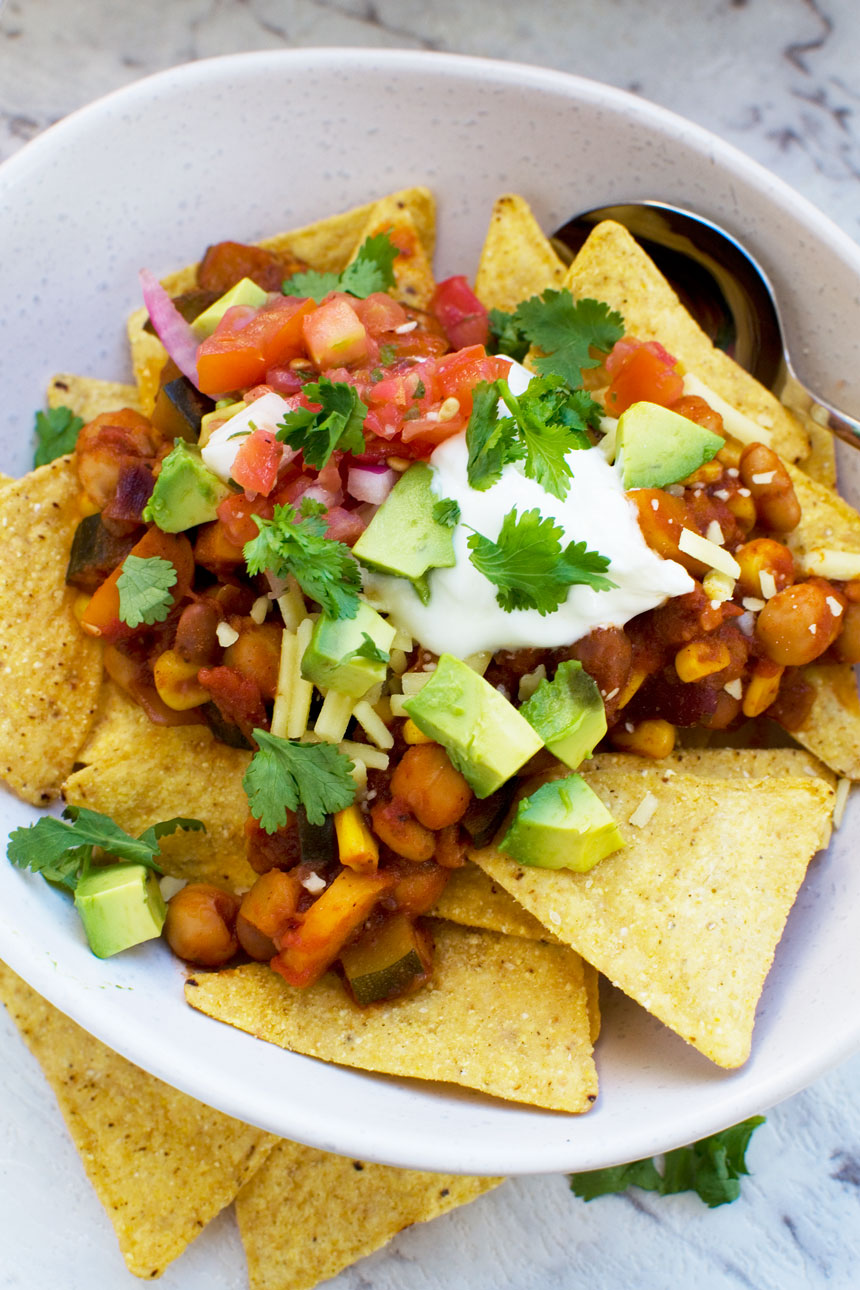 Now I certainly aint no nacho expert.
You may have noticed that I don't have many Mexican recipes on the blog. That's not because I don't like Mexican food. In fact it's one of my favourite cuisines (that and anything Asian.)
It's just that when we make 'Mexican' it's in its simplest incarnation ever.
I probably don't make nachos how they're meant to be made. I don't carefully layer them. I don't bake them. I don't have any fancy refried beans, seasoning, peppers or salsa.
I keep it REALLY simple, with ingredients I imagine you can get pretty much everywhere in the world. But somehow these 5 bean loaded nachos are still incredibly incredibly delicious.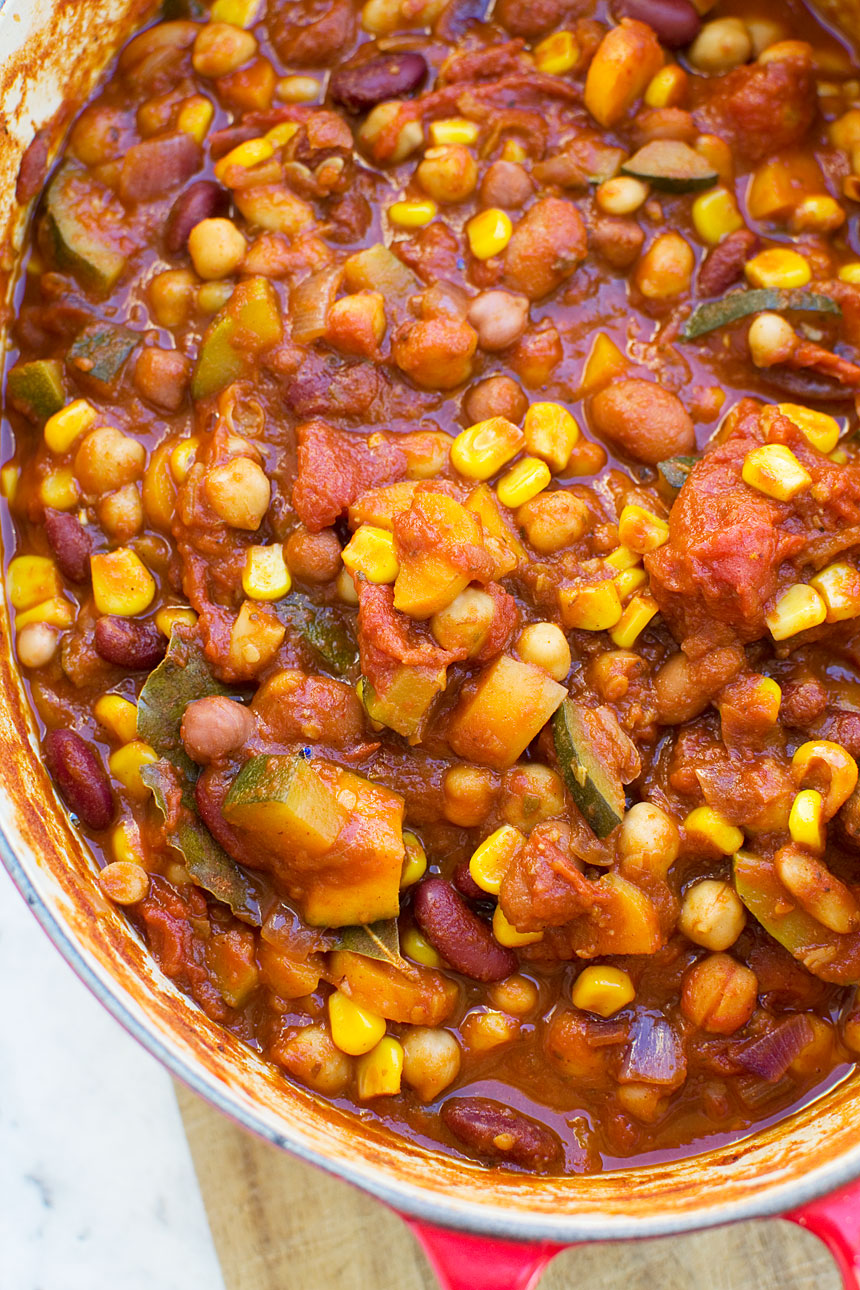 So how do you make 5 bean chili?
You would assume that there are 5 different kinds of beans as I've called this recipe 5 bean nachos!
As you'll see in the list below, I did in fact include 5 different beans in my chili plus sweet corn, but really I just wanted a catchy sounding name for my recipe. 😉
You can include just one kind of bean in your chili if you like, or ten different kinds of beans. It really doesn't matter.
These are the main ingredients I use to make my 5 bean chili that's the basis of this loaded nachos recipe:
garlic and chopped onion
chopped veggies (I usually keep it very simple – just chopped carrot and zucchini – but you could add other veggies like celery and peppers if you like)
a few simple spices and herbs – chilli powder, of course, plus cumin, paprika, and some dried herbs (either mixed, or basil, or oregano)
canned tomatoes, passata (called tomato sauce in the USA!), and water
BEANS – lots of them! I added 5 kinds, including chickpeas (can you call a chickpea a bean?), and a can of corn for good measure.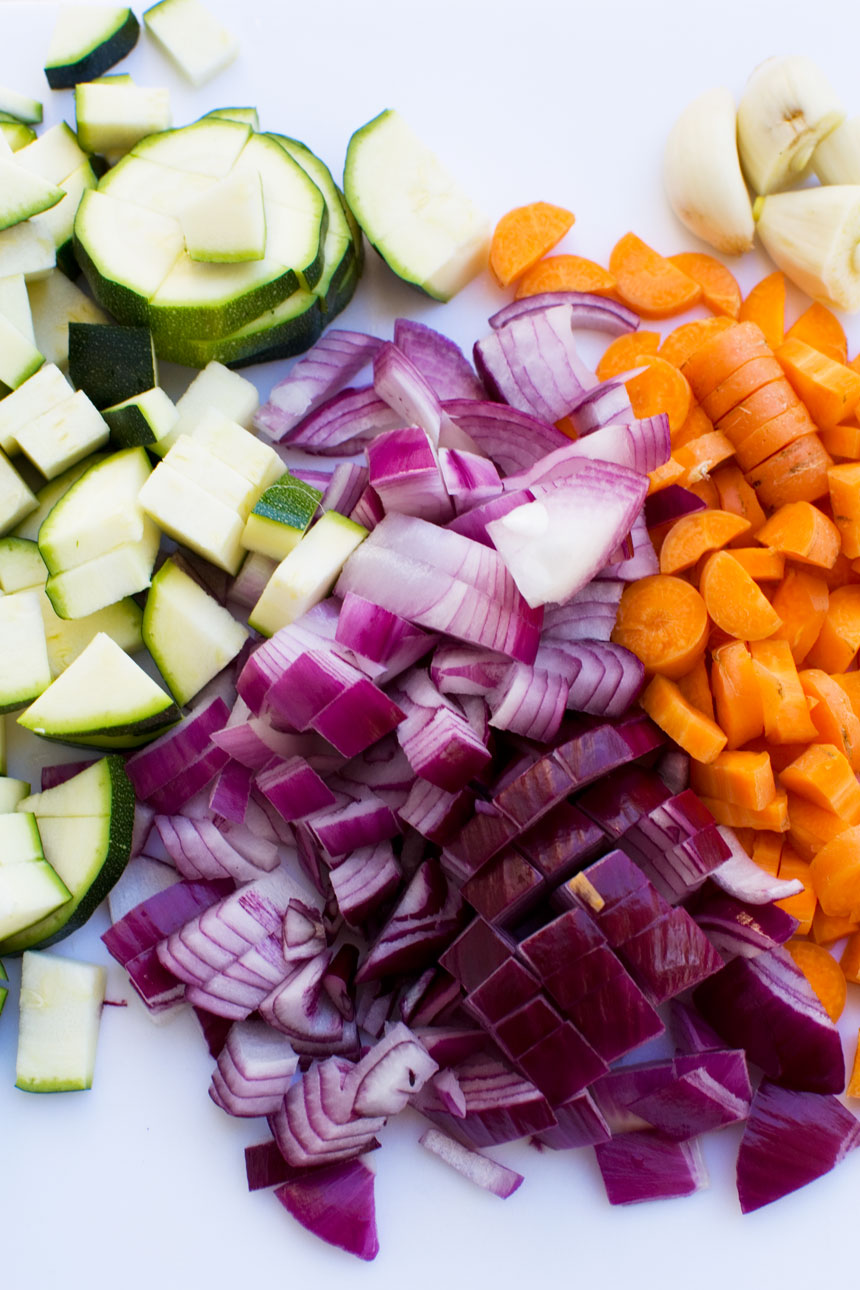 Aaaand…. that's it! Of course you also add plenty of salt and pepper, and if you like you can add a couple of bay leaves and a big drizzle of honey for a smidge of sweetness.
How much chili powder should you use?
The first time I made these 5 bean nachos, you wouldn't have wanted to be invited to dinner.
I threw in 3 tablespoons of chili powder. Erm, because I was in a rush and didn't read enough similar recipes to find out how much I should be adding.
Whoops. Just about rescued the batch with extra canned tomatoes and water, and then lots of cooling yogurt and salsa on top, but still a bit fiery for my liking.
I finally settled on about 1 and a half tablespoons of chili powder. That still gives the chili a little bit of a bite, so if you prefer a mild chili you might want to drop it down to just a tablespoon.
Or go up to 2 tablespoons if you're a fiery chili kind of person.
Remember too that the toppings 'cool things down' a little, so it won't be a total disaster if you had a little too much spice.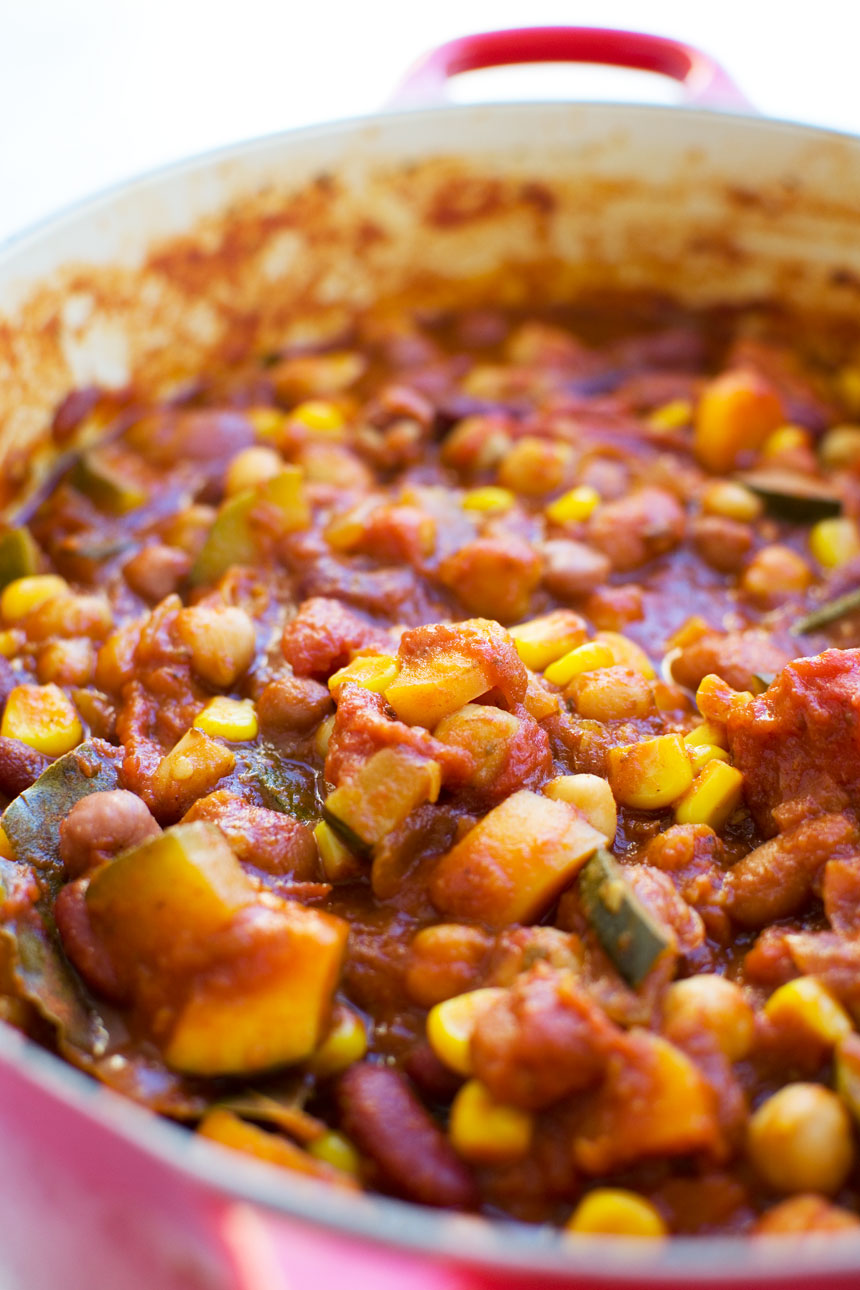 It's all in the toppings!
The 5 bean chili I make to top my loaded nachos would be tasty eaten on its own, but it's the TOPPINGS that take this healthy meal to the next level.
What toppings should I add to my nachos?
Toppings are a bit of a personal thing, but for me the toppings below are essential. If I don't have one of these it just doesn't seem quite as delicious:
sour cream or Greek yogurt (me – Greek yogurt, Mr. Scrummy – sour cream)
simple salsa (sometimes I buy a good quality 'homemade' one from a particular supermarket, other times I just chop up tomatoes and onion and add a drizzle of olive oil – easy!) [OR I go the extra mile and make my own simple salsa – recipe coming very soon!]
chopped or mashed avocado
grated cheese
a sprinkle of fresh cilantro / coriander (me – yes but it's a bit less crucial than the other toppings, Mr. Scrummy – nope)
What toppings do you like to add to your nachos?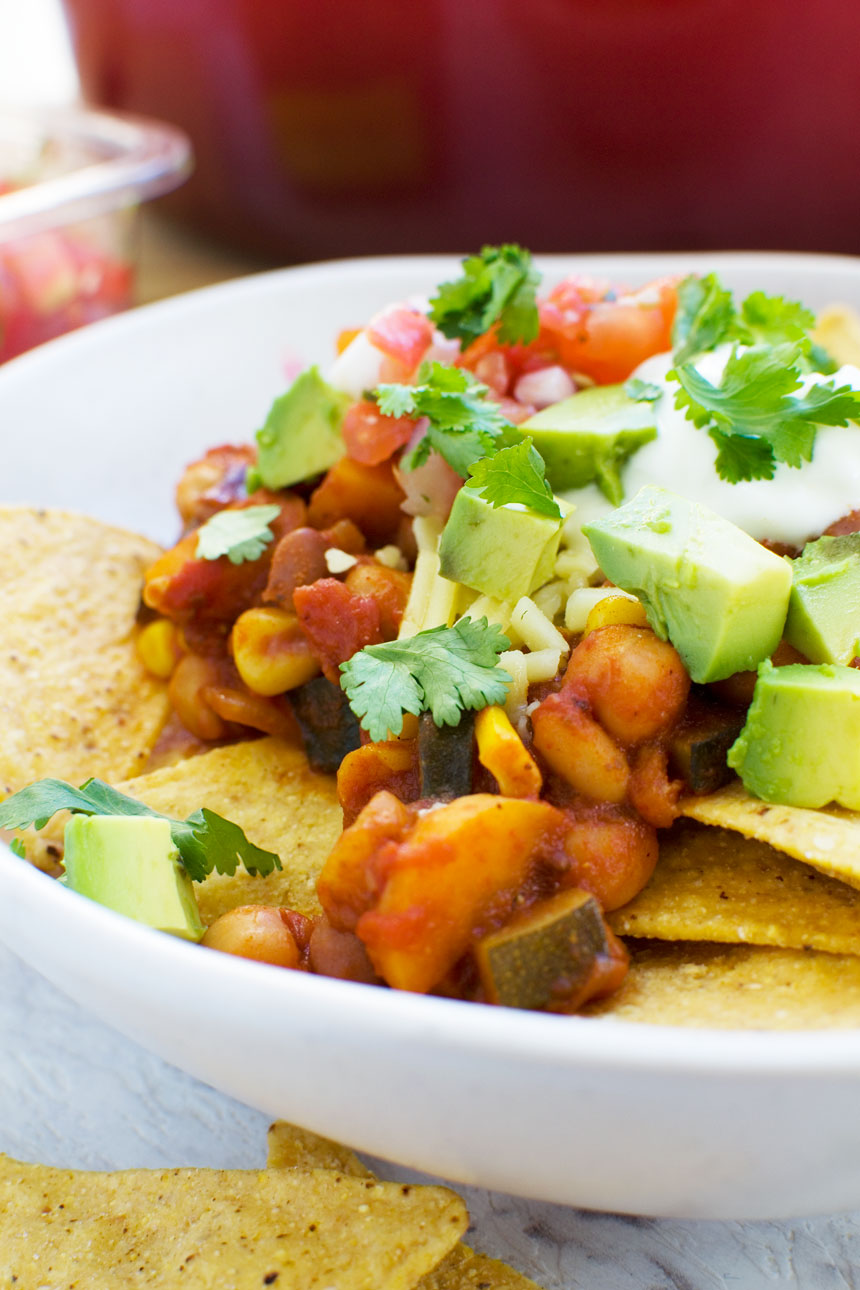 Feed a crowd!
Another great thing about this loaded nachos recipe is that it makes about 10 portions. So you can either feed a small crowd, or throw some portions into containers and freeze.
We always eat some nachos the first day for dinner, then I put another meal's worth in the fridge for another day that week. The bean chili keeps really well in a glass container for up to a few days. No meat in there to worry about, remember…
Then I divide what's left between 3 more glass containers and freeze them. And there you have it – enough for 3 more healthy meals on days when you can't be bothered to cook!
Without meaning to blow my own trumpet, that's what I call an economical use of ingredients and time!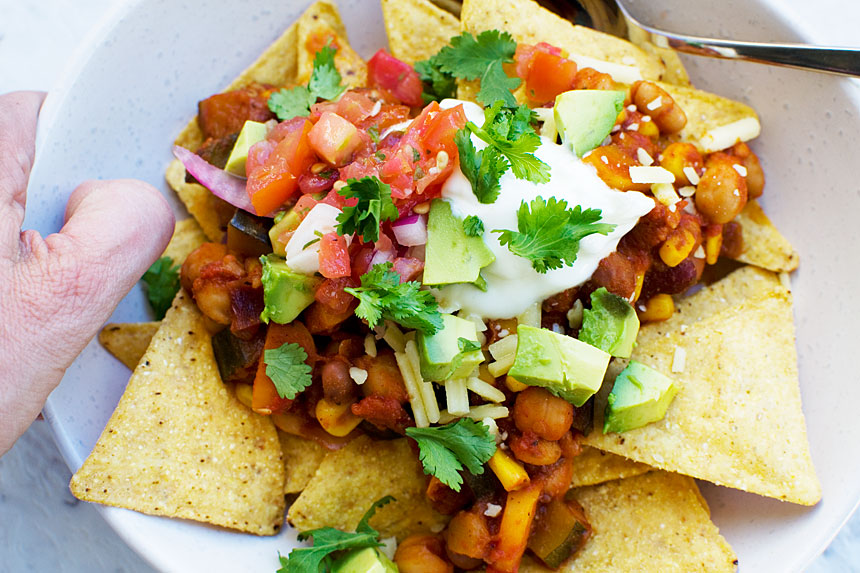 Nachos, rice, bread, or… ?
Although I've called this recipe 5 bean chili nachos, if you're not a nacho sort of person you can serve the 5 bean chili with any other carb you like.
Rice, bread, polenta, quinoa… or if you'd like to keep the recipe on the light side you can serve it stew style with just a sprinkle of nachos on the top.
If I'm honest I always feel like I've eaten a bit too much after I've added on all the toppings, so maybe I should try the nacho sprinkle next time!
Greek-Mex? Bet you didn't know that was 'a thing'!
Fan of all things nachos? Try these Greek nachos too!
These Greek quesadillas are truly amazing – like a cross between a spanakopita, or Greek spinach and cheese pie, and a traditional cheesy quesadilla! One of my oldest recipes, but still delicious!
And finally… what's that lovely looking red pot I can see in your video, Mrs Scrummy?
I often use a Le Creuset cast iron pot for this vegetarian chili recipe, but this Lodge one is probably just as good, and much cheaper!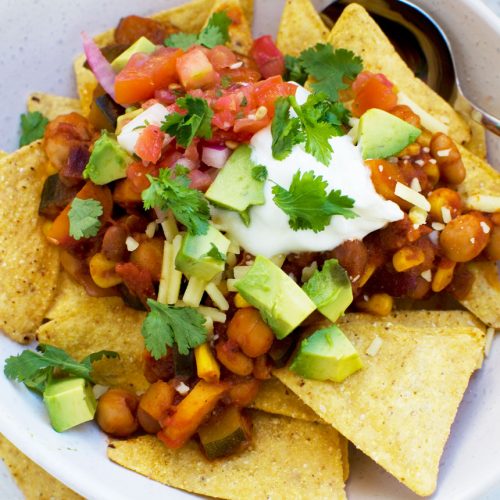 5 bean loaded nachos
This is a recipe for a really tasty and nutritious 5 bean chilli to healthify your nachos! I call them 5 bean loaded nachos. Throw a few store cupboard ingredients (and lots of beans!) in a pot, simmer, then throw onto nachos with all your favourite yummy toppings. Delicious, it feeds a small crowd, and is freezer friendly too!
Ingredients (UK/Australia? Click below for grams/ml)
1

onion

chopped (medium to large)

4

cloves

garlic

crushed (I sometimes add more – 4 large or 5 to 6 regular sized cloves)

2

carrots

chopped into small pieces

1

zucchini

chopped into small pieces

1.5

tablespoons

chilli powder

1 – 2 tablespoons, depending on how fiery you like your chilli!

2

tablespoons

smoked paprika

1

tablespoon

cumin

3

cans

tomatoes

1.5

cups

passata

USA = tomato sauce

2

cups

water

4

cans

beans

14 ounce / 400 gram cans - mixed, cooked e.g. butter beans, kidney beans, flageolet beans, black beans, chick peas

1

can

sweetcorn

14 ounces / 400 grams

2

tablespoons

dried herbs

mixed, oregano, or basil

2

teaspoons

salt

a few drizzles honey & 2 bay leaves

optional
nachos & topping suggestions
nachos

1 handful per person

chopped avocado

simple tomato & onion salsa

sour cream or Greek yogurt

chopped fresh cilantro / coriander

grated cheese
Instructions
Saute the onion and garlic with a little oil for a few minutes in a large cooking pot.

Add the carrots and zucchini and stir fry for another 5 minutes.

Add the chilli powder, paprika and cumin and stir for another minute or two.

Pour in the tomatoes, passata and water and add the beans and corn, herbs, and salt.

Bring to the boil, then let simmer for 30 minutes or until the chilli is like a thick soup or stew.

Meanwhile, prepare your choice of toppings. Serve over nachos (or for a lighter version with just a few nachos sprinkled on top!).
Notes
A note on the spices (and herbs!)
1 to 2 tablespoons, depending on how fiery you like your chili to be! Better to err on the conservative side, and you can always add more next time if it didn't seem spicy enough. On the other hand if you overdo it with the chili, I find the toppings cool things down a lot, so it usually isn't the end of the world!
If you like you can also add a couple of bay leaves and a big drizzle of honey to your chili for a tiny bit of extra pizzazz!
A note on the nachos
I sometimes find my eyes are bigger than my tummy when it comes to how many nachos to serve! A medium handful per person is about right. If you want to keep the meal a bit lighter though you can reverse the 'normal' nacho concept.
Serve the chili stew style in a bowl, then just sprinkle a few nachos over the top for a bit of crunch. Of course you could also serve this veggie chilli with rice, bread or quinoa.
A note on the nutritional info
The nutritional info for this recipe is just for the chilli. To be honest it was difficult to calculate it accurately for this recipe, so you might have to disregard it. Sorry if that's a problem for you.
Also, even if you take the nutritional info given as a very rough estimate, I have not included the toppings, as these vary according to what you choose and how much you add to your nachos.
Nutrition
Calories:
226
kcal
Carbohydrates:
46
g
Protein:
13
g
Fat:
2
g
Sodium:
902
mg
Potassium:
437
mg
Fiber:
13
g
Sugar:
5
g
Vitamin A:
3460
IU
Vitamin C:
12
mg
Calcium:
49
mg
Iron:
2.9
mg