Last Updated on
Brits love Eton Mess – a summer dessert of cream tossed with meringue and strawberries. Me, not so much, but I thought I'd combine the flavours of this popular dessert in a white chocolate fridge cake. Mmmm … it turned out great!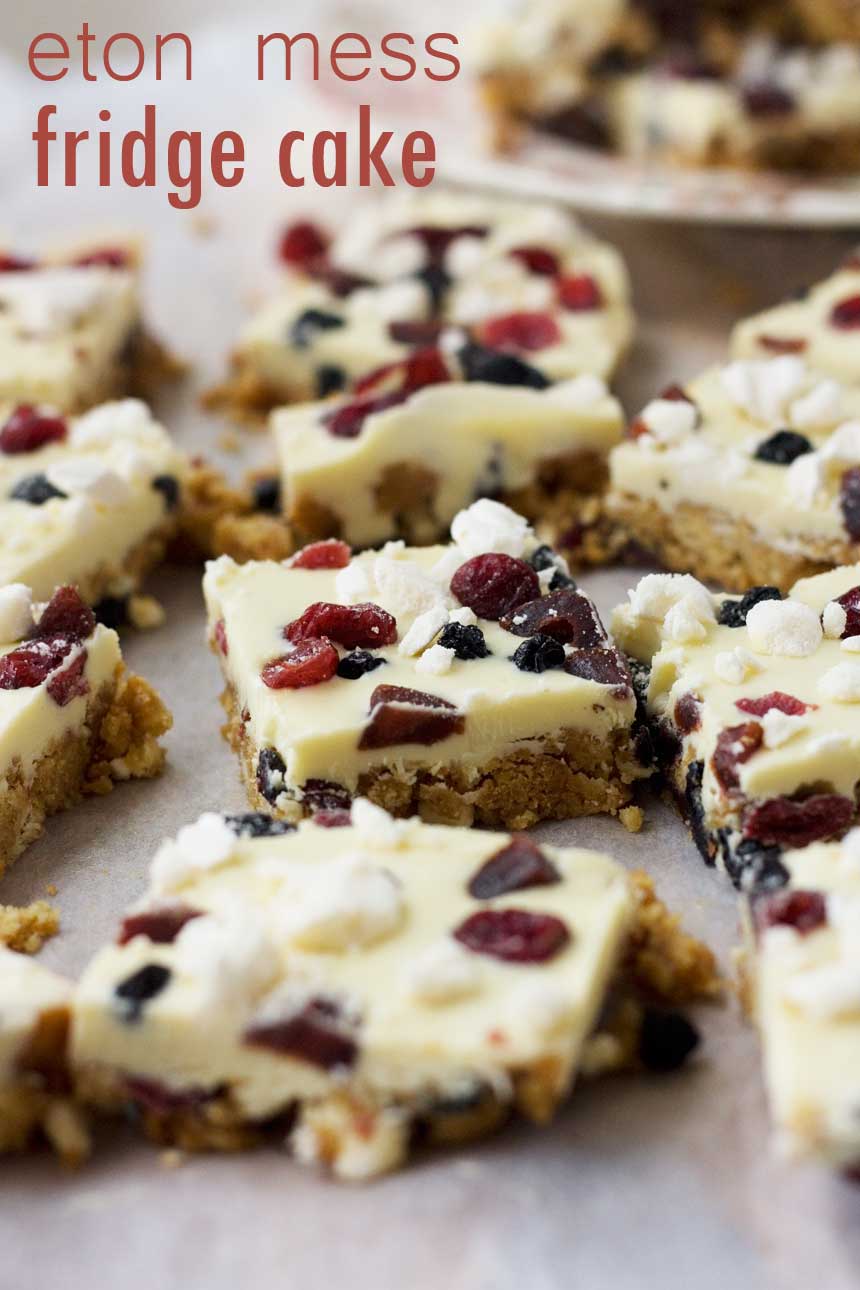 I'm not really a fan of Eton Mess. Now, if you're British, you probably have a shocked look on your face right now ('She doesn't like Eton Mess? What kind of a British food lover is she?') If you happen to not be from the UK, the look on your face might be resembling something a bit more confused ('What on earth is Eton Mess, anyway? Sounds … errr … messy?').
Well, just to enlighten those of you who don't happen to speak the Queen's English, Eton Mess is a pretty clever and popular summer dessert over here. It's a really quick, no-bake dessert that is basically just whipped cream mixed with crumbled meringue and red summer fruits – usually strawberries. Apparently, it's traditionally served at Eton College's (a very posh private school) annual cricket game against Harrow (another very posh private school). In other words, as English as English as English can be!
It's a dessert found on many menus at this time of the year and a firm favourite – it's just that I'm not a cream, meringue and fruit sort of girl. I'm more a chocolate-y, biscuit-y and fruit kind of girl … which leads me neatly onto introducing this Eton Mess fridge cake to you.
In the UK, traditional fridge cake is just crushed digestive biscuits (a bit like Graham Cracker cookies!) mixed with melted butter, cocoa, syrup and dried fruit. It's all squashed into a cake pan, then smothered in a thick layer of chocolate. Mmmm …. so inexplicably delicious and definitely one of my favourite treats!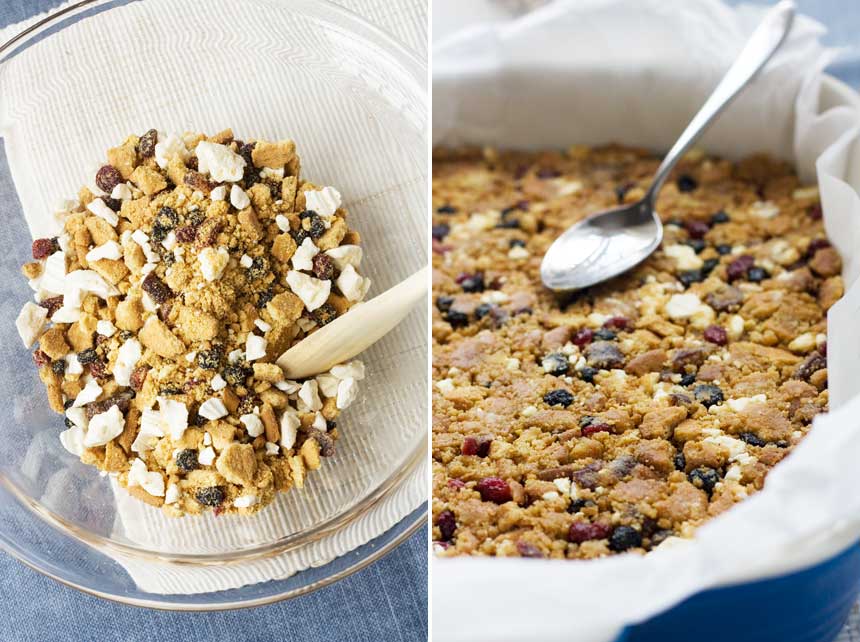 So anyway, lately I've been taking my work to quite a lot of cool coffee shops around my city (ever tried that? I love it and I swear I get more work done surrounded by all the chattering, coffee smells and great music). In my favourite café I recently saw something a bit like this Eton Mess fridge cake. I didn't try it, but to me it looked like a white chocolate version of fridge cake with a bit of meringue and fruit. I thought it couldn't be too hard to come up with my own version, and I wasn't wrong.
I was pretty pleased with the result, and the recipe really is fool proof – small variations in amounts used won't make a big difference to the taste. You'll love it if you're a fan of white chocolate. It's sweet, very sweet (I must admit) but just cut it into small chunks (this is my go-to 'solution' for potentially overly-sweet treats, if you hadn't already noticed!) and enjoy after a nice light summer meal with a lovely cup of tea or coffee! (tea if you really want to pretend you're sipping out of a china cup while watching the cricket at Eton!)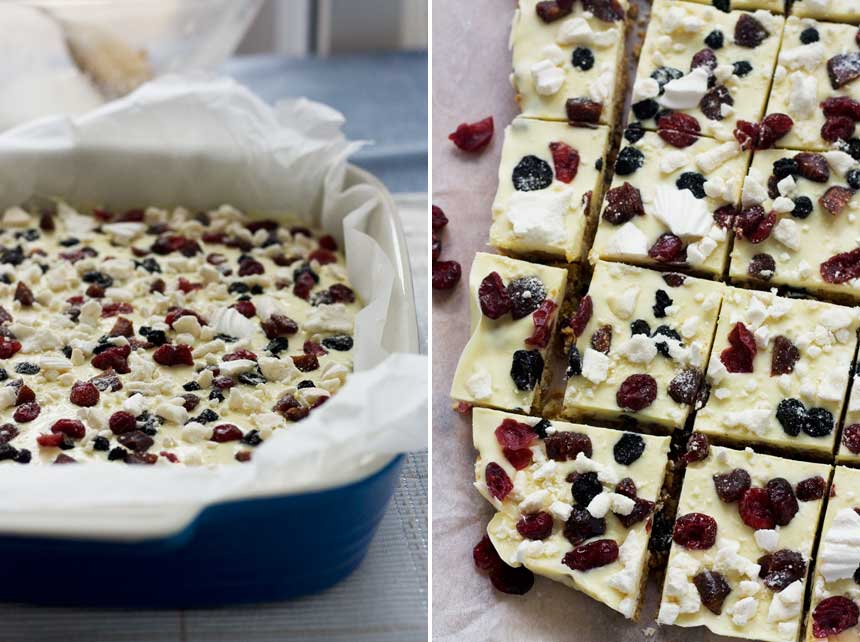 The most fun part of making these is generously sprinkling the crushed meringue and dried fruits (I used strawberries, blueberries and cranberries) all over the melted white chocolate at the end.
Pretty as well as delicious!
P.S. Don't worry about the 'Digestive biscuits', 'Golden Syrup' and 'meringue nests' in this recipe if you don't happen to be in the UK. Yup, these are all very British ingredients, but you can use a different kind of cookie (Graham crackers or a simple crumbly type cookie are fine), honey or maple syrup and any kind of pre-cooked crunchy meringue!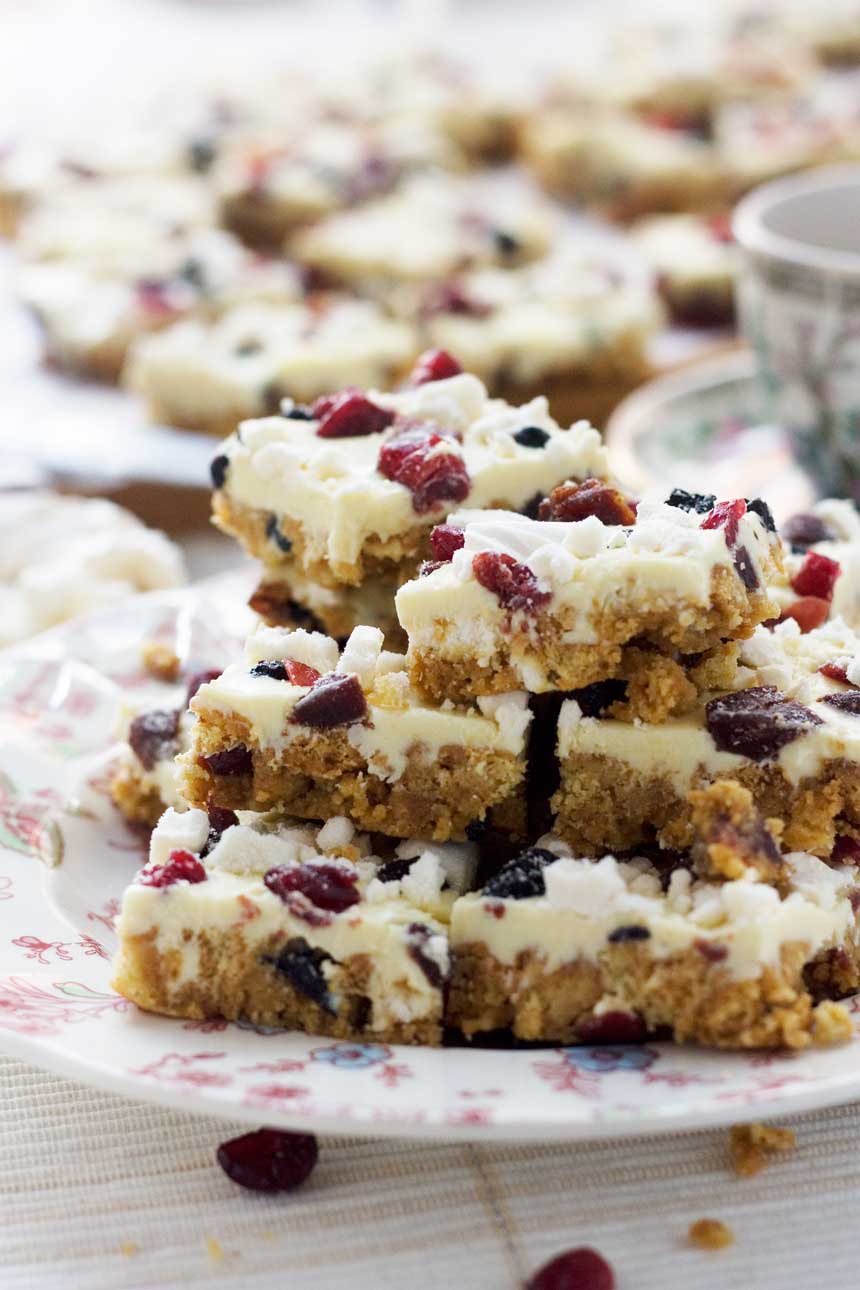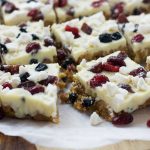 Print
Eton Mess fridge cake
A delicious white chocolate fridge cake with all the flavours of the classic English dessert Eton Mess. Just mix crushed biscuits with butter, syrup and dried red fruit, squash into a baking pan, smother with melted white chocolate and sprinkle with more meringue and dried fruit. Just gorgeous!
Ingredients (UK/Australia? Click button below for grams & ml)
9

ounces

digestive biscuits

see note 1 below

9

tablespoons

unsalted butter

(1 stick + 1 tablespoon)

2

tablespoons

golden syrup

see note 2 below

1

ounce

pre-packaged meringue

I used 2 'nests' – see note 3 below plus extra for the topping (about 1 'nest')

7

ounces

dried red fruit

chopped if necessary (e.g. raspberries, cranberries, blueberries, strawberries)

14

ounces

white chocolate
Instructions
Line a baking tin (mine was roughly 30 x 23cm) with baking paper and set aside.

Tip the biscuits into a freezer bag and crush them into smallish pieces using a rolling pin. Pour into a large bowl.

Melt the butter in a saucepan, then add the Golden Syrup. Set aside to cool a little.

Add about half of the dried fruit and the two crumbled meringue nests to the biscuits in the bowl and mix well. Then pour in the butter and syrup mixture and stir until all the mixture is coated.

Press the mixture into the baking tin.

Break the chocolate into a bowl, then microwave in 30-second bursts to melt (3 x 30-second bursts worked for me, then I stirred the chocolate well to finish off melting it). Spread over the biscuit cake, then sprinkle the rest of the dried fruit and the remaining crumbled meringue over the top. Leave to set completely in the fridge.

Cut into smallish squares and enjoy!
Notes
1. If you can't find Digestive biscuits (UK), Graham crackers or another hard crumbly cookie is fine.
2. Similarly, if you can't find Golden Syrup, you can use honey or maple syrup instead.
3. Here in the UK, pre-packaged meringue is sold in little 'nests'. If you can't buy these in your country, any type of meringue is fine – just so long as you use about 25 grams and a bit extra for sprinkling!
Nutrition
Calories:
245
kcal
|
Carbohydrates:
31
g
|
Protein:
2
g
|
Fat:
12
g
|
Saturated Fat:
7
g
|
Cholesterol:
17
mg
|
Sodium:
89
mg
|
Potassium:
79
mg
|
Sugar:
25
g
|
Vitamin A:
165
IU
|
Vitamin C:
0.1
mg
|
Calcium:
46
mg
|
Iron:
0.5
mg
Follow me on Pinterest!
Follow @scrummylane to pin more quick and easy recipes for later

You can also find more from Scrummy Lane on Facebook, Pinterest, Twitter and Instagram and follow me on Bloglovin! Thanks so much for reading!
*This post may contain affiliate links which means that if you click on a link and make a purchase I get a small percentage of the amount you spend. At no extra cost to you, of course! Thank you!*