Fan of both chocolate fridge cake and strawberries and cream? This divine white chocolate tiffin is like a cross between the two. The best part? It's no bake, and you need just 6 ingredients and 15 minutes to make it. This just might be the perfect way to use up leftover crushed meringues!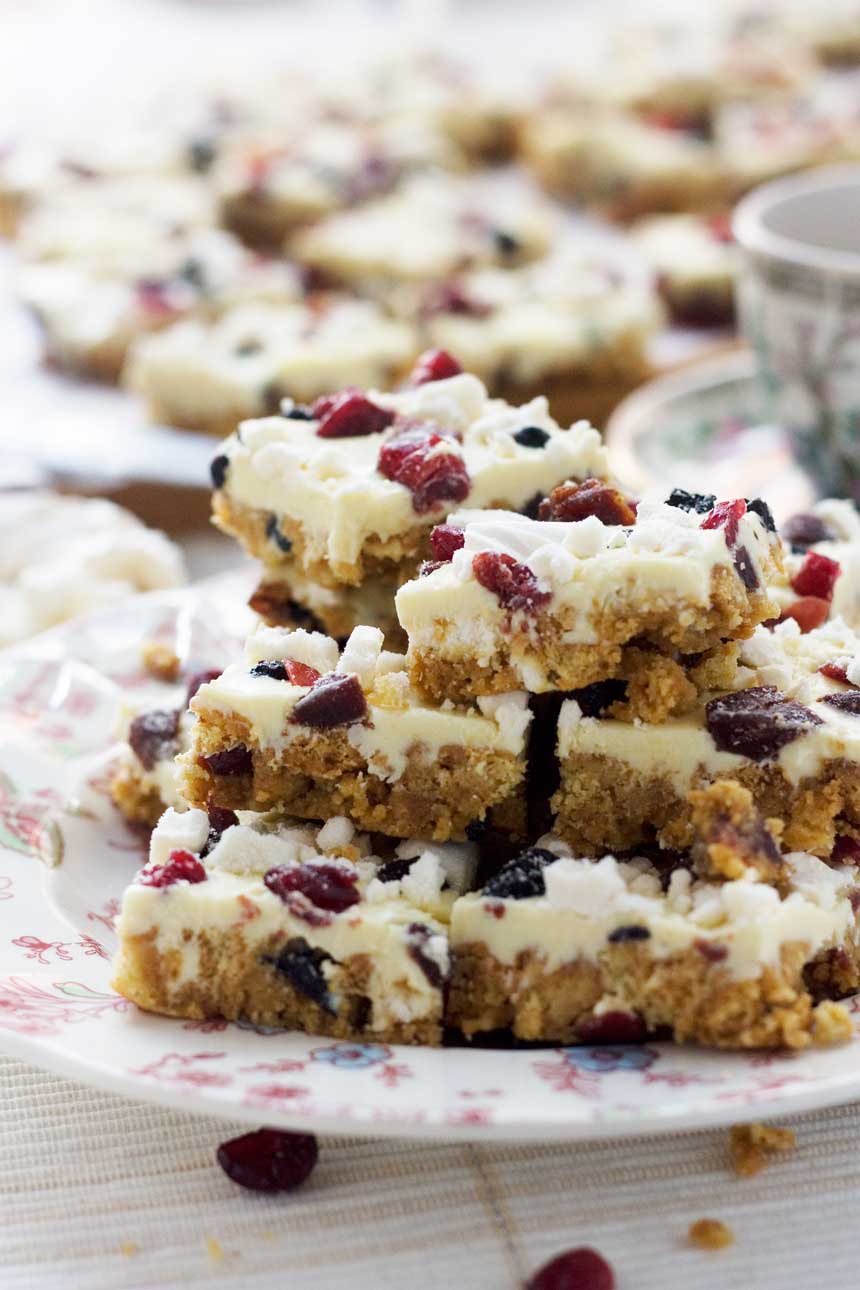 Tiffin meets Eton Mess
Tiffin is an Indian English word meaning 'light snack or meal'. But now it's also a sweet treat made with crushed digestive biscuits (US = Graham Crackers) mixed with melted butter, cocoa, syrup and dried fruit. It's all squashed into a cake pan, then smothered in a thick layer of chocolate.
You may know it better as chocolate biscuit cake? Or perhaps even just chocolate fridge cake? If you're in Australia you'd do better comparing it to Hedgehog slice.
Traditionally it's made with milk or dark chocolate on top, but I thought I'd switch things up here! In any case it's one of the easiest and most delicious types of chocolate cakes you can make!
Especially if you add dried red berries and meringues to it – Eton Mess style!
Now, if you're British, you probably have a shocked look on your face right now.
If you happen to not be from the UK, the look on your face might be resembling something a bit more confused ('What on earth is Eton Mess, anyway? Sounds … errr … messy?').
Well, Eton Mess is a really quick, no bake summer dessert that is whipped cream mixed with crumbled meringue and red summer fruits.
You'll love this white chocolate tiffin (meets Eton Mess!) if:
you're a fan of white chocolate
you want to make a sweet treat but you don't want to turn on the oven
you only want to use a few ingredients (say 6?)
you want to make a crowd pleasing treat to share at a picnic, party or other event (it's sweet, very sweet, but just cut it into small chunks and enjoy!
you have leftover chocolate, meringues and dried fruit.
About the ingredients
You only need 6 ingredients to make this white chocolate treat. How simple is that?
Digestive biscuits: Any. Use Graham Crackers if you're in the USA.
Butter: To melt and stir through the crushed biscuit crumbs with some meringue bits and chopped dried fruit.
Crushed meringue: As explained above, this is to stir through the biscuit base AND to scatter over the chocolate on the top. Any shop bought kind is absolutely fine. If you're buying 'meringue nests' around 2 crumbled up is about the right amount.
Golden syrup: Add a couple of tablespoons of Golden Syrup and stir (go with Corn syrup in the USA). Then press into the bottom of a 8 inch square cake tin.
White chocolate: To spread over the top. I usually find a supermarket own brand or Aldi/Lidl is perfectly fine. But choose your favourite brand.
Chopped dried fruit: This is also to stir through the biscuit and to decorate the top. I usually head to the baking isle to find dried cranberries, strawberries, raspberries, or even plain old raisins if that's all they have. Have a dig around in your pantry first to see what you already have!
How to make white chocolate tiffin
You can have this stashed in your fridge for dessert 'emergencies', picnics and lunch box treats in just a few very simple steps:
Step 1: Crush biscuits. The best way to do this is in a big food bag with a rolling big. You want the biscuits to be finely crushed, but it's OK if there are still a few big pieces left.
Step 2: Add crushed meringue and dried fruit.
Step 3: Mix in melted butter and golden syrup.
Step 4: Press into a pan. Pour melted chocolate over the top. Sprinkle with more meringue and fruit.
Step 5: Let set in the fridge. Cut into small squares. EAT!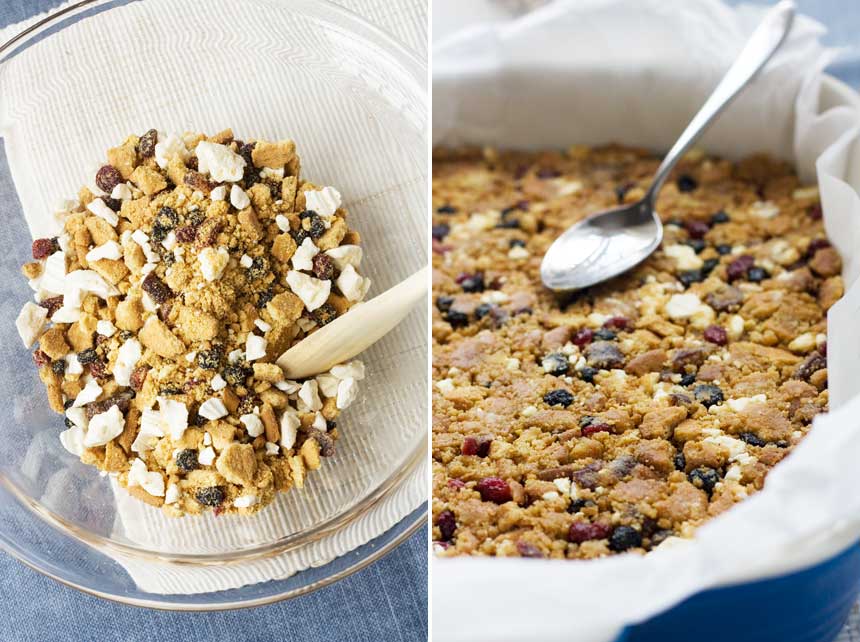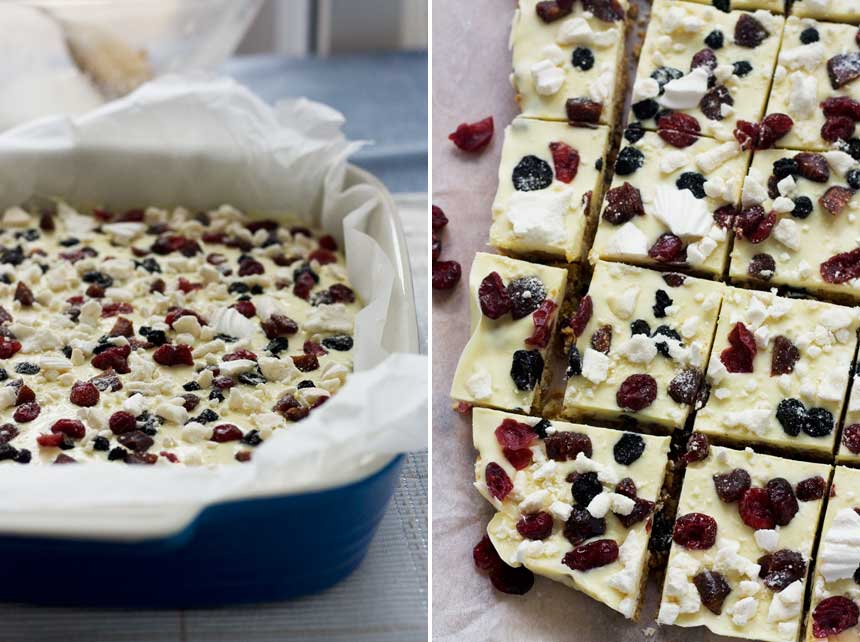 The most fun part of making this white chocolate tiffin is sprinkling the crushed meringue and dried fruits (I used strawberries, blueberries and cranberries) all over the melted white chocolate at the end.
Pretty as well as delicious!
Substitutions and variations
Don't worry about the 'Digestive biscuits', 'Golden Syrup' and 'meringue nests' in this recipe if you don't happen to be in the UK or Australia.
Yes, these are all very British or Australian ingredients, but you can use a different kind of biscuit/cookie (Graham crackers or a simple crumbly type cookie are fine), and honey or maple syrup.
If you need to make your tiffin gluten free, simply use gluten free biscuits/cookies (any you like).
Use any dried fruit you like, and any kind of crushed meringue. Leftover from a pavlova is perfect.
I love this tiffin made with white chocolate as it goes so well with the meringues and dried red fruits. But feel free to use either milk or dark chocolate instead.
Although this is quite a traditional dessert, it's quite easy to make it your own. Add your favourite crushed candy, coconut, glace cherries, nuts, turkish delight… whatever you like!
Top Tip: Chocolate tiffin is perfect for making after a holiday such as Christmas or Easter when you have lots of dried fruit, biscuits and perhaps meringues leftover!
How to serve it
I love to cut this into tiny squares and serve it as a delicious treat at a party, picnic or event. It's also great for tucking into lunch boxes!
Tiffin can also make a great addition to a charity bake sale, or you can pack tiny squares of it into food bags and give them as a gift.
More things to know (FAQ)
How long will tiffin keep?
I'm glad you asked! Because of the ahem significant amount of sugar in these, you'll find they will last quite a while. You can store them for up to 2 weeks in an airtight container or covered tightly in the fridge.

You may find the meringue will soften or become chewy rather than crunchy, but it'll still be delicious.

Of course if you prefer you can freeze leftovers (although I bet you won't have any!) for up to 3 months.
What can I use instead of Golden Syrup?
This may be harder to find if you don't live in the UK or Australia. But that's OK because you can use honey, maple syrup or even corn syrup instead.

Or, to be honest, you can just skip it altogether…
is Tiffin the same as rocky road?
No, not at all! They are both a kind of no-bake traybake, so they have that in common. But unlike tiffin rocky road doesn't usually contain any golden syrup, cocoa or meringues.

Rocky road is made in a few different ways depending on where you're from. But I make it by mixing chocolate with crushed biscuits, marshmallows, nuts and fruity candies. I have a great recipe for Christmas rocky road (that you can make any time) if you want to find out more.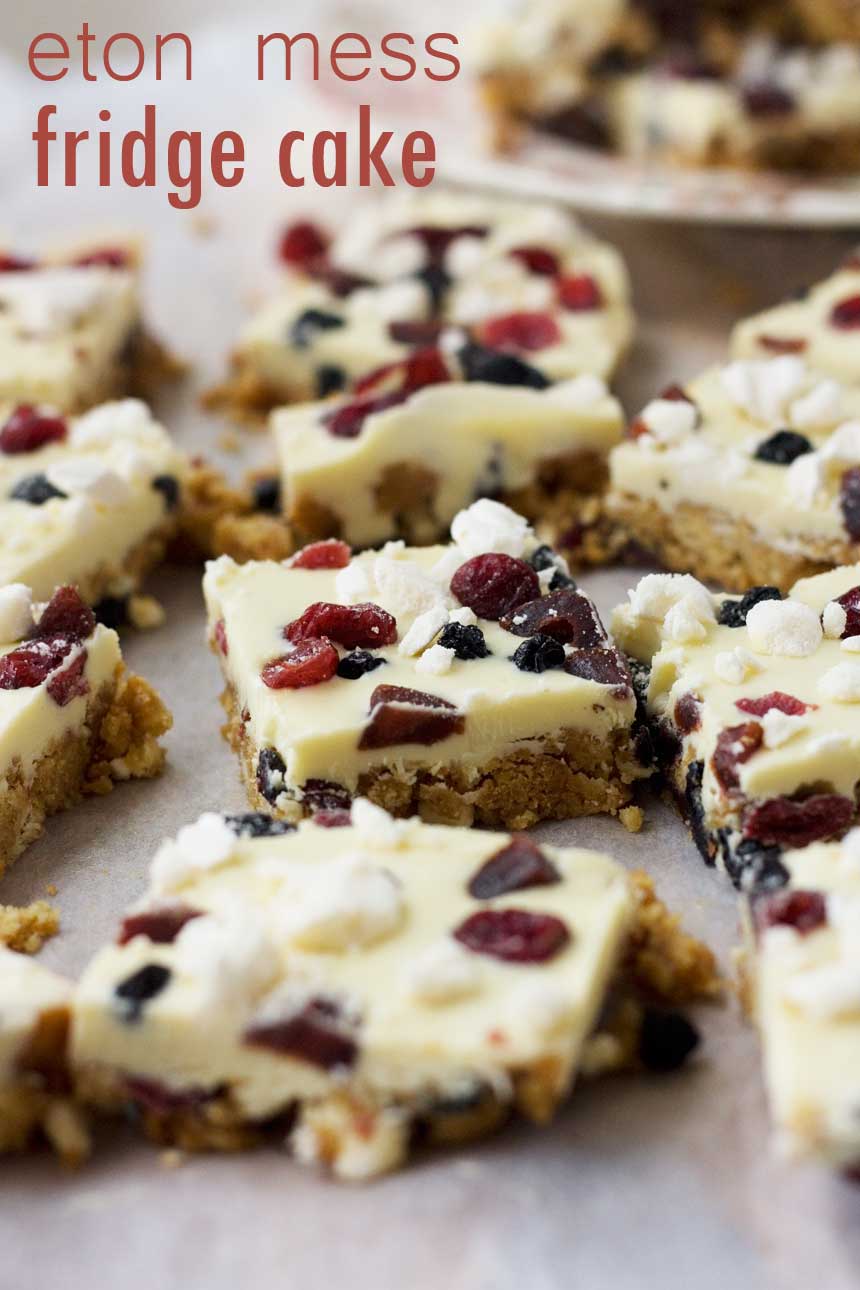 More no bake treats
Check out 11 really easy dessert recipes (6 ingredients or less) if you'd like a list of more no fuss desserts just like this Eton Mess cake!
IF YOU MAKE THIS RECIPE, LET ME KNOW HOW YOU GET ON BY LEAVING A COMMENT AND RATING BELOW… AND DON'T FORGET TO SIGN UP TO RECEIVE ALL MY NEW RECIPES BY EMAIL!
FOLLOW ME ON FACEBOOK, INSTAGRAM, PINTEREST AND YOUTUBE.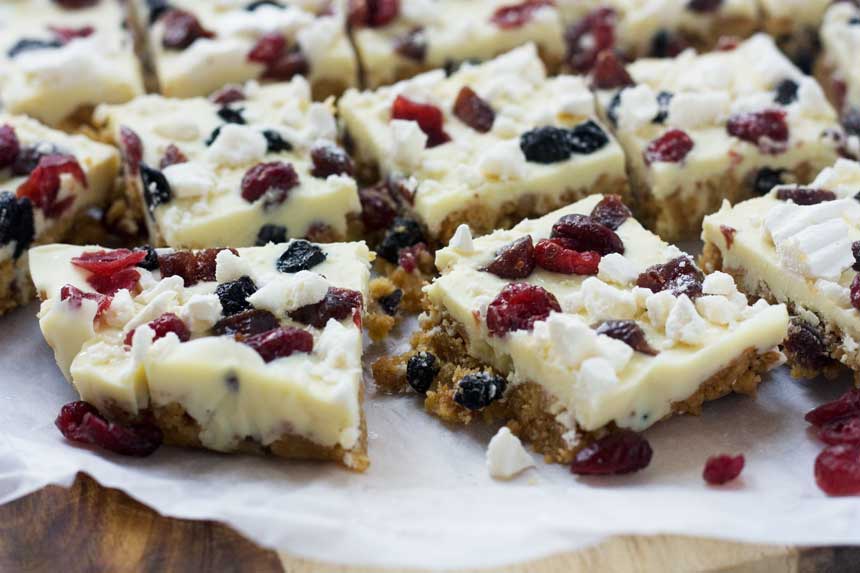 White Chocolate Tiffin With Crushed Meringues And Fruit
A delicious white tiffin with all the flavours of the classic English dessert Eton Mess. Just mix crushed biscuits with butter, syrup and dried red fruit, squash into a baking pan, smother with melted white chocolate and sprinkle with more meringue and dried fruit. Just gorgeous!
Equipment (affiliate links)
Ingredients (UK/Australia? Click below for grams/ml)
9

ounces

digestive biscuits

see note 1 below

9

tablespoons

unsalted butter

(1 stick + 1 tablespoon)

2

tablespoons

golden syrup

see note 2 below

1

ounce

pre-packaged meringue

I used 2 'nests' – see note 3 below plus extra for the topping (about 1 'nest')

7

ounces

dried red fruit

chopped if necessary (e.g. raspberries, cranberries, blueberries, strawberries)

14

ounces

white chocolate
Instructions
Line a baking tin (mine was roughly 30 x 23cm) with baking paper and set aside.

Tip the biscuits into a freezer bag and crush them into smallish pieces using a rolling pin. Pour into a large bowl.

Melt the butter in a saucepan, then add the Golden Syrup. Set aside to cool a little.

Add about half of the dried fruit and the two crumbled meringue nests to the biscuits in the bowl and mix well. Then pour in the butter and syrup mixture and stir until all the mixture is coated.

Press the mixture into the baking tin.

Break the chocolate into a bowl, then microwave in 30-second bursts to melt (3 x 30-second bursts worked for me, then I stirred the chocolate well to finish off melting it). Spread over the biscuit cake, then sprinkle the rest of the dried fruit and the remaining crumbled meringue over the top. Leave to set completely in the fridge.

Cut into smallish squares and enjoy!
Notes
1. If you can't find Digestive biscuits (UK), Graham crackers or another hard crumbly cookie is fine.
2. Similarly, if you can't find Golden Syrup, you can use honey or maple syrup instead.
3. Pre-packaged meringue is sold in little 'nests' where I live. If you can't buy these in your country, any type of meringue is fine – just so long as you use about 25 grams and a bit extra for sprinkling!
Nutrition
Calories:
245
kcal
Carbohydrates:
31
g
Protein:
2
g
Fat:
12
g
Saturated Fat:
7
g
Cholesterol:
17
mg
Sodium:
89
mg
Potassium:
79
mg
Sugar:
25
g
Vitamin A:
165
IU
Vitamin C:
0.1
mg
Calcium:
46
mg
Iron:
0.5
mg