This simple pineapple banana cake is a light and summery cake with a cream cheese topping. It's so easy to make, and yet it's moist and flavorful, and looks fancy enough to serve on a special occasion. You could say it's Hawaiian style banana cake meets classic Hummingbird cake. It tastes a bit like a carrot cake, but with a tropical twist!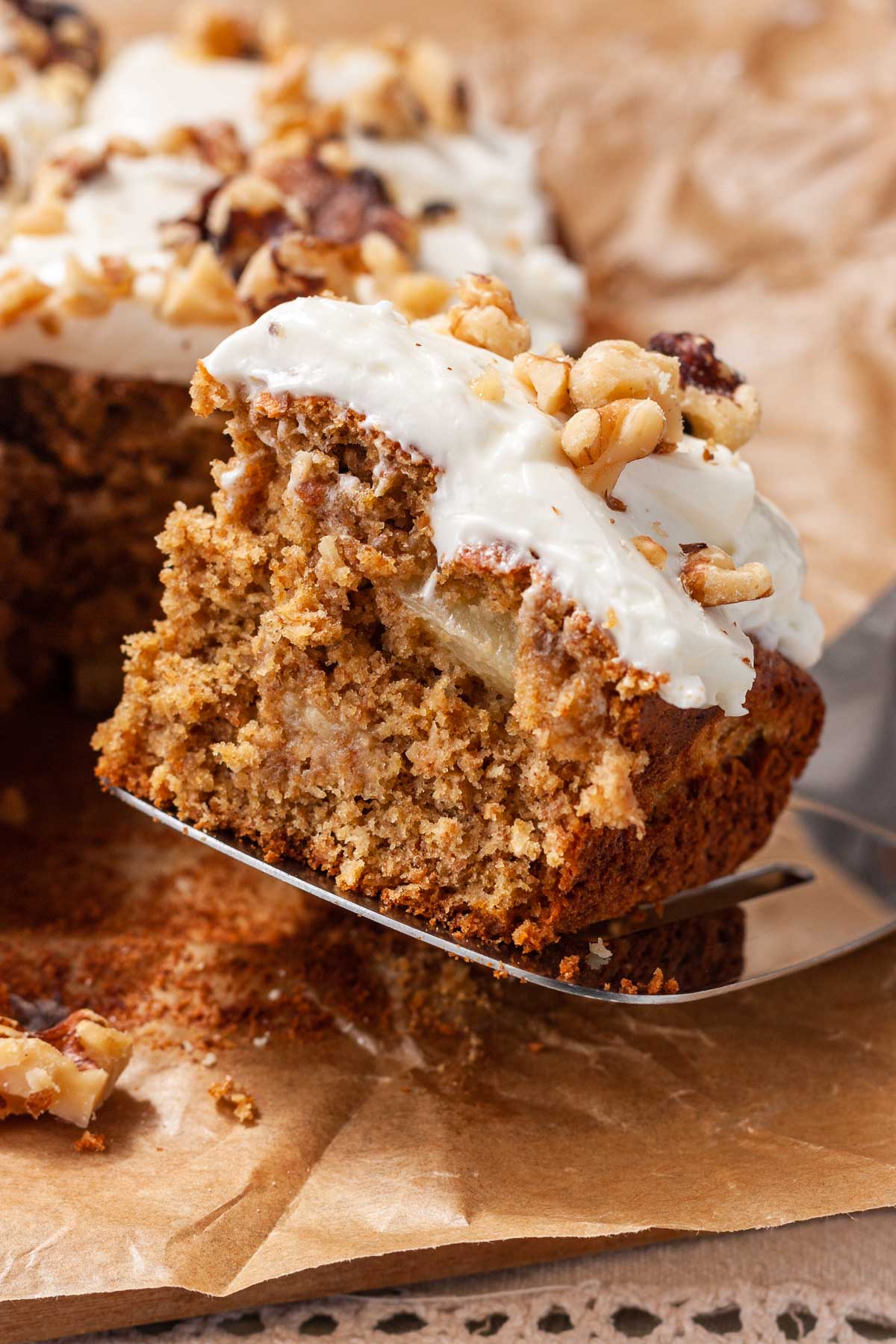 THIS CAKE!!
There's no shortage of banana cakes around here. In fact there's quite the variety, from a peanut butter, banana and chocolate chip cake or mini air fryer banana bread for afternoon tea to yummy lower sugar Greek yogurt banana muffins.
But for an afternoon tea when you're looking to impress (without spending all day in the kitchen!), this has to be my favorite. You could say it's a rather summery cake. But it goes down well any time of year and for any occasion.
Why you'll love it
I do love the 'tropical theme' going on with this banana pineapple cake. I also love:
So easy to make and yet easy to impress with. Simply combine the wet ingredients with the dry and bake. Cover with a thick layer of the simplest cream cheese frosting ever and you have a cake worthy of a special occasion.
Moist and flavorful! This cake is made with ripe bananas and crushed pineapple, which add moisture and sweetness to the cake. Then there's a hint of spice to complement the tropical flavors. The flavors are all distinctly there without being overpowering.
It's an easier, lighter version of a Hummingbird cake. Or even a classic carrot cake! Just one layer, and the cake batter is low in sugar with just half a cup. Also, half of the flour is whole wheat.
Great for a small crowd. With its thick layer of cream cheese icing on top, you only need a small piece!
Fun fact: Hummingbird cake (speciality of the American South!) was named after the bird because it is so sweet that it is said to attract hummingbirds. My quick and easy one layer version isn't so sweet, but I think you'll find it just as delicious.
About the ingredients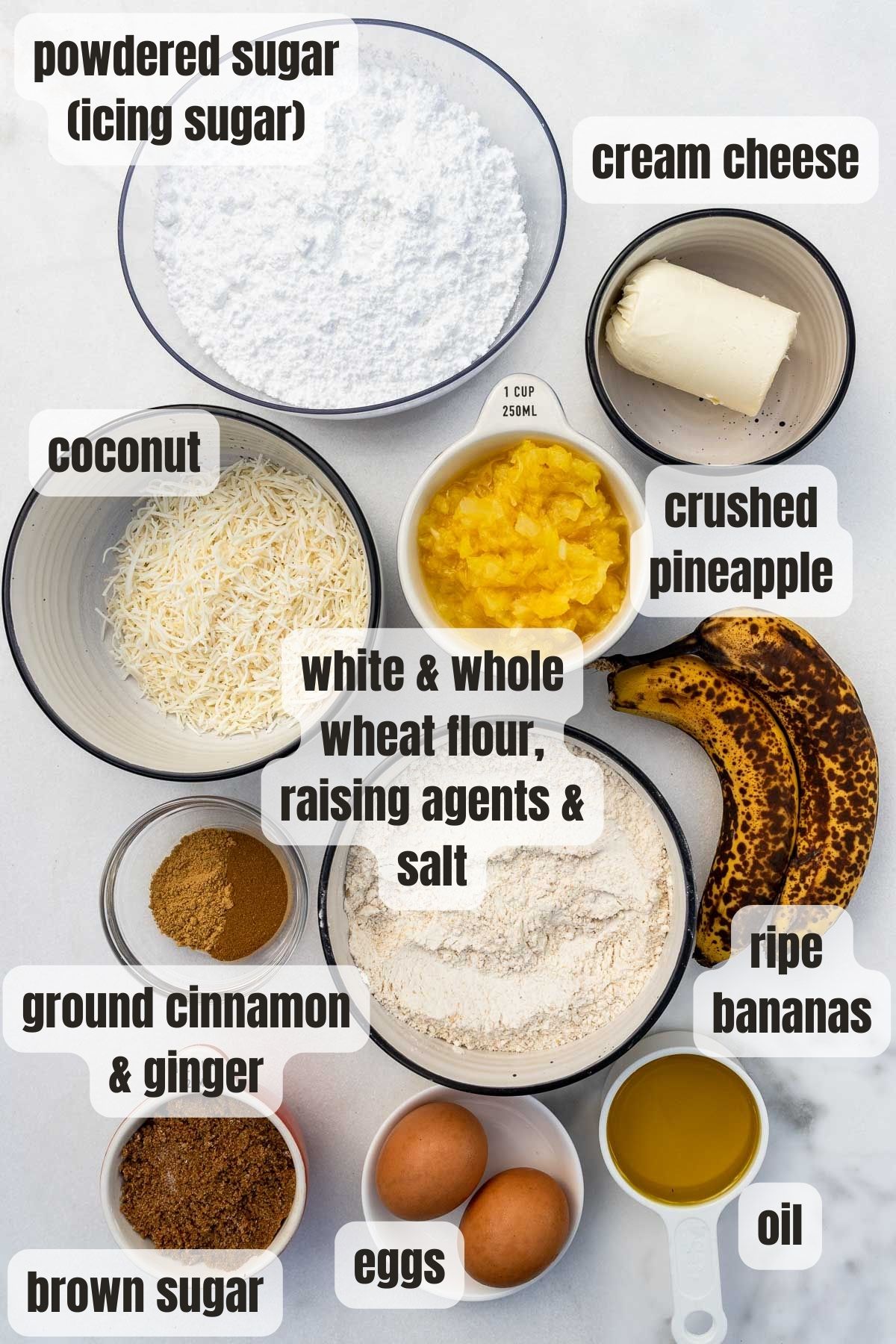 Flour: I like to use a mixture of white all purpose flour and whole wheat flour. This not only makes for a healthier cake, it gives it a slightly nutty texture, too.
Baking powder and baking soda: A little of each.
Coconut: You can use dessicated coconut, shredded coconut or even flaked.
Salt: I find this essential for bringing out the other flavors.
Cinnamon and ginger: I've increased the amount of both of these warm spices since an earlier version of the recipe. I suggest adding a whole tablespoon of each to the cake batter. They complement the tropical flavors perfectly!
Bananas: This recipe includes a whole cup of mashed banana, which is around 2 medium to large bananas. It's best to use really ripe bananas for maximum flavor and sweetness.
Eggs: You'll need 2 large.
Brown sugar: I experimented with the amount of sugar in the batter and landed on just half a cup. Since there's powdered sugar (icing sugar) in the frosting, the cake is definitely sweet enough without being overly sweet.
Oil: I usually use either vegetable oil such as canola oil, or a mixture of vegetable oil and olive oil. If you like, you can use melted coconut oil, or even melted butter instead if you prefer the flavor.
Pineapple: The perfect option here is crushed pineapple in juice. If you can't find crushed pineapple, it's fine to use chopped pineapple instead. If you have a food processor, pulse it for a second or two to finely chop.
For the simple cream cheese frosting
You only need 2 main ingredients for this – cream cheese and powdered (icing) sugar. I do also like to add a tiny bit of salt and vanilla for an extra delicious result.
Optional: Walnuts, pecans or another crushed nut for the top of the cake if you like.
How to make pineapple banana cake
The step-by-step guide below should help you make the recipe perfectly first time. Scroll down to the end for the full recipe including ingredient amounts.
This is a very simple version of a Hummingbird cake. It tastes like a much more complicated cake!
All you do is mix up the dry ingredients, mix up the wet ingredients, then stir the two together. In detail, here's what you do.
Firstly, prepare the baking pan by lining with baking paper. I like to spray a little oil into the pan to help the paper to stick to it.
Next, add all of the dry ingredients to a large bowl.
Then mash the overripe bananas in a large jug or medium sized bowl.

Add the eggs, brown sugar, oil and pineapple (so all the 'wet' ingredients).
Pour the wet ingredients into the dry.

Mix together (I like to use a silicon spatula for this) until 'just' combined.

Pour the batter into the pan and smooth the top. Bake the delicious coconut pineapple cake for 25 to 30 minutes or until a tooth pick or skewer comes out clean.
See here before and after baking!

Remember to let cool completely before spreading over the quick cream cheese topping.
How do you make that, you ask? It's so easy! Just slowly combine the powdered sugar with the softened cream cheese and a little vanilla and salt if you like. You'll know when it's done! The frosting will be creamy and perfectly smooth.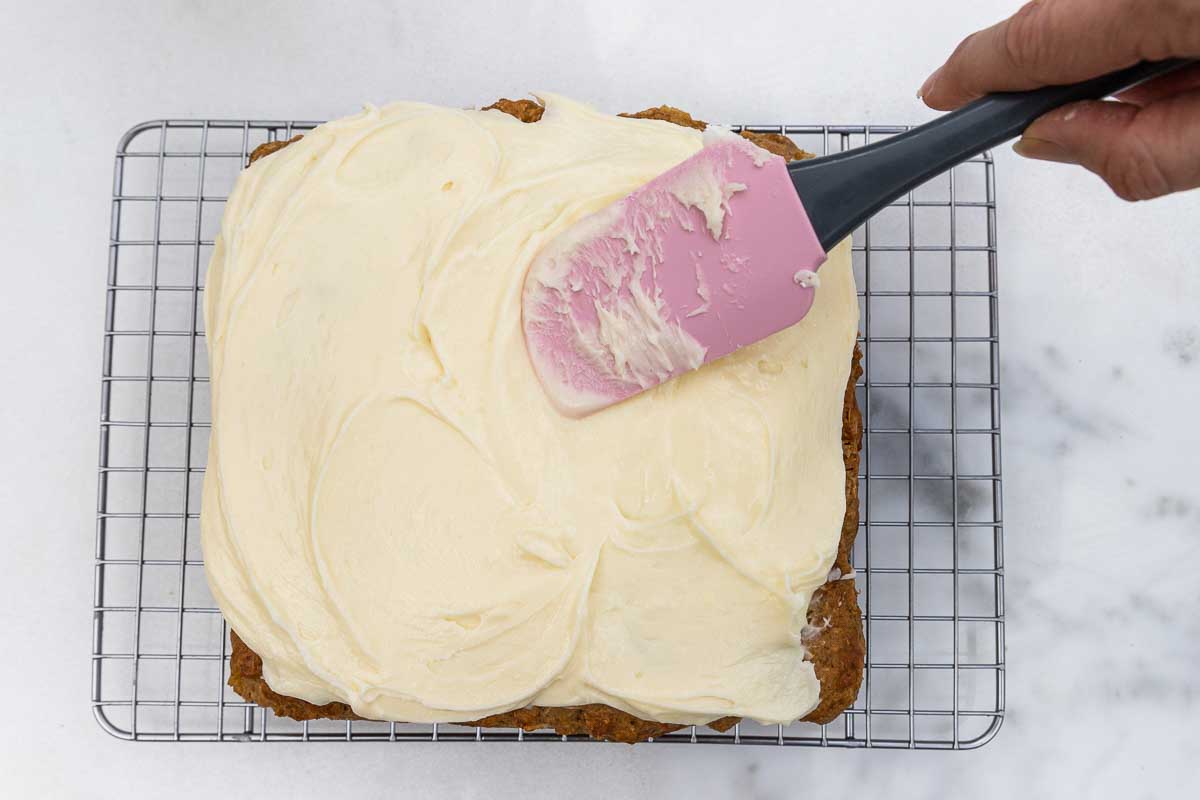 Helen's top tips
Always keep ripe bananas in your freezer for this banana cake with pineapple and coconut, and other banana cakes you like to make. I simply throw them in there whole with the skin still on, then defrost until soft enough to mash (it doesn't take long!).
As always when making a cake, don't overmix the batter. Otherwise the cake can end up dense and chewy. Stir the mixture until just combined.
It's best to take the cream cheese out of the fridge a while before you start baking so that it's easier to combine with the powdered sugar when you make the frosting.
Add the powdered sugar to the cream cheese gradually so that it doesn't splatter all over!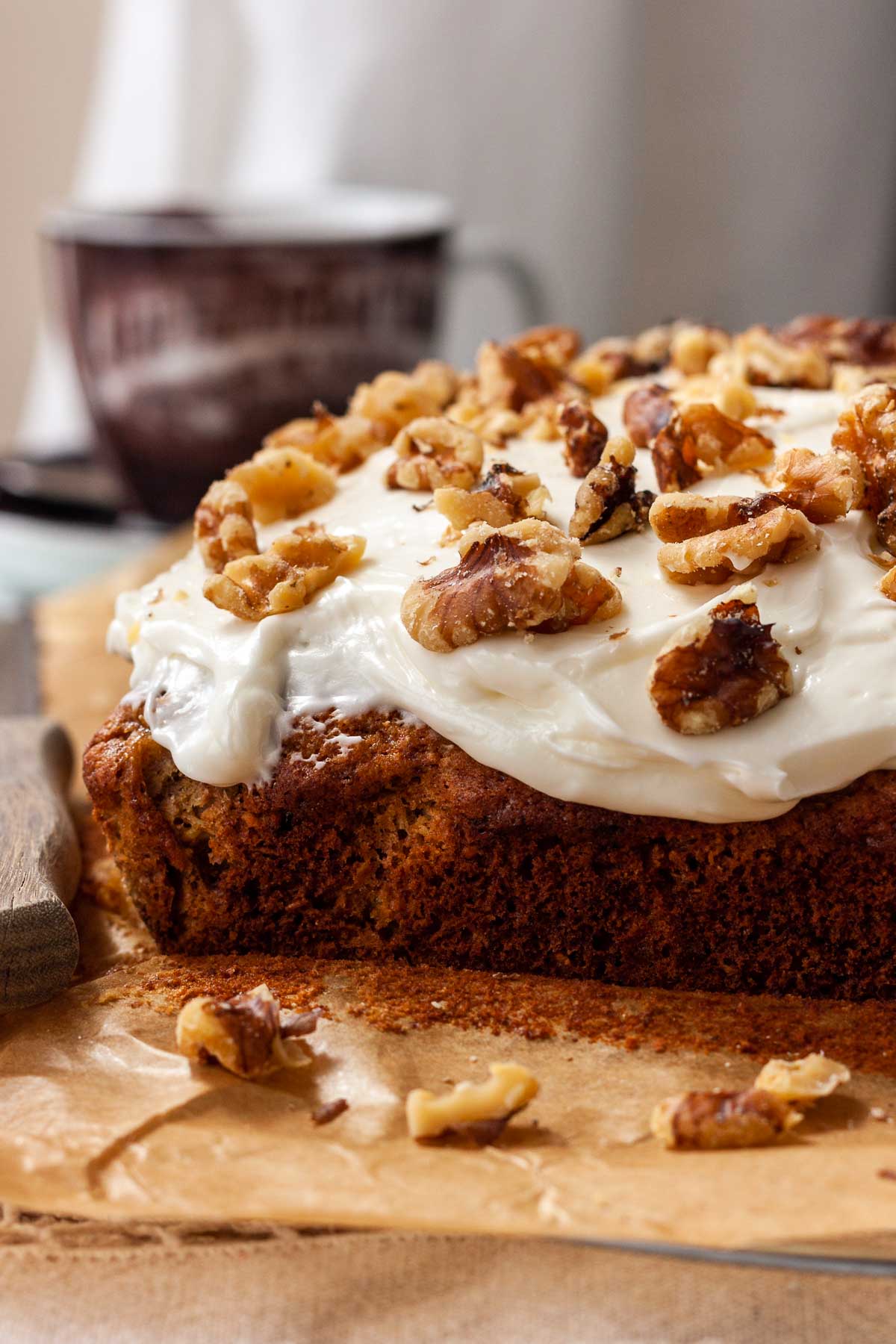 How to serve
This delicious tropical banana coconut cake is a great cake for serving a small crowd. You can easily cut it into around 16 squares as it's quite rich with the cream cheese frosting on top.
It's perfect for any kind of occasion when you want to impress but you only want to make a one layer cake (no fussy layer cakes today, thank you!). I'm thinking a baby shower, a summer BBQ, a birthday party (just add candles!), a pot luck, and many more occasions.
Since it already has frosting on top, you don't need to serve anything else with it. But I won't tell if you want to add a little scoop of vanilla ice cream or a drizzle of cream on the side!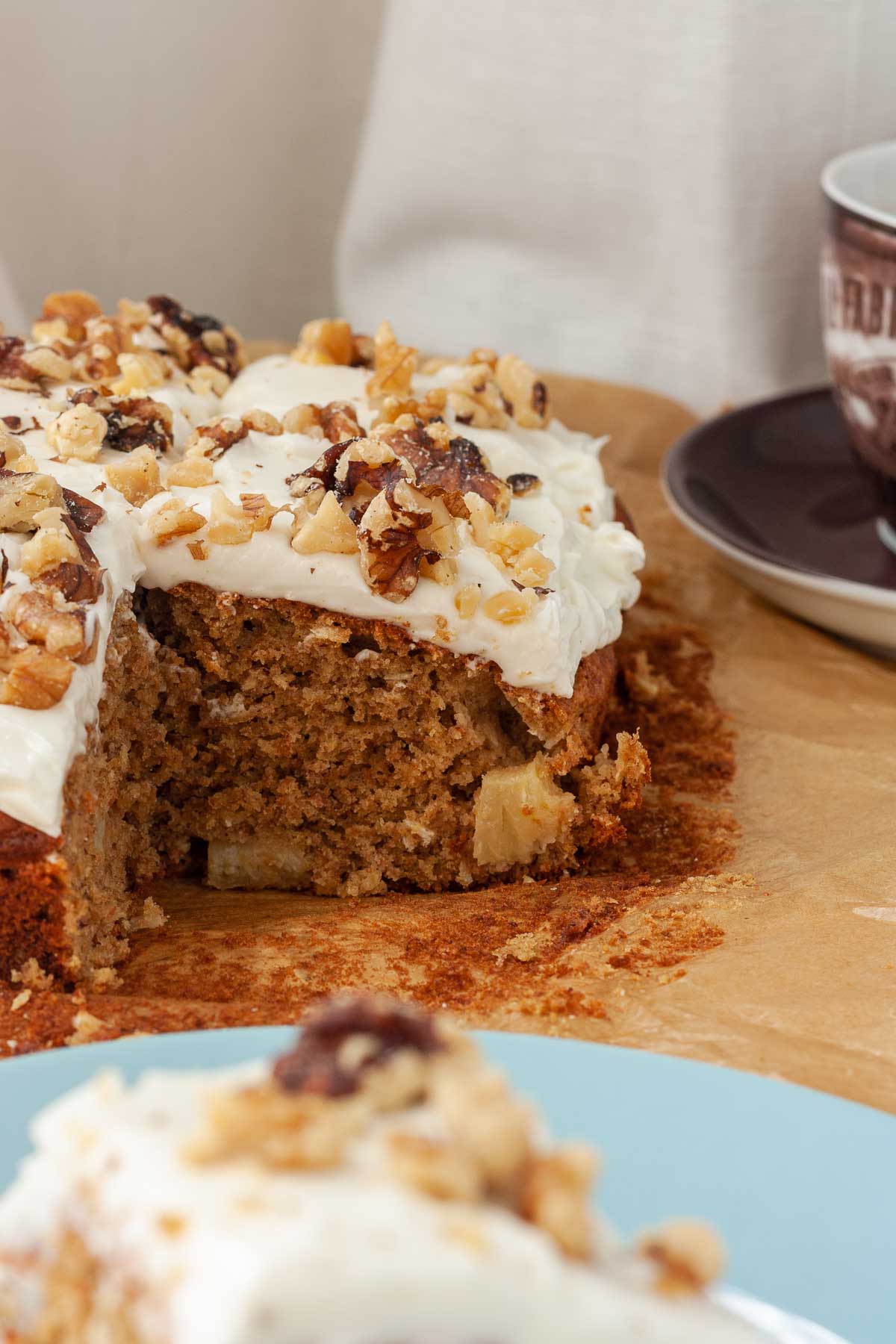 Variations
For a simpler take on this delicious banana, pineapple and coconut cake, it's actually moist and tasty enough to serve without the cream cheese frosting if you prefer.
For a little crunchy texture, you can also add crushed nuts (walnuts or pecans work perfectly) both on top of the icing and inside the cake batter.
I no longer include nuts when I make this cake since we have an allergy in the house. Instead, I either sprinkle toasted coconut or dried rose petals over the top of the icing, or just leave it plain.
Since this cake already tastes a little like a carrot cake, why not add some grated carrot (or zucchini or apple!) to the batter? Try 1 carrot or half a zucchini and/or 1 apple. Squeeze out as much water as you can before adding the grated vegetable or fruit.
What about using a different topping? How about whipped cream with a little powdered sugar, or a simple buttercream?
Recipe FAQ
How long does this cake last?
Since it's a moist cake, it will taste great for up to 4 to 5 days if kept in an airtight container in the fridge.
Can I freeze it?
Yes, you can. Freeze either well-wrapped in a double layer of plastic wrap/aluminium foil or in an airtight container, either frosted or before frosting, for up to 2 months. Let defrost in the fridge before serving.
Can I use fresh pineapple instead of canned?
You can, but you may need to add a little more moisture to the batter to compensate for the lack of juice. Simply add around a third of a cup or 80ml of water, milk or even juice.
Can I leave out the pineapple?
Yes, you can, but it's best to replace it with another chopped fruit with juice such as canned peaches or pear.
Can I make the cake without coconut?
Yes, it's no problem at all to leave out the coconut. You could just omit it, or replace it with some crushed nuts.
More easy snack cake recipes
IF YOU MAKE THIS RECIPE, LET ME KNOW HOW YOU GET ON BY LEAVING A COMMENT AND RATING BELOW… AND DON'T FORGET TO SIGN UP TO RECEIVE ALL MY NEW RECIPES BY EMAIL!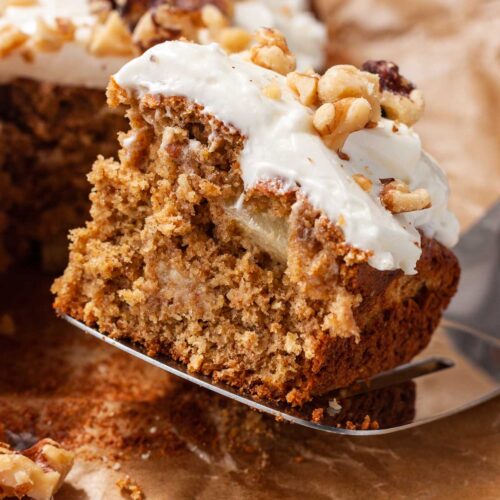 Easy Pineapple Banana Cake With Cream Cheese Frosting (Hummingbird cake)
A carrot cake-style cake with a tropical twist! This pineapple banana cake is moist, light and both subtly and beautifully flavorsome. A perfect sharing cake for summer or any time!
Ingredients (UK/Australia? Click below for grams/ml)
For the cake
2

cups

all purpose flour

I like 1 cup white and 1 cup whole wheat.

1

teaspoon

baking powder

½

teaspoon

baking soda

½

cup

coconut

shredded, desiccated or flaked

¾

teaspoon

salt

2

medium to large

ripe bananas

mashed

2

large

eggs

whisked

½

cup

brown sugar

dark or light

½

cup

oil

I often use half light olive oil and half canola (or vegetable) oil, but any is fine.

1¼

cups

crushed pineapple

(10 ounces) in juice (or canned pineapple chopped into small pieces with about ⅓ cup of the juice)

1

tablespoon

ground cinnamon

1

tablespoon

ground ginger

1

teaspoon

vanilla

optional
Instructions
Pre-heat the oven to 340F (170C). Line a 8 – 9 inch square (or equivalent) baking pan with baking paper.

Combine the flour, baking powder, baking soda, coconut, and salt in a large bowl.

2 cups all purpose flour,

1 teaspoon baking powder,

½ teaspoon baking soda,

½ cup coconut,

¾ teaspoon salt

Mash the banana in another large bowl, then whisk in the eggs, sugar, oil, pineapple and juice, cinnamon and ginger and vanilla if using.

2 medium to large ripe bananas,

2 large eggs,

½ cup brown sugar,

½ cup oil,

1¼ cups crushed pineapple,

1 tablespoon ground cinnamon,

1 tablespoon ground ginger,

1 teaspoon vanilla

Add the wet ingredients into the dry ingredients and stir until just combined (take care not to overmix).

Pour into the baking pan, then bake for 25 to 35 minutes or until a skewer inserted into the centre of the cake comes out more or less clean.

Let cool in the pan for 10 minutes, then transfer to a cooling rack.

Beat the cream cheese with a hand-held whisk, then slowly whisk in the powdered sugar/icing sugar, salt and vanilla (if using) until you have a thick frosting. Pile on top of the cake (nice and thick!) when the cake is completely cool.

4½ ounces cream cheese,

2 cups icing / powdered sugar,

½ cup crushed walnuts to decorate,

1 teaspoon vanilla,

½ teaspoon salt

Sprinkle over crushed walnuts (if using) or toasted coconut, or leave plain.

½ cup crushed walnuts to decorate
Notes
How long the cake lasts: 4-5 days if kept in an airtight container in the fridge. Freezing instructions: You can freeze the cake either well wrapped with plastic wrap/aluminium foil unfrosted or frosted in an airtight container for up to 2 months. Defrost in the fridge overnight before enjoying. Variations: Serve unfrosted as a simpler version of a classic banana sheet cake. Add crushed nuts to the batter. Add a little grated carrot, zucchini or apple to the batter. Replace the pineapple with another crushed/chopped fruit in juice, such as peach or pear. Add a different topping such as butter cream or whipped cream. Cream cheese: Take the cream cheese out of the fridge a little ahead of when you want to make the cake. This way it'll be softer and easier to combine with the powdered sugar/icing sugar for the frosting.
Nutrition
Calories:
303
kcal
Carbohydrates:
43
g
Protein:
4
g
Fat:
14
g
Saturated Fat:
3
g
Polyunsaturated Fat:
4
g
Monounsaturated Fat:
6
g
Trans Fat:
0.03
g
Cholesterol:
31
mg
Sodium:
254
mg
Potassium:
186
mg
Fiber:
2
g
Sugar:
27
g
Vitamin A:
163
IU
Vitamin C:
3
mg
Calcium:
44
mg
Iron:
1
mg