You have guests dropping in at short notice for morning or afternoon tea. What do you do? Grab some flour, lemonade and cream (yes, JUST those 3) and magically make these light and fluffy 3 ingredient scones in just 30 minutes. These are so much easier than classic scones but just as delicious topped with strawberry jam and cream. And no, they don't taste of lemon!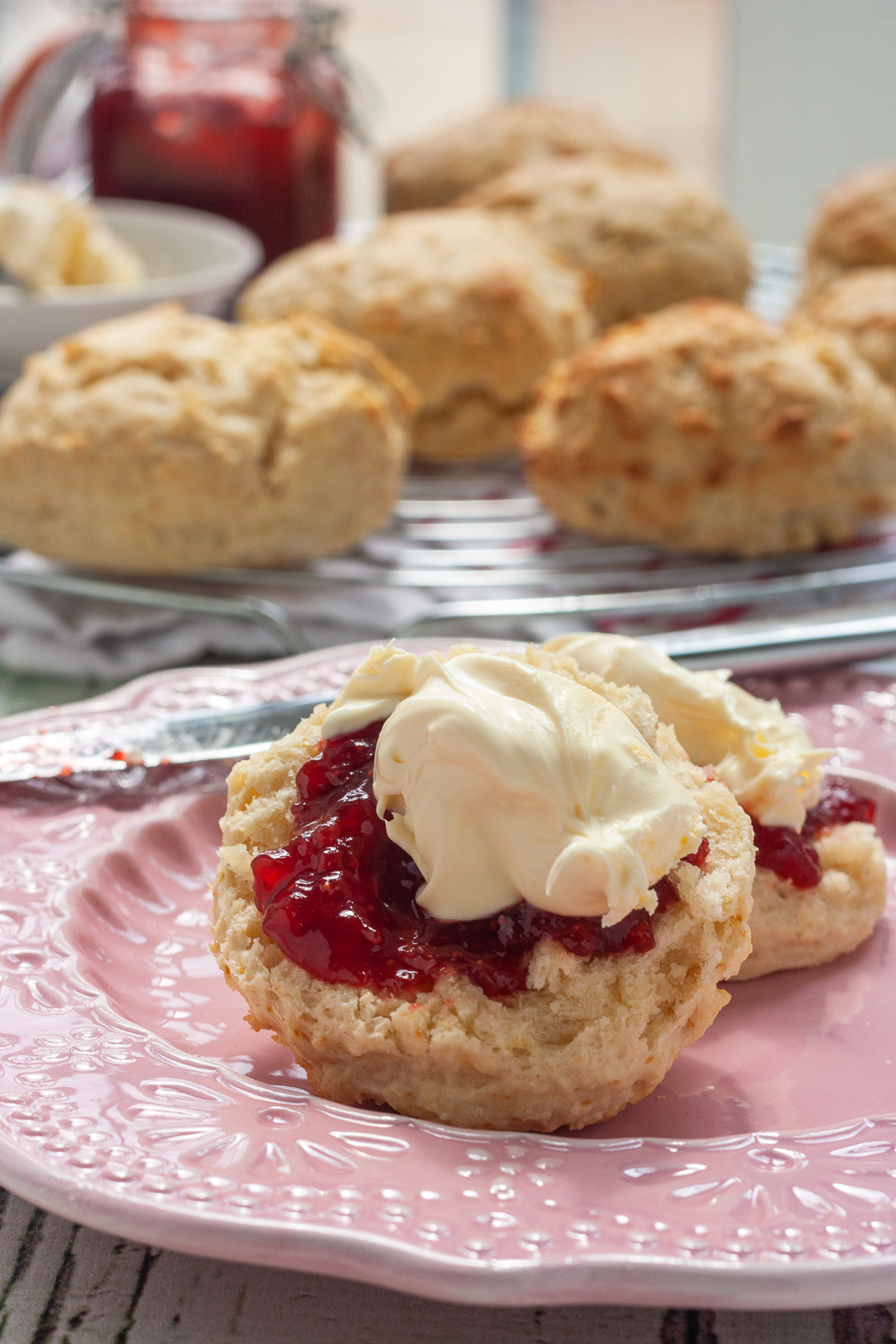 What are lemonade scones?
Lemonade scones are a pretty famous and popular Australian recipe for scones. They were invented by a rural country women's association (the CWA).
They're made with just 3 main ingredients – self raising flour, thick cream and lemonade (lemon soda) – and are the easiest scones ever to make!
The great thing is that you don't have to rub the butter into the flour and then struggle to gather all the crumbly bits up into a ball. Either by hand or with a food processor. Who hates cleaning those things as much as I do?
You can literally have your scone dough all ready to cut circles out of within 10 minutes. Less than 15 minutes later you'll have delicious warm and fluffy scones all ready to have jam and cream piled on top of them.
The best part? These cheat's scones don't taste like you took any shortcuts, which is why I call them 'magic scones'!
Here's how they're different to scones made the traditional way with butter:
The texture is a little softer and fluffier.
They generally rise slightly less.
They're small scones (a perfect excuse to have two).
But what they are NOT is less delicious. People always seem to rave about them.
Which is why these days, when I want homemade scones, nine times out of ten I use this amazing 3 ingredient scone recipe. Read on to find out why (and why I call them magic scones!).
Ingredients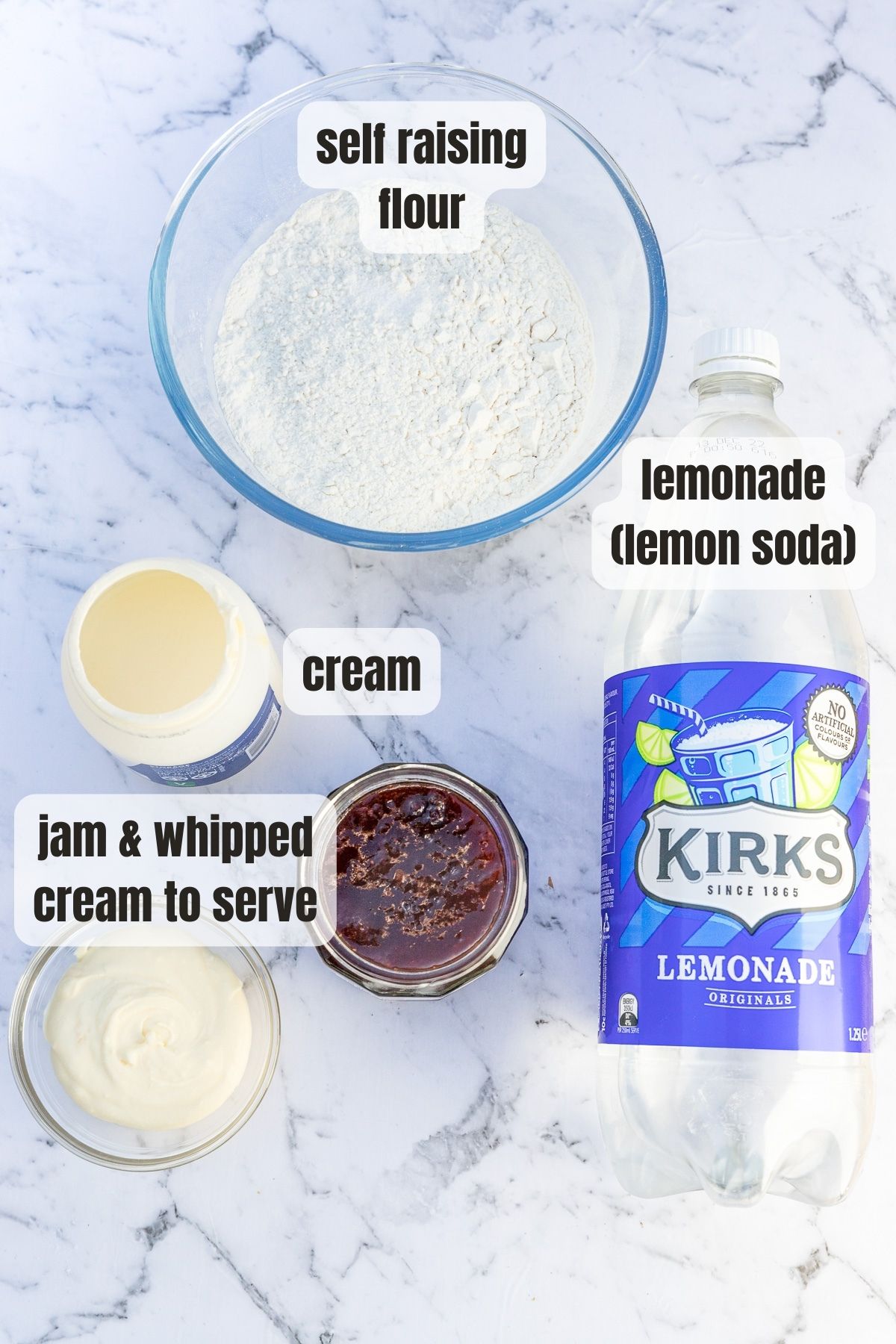 I would call two of the basic pantry ingredients in three ingredient scones 'secret ingredients'! Here's what you need to know.
Self-raising flour: It's essential to use self-raising flour to get the same rise you get with scones made in the classic way. If you don't have any, you can use plain/all purpose flour and add 2 teaspoons of baking powder for each cup.
Just don't use self-rising flour (US) which isn't the same thing!
Lemonade: This is the first 'secret ingredient'. I usually use ordinary sweet fizzy lemonade (store brand is fine). I assume that the 'fizz' reacts with the baking soda to help the scones to rise! Btw, the lemonade doesn't really make the scones taste lemony.
Important: If you're in the USA, I mean lemon soda, not the drink that you call lemonade made with lemon and sugar. There must be a fizz! Any lemon soda, Sprite or similar will work.
Cream: The second 'secret' ingredient! This is mixed with the lemonade as a substitute for the butter and milk in a classic scone recipe. If you think about it, it's the same thing, but with a touch of sweetness…
Depending where you live, you can use double cream (UK), heavy cream (US), or thickened cream or dollop cream (Australia). Ordinary pouring cream works, too, as long as it's full fat.
Throw in a pinch of salt too if you like, but that isn't essential.
Tip: Make this lemonade scone recipe vegan by using coconut cream instead of dairy cream.
How to make 3 ingredient scones
Step 1: Pre-heat the oven to 430F/220C. This is important since the oven needs to be really hot for scones. Also line a baking tray with baking paper.
Step 2: Put the flour in a medium bowl or jug. Mix together the lemonade and cream, then pour it into the flour.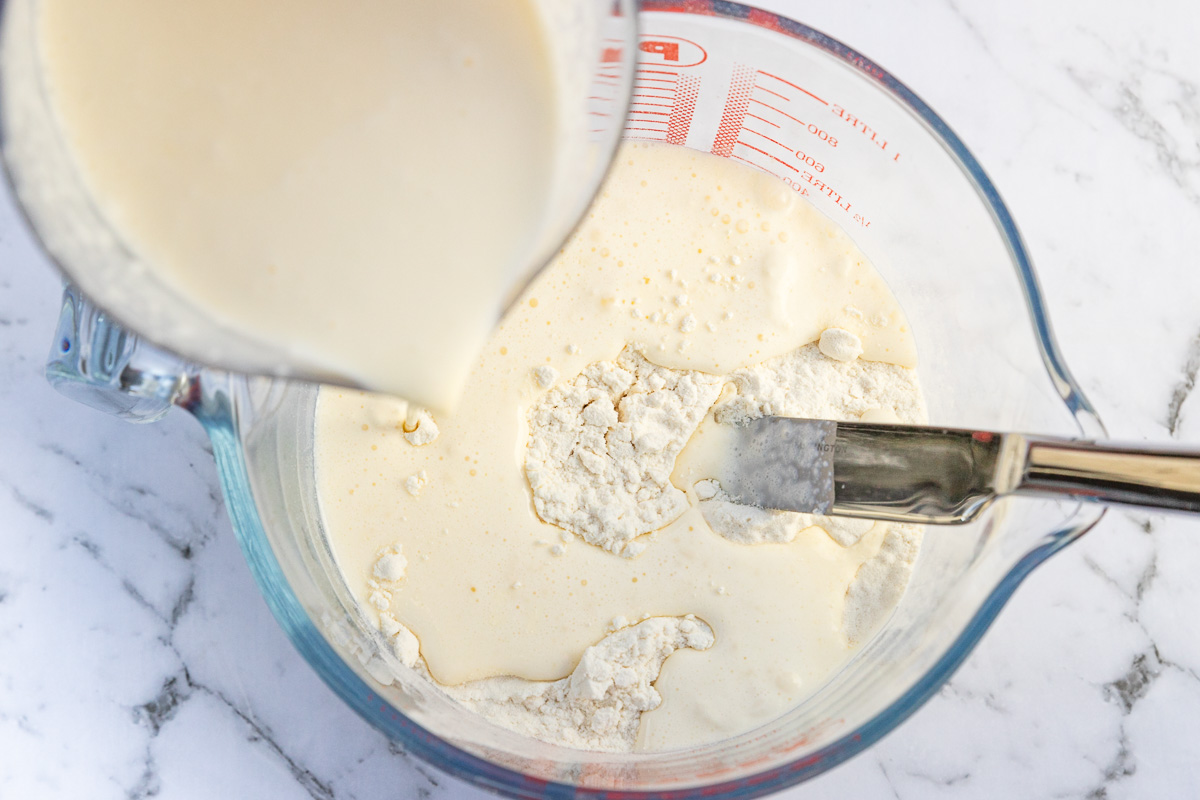 Step 3: With a blunt knife (a dinner knife is fine), stir together just until the flour is mostly mixed in.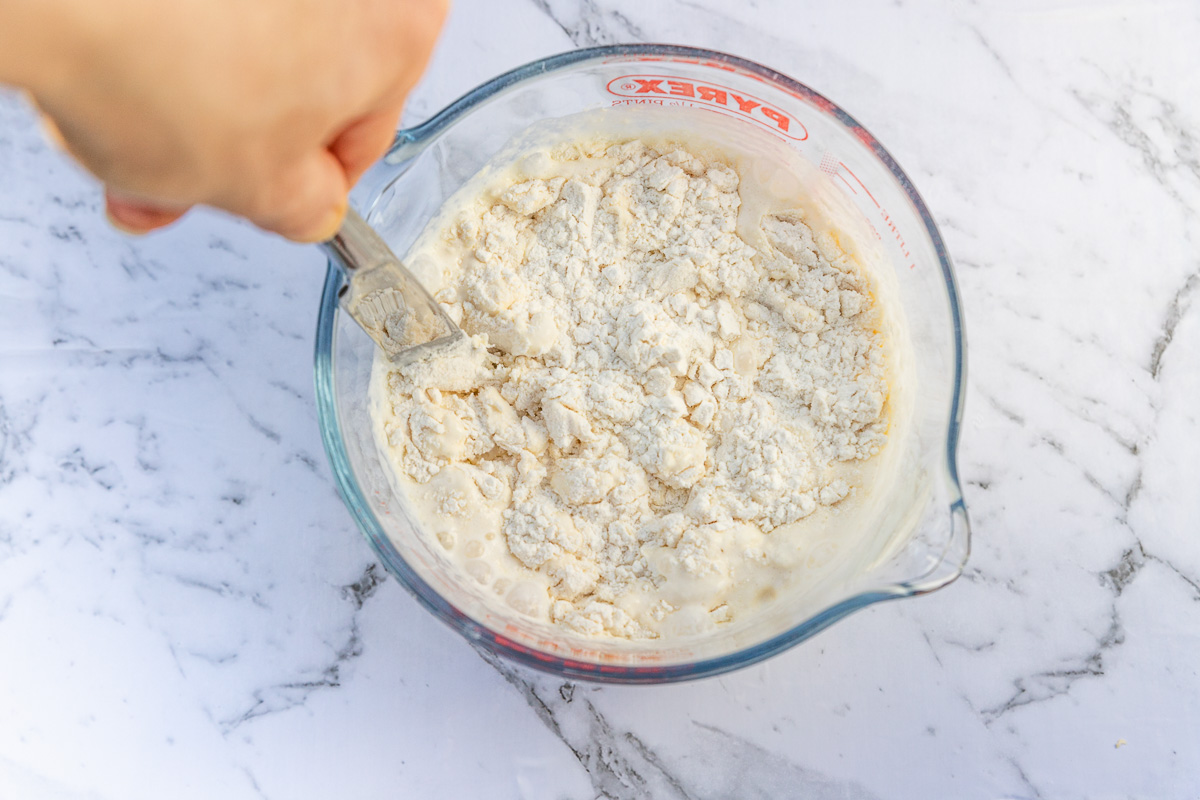 Step 4: Turn out onto a floured work surface. The dough may still be a little wet and sticky (that's fine). With floured hands, knead it gently a few times.
Step 5: Now pat the dough down just a little until it's around an inch (2.5cm) thick.
Step 6: Trying to work quickly, cut out circles with a small(ish) cookie cutter (around 6cm across). Place the circles on the baking sheet. You might want to use a spatula or palette knife for this.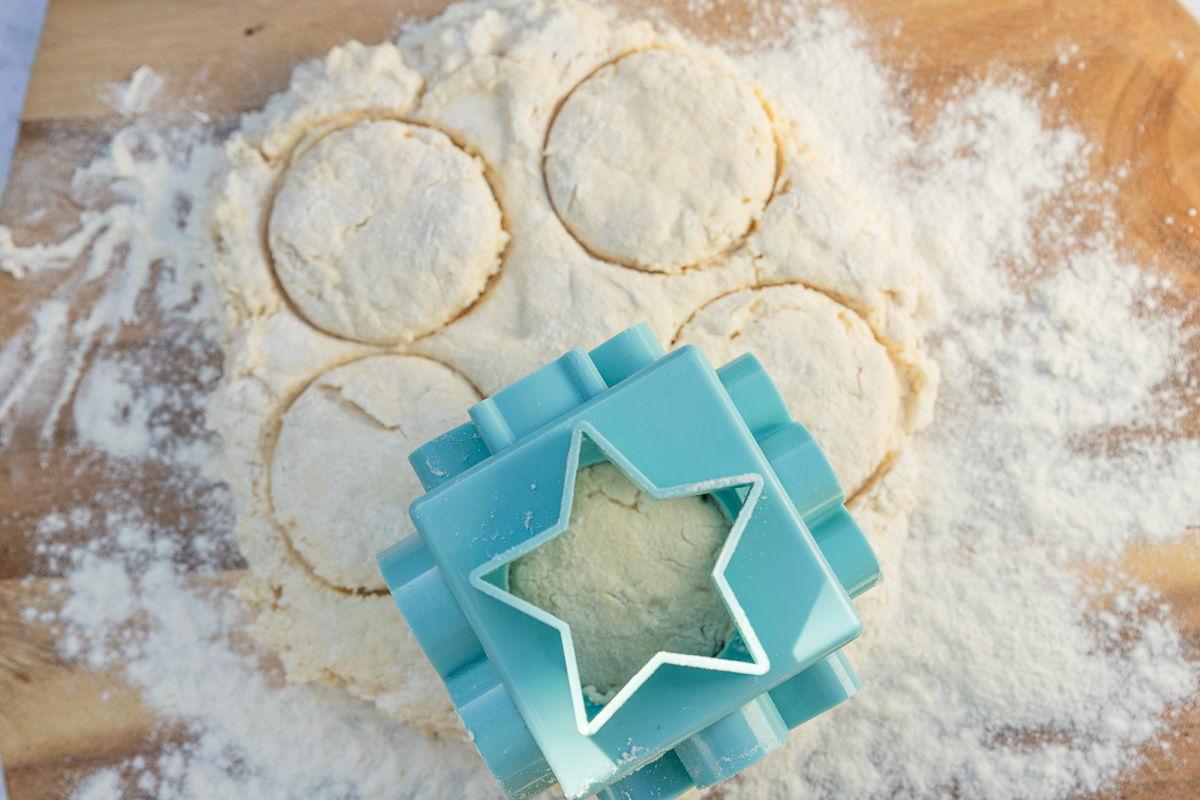 Step 7: Bake the scones for around 12 to 15 minutes until they have risen and the tops are golden brown.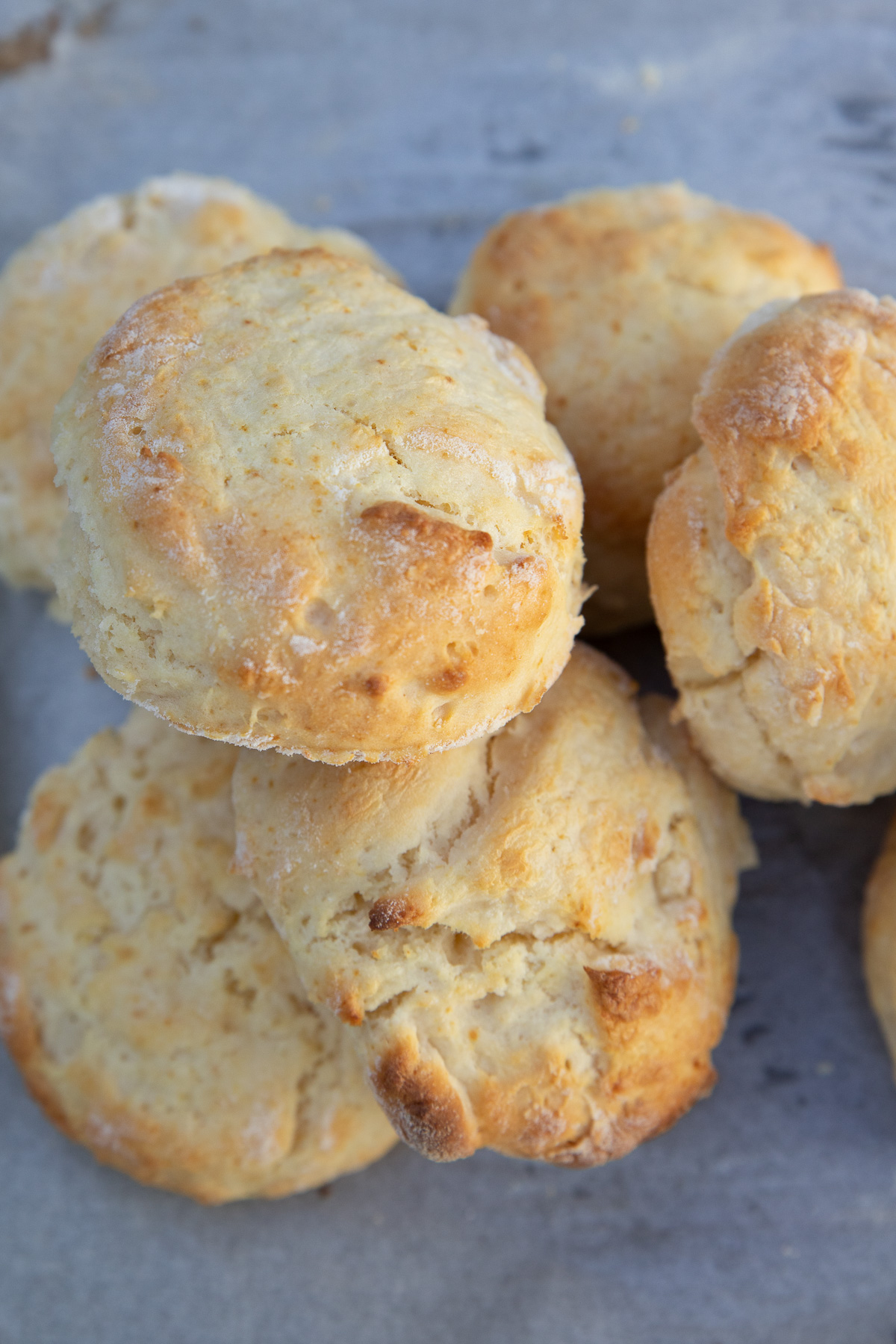 Helen's top tips
Pre-heat the oven before you do anything else. The oven needs to be really hot!
If the dough seems TOO runny/sticky, simply add more flour until you have a soft dough that you can cut circles out of.
Handle the dough very gently. If you mix it too much, you can end up with heavy scones that don't rise well. Knead only a few times, just until you can bring the dough together. Then pat it down lightly until it forms a disk.
It's best to keep the scones quite small. Since the dough is quite soft, smaller ones are easier to handle and behave better in the oven.
Don't twist the cutter as you cut out the scones. Just dust it with flour regularly as you cut out the circles. Push it straight down, then straight up again.
Get the scones into the oven as soon as you've made them. They may not bake as well if you let them sit.
How to serve them
This one's SO easy!
The most classic, crowd pleasing way to serve these scones is just like any good scone – with a good quality jam (preferably strawberry, but why not offer a selection?) and whipped cream on top. If you can get hold of it, traditional English clotted cream (a buttery tasting cross between cream and butter) will elevate your tea party even more.
The only 'rule' is to slather the jam and cream on generously. Don't forget you'll be washing it all down with plenty of cups of tea. (There is no debate here. Scones absolutely have to be served with a hot cuppa to go with them!)
Any kind of scones – including these super easy cheat's scones – are the perfect easy bake for Mother's day, baby or bridal showers, a birthday afternoon tea, picnics… literally any occasion you can think of that you want to give a classy feel to!
Top tip: Any 'leftover' lemonade scones are great for snacks. If there ever are any! Just re-heat for around 20 seconds in the microwave or lightly toast and enjoy with butter and jam (or perhaps lemon curd – yum!).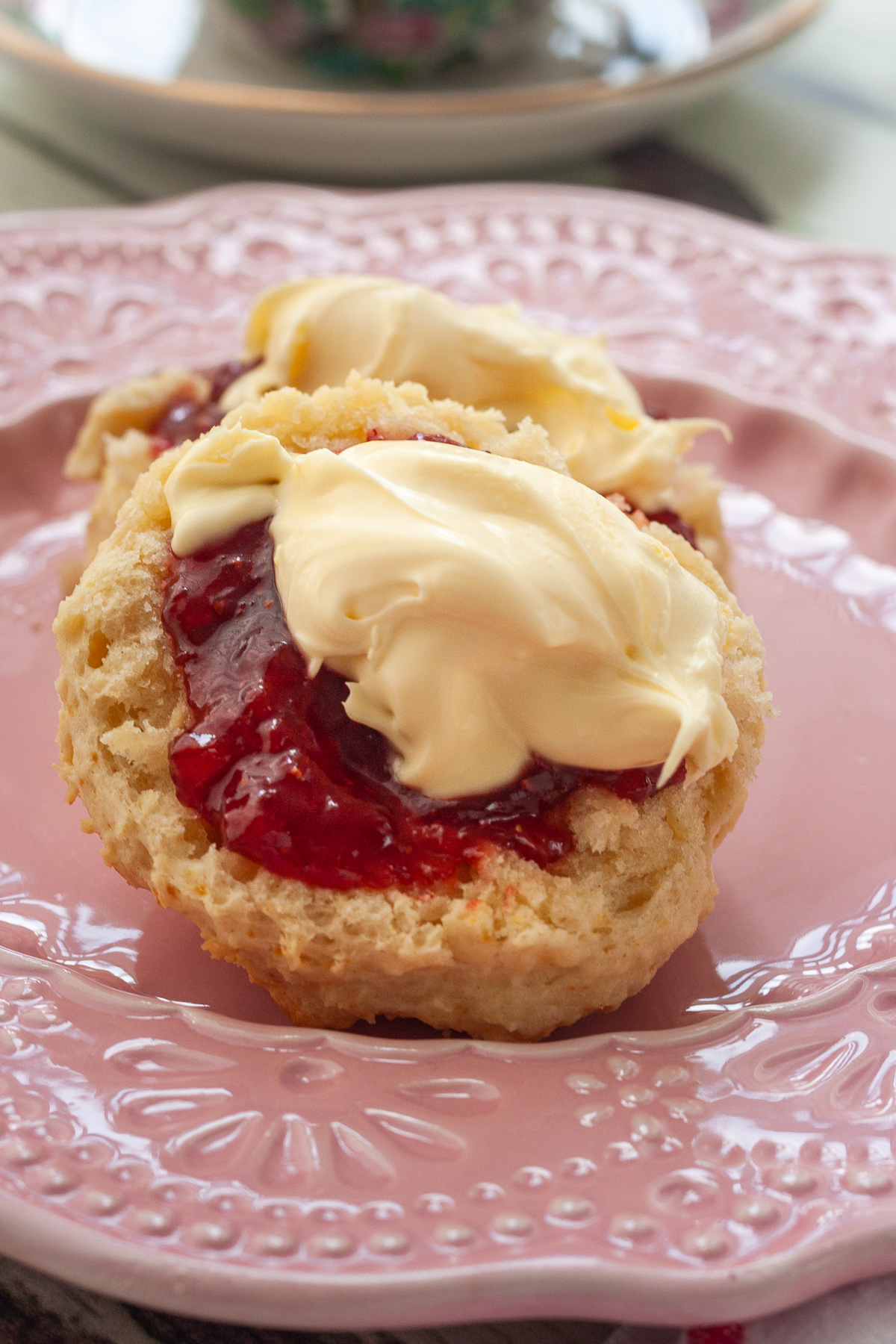 Variations
You might be wondering if you can use this 3 ingredient scone recipe to make different kinds of scones? Well, why not?! Here are some ideas.
Add a large handful (or 1/4 to 1/2 cup) of dried fruit (sultanas, currants, dried berries, glace cherries…) for fruit scones. This works well since there's already a little sweetness in the dough from the lemonade/lemon soda.
Add chopped dates (again 1/4 to 1/2 cup) for delicious date scones (pretty popular in Australia!). Optional: why not throw in some chopped walnuts, too?
Add 1/2 cup chocolate chips (milk, dark or white!).
Add 1/2 cup blueberries or raspberries (fresh or frozen).
To make savory cheese scones, add around 1/3 cup tasty/mature cheddar cheese, plus a little more sprinkled on top. In this case, use unsweetened soda water or sparkling water instead of lemonade). Serve warm with butter!
For citrus scones, add the zest of a lemon, lime or orange to the dough. After the scones are baked, make a quick icing to drizzle over the top with the juice of the fruit and some icing sugar/powdered sugar. Lemon blueberry scones, anyone? 😉
Feel free to add a teaspoon of vanilla or almond extract to the dough.
Tip: It's best to add any mix-ins BEFORE you stir in the cream, so that you don't risk overmixing the dough.
Recipe FAQs
What can I use instead of cream and lemonade?
You can also make 3 ingredient scones using unsweetened soda water or carbonated mineral water instead of fizzy lemonade/lemon soda. This is perfect for savory scones such as cheese scones. You can also try sour cream or Greek yogurt instead of heavy cream.
Why is my scone batter sticky and runny?
Occasionally a reader reports that the batter was too sticky. In this case, just add more flour little by little until you have a soft dough that you can cut circles out of. Remember to flour the cookie cutter each time you cut out a scone shape to stop sticking.
Why didn't my lemonade scones rise?
It's possible the dough was handled too much. These work best when you handle the dough gently and bake the scones as quickly as you can. Also try to use fresh flour. If the self-raising flour is old the scones might not rise as well.
How long do lemonade scones last?
Like any scones, these are at their very best eaten the same day they're made – even while still warm. However, they will last for 2 to 3 days in an airtight container. If eating the next day, I usually re-heat them in the microwave for around 20 seconds or lightly toast them. Alternatively you can freeze any leftovers for up to 3 months.
What's the difference between British and American scones?
American scones are often large and triangular shaped. British style scones are usually smaller and round. The texture differs, too. American scones are sweet, dense and buttery and often eaten on their own, while English scones are lighter and contain less fat but are usually piled high with butter or jam and cream.
More Australian baking recipes
Hedgehog slice is the Aussie version of Prince William's favorite chocolate biscuit cake. Perfect for picnics, bake sales, BBQs and more.
These 1-hour cinnamon scrolls are so easy to make for a morning tea or special breakfast. Can you guess the secret ingredient?
This no bake caramel slice recipe is a very Australian take on what you may know as millionaire's shortbread. You have to try it to believe how easy it is!
IF YOU MAKE THIS RECIPE, LET ME KNOW HOW YOU GET ON BY LEAVING A COMMENT AND RATING BELOW… AND DON'T FORGET TO SIGN UP TO RECEIVE ALL MY NEW RECIPES BY EMAIL!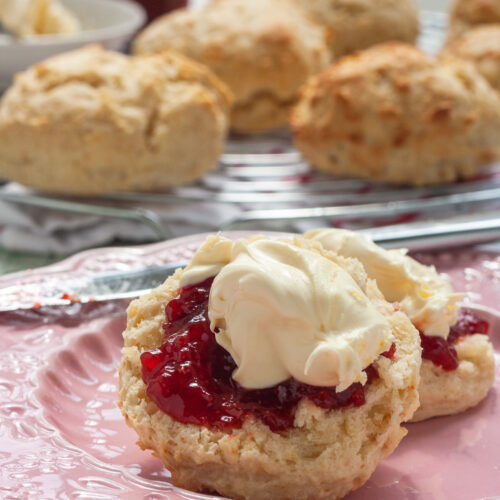 'Magic' 3 Ingredient Lemonade Scones
Who can resist freshly baked scones straight out of the oven slathered in good quality jam and cream? These 'magic' lemonade scones are made with only 3 ingredients – seriously, just self raising flour, lemonade (lemon soda in the US) and cream – in just 20 minutes. Just delicious!
Equipment (affiliate links)
Ingredients (UK/Australia? Click below for grams/ml)
2¼

cups

self-raising flour

Plus a little extra for flouring the surface, hands and pastry cutter. To make your own self-raising flour, add 2 teaspoons of baking powder to every cup of plain/all-purpose flour. For this recipe make 2½ cups to allow for any extra you'll need.

1

pinch

salt

(optional)

⅔

cup

lemonade

NOT American style lemonade. It needs to be fizzy/carbonated. If you're in the US, Sprite would work!

⅔

cup

thick cream

Double, thickened, heavy cream depending on where you live.
to serve
strawberry jam and whipped cream
Instructions
Line a baking tray with baking paper and pre-heat the oven to 220C/430F.

Sift the flour into a medium to large bowl. Add the pinch of salt if using.

2¼ cups self-raising flour,

1 pinch salt

Stir the lemonade and cream together, then pour into the flour. Gently fold everything together until just combined. Then bring dough together into a ball with your hands (it will be soft and a bit sticky).

⅔ cup lemonade,

⅔ cup thick cream

With floured hands, pat dough down onto a lightly floured surface so that it's about 3 cm thick (1 inch). Then use a small round pastry cutter (2.5 inches/6cm) to cut out rounds. Keep gathering the dough back up and patting it down again. You should get 8 to 10 scones.

Place the scones on the baking tray so that they're close but not touching (1 to 2cm apart). Brush the tops with a little extra cream thinned with water if you like. Then bake for around 12 to 15 minutes until nicely risen and lightly golden on top.
Notes
To make self-raising flour (if you don't have any): Mix 2 teaspoons baking powder to 2 cups plain/all-purpose flour.
To mix the dough: You'll find that the dough is quite soft and sticky. This is OK, but feel free to add a little more flour until it's dry enough to handle. Handle as little as possible before patting down and cutting out the scone shapes.
Occasionally a reader reports that the dough is a sticky, runny mess! Don't worry, just keep adding flour, but little by little, JUST until you have a dough that you can push down and cut circles out of. Use a knife or spatula to lift the scones gently onto the baking tray.
Substitutes: Feel free to use carbonated water or sparkling mineral water (without sugar) if you prefer not to add sugar to your scones. Although please note that lemonade scones do not taste overly sugary or lemony.
To make cheese scones, add 100 grams/3.5 ounces cheese to the flour before adding the lemonade/cream, then sprinkle another 50 grams/1.75 ounces on top before baking.
For fruit scones, add about 75 grams/2.5 ounces dried fruit to the flour before adding the lemonade/cream.
Storage: Store for up to 3 days in an airtight container. To reheat, microwave for 20 to 30 seconds or lightly toast.
Freezing: Wrap these scones well and freeze for up to 3 months.
Nutrition
Calories:
204
kcal
Carbohydrates:
29
g
Protein:
5
g
Fat:
8
g
Saturated Fat:
5
g
Polyunsaturated Fat:
1
g
Monounsaturated Fat:
2
g
Cholesterol:
22
mg
Sodium:
12
mg
Potassium:
54
mg
Fiber:
1
g
Sugar:
3
g
Vitamin A:
292
IU
Vitamin C:
0.1
mg
Calcium:
18
mg
Iron:
0.3
mg