Your in-laws/friends/neighbours/new boyfriend's or girlfriend's parents are dropping in at short notice. What do you do? Frantically grab some flour, lemon soda and cream (yes, JUST flour, lemon soda & cream) and magically whip up these light and fluffy scones in just 20 minutes, that's what … and then hey presto they think you're a baking whizz and love you forever.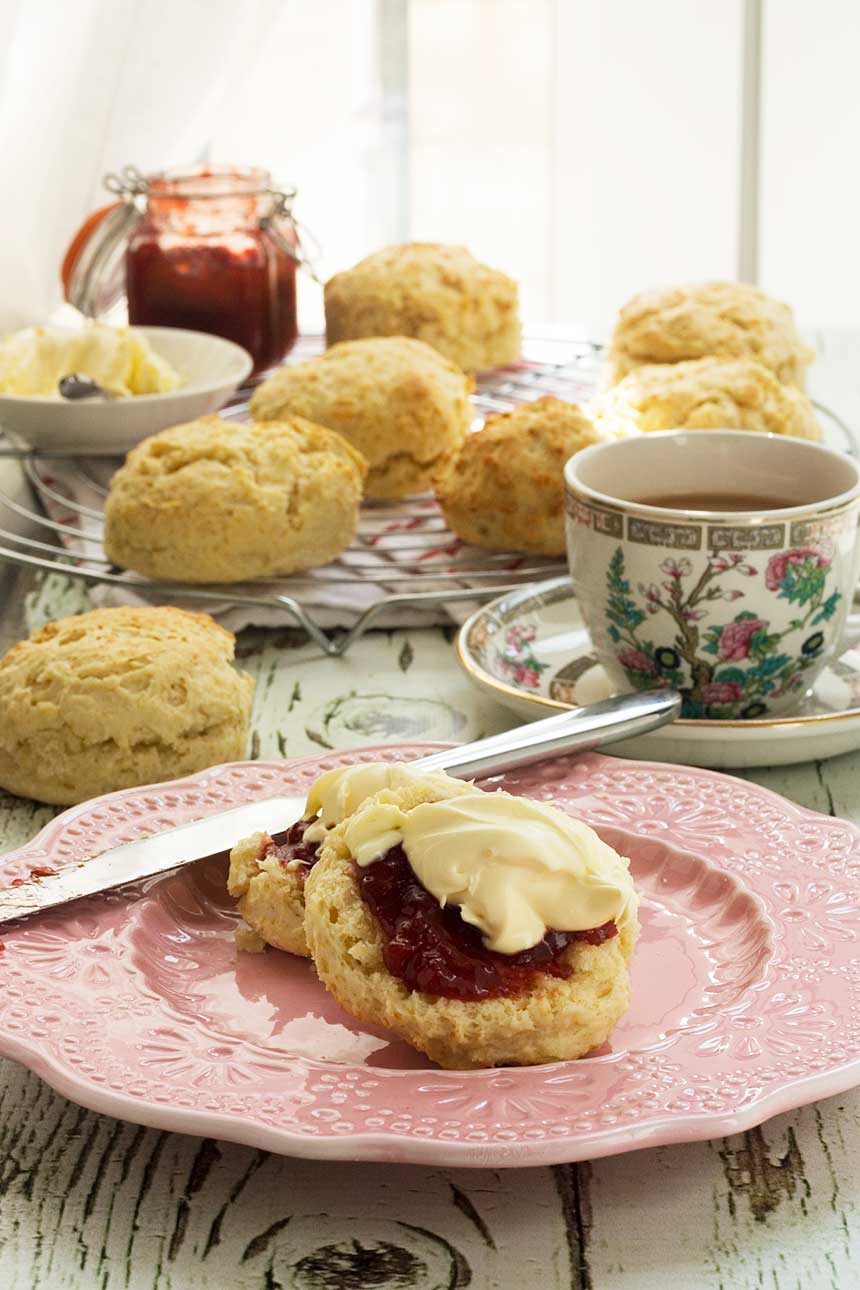 Now I can imagine what you're thinking. "Scones made with only 3 ingredients? Seriously? OK, maybe, but they must taste pretty average …".
I can forgive you because I must admit I'd probably think the same if I were you. I love simple no-fuss recipes, as you've probably gathered by now if you're a regular here, but surely this sort of thing takes 'quick and easy' to just plain lazy. Scones are pretty easy to make anyway, aren't they, so why bother making them even easier?
Well, I guess I have a bit of a confession to make then. I find rubbing the butter into scones or pastry and then wrestling with all the gunky 'bits' trying to gather them into a neat ball of dough pretty tiresome at the best of times and so usually avoid it like the plague. Yup, me and store-bought ready-make pastry are pretty good friends.
So the wonderful thing about these scones made with lemon soda (that's plain old lemonade in the UK!) and cream is that you DON'T HAVE TO DO THAT. Just whisk the lemon soda and cream together, dump it into some self-raising flour, stir around a bit then gather it into said dough ball. You still have to do the loathsome gathering, but I promise you that it's really easy. I literally had my ball of dough all ready to squash down and cut scone-shapes out of within about 5 minutes of getting my ingredients out. Less than 15 minutes later I had perfect looking scones fresh out of the oven and ready to have jam and cream smeared all over them.
And they aren't 'average' in any way. They're light and fluffy and delicious (in my humble opinion as always).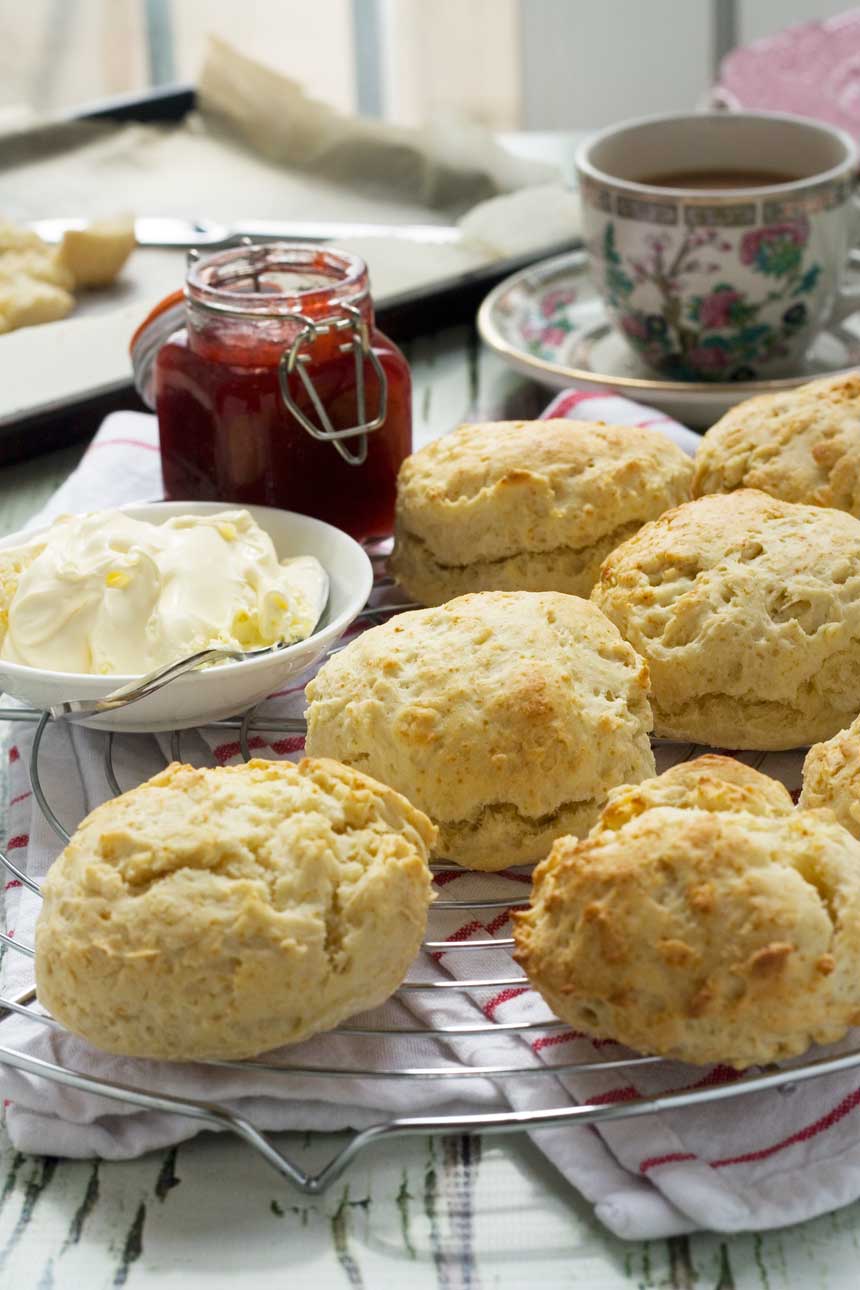 I'd been meaning to make these scones for a couple of weeks now ever since Mr. Scrummy came home clutching a gorgeous little pot of home-made strawberry jam that a colleague had given him, but I had almost decided not to post the recipe assuming that it was one that everyone already knew.
Well, maybe you have seen this simple lemon soda scone recipe before, but if so hopefully this post is a good reminder to give them another go some time soon. I think they're so clever! Obviously the cream combined with the lemon soda substitutes nicely for the usual butter, milk and sugar you put in plain scones.
Oh, and they don't taste of lemon, just in case you were wondering – at least if you use the bargain basement cheapest of the cheap clear lemonade you can get here in the UK like I did. For the 'cream-slathering' I also used something called Cornish clotted cream which is far too rich for me but which it seems everyone else in the UK would kill for, so try it if you ever get a chance!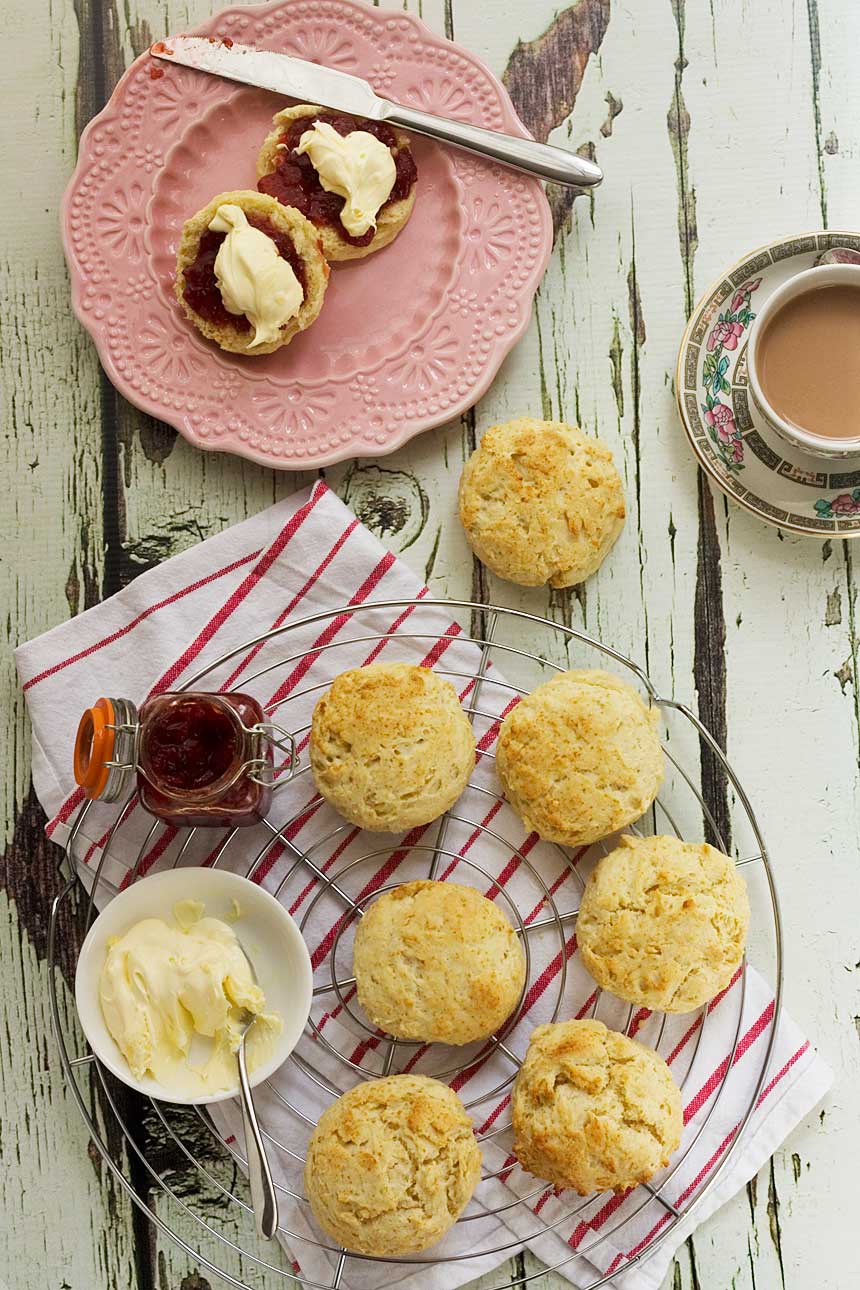 Easily 'jazz up' these scones by adding dried fruit, chopped dates and walnuts, cheese … whatever you can think of that you like in a scone, really.
I reckon this recipe definitely has potential to become an 'old trusty' that you will pull out again and again. Give it a go and let me know if you agree!
Update: I just found out that it is International Scone Week this week … how weird is that? And how appropriate! The lovely Tandy over at Lavender and Lime is hosting a 'scone link party' this week so I've decided to link up to that. Hope you hop on over to Tandy's blog and check out all the lovely scone recipes!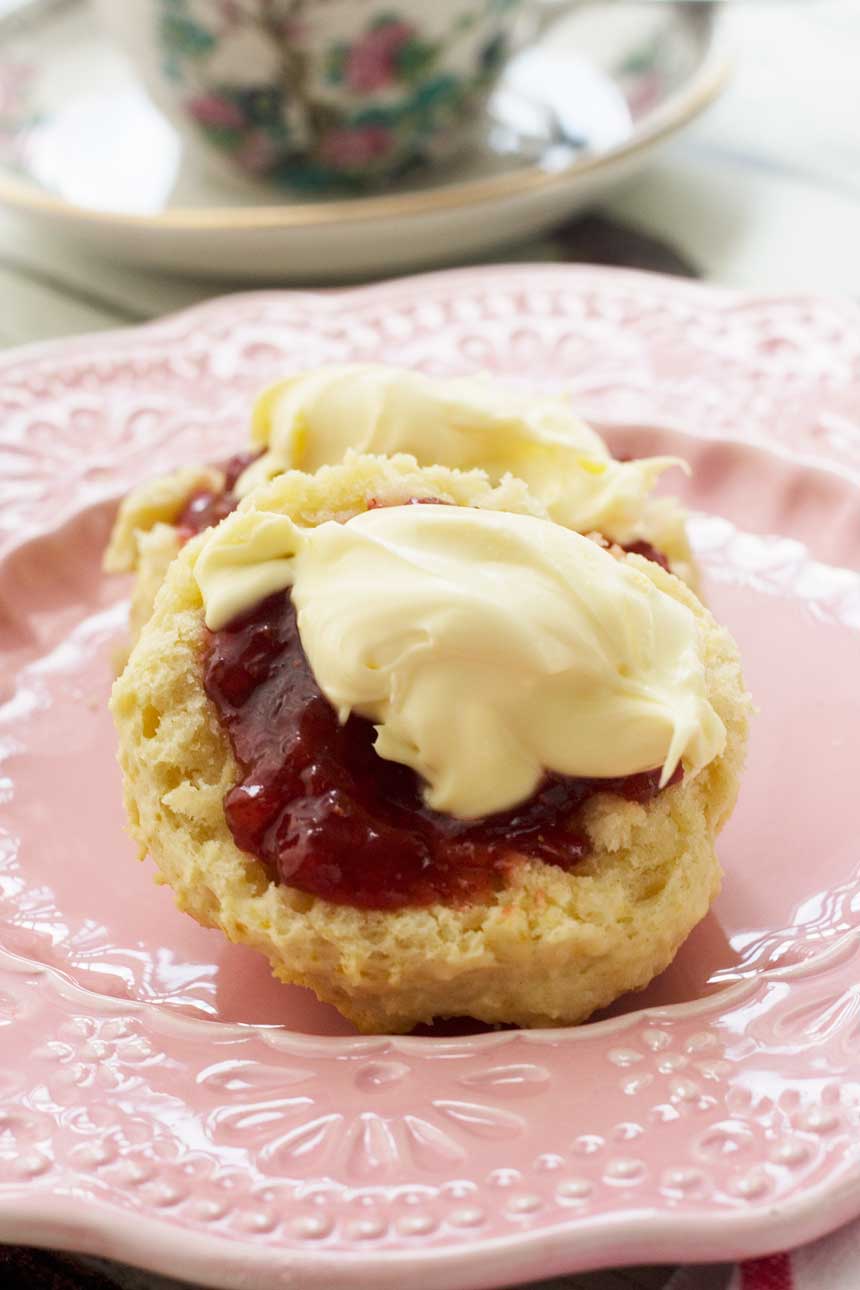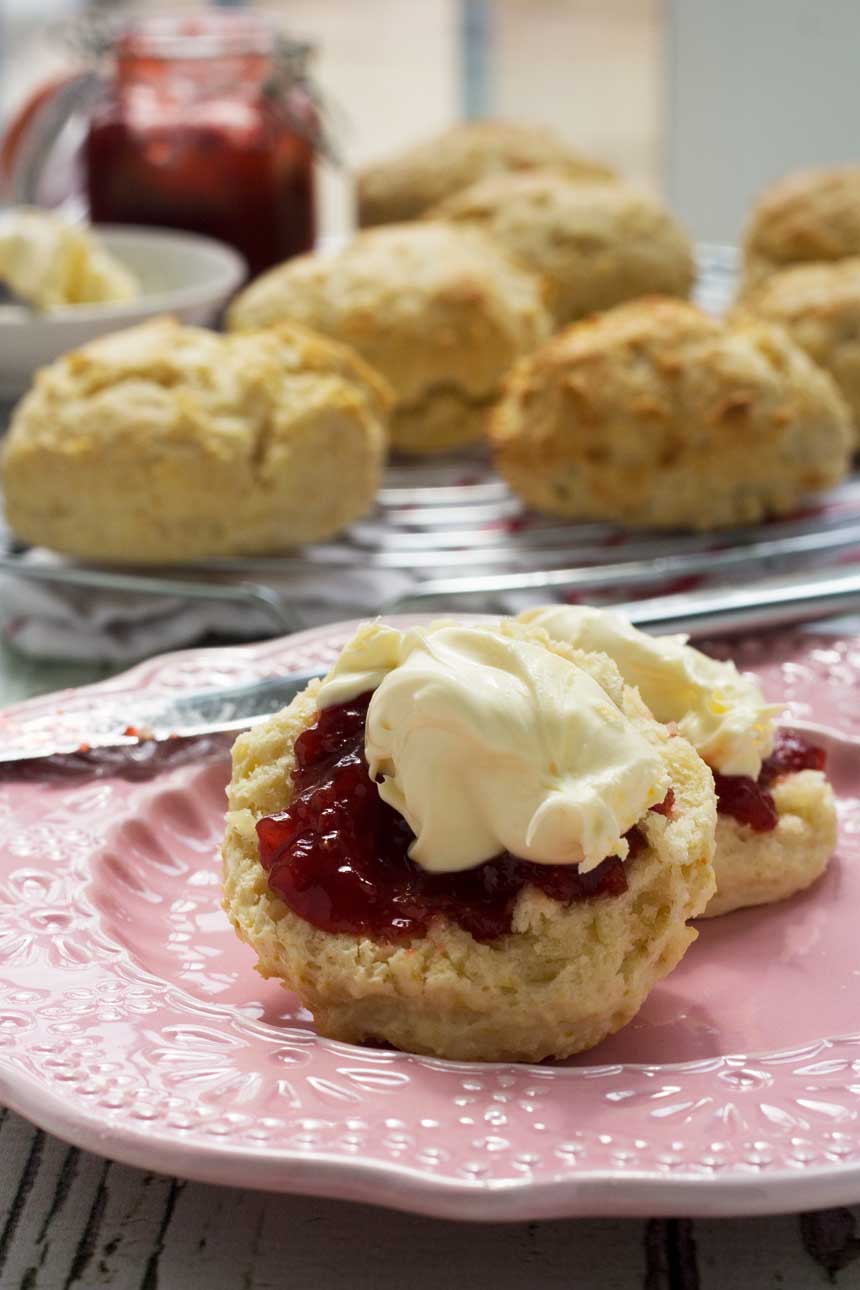 3-ingredient strawberries and cream 'magic' scones
Who can resist freshly baked scones straight out of the oven slathered in good quality jam and cream? These can be made with only 3 ingredients - seriously, just flour, lemon soda (lemonade in the UK) and cream - in just 20 minutes. Just delicious!
Ingredients (UK/Australia? Click below for grams/ml)
1 1/2

cups

self-raising flour

2/3

cup

lemon soda

lemonade in the UK! If you're in the US, Sprite would work!

2/3

cup

double cream

heavy cream
to serve
strawberry jam and whipped cream
Instructions
Line a baking tray with baking paper and pre-heat the oven to 220C/430F.

Sift the flour into a large bowl.

Stir the lemonade and cream together, then pour into the flour. Gently fold everything together until just combined, then bring dough together into a ball (it will be soft and a bit sticky).

Pat dough down onto a lightly floured surface so that it's about 3 or 4 cm thick, then use a smallish pastry cutter to cut out rounds (keep gathering the dough back up and patting it down again.You should get around 8 scones).

Place the scones on the baking tray so that they're just touching, brush the tops with a little milk if you like (totally optional) then bake for around 12 to 15 minutes until nicely risen and lightly golden on top.
Notes
Recipe slightly adapted from Allrecipes.com
To make cheese scones, add 100 grams/3.5 ounces cheese to the flour before adding the lemonade/cream, then sprinkle another 50 grams/1.75 ounces on top before baking.
For fruit scones, add about 75 grams/2.5 ounces dried fruit to the flour before adding the lemonade/cream.
Nutrition
Calories:
322
kcal
Carbohydrates:
39
g
Protein:
6
g
Fat:
15
g
Saturated Fat:
9
g
Cholesterol:
54
mg
Sodium:
19
mg
Potassium:
76
mg
Fiber:
1
g
Sugar:
4
g
Vitamin A:
585
IU
Vitamin C:
0.2
mg
Calcium:
33
mg
Iron:
0.4
mg

You can also find more from Scrummy Lane on Facebook, Pinterest, Twitter and Instagram and follow me on Bloglovin! Thanks so much for reading!
*This post may contain affiliate links which means that if you click on a link and make a purchase I get a small percentage of the amount you spend. At no extra cost to you, of course! Thank you!*