What's better than a double chocolate muffin? A triple chocolate muffin, of course! These heavenly chocolate filled muffins have big chunks of milk & dark chocolate AND an oozy, gooey chocolate truffle centre. It's chocolate overload, and that can only be a good thing!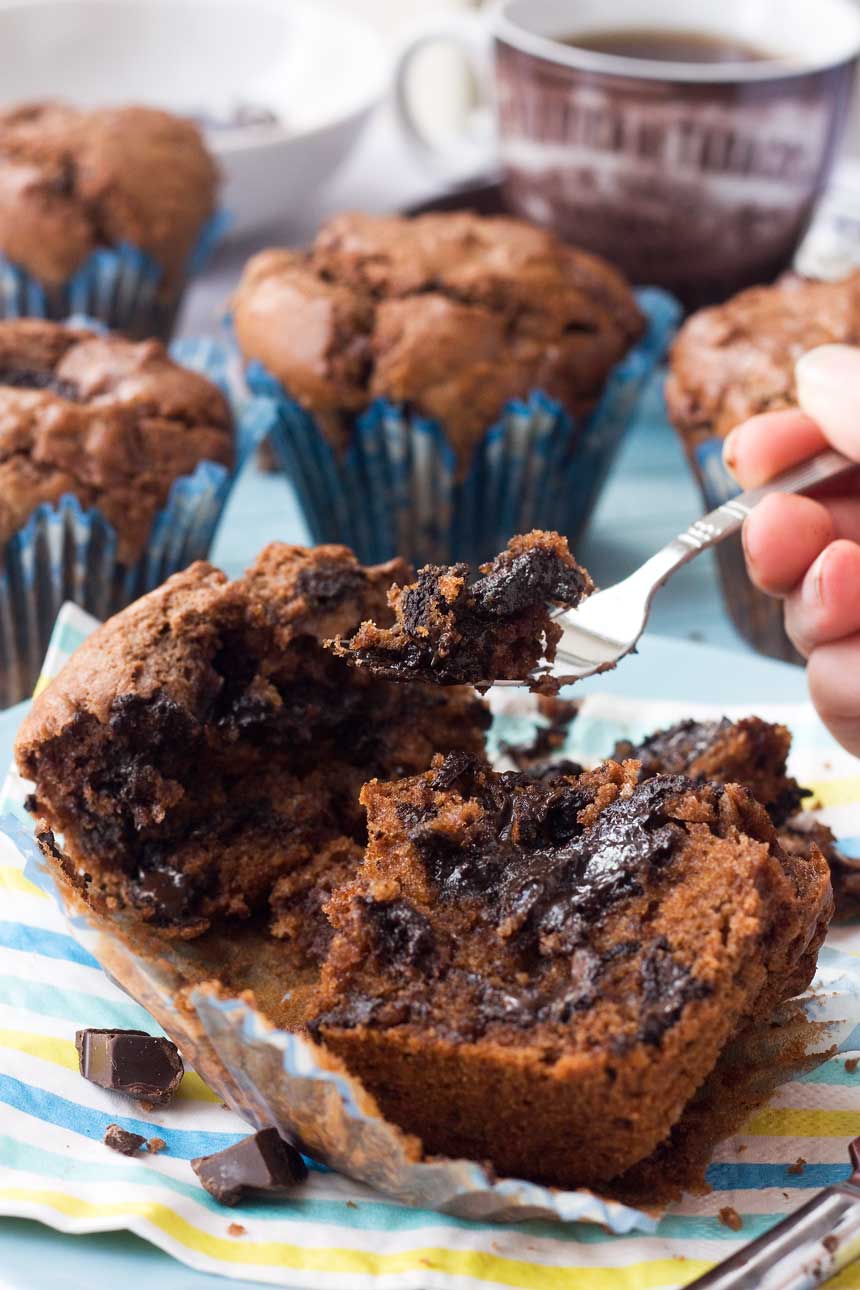 You got my attention so tell me more…
I have my fair share of oozy, gooey chocolaty things around here, and I make no excuses. This rather perfect gooey Swedish chocolate cake is legendary. Need a dessert for some easy entertaining? This is it. Want to make a not-too-sweet chocolate treat for your family? Try this chocolate self-saucing pudding.
But when it's MUFFINS that you want, and you don't mind if they're just a little bit special, you just have to try these gooey triple chocolate muffins.
It's hard to do them justice with a description. They're not quite a chocolate fondant pudding but they have a similarly delicious oozy, gooey chocolate centre. Imagine a decadent cake with a warm truffle-like chocolate 'surprise' in the middle.
You could even call them quadruple chocolate muffins because I like to pack them with both dark and milk chocolate chunks. Basically, they're the ultimate chocolate chip muffins.
I'm sorry, am I making your mouth water?
What ingredients do you need?
Alright, so I have your attention. What do you need to make these melt in the middle muffins? Not too much, really. Just lots of chocolate, and the usual suspect muffin batter ingredients:
dark chocolate: I usually choose around 50% cocoa for the perfect level of sweetness. I use some for melting and making the truffle centres, and more for breaking into chunks and throwing into the batter.
cream: For mixing into melted chocolate to make the truffle centre. And… for mixing into the muffin batter!
salted butter: for the muffin batter
milk chocolate: I like to throw both milk chocolate and dark chocolate chunks into the batter.
milk, dark brown sugar, eggs, flour, cocoa powder and baking powder: For the batter.
Make chocolate filled muffins in 5 easy steps
Step 1: Make the ganache centre. It's simple, by the way. Just mix cream into melted chocolate, then freeze.
Step 2: Make the muffin batter. Just melt butter, then whisk in the 'wet' ingredients.
Step 3: Fold in the dry ingredients and TWO kinds of chocolate chunks.
Step 4: Fill muffin cases, dropping a teaspoon of truffle into the middle.
Step 5: Bake. Eat while still warm!
Just roll any leftover ganache into truffles. Roll in cocoa powder and enjoy!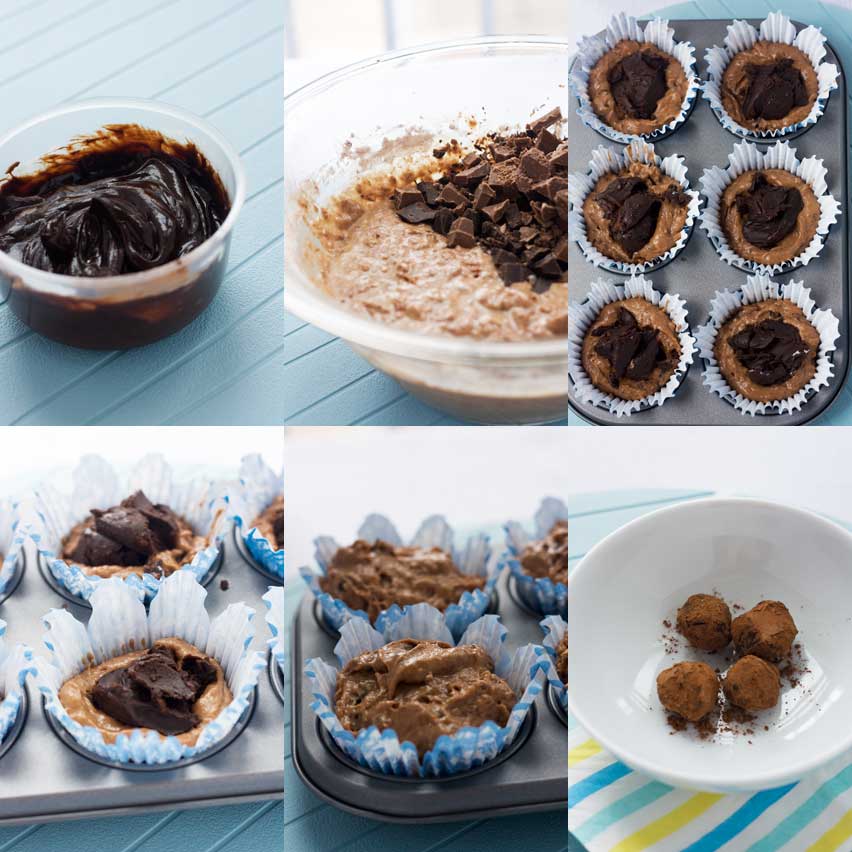 How to stuff the muffins with the ganache
You might think this part could be tricky. But it really isn't.
Because you'll freeze the chocolate ganache for 30 minutes, it will be just solid enough for you to spoon it into the centre of the muffins.
You do this by filling the muffin cases with just half of the muffin batter. Then you spoon the half-frozen truffle mixture into the centre. Finally, you spoon the rest of the batter on top.
As the muffins bake, the truffle centre melts into a delicious gooey chocolaty centre that oozes out when you bite into it. Yum.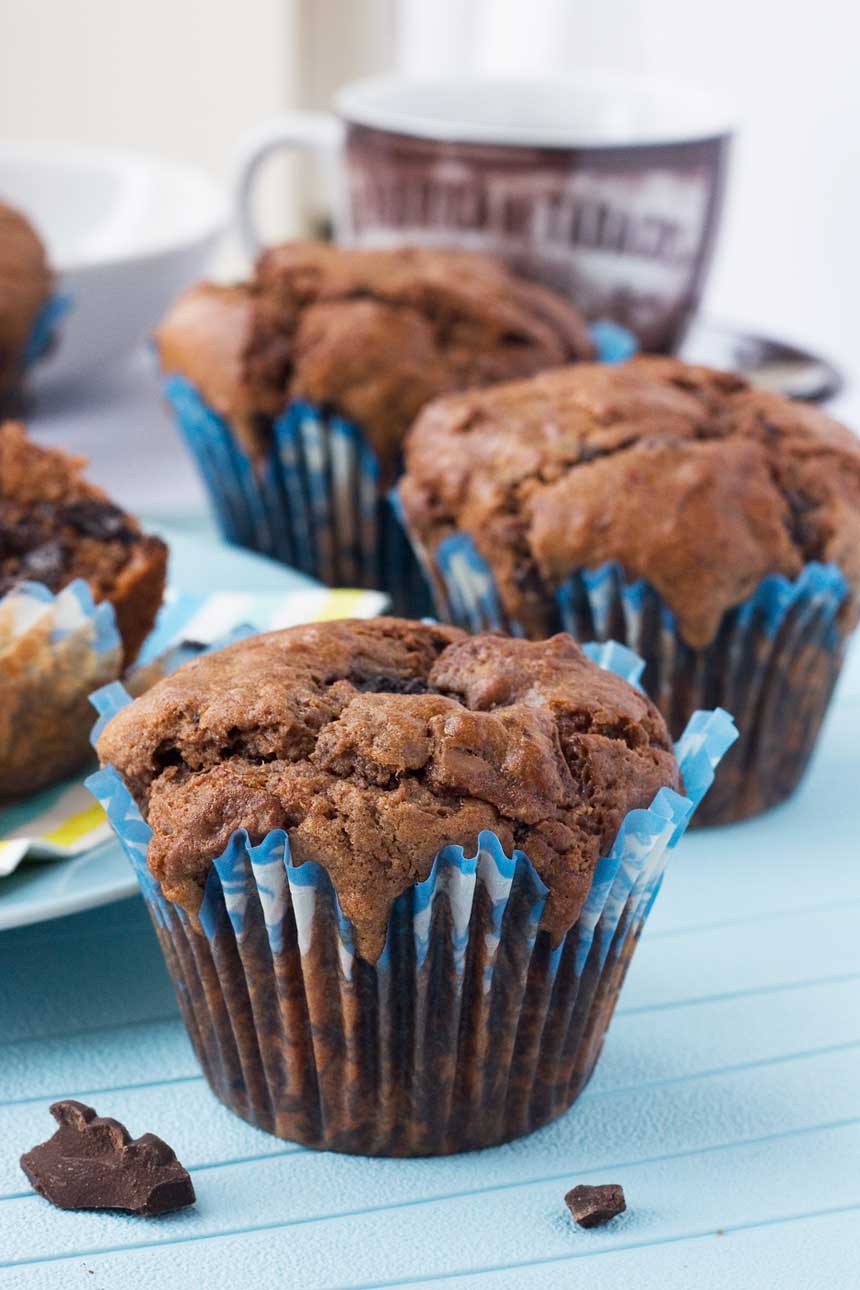 Look at the splodgy truffle bit in the middle. Irresistible, right?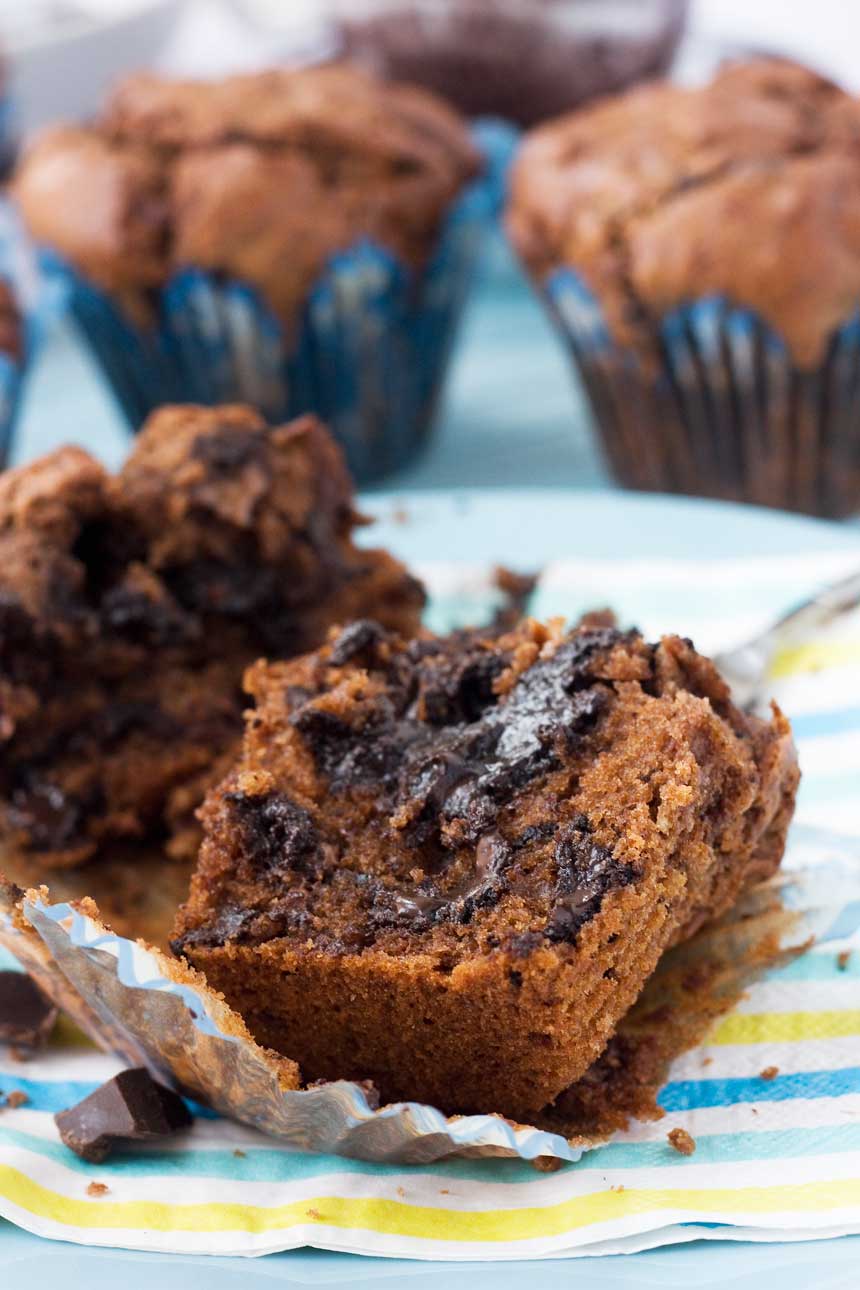 How to eat them
You might think it's strange for me to be telling you how to eat a chocolate chip muffin.
But as you may have realised, this is no ordinary muffin. It's a gooey triple chocolate muffin, so I think that does warrant a few eating instructions 😉
The best way to eat these is straight out of the oven. Let them cool slightly of course, but eat them while they're still warm so that the truffle centre is still gooey.
If you like you can serve them as a crowd-pleasing dessert with a scoop of vanilla ice cream.
Once they've completely cooled, you can simply reheat them in the microwave for 20 to 30 seconds so that the delicious centre melts and becomes gooey again!
One more thing to note. You could say these are giant chocolate muffins. So you might like to share. Or not.
How long do they keep?
These muffins will keep well for about the same length of time as any kind of muffin. They'll be best for the first 2 or 3 days, but they'll still taste good for up to 5 days.
Keep them in an airtight container in the fridge. When you want to eat them, heat them for 20 or 30 seconds in the microwave to get the soft centre again. They'll taste like they're fresh out of the oven!
You can even freeze them if you like for chocolate dessert 'emergencies'. Wrap well and freeze in a Ziploc bag or sealed container. Let defrost then reheat for a few seconds in the microwave for the perfect melty middle.
More crowd pleasing desserts
IF YOU MAKE THIS RECIPE, LET ME KNOW HOW YOU GET ON BY LEAVING A COMMENT AND RATING BELOW… AND DON'T FORGET TO SIGN UP TO RECEIVE ALL MY NEW RECIPES BY EMAIL!
FOLLOW ME ON FACEBOOK, INSTAGRAM, PINTEREST AND YOUTUBE.
Gooey triple chocolate muffins
Oozy, triple chocolate gooey muffins with a melty truffle centre. With 2 kinds of chocolate chunks, these giant muffins are the ultimate chocolate chip muffins!
Ingredients (UK/Australia? Click below for grams/ml)
5

ounces

dark chocolate

I usually use about 50% cocoa dark chocolate for the perfect level of sweetness.

⅔

cup

double cream

2½

ounces

salted butter

(5 tablespoons)

3½

ounces

milk chocolate

1/4

cup

milk

1/4

cup

dark brown sugar

2

large eggs

3/4

cup

plain flour

2

tablespoons

cocoa powder

1

tablespoon

baking powder
Instructions
For the gooey chocolate centres (ganache)
Break up half of the dark chocolate into a small bowl or tub and microwave in 30-second bursts until mostly melted (3 x 30 seconds is about right).

Stir the chocolate until smooth, then gradually whisk in 3 tablespoons of the cream. Put a lid on the bowl/tub (or cover it with foil) and freeze for about 30 minutes.
For the muffin batter
Preheat the oven to 180C/355F. Melt the butter in a large bowl in the microwave for 30 to 60 seconds, then set aside to cool slightly.

Meanwhile, chop the rest of the dark chocolate and the milk chocolate into chunks.

Whisk the rest of the cream, the milk, the sugar and the whisked eggs into the melted butter.

Fold in the flour, cocoa, baking powder and chopped chocolate until just combined.

Divide half the batter between 6 muffin cases. Then spoon just over a teaspoon of the chilled chocolate and cream mixture into the centre of each. Cover with the rest of the batter.

Bake for 20 minutes. Let cool for a short while, then eat while still warm and gooey.
Notes
Melting the chocolate: If you don't have a microwave, melt the chocolate and butter in a bowl set over a simmering pot of water (don't let the pot touch the water). Leftover truffle mixture: Make truffles with it! Just roll into balls, then roll in cocoa. Enjoy! How to serve: Eat while still warm. If already cooled, reheat for 20 to 30 seconds in the microwave. How to store: These muffins will keep for up to 5 days in an airtight container. You can also wrap them tightly and freeze in Ziploc bags or an airtight container for up to 3 months.
Nutrition
Calories:
526
kcal
Carbohydrates:
45
g
Protein:
7
g
Fat:
37
g
Saturated Fat:
22
g
Cholesterol:
118
mg
Sodium:
132
mg
Potassium:
527
mg
Fiber:
5
g
Sugar:
24
g
Vitamin A:
789
IU
Vitamin C:
1
mg
Calcium:
160
mg
Iron:
5
mg