Chocolate flavoured muffins with big chunks of milk & dark chocolate AND an oozy, gooey chocolate truffle centre. Yup, chocolate overload!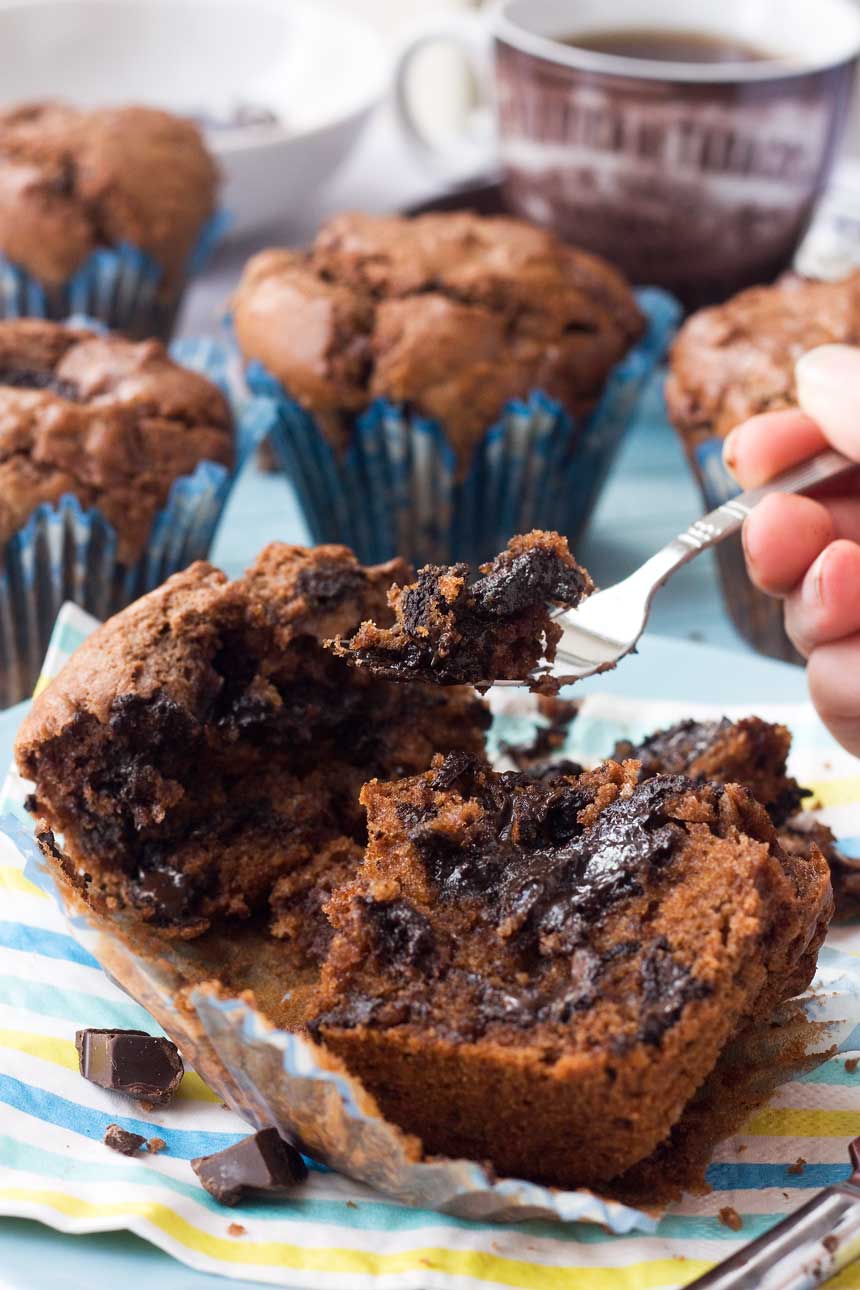 Much to Mr. Scrummy's annoyance, I'm posting yet another chocolate-y recipe today. Very chocolate-y, in fact. Oops.
Good sport that he is, though, he did help me to decide what to call these very chocolate-y muffins. Because to be honest I wasn't sure how to describe them at first. In a way they are like those gorgeous chocolate fondant puddings with the oozy, gooey soft centres that run out when you cut into them, but not quite as runny. They're not so pudding-y as that, either, although I wouldn't say no to a big blob of vanilla ice cream on top! No, they're definitely muffins, packed full of big chunks of chocolate, but with a luxurious and decadent warm truffle-like 'surprise' in the middle.
So … soft-centered triple chocolate muffins they are! Triple chocolate because they're packed with cocoa powder, big chunks of chocolate and of course the truffle-like centre. Actually, you could even say they're quadruple chocolate muffins because they have both dark and milk chocolate chunks!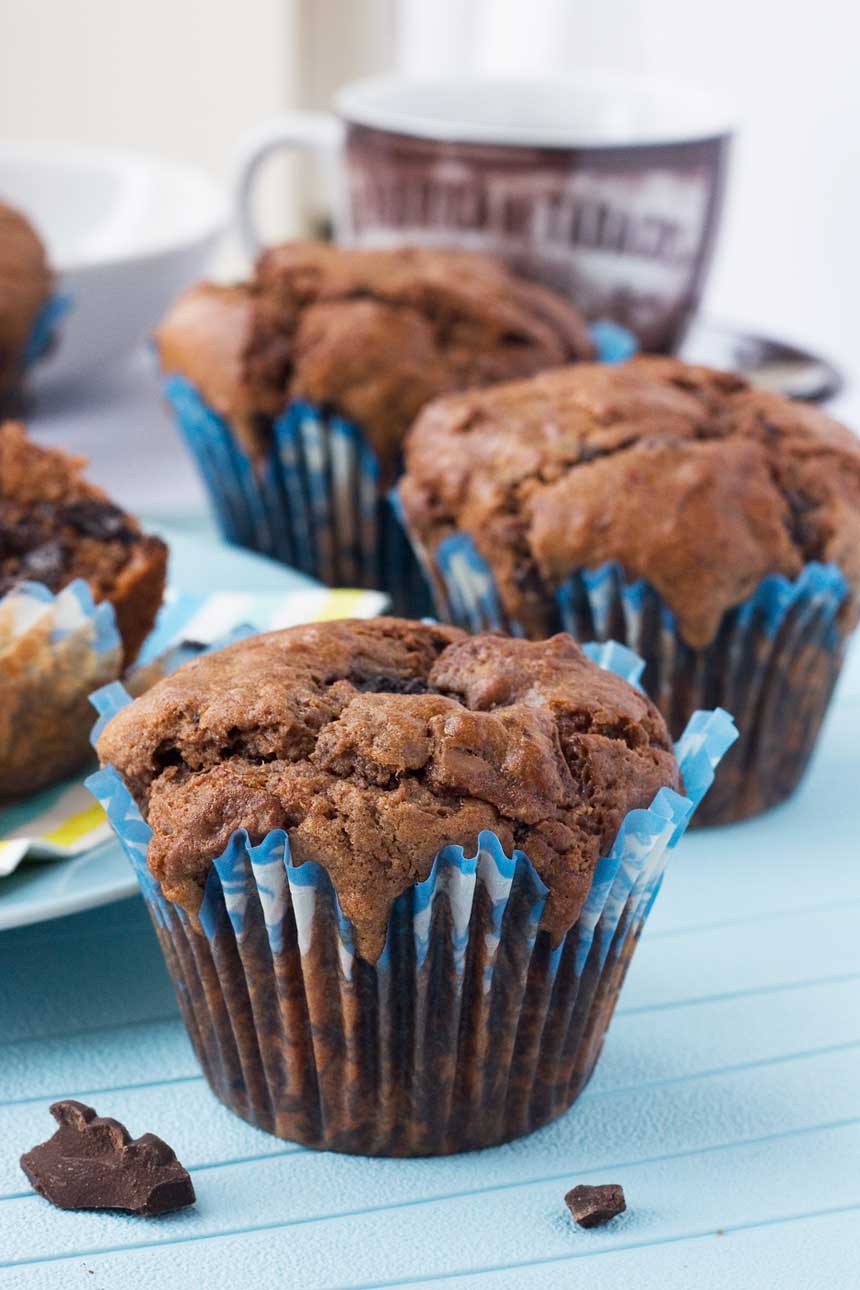 The oozy gooey part is exactly like chocolate truffle because dark chocolate and cream is all it is. In fact, I'll let you into a secret … I had a tiny bit of the truffle-y mixture left over after 'stuffing' the six muffins I made with it, so I formed it into tiny little truffles and rolled them in lots of cocoa powder. They're currently hanging out in the fridge (and hiding from Mr. Scrummy) for this week's chocolate craving emergencies!
I found this recipe in a supermarket magazine similar to the one I got this rather perfect gooey Swedish chocolate cake (don't miss this one, either!) from. These supermarkets obviously like chocolate as much as I do! I didn't adapt their recipe very much because it sounded great as it was, but I did make a couple of small changes to the method just to make it slightly easier. In other words, I microwaved a few things rather than melting on stove-tops etc.!
Talking of microwaves, these muffins are supposed to be eaten warm while the middles are still lovely and oozy, but if you want to (can manage to?) save some for later, just pop them in the microwave for 20 to 30 seconds to reheat and get the chocolate all liquid-y again.
Don't worry about the 'stuffing with the truffle mixture' part. All you do is scoop half of the raw muffin batter into the muffin cases, poke a large teaspoon-full of chilled truffle into the centre, then top with the rest of the batter … and bake! Couldn't be simpler!
I'm going to be totally honest with you now. These muffins came out pretty large and although the one I tasted was absolutely delicious warm and oozy with a lovely fresh crisp top, after I'd finished it I couldn't have eaten a mouthful more! So you may want to share one with a friend.
Nah, on second thoughts, just eat the whole lot and start the diet tomorrow …
Soft-centered triple chocolate muffins
Oozy, gooey triple chocolate muffins with a soft ganache center. Can't really get more chocolate-y than that!
Ingredients (UK/Australia? Click below for grams/ml)
5.3

ounces

dark chocolate

no more than about 50% cocoa solids to make sure the muffins are sweet enough

2/3

cup

double cream

5

tablespoons

salted butter

4.4

ounces

milk chocolate

1/4

cup

milk

1/4

cup

dark brown sugar

2

large eggs

3/4

cup

plain flour

2

tablespoons

cocoa powder

1

tablespoon

baking powder
Instructions
Break up 75 grams/2.6 ounces of the dark chocolate into a small plastic tub and microwave* in 30 second intervals until mostly melted (3 x 30 seconds is about right). Stir the chocolate until smooth, then gradually whisk in 3 tablespoons of the cream. Put a lid on the tub (or cover it with foil) and freeze for about 30 minutes.

Preheat the oven to 200C/390F (180C/355F fan). Melt the butter in a large bowl in the microwave for 30 to 60 seconds, then set aside to cool slightly. Meanwhile, chop the rest of the dark chocolate and the milk chocolate into fairly large chunks. Then whisk the rest of the cream, the milk, the sugar and the whisked eggs into the melted butter.

Fold in the flour, cocoa, baking powder and chopped chocolate until just combined.

Divide half the batter between 6 muffin cases, then plop just over a teaspoon of the chilled chocolate and cream mixture into the centre of each. Cover with the rest of the batter.

Bake for 20 minutes. Let cool for a short while, then eat while still warm and gooey.
Notes
Slightly adapted from Sainsbury's Magazine Nov 2014 edition.
*If you don't have a microwave, melt the chocolate and butter in a bowl set over a simmering pot of water (don't let the pot touch the water).
Nutrition
Calories:
554
kcal
Carbohydrates:
48
g
Protein:
7
g
Fat:
39
g
Saturated Fat:
23
g
Cholesterol:
117
mg
Sodium:
131
mg
Potassium:
549
mg
Fiber:
4
g
Sugar:
26
g
Vitamin A:
785
IU
Vitamin C:
0.2
mg
Calcium:
162
mg
Iron:
5
mg

You can also find more from Scrummy Lane on Facebook, Pinterest, Twitter and Instagram and follow me on Bloglovin! Thanks so much for reading!
*This post may contain affiliate links which means that if you click on a link and make a purchase I get a small percentage of the amount you spend. At no extra cost to you, of course! Thank you!*