This easy Italian apple cake is a perfect make ahead dessert for any time of year. Otherwise known as 'torta di mele', it's a classic Italian cake recipe – a speciality of Italian grandmas everywhere!
Made with fresh apples, this apple cake is light, moist, not too sweet, and looks pretty on top. The best part? It's so simple! Make it all in one bowl with just 6 main ingredients and 15 minutes of hands-on time!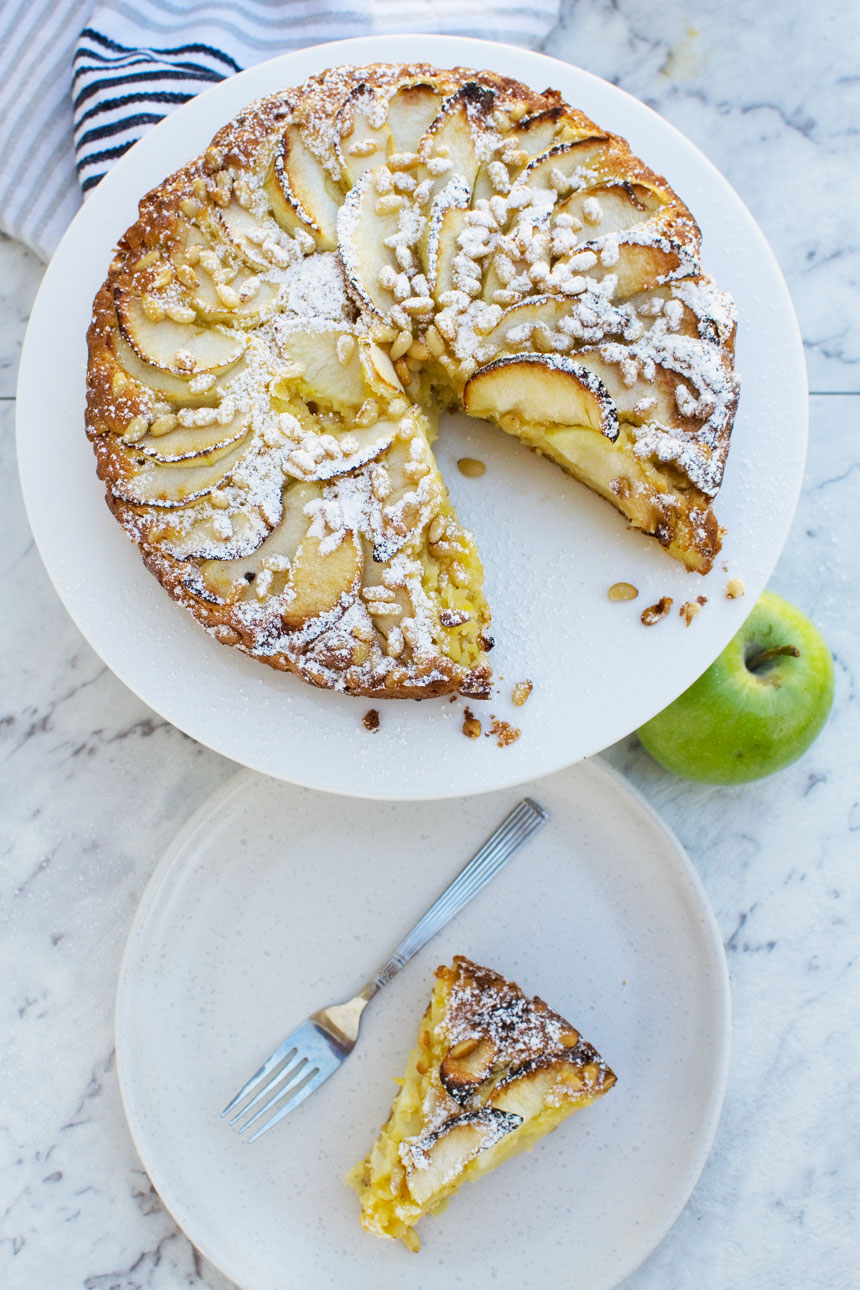 What's torta di mele and why you'll love it
A torta di mele (alternatively called torta di mela, torta mele or torte di mela!) is a very simple and rustic Italian apple cake. It's a classic Italian dessert that everyone's nonna ('grandma' in Italian!) has a recipe for!
My version of the torta di mele might not be the most traditional, but it is one of the easiest – great for novice bakers or for children to help with!
Here's what else I love about it:
✔ You only need a few ingredients (6 main) and 15 minutes' prep time. I can sometimes make this without even going to the supermarket, so it's also very affordable!
✔ It's made all in one bowl. No separating of eggs or beating of butter and sugar necessary – just melt the butter, then mix all the ingredients together.
✔ It's moist, light and fluffy, and has plenty of flavor. It's packed full of apple slices and has a subtle lemony kick! Mmm.
✔ It's pretty low in sugar, as cakes go. You'll only need half a cup!
✔ It looks so pretty with the fresh apples and generous sprinkle of pine nuts and icing sugar arranged on top. Everyone will think you spent all day making it!
✔ You can make it ahead, so it's perfect for entertaining.
✔ This classic Italian treat is sure to be a crowd pleaser. Who doesn't like apple cake?
That's what I call an easy dessert!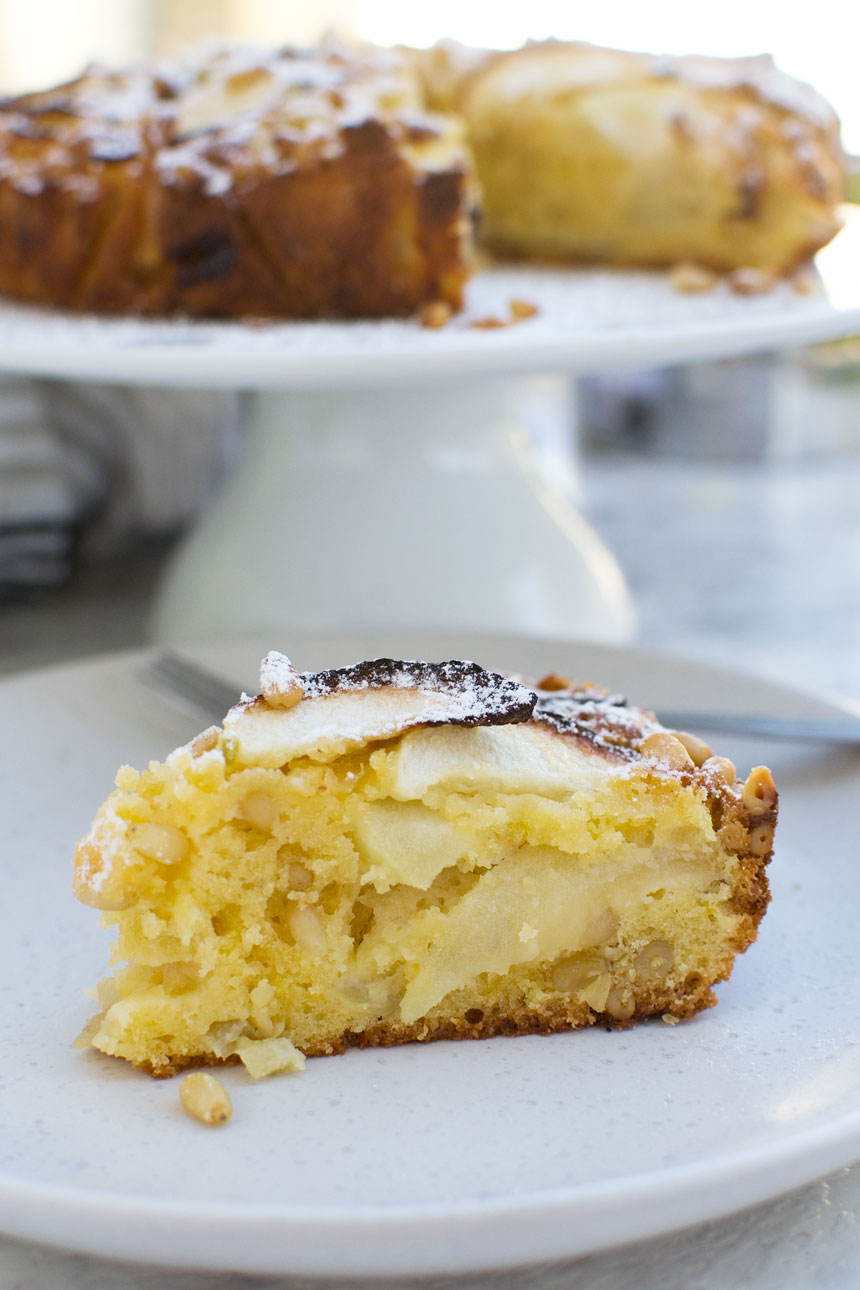 About the ingredients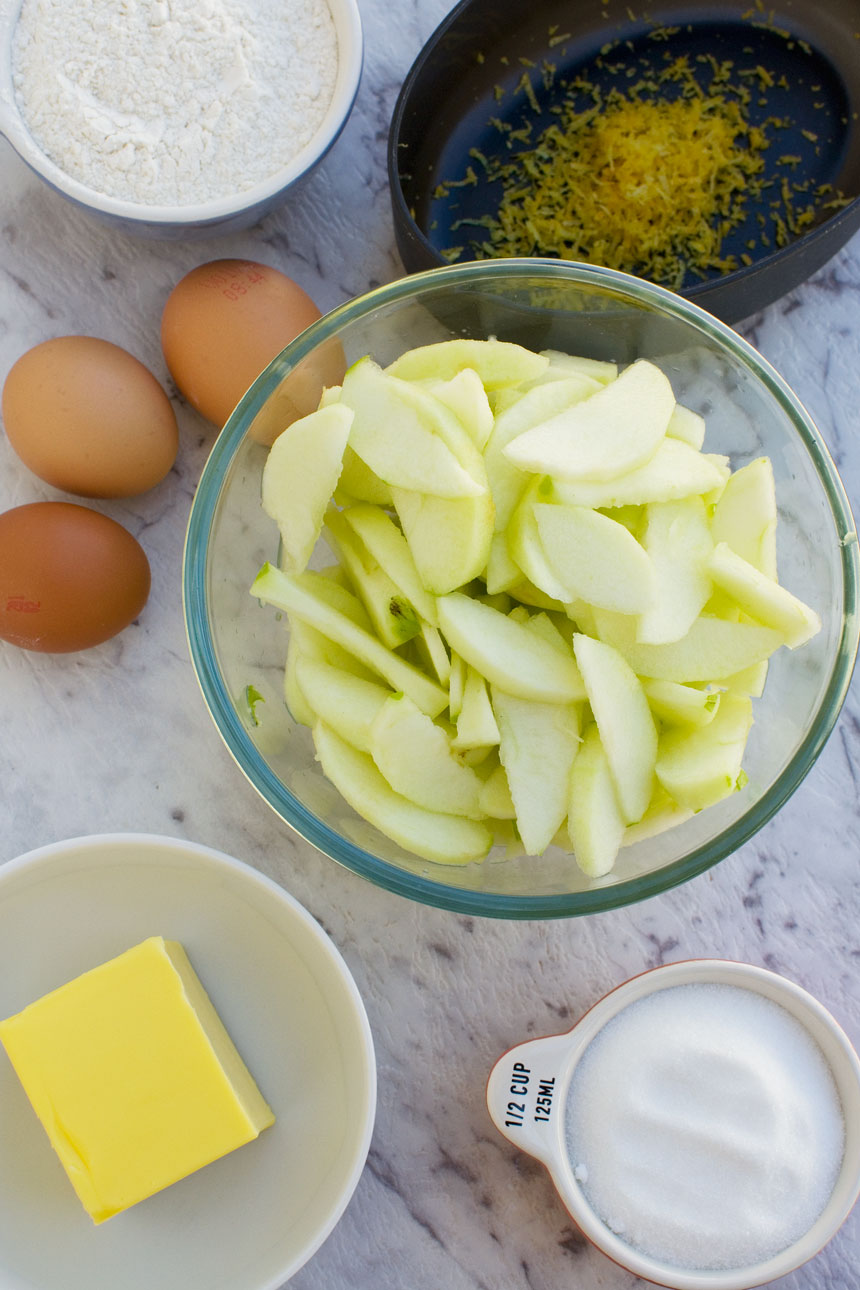 Flour: I use self-raising flour, which means you don't need any baking powder. If you don't have any of this, simply use plain flour and add 2 teaspoons of baking powder.
White sugar: Just half a cup! Keeping things light(ish) here…
A lemon: You'll use both the grated lemon zest and juice. You'll be amazed how well a bit of lemon goes with apple!
3 eggs: Lightly whisk and you're done.
Butter: Melted, which means no creaming of butter and sugar! All you do is stir everything together with a wooden spoon.
Apples: Of course! I usually go for tart green apples such as Granny Smiths, but use any fresh, crisp and tasty apples you like.
Available apples will depend on where you live, of course. Pink Lady, Honeycrisp, Honeygold, Gala, Fuji, Jonagold, Cox and Bramley are just some of the types of apples that will taste great and hold their shape well while cooking.
Cinnamon: Just a teaspoon. It's also optional, but I think it's worth adding it in for just a hint of yummy extra flavour.
Pine nuts: A few in the cake mix, and more on the top, which brown in the oven. These take this humble cake from good to amazing! On the other hand, if you want to make this at the last minute and don't have any pine nuts, it's absolutely fine to skip them.
Icing sugar (powdered sugar): Just a bit, for a final dusting on top of the cake to serve.
How do you make a torta di mele?
The step-by-step guide below should help you make the recipe perfectly first time. Scroll down to the end for the full recipe including ingredient amounts.
This really is the easiest apple dessert recipe you can imagine. Here's how you make this delicious Italian cake in a few simple steps.
Step 1: Line a round baking pan with baking paper and pre-heat the oven. You can use a springform pan (with a loose bottom) or just a regular round cake pan.
Step 2: Melt the butter in the microwave. The melted butter will help you get a rich, soft and moist cake.
Step 3: Mix all the ingredients together, including 2/3 of the thinly sliced apples.
Step 4: Empty the apple mixture into the prepared pan. Arrange the remaining apples on top, plus a scattering of pine nuts (optional), and bake for around an hour. The cake is done when a skewer poked into the center comes out pretty clean (no raw batter!).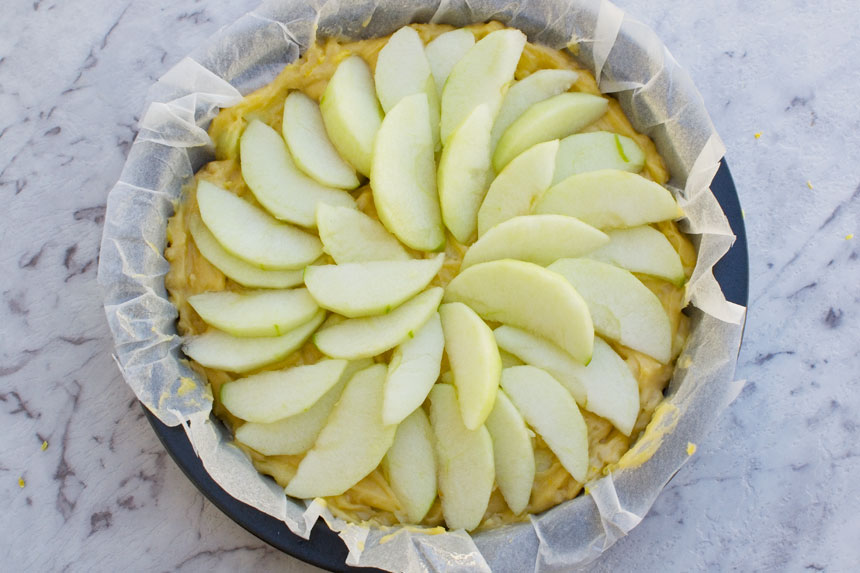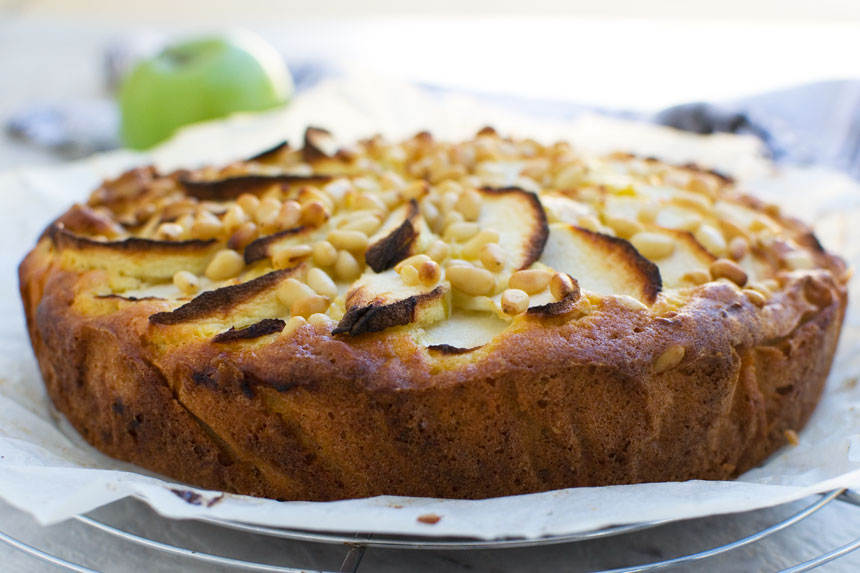 Step 5: Just before serving, use a sieve to sprinkle some icing sugar over the top. Serve warm or cold, by itself (the traditional way!), or with ice cream or whipped cream on top.
I told you this was a simple apple cake. The biggest job is peeling and chopping the apples!
Just love apple desserts? Try this apple crumble pie with oats, or this delicious sticky apple and ginger cake.
Helen's top tips
How many apples? I vary the number of apples I use to make this cake. If they're small apples, I'll use 4. If they're big e.g. Granny Smith apples, I usually use just two and a half apples. If they're medium apples, about 3 is right! Just eye-ball it. This cake recipe is very forgiving, so you can't really go too wrong!
As always, don't overmix the batter. Just mix gently with a wooden spoon until everything is incorporated.
If your cake starts to brown too much while it's in the oven, just cover the cake over with some aluminium foil for the last part of cooking.
Try 'making the recipe your own'. Add other fruits along with the apples e.g. pear, raspberries, blueberries, or replace the pine nuts with flaked almonds, crushed hazelnuts or pistachios instead. Or feel free to skip the nuts altogether for a nut-free version.
How to serve
The most traditional way to serve a torta di mele is by itself, warm or cold. It makes a fantastic cake to serve to guests with a hot cup of tea or coffee.
I love serving mine as a warm dessert with either ice cream or whipped cream, however. It's just delicious that way! If you're in the UK or Australia, you might like to serve it with custard instead!
Feel free to skip the pine nuts on top, but I always add the sprinkle of icing sugar. It's such a simple touch, but will make your cake look so much prettier. Your guests will think you spent all day making it!
More things to know (FAQs)
How long does this cake keep?
This cake keeps pretty well for a few days if kept in an airtight container in the fridge. It might be a little more moist after a day or two, but will still have great flavor. In fact, I think it tastes even better the next day!
Can you freeze it?
Oh, absolutely! This simple Italian apple cake is a very freezer friendly cake. If I want to freeze it I let the cake cool completely, then wrap it securely in foil and/or a large Ziploc bag for up to 3 months.

To serve, simply defrost for a couple of hours, then reheat in the oven before serving. You don't want it to dry out though, so I usually just warm it on the 'keep warm' setting for half an hour or so.
Can I use oil instead of butter?
Actually, yes! Just stick with the same amount as the amount of melted butter you'd use – so half a cup. The cake will have a different flavour, and have a slightly lighter crumb, but that's OK. Try olive oil!
Can I make it in my air fryer?
Yes!

If you have a large oven style one that will fit in a regular sized cake pan just follow the recipe as written but reduce the temperature slightly (about 25F or 15C) and reduce the time by 25 to 30%. So I'd start by baking for about 40 minutes. Check if it's done and then keep checking every few minutes after that. Check the bottom too – sometimes I find the bottom takes a bit longer to cook in an air fryer. You might need to flip it for a few minutes towards the end of the cooking time.

If you only have a small air fryer, then I'd use a smaller pan – the same one as for this air fryer banana bread recipe. Check to see if it's done after 30 minutes.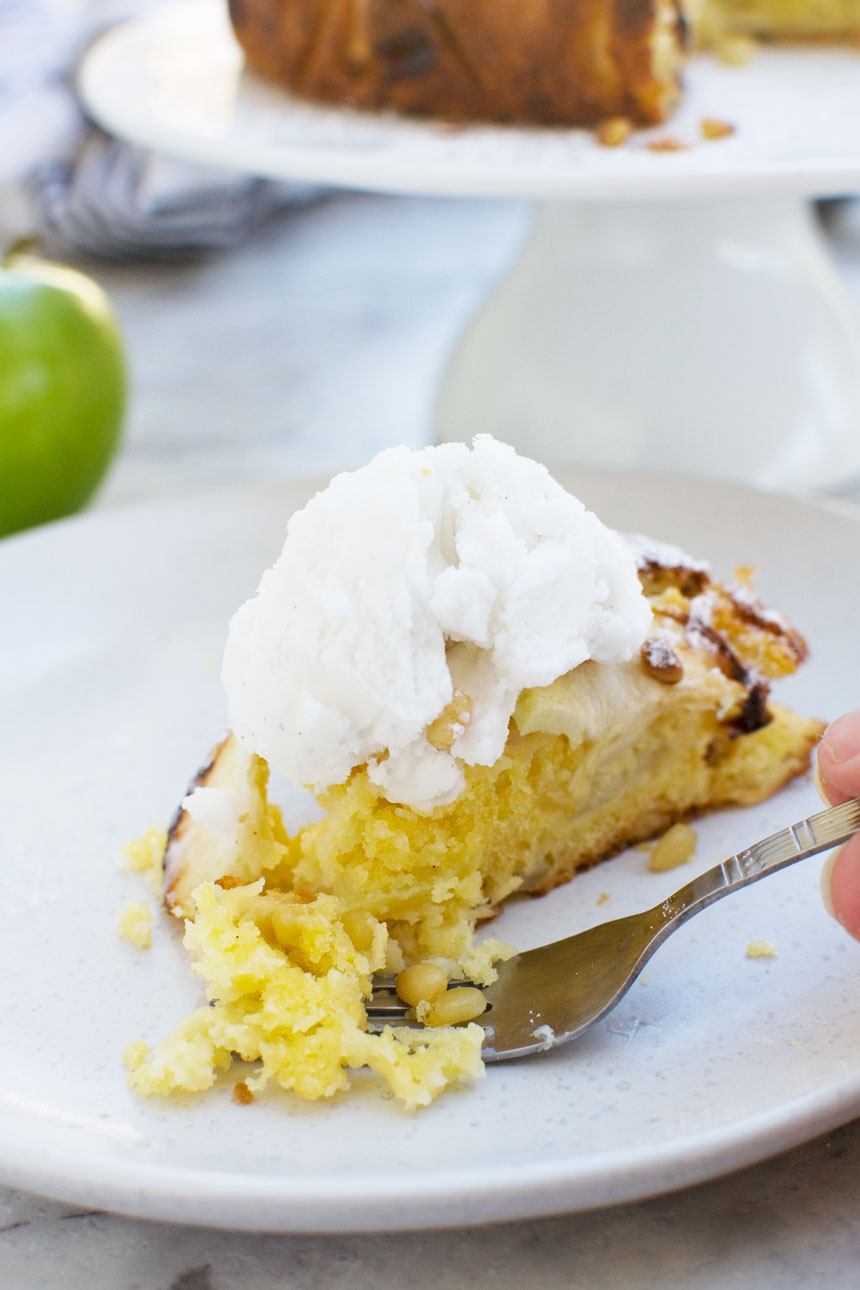 More one bowl cakes/desserts
Or see all my easy cakes.
IF YOU MAKE THIS RECIPE, LET ME KNOW HOW YOU GET ON BY LEAVING A COMMENT AND RATING BELOW… AND DON'T FORGET TO SIGN UP TO RECEIVE ALL MY NEW RECIPES BY EMAIL!
FOLLOW ME ON FACEBOOK, INSTAGRAM, PINTEREST AND YOUTUBE.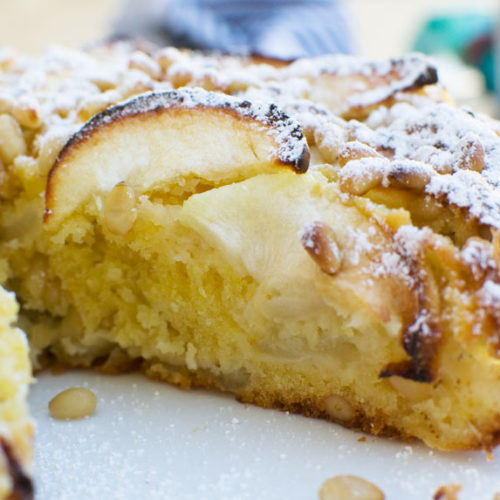 Easy Italian Apple Cake (Torta Di Mele)
If you're looking for a quick and easy dessert that's always a crowd pleaser, this easy Italian apple cake, or torta di mele, is it. You need just 6 ingredients and one bowl to make it, and it's easy to make ahead or freeze.
Ingredients (UK/Australia? Click below for grams/ml)
1

cup

self-raising flour

(Alternatively, use all-purpose flour and add 2 teaspoons baking powder.)

½

cup

sugar

1

lemon

rind and juice

3

large

eggs

lightly beaten

4.5

ounces

butter

melted (½ cup or a stick – alternatively, use ½ cup oil)

4

apples

(Or 2.5 to 4 apples (see note below), depending on size, peeled & sliced thinly)

1

teaspoon

cinnamon

optional

¾

cup

pine nuts

½ cup in batter, ¼ cup on top – optional

Icing sugar for sprinkling at the end
to serve
icing sugar for sprinkling over the top

cream, ice cream or custard (optional)
Instructions
Pre-heat the oven to 355F / 180C.

Line an 8 inch round cake pan with baking paper and lightly grease with butter or spray with oil.

Zest and juice the lemon and set the zest aside. Put the chopped apples in a small bowl and pour the lemon juice over them.

Combine the flour, sugar and lemon zest together in a large bowl, then add the eggs, melted butter, cinnamon & pine nuts (if using) and 2/3 of the apples. Stir until just combined.

1 cup self-raising flour,

½ cup sugar,

3 large eggs,

4.5 ounces butter,

1 teaspoon cinnamon,

¾ cup pine nuts,

1 lemon

Tip the batter into the cake pan and smooth on top, then arrange the rest of the sliced apples on the top in a circle pattern (see photos in post and recipe video). Sprinkle over extra cinnamon (optional) and the rest of the pine nuts (if using).

Bake for about 1 hour, or until a skewer pushed into the centre of the cake comes out clean.

Cool, then sprinkle with a bit of icing sugar before serving. Serve slightly warm or cold alone or with ice cream or whipped cream.

icing sugar for sprinkling over the top,

cream, ice cream or custard (optional)
Notes
Number of apples to use: I vary the number of apples I use to make this cake. If they're small apples, I'll use 4. If they're big e.g. Granny Smith apples, I usually use just two and a half apples. If they're medium apples, about 3 is right! Just eye-ball it. You can't really go too wrong!
If the cake starts to brown too much in the oven: If the apples start to brown a little too much, just cover the cake over with some aluminium foil for the last part of cooking.
Freezing instructions: This cake freezes really well! If you'd like to freeze it, let cool completely then wrap in aluminium foil and/or a Ziploc bag before storing in the freezer.
When you want to serve it, let it defrost for a couple of hours, then warm slightly in the oven (if you like) by popping it into the oven on the 'keep warm' (or really low) setting for about half an hour.
Nutrition
Calories:
506
kcal
Carbohydrates:
52
g
Protein:
8
g
Fat:
31
g
Saturated Fat:
12
g
Cholesterol:
127
mg
Sodium:
185
mg
Potassium:
306
mg
Fiber:
4
g
Sugar:
30
g
Vitamin A:
715
IU
Vitamin C:
15.1
mg
Calcium:
39
mg
Iron:
1.8
mg