Can't decide whether to make a traditional apple pie or apple crumble? Why not make a cross between the two – a Dutch apple pie! An apple crumble pie with a delicious and crispy oat crumble topping, this crowd pleaser is easier to make than you think. It's a classic Autumn dessert that will just melt in your mouth!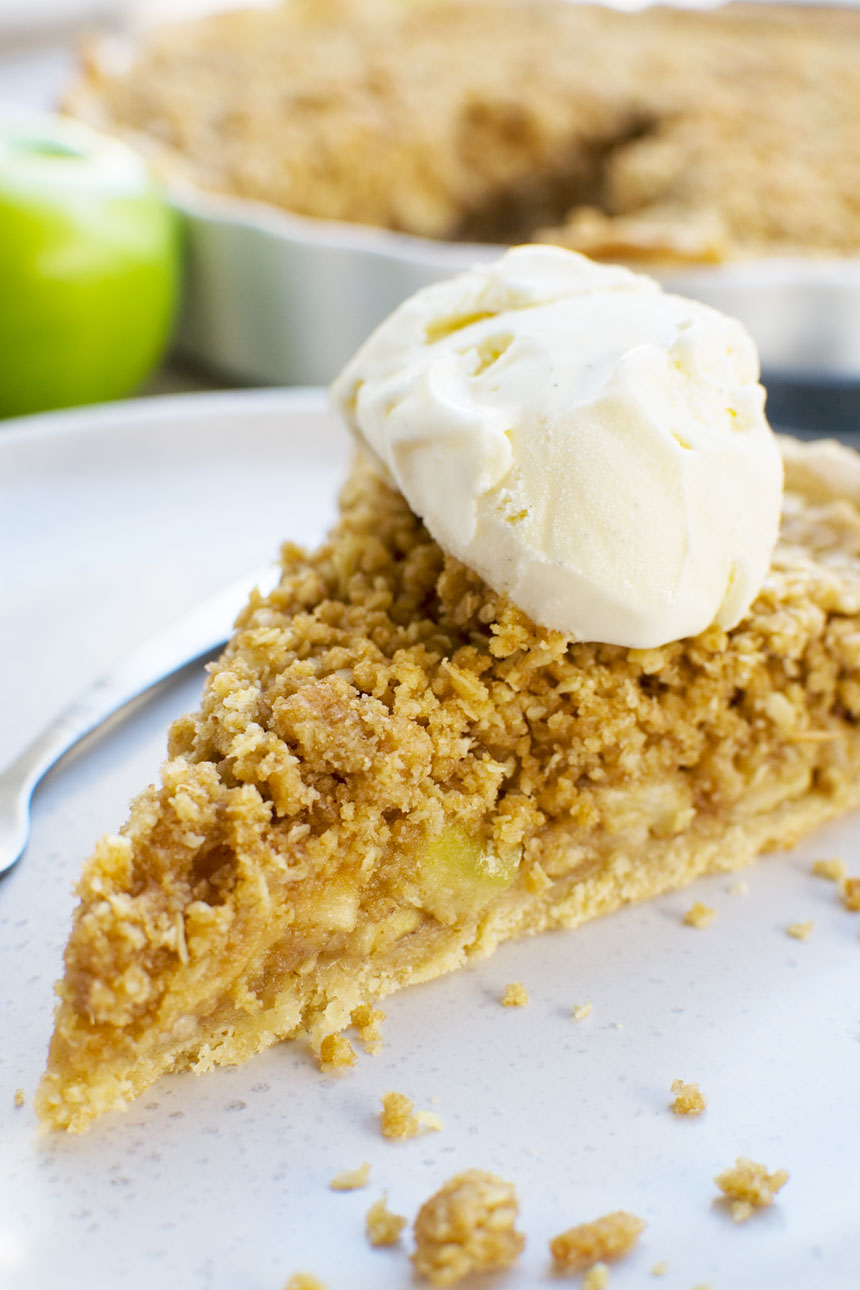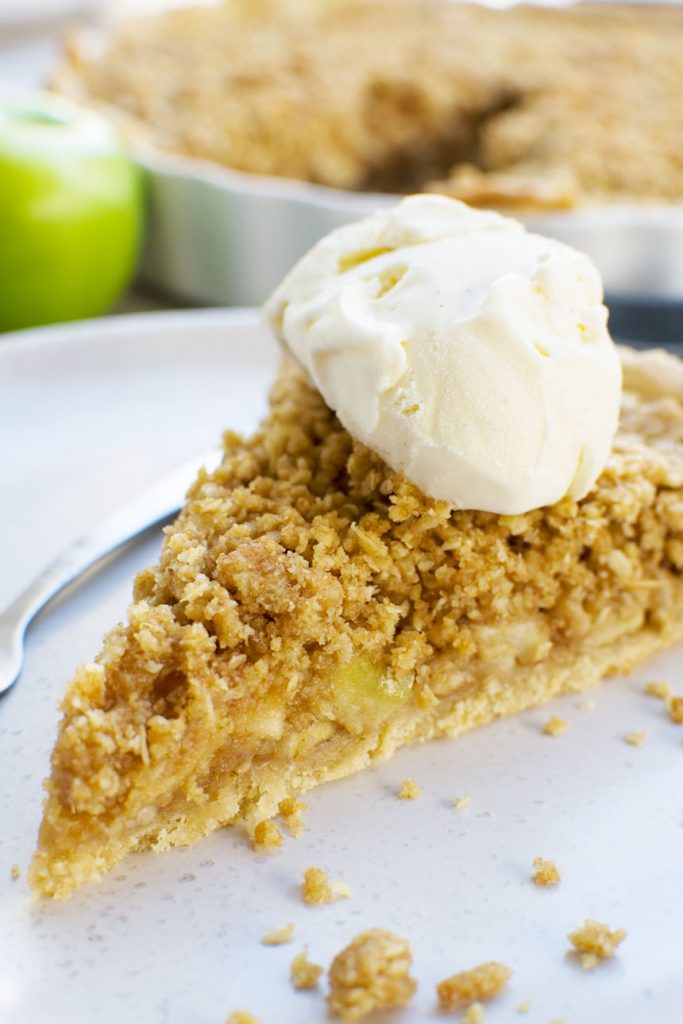 Crowd pleasing apple desserts!
When it comes to desserts, Mr. Scrummy and I usually go for options at opposite end of the spectrum. Gooey and chocolaty is always at the top of my list (have you tried this 30 minute HEALTHY chocolate cake yet?) while fruity, creamy and meringue-y is Mr. Scrummy's go-to.
We might never agree on what makes the perfect dessert, but a close second for both of us might be an apple cake, an apple pie, or an apple crumble. So why not mix all of these and make an apple crumble pie?
What's an apple crumble pie?
It's not just Mr. Scrummy and I. An apple crumble is one of Britain's favourite desserts, so you can depend on an apple crumble pie (otherwise known as a Dutch apple pie) to be a crowd pleaser, too!
It has a streusel or oat crumb topping instead of the pastry top of a normal apple pie.
It might sound and look a bit tricky and time consuming to make, but I assure you this is a very easy dessert recipe. Just a simple apple pie with a crumble topping!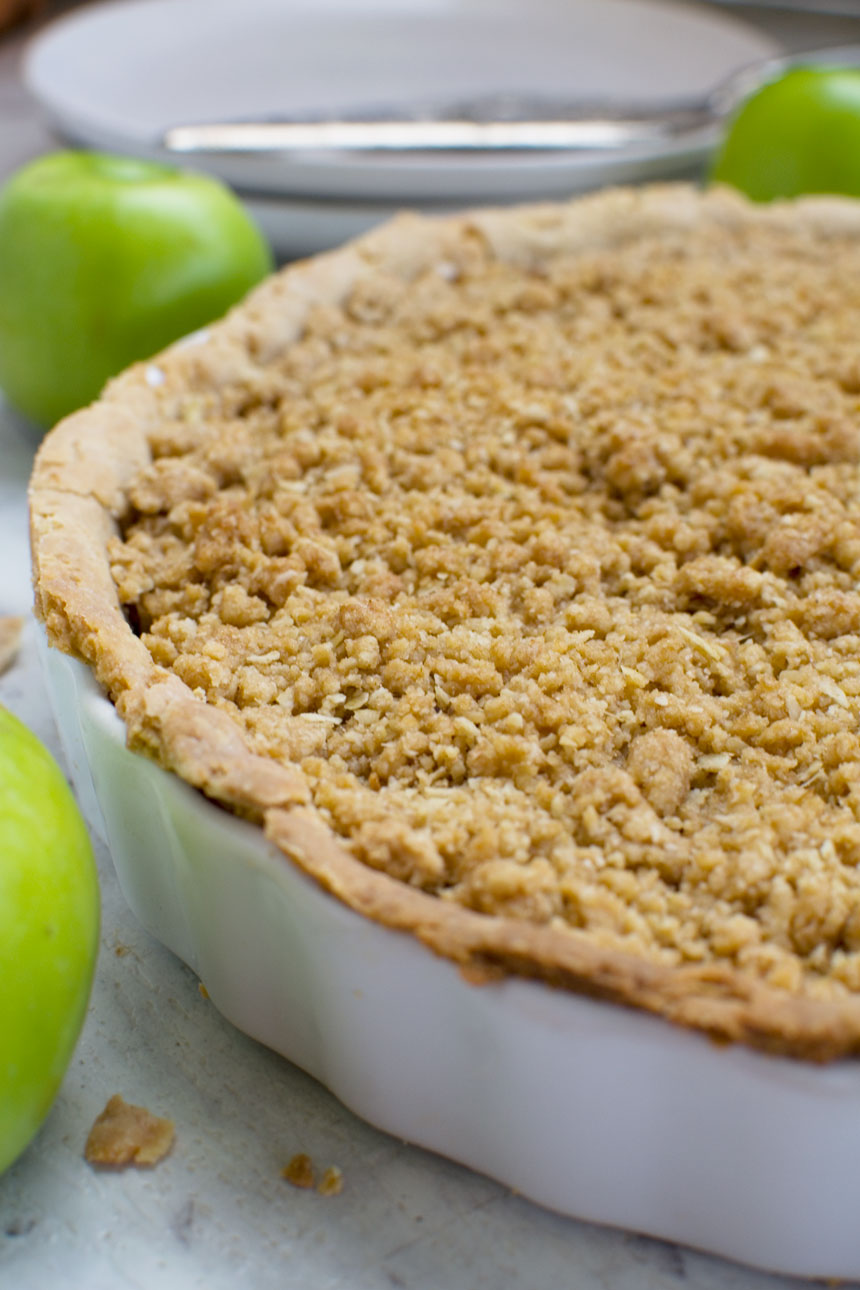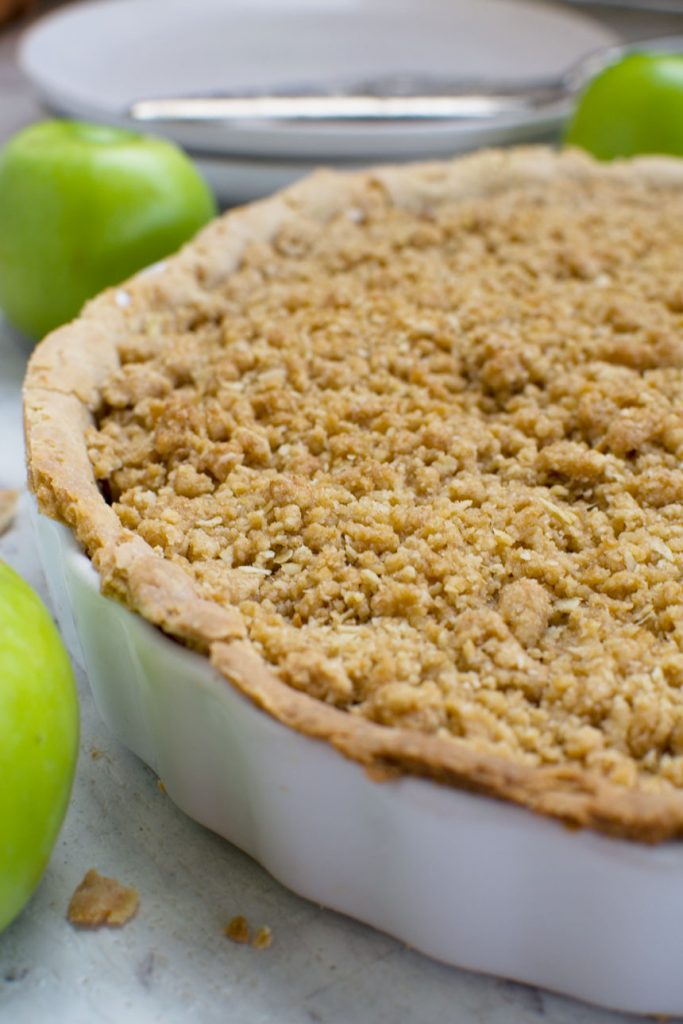 Why make THIS apple crumb pie?
Sorry-not-sorry if you came to this page to find the original version of my recipe. It's gooooone. It was horrifying how much butter and sugar was in it!
It:
contains less sugar and butter than the average homemade apple crumble pie recipe online. For me it is sweet enough. Plus I figure you'll be having a scoop of ice cream on top (or a sneaky drizzle of custard!)
doesn't require any pre-baking. You simply make the pastry and line a pie dish with it. Then you fill your pie case with a very simple apple filling and sprinkle over the crumble topping. The pastry, apples and crumble all bake themselves to perfection in under an hour.
contains brown sugar in the filling and topping. I wouldn't exactly call this a caramel apple crumble pie, but you'll detect a subtle caramel flavour.
contains some brown/wholewheat flour and oats in the crumble for a bit of nutty texture.
contains just the right amount of cinnamon and allspice. I add more than average, but not too much to be overpowering!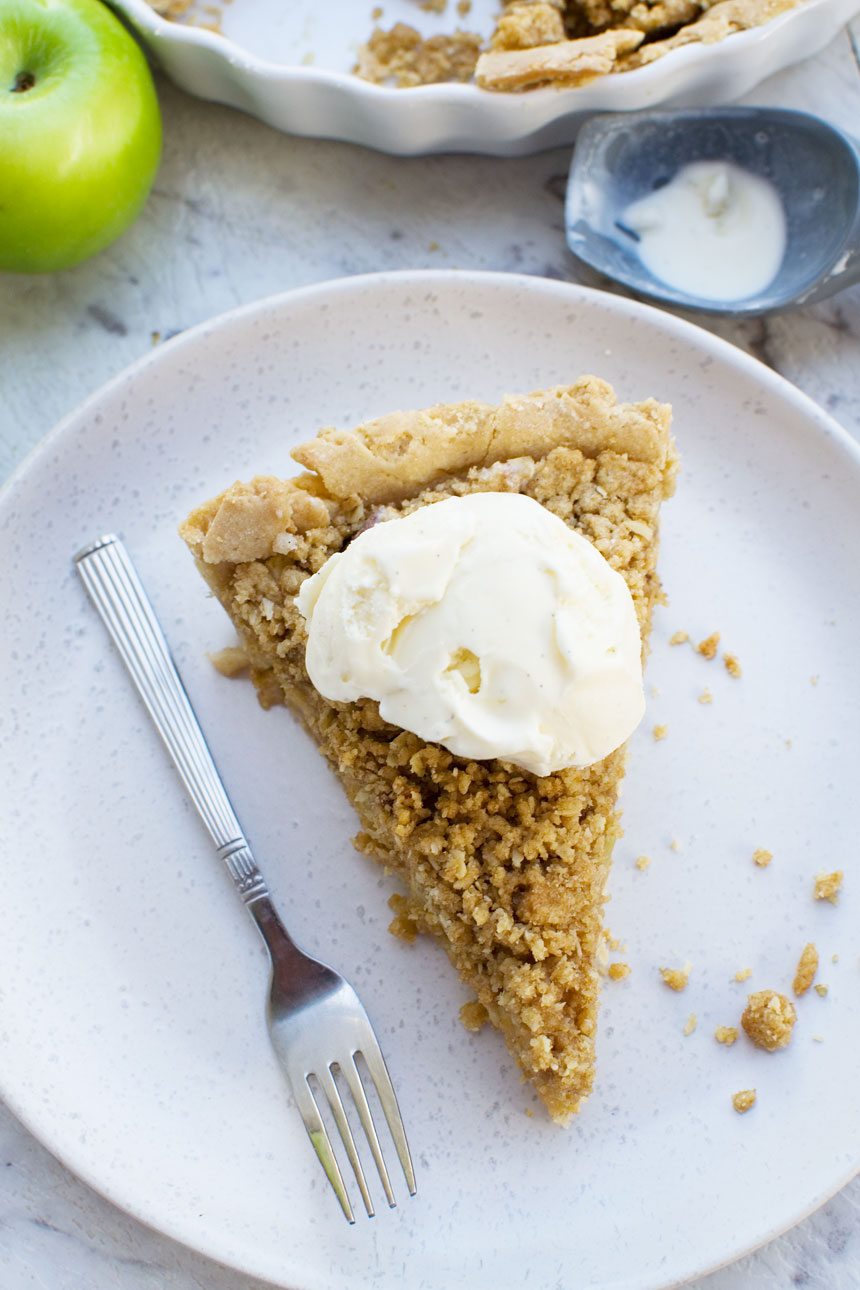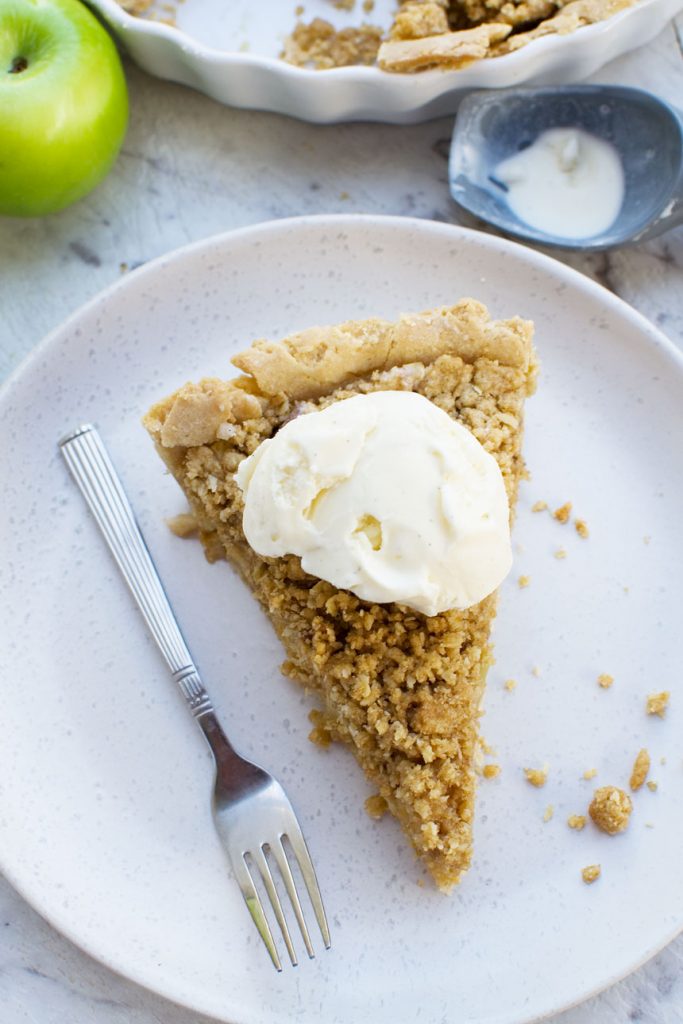 How do you make the pastry?
Some similar recipes I've come across suggest buying a ready made pastry case. You can do that if you like, but if you have a food processor, making your own sweet pastry case couldn't be easier (don't worry if you don't have one – the pastry is easy to make by hand too!).
This is all you have to do: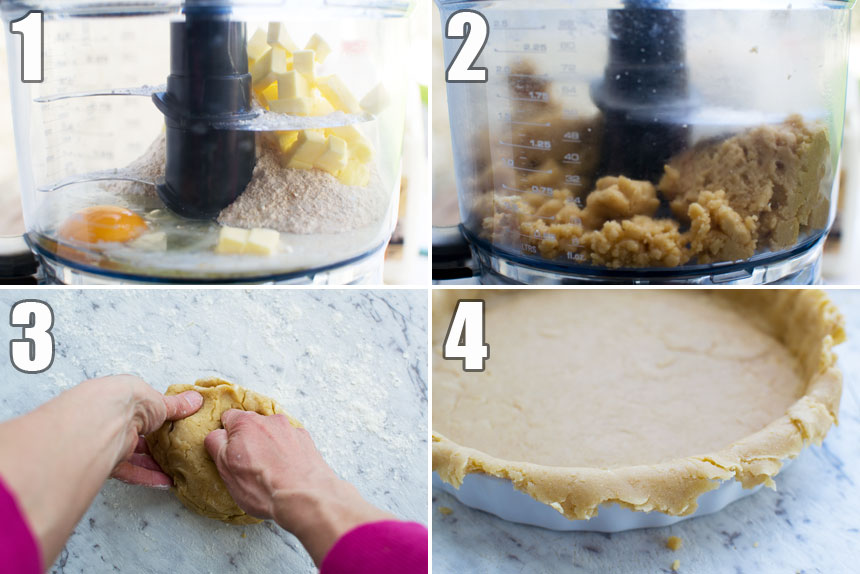 (Photos 1-2) Pulse butter, flour, sugar, an egg and a little water in a food processor. I like to use 1/3 to 1/2 whole wheat pastry, but feel free to use all white flour if you prefer.
(Photos 3-4) Knead pastry a few times, then roll out (with flour!). The pastry is quite soft, so I find it helps to fold all the sides into the middle. Place it into the pie dish all folded up, then unfold and press up and slightly over the sides. You might get some holes or rips, but it's really easy to press it back together again.
My pastry case always looks very rustic, but I think that all adds to the homemade look!
Pro pastry making tips: Want to be a champion sweet pastry maker? Use really cold butter, eggs and milk (straight from the fridge). Only process until your pastry just comes together (don't over-mix), and chill your pastry while making your apple filling and crumble topping, which will make it easier to roll out. Lastly, tuck some aluminium foil around the pastry edges while it's baking to stop it browning too much, or invest in a pastry shield!
Also, I've found that you DO NOT need to pre-bake your pastry when making an apple pie (although I did in the photos below, just to see if it was worth it…) I find the edges get too browned if you do.
As you might guess, I learned this the hard way!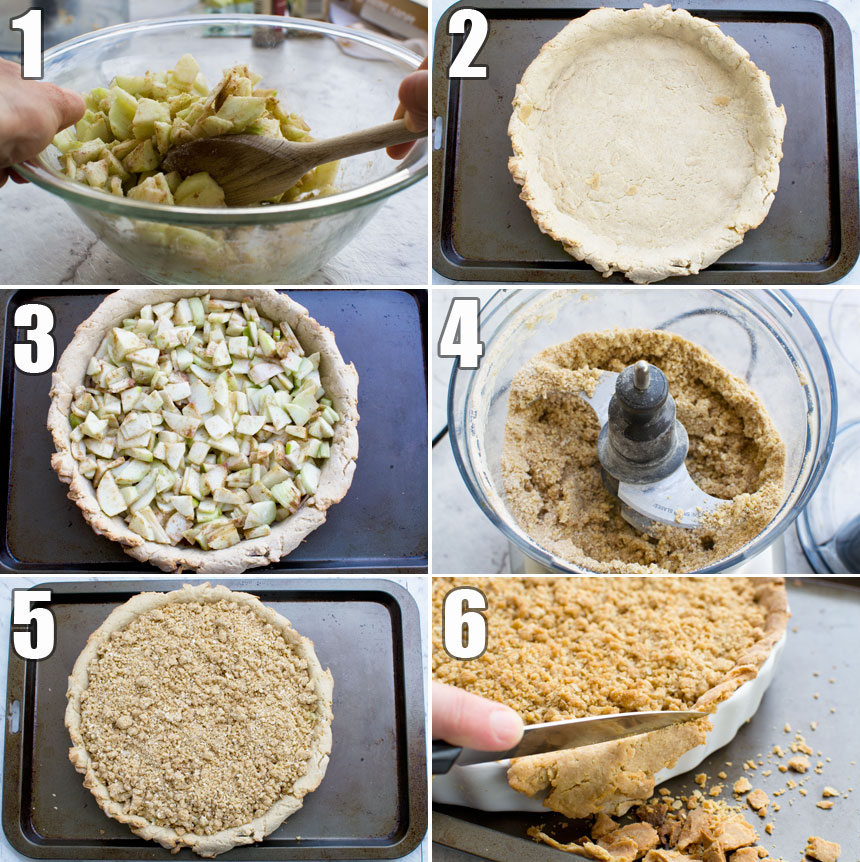 How do you make an apple pie filling?
(Photo 1 above) Making the filling is extremely easy. Just combine:
peeled and chopped apples
a tiny bit of flour
brown sugar (not too much)
a good amount of cinnamon & allspice
vanilla and a pinch of salt (if you like)
… and your filling makes itself during baking!
What are the best kind of apples to use?
I tend to choose Pink Lady apples for both this and my other favourite apple dessert, my easy apple cake. I find they have just the right balance of tangy and sweet. Other times I use some juicy, sharp Granny Smiths or Golden Delicious, or whatever catches my eye at the farmer's market.
My possibly unorthodox bottom line advice is to simply use your favourite apples. Or go for whichever apples are locally grown and in season because they will often be the tastiest!
How do you make the crumble topping?
(Photo 4 above) My oat crumble topping is really easy to make with just 4 ingredients (5 if you add a bit more cinnamon):
flour
butter
brown sugar
oats
cinnamon
I add some oats to my crumble topping, because I think it gives it a nice slightly nutty 'bite'.
Just rub cold cubes of butter into flour, sugar and oats with your fingertips, or pulse it all together in a food processor (I prefer this way – it's so easy).
(Photo 5 above) Sprinkle over the top of your pie, and in the oven it goes!
If you're thinking 'Hey, this is exactly how I'd make the topping for an apple crumble', you're absolutely right!
Pro tip: If you're looking for a traditional British apple crumble pie experience, TRY IT WITH CUSTARD! If you aren't in the UK or Australia, you can buy custard powder on Amazon (affiliate link), or if you're feeling brave you can try making your own. Here's a trustworthy recipe for homemade custard.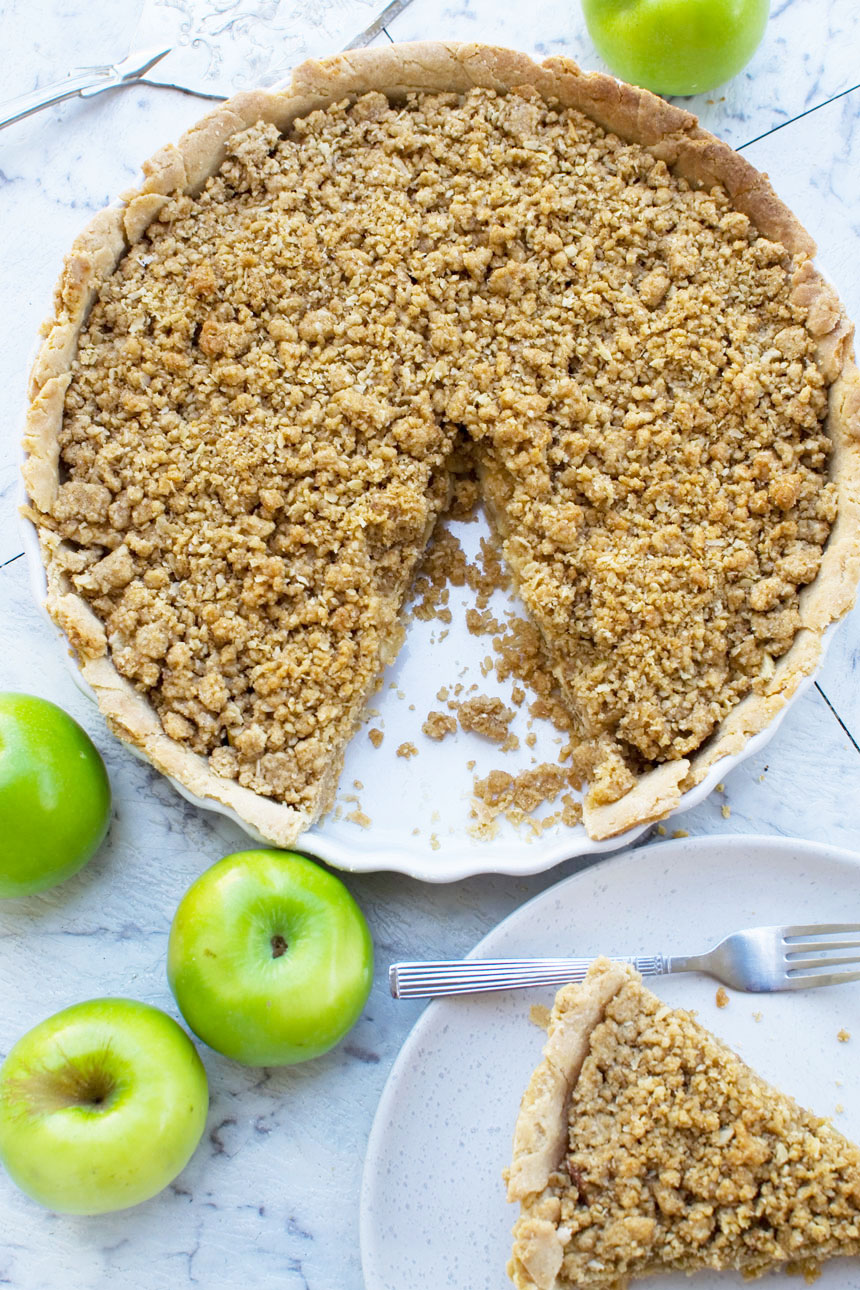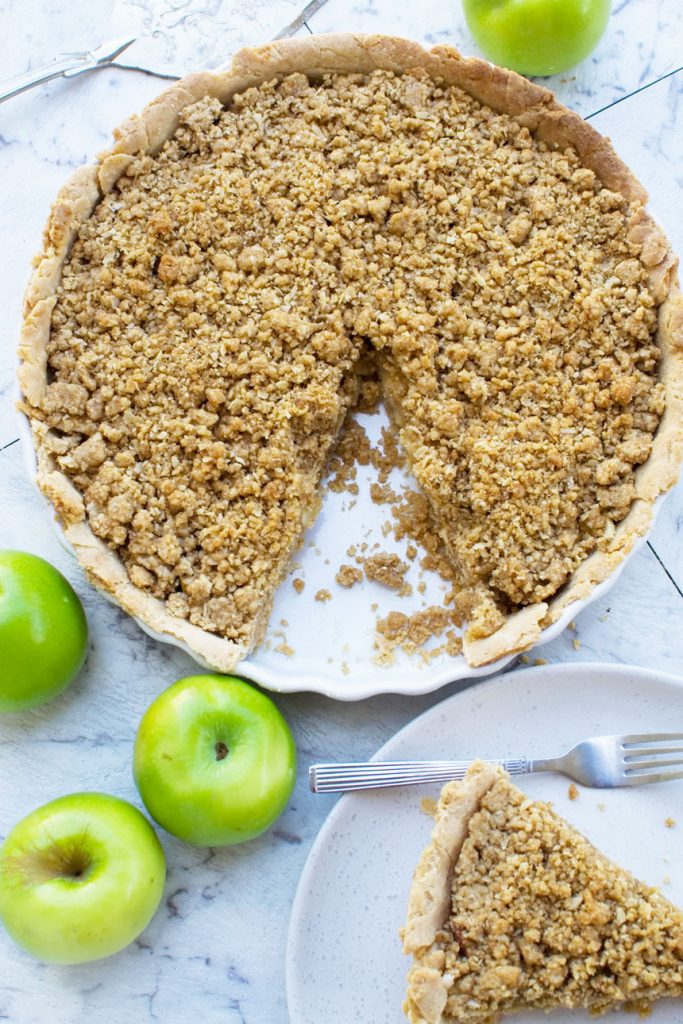 How long does this pie last?
In our house, not very long! But if you have more self control than we do, your pie will be fine for a couple of days on the counter if you cover it and it's in a coolish place.
In the fridge I find it's good for a couple of days longer than this.
Reheating it
Reheat your leftovers in the oven to crisp up the topping and pastry again.
I find about 15 minutes at 180C/350F is about right (or a few minutes in an air fryer at 160C/320F – my new favourite reheating trick!).
Can you freeze this?
Before baking
If you'd like to freeze your pie before baking, double wrap in aluminium foil. You may be happy to know that you can then cook it from frozen!
You'll have to add about 15 minutes on to the normal cooking time (so that's about 1 hour and 5 minutes). I'd also recommend turning the oven up to 220C/425F for the first 15 minutes of the cooking time. Just don't forget to turn it back down to 180C/355F after the first 15 minutes are up. (just saying, because that's what I'd be in danger of doing!)
After baking
If you'd like to freeze your already baked pie (leftovers maybe?), you can either defrost it for a few hours, then bake for about 15 minutes at 220C/425F. OR you can reheat from frozen. 30 minutes at 180C/355F should do it!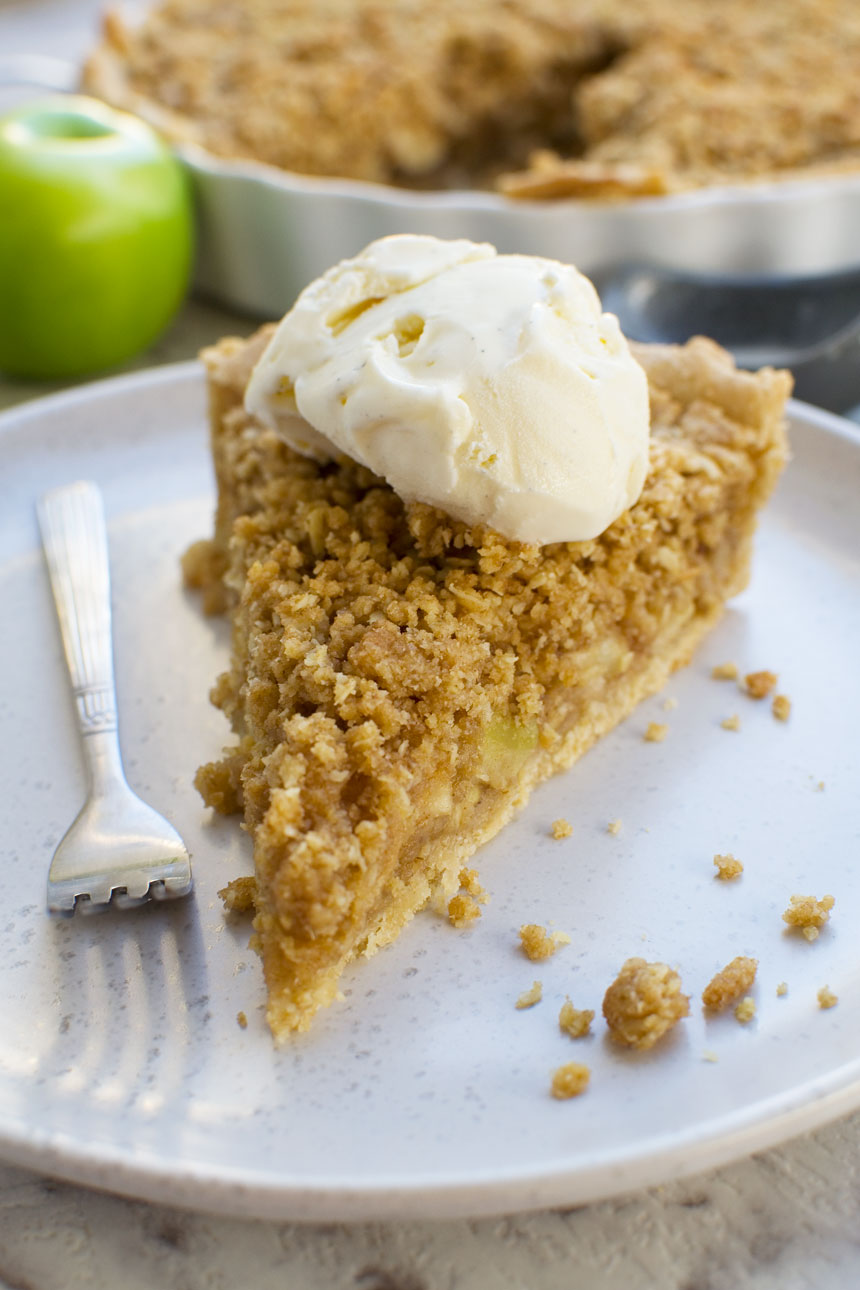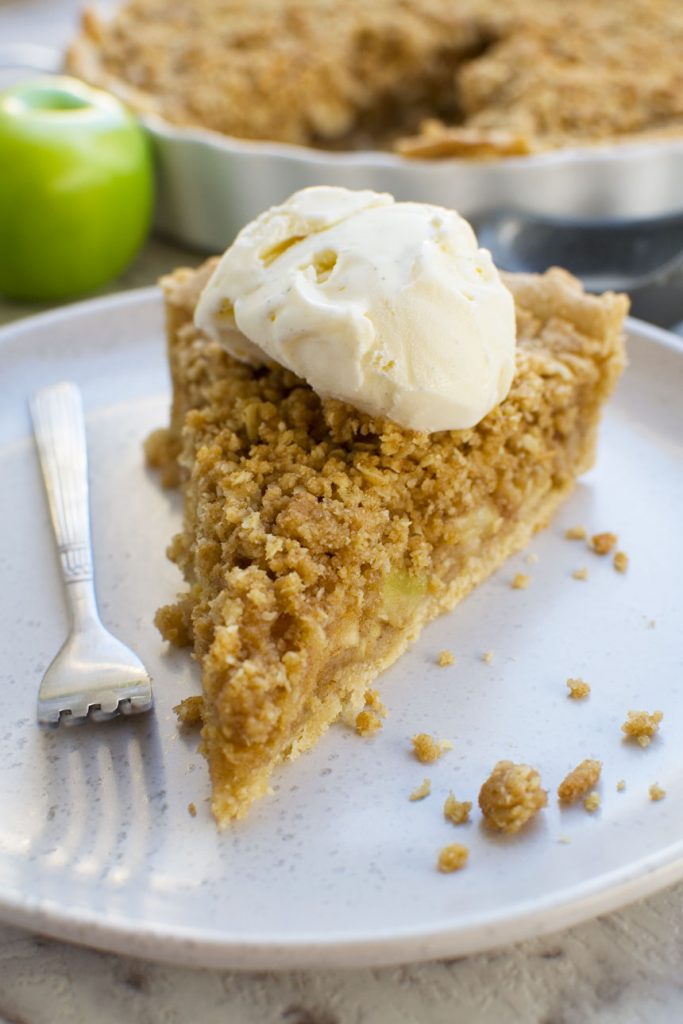 What can you do with your leftover shortcrust pastry?
I find it's easier to line my pie dish if I'm working with plenty of pastry, so I usually have some left over. Instead of just throwing it away, I wrap it well and store it in the fridge for up to a couple of days. Then I roll it out to a thickness of about half a cm and pile a smaller amount of apple mixture in the middle.
Make sure there's 2 to 3 inches of free pastry around the edge, then fold it up and over the filling, rustic style! Bake for about 30 minutes at 180C/355F and you'll have a delicious and very simple apple galette, or rustic apple pie. Sometimes I add a few frozen berries to the apple mixture too.
Here's a really interesting rustic apple tart recipe from the lovely Liz at That Skinny Chick Can Bake if you'd like to take this idea a bit further!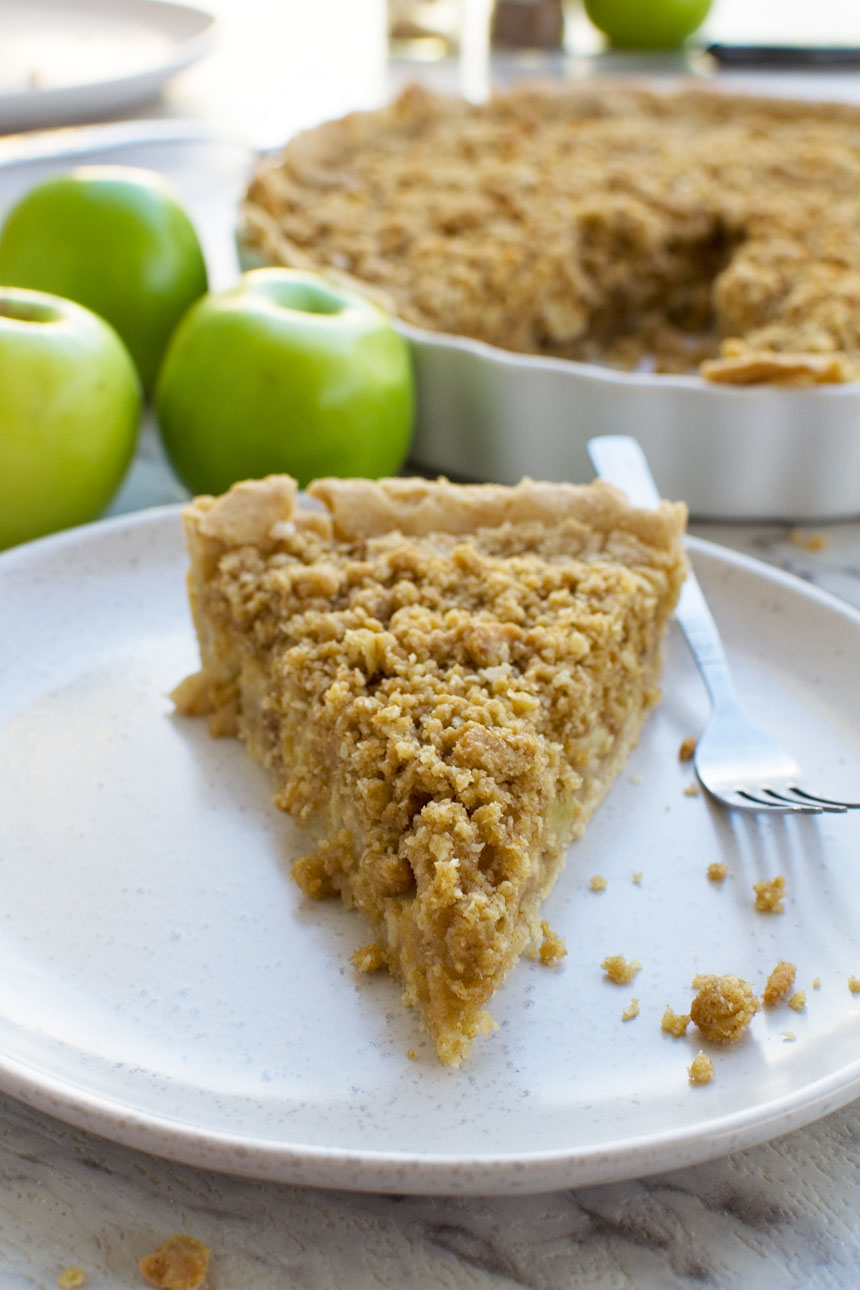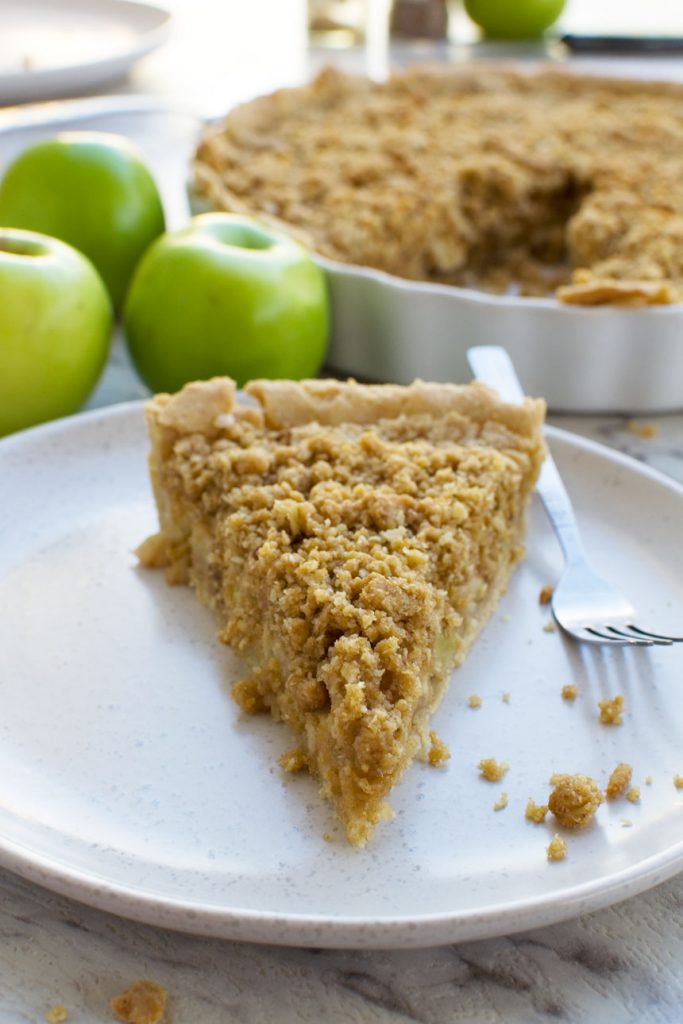 More apple recipes
More showstopper desserts
IF YOU MAKE THIS RECIPE, LET ME KNOW HOW YOU GET ON BY LEAVING A COMMENT AND RATING BELOW… AND DON'T FORGET TO SIGN UP TO RECEIVE ALL MY NEW RECIPES BY EMAIL!
FOLLOW ME ON FACEBOOK, INSTAGRAM, PINTEREST AND YOUTUBE.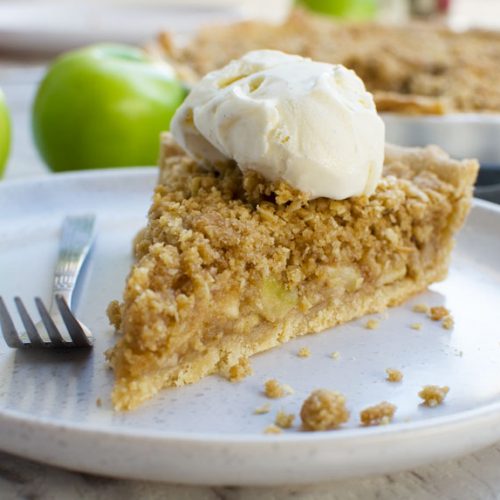 Easy apple crumble pie (Dutch apple pie)
Can't decide whether to make an apple pie or an apple crumble? This is a delicious and easy cross between the two – an apple pie with an apple crumble topping. it's perfect for serving at a family dinner. Just 3 simple steps and no pre-cooking of the pastry or apple filling necessary!
Equipment (affiliate links)
Ingredients (UK/Australia? Click below for grams/ml)
for the sweet pastry
2

cups

plain flour

(I half and half whole wheat flour & white flour)

¼

cup

caster sugar

4½

ounces

butter

(about ½ cup – cold, cut into small cubes)

1

egg

1

tablespoon

milk
for the apple filling
1

pound

apples

(unpeeled weight, usually 4 to 5 apples)

¼

cup

brown sugar

2

tablespoons

flour

1.5

teaspoons

ground cinnamon

½

teaspoon

allspice

1

teaspoon

vanilla essence

optional

1

pinch

salt
for the crumble topping
¾

cup

flour

¼

cup

light brown sugar

⅓

cup

oats

(actually, just over ⅓ cup)

2.5

ounces

butter

(about ⅓ cup – cold, cut into small cubes)

1

teaspoon

ground cinnamon

1

pinch

salt
Instructions
Make the pastry. Process the flour, sugar, butter, egg and milk in a food processor until big clumps or a pastry ball forms (see notes if you don't have a food processor).

Knead a few times on a floured surface until you have a smooth ball of pastry (add more flour if it feels too wet). Wrap in plastic or foil and chill in the fridge while you make the filling.

Pre-heat oven to 190C/375F. Peel and chop the apples into small pieces, then put them in a medium bowl. Stir through all the other filling ingredients.

To make the crumb topping, pulse all ingredients together in a food processor for a few seconds, until it looks like breadcrumbs.

Now roll out the pastry with plenty of flour. Use to line a 9-inch (23cm) pie dish. Trim pastry around the edges with a sharp knife.

Tip the apple mixture into the pastry case, then sprinkle the crumble topping all over the apples in an even layer.

Loosely tuck aluminium foil around the pastry edges to prevent over browning (or use a pie crust shield), then bake for 50 to 55 minutes, until the crumble topping is golden.
Notes
Pastry
Feel free to use ready-made sweet pastry if you prefer!
If you don't have a food processor, to make the pastry simply rub the butter into the flour and sugar with your fingertips until you have fine crumbs. Then add the egg and milk and bring together into a ball with your hands, adding a little more flour if too wet.
The pastry will be quite soft. To get it into the pie dish more easily, I usually fold it in on itself so that I can scoop it up and place it in the middle of the pie dish. From there I carefully unfold it, then press it into the sides.
I usually find bits of the pastry break and have holes, but because it's so soft you can easily press it back together, or use excess pastry to 'patch it up'. The rustic look is fine!
I usually slice any overhanging pastry off before baking with a sharp knife. The pastry can shrink slightly in the oven, but not enough for it to matter, I find. Alternatively you can slice it off after baking, but this can be a bit messy!
Crumble topping
If you don't have a food processor, simply combine all the dry ingredients. Then rub in the cold butter cubes with your fingertips until you have a mixture that resembles breadcrumbs.
Baking
To stop the pastry edges getting a bit too brown in the oven, just loosely tuck a bit of aluminium foil around them. Alternatively you can be fancy and use a proper pie crust shield (affiliate link)!
Reheating and freezing
This apple pie reheats and freezes beautifully. Reheat at 180C/355F for about 15 minutes (or you can reheat individual pieces for 2 to 3 minutes in an air fryer! (affiliate link).
Freeze it either unbaked or baked. Unbaked: Cook from frozen, adding 15 minutes to the cooking time. Turn the oven up to 220C/425F for the first 15 minutes. Baked: Reheat from frozen for 30 minutes at 180C/355F. Or let defrost then reheat from frozen at 220C/425F for 15 minutes.
Nutrition
Calories:
488
kcal
Carbohydrates:
69
g
Protein:
6
g
Fat:
21
g
Saturated Fat:
13
g
Cholesterol:
74
mg
Sodium:
203
mg
Potassium:
154
mg
Fiber:
3
g
Sugar:
30
g
Vitamin A:
680
IU
Vitamin C:
3
mg
Calcium:
42
mg
Iron:
3
mg