I can't think of a better choice for a crowd pleasing dessert than an apple pie. And why not give your pie an interesting twist by adding a delicious oaty crumble topping? You might think it complicates it, but it's still really easy to make. Perfect for Fall, or any season!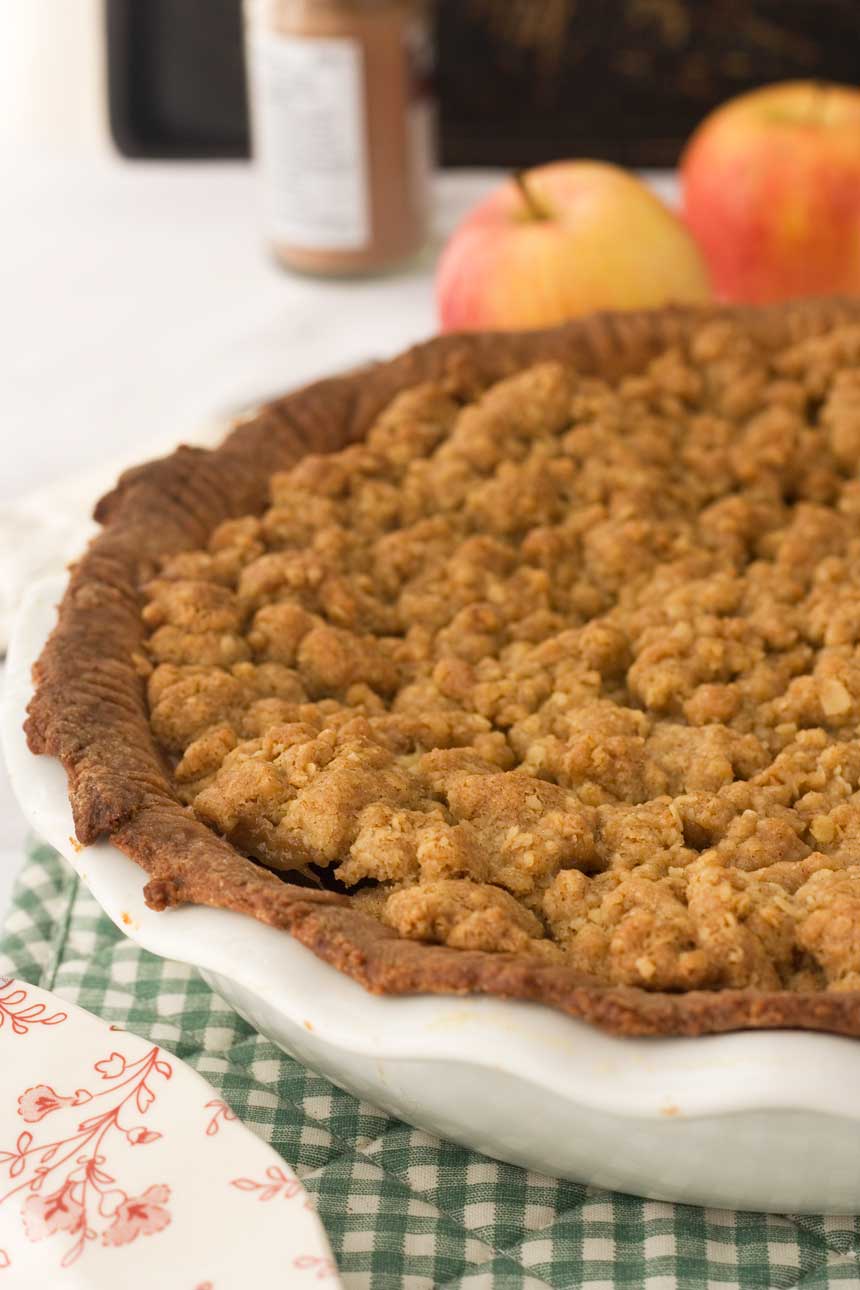 A work colleague and I were saying recently that you really can't go wrong with a British Sunday roast – a roast-meat-potatoes-and-vegetables dinner traditionally eaten on a Sunday. It's fairly easy to make, and a real crowd pleaser. I don't think I've ever met anyone who doesn't enjoy it.
This used to be a Sunday ritual, but many people don't bother with it any more, choosing instead to grab a 'roast' in a restaurant (also delicious!), or eat something else altogether.
Myself included. Although I do love to make a roast for family or even just for the two of us every now and again.
An apple dessert is always such a crowd pleaser!
When I do make the effort to do this, we have to have a traditional dessert as well (or 'pudding' as it's called over here!), and I always think a perfect choice is either an apple pie or an apple crumble. Just like the delicious dinner it follows, either of these options are fairly simple to throw together, and pretty sure to please everyone at the table.
So which of these two options did I go for in the end when I cooked a roast for family this past weekend? An apple crumble or an apple pie? Well, unable to decide, I opted to make a Dutch apple pie – an apple pie with an oat crumble top!
What's the difference between a Dutch apple pie and an apple pie?
The only difference is that a Dutch apple pie has a streusel or crumb topping instead of a pastry top. I really like the idea of a streusel topping on an apple pie because it's a little easier to make than regular pastry, and debatably even more delicious.
And as I said above you kind of end up with a cross between an apple pie and an apple crumble. It's the best of both worlds, and if you're from the UK you'll know this combination must be a fabulous thing!
How do you make the crumb topping for a Dutch apple pie?
Very easily. Just rub cold cubes of butter into flour, sugar and oats. Sprinkle over the top of your pie and you have the most delicious crumbly topping imaginable.
Use ready-made pastry, or make your own?
I originally intended to use ready-made shortcrust pastry, just to make it super easy, but when I couldn't find any sweet pastry I decided to make my own after all. I usually don't enjoy making my own pastry (too much trouble!) but this time I threw everything in my food processor and… hey presto, there was my ball of dough in seconds!
It was one of those 'Why on earth haven't I done this before?' moments. Definitely no looking back from now on where me and pastry's concerned. It's getting made like this every time.
How do you make an apple pie filling?
I'm a bit ashamed to say this was the first time I'd ever attempted to make my own apple pie filling, but it turned out perfectly.
The best thing about it is that you don't have to pre-cook it.
Just combine:
chopped apples
flour
sugar
cinnamon
allspice
… and your filling makes itself during baking!
That's my kind of easy dessert.
Don't forget the custard!
One final tip – for a traditional British version of this, DON'T FORGET THE CUSTARD!
If you happen to be in the USA, sorry, I know this isn't very readily available there. I think your closest 'equivalent' would be vanilla pudding (a different sort of pudding!), just to give you an idea of what custard is like.
You can buy custard powder on Amazon, or, if you're feeling brave, you could even try making your own. Here's a trustworthy recipe for it.
But of course if you eat your slice of Dutch apple pie with ice cream or cream instead, that's OK too (I suppose!).
This Dutch apple pie is easy to make, but if you still think it's too much trouble you might like to make this easy apple cake instead. It's got just 6 main ingredients and only takes about 15 minutes to make!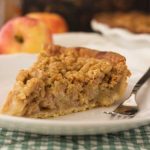 Dutch apple pie
A classic Dutch apple pie - perfect for a family dinner. It's hard to think of a better crowd pleasing dessert! And it's pretty easy to make. No pre-cooking of the apple filling necessary!
Ingredients
for the rich sweet pastry
1 1/2

cups

flour

1/4

cup

fine/caster sugar

1

stick

butter

(cold, cut into small cubes)

1

egg

a splash of milk
for the apple filling
6

apples

I used Granny Smiths

3/4

cup

sugar

2

tablespoons

flour

1/2

teaspoon

ground cinnamon

1/4

teaspoon

allspice
for the crumble topping
3/4

cup

flour

1/2

cup

light brown sugar

1/2

cup

oats

1

stick

butter

(cold, cut into small cubes)
Instructions
Pre-heat oven to 180C / 355F. Then, make the pastry. Add the flour, sugar, butter, egg and milk into a food processor and process until a pastry ball forms. Remove from the processor, then knead a few times on a floured surface until you have a smooth ball of pastry (add a tiny bit more flour if it feels too wet).*

Roll out pastry on a well-floured surface, and use to line a 9-inch pie dish. Trim pastry around the edges.**

Line pastry case with baking paper, then baking beads or beans/rice. Bake for 10 minutes, then remove the paper and baking beads and cook for another 10 minutes until golden. Leave to cool a little while you make the filling.

To make the filling, peel and chop the apples into small pieces, then add to a bowl and mix in the sugar, flour, cinnamon and allspice.

Tip the apple mixture into the pastry case, loosely cover with aluminium foil and bake for 10 minutes at 200C / 390F.

Meanwhile, make the crumble topping. Mix together the flour, sugar and oats, then rub the butter in with your fingertips until you have crumbs (alternatively, pulse all ingredients together in your food processor for a few seconds, until you have crumbs).

Scatter the crumble topping evenly on top of the pie. Reduce the oven temperature to 190C / 375F and bake for 30 to 35 minutes, until the crumble topping is golden and the apples are starting to bubble through the gaps. Cover the pastry edges with kitchen foil half way through cooking if it starts to get a bit too brown.

Serve hot with custard, ice cream or cream. Enjoy!
Recipe Notes
Feel free to use ready-made sweet pastry if you prefer!
*Don't worry if you don't have a food processor. Simply rub the butter into the flour and sugar with your fingertips until you have fine crumbs. Then add the egg and milk and bring together into a ball with your hands, adding a little more flour if too wet.
**Leave a tiny bit of pastry overhanging, as it tends to shrink in the oven!
Nutrition Facts
Dutch apple pie
Amount Per Serving
Calories 584
Calories from Fat 216
% Daily Value*
Total Fat 24g 37%
Cholesterol 81mg 27%
Sodium 216mg 9%
Potassium 227mg 6%
Total Carbohydrates 89g 30%
Protein 5g 10%
* Percent Daily Values are based on a 2000 calorie diet.