Don't be stuck over what to do with your leftover rotisserie chicken ever again! Stuff it in a wrap with rice noodles, some crunchy veggies, a bit of chili heat and some tasty hoi sin sauce!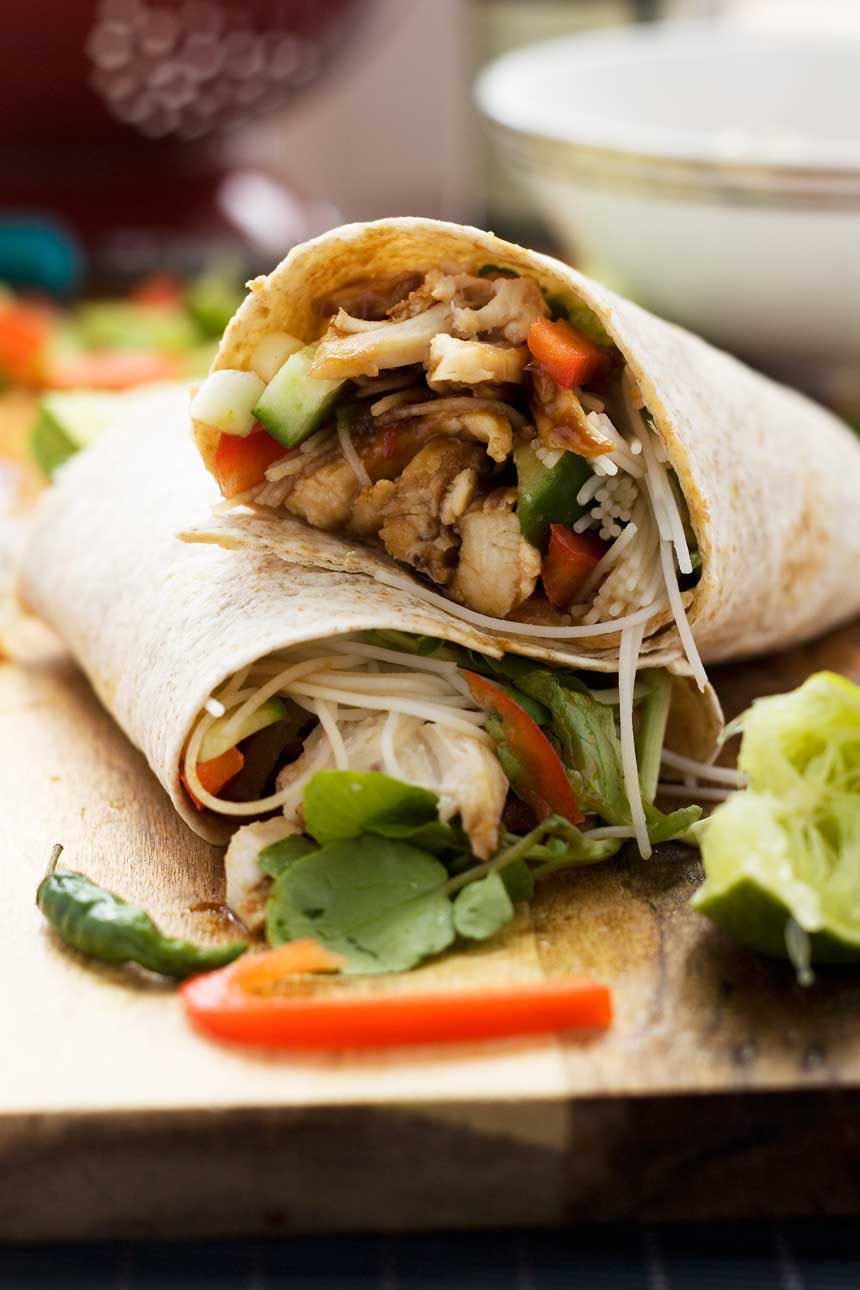 I do love buying rotisserie chickens. You know, those ready-cooked chickens from the supermarket. They always seem to be much more fall-apart tasty than anything I can ever produce at home (although I must admit I haven't given myself too much practice!). They are also perfect for lazy days, of course, when you just don't want to cook your own chicken, however easy the recipe might be.
What I don't like very much is carving the chicken, rotisserie or not (that's Mrs. Lazy Bones talking again …) buuut once it is all carved up and shredded, there always seems to be plenty of leftovers for the next day. Makes all that heavy duty carving worth it!
The question is, of course, what to do with those plentiful leftovers. You would think that I would be spilling over with ideas but … nope. To be honest all I can ever think of is some sort of chicken pie. Delicious of course (I do love me a good pie!) but now that we're heading into the summer season a heavy pie doesn't really cut it.
So I was very happy to spot something very similar to this hoi sin chicken noodle wrap in a Jamie Oliver cookbook I was leafing through the other day. Good old Jamie has loads of ideas for what to do with leftover meat, bless him!
I can think of lots of great things about this wrap, but the best are (in no particular order!):
It can be a lunch or, add a few crispy potatoes and it can be … dinner!
The rice noodles don't need any cooking, just 5 mins of soaking in boiling water. You already have your cooked chicken ready, remember, so that makes this a very quick and easy no-cook wrap!
Hoi sin sauce is very flavourful, as you may well know, so you only need to drizzle a heaped tablespoon or so over the ingredients in your wrap. Fiddling about with other dressings not needed! (oh, apart from a generous squeeze or two of lime juice!)
The other little 'bits' you add to the wrap, as well as the chicken, noodles and hoi sin sauce, can vary according to what you've got hanging about in your fridge. I think Jamie suggests spring onions (scallions!), chili (if you like), lime and match-sticked cucumber and carrot, but I didn't have any carrots so I added thinly sliced red peppers instead.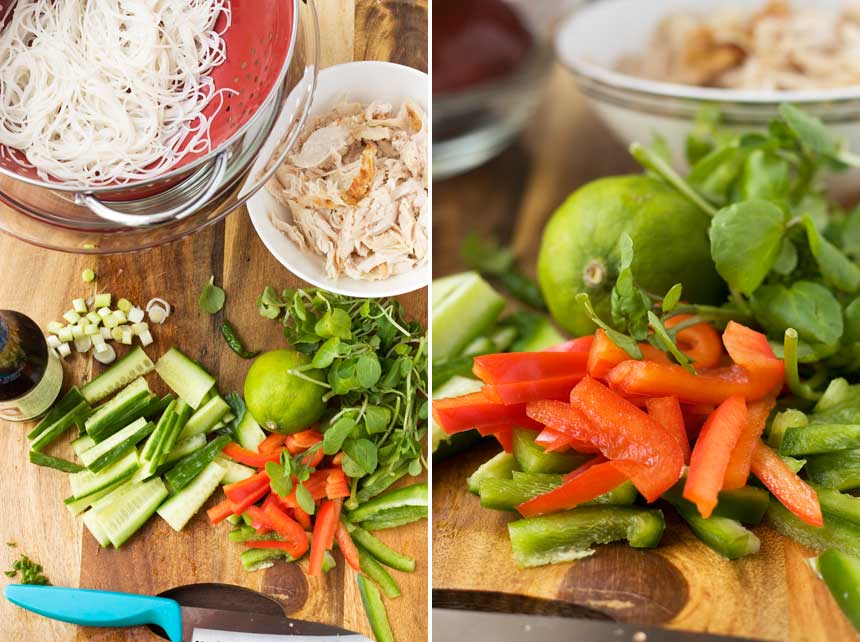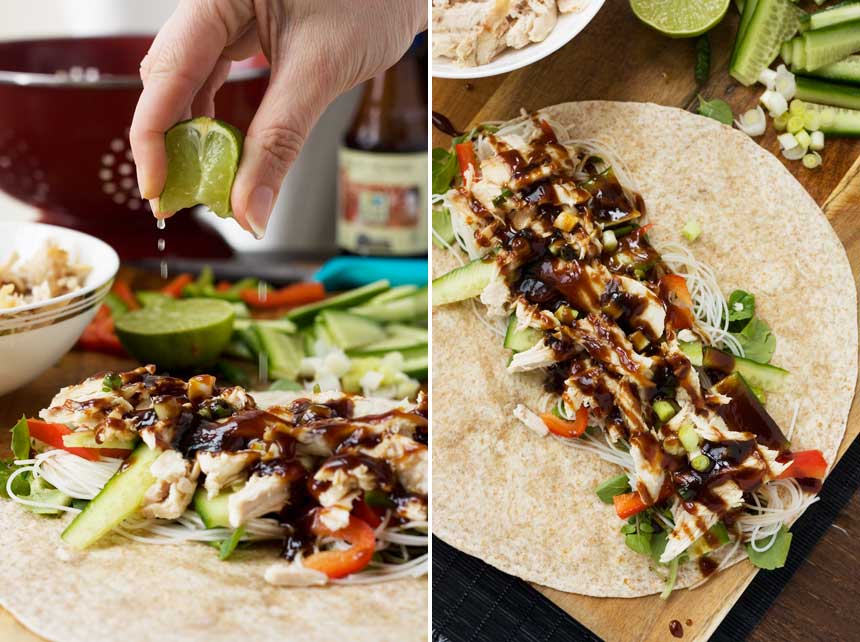 This was a much tastier lunch than I'm used to eating (really should get a bit more adventurous with my lunches!). I must admit it was a tad messy, with hoi sin sauce dribbling down my chin a couple of times (perhaps don't dwell on that one too much), but oh it was worth it!
You could even soak a few more noodles and chop up a few more veggies and store them in the fridge so that you can have this wrap twice on the trot. I wouldn't recommend making up the wrap for the next day, because it goes a bit soggy from the sauce and lime juice – poor Mr. Scrummy found this out first-hand, the poor thing, after I sent him off to work with a pre-made hoi sin chicken noodle wrap. Luckily he didn't complain too much and said it was still very tasty!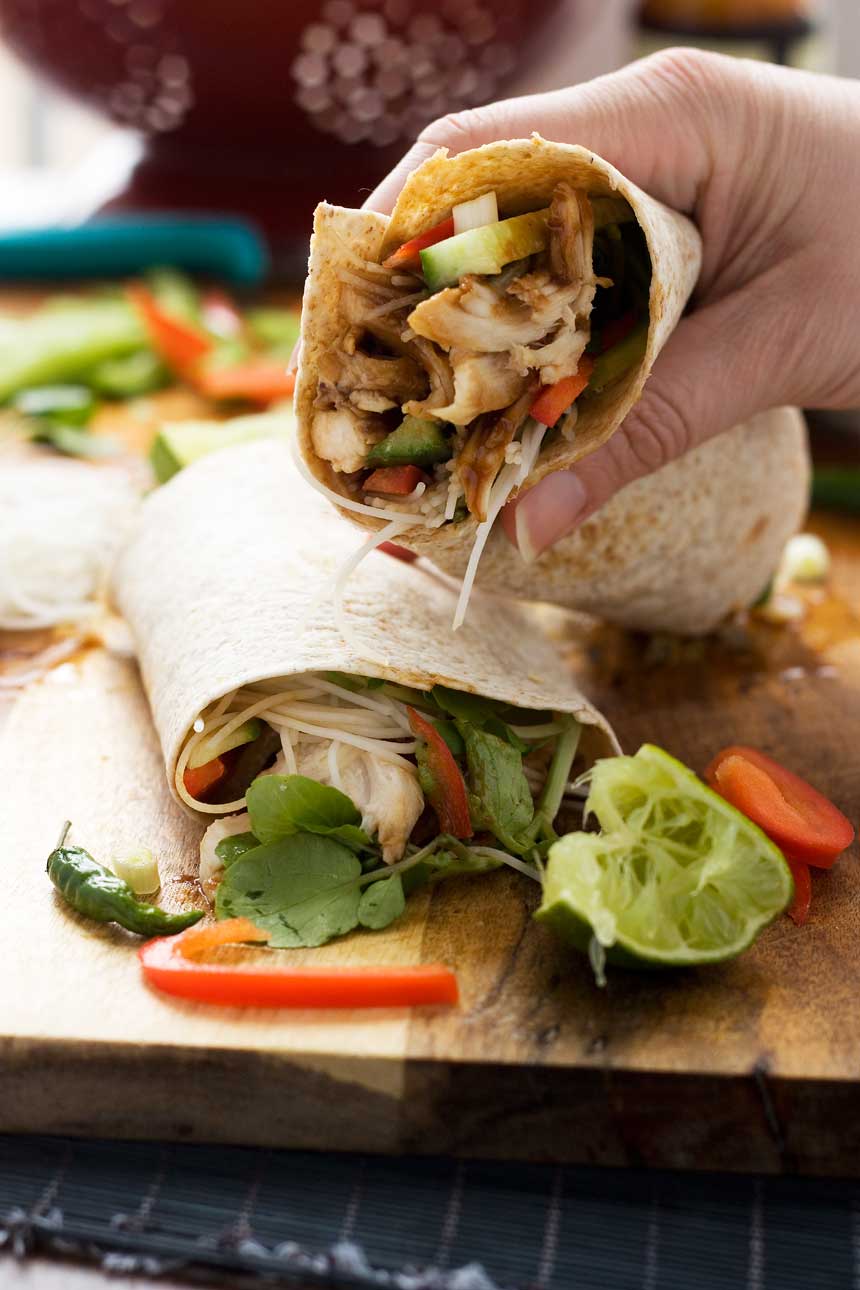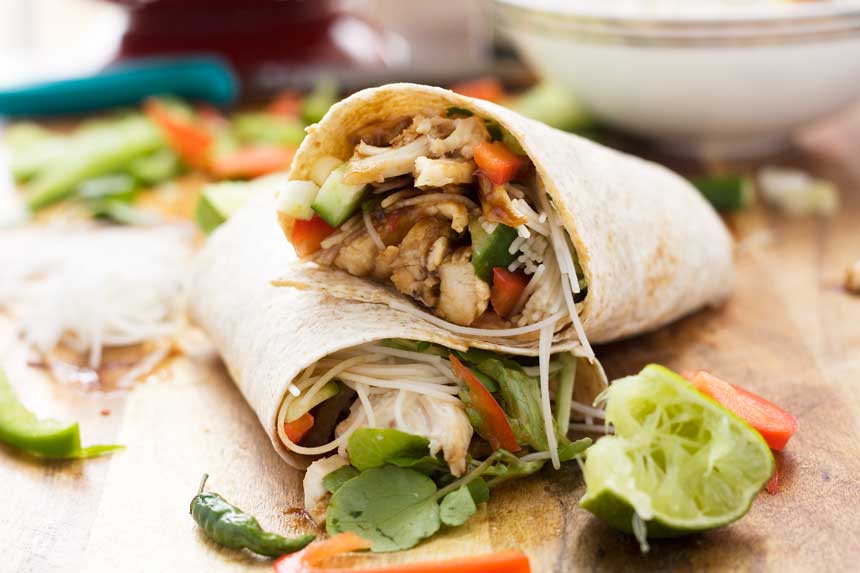 Quick hoi sin chicken noodle wrap
This is perfect for lazy days when you have leftover rotisserie chicken that you don't know what to do with. Just shred it up and stuff it in a tortilla with rice noodles, crispy veggies, chili and hoi sin sauce. Believe me when I tell you this makes a VERY tasty lunch!
Ingredients (UK/Australia? Click below for grams/ml)
1.5

ounces

fine rice noodles

2

tortillas

a couple of handfuls of watercress

or other green salad leaves of your choice

about a 10-cm piece cucumber

sliced into matchsticks

1/4

of a red pepper

thinly sliced

about 2 handfuls cooked shredded chicken

leftover rotisserie chicken is great!

2

spring onions

1

fresh red chili

optional

2

tablespoons

hoi sin sauce

1

lime
Instructions
Soak the noodles in a bowl of boiling water for about 5 minutes. Drain well and set aside.

Warm the tortillas, either in a dry frying pan or in the microwave for 30 seconds.

Lay the tortillas on a clean board or work surface. Lay half the watercress/salad leaves down the centre, then top with the noodles, cucumber and red pepper. Then scatter over the chicken, spring onions and chili (if using).

Finally, drizzle over the hoi sin sauce and lime juice, then roll the wrap up as tightly as you can. Cut in half and enjoy immediately!
Notes
You could wrap this in aluminium foil and pop in the fridge for a while before eating, but don't leave it there overnight – it might go a bit soggy!
Nutrition
Calories:
230
kcal
Carbohydrates:
47
g
Protein:
4
g
Fat:
2
g
Sodium:
508
mg
Potassium:
236
mg
Fiber:
3
g
Sugar:
8
g
Vitamin A:
800
IU
Vitamin C:
63.4
mg
Calcium:
57
mg
Iron:
1.9
mg
*Recipe slightly adapted from Jamie Oliver's 'Quick Chinese Wrap' in Save with Jamie

You can also find more from Scrummy Lane on Facebook, Pinterest, Twitter and Instagram and follow me on Bloglovin! Thanks so much for reading!
*This post may contain affiliate links which means that if you click on a link and make a purchase I get a small percentage of the amount you spend. At no extra cost to you, of course! Thank you!*