Impress at the party with these stunning but easy to make gold and silver gingerbread muffins! They're perfect for a birthday party, engagement party, Christmas party, baby shower, or any kind of celebration. The salted caramel icing on the top will have you rolling your eyes in pure ecstasy!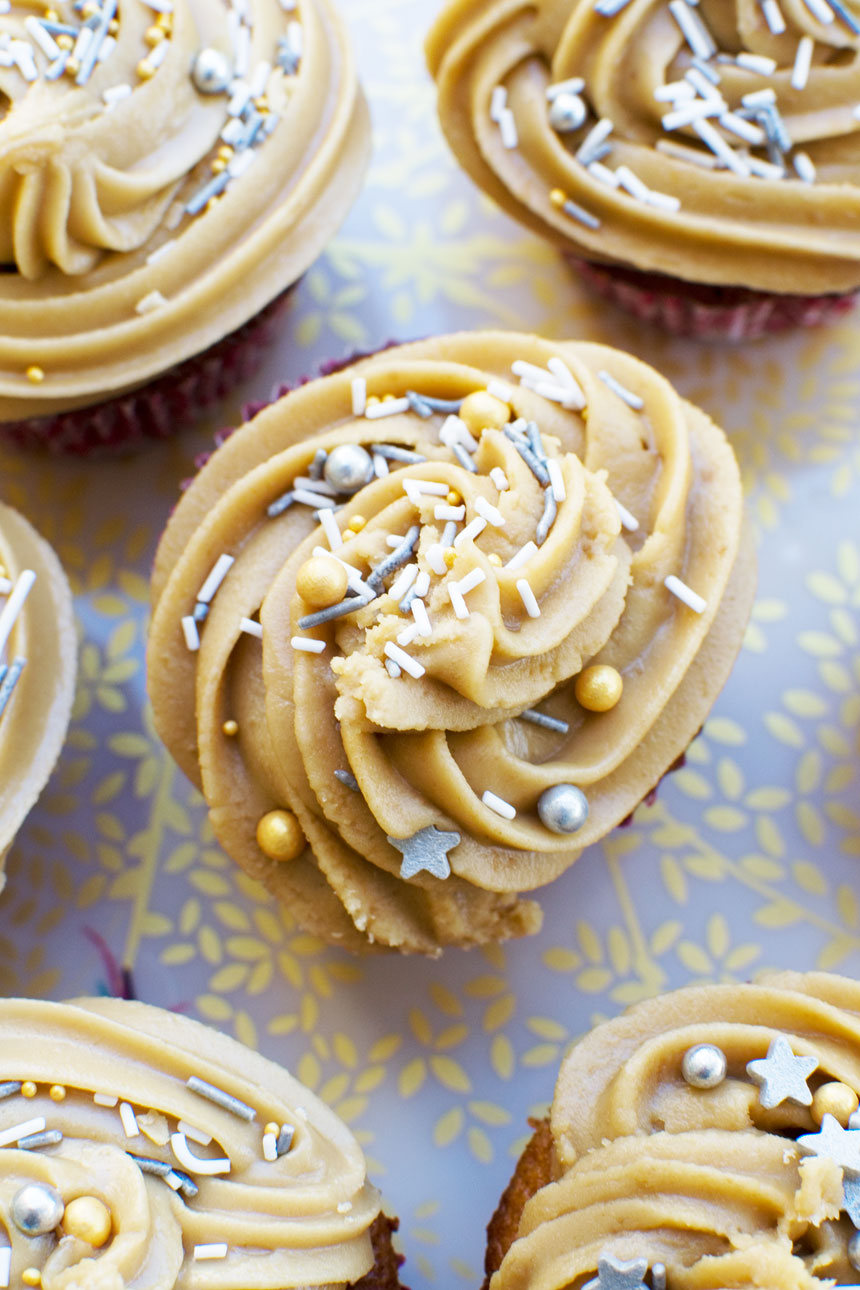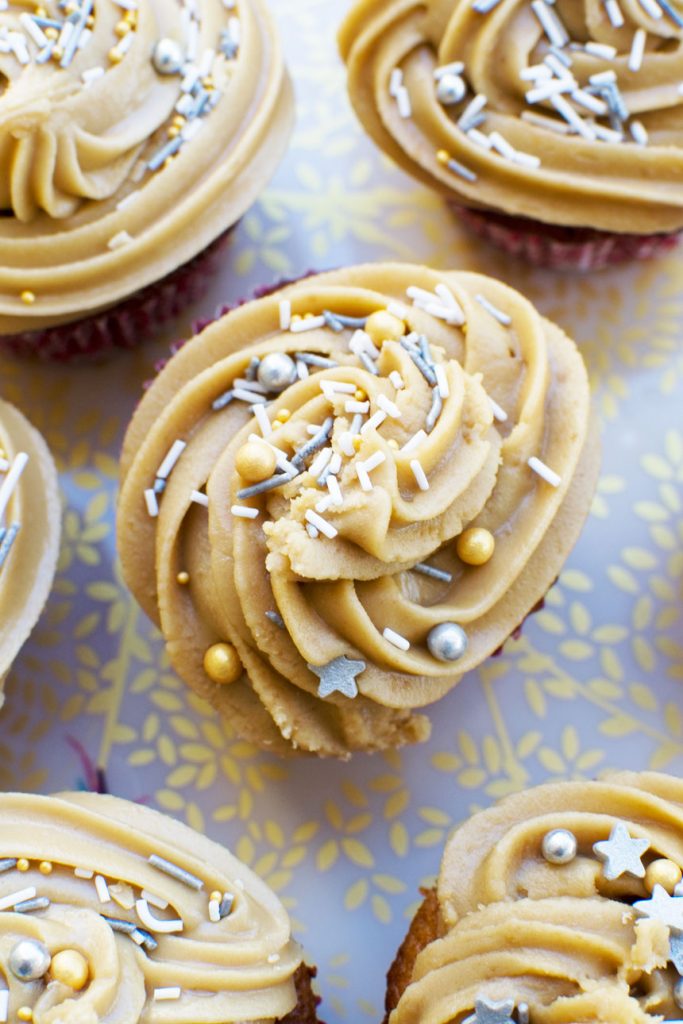 They're easy to make – I promise!
How many times have you bought pretty cupcakes as a gift or to take to a party? How much did you pay for each one?
Muffins or cupcakes with a pretty frosting and decorations tend to be quite expensive to buy. For a long time I assumed that they would be too time consuming and difficult to make. But they aren't – at least these ones aren't!
I call these muffins because I originally made them without the swirly caramel buttercream. Incidentally they're yummy like this too.
If you do choose to make them with the fancy icing, which I highly recommend, you are allowed to call them gingerbread cupcakes if you like!
Ingredients
Apart from the usual suspect muffin or cupcake ingredients (butter, sugar, eggs…), these gingerbread muffins contain golden syrup and black treacle.
I realise these are very British ingredients, but if you live elsewhere you can substitute with another kind of syrup and molasses.
To get that classic gingerbread flavour you also need to add nutmeg and ginger. This recipe includes four teaspoons of ground ginger and lots of chopped candied ginger. I use what's called 'non-crystallised ginger' here in Australia as it contains slightly less sugar, but you can also use 'crystallised ginger'. Or even ginger in syrup.
What do they taste like?
These gingerbread muffins:
do taste like gingerbread but the texture is more 'muffin like'.
are light and fluffy inside with a fairly firm top.
are just a little bit sticky and squidgy but they still have the characteristic lightness you expect from a muffin or cupcake.
I only make these for a special occasion. They aren't the sort of cake you scoff all to yourself at home (although I won't tell if this is what you're intending to do!). They are sweet and delicious and perfect for a celebration!
These muffins are especially wonderful at Christmas. I love the gold and silver sparkly effect after you add the gold and silver sprinkles! (affiliate link)
Looking for a simpler, lighter muffin? Try these low sugar Greek yoghurt blueberry muffins instead. They're our go-to every day muffins and get great reviews from readers. Ella said: "Unbelievably amazing! I've finally found the perfect blueberry muffin recipe. So light and fluffy. "
How to make them
These gorgeous looking celebration cupcakes do take a little longer to make than simple muffins, but they are easy. And 100% worth it!
This is what you do: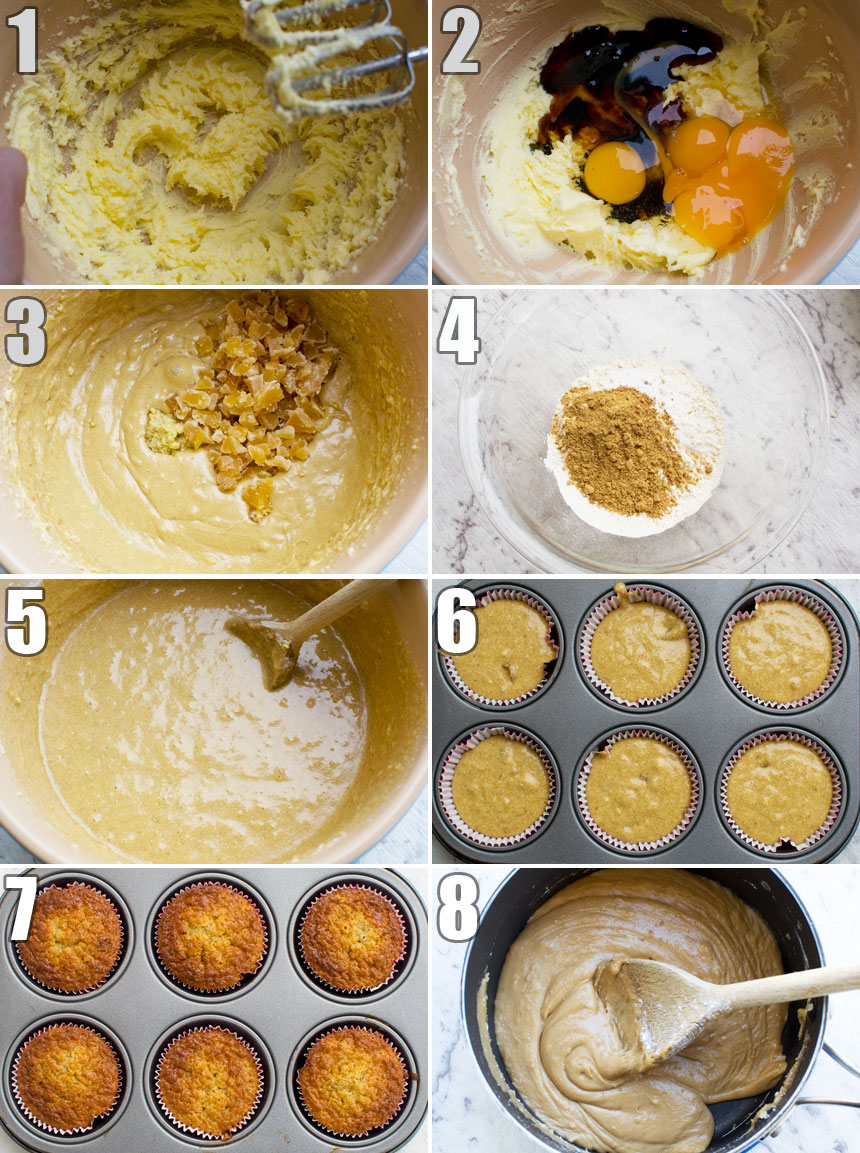 Step 1: Cream the butter and sugar together well.
Step 2: Lightly beat in the syrups and eggs – 2 whole ones plus 2 egg yolks.
Step 3: Stir in lots of chopped candied ginger.
Step 4 (photos 4 and 5): Mix the spices with the flour and baking powder. Slowly add the dry ingredients and some milk to the wet ingredients.
Step 5: Bake for about 20 minutes.
Step 6: Make the delicious and easy salted caramel frosting on the stove top and decorate as described below. Yum!
How to make the easy salted caramel icing
Step 1: Melt a few tablespoons of butter in a saucepan.
Step 2: Add milk and brown sugar and let it all bubble away like mad for a minute or two. This is what will give it the gorgeous caramel-y flavour!
Step 3: Add enough icing sugar to make a thick-ish pipe-able icing (see the video to help you know how thick).
Step 4: For a finishing touch that makes all the difference, add salt and vanilla.
Step 5: If possible grab someone to help you scoop the icing into a piping bag with your chosen nozzle attached. If no one else is home, it is possible to do it by yourself but you might make a bit of a mess (the voice of experience speaks).
Step 6: Time to get creative. Confidently pipe in a circle from the outside of the muffin to the centre. Sprinkle with festive sprinkles! (I usually make these ginger cupcakes for Christmas so I like to use gold and silver sprinkles, but any are fine!)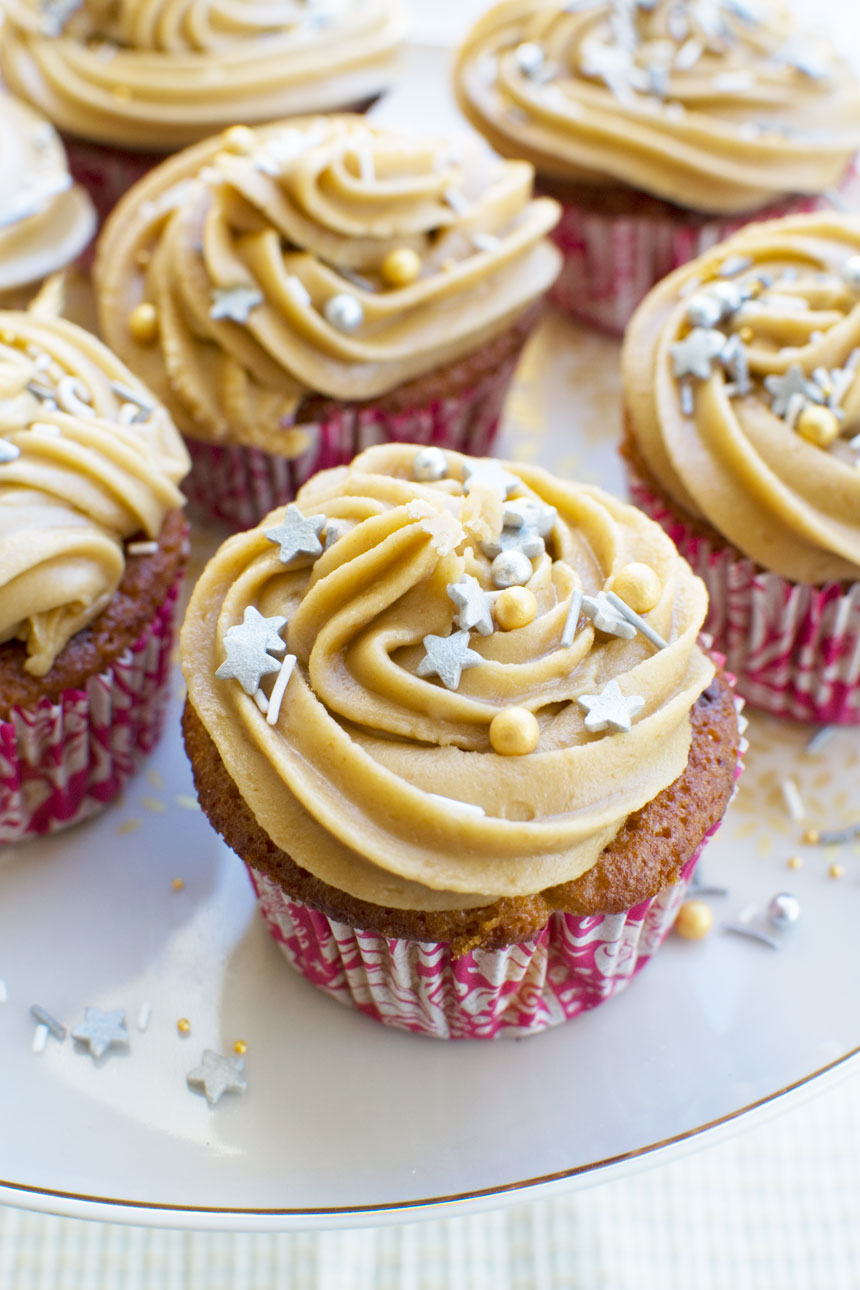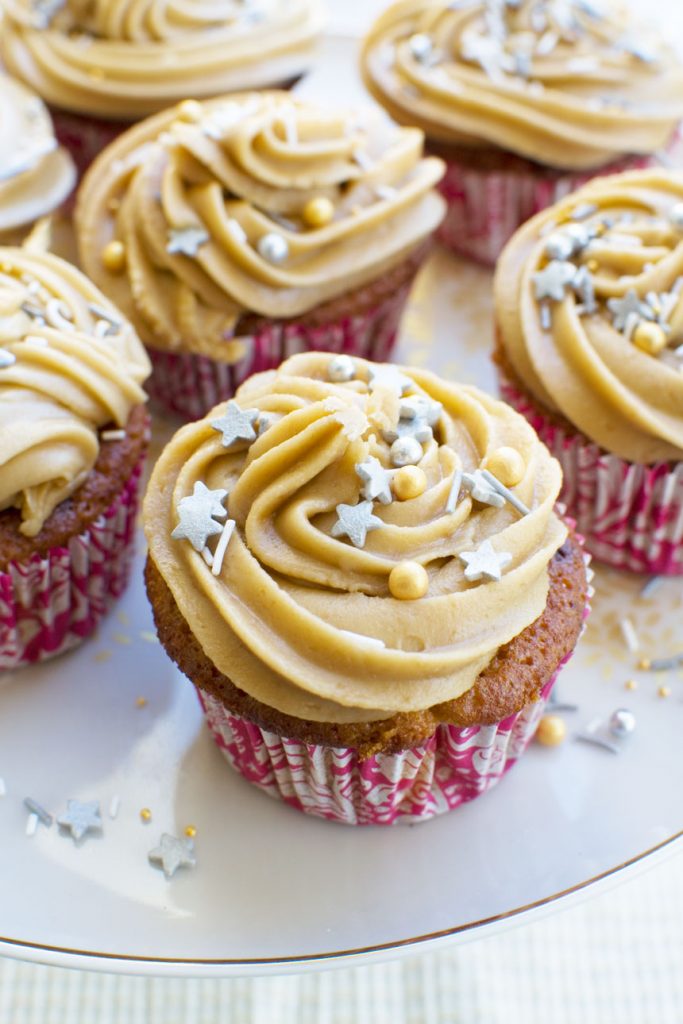 Pro tip: Once you've made your icing, it's best to pipe it onto the muffins immediately while it's still a bit warm and soft. If it seems too thick to pipe (this happened to me once!) just empty it back out into the saucepan, add a tiny drizzle of milk and heat up briefly until it 'melts' again. Pour back into the piping bag and away you go! Add the sprinkles immediately too. I usually press down lightly on any bigger sprinkles so that they don't roll off as soon as I move the muffins.
Or… keep it super simple
Bear in mind that you definitely don't HAVE TO pipe the frosting on the top and make your ginger muffins look like fancy cupcakes.
If you're short on time or you don't have any piping nozzles you can simply spoon some of the icing on top. Sprinkle on some sparkly sprinkles, and you're done.
Like so…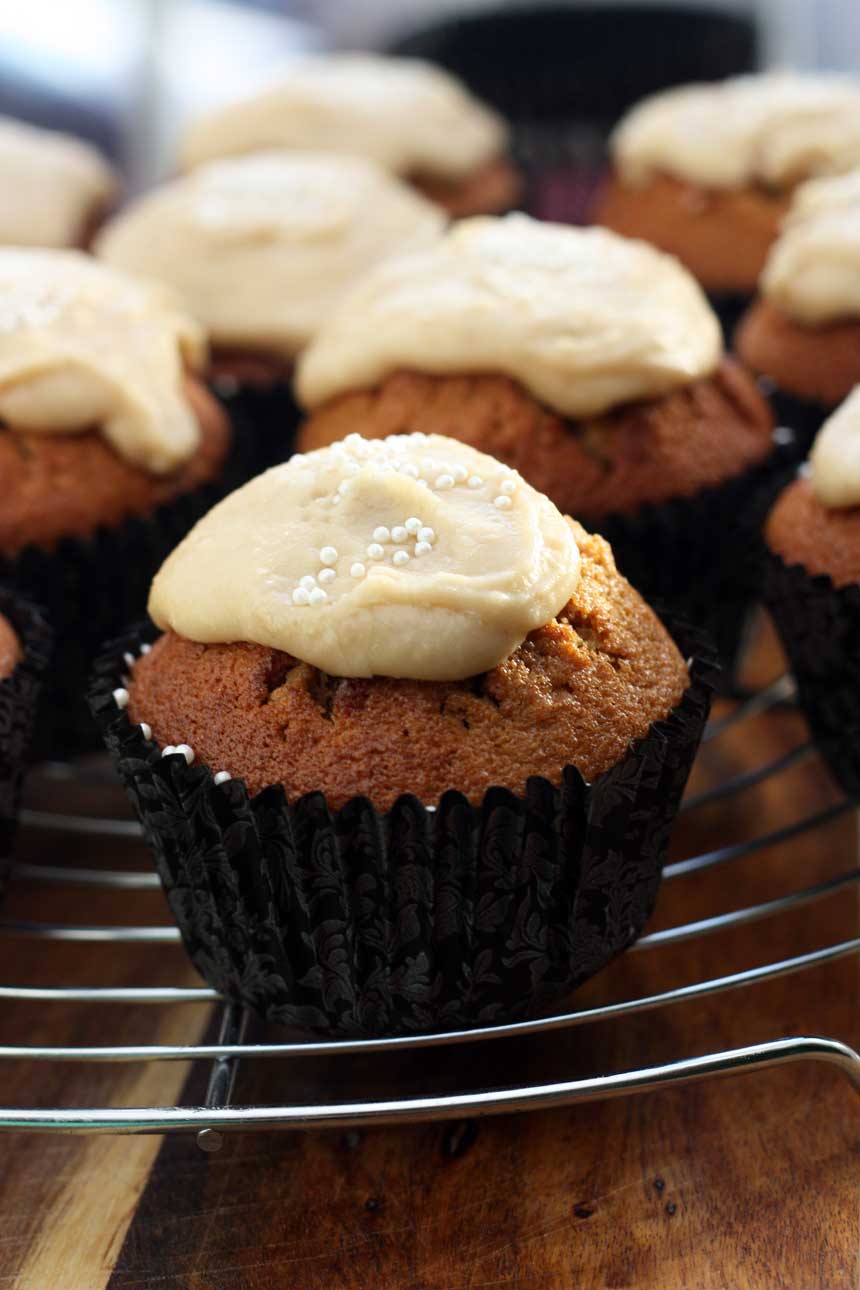 I hope you decide to give these little beauties a go. Apart from anything else, they will permeate your home with the most delectable spicy, gingery, caramel-y aroma!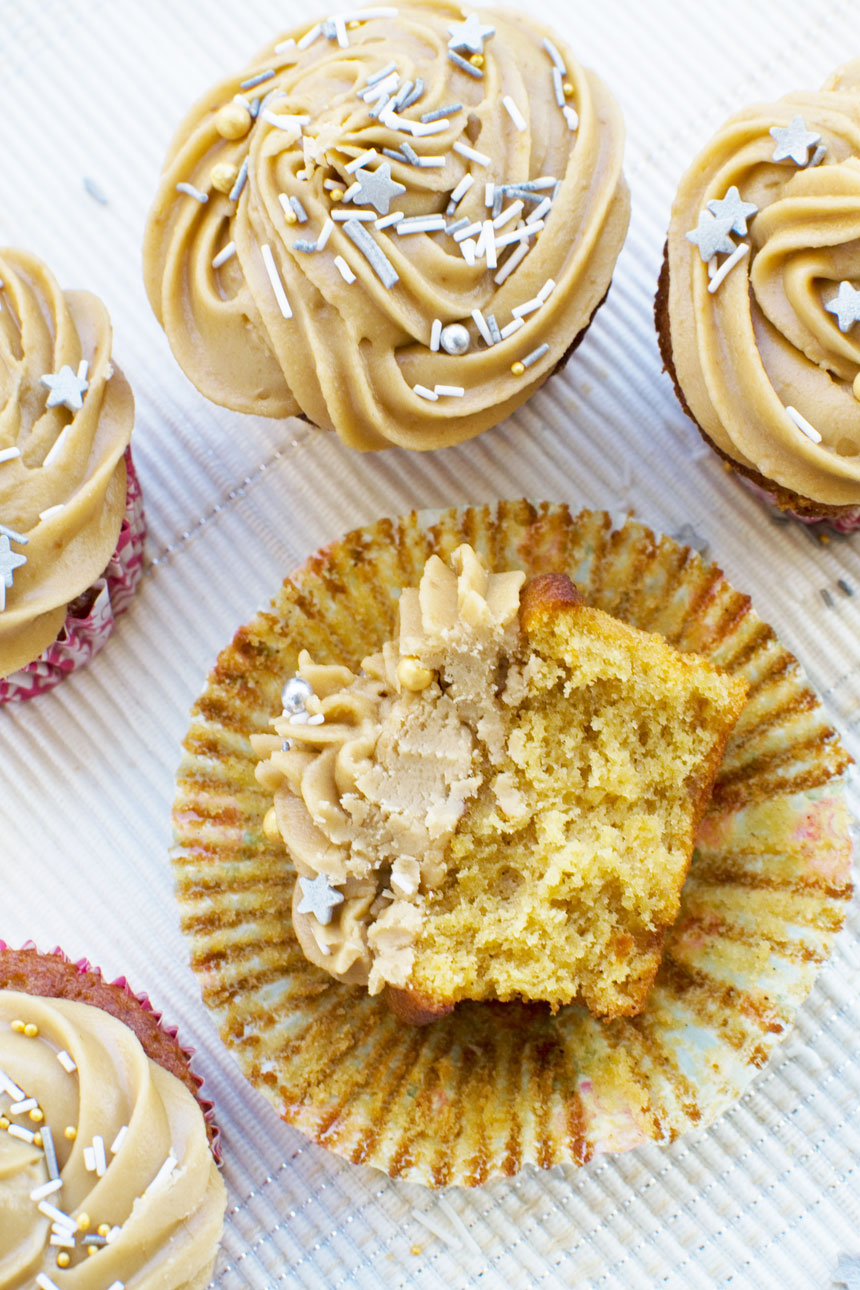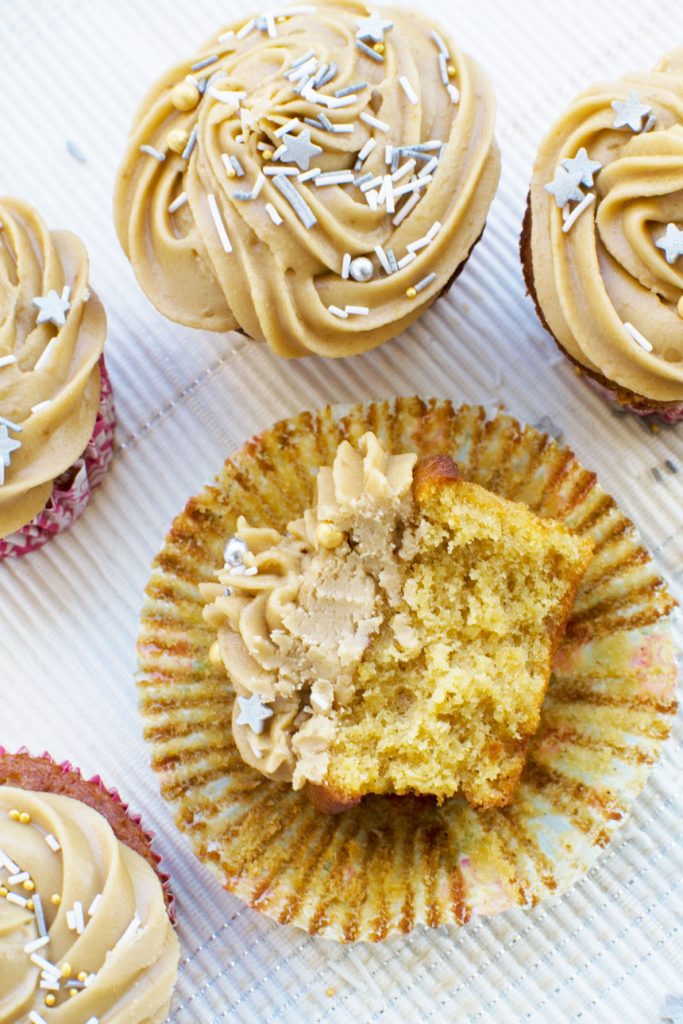 More cakes to impress with
Or have a browse of all my cakes here.
IF YOU MAKE THIS RECIPE, LET ME KNOW HOW YOU GET ON BY LEAVING A COMMENT AND RATING BELOW… AND DON'T FORGET TO SIGN UP TO RECEIVE ALL MY NEW RECIPES BY EMAIL!
FOLLOW ME ON FACEBOOK, INSTAGRAM, PINTEREST AND YOUTUBE.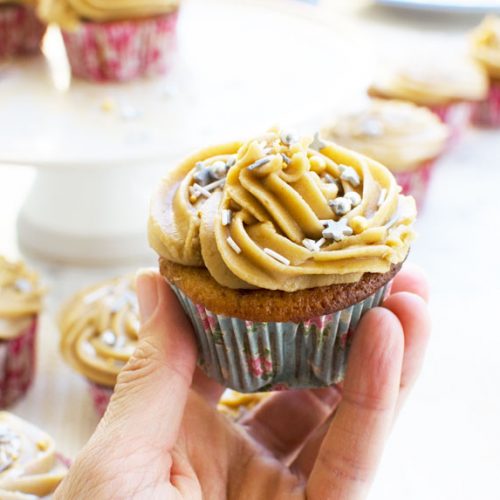 Gingerbread muffins with salted caramel icing
These muffins are a cross between a classic gingerbread and a lighter muffin or cupcake. Topped with a salted caramel flavour icing, they're perfect for birthday parties, Christmas parties, baby showers, or any special celebration!
Equipment (affiliate links)
Ingredients (UK/Australia? Click below for grams/ml)
For the muffin batter
⅔

cup

unsalted butter

cold, cubed (10 tablespoons or 5 ounces)

⅔

cup

caster sugar

⅓

cup

treacle

or molasses

⅓

cup

golden syrup

or equal parts molasses & syrup – see notes below

2

eggs

2

egg yolks

3½

ounces

candied ginger

chopped (I usually use non-crystallised ginger, but crystallised is fine, or ginger in syrup)

1⅓

cups

plain flour

2

teaspoons

baking powder

4

teaspoons

ground ginger

1

teaspoon

ground nutmeg

1

teaspoon

salt

1

cup

warmed milk

(just warm it slightly in the microwave)
For the salted caramel frosting
4

tablespoons

butter

6

tablespoons

milk

or cream for a richer frosting!

1

cup

brown sugar

4

cups

icing sugar

US = confectioner's sugar

1

teaspoon

vanilla extract

1

teaspoon

salt

sprinkles of your choice

(I like gold and silver!)
Instructions
For the muffins/cupcakes
Preheat the oven to 190C/375F. Line a muffin tin/tins with muffin cases and set aside.

Cream together the butter and sugar with a handheld whisk until pale yellow and fluffy (a few minutes).

Whisk in the treacle/molasses, golden syrup (or equivalent – see notes) and eggs & egg yolks until well mixed.

Stir in the chopped candied ginger.

Mix together the flour, ground ginger, nutmeg, baking powder and salt in a medium bowl.

Add half of these dry ingredients to the wet mixture and mix together. Then add half of the milk followed by the rest of the dry ingredients and the rest of the milk. Mix everything together well (but don't overmix).

Spoon the mixture into the muffin cases (I used a small ladle as the mixture is quite runny. You can fill them quite full – just leave at least a cm at the top).

Bake for about 20 minutes or until the muffins are well risen and firm on top and a skewer pushed into the centre of a mufin comes out virtually clean. Cool the mufins on a cooling rack.
For the icing/frosting
Meanwhile, make the icing. In a small pan over medium heat, melt the butter, then add the milk/cream and sugar and let it all bubble quite vigorously for about a minute.

Take off the heat and add the vanilla extract and salt. Then slowly add the icing sugar until the icing is pulling away from the sides of the pan when you stir. You may not need all the icing sugar.

If it seems a little too thick to pipe, add a tiny bit more milk. If it's a little too thin, add a bit more icing sugar.

Pour the icing into a piping bag with a nozzle fitted, then pipe onto each muffin in a circle from the edge to the centre. Decorate with sprinkles immediately, before the icing starts to harden. Press down a little to stick if necessary.
Notes
Muffin recipe originally adapted from BBC Food.
A note on 'Golden syrup' and 'Treacle'
Golden syrup
is made by a company called Lyles in the UK. If you can't find it where you are (sometimes you can find it in specialist food stores or foreign food sections in supermarkets abroad) then you can substitute with half molasses and half syrup.
So you can substitute golden syrup for:
1 and 1/3 cups sugar dissolved in 1/3 cup warm water
1/3 cup honey
1/3 cup light molasses
1/3 cup maple syrup
1/3 cup agave nectar
1/3 cup brown rice syrup
If you can't obtain treacle where you live, just use molasses!
Sprinkles / Sugar decorations
If you would like to add some sugar decorations at the end, make sure you add them pretty quickly. The frosting sets quite fast! Press down lightly to stop them all falling off if necessary.
Nutrition
Calories:
473
kcal
Carbohydrates:
84
g
Protein:
3
g
Fat:
14
g
Saturated Fat:
9
g
Cholesterol:
86
mg
Sodium:
393
mg
Potassium:
262
mg
Fiber:
1
g
Sugar:
74
g
Vitamin A:
480
IU
Calcium:
93
mg
Iron:
1
mg
Note: This post has been updated from its original December 2014 version to include new photos, step-by-step cooking instructions, an FAQ, similar recipes, and a how-to video. I hope you like it!