Last Updated on
There are so many wonderful things about this season over here in the UK (putting up the Christmas tree and decorations while watching slushy Christmas movies – check, drinking mulled wine at the Christmas markets – check, the beginning of pretty frosty mornings – big fat check), but the ever-shorter December days are not one of them. As we both work from home, Mr. Scrummy and I look forward to our morning walk, but over the last couple of weeks our 7.30ish departures have been shrouded in a cloak of complete darkness. Eventually, as we walk, a faint glow in the east does become some sort of daylight, but for what seems like just a few short hours before the dusk draws in. Having grown up in the UK I shouldn't be at all shocked by this, really, but after quite a few years of living abroad where the winter daylight hours are slightly more reasonable, my jaw is still almost dropping open in shock each day when I emerge from my house or a café or shopping mall or wherever at 3.30pm and it's almost dark again.
All I can say is thank goodness for summer when the situation is reversed and it's light until nearly 10pm (but let's not tease ourselves for too long with that thought).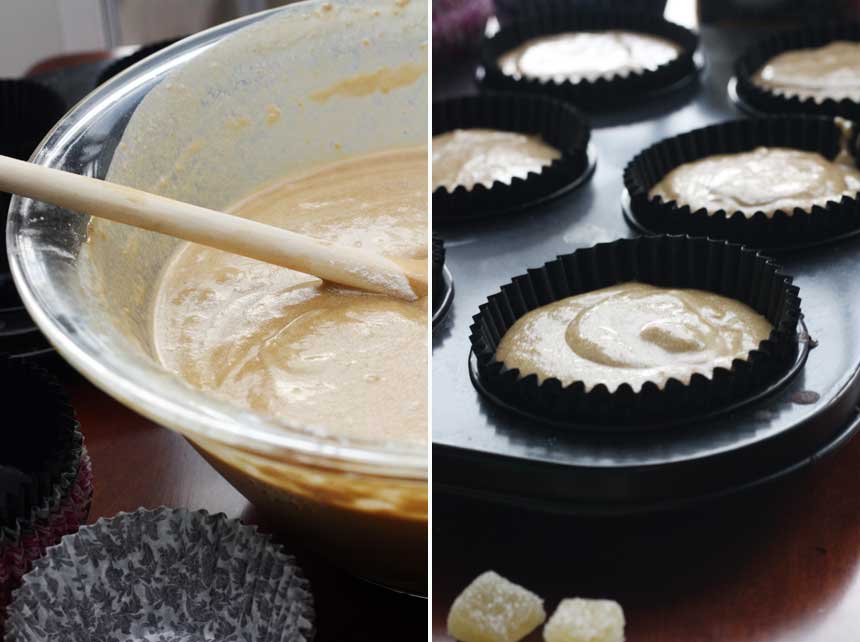 So back to December and perhaps as you may have guessed I'm not too much of a loving-staying-at-home-while-it's-dark-and-miserable-outside sort of person. But one consolation, I guess, is all the Christmassy preparations there are to do, like wrapping up gifts and … baking, of course!
To be totally honest with you, I'm not a huge Christmas baker, because I'm not a huge baker in general, but this year I'm definitely 'having a dabble'. Being back close to home means that there are more appreciative mouths to cater for than usual, and so I'm busy practising and preparing a few sweet treats for this holiday season.
So first up … these quintessentially Christmas gingerbread muffins. I decided to jazz them up a little and make them gingerbread muffins with salted caramel frosting, just to be extra delicious about it all. Which also means that you are allowed to call them cupcakes if you like.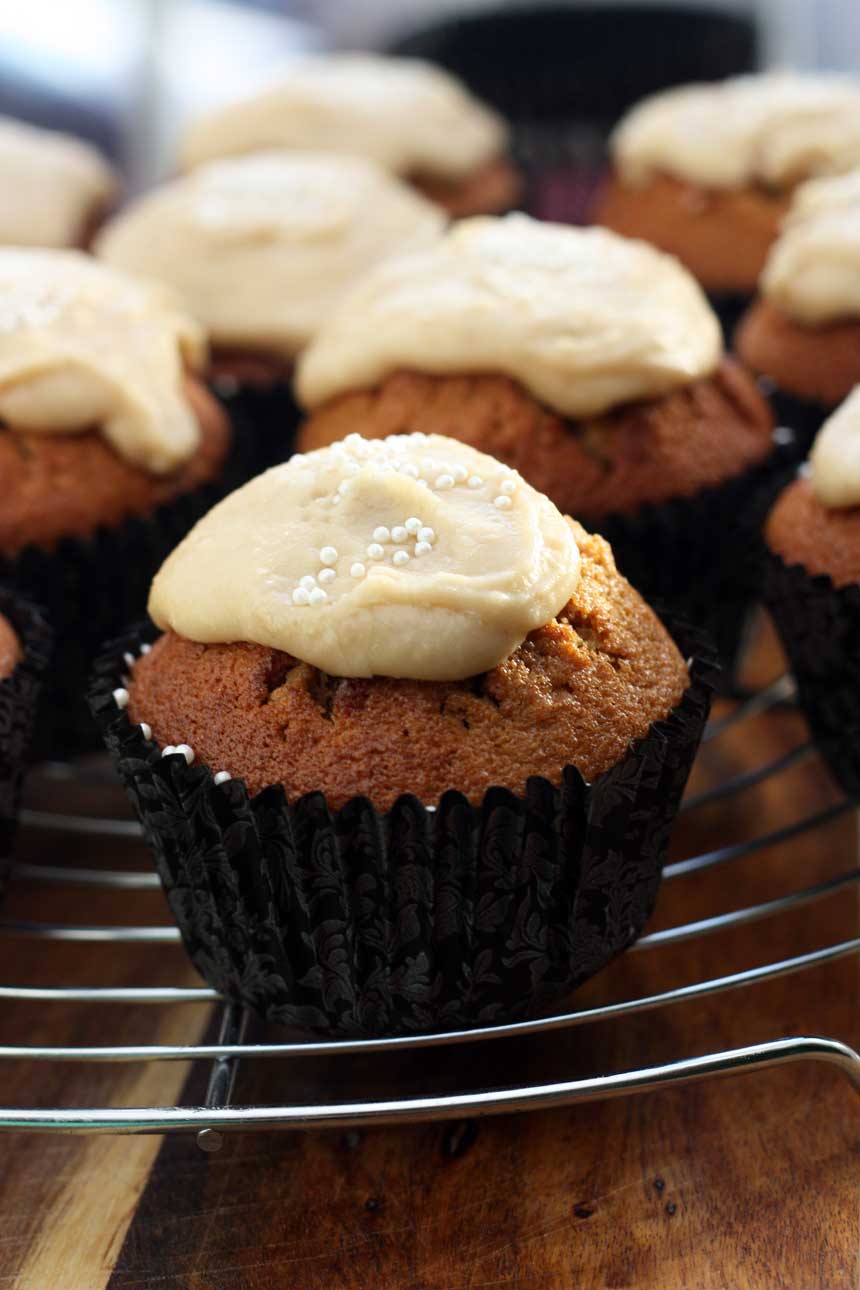 I decided to go for giving these muffins quite a hit of gingery flavour by including a triple hit of ginger: four whole teaspoons of the ground stuff, a piece of fresh grated ginger and some chopped crystallised ginger for a bit of gingery texture. Grated nutmeg adds some extra spice and one huge spoonful each of black treacle (possibly molasses to you) and golden syrup (don't worry, you can use corn syrup and molasses as a substitute if you can't find this classic British ingredient) gives these little cakes that classic gingerbread quality. Don't expect a heavy, sticky result, though. The batter bakes up to a lovely light and fluffy crumb with a firm top. The muffins end up just a little bit sticky and squidgy but definitely without losing the characteristic lightness you expect from a muffin. Just right.
To be honest, you could leave the muffins like this and enjoy them plain with a cup of tea or coffee. On the other hand, though, it is Christmas, which comes but once a year, so I say go ahead and be a devil – whip up some of that salted caramel frosting to dollop over the top! I have to admit this does leave you with something more like a cupcake, but you can always go easy on the frosting if you don't want the overall effect to be too sweet.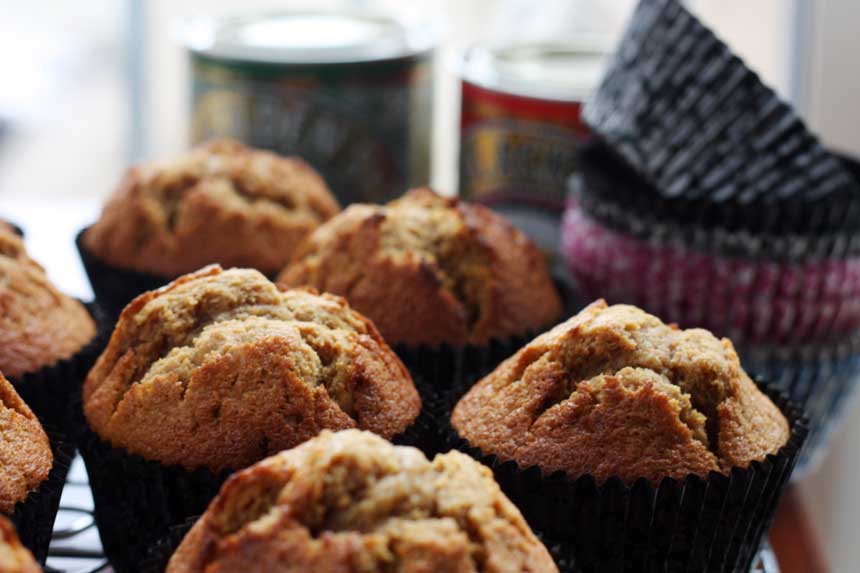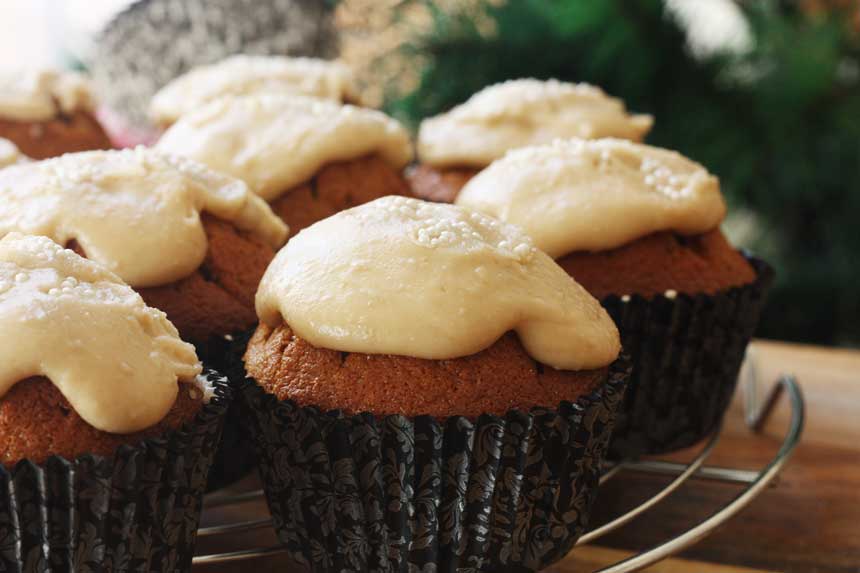 I hope you decide to give these little beauties a go. Apart from anything else, they will permeate your home with the most delectable spicy, gingery, caramel-y aroma. Pretty hard to resist!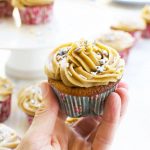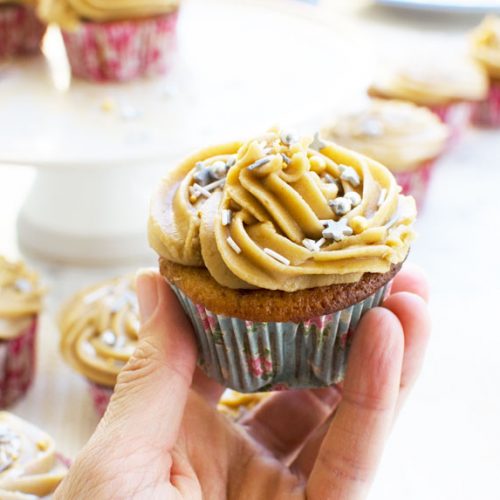 Print
Gingerbread muffins with salted caramel icing
These muffins are a cross between a classic gingerbread and a lighter muffin or cupcake. Topped with a salted caramel flavour icing, they're perfect for birthday parties, Christmas parties, baby showers, or any special celebration!
Equipment (affiliate links)
Ingredients (UK/Australia? Click button below for grams & ml)
For the muffin batter
⅔

cup

unsalted butter

cold, cubed (10 tablespoons or 5 ounces)

⅔

cup

caster sugar

⅓

cup

treacle

or molasses

⅓

cup

golden syrup

or equal parts molasses & syrup – see notes below

2

eggs

2

egg yolks

see notes below

3½

ounces

candied ginger

chopped (I usually use non-crystallised ginger, but crystallised is fine, or ginger in syrup)

1⅓

cups

plain flour

2

teaspoons

baking powder

4

teaspoons

ground ginger

1

teaspoon

ground nutmeg

1

teaspoon

salt

1

cup

warmed milk

(just warm it slightly in the microwave)
For the salted caramel frosting
4

tablespoons

butter

6

tablespoons

milk

or cream for a richer frosting!

1

cup

brown sugar

4

cups

icing sugar

US = confectioner's sugar

1

teaspoon

vanilla extract

1

teaspoon

salt

sprinkles of your choice

(I like gold and silver!)
Instructions
Preheat the oven to 190C/375F. Line a muffin tin/tins with muffin cases and set aside.

Cream together the butter and sugar with a handheld whisk until pale yellow and fluffy (a few minutes).

Whisk in the treacle/molasses, golden syrup (or equivalent – see notes) and eggs & egg yolks until well mixed.

Stir in the chopped candied ginger.

Mix together the flour, ground ginger, nutmeg, baking powder and salt in a medium bowl.

Add half of these dry ingredients to the wet mixture and mix together. Then add half of the milk followed by the rest of the dry ingredients and the rest of the milk. Mix everything together well (but don't overmix).

Spoon the mixture into the muffin cases (I used a small ladle as the mixture is quite runny. You can fill them quite full – just leave at least a cm at the top).

Bake for about 20 minutes or until the muffins are well risen and firm on top and a skewer pushed into the centre of a mufin comes out virtually clean. Cool the mufins on a cooling rack.

Meanwhile, make the frosting. In a small pan over medium heat, melt the butter, then add the milk/cream and sugar and let it all bubble quite vigorously for about a minute.

Take off the heat and add the vanilla extract and salt. Then slowly add the icing sugar until the icing is pulling away from the sides of the pan when you stir.

If the frosting seems a little too thick to pipe, add a tiny bit more milk. If it's a little too thin, add a bit more icing sugar.

Pour the icing into a piping bag with a nozzle fitted, then pipe onto each muffin in a circle from the edge to the centre. Decorate with sprinkles immediately, before the icing starts to harden. Press down a little to stick if necessary.
Notes
Muffin recipe originally adapted from BBC Food.
A note on 'Golden syrup' and 'Treacle'
Golden syrup
is made by a company called Lyles in the UK. If you can't find it where you are (sometimes you can find it in specialist food stores or foreign food sections in supermarkets abroad) then you can substitute with half molasses and half syrup.
So you can substitute golden syrup for:
1 and 1/3 cups sugar dissolved in 1/3 cup warm water
1/3 cup honey
1/3 cup light molasses
1/3 cup maple syrup
1/3 cup agave nectar
1/3 cup brown rice syrup
If you can't obtain treacle where you live, just use molasses!
Sprinkles / Sugar decorations
If you would like to add some sugar decorations at the end, make sure you add them pretty quickly. The frosting sets quite fast! Press down lightly to stop them all falling off if necessary.
Nutrition
Calories:
473
kcal
|
Carbohydrates:
84
g
|
Protein:
3
g
|
Fat:
14
g
|
Saturated Fat:
9
g
|
Cholesterol:
86
mg
|
Sodium:
393
mg
|
Potassium:
262
mg
|
Fiber:
1
g
|
Sugar:
74
g
|
Vitamin A:
480
IU
|
Calcium:
93
mg
|
Iron:
1
mg
Follow me on Pinterest!
Follow @scrummylane to pin more quick and easy recipes for later
I hope you enjoyed this post! You can subscribe to receive posts directly to your inbox by entering your email address into the box at the top of the sidebar on the right.
You can also find more from Scrummy Lane on Facebook, Pinterest, Twitter and Instagram and follow me on Bloglovin! Thanks so much for reading!
*This post may contain affiliate links which means that if you click on a link and make a purchase I get a small percentage of the amount you spend. At no extra cost to you, of course! Thank you!*