A cross between an easy gingerbread recipe and an apple tray bake, this apple and ginger cake is deliciously sticky. It's one of those quick and easy one bowl cake recipes that the whole family will love. You can even make it as a simpler alternative to a Christmas cake!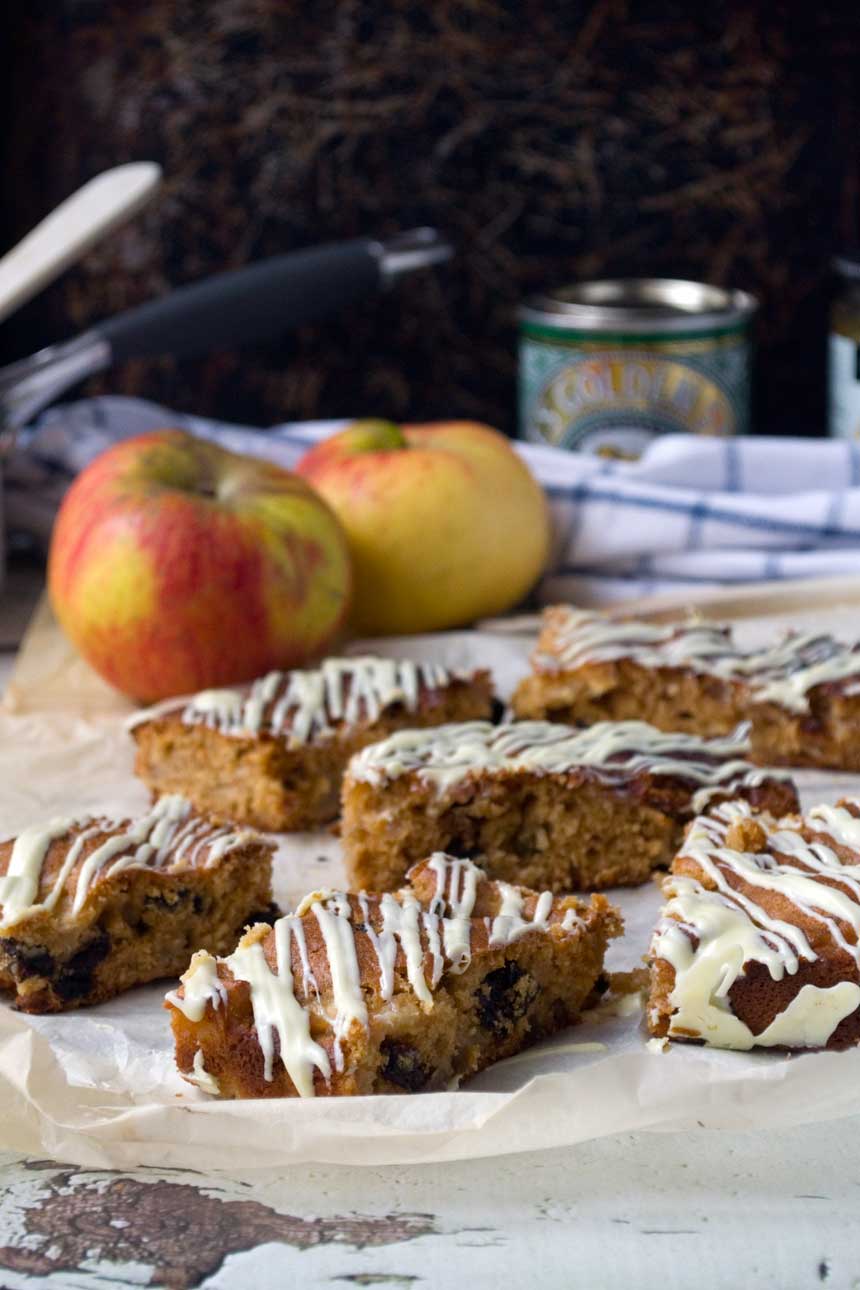 This recipe started out with a simple but delicious spiced apple cake recipe sent to me by a work colleague. This of course is one of the many perks of being a food blogger – people sometimes want to share their yummiest recipes with you!
I was very happy because I once followed a Christmas cake recipe that contained apple, dried fruit and ginger. After I lost it, I searched online until my eyes ached, but I never found it.
I adapted my colleague's apple cake recipe and came up with this similar but a bit stickier and more ginger-y cake.
Why you'll love it
It's a one bowl cake recipe. Very quick and easy to throw together! (Melt the wet ingredients together in a saucepan, and then briefly stir in the dry ingredients.)
It tastes something like a cross between gingerbread, a spiced apple cake, and a light fruit cake. It's lighter and fluffier than gingerbread, but still moist, sticky, and ginger-y. In other words, delicious!
You can make it for your family any day of the year, or drizzle white chocolate over the top and make it your favourite easy Christmas cake recipe! It's got a warming quality that's perfect for handing around with cups of tea (or sneaky glasses of mulled wine at Christmas).
It's a small batch recipe. There are pros and cons to this, of course. You may not have any cake leftovers to take into work, but you won't be tempted to overindulge!
This ginger cake has got a warming quality that's perfect for handing around with cups of tea (or sneaky glasses of mulled wine at Christmas)!
About the ingredients
Flour: Use self-raising flour. If you can't get hold of this easily, just use plain flour with a teaspoon and a half of baking powder added. Don't use self-rising flour instead. It isn't the same!
Ginger: This cake contains both a teaspoon of ground ginger and some chopped candied ginger. You can either use crystallized ginger, or stem ginger in syrup – whichever you can find.
Butter: Melted! Yep, no creaming of butter and sugar necessary. Just melt it in a saucepan or bowl in the microwave with the syrup and sugar.
Brown sugar: For extra deep flavour and sticky-ness. Yum.
Golden syrup: Golden syrup is what you usually find in gingerbread and other traditional cakes and slices (try these gingerbread muffins or Anzac biscuits!). It's very easy to find in the UK and Australia, but if you're elsewhere and can't find it easily, don't worry – just use 1 part molasses to 3 parts corn syrup. Or even rice malt syrup or honey.
Dried fruit: Any type or a mixture works well.
Apple: Any type, grated. Rhubarb works well, too!
How to make this in just 4 easy steps
Step 1: Sift the dry ingredients (flour, baking powder, ground ginger) together.
Step 2: Melt the 'wet' ingredients (so butter, syrup, sugar) in a saucepan. Stir through the 'dry' ingredients plus stem ginger, apple and other dried fruit, plus a whisked egg.
Step 3: Pour into a small baking tin and bake for just 30 minutes.
Step 4: If you like, drizzle over a little white chocolate to make it look fancy!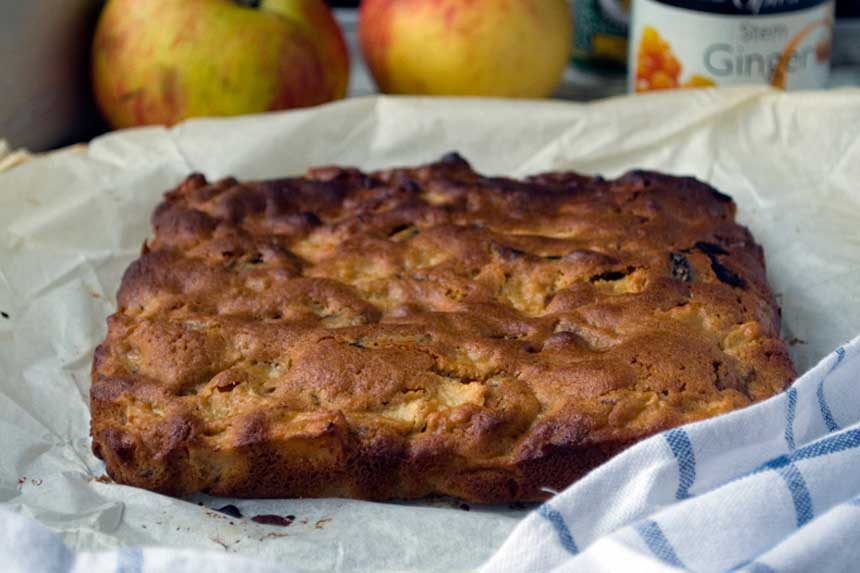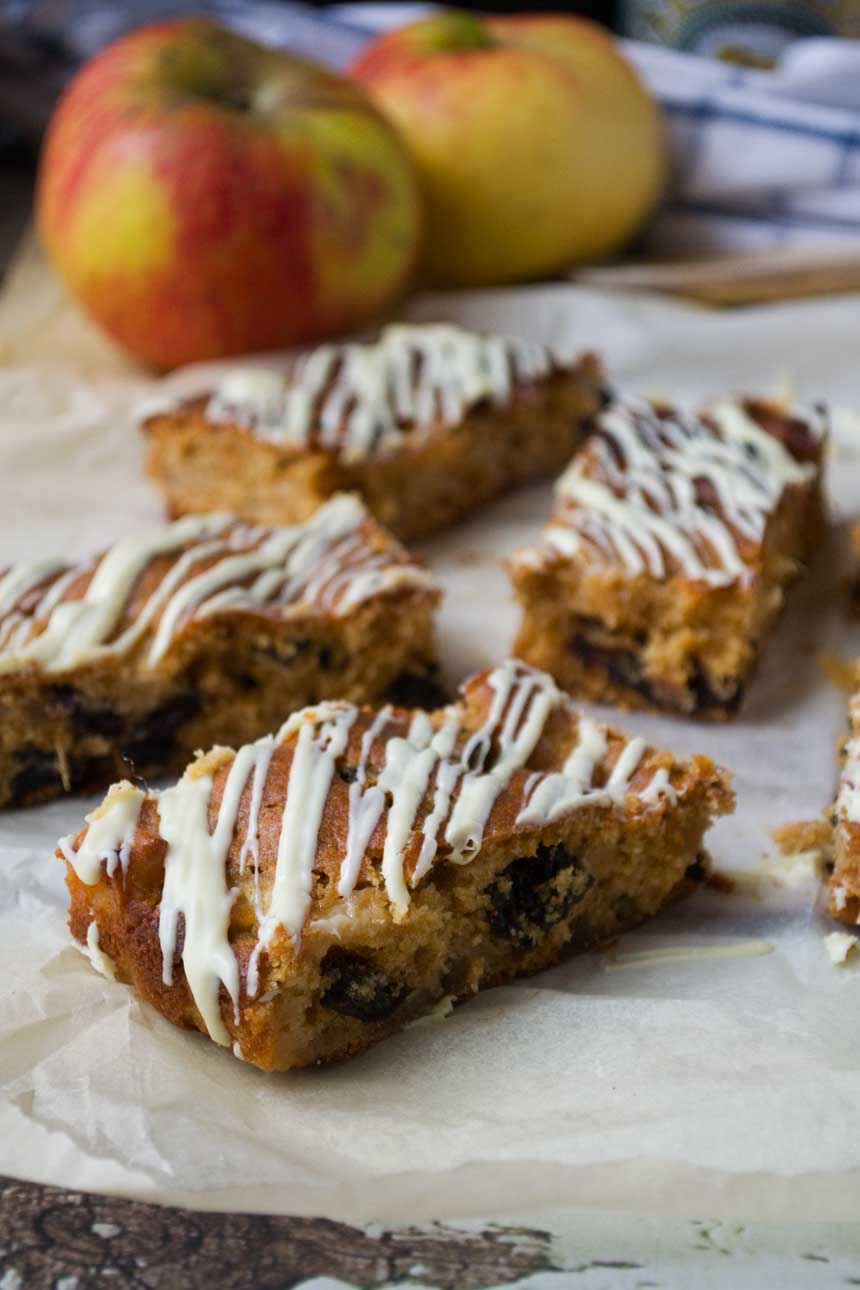 Try this recipe with rhubarb instead of apple. Sticky apple and rhubarb cake… Mmmm…
Expert tips and recipe FAQ
What's a good substitute for golden syrup?
Don't worry – if Golden Syrup is difficult to get hold of where you live, 1 part molasses to 3 parts dark corn syrup is a good alternative. Or just the corn syrup or even honey in a pinch.

Alternatively, you can find it in on Amazon (affiliate link).
What can I make with the leftover golden syrup?
Ever tried Australian Anzac biscuits? They're made every year (or any time really!) to commemorate Anzac Day, the date of the Australian and New Zealand army's first major military campaign during WWI. They're quick and easy to make, and this recipe's lower in sugar than average.

These gingerbread muffins with salted caramel icing also come highly recommended. They're perfect for special occasions… and of course for Christmas!
How long will this cake keep and can I freeze it?
This ginger cake keeps pretty well in an airtight container – for about 4 to 5 days. Like most cakes, it also freezes exceptionally well. Simply wrap well and freeze in sealed containers for up to 3 months.
More easy snack cake recipes
More apple recipes
IF YOU MAKE THIS RECIPE, LET ME KNOW HOW YOU GET ON BY LEAVING A COMMENT AND RATING BELOW… AND DON'T FORGET TO SIGN UP TO RECEIVE ALL MY NEW RECIPES BY EMAIL!
FOLLOW ME ON FACEBOOK, INSTAGRAM, PINTEREST AND YOUTUBE.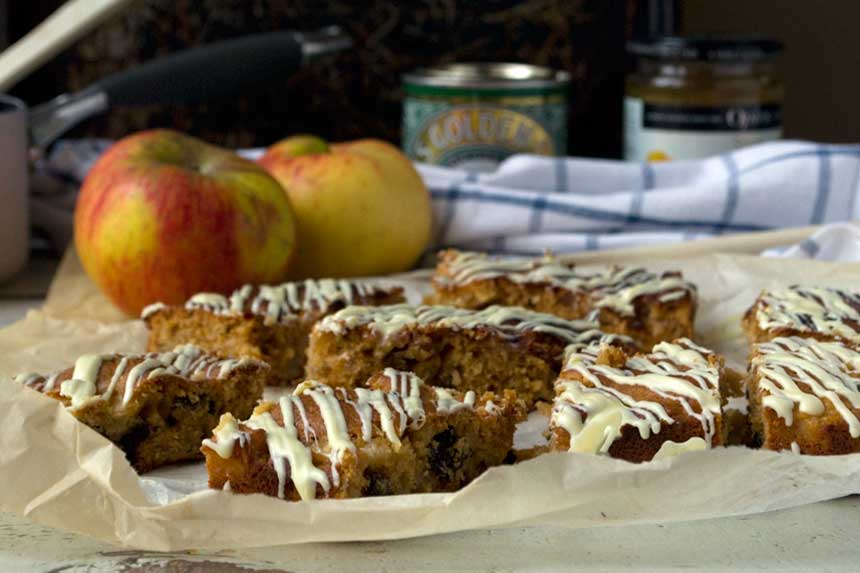 Sticky Apple and Ginger Cake
Deliciously sticky, fruity easy-to-make cake bars. They're like a cross between gingerbread and fruit cake, and make a great easier alternative to Christmas cake.
Ingredients (UK/Australia? Click below for grams/ml)
1

cup

self-raising flour

1

pinch

baking powder

1

teaspoon

ground ginger

¾

stick

butter

¼

cup

soft brown sugar

¼

cup

golden syrup

(dark corn syrup in USA)

1.5

ounces

crystallized ginger

chopped (either in syrup or crystallized is fine)

½

cup

dried fruit

e.g. prunes, apricots, cranberries, raisins (chopped)

1

apple

peeled and diced

1

egg

whisked
Instructions
Pre-heat oven to 200C / 390F and line a 8 x 8 inch square baking pan with baking paper.

Sift the flour, baking powder and ginger together in a medium bowl.

Melt the butter, syrup and sugar together in a saucepan. Add to the flour together with the stem ginger, dried fruit, apple and egg. Stir it all together with a wooden spoon until just combined.

Pour the batter into the prepared tin, then bake for 30 minutes until risen and golden. Cover with foil half way through cooking to prevent over-browning.

Optional: Melt the white chocolate in a jug in the microwave (in 30-second spurts – I find 3 times does it), then drizzle all over the cake.

When cool (and the chocolate – if you've used it – is set), slice into 8 bars.
Notes
How long it keeps: for 4 to 5 days in an airtight container.
Using a different fruit to apple: Rhubarb works as a good substitute for apple. Let me know if you try this recipe with rhubarb!
Substitute for golden syrup: Dark corn syrup works as a decent substitute for golden syrup. Or use 1 part molasses to 3 parts corn syrup, or rice malt syrup, or even honey. Or you can buy golden syrup on Amazon (affiliate link).
Nutrition
Calories:
299
kcal
Carbohydrates:
46
g
Protein:
3
g
Fat:
12
g
Saturated Fat:
7
g
Cholesterol:
45
mg
Sodium:
102
mg
Potassium:
82
mg
Fiber:
1
g
Sugar:
33
g
Vitamin A:
307
IU
Vitamin C:
1
mg
Calcium:
31
mg
Iron:
1
mg