Last Updated on
For me, lasagna stirs up many fond memories of 80s and 90s dinner times, but is it still a worthy dinner contender today? Methinks so … especially when we're talking about a posh and easy veggie 'freestyle' version like this!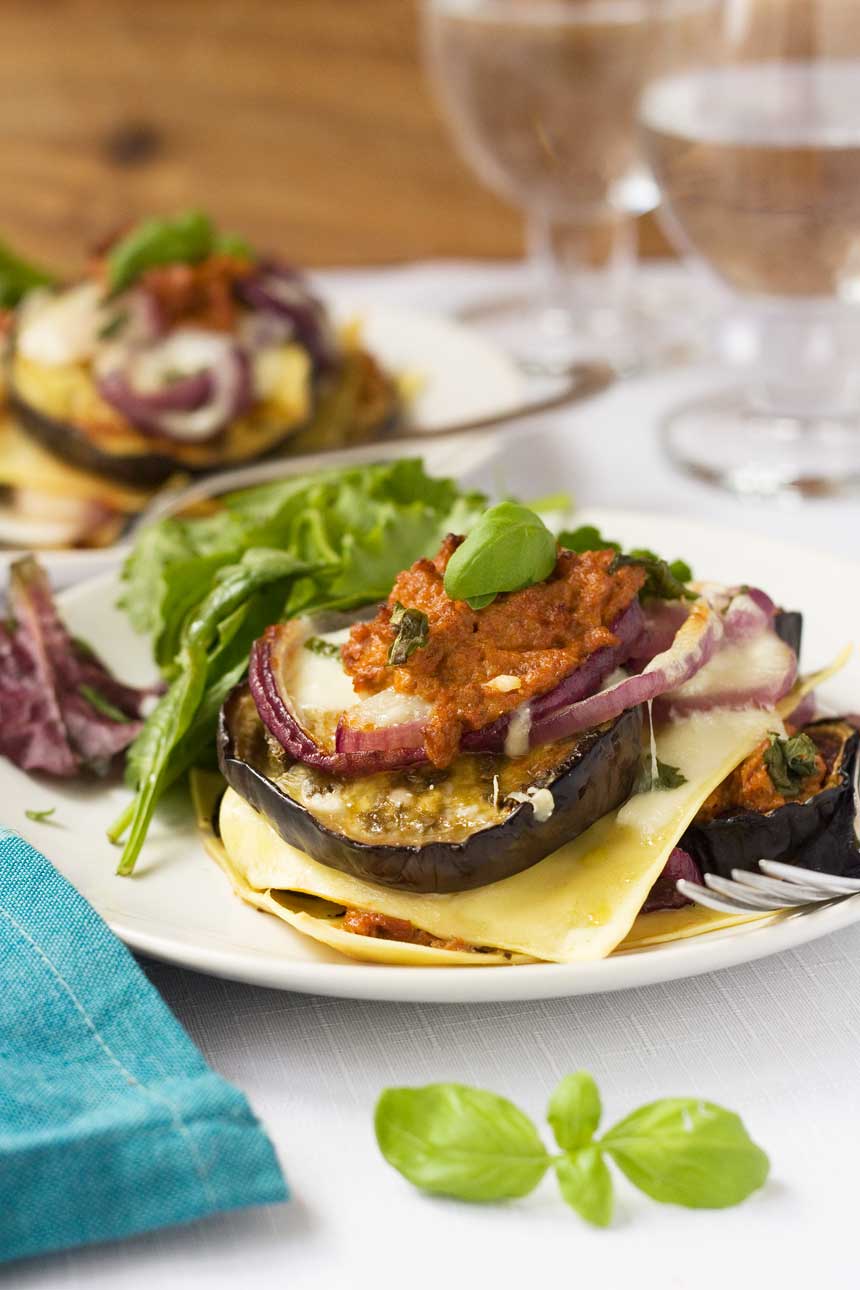 Lasagna … what comes to mind when you think of it?
I must admit, I usually don't hold it in particularly high regard. Not because it isn't a great dish – I think it's just delicious when it's done well – but because a good 80% of the lasagnas I've had have been either too sloppy, too dry, too bland, too greasy, just too 'eighties' … well, you get the idea. Always too something. And the veggie versions I've had? Uh-hum. I'd better not even go there.
The other problem I have with lasagnas is the time they can take to make. All that bolognese-making, sauce-stirring, layering and baking can be a bit tiresome  (although I must admit you then end up with food for days – always a bonus!).
But before you start thinking I'm just a whinging lasagna-hater, let me tell you about the lasagna I made today. Not only is it a pretty healthy and tasty vegetarian version, but it's 'freestyle', meaning that you just layer up single squares of pasta, grilled veggies, cheese and homemade sundried tomato pesto and basil in little separate piles on a baking tray. No making of sauces or baking for an hour. Just grill the veggies, make your pesto, layer up with the cheese and briefly bake.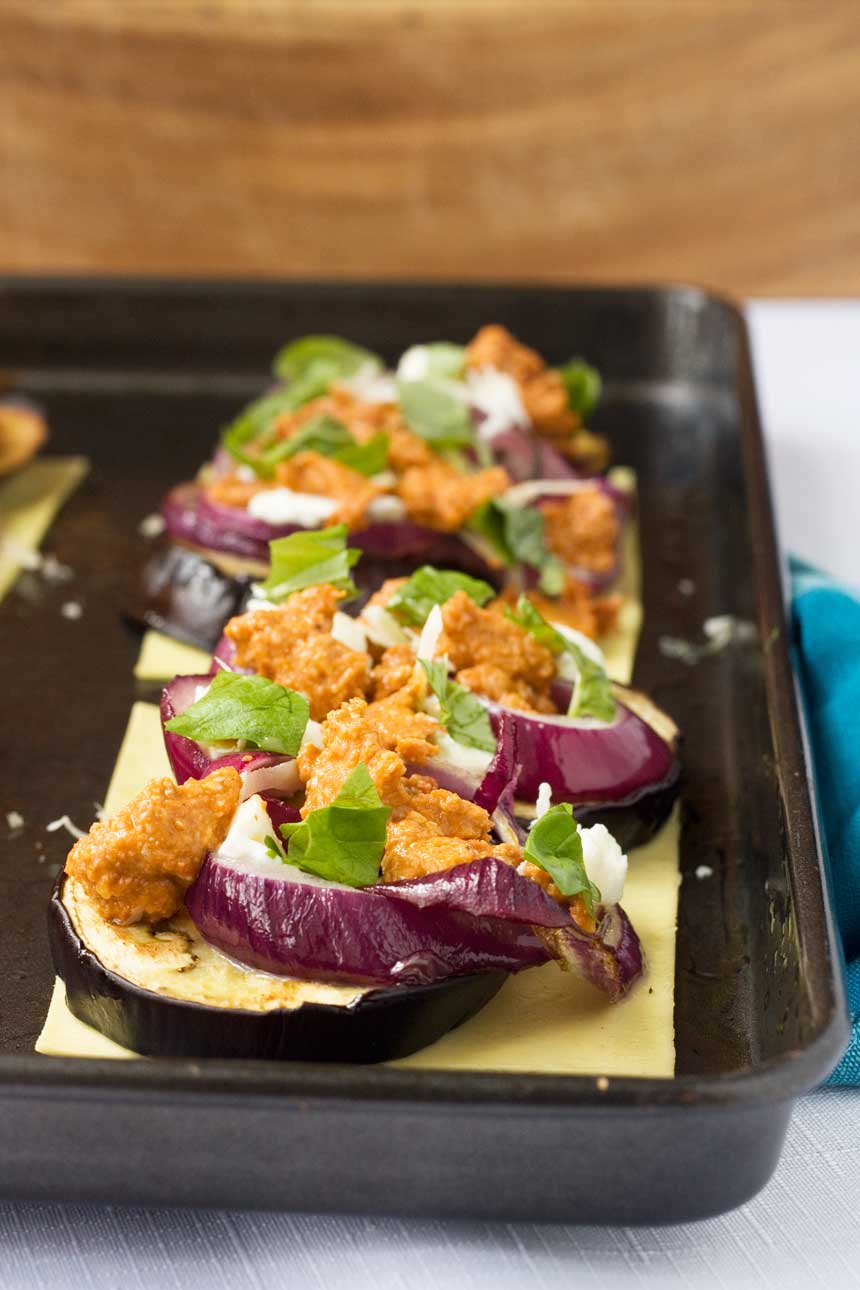 Not wanting to mislead you, though, I must say that this does still take a little time and effort to make – mostly because you may have to grill your veggies in a couple of batches. But it's really easy – definitely easier than a regular lasagna. You might also think that it's a hassle to make your own pesto. If you wanted to put this together really, really quickly, you could use a good store-bought version, of course, but it honestly took me just minutes to make my own.
Another good reason to make the pesto is that you'll only use about half of it, leaving the other half to stir through pasta on another day!
I can't promise that this lasagna won't be too 'something' for some of you, but it was certainly good enough for Mr. Scrummy and I (and Mr. Scrummy can be a hard one to please when it comes to my food creations, which you might have already gathered). It's a pretty light meal, so great for a classy lunch, or you could serve it with some green salad leaves and maybe garlic bread for a more substantial meal.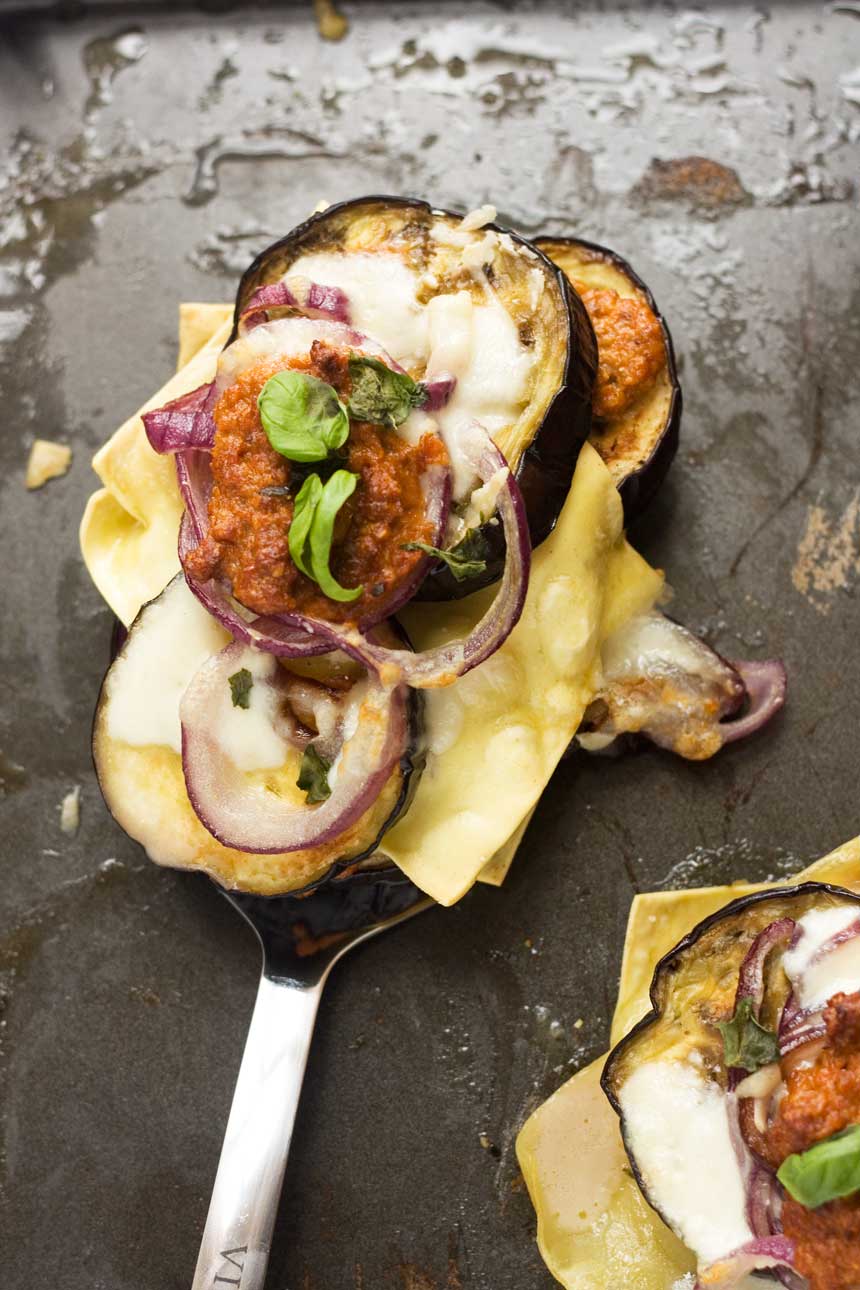 What's the best lasagna you've ever eaten? Have you ever eaten it 'freestyle' before? I really hope you give this one a go! 🙂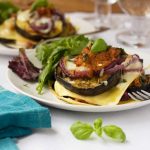 Print
Freestyle eggplant lasagna
Lasagna might hark back to the 80s and 90s, and you might not have the greatest memories of it, but trust me, this veggie lasagna breaks the mould ... in a good way! It's easy to make, light, healthy ... and tasty too, of course.
Ingredients (UK/Australia? Click button below for grams & ml)
2

medium-sized eggplant

aubergine, sliced into fairly thick slices

1

large red onion

sliced into about 8 slices

olive oil for brushing & a bit more for drizzling at the end

4

sheets fresh lasagna

1

ball mozzarella

sliced into 8 pieces

grated parmesan cheese

about a handful

sundried tomato pesto

see below

a small bunch of fresh basil
for the sundried tomato pesto
3/4

cup

sundried tomatoes in oil

drained

a handful of pinenuts or walnuts

I used walnuts as they're cheaper!

2

garlic cloves

chopped

1/4

cup

olive oil

about ¼ cup olive oil

1.75

ounces

parmesan cheese

grated
to serve (optional)
fresh green salad leaves and/or garlic bread
Instructions
Heat up the broiler (grill – UK), then lay the eggplant and onion slices on a broiler pan (grill pan), brush them with a little oil and broil/grill for about 5 minutes or until nicely browned. Then turn over, brush over a little more oil and cook for another 5 minutes on the other side, or until nice and soft. Transfer to a plate and put aside*.

Meanwhile, boil the lasagna sheets for a few minutes, then drain and cut in half to make squares. Finally, put into a dish and pour over a bit of oil to stop them sticking.

Make the pesto by whizzing up all the ingredients in a food processor. Slowly add a bit of water until you get a nice smooth paste.

Preheat your oven to 175C/350F. Now assemble your lasagnas. Lay four squares of pasta on a lightly-oiled baking tray and top with a couple of slices of eggplant, a slice of onion, a torn-up piece of mozzarella, a sprinkle of parmesan, a good heaped teaspoon of pesto and a torn-up basil leaf or two.

Lay another pasta square on top (at an angle to the first), then top with more vegetables, cheese, pesto and basil. Bake for ten minutes.

To serve, drizzle over a bit of olive oil and top with a final sprig of basil. Eat with fresh green salad leaves (and garlic bread, if you like).
Notes
Thanks to Waitrose for the inspiration for this recipe! (adapted)
*Don't worry if your onion slices sort of fall apart a bit after they're cooked!
You'll find that there's plenty of pesto left over when you make these lasagnas, so don't forget to stir it through hot pasta later in the week! If you like, pan-fry some chopped chicken and bacon to add to the pan, too (just remember to add a bit of the pasta cooking water to make the dish nice and loose and silky). Bonus - 2 meals in 1!
Nutrition
Calories:
403
kcal
|
Carbohydrates:
44
g
|
Protein:
12
g
|
Fat:
21
g
|
Saturated Fat:
4
g
|
Cholesterol:
39
mg
|
Sodium:
270
mg
|
Potassium:
973
mg
|
Fiber:
8
g
|
Sugar:
9
g
|
Vitamin A:
435
IU
|
Vitamin C:
28.5
mg
|
Calcium:
193
mg
|
Iron:
2.7
mg
Follow me on Pinterest!
Follow @scrummylane to pin more quick and easy recipes for later

You can also find more from Scrummy Lane on Facebook, Pinterest, Twitter and Instagram and follow me on Bloglovin! Thanks so much for reading!
*This post may contain affiliate links which means that if you click on a link and make a purchase I get a small percentage of the amount you spend. At no extra cost to you, of course! Thank you!*