Forget the January 'no naughty food' rule, if you have one, because I've come up with a much better idea. Or rather, been reminded of one. Still eat that yummy little treat but make it a little healthier in some way if you can and … now here's the super smart part … simply have a smaller portion!
When I found the recipe that I adapted for these very-yummy-although-I-say-it-myself blondies in a very early post of Deb's from Smitten Kitchen, she very wisely suggested that the best way to serve them is in smallish cubes so that you don't end up feeling bad about over-indulging. You have to admit it's an obvious way to be a good girl or boy!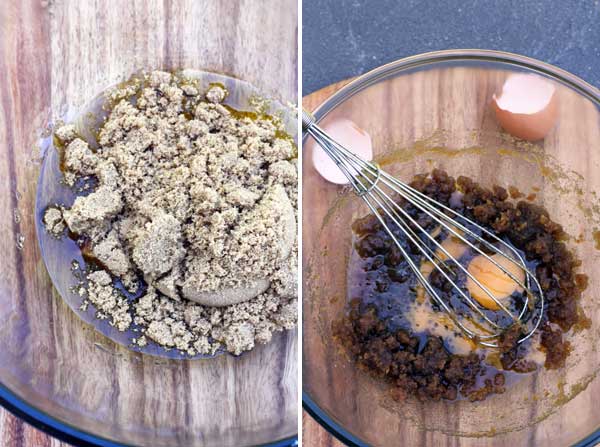 So what else did I do to make these blondies a little more virtuous, if a brownie can/should ever be so? Apart from being stingy with those little cubes! Well, I decided to replace the butter with olive oil. After a quick online search it seems that it is perfectly possible to do this and … handy little fact coming up … as a rough guide you should use 3 units of oil for every 4 units of butter.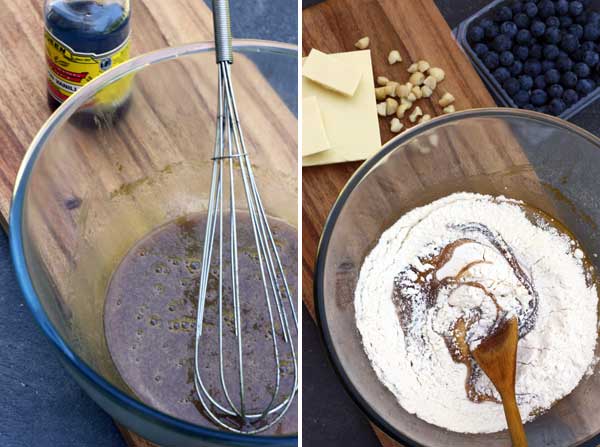 Most recipes I found that replace butter with olive oil do suggest using light olive oil instead of your Italian grandma's best first press extra-virgin, however, so that the taste of the oil doesn't come through in the recipe. As I only had the posh stuff, though, I did actually risk using that and, honestly, it really didn't taste at all olive-oily. I was extremely happy about this as I was making these little sweet nibbles to go with coffee after our BBQ this past Saturday and would have been very disappointed if they'd been spoilt by the oil. But they weren't – phew!
And just for the record, don't worry, we're not a crazy family having BBQs in the winter. I'm in Australia and it's SUMMER here, of course! [P.S. Making the most of it as I'm off to the chilly UK in a week. And, incidently, will have to borrow my mum's clothes as all I will have with me is summer stuff. Long story and yes I feel cold just thinking about it! ;-)]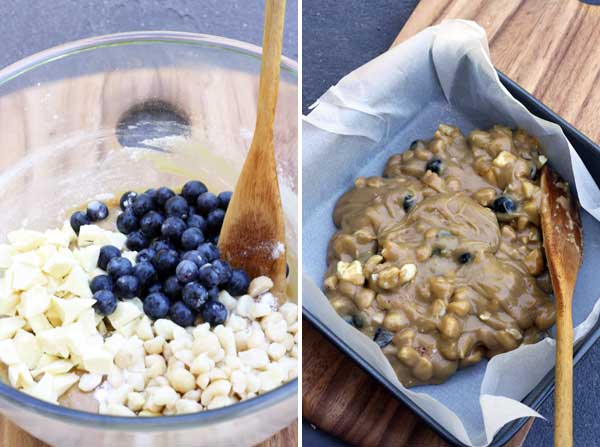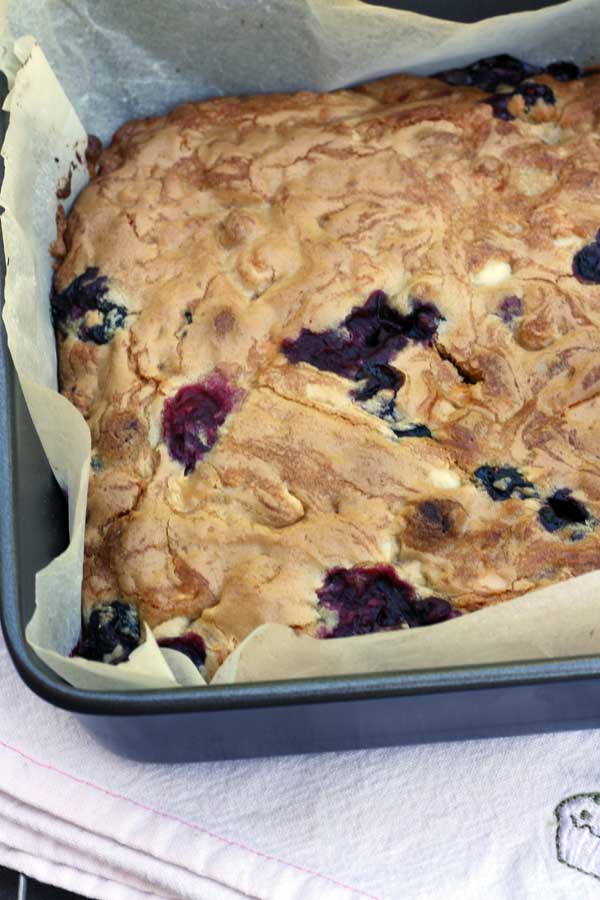 Anyhow, back to the blondies. The only slightly off-putting aspect of this olive oil substitution was that the cake batter didn't look particularly appetizing before going into the oven. Yes, it was vaguely the colour of extra virgin olive oil and smelt like it, too. Yuck. At that point I have to admit I was doubting! But I promise you that the colour magically came right when the blondies came out of the oven. There was no bad taste and no yucky colour. Certainly none of our BBQ guests noticed anything fishy – or rather olive oily! Opting for oil instead of butter just reduces the saturated fat and cholesterol content of the cakes, makes for a lovely moist texture, and apparently makes them last longer, too. Thanks to Aimee at Wallflowergirl for that information!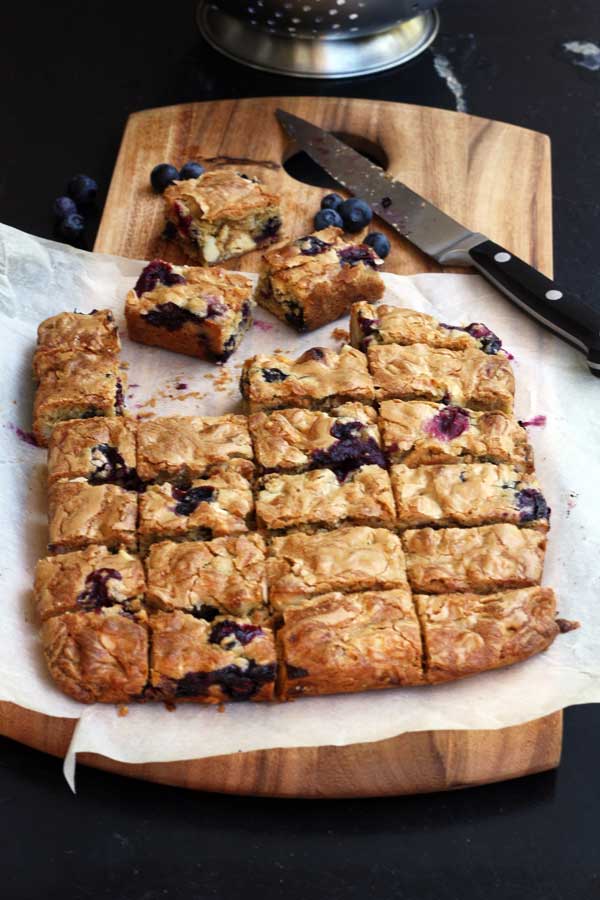 So … in summary, these cute little blondies did not end up tasting of olive oil, thankfully. But a luscious deep caramel flavour they very happily DID have, thanks to the copious amounts of brown sugar in them. There you go – there's the less virtuous part and the reason for the smaller portion. I used light brown sugar, as again that's what I had to hand, but I would suggest that dark brown sugar would give them a richer flavour. Next time I will definitely be plumping for the darker sugar.
And that, along with the subtle fruity-ness of the blueberries and the large creamy chunks of white chocolate and sweet semi-soft macadamia nuts I strirred through the basic mixture made for one very satisfactory blondie indeed!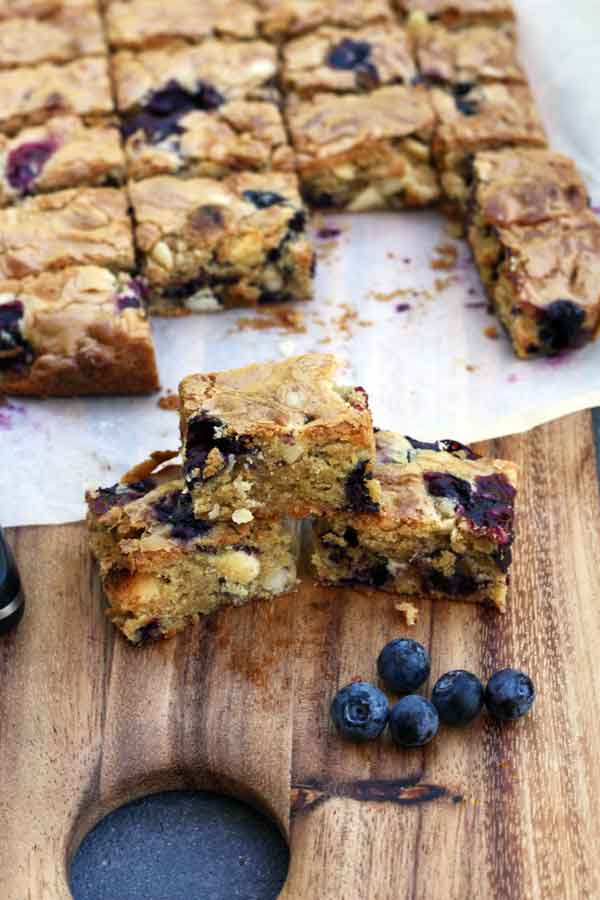 If you like the idea of the cutting-into-small-chunks-to-help-people-out-with-their-possible-diets route, something else that really helps here is the fact that the recipe is just for a small batch made in a roughly 8×8 inch pan. And don't forget to make them when you have plenty of people to share them with!
These blondies are SUPER quick and easy and very adaptable. I loved them with the blueberries, white chocolate and macadamia nuts, but you could add about ½ to ¾ of a cup of literally anything you think would go well – different chocolates and nuts, raspberries or blackberries, citrus peel, glace cherries … like my mango and pistachio chocolate bark of a couple of posts ago, the possibilities really are endless!
Please do let me know if you have a go at these blondies and what you decide to put into them … that would really make my day!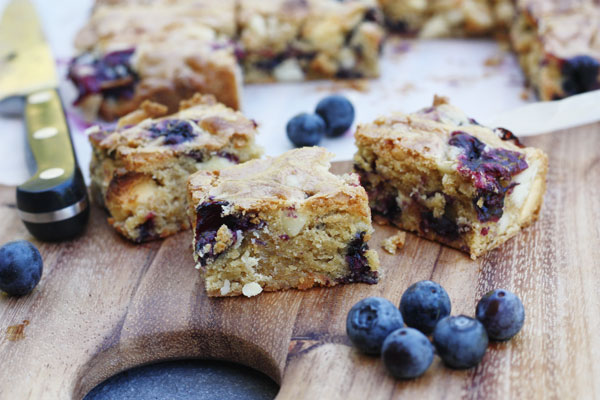 Blueberry, white chocolate & macadamia blondies
Moist, caramel-flavoured blondies made with olive oil instead of butter and packed with blueberries, white chocolate and macadamia nuts. Perfect for sharing!
Ingredients (UK/Australia? Click below for grams/ml)
Instructions
Line an 8 x 8 inch pan with baking paper and pre-heat the oven to 350F/180C.

Pour the olive oil into a large bowl and add the sugar. Whisk well.

Add the egg and vanilla and whisk again.

Mix in the salt, flour and baking powder. Don't over-mix.

Gently fold through the blueberries, chopped white chocolate & macadamia nuts.

Pour into the baking pan and bake for about 20 minutes or until a skewer plunged into the middle of the cake comes out clean.

Allow the cake to cool on a cooling rack before cutting it into smallish cubes.
Notes
Barely adapted from Smittten Kitchen
Use light or dark brown sugar.
Replace the blueberries, white chocolate and macadamias with 1/2 to 1 cup each of any of the following: chocolate chips or chunks of your choice, your choice of nuts, mashed banana, dried fruit e.g. cherries, peanut butter. coconut etc.
Nutrition
Calories:
80
kcal
Carbohydrates:
14
g
Fat:
2
g
Cholesterol:
7
mg
Sodium:
7
mg
Potassium:
33
mg
Sugar:
10
g
Vitamin A:
10
IU
Vitamin C:
0.4
mg
Calcium:
16
mg
Iron:
0.4
mg