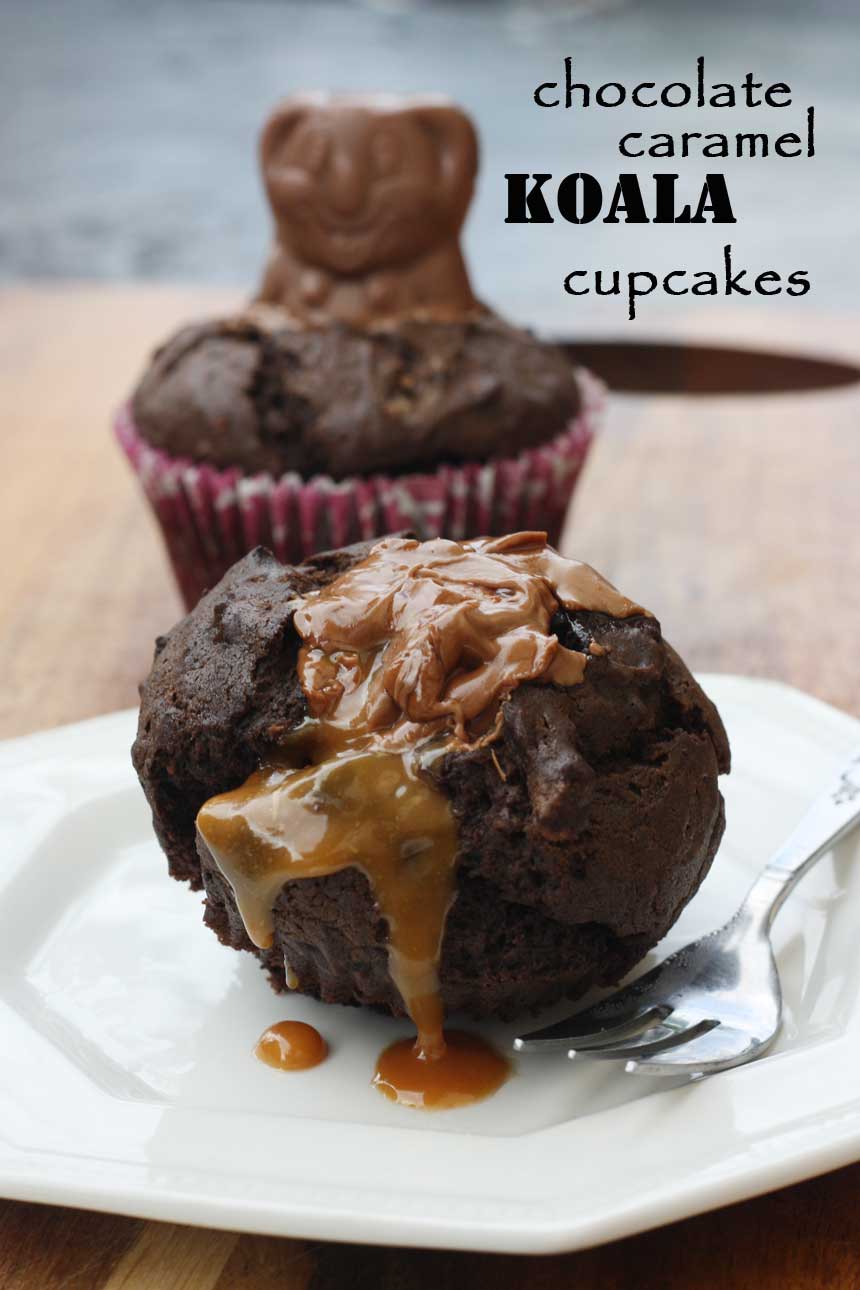 When I get cooped up inside, I turn into a ten-year-old. Well, according to Mr. Scrummy I do, anyhow. My bottom lip curls up and out, my shoulders hunch up and I moan and groan (and moan and groan a little bit more) until Mr. Scrummy agrees to go with me on a little trip out somewhere. Somewhere … anywhere!
So a few weeks ago, while we were still in Australia (yes, we've left and gone to live in the UK, but more about that some time later …) that grumpy ten-year-old in me came out in force. It was pouring down with rain in that sort of tropical downpour sort of way that is common over there in Perth Australia, but I was still really keen to go out. That might sound crazy, but when I've been working at home all week long, the last thing I want to do is stay in all day at the weekend, too. Even if I end up drenched, it seems!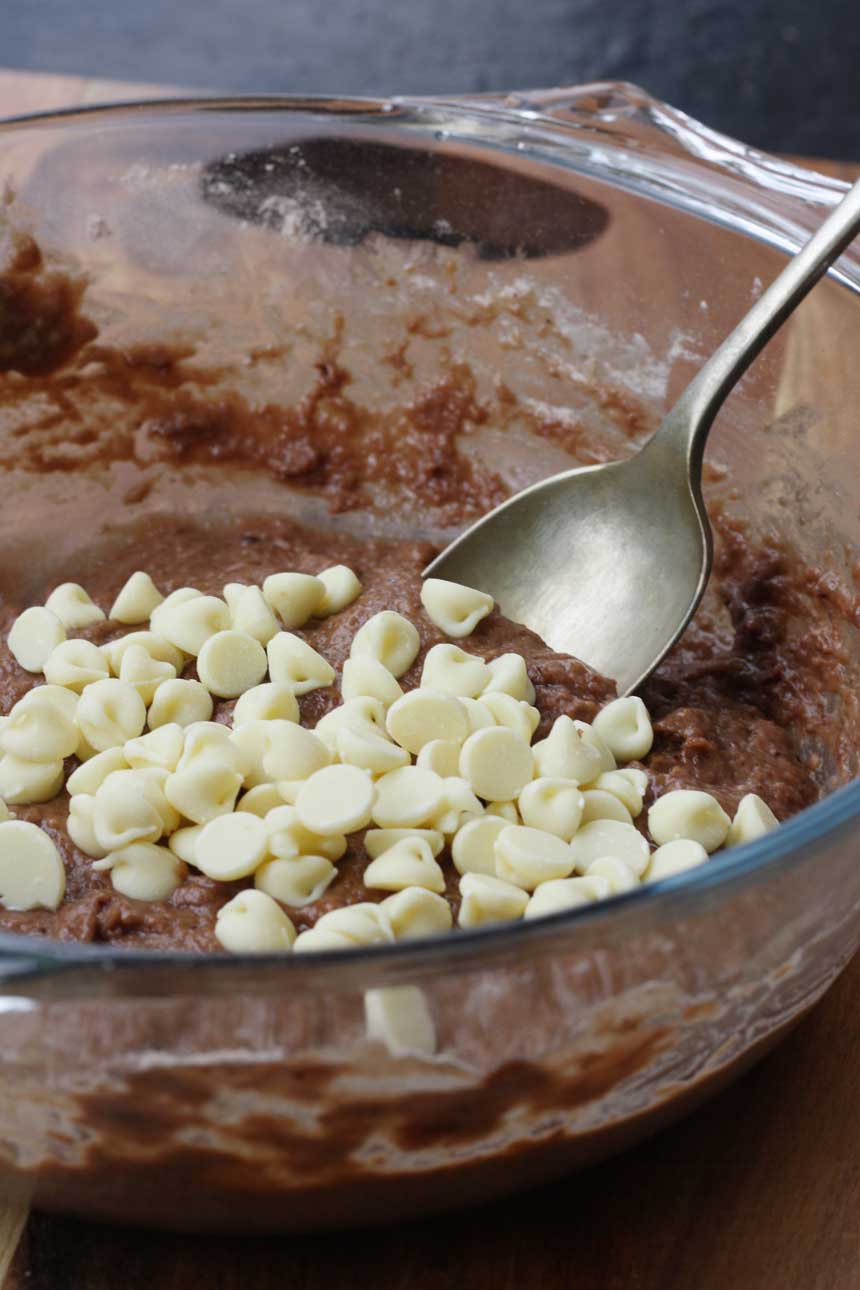 But despite my whining and cajoling, Mr. Scrummy would not relent, not least because the AFL (Australian rules football) final was on TV. I could have stomped off in a huff by myself, of course (with the biggest umbrella I could find), but in the end I decided to just suck it up, behave like the adult I mostly pretend to be am and try to enjoy 'the unique Aussie experience' of watching the final while stuffing myself with hot dogs as is the tradition on these sorts of occasions.
And wouldn't you know it, it wasn't all that bad. I'm not a huge fan of hot dogs, but I guess it was marginally enjoyable, or at least bearable, to watch the one team slaughtering the other (sorry, Aussie footie fans, but that's all the enthusiasm I can muster up).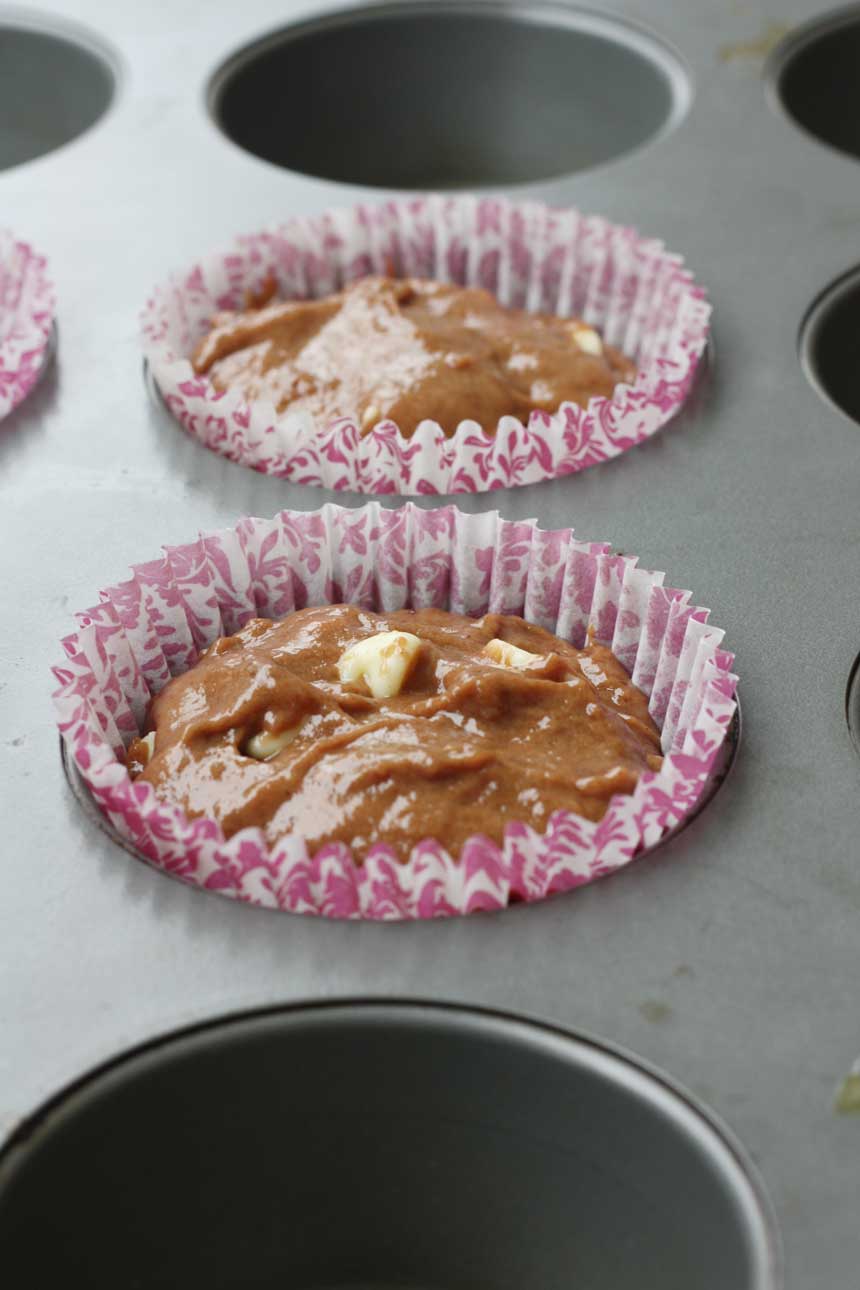 I also decided, on a whim, to make these cute little chocolate muffins (muffins … cupcakes? Take your pick!) for dessert. Now it's only fair to give full credit for this idea to a little hole-in-the-wall coffee shop we visited recently in one of Melbourne's marvellous cutesy laneways (Degraves Street, as I remember). Shamefully, I'm afraid I didn't note down the name of the coffee shop, but if anyone can tell me I'll be happy to publish it. Anyway, Mr. Scrummy and I had a little giggle at the time because even though the cupcakes were called chocolate caramel koala 'self-saucing' cupcakes, what was really going on here was something a little different. But not, I have to add, any less delicious! (hence my copying of the idea!)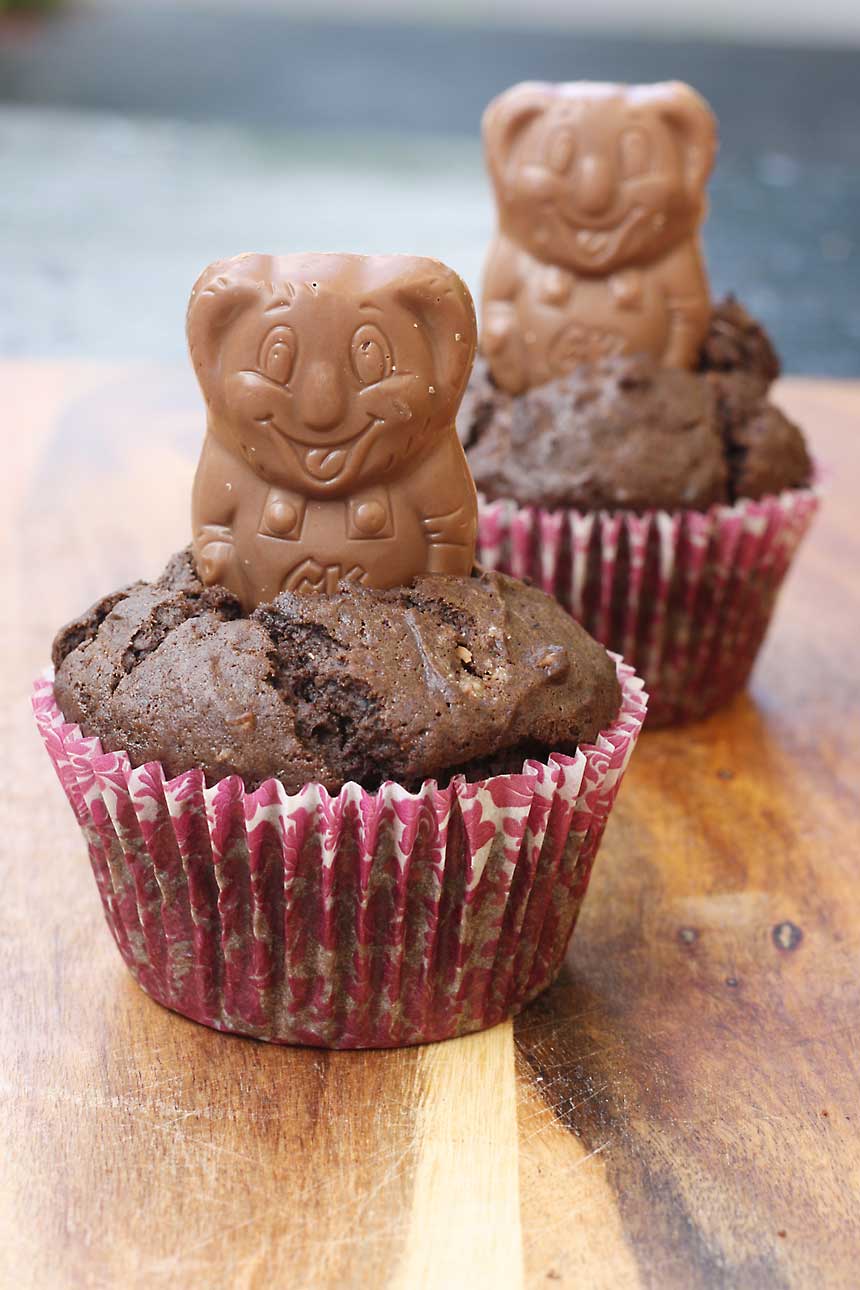 So basically I decided to make just two cakes because the finished muffins end up being pretty rich with the addition of the chocolate koala bear. This way, there's no temptation to have a second (unless of course you make them when you're by yourself at home!) The muffins themselves are ridiculously easy to make as you simply measure the ingredients into a small bowl with a tablespoon, stir it all together and divide the mixture between 2 cupcake wrappers. Twenty minutes later you've then got yourself two hot-out-of-the-oven moist and intensely chocolaty cupcakes to enjoy.
And now for the 'self-saucing' part. Hehe.
Push one chocolate caramel-filled koala bear into the top of each cupcake, then pop it into a microwave for about 30 seconds or so. Your chocolate muffin will now be topped and filled with oozy, melty chocolate and caramel and ready to enjoy either neat with a spoon or with a dollop of cream or ice cream on the top. Definitely a cheat's self-saucing pudding … but absolutely delicious!
Now I know what you're thinking: 'Where on earth am I supposed to find a chocolate caramel koala bear when I live X,000 miles from Australia?' OK, fair point. But I happen to know that in both Greece and in the UK you can get something similar to these Australian 'Caramelo koalas' by Cadbury's called 'Freddo frogs'. Improvise and I'm sure you'll find something equally as (in)appropriate to top and stuff your cupcakes with!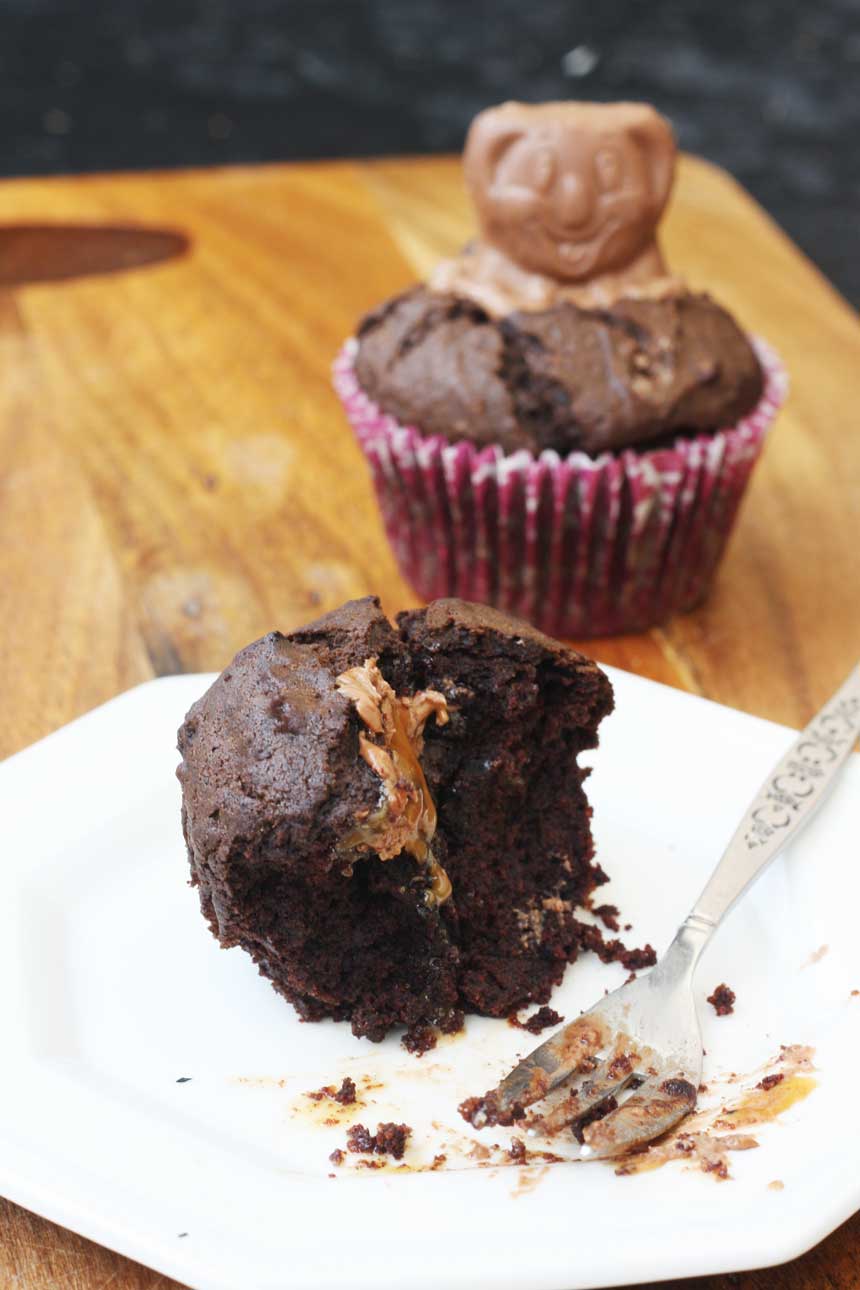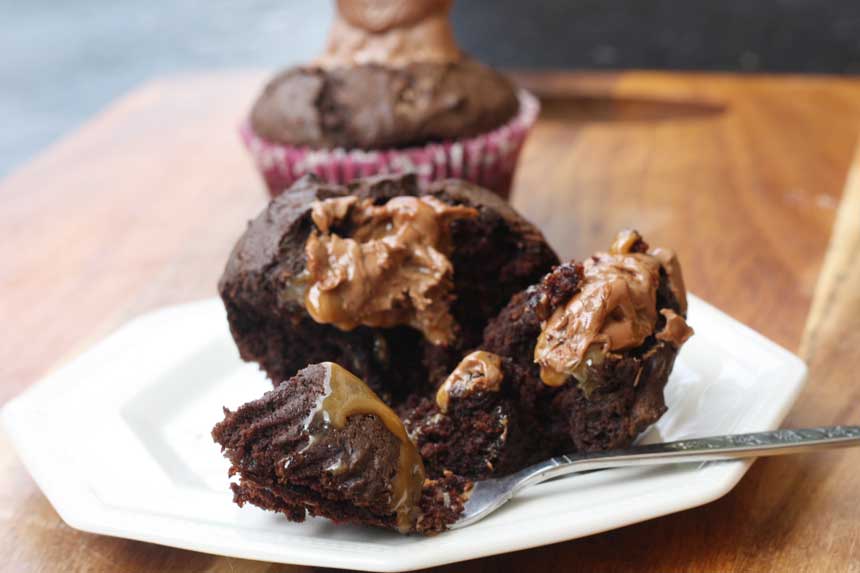 chocolate caramel koala 'self-saucing' cupcakes for two
'Cheat's' self-saucing chocolate caramel cupcakes ... for two! Measure everything out quickly by tablespoons, stir it all together and bake for 20 minutes and you'll have a delicious oozy caramel chocolate dessert. If you can't find chocolate koala bears to stick in the top, any similar little treat will do the trick!
Ingredients (UK/Australia? Click below for grams/ml)
3

tablespoons

plain flour

1 1/2

tablespoons

sugar

1

tablespoon

cocoa powder

unsweetened

1/4

teaspoon

baking powder

a large pinch of salt

1

tablespoon

chocolate chips

totally optional!

3

tablespoons

milk

I used almond but ordinary is fine

1

tablespoon

oil

I used vegetable but any is fine

1/2

teaspoon

vanilla extract

2

'Caramelo Koalas' or 'Freddo Frogs' or similar

caramel filled chocolate treats
Instructions
Preheat oven to 350F/175C and line a muffin tin with 2 regular-sized cupcake liners of your choice. (put them in the centre of the tin if you can)

Mix all of the dry ingredients together in a smallish bowl, then add the milk, oil and vanilla and stir until just combined.

Divide the batter between the 2 cupcake liners, then bake for about 20 minutes or until a skewer stuck into the centre of a cupcake comes out clean.

Leave to cool for at least ten minutes (longer is fine), then push one chocolate caramel koala (or substitute!) into the centre of each cupcake (I made a little slit with a knife first so that the koala slipped in better). Put on a plate and microwave for about 30 seconds or until the chocolate treat has melted into and over the cupcake (It's best to take the cupcake wrapper off first)

Serve neat, with a ball of ice cream or a dribble of fresh cream. Don't burn your mouth!
Notes
For my chocolate muffins, I slightly adapted this recipe from The Comfort of Cooking. Thank you! Caramelo koalas may not be available where you live, but you can use Freddo Frogs or any similar caramel-filled chocolate treat you like instead! The first time I made these I added a few white chocolate chips, which looked (and tasted) quite nice, but you don't have to do this. The dessert ends up quite rich enough! It's easy to make this recipe for 4. Obviously just double the ingredients!
Nutrition
Calories:
198
kcal
Carbohydrates:
25
g
Protein:
2
g
Fat:
9
g
Saturated Fat:
2
g
Cholesterol:
3
mg
Sodium:
16
mg
Potassium:
118
mg
Fiber:
1
g
Sugar:
15
g
Vitamin A:
35
IU
Calcium:
56
mg
Iron:
1
mg
I hope you enjoyed this post! You can subscribe to receive posts directly to your inbox by entering your email address in the box below or at the top of the sidebar on the right.
You can also find more from Scrummy Lane on Facebook, Pinterest, Twitter and Instagram and follow me on Bloglovin! Thanks so much for reading!
*This post may contain affiliate links which means that if you click on a link and make a purchase I get a small percentage of the amount you spend. At no extra cost to you, of course! Thank you!*