Chicken pizzaiola is a super quick, easy, and healthy Italian dish made with only chicken breasts, tomatoes, mozzarella and a few other simple pantry ingredients. Best of all, you can cook it all in one pan in less than 30 minutes. It's a perfect go-to midweek dinner that the whole family will love!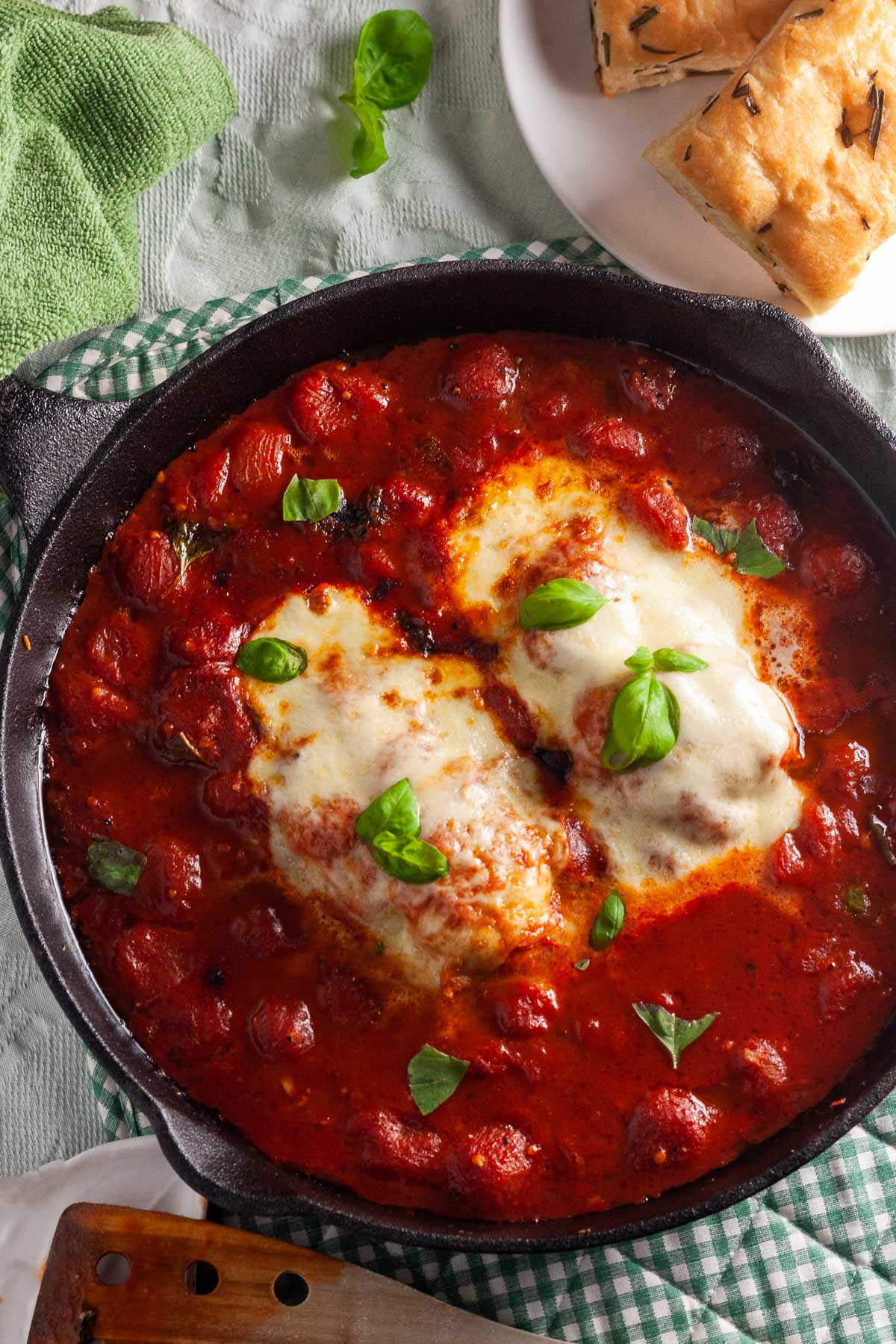 What's chicken pizzaiola?
This tasty italian chicken, tomatoes and mozzarella dish is believed to have originated in sunny southern Italy, where they call it "pollo alla pizzaiola." But now, chicken pizzaiola is a popular Italian-American dish that you can find in many restaurants and pizzerias around the world.
Originally, the dish was made with beef or veal and served as a hearty main course for family meals and special occasions. Over time, more affordable chicken was substituted and the pizzaiola sauce was simplified to be made with simple pantry ingredients such as canned tomatoes.
which makes it a perfect easy midweek meal for the whole family!
Why you'll love it
✔ A quick and super easy recipe ready in under 30 minutes and using only 6 simple pantry ingredients (plus a little oil and salt and pepper!). A great dinner option for busy weeknights!
✔ Crowd pleasing 'pizza flavors' make it a family friendly dinner. Who doesn't love chicken, rich tomato sauce and oozy mozzarella cheese?
✔ Make it on the stovetop in just one pan. No need to turn on the oven!
✔ A nutritious and satisfying dinner, and relatively economical, too!
Fun fact: No, it's not your imagination – chicken pizzaiola is quite similar to chicken parmigiana! In both dishes chicken breasts are topped with oozy mozzarella. The difference is that chicken parmesan is breaded chicken breasts whereas chicken pizzaiola is chicken simmered in the marinara style sauce.
About the ingredients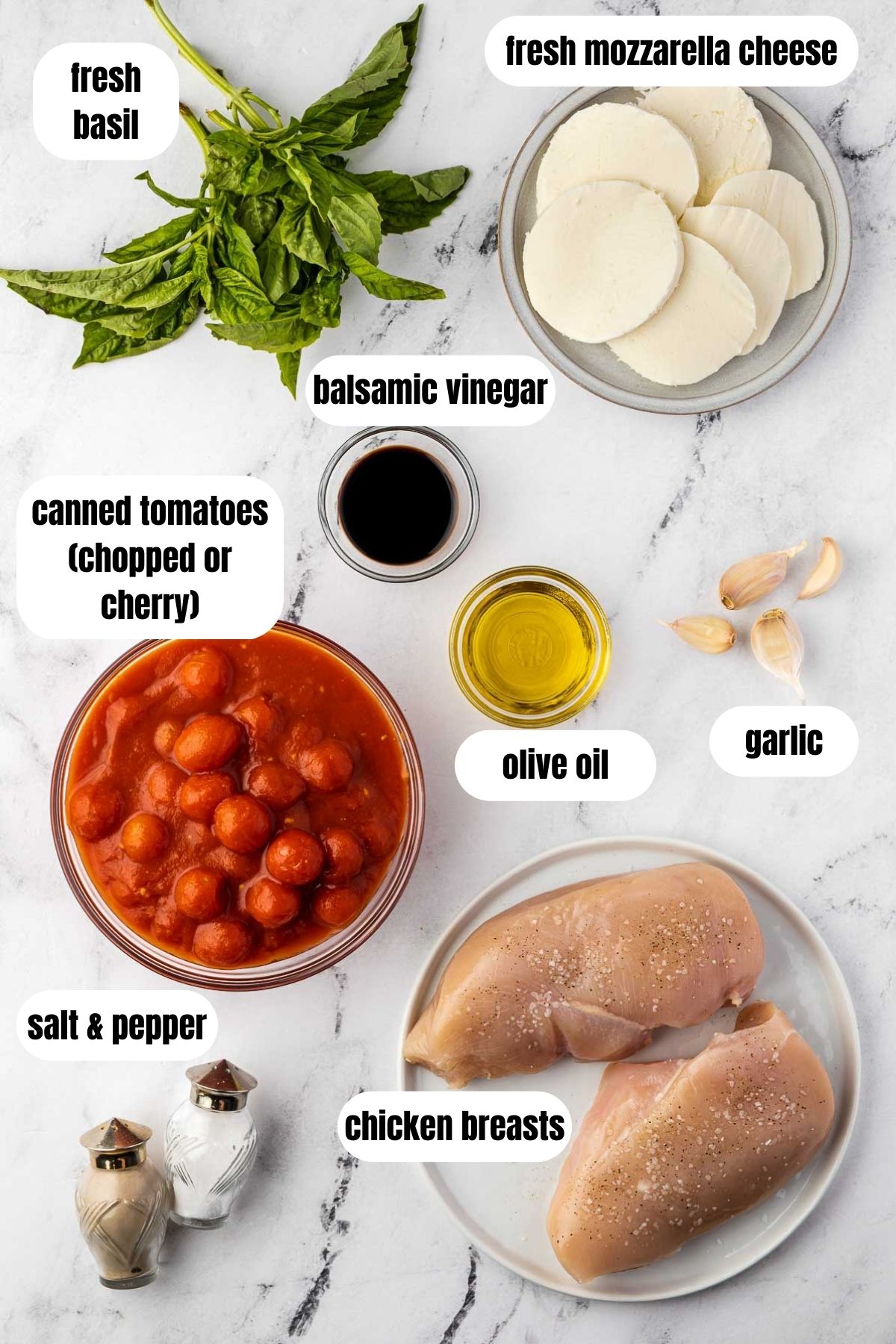 Olive oil: For any dish where a homemade pizza sauce is included, I like to start with plenty of good quality extra virgin olive oil.
Chicken breasts: Try to choose small to medium if available. The recipe below is for 2 people, but you can easily add more breasts to the pan as long as it is large enough (and of course you would then double the sauce as well).
Garlic: I prefer to slice it finely for this recipe. Choose 4 fresh large cloves for the best results.
Canned cherry tomatoes: These are usually available alongside regular canned tomatoes at the supermarket. If you can't find them, try a European style deli. I feel like canned cherry tomatoes offer a sweeter flavor, firmer texture, and vibrant appearance compared to canned chopped tomatoes. But of course, it's absolutely fine to use good quality canned regular chopped tomatoes instead if you're struggling to find cherry tomatoes.
Balsamic vinegar: Just a drizzle (around a tablespoon) to add depth to the flavor of the pizzaiola sauce.
Honey: This is entirely optional, but I like to add just a little honey to any homemade tomato sauce to balance out the acidity of the tomatoes. Alternatively add a small teaspoon of sugar.
Fresh basil: I usually add most of a bunch of basil to the sauce. Since there are so few ingredients in this recipe, it's essential to the flavor. It's fine to use dried basil instead (or another herb such as dried oregano) if you don't have fresh.
Salt and pepper: Add this to the sauce to taste. Taste at the end and add more if you like.
Mozzarella cheese: You can either use fresh sliced mozzarella, or grated mozzarella is fine, too.
And that's it – see, so simple! If you like, however, you can add an extra ingredient or two to the sauce to make it your own. See below for ideas!
How to make it
The step-by-step guide below should help you make the recipe perfectly first time. Scroll down to the end for the full recipe including ingredient amounts.
What I really love about this meal (apart from how truly simple and tasty it is!) is that you only need to use one pan – and on the stovetop, so it's perfect for those days when you don't really want to turn on the oven.
And there are only a few very simple steps! Here's what you need to know.
Firstly, add plenty of olive oil to a large skillet/heavy pan (at least a tablespoon or two). Then pan-fry the chicken breasts on a medium high heat for a couple of minutes on each side.
Then add the garlic to the pan and let it cook for just a minute or two (you don't want it to burn).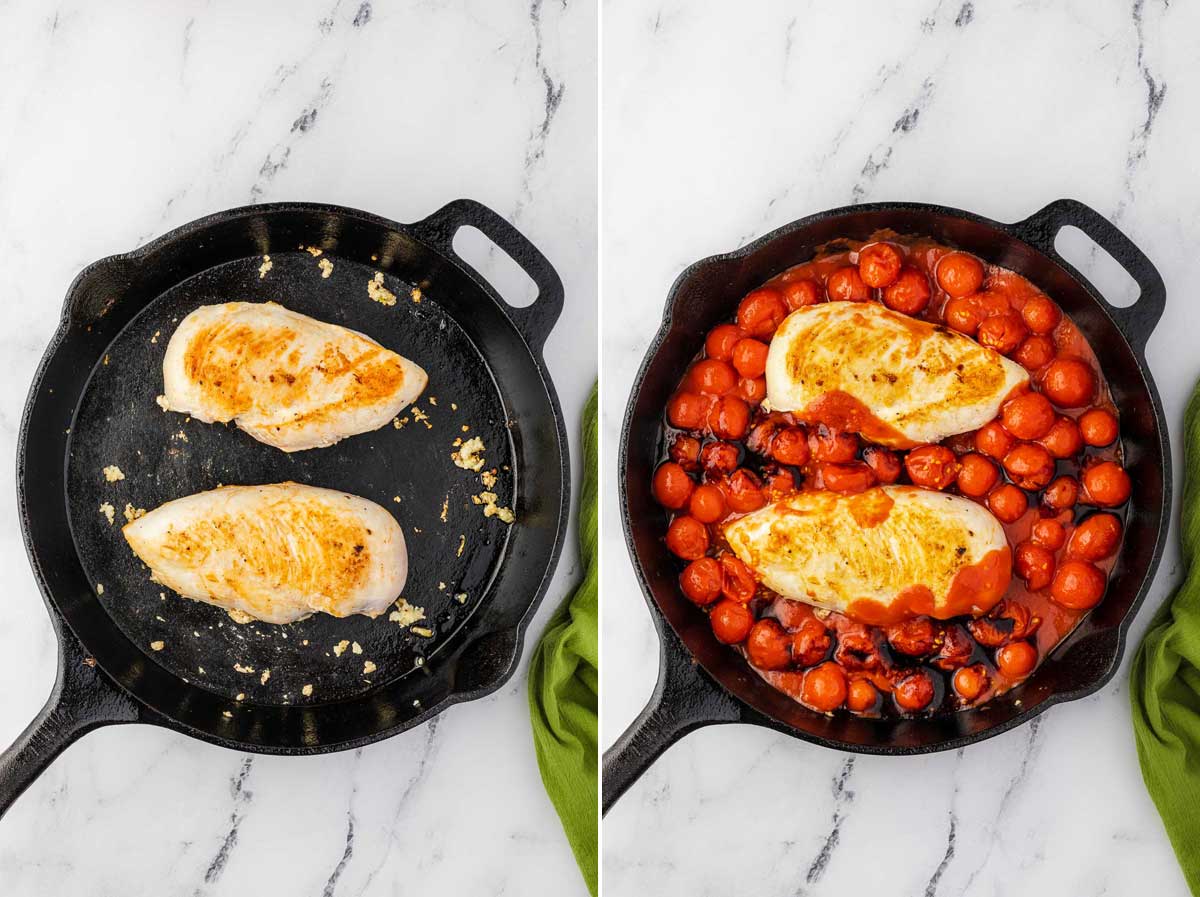 Then pour the canned cherry tomatoes into the pan, all around the chicken. Add the balsamic vinegar, honey (if using) and basil and plenty of salt and pepper too.
Let the sauce and chicken simmer for around 5 minutes. Then turn the chicken over with chicken tongs and let simmer for another 5 minutes on the other side.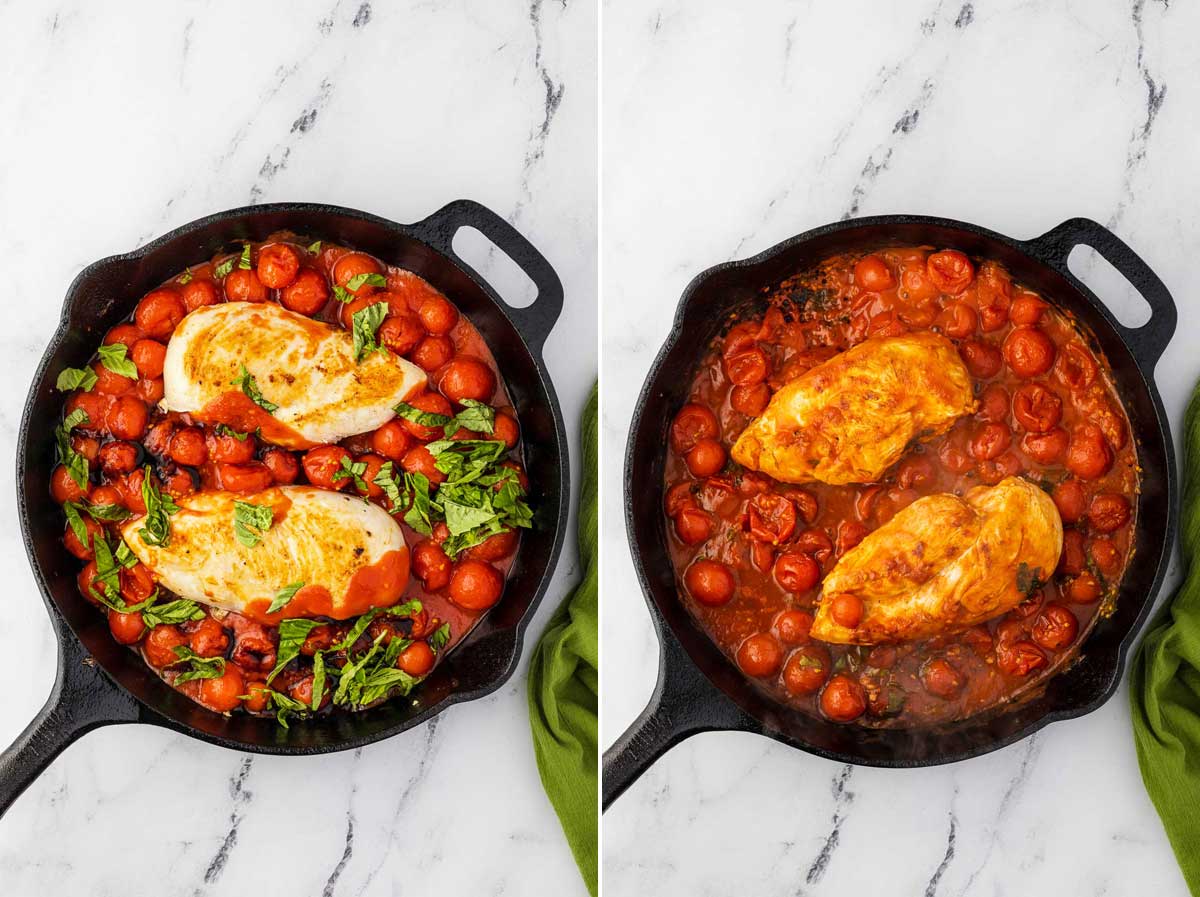 Now here's where the magic happens! Top each chicken breast with a slice or sprinkle or two of mozzarella cheese and… broil/grill until bubbling and oozy!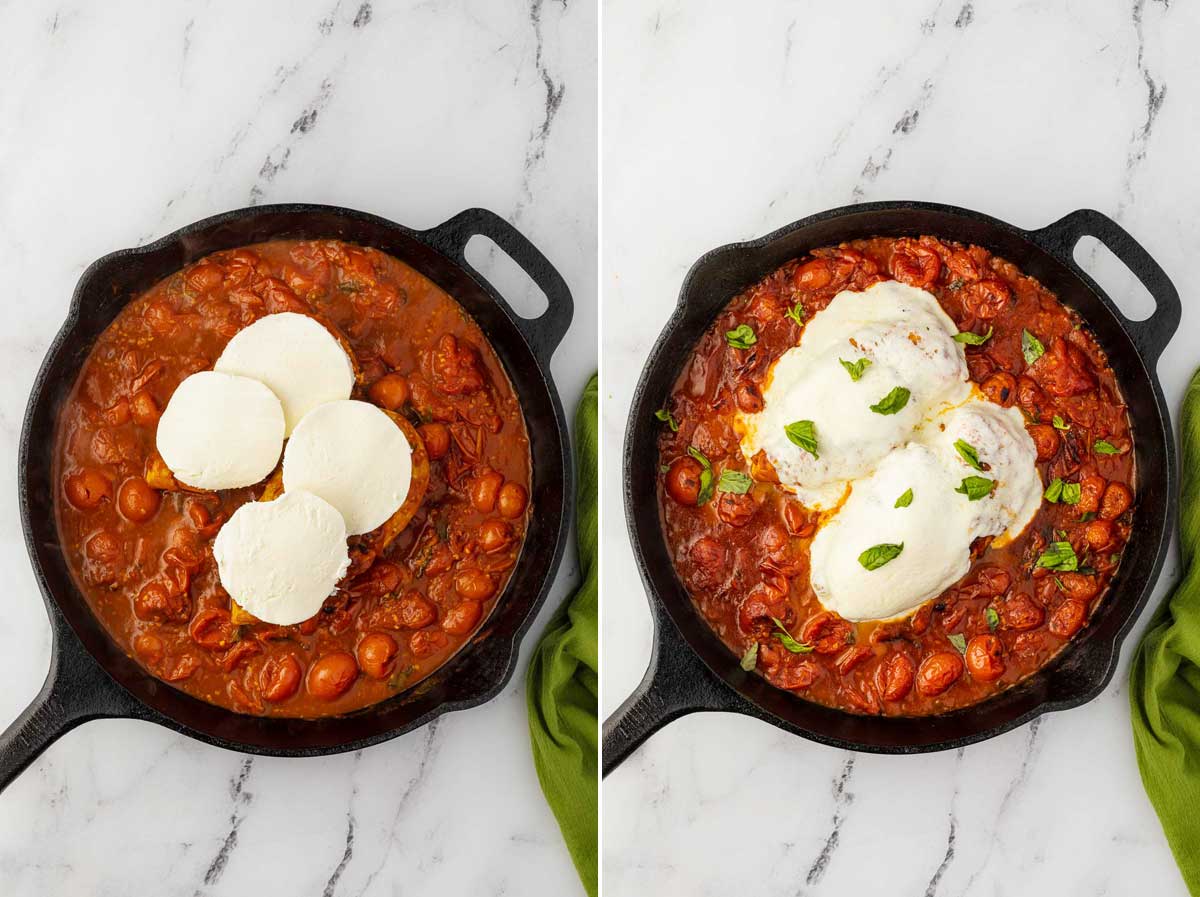 Serve the chicken breast pizzaiola with crusty bread or any of the suggestions below. How easy is that?
Helen's top tips
Check the chicken is done by testing it with a meat thermometer. It should be at least 165F/74C in the thickest part.
Don't be shy with the olive oil since it will add flavor to the sauce, especially if you use a good quality brand. Add a very large drizzle to pan-fry the chicken in.
Be careful not to burn the garlic. Cook for just a minute or two before adding the rest of the sauce ingredients.
How to serve
My favorite way to serve this pizzaiola chicken is with these 10-minute frozen green beans (or any fresh or frozen vegetables) and either crusty fresh bread, these 2-minute olive oil toasts or (my top choice if you have time!) this no-knead Italian focaccia bread.
Another easy side dish option is a green salad such as this easy Greek lettuce salad.
That's all it needs! So delicious!
If you're in the mood for potatoes – no worries! Throw these mini roast potatoes AKA parmentier potatoes into the oven!
Alternatively, you can serve with your favorite pasta. Of course, spaghetti is always a great choice! I'd stir a little of the serve through the cooked pasta first, then top with the chicken and the rest of the sauce.
Sprinkle over a little parmesan cheese and extra fresh basil if you like to serve.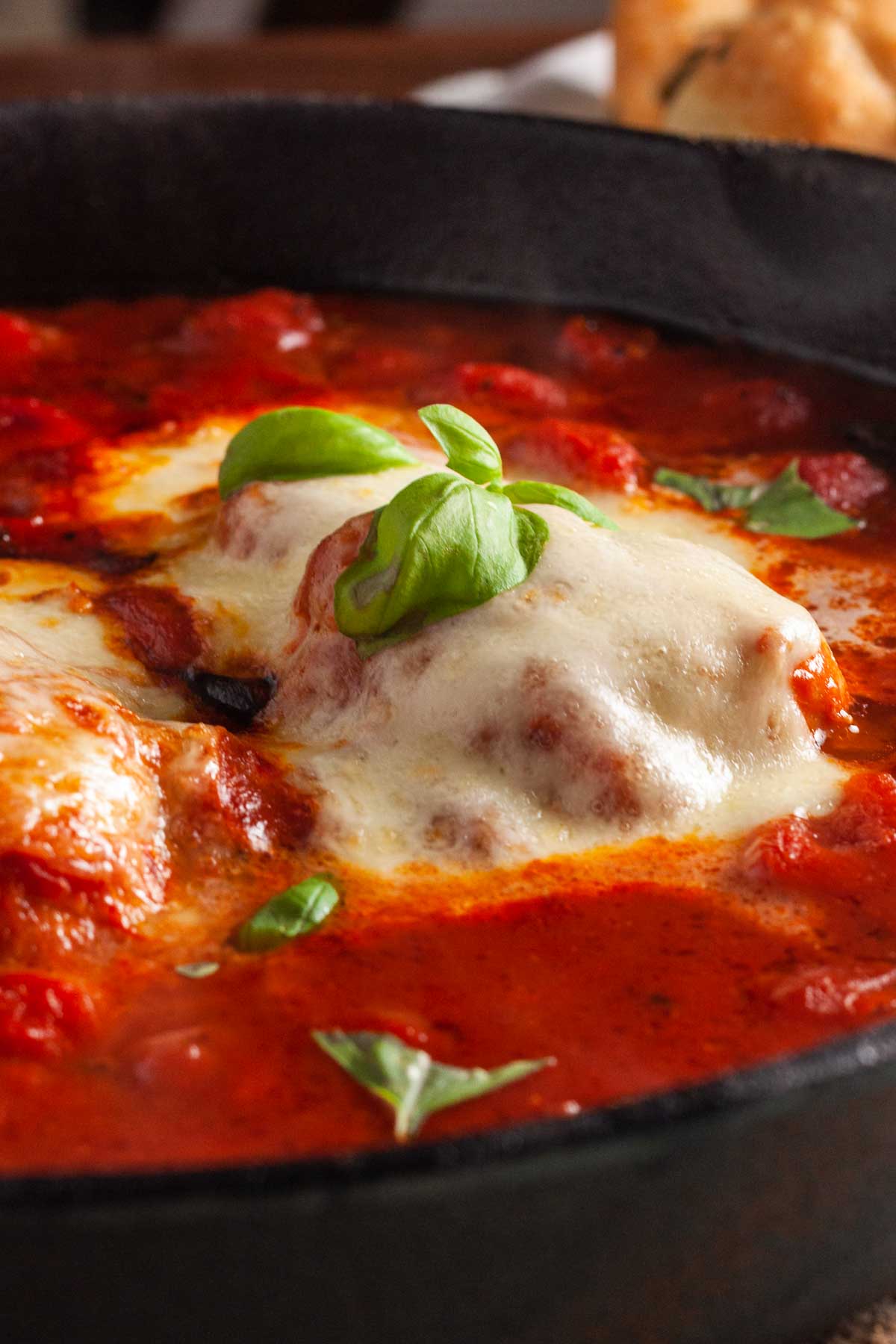 Variations
If you travelled to different regions in Italy you may come across different variations and adaptations of a chicken pizzaiola recipe.
Which means it's very easy to adapt and make your very own! Here are some suggestions.
Add a small handful of capers, chopped olives, jarred roasted red peppers or anchovies to the chicken pizzaiola sauce.
Add extra fresh or dried herbs. I'm thinking oregano, thyme, parsley or mixed dried Italian herbs.
Add a little chopped bacon or chorizo to the pan while you're pan-frying the chicken – for lots of extra yummy flavor!
Similar to the above, top the chicken with pepperoni slices as well as the mozzarella… for extra pizza-y vibes!
Be brave and switch out the chicken for steak. Remember that traditionally pizzaiola was made with steak!
Swap the mozzarella for a different cheese. How about gruyère, feta or a strong cheddar? Or simply add a sprinkle of parmesan to the mozzarella.
Recipe FAQs
Can I make chicken pizzaiola ahead of time?
Yes, you can. Simply let cool a little then keep covered in the fridge until ready to serve. To reheat, simply place the chicken and sauce in a pan and heat on medium-low heat until heated through. Alternatively you can cover and microwave individual portions for around 3 minutes on 80% power until piping hot again.
How can I store leftover chicken pizzaiola?
Leftover chicken pizzaiola can be stored in an airtight container in the refrigerator for up to 3-4 days. Then reheat as described above.
Can I freeze it?
Yes you can. Freeze in an airtight container for up to 2 months. Let defrost in the fridge overnight, then reheat as described above.
IF YOU MAKE THIS RECIPE, LET ME KNOW HOW YOU GET ON BY LEAVING A COMMENT AND RATING BELOW… AND DON'T FORGET TO SIGN UP TO RECEIVE ALL MY NEW RECIPES BY EMAIL!
One Pan Chicken Pizzaiola (25-Minute Meal)
Chicken pizzaiola is a super simple (but quite fancy, really!) less than 30-minute dinner the whole family will love.Just pan-fry chicken with garlic, pour canned cherry tomatoes (or regular chopped tomatoes) and some basil onto it, simmer, then top with mozzarella and grill … mmmm!
Equipment (affiliate links)
Ingredients (UK/Australia? Click below for grams/ml)
2

tablespoons

extra virgin olive oil

4

garlic cloves

chopped finely

2

chicken breasts

28

ounces

cherry tomatoes

(two cans) or use canned chopped tomatoes

1

tablespoon

balsamic vinegar

1

teaspoon

honey

(optional) or sugar

1

bunch

fresh basil

chopped

salt and pepper

to taste

1

ball

fresh mozzarella

sliced (or use grated mozzarella)
Instructions
Drizzle the oil into a large frying pan/skillet, then heat it up (on a medium heat). Cook the chicken for about 2 minutes on each side, adding the garlic for the last minute.

2 tablespoons extra virgin olive oil,

4 garlic cloves,

2 chicken breasts

Pour the cherry tomatoes into the pan with the balsamic vinegar, the honey, most of the basil, and plenty of salt and pepper. Let simmer for about 5 minutes, then turn the chicken over and simmer for another 5 minutes.

28 ounces cherry tomatoes,

1 tablespoon balsamic vinegar,

1 teaspoon honey,

1 bunch fresh basil,

salt and pepper

Check that the chicken is cooked all the way through (use a meat thermometer if you have one to check it's 165F/74C in the thickest part). Then top each piece with the mozzarella slices.

Put the pan under the broiler/grill for a minute or two until the cheese is melted and bubbling.

Divide the sauce between the plates, then top with the chicken and garnish with the rest of the basil.
Notes
Servings: This recipe serves 2 quite generously. If you'd like to serve more people (a family, for instance) simply use a very large skillet/pan and double the ingredients. You can use the simple slider above to change the number of servings and all the ingredient amounts.
Alternatives: Optionally, grate a bit of parmesan over the mozzarella before broiling/grilling. You can experiment with different cheeses instead of mozzarella such as tasty cheddar, feta or Swiss cheese.
Add a few capers, anchovies, roasted red peppers and/or chopped olives to the pizzaiola sauce.
Give the dish even more of a 'pizza vibe' by layering slices of pepperoni underneath the mozzarella.
How to serve: Serve simply with a green salad or 10-minute frozen sauteed green beans or another simple vegetable side dish.
Crusty bread, 2-minute olive oil toasts or easy no-knead focaccia bread also goes really well.
Storage/freezing/reheating: Store in an airtight container for up to 3 days in the fridge or up to 2 months in the freezer. If frozen, let defrost in the fridge overnight. Reheat in the microwave in individual portions for around 3 minutes (covered) or heat gently until piping hot in a saucepan.
Nutrition
Calories:
819
kcal
Carbohydrates:
25
g
Protein:
77
g
Fat:
46
g
Saturated Fat:
18
g
Polyunsaturated Fat:
3
g
Monounsaturated Fat:
19
g
Trans Fat:
0.03
g
Cholesterol:
234
mg
Sodium:
1018
mg
Potassium:
1834
mg
Fiber:
3
g
Sugar:
15
g
Vitamin A:
2984
IU
Vitamin C:
96
mg
Calcium:
646
mg
Iron:
4
mg