We often eat 'little snacks' in the afternoons at weekends instead of proper lunches. Different kinds of crostini are one of my favourite choices and these simple, fresh-tasting and brightly-coloured fava bean, mint & ricotta ones don't disappoint!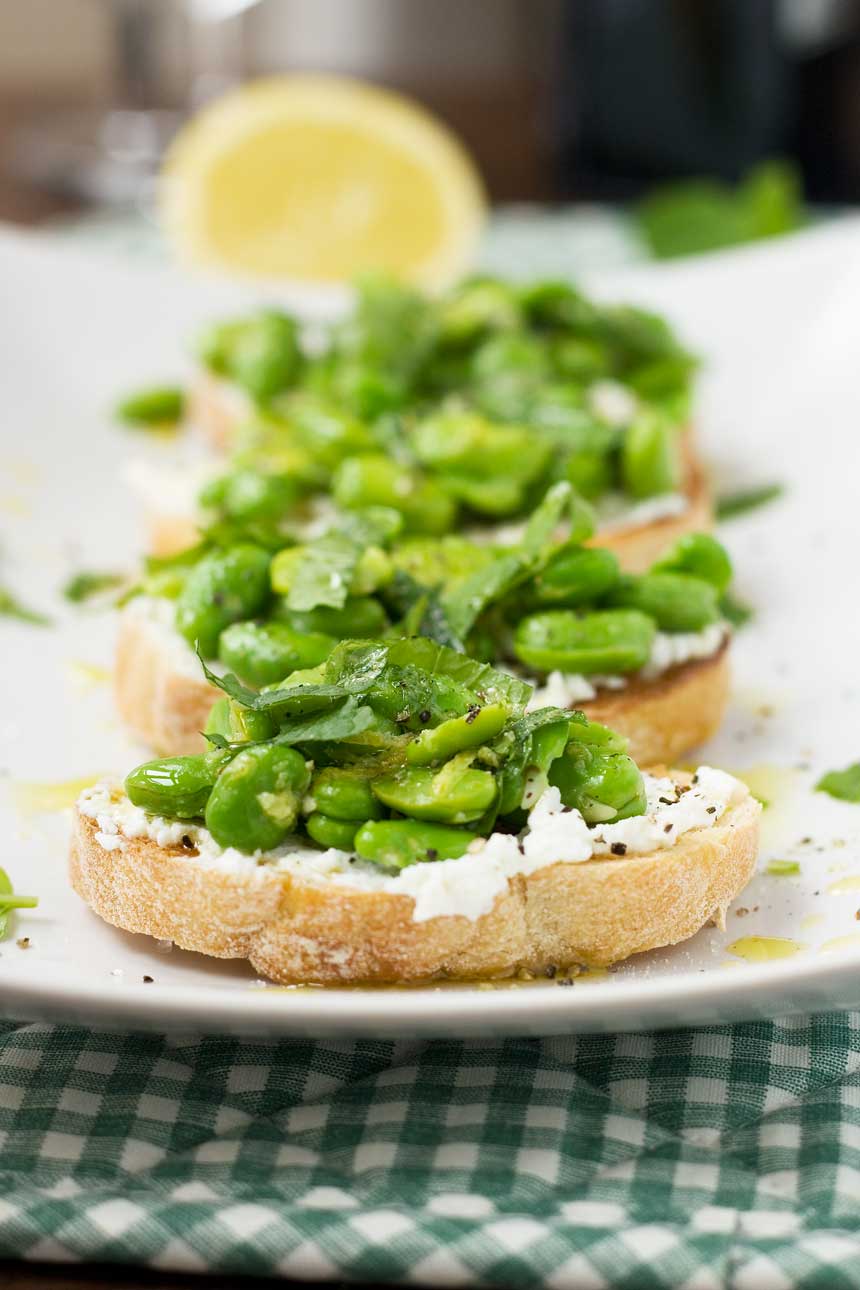 I've hesitated posting this fava bean, mint & ricotta crostini for a few weeks, not because I've fallen out with the recipe but because I've been letting myself get distracted by oozy, gooey and frankly a bit naughty things full of chocolate and peanuts and cream cheese (like this, this – oh, and this). But hey, let's not get distracted again!
So I've decided that today is the day to give these humble but super tasty little toasts their moment, because a moment they do indeed deserve!!
Fava beans (seems weird calling them this because here they are well and truly called broad beans!) are one of those foods that I've seen in supermarket salads and thrown into recipes by the likes of Jamie Oliver over the last few years but have never got around to doing much with myself (let's make that 'doing anything with').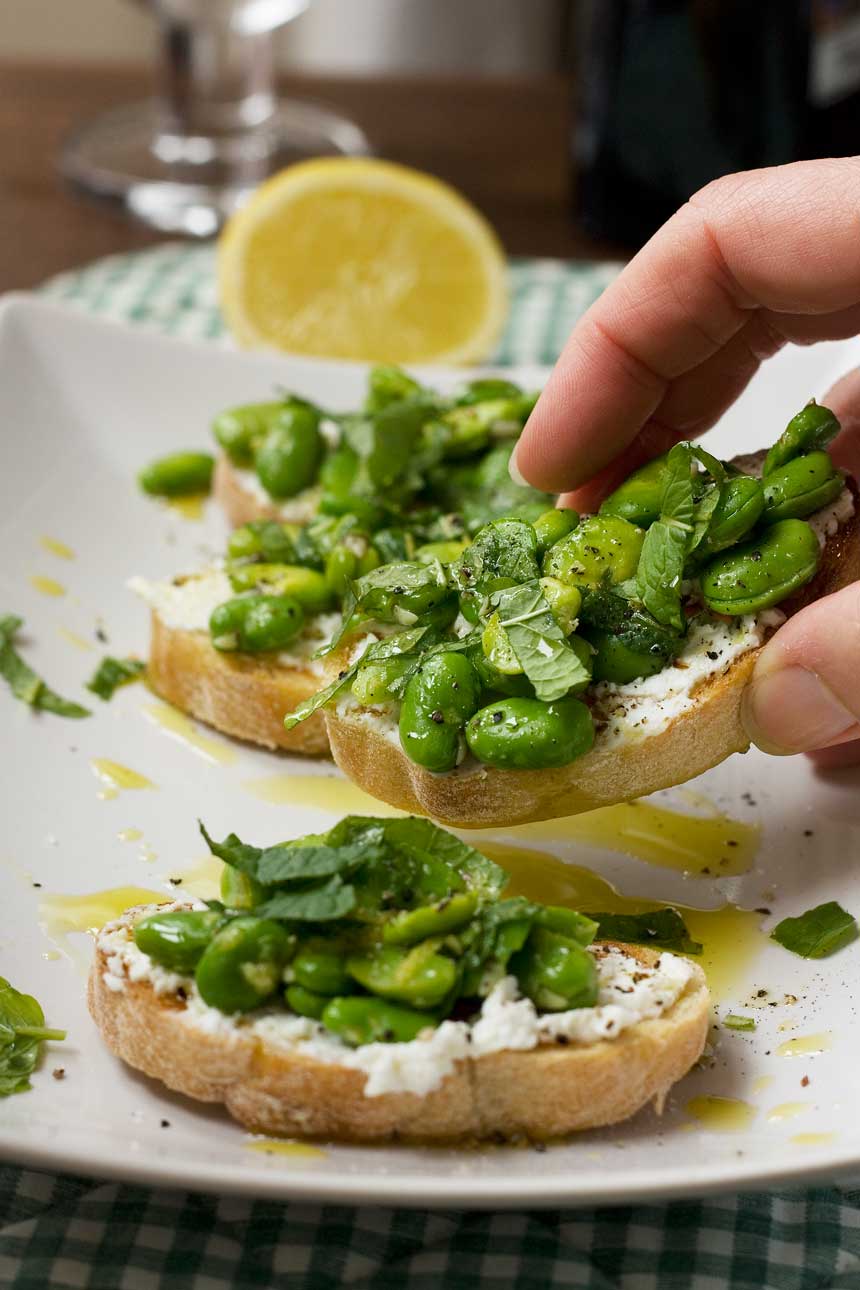 But a few weeks ago, I had a bit of 'fava bean/broad bean good fortune' when I popped into a luxury supermarket in my city and found a little microwavable bag of them being sold off for a song at the end of day. 'Hmmm, now I'm sure I could come up with something yummy to do with those' I thought. I had a bit of ricotta cheese left over in my fridge and some fresh mint on my window sill and thus this simple and tasty little snack was born!
What a riveting little story, hey? 😉
Well, particularly riveting it may not be, but seriously now, I was more impressed with myself than I probably should have been when I was munching on this crostini. I'm a fan of ricotta cheese in any shape or form, but it really does contrast well with the sweet nutty-ness of the smashed-up beans. A bit of mint and lemon juice and zest adds another dimension of taste and a good added drizzle of really good quality olive oil just makes this a proper Mediterranean snack!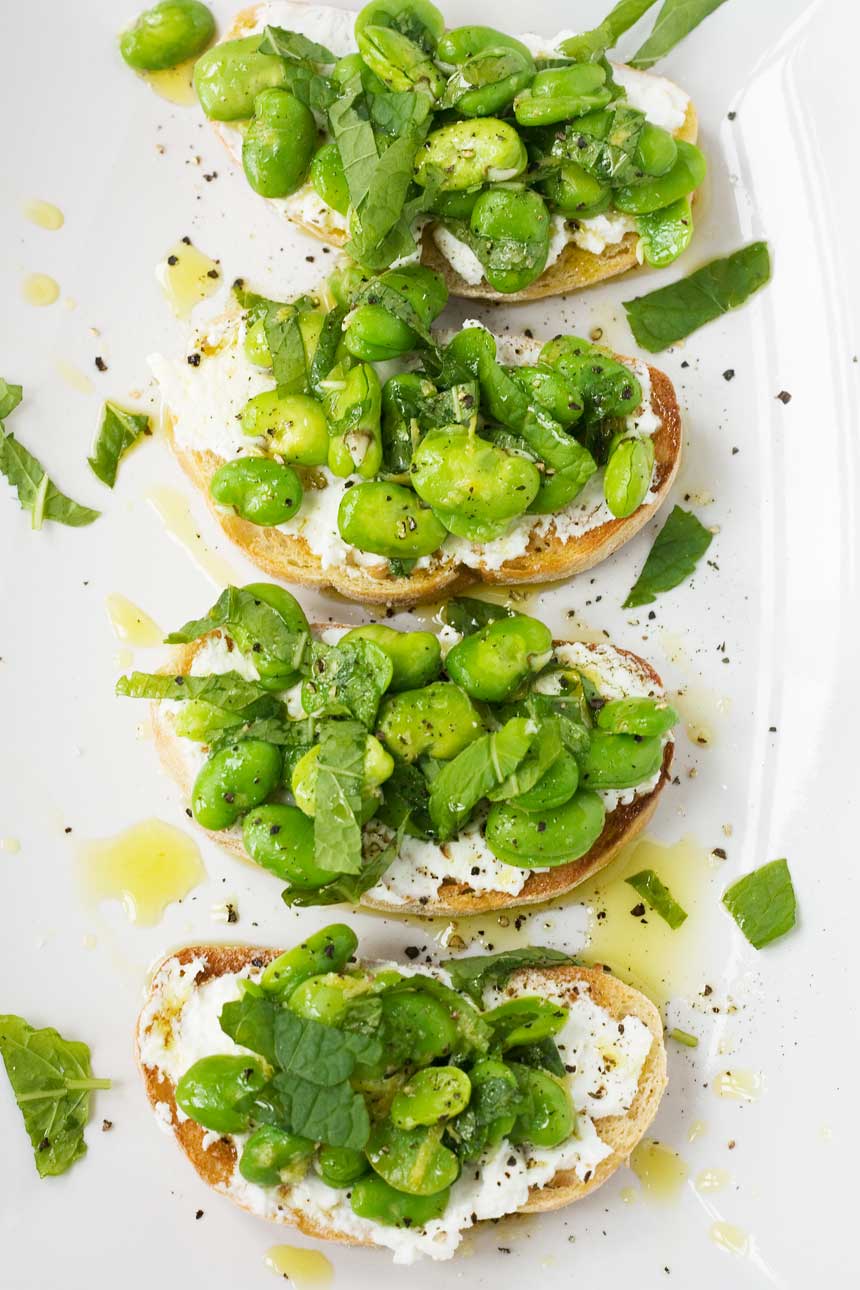 I ate at least 3 of these all to myself as a mid-morning snack and could have eaten at least 3 more. And why not? Nothing really to feel any guilt about here! I think they'd really shine though as a canapé or appetizer at a dinner party – they definitely seem posh enough to me.
So next time you go to the supermarket, don't bypass those sexy broad beans like I used to!! Grab a pack or two, get popping them out of their skins (very satisfying, I can assure you!) and throw together some of these delicious crostini for a posh weekend snack!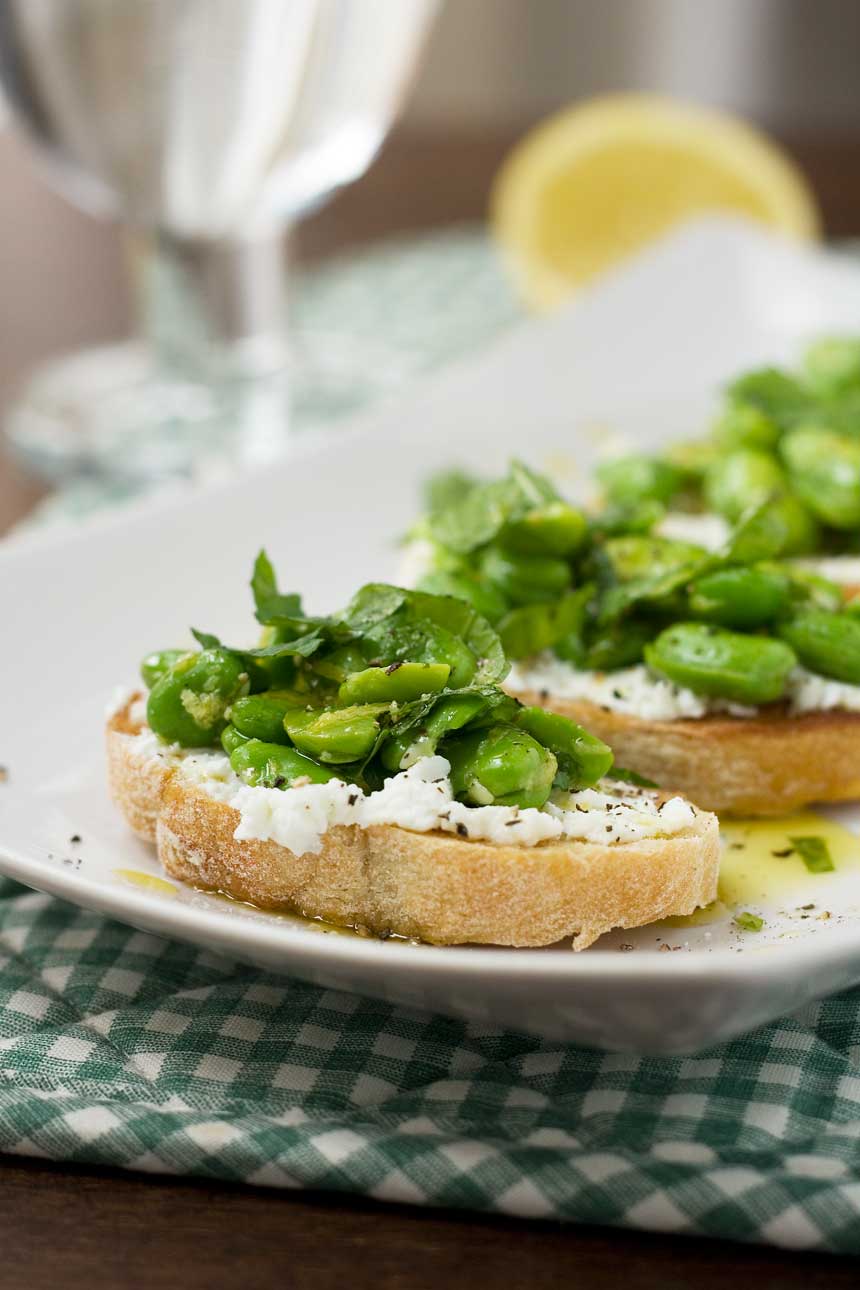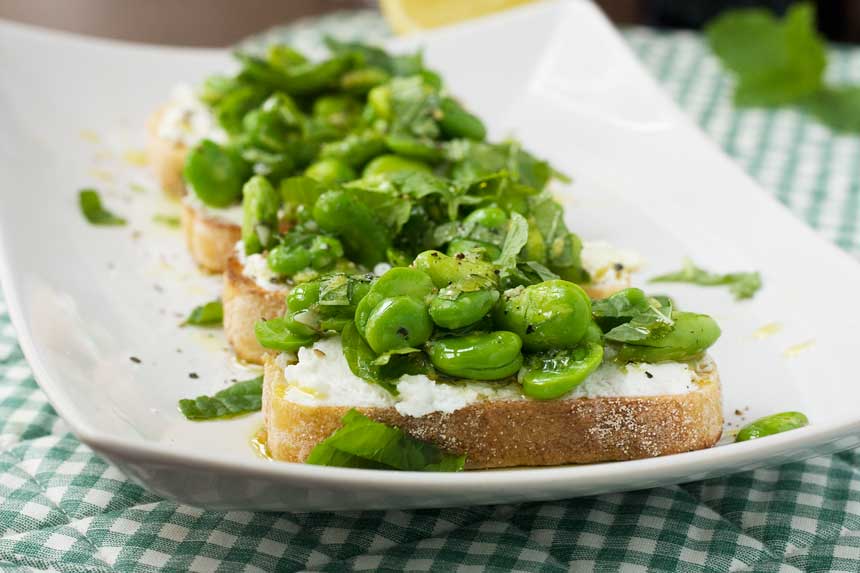 Fava bean, mint & ricotta crostini
Simple crostini topped with ricotta and nutty fava beans flavoured with lemon and mint. I promise you, these are absolutely delicious - and no effort at all to make (bonus!).
Ingredients (UK/Australia? Click below for grams/ml)
a big handful of fava/broad beans

2

tablespoons

extra virgin olive oil

1

lemon zest + a little of the juice

10

mint leaves

roughly chopped

2

thick slices of freshly baked bread e.g. sourdough

ciabatta OR 4 smaller slices e.g. from a French stick or smaller ciabatta loaf

1/2

a clove of garlic

3

tablespoons

ricotta cheese

salt & pepper
Instructions
Boil the fava/broad beans for 5 minutes (or microwave – see note below), then rinse under cold water and drain. Then squeeze the beans out of their skins and place in a bowl.

Add the olive oil, lemon zest, a couple of squeezes of lemon juice and most of the mint and mix well.

Toast the bread on both sides, then wipe the top side quickly with the cut side of the garlic.

Spread the bread generously with the ricotta, then top with the fava/broad bean mixture. Grind over salt & pepper to taste, then garnish with the rest of the mint. Serve immediately while still warm.
Notes
Slightly adapted from this recipe from The Independent.
You can microwave the fava/broad beans instead if you like. Just place in a bowl with a tiny bit of water, cover with cling film with a hole pierced in it and microwave for 3 minutes. Then cool, drain and pod as described above.
Nutrition
Calories:
258
kcal
Carbohydrates:
20
g
Protein:
6
g
Fat:
18
g
Saturated Fat:
4
g
Cholesterol:
11
mg
Sodium:
167
mg
Potassium:
177
mg
Fiber:
3
g
Sugar:
3
g
Vitamin A:
315
IU
Vitamin C:
30.2
mg
Calcium:
111
mg
Iron:
1.6
mg

You can also find more from Scrummy Lane on Facebook, Pinterest, Twitter and Instagram and follow me on Bloglovin! Thanks so much for reading!
*This post may contain affiliate links which means that if you click on a link and make a purchase I get a small percentage of the amount you spend. At no extra cost to you, of course! Thank you!*