Ricotta on toast? Yep. And it's absolutely delicious when piled with a simple mix of fresh-tasting, brightly coloured fava beans and mint! You could say it's a kind of (very) fancy beans on toast!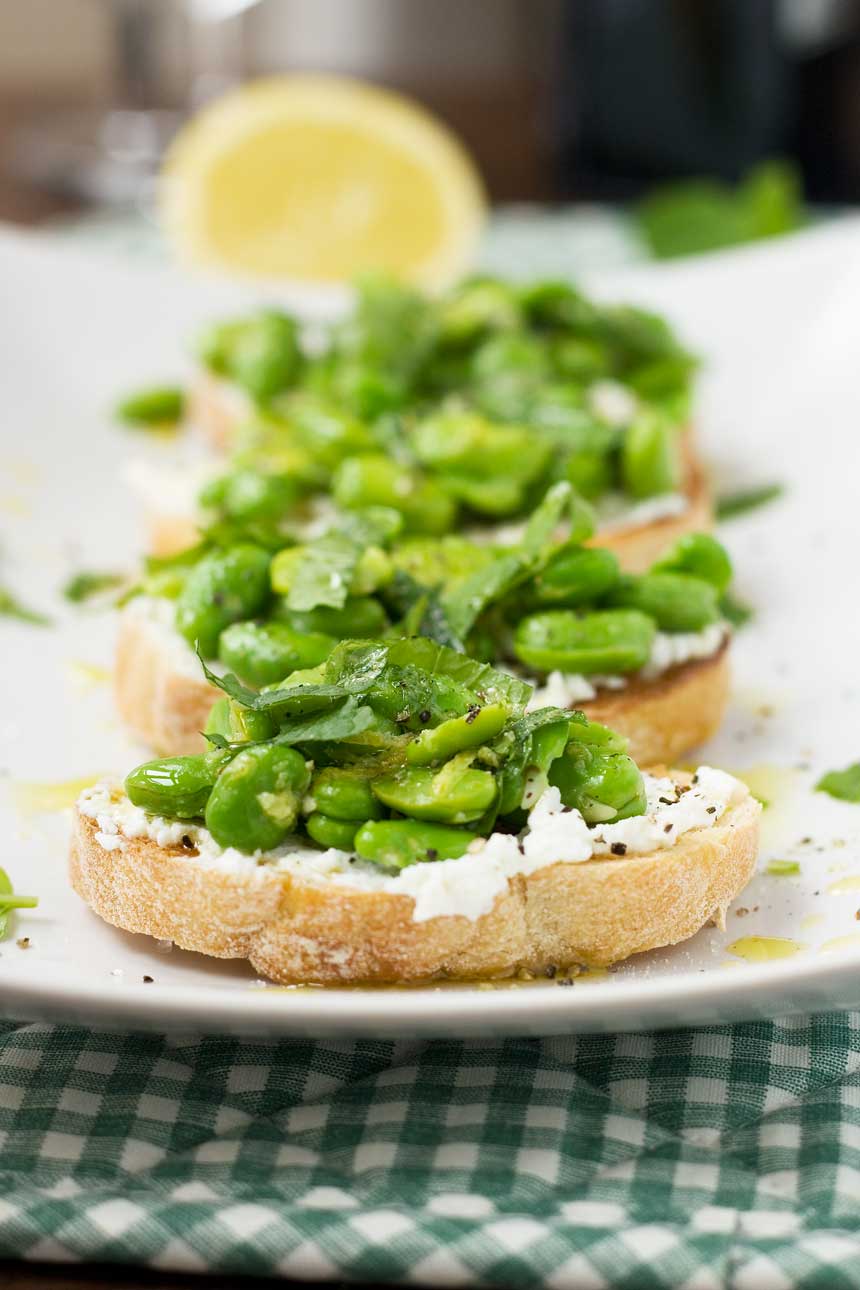 Why fava beans are underrated
Fresh fava beans (otherwise known as broad beans) are one of those vegetables that don't get enough attention.
Some people have been put off them (Mr. Scrummy included) by well-intentioned mothers boiling them to a tasteless mush. Others – myself included – just may not have many ideas about what to do with them.
Here's one very simple idea. If you're on the fence about fava beans, I think this ricotta toast idea might change your mind!
What's so great about this?
It's simple but fancy, which makes it perfect for appetizer bites, classy party plates, healthy snacks, and more.
You only need 7 ingredients plus seasoning.
It's quick and easy to make, not to mention light and healthy.
The mild ricotta cheese goes really well with the sweet nutty flavour of the smashed-up beans. Mint and lemon add another dimension of taste as does a drizzle of good quality olive oil. Fan of the Mediterranean diet? This one's for you!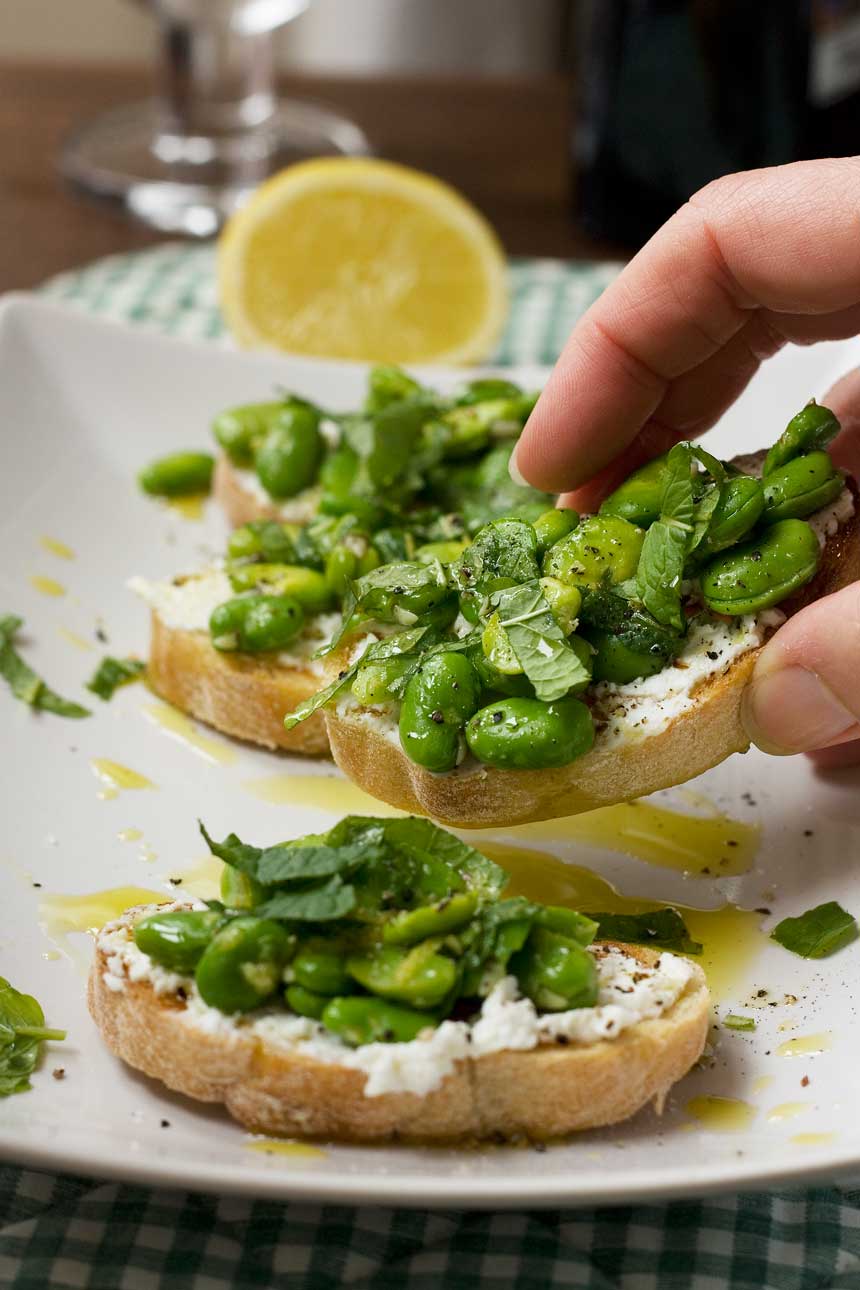 About the ingredients
As already mentioned, you need just 7 fairly basic ingredients plus seasoning to make these.
bread: You need smallish and thick slices of Italian or French style bread such as ciabatta or French baguette.
ricotta cheese: Any works, although I prefer the one with a bit of texture. So not the 'smooth' one.
olive oil: Good quality! Just a couple of tablespoons.
a lemon: Mostly the zest, but a little squeeze of the juice too.
fresh mint leaves: To make the whole thing sing!
a clove of garlic: Halve it. Then wipe over the toasted bread, bruschetta style!
ricotta cheese: Just a few tablespoons. Spread thickly over the bread.
How to cook fava beans/broad beans
There are 2 ways to make these. Take your pick!
Method 1: BOIL (in the skins) for 5 minutes. Drain. Then pop out of the skins (very satisfying!).
Method 2: MICROWAVE (still in the skins). Place in a microwave safe bowl or container with a bit of water. Cover with plastic wrap. Microwave on high for 3 minutes. Drain and pop out of the skins as above.
How to make these
Like all of the best simple but classy appetizers, there are just a few steps to making these yummy little ricotta crostini:
Step 1: Cook fava beans/broad beans as described above. Cool and pop out of skins.
Step 2: Mix cooked beans with chopped fresh mint, olive oil and lemon zest and a bit of juice.
Step 3: Toast bread slices and wipe with cut side of a garlic clove.
Step 4: Spread toast with ricotta cheese. Pile bean mixture on top. Garnish with more mint!
So simple. But look how gorgeous they are!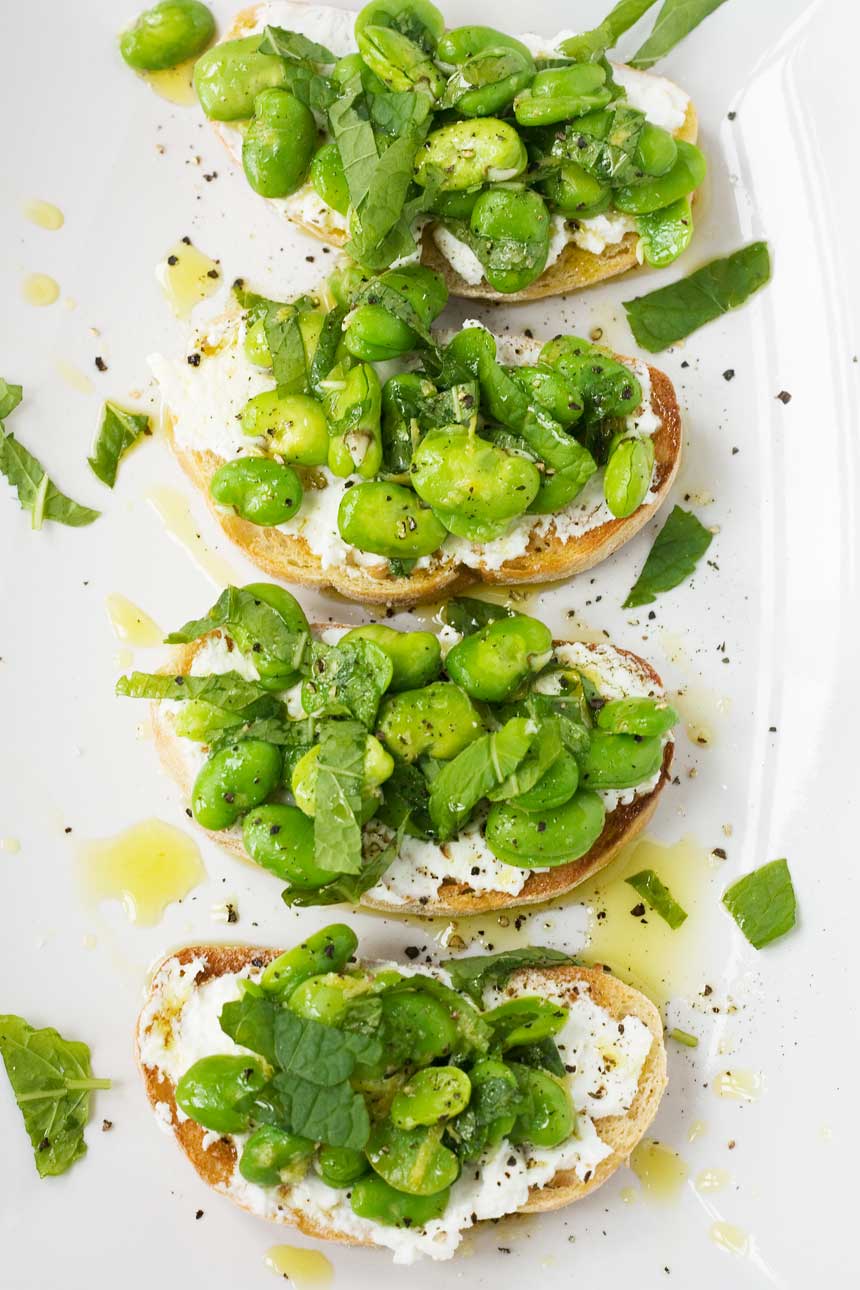 How to serve them
It's best to serve these immediately when the toast is crispy and warm.
You can however prepare the fava bean topping ahead of time if you like.
I think these are quite adaptable. Serve them:
as a party plate
as a classy but simple dinner appetizer
as a healthy and classy light lunch or snack
as a fancy breakfast or brunch
Recipe FAQ
What if broad beans/fava beans aren't in season?
Fava beans/Broad beans are in season in the summer.

If you can't get fresh fava or broad beans, feel free to use frozen broad beans for this recipe. Just follow the cooking instructions on the bag and pop out of the skin when cooked as with fresh.

Alternatively, this recipe works very very well with edamame, too! Again, frozen or fresh works!
I'm a vegan. How can I make this crostini recipe vegan?
I'm glad you asked! I think this would be really delicious using some kind of hummus instead of the ricotta cheese. I have plenty of hummus ideas here, or you could buy some kind of pre-made dip.

Of course the simplest way to make it vegan is to use a vegan soft cheese. Pesto would work too!
Do I have to boil the broad beans?
No, not at all! You can microwave them instead if you like 😉

Just place in a bowl with a tiny bit of water, cover with cling film with a hole pierced in it and microwave for 3 minutes. Then cool, drain and pod as you would if you boiled them.
More ricotta toast ideas
I love love love this idea. But there are so many other things you can do with ricotta toast. Just spread toast thickly with ricotta cheese and then add:
a drizzle of honey, chopped nuts and perhaps a few slices of banana and a sprinkle of cinnamon
sliced avocado and toasted pumpkin seeds, sesame seeds, or pine nuts
slow roasted tomatoes and fresh basil (in fact check out this slow-roasted tomatoes and ricotta bruschetta recipe)
fresh figs and honey (when figs are in season)
strawberries and black pepper (it's good, I promise!). In fact, any fruit works…
sundried tomatoes and olives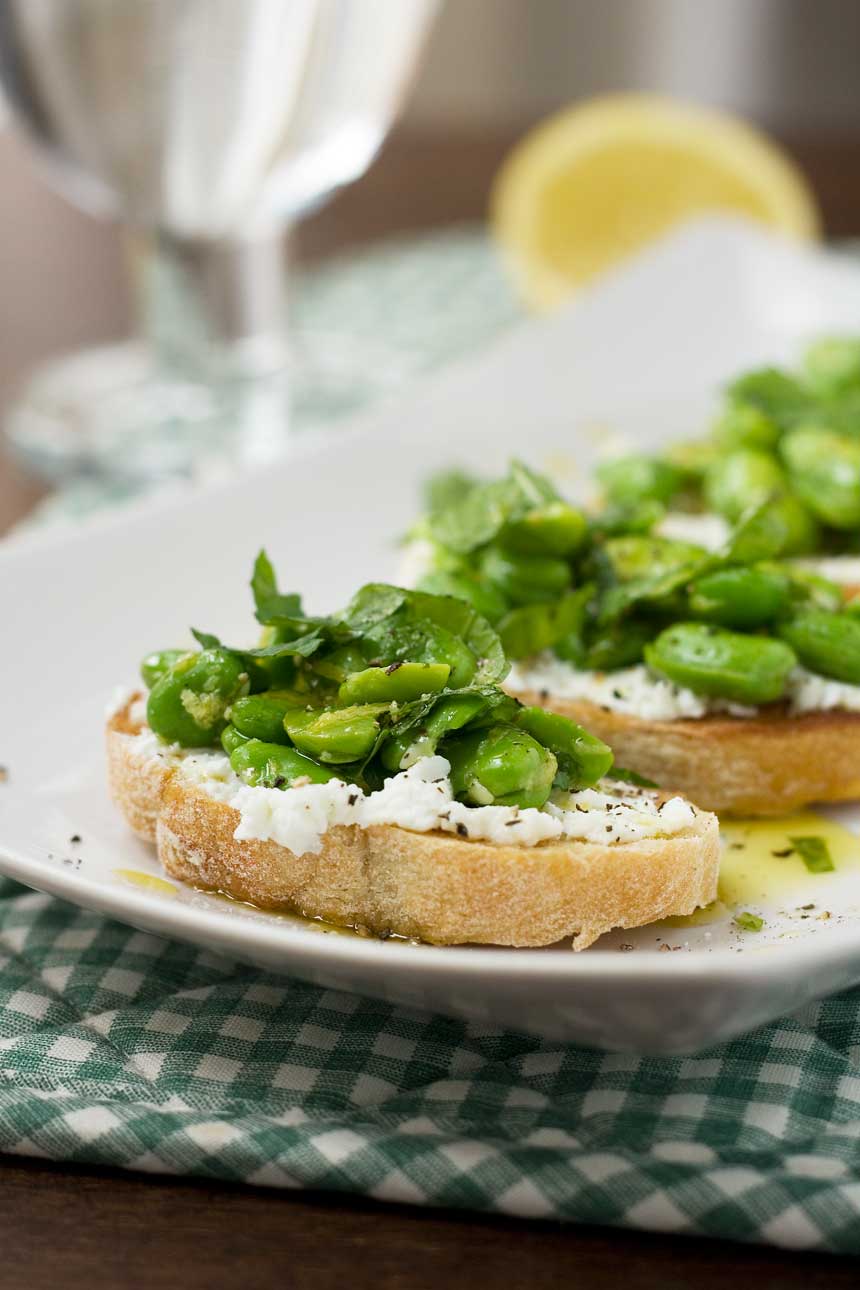 More delicious crostini and bruschetta recipes
IF YOU MAKE THIS RECIPE, LET ME KNOW HOW YOU GET ON BY LEAVING A COMMENT AND RATING BELOW… AND DON'T FORGET TO SIGN UP TO RECEIVE ALL MY NEW RECIPES BY EMAIL!
FOLLOW ME ON FACEBOOK, INSTAGRAM, PINTEREST AND YOUTUBE.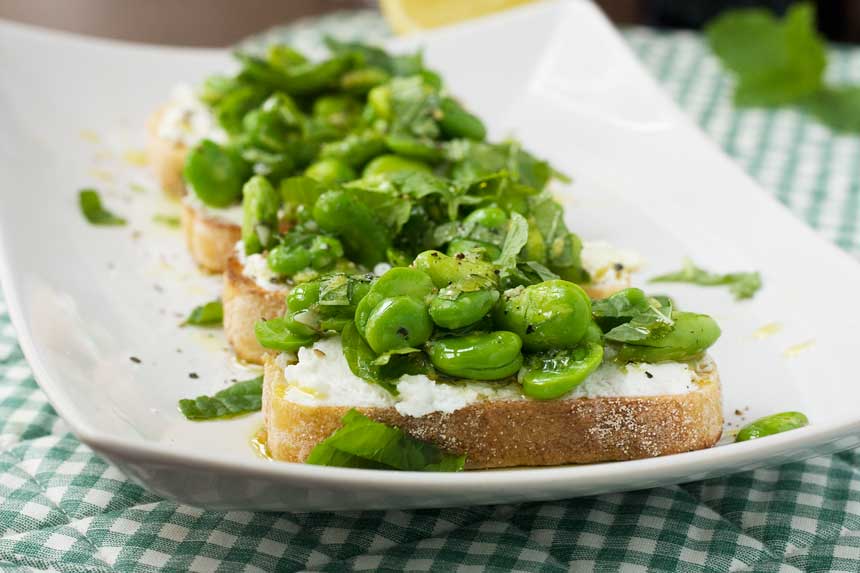 Fava bean, mint and ricotta crostini
Simple crostini topped with ricotta and nutty fava beans flavoured with lemon and mint. I promise you, these are absolutely delicious – and no effort at all to make (bonus!).
Ingredients (UK/Australia? Click below for grams/ml)
a big handful of fava/broad beans

2

tablespoons

extra virgin olive oil

1

lemon zest + a little of the juice

10

mint leaves

roughly chopped

2

thick slices of freshly baked bread e.g. sourdough

ciabatta OR 4 smaller slices e.g. from a French stick or smaller ciabatta loaf

½

a clove of garlic

3

tablespoons

ricotta cheese

salt & pepper
Instructions
Boil the fava/broad beans for 5 minutes (or microwave – see note below), then rinse under cold water and drain. Then squeeze the beans out of their skins and place in a bowl.

Add the olive oil, lemon zest, a couple of squeezes of lemon juice and most of the mint and mix well.

Toast the bread on both sides, then wipe the top side quickly with the cut side of the garlic.

Spread the bread generously with the ricotta, then top with the fava/broad bean mixture. Grind over salt & pepper to taste, then garnish with the rest of the mint. Serve immediately while still warm.
Notes
Preparing the broad beans: You can microwave the fava/broad beans instead if you like. Just place in a bowl with a tiny bit of water, cover with cling film with a hole pierced in it and microwave for 3 minutes. Then cool, drain and pod as described above.
Nutrition
Calories:
258
kcal
Carbohydrates:
20
g
Protein:
6
g
Fat:
18
g
Saturated Fat:
4
g
Cholesterol:
11
mg
Sodium:
167
mg
Potassium:
177
mg
Fiber:
3
g
Sugar:
3
g
Vitamin A:
315
IU
Vitamin C:
30.2
mg
Calcium:
111
mg
Iron:
1.6
mg