Not only is this coconut chickpea curry creamy and delicious, it's ridiculously nutritious, and super easy to make. It takes only 20 minutes to get on the table, and also happens to be vegan. What more could you want from a veggie curry?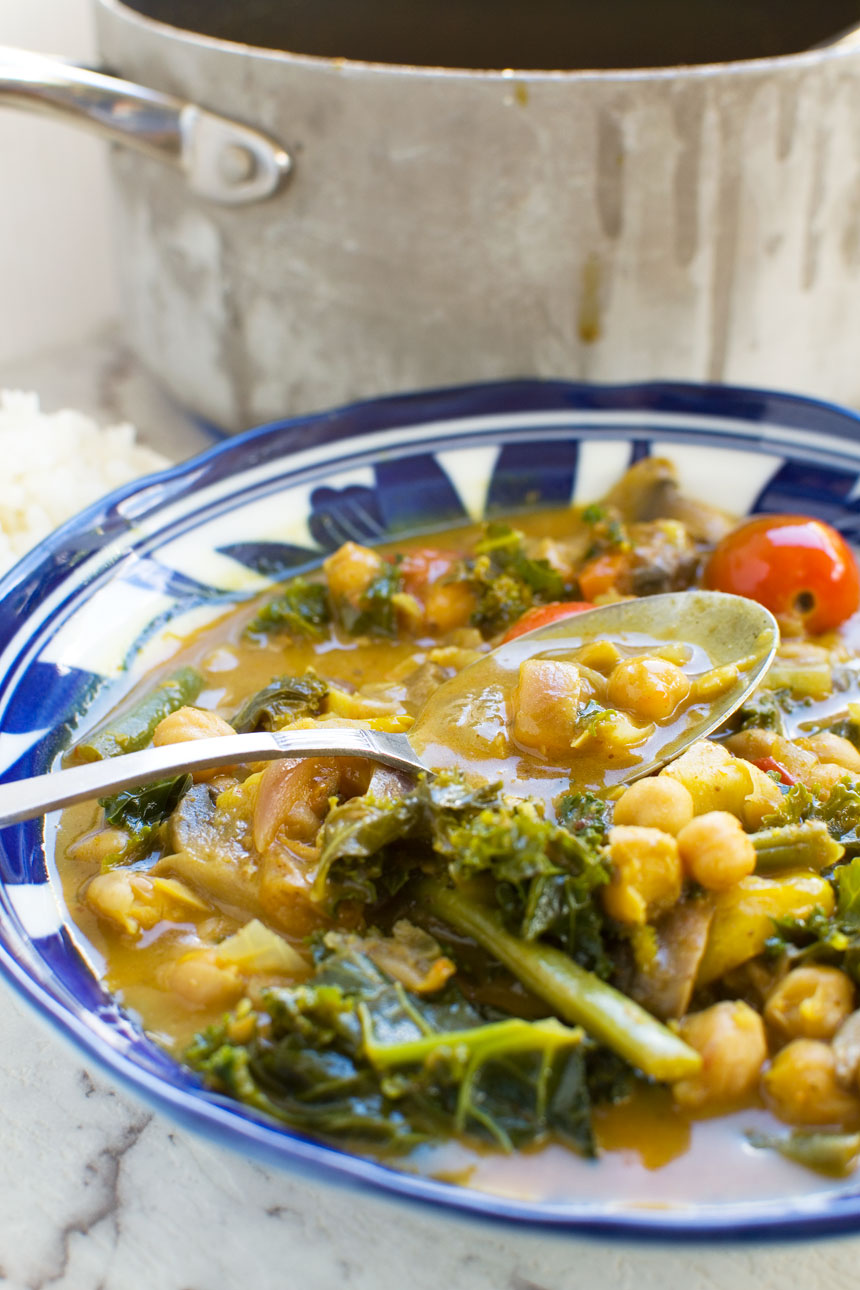 I often find myself choosing a vegetarian or vegan dish in a restaurant, but only when it has some kind of 'wow' factor!
Sometimes it's the flavor, other times the texture, and THIS coconut chickpea curry has both of these things. There are the deliciously nutty chickpeas, and coconut-y notes in the creamy curry sauce.
Add some brown rice and you've got yourself a ridiculously tasty, not to mention super nutritious meal.
And it's ready in just TWENTY MINUTES – including the prep time!
So… is chickpea curry vegan?
Chickpea curries can be lovely and creamy. This one has a subtly creamy coconut sauce made from coconut milk. So yes, as coconut milk is dairy free, this chickpea curry is vegan.
Whether you're a vegan or not, if you like chickpeas and you like Asian coconut-y sauces, I'm pretty sure you'll love this vegan curry!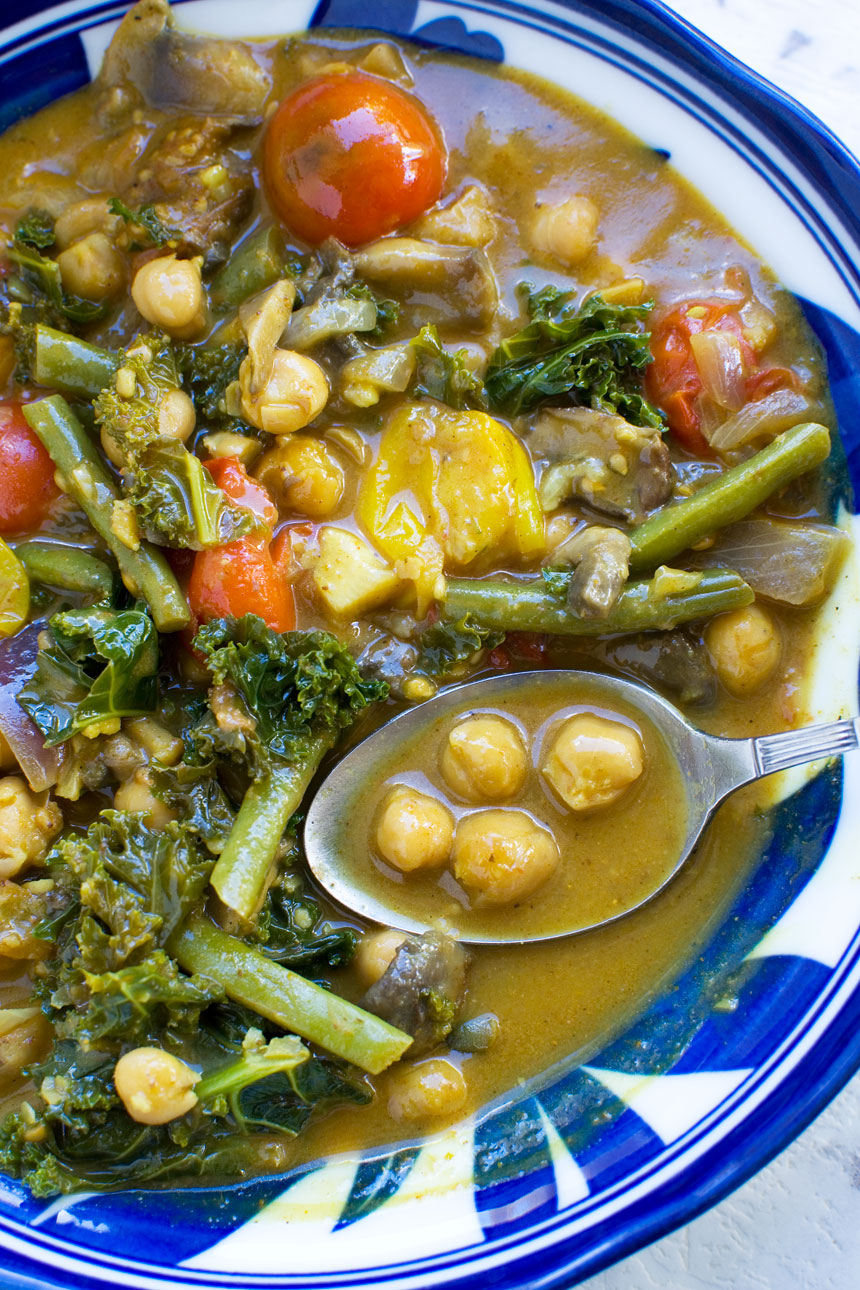 Are chickpeas good for you?
This coconut chickpea curry is one healthy curry!
Chickpeas are high in fibre and protein, and also contain key vitamins and minerals. Google the healthy benefits of chickpeas (like I just did!) and you won't need any more convincing to give this curry a go!
What vegetables to add to a chickpea curry
Trying to get in your 5-a-day? You've probably done it in one hit with this meal!
Typically I add green beans, mushrooms, kale and tomatoes to my curry. Really though you can add anything that will cook in 10 to 15 minutes on the stovetop.
For instance:
broccoli or cauliflower florets
asparagus
small chunks of pumpkin or sweet potato (small so that they cook fast!)
potato or carrot (again, small chunks)
small cubes of eggplant
Whatever veggies you decide to add, DON'T SKIP THE TOMATOES (sorry to shout, but just saying…).
Tomatoes really do add an extra delicious burst of flavor. I usually add them about halfway through the cooking time, along with a bit of kale if I have it. You want them to be soft and juicy, but you don't want them to completely melt into the sauce.
So how exactly do you make it?
I promise you this is REALLY easy.
You begin by softening the onions and garlic, then you add all the spices and cook for a minute or so to release all the lovely flavors. Don't worry, there isn't a mammoth list of things to add – just curry paste & powder, chili, turmeric and cumin.
The second big step is to add the coconut milk, along with the star of the show – the chickpeas!
Then it's time to add your lovely veggies. First add the green beans and mushrooms and let them simmer for about 5 minutes (yes, just 5 short minutes).
Then add a couple of handfuls each of cherry tomatoes and kale, plus corn starch for a tiny bit of thickening. The corn starch isn't essential, and I didn't show this step in my video, but I think it makes for a sauce with a perfect consistency. Simmer for about another 5 to 10 minutes, just until the green beans (or whatever veggies you've added) are perfectly cooked.
Done and ready to serve with rice (I like brown), naan bread, poppadoms, or even just by itself!
This is a pretty mild curry, so it might work as a family meal if you have reasonably adventurous eaters 😉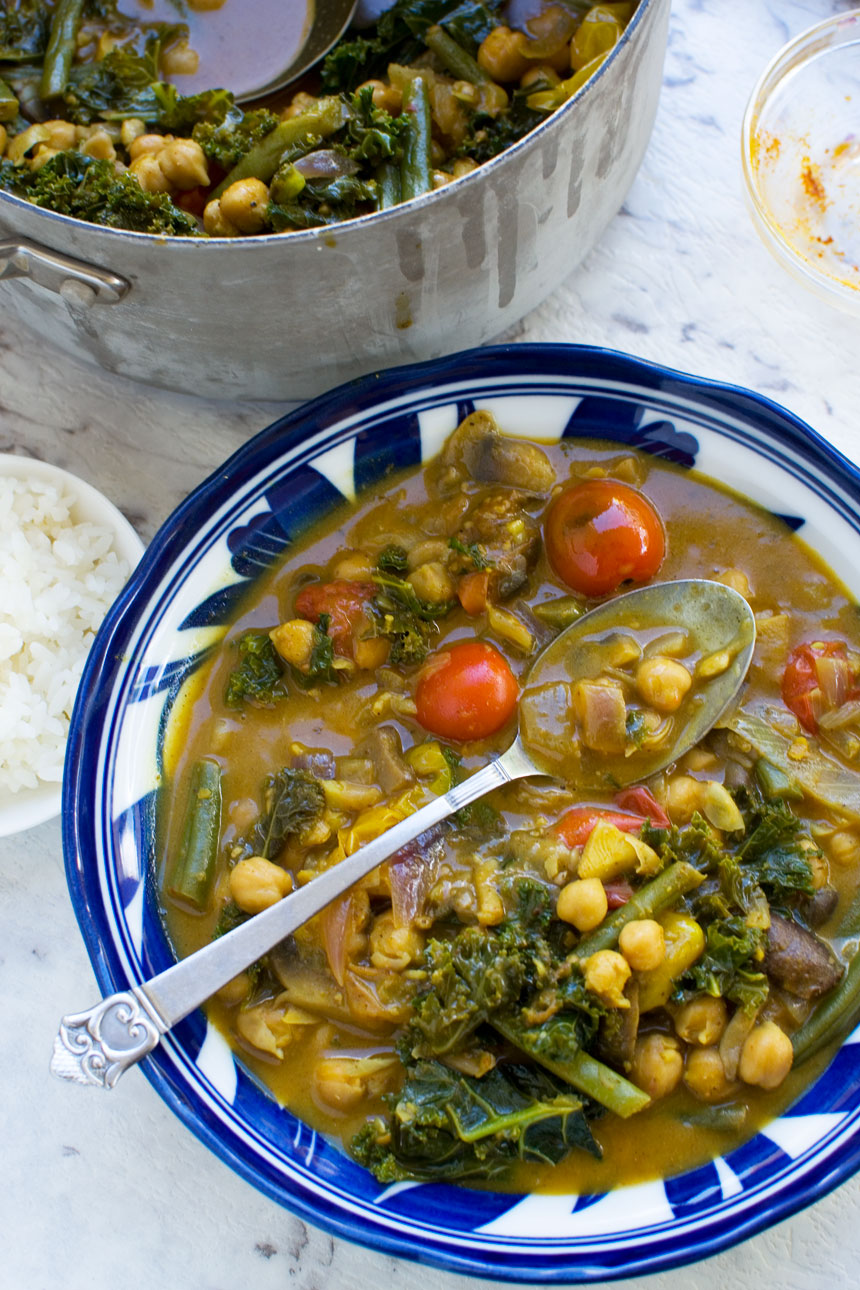 So… can I freeze chickpea curry?
Oh yes, you can!
If there are any leftovers, you can freeze this curry with or without rice – both ways work.
Simply defrost and reheat in a microwave for a few minutes if you've frozen with rice, or in a saucepan if you prefer (and if you don't have any rice to reheat).
Pro tips
Feel free to add whichever vegetables you like to your curry. Most will cook within 10 to 15 minutes on the stove. If they're vegetables that tend to take a bit longer e.g. butternut squash or eggplant, simply chop them into really small cubes.
Remember to add any veggies that cook REALLY quickly, like mushrooms, tomatoes, or asparagus, about half way through the cooking time.
I always add a tiny bit of corn starch (UK/Australia = corn flour!) combined with some water to make a paste to my curry about half way through the cooking time. This step isn't essential, but it thickens the curry sauce just slightly, making it taste even more delicious!
More easy curry recipes!
As you probably noticed, there's a bit of a peanut and coconut theme here 😉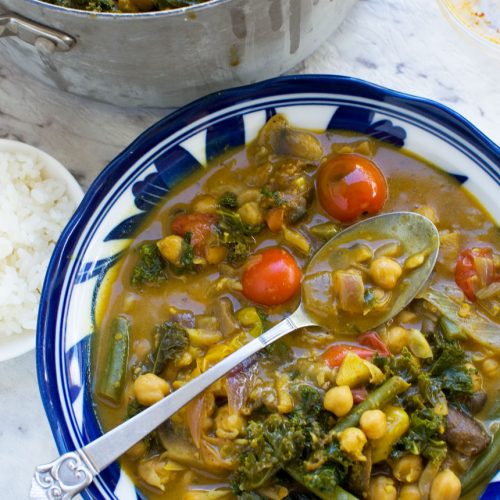 20-minute coconut chickpea curry
This vegan curry is anything but boring. It's made with every day fresh vegetables, but IMHO the added chickpeas and coconut milk raise it to the next level. And the best part? You can have this nutty, creamy, wholesome deliciousness on the table in just 20 minutes!
Ingredients (UK/Australia? Click below for grams/ml)
1

onion

chopped

2

cloves

garlic

crushed

thumb sized piece of fresh ginger

peeled and chopped finely

1½

tablespoons

curry paste

I use tikka masala, but you can use any you like really

1

teaspoon

curry powder

¼

teaspoon

chilli powder

½

teaspoon

turmeric

½

teaspoon

cumin

salt & pepper

to taste

13.5

ounces

coconut milk

1 regular can

15.5

ounces

chickpeas

1 can

5½

ounces

green beans

about 2 handfuls

1½

ounces

kale

about 2 handfuls, chopped finely

15

cherry tomatoes

approximately

1

teaspoon

corn starch

mixed to a paste with a little water (corn flour – UK/Australia)
Instructions
Heat a little oil in a large saucepan, then cook the onions for a couple of minutes, stirring every now and again.

Add the garlic, ginger, curry paste, curry powder, chilli powder, turmeric and cumin and stir with a wooden spoon for about one minute.

Add the coconut milk and chickpeas, then add the green beans and simmer for about 5 minutes.

Add the kale, tomatoes and corn starch/water mixture and simmer for a further 5 to 10 minutes, until the beans are cooked.

Serve with brown rice immediately, or let cool and freeze.
Notes
A note on the vegetables
You can add other vegetables like small cubes of sweet potato, regular potato or pumpkin, broccoli or cauliflower florets (instead of the green beans), or small cubes of eggplant.
Basically, anything you can think of that cooks in 10 to 15 minutes on the stove!
A note on freezing this curry
This curry is perfect for freezing. Just cool and freeze in sealed glass containers. When ready to eat, simply defrost and reheat in the microwave or on the stovetop.
Nutrition
Calories:
423
kcal
Carbohydrates:
44
g
Protein:
14
g
Fat:
24
g
Saturated Fat:
19
g
Sodium:
38
mg
Potassium:
844
mg
Fiber:
11
g
Sugar:
10
g
Vitamin A:
2595
IU
Vitamin C:
37.4
mg
Calcium:
125
mg
Iron:
7.9
mg