'Cheesecake in a glass' is my new favourite make-ahead dessert. It's easy (but of course!) but still looks impressive. And … it's really easy to customize. You can come up with endless exciting variations!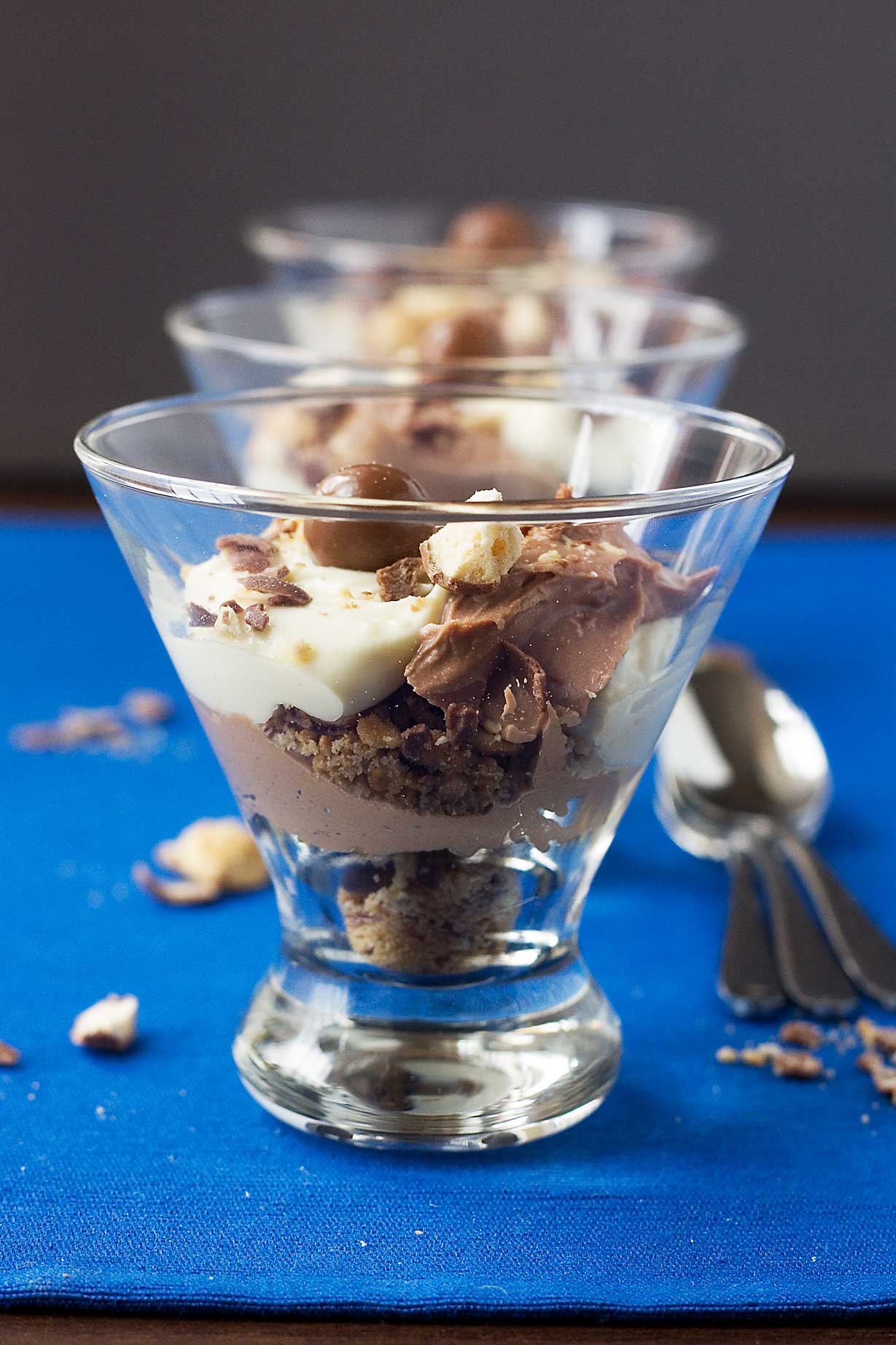 I know I shouldn't be shocked by the persisting rain and chill over here in the UK, even though it's JUNE (June!). I grew up here, after all. But it's my first year back in the UK after many (many many) in a place where you don't so much as look at a cardigan or jacket from May to September and I must admit all the early summer 'coolness' (let's make that 'cold'), drizzle and clouds are taking a bit of getting used to … and that's definitely putting it politely.
You might wonder why I'm droning on about the weather (yawn). Well, basically I figure that if I can't wear my sandals and T-shirts yet, I'm going to use it as an excuse to eat a few more naughty desserts to keep me warm!
For all the rest of you enjoying summer already, though, and not really 'needing' those extra kilojoules, never fear. This is a slightly-less-naughty-than-average 'naughty' dessert. We all know cheesecake is far from diet food, but I've skipped the added sugar (enough chocolate & other sweetness in there already), used Greek yoghurt instead of cream (still tastes nice and creamy to me) and just sprinkled in the biscuit crumbs instead of adding butter and making a proper biscuit cheesecake base (isn't even appropriate as it's in a glass!). Not that I specifically set out to make this a healthier dessert, by the way, but I figure why not if it still ends up just as delicious.
I love this kind of dessert for quite a few reasons, but mostly because you just sort of throw it together 'Eton Mess' style. You don't particularly have to be careful when assembling it, but it somehow ends up looking quite pretty with all the different layers showing through the glass. And don't for a minute think it's complicated because of all those layers. There are two kinds of cheesecake mixture in there, white chocolate and milk chocolate malt flavour, but all you have to do is halve­ your cream cheese and yoghurt and add a different kind of melted chocolate to each in a separate bowl. When assembling, you just have your two bowls of cheesecake, your biscuit crumbs and your crushed honeycomb chocolate all lined up and spoon them alternately into your glasses. Really easy peasy!
I also love that this is make-ahead. My fave!! Assemble whenever you like, stick it in the fridge (it needs chilling anyway, as does all cheesecake), then just like magic whip a beautiful dessert out after your main course and mightily impress your guests!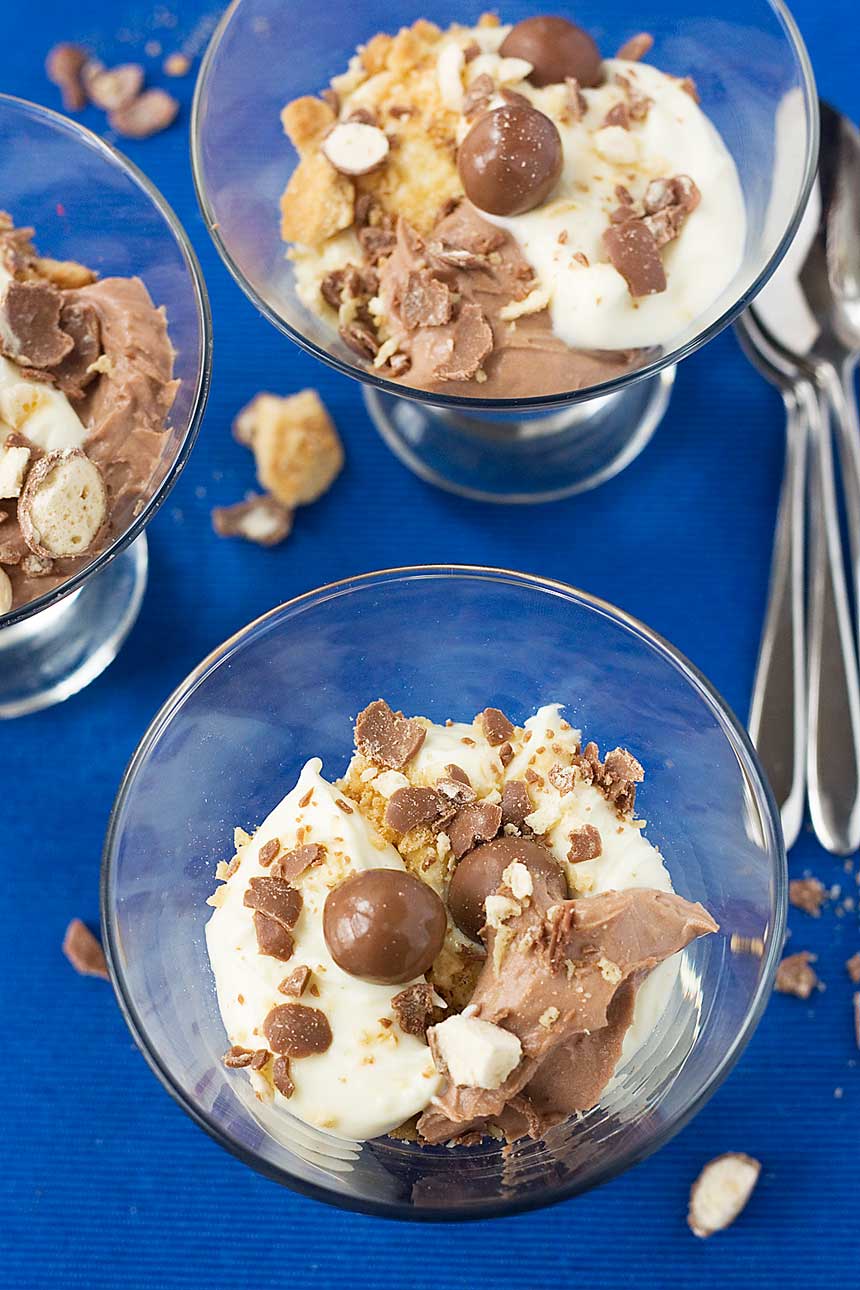 The BEST thing of all though, IMHO, is the gorgeous malty, honey-comb-y flavour in this dessert. And after you've ooooh-ed and aaahh-ed over it you can try all sorts of other combinations of 'cheesecake in a glass' flavours. You can try this similar blueberry and white chocolate cheesecake in a glass, or think of your own creative combos. I'd like to try a simple white choc and strawberry, brownie bits & fudge sauce, lemon (with lemon curd … mmm!), some sort of rocky road type creation … etc. etc. etc. etc.!! (I'm SURE you can think of your own list of options!)
So, you could sum up this recipe like this:
a cheesecake mixture made up of cream cheese + Greek yoghurt + melted chocolate layered up in a glass with biscuit crumbs and your choice of something else yummy.
(This is a sort of 'formula' recipe, by the way, and if you're wondering where I got the idea for formula recipes from then pop over to Nagi's fabulous blog Recipe Tin Eats and say hi because they're her brainchild – thanks, Nagi!)
So simple!
Mmm … we did enjoy this on Saturday night after our Chinese takeaway. Salads every day now for the foreseeable future! (except I am sitting here right now snacking on the leftover white chocolate I used in this recipe – oops. Not a very good start.)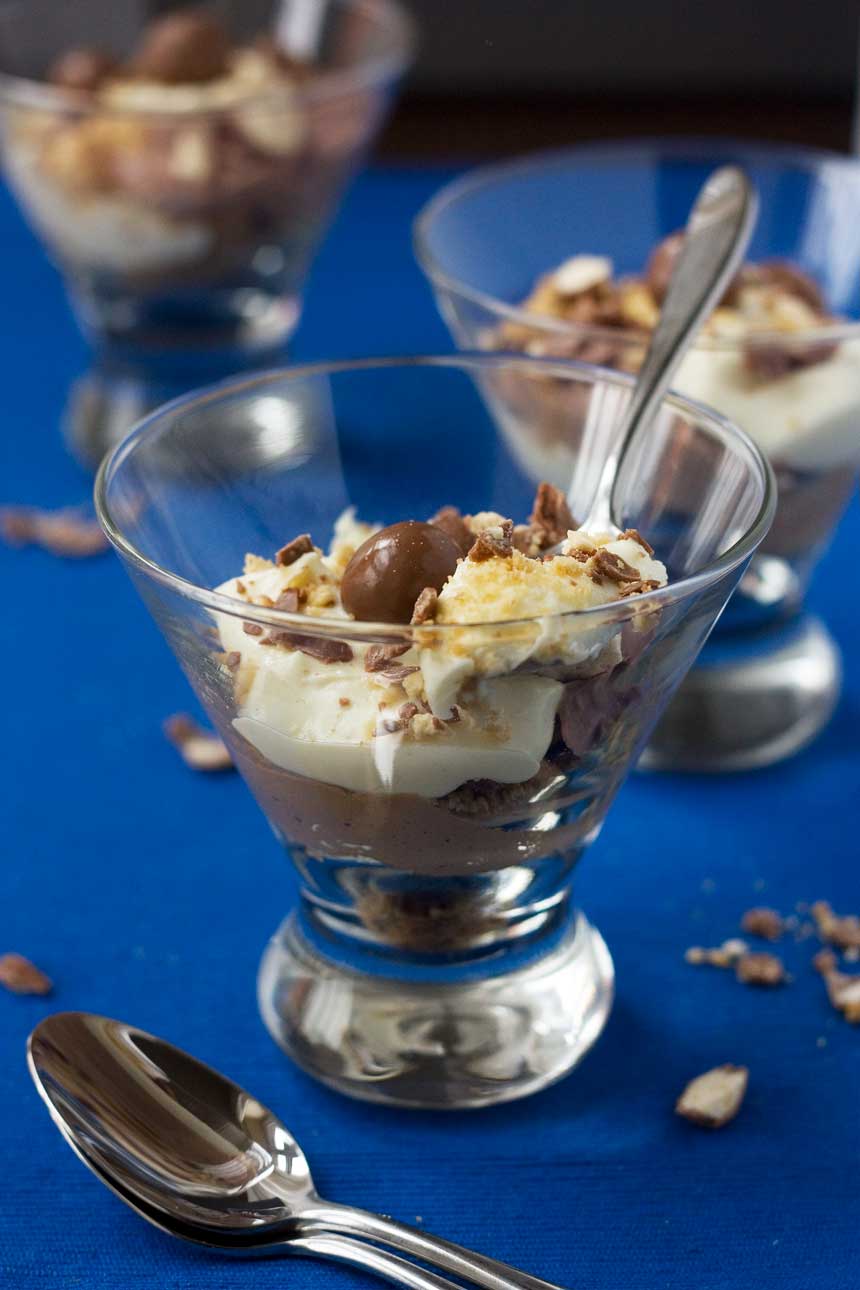 Chocolate malt cheesecake in a glass
A cheesecake dessert in a glass full of yummy chocolate-y, malty flavour. It's no-bake, so it's definitely make-ahead friendly aaaand ... once you've learned this recipe you could customize away to your heart's content and create endless similar easy, tasty desserts! For me, this is definitely a keeper!
Ingredients (UK/Australia? Click below for grams/ml)
7

ounces

light cream cheese

divided in half

1

cup

Greek yoghurt

divided in half

3.5

oucnes

good quality white chocolate

melted

3.5

ounces

good quality milk chocolate

melted

1

ounces

malted milk' biscuits/cookies

or cookie variety of your choice!, crushed (I used a food processor)

1 1/2

tablespoons

malt powder e.g. Malteser-flavoured hot chocolate

Milo (Australia), malted milk powder, Ovaltine (UK) etc.

1.75

ounces

Malteser chocolates

or any chocolate-covered honeycomb, most crushed into large-ish pieces (save 2 or 3 to decorate the top of each dessert)
Instructions
Divide the cream cheese and yoghurt between two bowls. Add the white chocolate to one bowl and the milk chocolate and malt powder to the other bowl, then whisk well with a handheld whisk.

Drop a tablespoon of biscuit/cookie crumbs into the bottom of each dessert bowl/glass, then top with a spoonful of the white chocolate mixture and then a spoonful of the milk chocolate mixture. Sprinkle with more cookie crumbs and a few Malteser pieces, then top with more white and milk cheesecake until it's all used up. Top with more Malteser pieces and the reserved whole Maltesers.

Cover and refrigerate until ready to eat!
Notes
It's nice to use a glass dessert bowl (or even just a regular small glass) for these desserts so you can see all the different layers!
I used Malteser-flavoured hot chocolate powder to give my chocolate cheesecake layer a 'malty' taste, but any kind of malt-flavoured powder will do. I know what's available in each country varies quite a bit!
Nutrition
Calories:
210
kcal
Carbohydrates:
18
g
Protein:
7
g
Fat:
12
g
Saturated Fat:
7
g
Cholesterol:
20
mg
Sodium:
196
mg
Potassium:
140
mg
Sugar:
14
g
Vitamin A:
205
IU
Calcium:
101
mg
Iron:
0.6
mg

You can also find more from Scrummy Lane on Facebook, Pinterest, Twitter and Instagram and follow me on Bloglovin! Thanks so much for reading!
*This post may contain affiliate links which means that if you click on a link and make a purchase I get a small percentage of the amount you spend. At no extra cost to you, of course! Thank you!*