It's hard to go wrong combining peanut butter, banana and chocolate, but how about all three in a delicious and very easy layer cake? One reader described it as like eating peanut M&Ms in cake form. It makes a perfect birthday or celebration cake. Can't decide whether you like banana, peanut butter or chocolate cakes best? This is the ultimate cake for lovers of all three!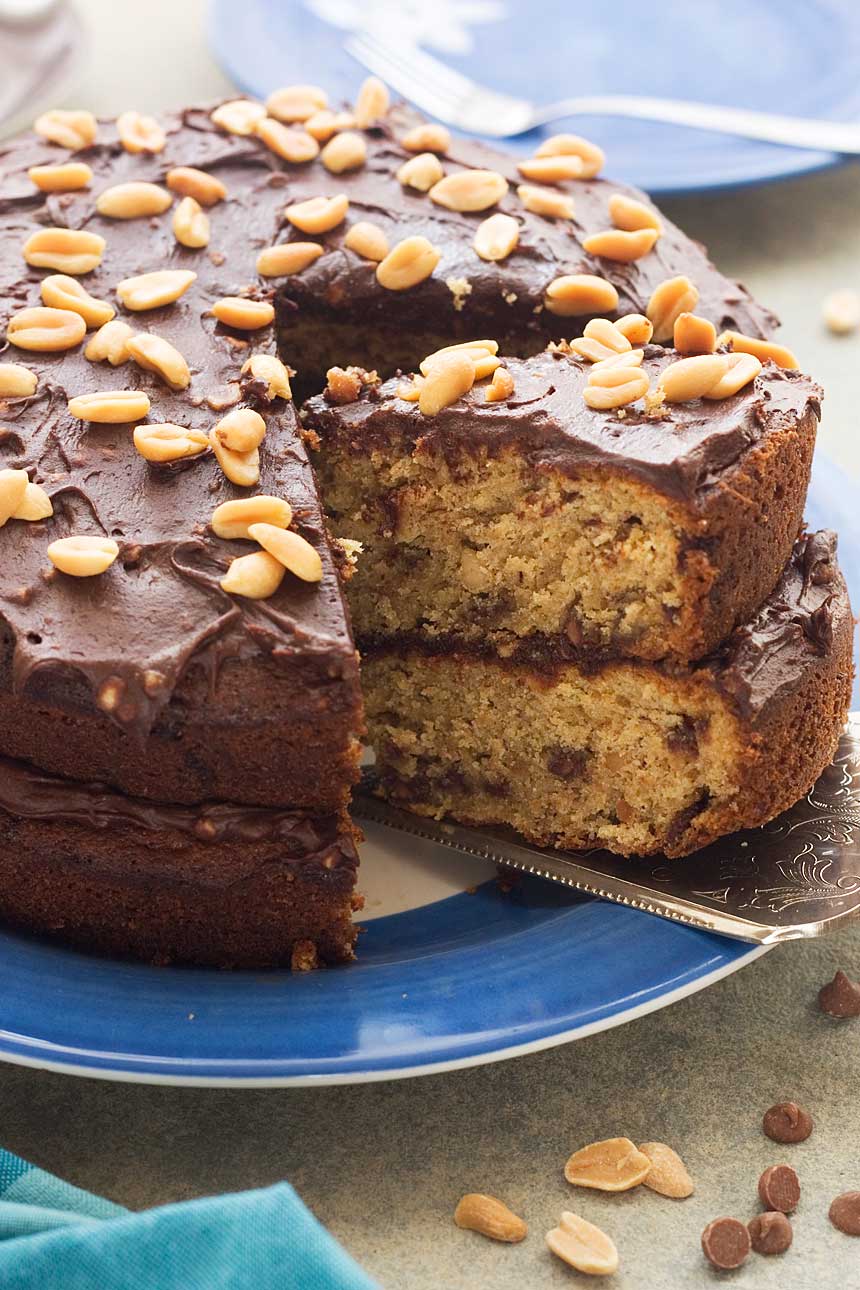 I decided to work on a recipe like this peanut butter and banana cake after I had something similar in a café in Nottingham, England called Homemade (worth a visit!).
I'm a big fan of any kind of peanut butter, chocolate and banana cake recipe as you'll see from other recipes on the blog: banana sheet cake with peanut butter fudge frosting, and this 5-minute chocolate banana nice-cream (the healthy option).
So I came up with a unique layer cake recipe that's quite similar to one of their most popular cakes for you… this delicious peanut butter, banana and chocolate chip cake. It's been one of the most popular cakes on the blog for several years now, so it's time you tried it too!
Why you're going to love it
Although I'm not sure you can go too wrong with this marriage-made-in-heaven trio of flavours, I didn't want to end up with a regular banana bread packaged up in a different way.
I wanted something with the texture of a proper two-tiered cake. And while I'm not usually one to blow my own trumpet, I have to say that I think I nailed it!
So this cake could be a banana peanut butter cake with chocolate, a peanut butter cake with banana and chocolate, or whatever you want to call it.
The truth is, all three of the flavours come through fairly intensely in each bite. One reader described it like eating peanut butter M&Ms… but in cake form! I can get on board with that and I think you will too.
The cake has a nice firm structure, like all good sandwich cakes should, but it's nice and moist.
Then there's the icing on the cake … erm, that'd be the frosting! More peanut butter and more chocolate – nothing to complain about there.
This cake is on the sweeter side, but I've reduced the sugar in the cake batter since posting my original version. If you'd like to reduce it even more, go ahead! Readers have done the experimenting for me. Start with 25% and see how you go.
About the cake ingredients
As well as the usual plain/all purpose flour, baking powder, baking soda and eggs, you'll need:
Brown sugar: I use brown sugar in this cake to intensify the yummy caramel-y flavour.
Greek yogurt: It might surprise you to see this in the list of ingredients, but this is a 'hidden secret' sort of cake ingredient that adds moisture, nutrition and flavour.
Ripe bananas: This recipe is perfect for using up old bananas. You'll need three well-mashed bananas for this recipe. Yum.
Peanut butter: I like to use crunchy, but either crunchy or smooth works.
Peanuts: To scatter over the top. I like to use salted for a 'salted caramel' kind of effect.
For the frosting
You just need 6 simple pantry baking ingredients for the frosting: peanut butter, soft butter, vanilla, milk, icing sugar and cocoa powder. Whatever you have in the pantry is fine!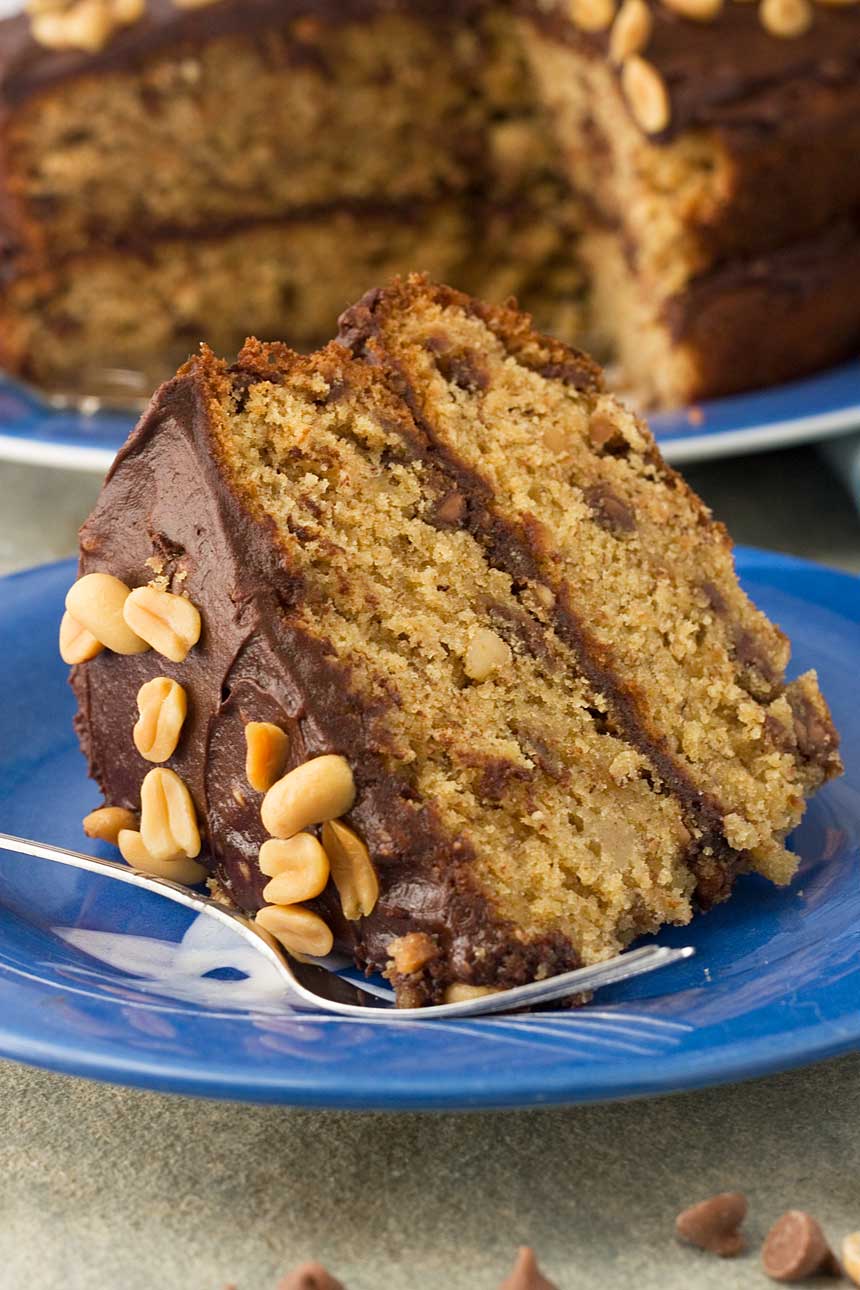 How to make it
I used to be a bit afraid of making layer cakes. I thought they would be a lot more difficult than they actually are.
But if you're a bit nervous too, there's really no need to worry. This pb banana chocolate cake is SO easy to make. No careful folding or precise piping of frosting.
Basically, you're just 5 steps away from peanut butter-y, banan-y, chocolate-y heaven:
Step 1: Combine the dry ingredients and set aside.
Step 2: Cream butter and sugar and whisk in the eggs.
Step 3: Beat in the other 'wet' ingredients, so in other words the mashed bananas, Greek yogurt, and peanut butter.
Step 4: Stir in the flour mixture and the chocolate chips, pour into 2 baking tins and bake.
Step 5: After cooling completely, make the frosting and spread over the top. Sprinkle with peanuts to serve!
More things to know (FAQs)
How long does the cake last?
When I first made this cake I was a little surprised to find that it still tasted just as good 4 days after I'd baked it. Just as moist and tasty. As for how long it might last after that – I'm afraid I've no idea because it's never lasted any longer!

Store it in an airtight container in a cool place. If the weather is on the warmer side you might like to put it in the fridge. Cover it loosely with some aluminium foil and store in an airtight container.
Can you freeze it unfrosted or frosted?
If you'd like to freeze the 2 cake layers and then defrost them and make the icing later, simply let cool completely, wrap well in several layers of plastic wrap and aluminium foil and freeze for up to 6 months.

If you'd like to freeze some or all of the already-frosted cake, that's fine too. Just pop it into the freezer uncovered for around 4 hours or until frozen. Then take it out and wrap it in several layers of plastic wrap followed by aluminium foil. Pop it into a freezer bag or large sealed container for extra protection if you like and freeze for up to 6 months.
How should I serve it?
I think this cake works perfectly by itself, but if you're so inclined add a scoop of ice cream, cream or even custard. Why not?

It's a pretty versatile cake that works well just for an afternoon tea or picnic, but also as a birthday cake for peanut butter, banana and chocolate lovers!
Can I use gluten free or wholemeal flour?
Generally speaking, you can substitute gluten free flour for plain in a ratio of 1:1 as long as it contains a binding agent such as xanthan gum. If it doesn't contain xanthan gum add 1/4 teaspoon for every cup of flour. So use around 2/3 of a teaspoon in this cake.

I've never tried making this with wholemeal or another 'healthy' flour, but I'm confident it would work. I'd start by replacing half the flour. If the mixture seems too thick (doesn't drop easily off a big spoon) just drizzle in a little bit of milk until you have the right consistency.

Give it a try and let me know how you get on!
Can I reduce the sugar?
After feedback from readers I reduced the sugar in the first version of this recipe by 1/2 a cup. However some readers have reported reducing it to as little as just 1/2 a cup and have reported good results. Try it and see. Start by reducing it by around 25%. The frosting is quite sweet and remember there are chocolate chips in there too so it's 'safe' to experiment with reducing the sugar!

If you'd like to try one of my 'healthier' cakes some time as well, may I suggest this 30-minute healthy chocolate cake, these incredible blueberry muffins, or this pumpkin and pear loaf cake?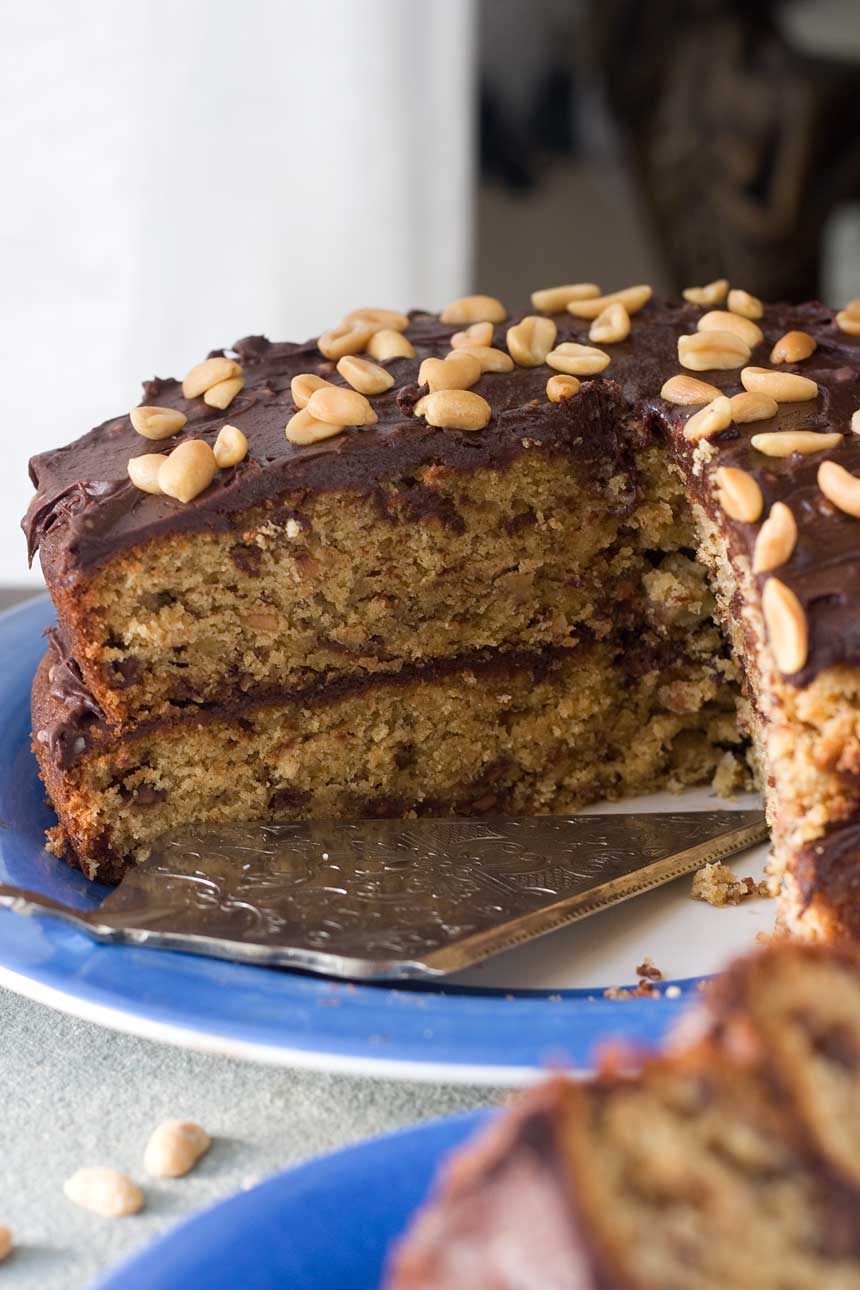 More cakes to impress with
Or have a browse of all my cakes here.
Enjoy! 🙂
IF YOU MAKE THIS RECIPE, LET ME KNOW HOW YOU GET ON BY LEAVING A COMMENT AND RATING BELOW… AND DON'T FORGET TO SIGN UP TO RECEIVE ALL MY NEW RECIPES BY EMAIL!
FOLLOW ME ON FACEBOOK, INSTAGRAM, PINTEREST AND YOUTUBE.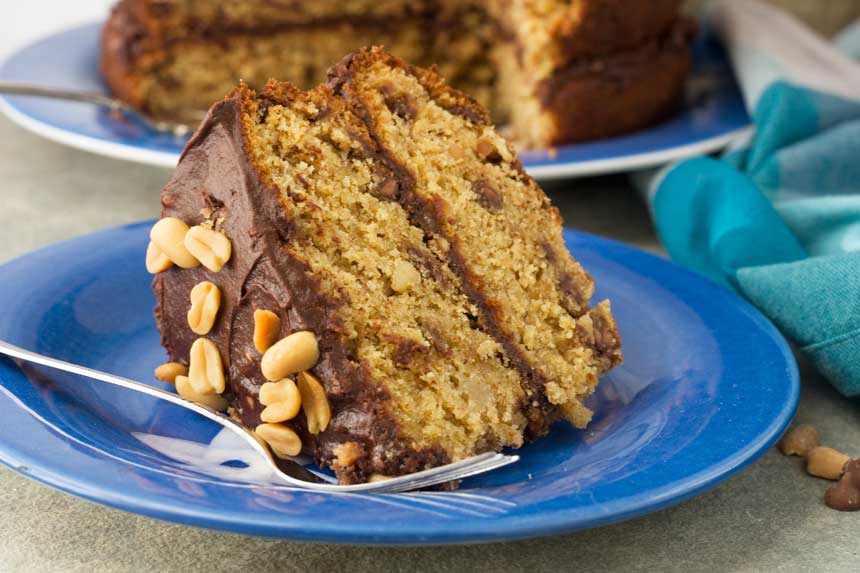 Banana And Peanut Butter Cake With Chocolate Chips
A perfectly textured and full-of-flavour layer cake made with peanut butter, banana and chocolate chips – yes, a marriage made in heaven!
Ingredients (UK/Australia? Click below for grams/ml)
For the cake
2 1/2

cups

plain flour

1

teaspoon

salt

1 1/2

teaspoons

baking powder

3/4

teaspoon

baking soda

1

cup

unsalted butter

(2 sticks or 16 tablespoons, 225 grams), softened

1

cup

light brown sugar

2

large eggs

1/2

cup

Greek yogurt

3

ripe bananas

mashed

1/3

cup

peanut butter

1

cup

chocolate chips

salted or unsalted peanuts

crushed or whole – for decorating (optional)
For the frosting
1/2

cup

peanut butter

2

tablespoons

soft butter

1

teaspoon

vanilla extract

3

tablespoons

milk

1 1/2

cups

icing sugar

US: powdered sugar

¼

cup

unsweetened cocoa powder
Instructions
Preheat the oven to 175C / 350 F. Lightly grease 2 x 8-inch round cake tins with butter.

Combine the flour, salt, baking powder and baking soda in a large bowl, then set aside.

2 1/2 cups plain flour,

1 teaspoon salt,

1 1/2 teaspoons baking powder,

3/4 teaspoon baking soda

Beat the butter and sugar together with an electric whisk until light and fluffy, then whisk in the eggs one at a time.

1 cup unsalted butter,

1 cup light brown sugar,

2 large eggs

Beat in the yoghurt, bananas and peanut butter, then stir in the flour little by little with a wooden spoon until totally mixed in. Finally, fold the chocolate chips through the batter.

1/2 cup Greek yogurt,

3 ripe bananas,

1/3 cup peanut butter,

1 cup chocolate chips

Divide the batter between the two greased tins, then bake for 35 to 40 minutes or until the cakes begin to pull away from the sides of the pan and a skewer poked into the centre comes out without raw batter on it. Let cool for a while, then turn out onto a wire rack to completely cool.
For the frosting
Whisk together the peanut butter, butter and vanilla, then whisk in the milk little by little.

1/2 cup peanut butter,

2 tablespoons soft butter,

1 teaspoon vanilla extract,

3 tablespoons milk

Fold in about half the icing sugar and cocoa, then whisk until well combined. Whisk in the rest until the frosting is smooth and spreadable*.

1 1/2 cups icing sugar,

¼ cup unsweetened cocoa powder

When the cakes are completely cool, spread half of the frosting on the top of one, then place the other cake on top. Spread the rest of the frosting over the top of the cake, then decorate with peanuts (if using). Will keep in an airtight container for at least 4 days (possibly longer – never lasted that long!)
Notes
Sugar: This is the second, less sweet version of this recipe. The sugar is already reduced as of course there's more sweetness in the chocolate chips and frosting. But by all means experiment by reducing it further. Readers have reported good results from doing this.
Storing: Store in an airtight container in a cool place for up to 4 days. If the weather is warm, cover loosely with aluminium foil and store in an airtight container in the fridge for up to a week.
Freezing: This cake freezes well either before or after frosting. After cooling completely, wrap the layers well in plastic wrap and/or aluminium foil and store in big containers or freezer bags for up to 6 months. If freezing after frosting, freeze first uncovered for 4 hours in the freezer. Then wrap well and freeze in a freezer bag or container for up to 6 months.
Frosting: Frosting recipe slightly adapted from this recipe on Food.com. Add more icing sugar if still too runny; add more milk if too thick.
Nutrition
Calories:
605
kcal
Carbohydrates:
75
g
Protein:
11
g
Fat:
31
g
Saturated Fat:
15
g
Polyunsaturated Fat:
3
g
Monounsaturated Fat:
9
g
Trans Fat:
1
g
Cholesterol:
76
mg
Sodium:
395
mg
Potassium:
385
mg
Fiber:
4
g
Sugar:
48
g
Vitamin A:
630
IU
Vitamin C:
3
mg
Calcium:
93
mg
Iron:
2
mg