Avocado halves with their natural boat-like shape make perfect 'receptacles' for all sorts of goodies. Try stuffing them with peas, mint and feta for a super tasty (not to mention healthy) treat!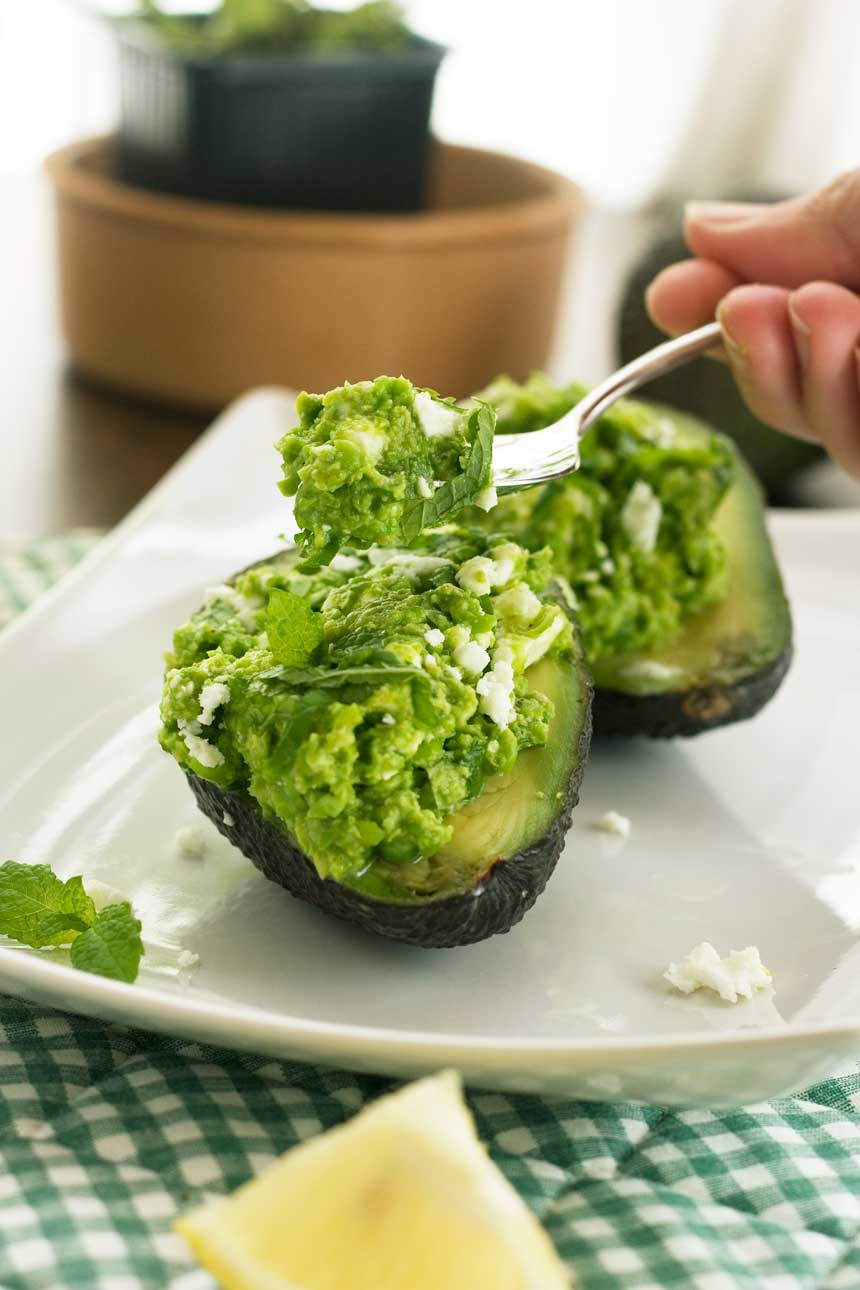 Mr. Scrummy and I disagree with each other a bit over his lunch. Not that it really matters. After all, Mr. Scrummy is free to have whatever he wants for his lunch, of course. 😉
But here's the disagreement: he insists that it's healthy to eat the exact same supermarket tuna and cucumber sandwich every day, whereas I think it would be far better for him if he tried to vary his diet a bit more!
Whatever you think about this, I'm betting that the majority of you do/would get a bit sick of eating the same thing every day for lunch. I must admit I'm not always much 'better' than Mr. Scrummy myself. I may not have a tuna sandwich every day like him, but I can easily get stuck in a similar rut of always defaulting to a sandwich – boring, and not always the healthiest if it's made with a thick doorstop of bread and smeared with mayonnaise like mine often is.
So this past week while I was on holiday in the beautiful far south west of England I happened to leaf through a magazine in a café and spot an article suggesting some healthy lunch ideas. One recipe was for something very similar to this pea, mint & feta avocado boats recipe. I'm afraid I didn't even look at which magazine it was to be able to credit the idea to them (sorry, unknown magazine!) but fortunately I remembered the general idea so that I could test it out when I got home.
Not only was it a relief to make myself such a healthy snack – after a week of eating DELICIOUS but, let's face it, pretty naughty treats like Cornish cream teas, Cornish pasties, fish and chips and gourmet burgers – but these also had me seriously ooh-ing and ah-ing at how tasty they were.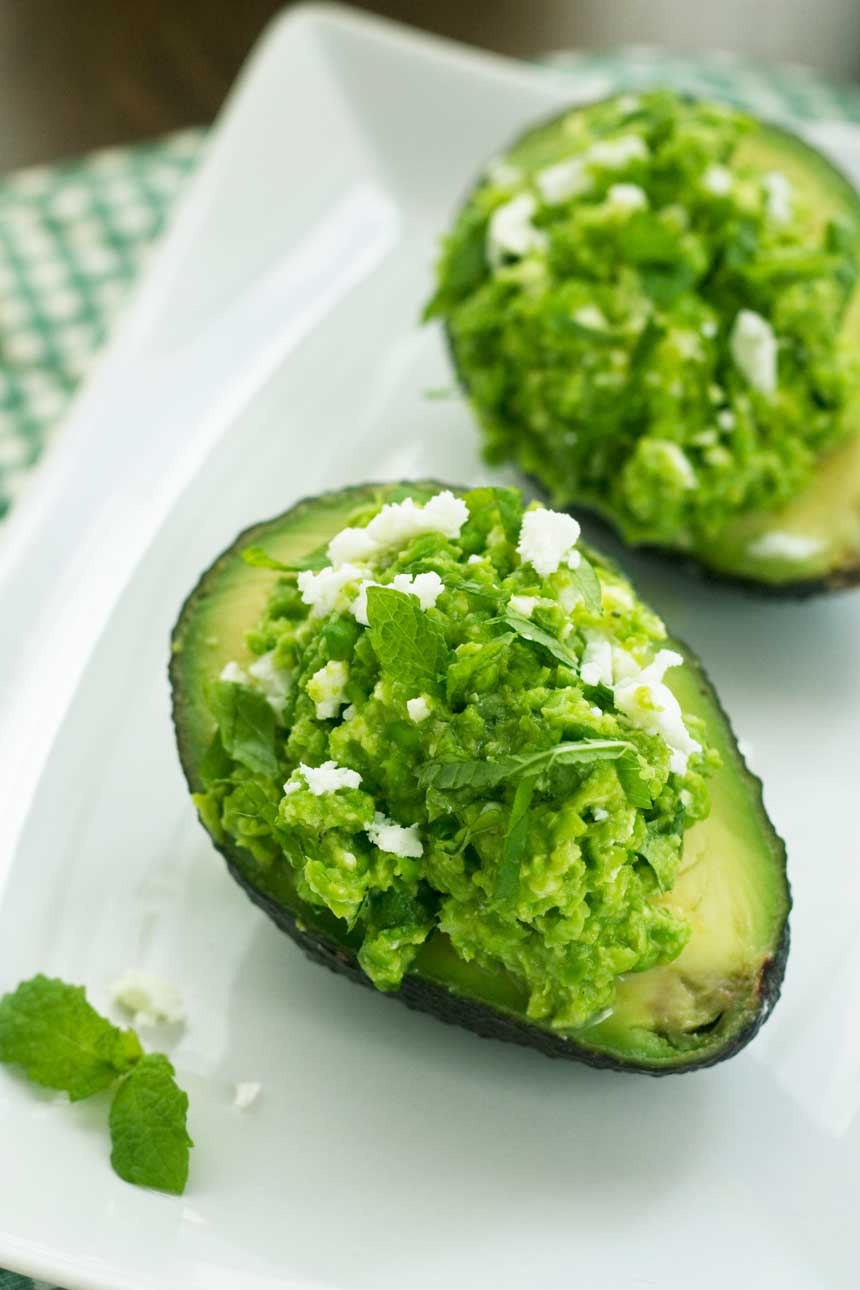 There's plenty of food that I class as delicious, but I would class this is EXCEPTIONALLY DELICIOUS. I have just scarfed the second half of my avocado a day after making it and I swear that it was as yummy as yesterday (although it looks slightly past its best so I'd recommend making or at least assembling your boats just before you're ready to eat).
So what's so delicious about this cute little lunch (or snack or appetizer)? Well, imagine this: creamy avocado, sweet smashed peas, tangy lemon, salty feta and fresh mint – all in one mouthful. This all makes for a pretty much perfect balance of flavours, in my humble view.
Aaaand … you don't even have to defrost the frozen peas you'll use to make these (big bonus). Just rinse them under the tap to wash off any excess ice and whizz them up in a food processor (or handheld one like this, which I love and use A LOT) with a bit of olive oil, lemon juice and garlic. Then stir through fresh chopped mint and feta and pile on top of your avocado halves. Mmmm … and, I must say, it's somehow fun to scoop up all those gorgeous flavours with a spoon and then smoosh the filling back into the gap you've left (I know, it really doesn't take much to impress some people).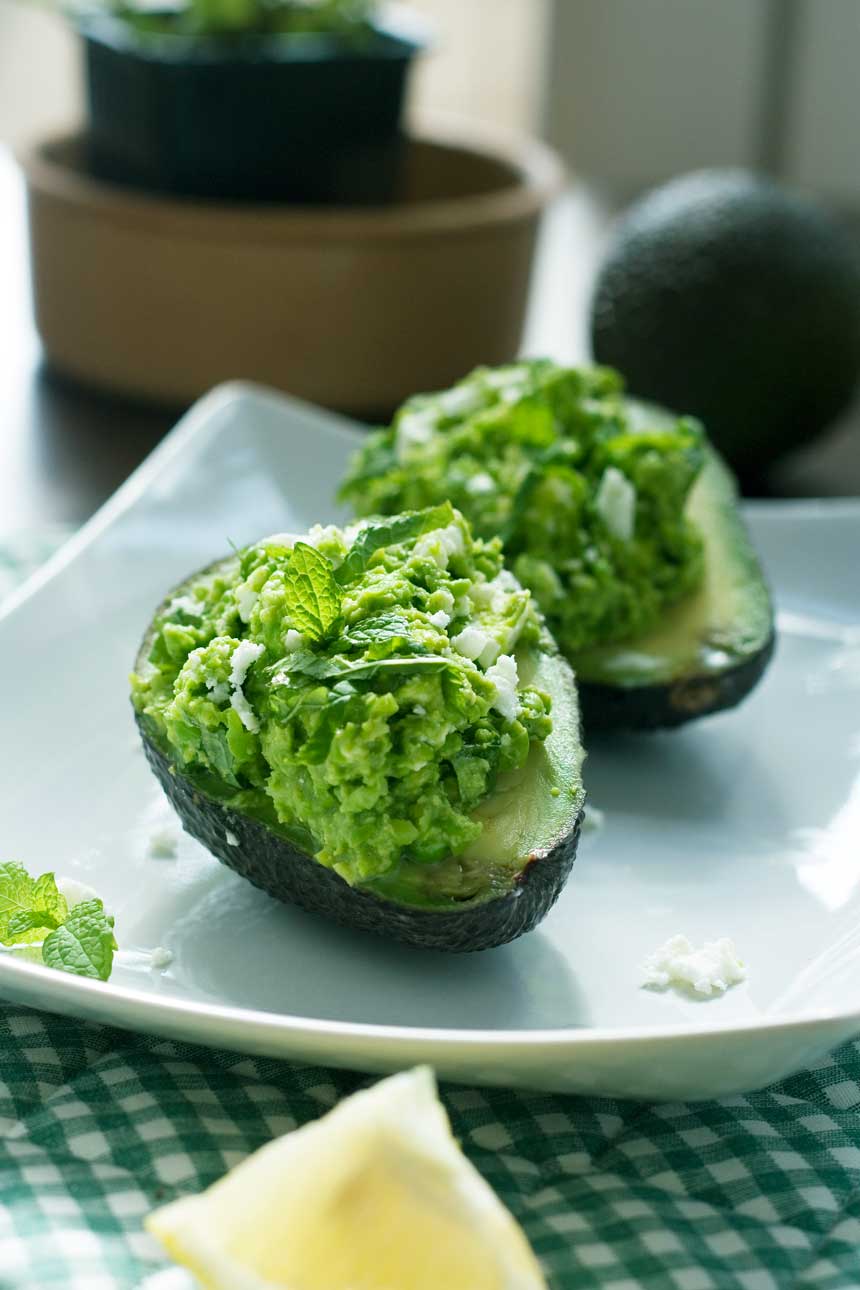 If you happen to rather like the sound of this idea of stuffing avocados with pure deliciousness, please do check out my friend Megan's recipe for an avocado-stuffed 7 layer dip. I immediately thought of this when I spotted the recipe in the café magazine!
Just before I go, I thought I'd leave you with a photo of the little fishing village where I was when I spotted the magazine in the café. Gorgeous, right?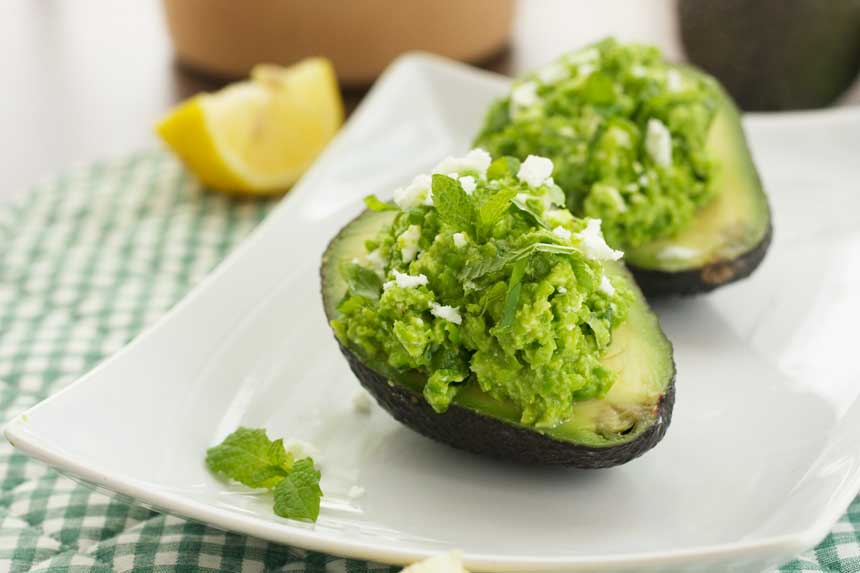 Pea, mint & feta avocado boats
Avocado halves stuffed with a super tasty mix of pureed peas, mint and feta cheese.
Ingredients (UK/Australia? Click below for grams/ml)
3.5

ounces

frozen peas

rinsed under the tap

1

tablespoon

olive oil

1

tablespoon

lemon juice

plus extra for drizzling at the end

1/4 to 1/2

a small clove garlic

1

ounce

feta cheese

1

tablespoon

fresh mint leaves

chopped, plus extra for garnishing

1

nicely ripe avocado
Instructions
Whizz the peas, olive oil, lemon juice and garlic together in a food processor, then tip into a bowl. Stir through the feta cheese and mint.

Slice the avocado in half, removing the pit, and rub the top of each half with the cut side of a lemon (to stop it going brown).

Pile the pea mixture into the avocado halves, then sprinkle over a little more mint and lemon juice to taste. Grab a spoon and enjoy!
Notes
You could also try spreading the pea mixture on toast to make a crostini or even stirring it through pasta 🙂
Nutrition
Calories:
303
kcal
Carbohydrates:
17
g
Protein:
6
g
Fat:
24
g
Saturated Fat:
5
g
Cholesterol:
12
mg
Sodium:
168
mg
Potassium:
608
mg
Fiber:
9
g
Sugar:
4
g
Vitamin A:
690
IU
Vitamin C:
33.6
mg
Calcium:
100
mg
Iron:
1.5
mg

You can also find more from Scrummy Lane on Facebook, Pinterest, Twitter and Instagram and follow me on Bloglovin! Thanks so much for reading!
*This post may contain affiliate links which means that if you click on a link and make a purchase I get a small percentage of the amount you spend. At no extra cost to you, of course! Thank you!*