Need a last-minute gift? These chocolate orange truffles are ridiculously easy to make, but taste just as good as anything you can buy.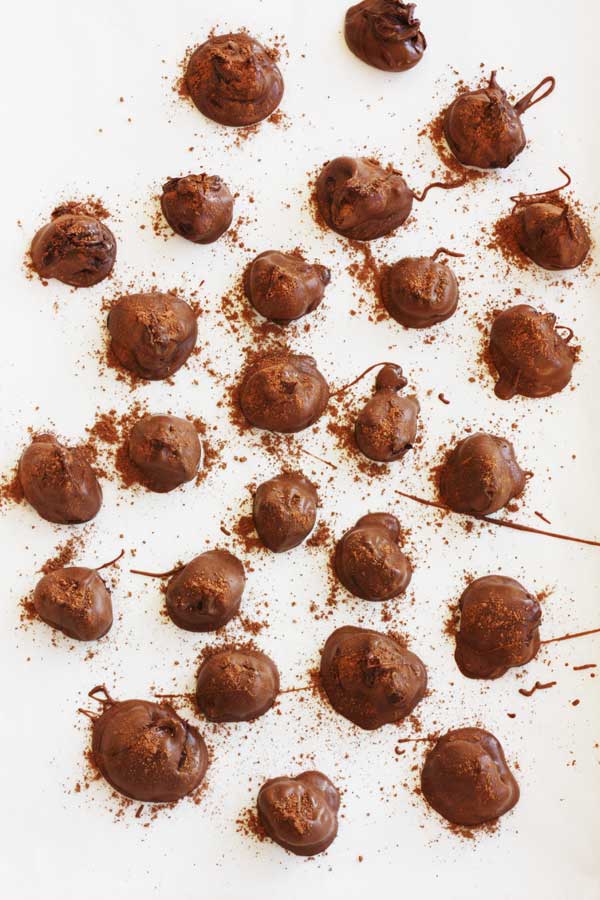 Sometimes, when I want to give a last-minute gift, I turn to food.
Usually I go for chocolate bark, which I love 'personalising' for whoever I'm giving it to. Like this mango & pistachio version, which was a roaring success. Or this Easter chocolate bark, which can actually be adapted to suit any occasion.
Why I think these are the best chocolate truffles
They taste really 'orange-y'. Ever had a flavoured chocolate only to be disappointed when you can hardly taste the flavour? The orange flavour in these contrasts perfectly with the buttery dark chocolate.
You bite into a hard milk chocolate coating – yum. But then inside there's a soft, rich and creamy truffle. Fan of those yummy orange Lindt balls? They're a bit like those! Yum (did I say that already?).
They look kind of cool. Like little chocolate 'kisses' rather than perfectly round truffles. Perfect to package in a glass jar or gift bag or box and give as a gift.
These are 'kind' of like the orange flavour Lindor truffles we all know and love. Not exactly, but near enough, and just as delicious!
What ingredients you need
You only need 6 simple ingredients to make these.
chocolate (of course!): Both dark and milk. Dark for the squidgy inside and milk for the outside shell.
butter: Just a bit. For a buttery, silky texture.
cream: This forms the basis of the truffle centre. Mmmm.
brown sugar: As if they weren't sweet enough 😉
an orange: Both the zest and the juice for a super orange-y flavour.
a pinch of salt: Makes all the difference!
How to make them
These orange truffles are super easy to make in four simple steps.
Step 1: Put broken dark chocolate, orange zest and a bit of butter in a bowl.
Step 2: Heat up cream and sugar. Pour it over the chocolate mixture in the bowl. Let the heat from the cream and sugar melt the chocolate for a few minutes.
Step 3: Stir in a bit of salt and orange juice (= more yummy orange flavour), then pop in the fridge for at least a few hours to set.
Step 4: Melt milk chocolate. Form small balls of truffle mixture, then dip them into the chocolate. Let set on a baking tray. Sprinkle with cocoa if you like.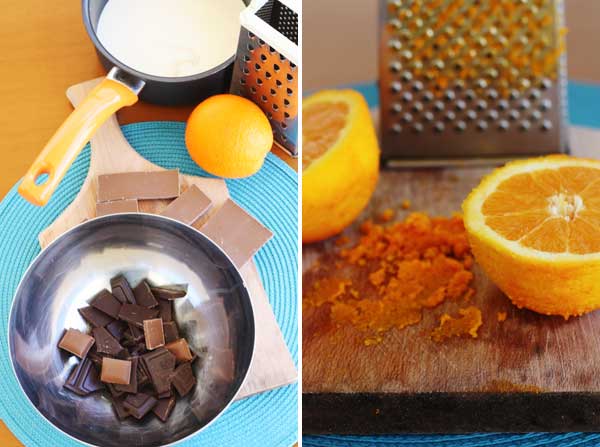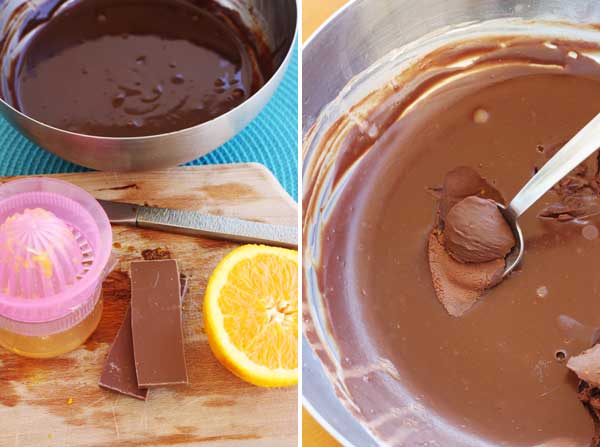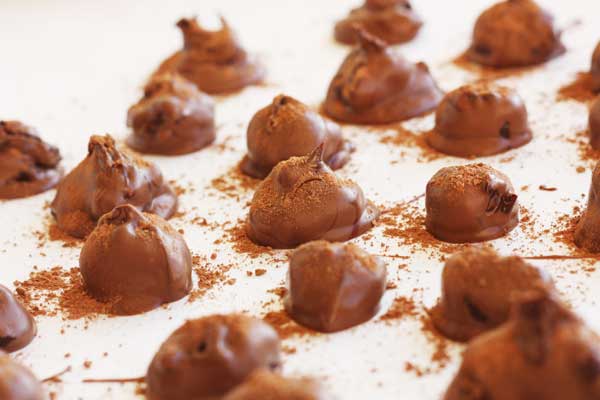 Rustic or classic truffle shapes… both are yummy!
Don't be surprised if the truffle mixture is quite soft. The consistency varies a bit according to what kind of chocolate you use.
The end result can be very rustic looking.
But sprinkle a little cocoa over the top of the finished truffles when the chocolate is still wet and you'll be amazed how classy the truffles look.
If you prefer a classic round truffle shape, leave the truffle mixture in the fridge overnight and it should become firm enough to roll into neat balls.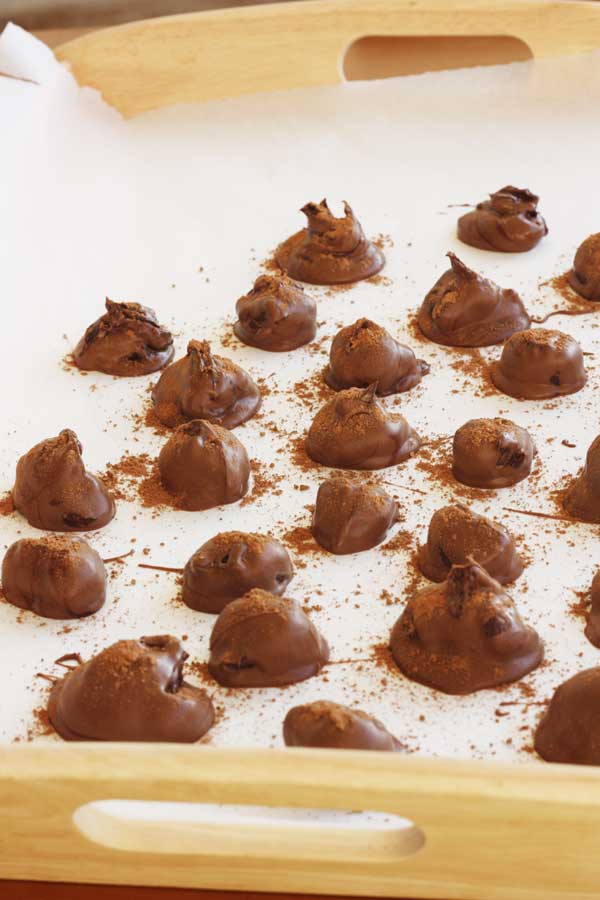 Ways to adapt them
Hard to believe, but you might be able to make these truffles even yummier!
For those who like to live dangerously, replace a tablespoon of the orange juice with a tablespoon of Grand Marnier!
Instead of sprinkling cocoa over the top of the truffles, shave some little pieces of orange peel with a peeler and pile them on top.
Try using white chocolate for the inside instead. Add just half the amount of cream though.
Try different flavours. Skip the orange and add 2 teaspoons instant coffee powder instead. Or 1 teaspoon peppermint extract. Or finely chopped nuts. Use caramel sauce instead of brown sugar and add 1/2 teaspoon more salt for caramel truffles. Or how about finely chopped cherries and a tablespoon of cherry liqueur? (now you're talking)
These easy truffles make perfect gifts!
I think you'll be pleased with these truffles no matter what. This is one delicious truffle, and definitely worthy of giving as a gift.
They make perfect Mother's or Father's Day gifts, Christmas or birthday gifts, or after dinner treats.
If I want to give my truffles as a gift, I sometimes package them up by piling them into the corner of a large see-through food bag such as a roasting bag (of all things!).
This works for any kind of food gift, including the ones below!
Love chocolate orange desserts? You'll also love this really good, really simple chocolate orange cake!
More easy chocolate food gift ideas
Love the chocolate orange combo? You just have to try this perfect chocolate orange cake. Fudgy, moist, rich and decadent, but not overly sweet 🙂
IF YOU MAKE THIS RECIPE, LET ME KNOW HOW YOU GET ON BY LEAVING A COMMENT AND RATING BELOW… AND DON'T FORGET TO SIGN UP TO RECEIVE ALL MY NEW RECIPES BY EMAIL!
FOLLOW ME ON FACEBOOK, INSTAGRAM, PINTEREST AND YOUTUBE.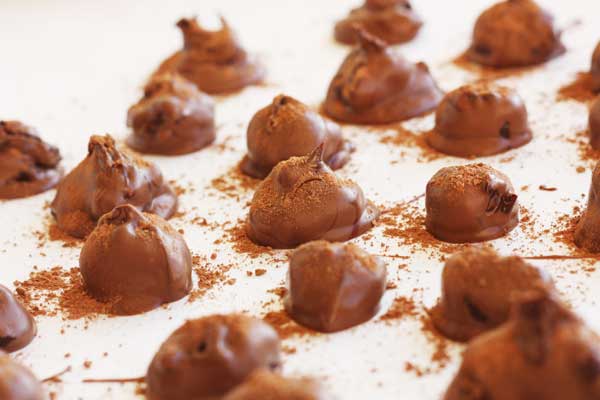 The best chocolate orange truffles
'Rustic' chocolate truffles with soft and buttery bitter orange centres. Just pour hot cream over dark chocolate and butter, add a little orange juice & zest, let set, form into truffle shapes and dip into milk chocolate. A perfect little homemade gift!
Ingredients (UK/Australia? Click below for grams/ml)
4

ounces

dark chocolate

I used 70% cocoa content

2

tablespoons

butter

chopped into pieces

½

cup

heavy/double cream

3

tablespoons

brown sugar

1

orange

the juice of half, the zest of the whole

9

ounces

milk chocolate

a little cocoa powder to decorate
Instructions
Break up the dark chocolate and put it in the bowl with the butter and orange zest.

Heat the cream and sugar together on a low to medium heat until it almost comes to the boil.

Pour the cream and sugar mixture over the chocolate and butter and leave it to stand for a couple of minutes to allow the chocolate and butter to melt.

Stir the mixture until smooth, add a pinch of salt and the orange juice, then stir well again. Cover and put in the fridge for a few hours (or even overnight) to firm up.

When the mixture is firm, break up two thirds of the milk chocolate into a bowl and melt it in the microwave in 30-second spurts (alternatively, melt it over a bowl over a pan of simmering hot water, without allowing the bowl to touch the water). When the chocolate is melted, add the last third of chocolate* and allow it to melt into the rest, then give it a good stir.

Scoop up teaspoonsful of truffle mixture, roll or pat them into a rough ball, then dip them into the melted milk chocolate on the spoon. Quickly tip them out onto a sheet of baking paper to set. Sprinkle immediately with a little cocoa powder.
Notes
Recipe credit
Recipe based on perfect chocolate truffles (Guardian life and style section).
The easiest way to 'temper' the chocolate
We add the last third of the milk chocolate to the already-melted chocolate as a quick and easy way to 'temper' it (to keep it shiny rather than matt and potentially crumbly).
How to package the truffles
Try packaging the truffles by piling them into the corner of a meat roasting bag
and tying the top with a nice piece of ribbon. They look beautiful and are perfect to give as a gift like this!
Nutrition
Calories:
111
kcal
Carbohydrates:
10
g
Protein:
1
g
Fat:
8
g
Saturated Fat:
5
g
Cholesterol:
9
mg
Sodium:
13
mg
Potassium:
77
mg
Fiber:
1
g
Sugar:
8
g
Vitamin A:
110
IU
Vitamin C:
3
mg
Calcium:
12
mg
Iron:
1
mg