Last Updated on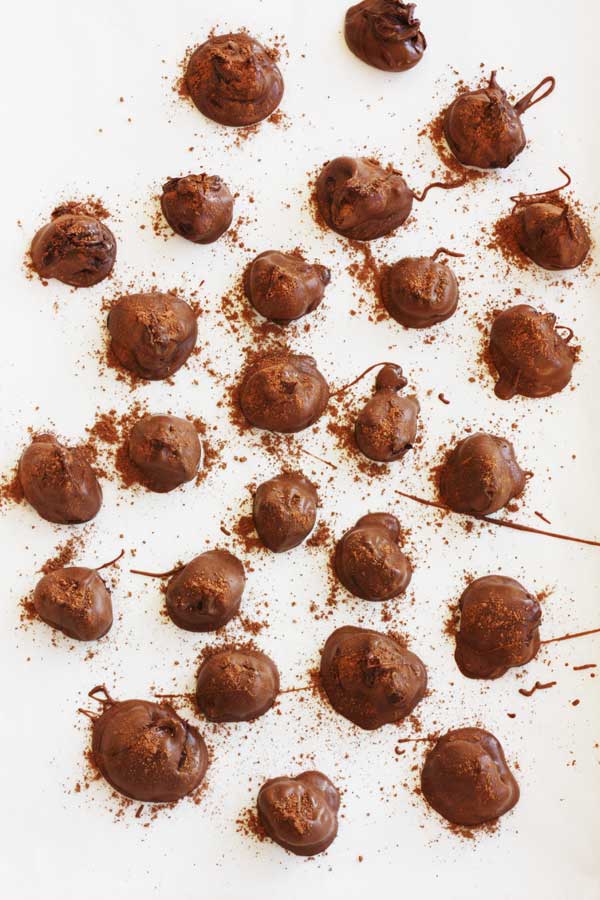 I love to give gifts, but I don't always feel all that good at it. Often, I'll be standing in line at the supermarket or rushing to work one day when I suddenly realise it's a family member's or this friend's or that friend's birthday and I haven't got them anything yet. There then ensues a mad dash to the shops to pick something out. Or an equally as mad scurry around the Internet to see if I can find something online. Which I hate. Because rather than give something just for the sake of it, I want to be able to come up with something wholly appropriate for the person, something I think there's a really good chance they'll like.
I don't think I'm one of those people whose 'love language' is 'gifts', needless to say. My mum and sister certainly are, and usually put me to shame with their beautifully-wrapped and decorated offerings and perfectly-timed and chosen accompanying cards. Luckily, Mr. Scrummy and I so far haven't worried too much about finding the perfect gifts for each other, going on a trip somewhere nice to celebrate a special occasion instead.
But despite my self-awarded 'could do better' grade on the gift-giving front, one thing that I've 'discovered' recently which has possibly bumped me up half a grade is food gifts. Usually I go for chocolate bark, which I love 'personalising' for whoever I'm giving it to. Like this mango & pistachio version, which was a roaring success.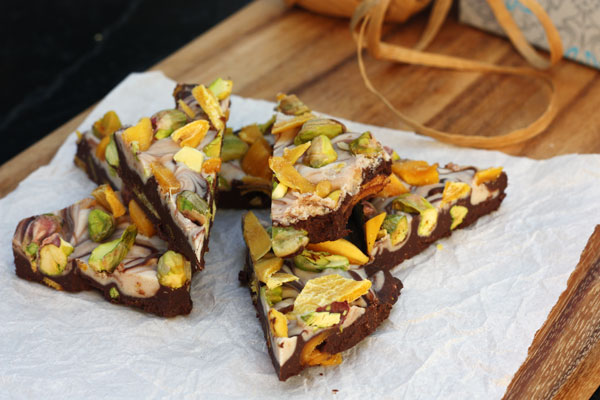 But just before my very good friend Debbie came to visit me over here in Greece a few weeks ago, I had my little 'oh-no-I-think-I-missed-Debs'-birthday-what-on-earth-shall-I-get-her-and-I've-only-got-one-day' moment (Yes, I'm that good a friend), then I decided to try making her something perhaps a little more elegant than chocolate bark. And something that wasn't 'cakey', because our Debs knows how to bake and I wouldn't really want to try to compete. We're talking a baking queen who, incidentally, made this cake for mine and Mr. Scrummy's wedding last year:
Isn't it gorgeous? The 'people' are strawberries wearing little chocolate jackets. And yes, that is a London bus you can see on the front of one of them. Debs wanted both Britain (me) and Australia (Mr. Scrummy) to be represented on our cake, which as you can see she achieved just perfectly!
Anyway, back to Debs' gift. I suddenly remembered a recipe I'd seen in the Guardian food section for perfect chocolate truffles and decided to try adapting it to make some orange-flavoured ones. So I followed the instructions for making the truffle mixture (which basically just involves heating up some cream to just before boiling point and pouring it over a bowl of chopped-up chocolate and butter), just adding orange juice and zest to make the recipe my own.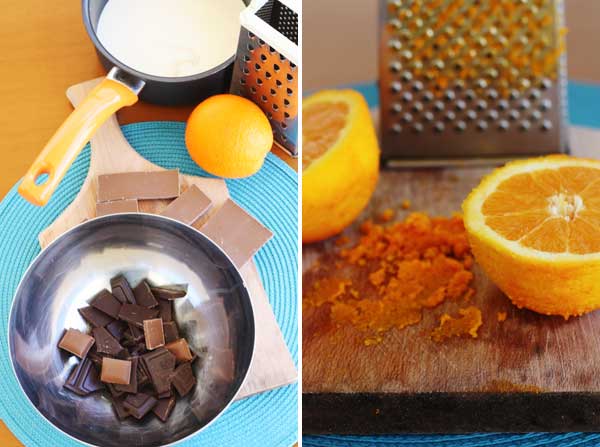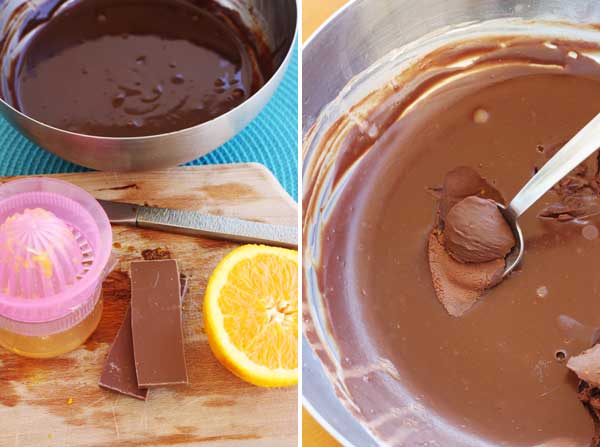 After popping the mixture into the fridge and letting it set for a good few hours, then it was time to assemble the truffles. Now, I warn you, don't make these while wearing a pale-coloured shirt, unless you want to soon be wearing a pale-coloured shirt with brown splodges all over it. I'm not speaking from experience, of course.
Since my mixture was a little softer than I was expecting and therefore impossible to roll into perfect little balls, I decided to go for 'very rustic' (ahem … aka didn't have any other choice) and just dip spoonfuls of the mixture into melted milk chocolate and sort of tip them off the spoon onto a piece of baking paper to set. At first I wasn't sure how the finished result would be and half expected to have to dump everything in the bin (or in my mouth) and rush out to the shops for my gift after all, but then after sprinkling a little raw cacao powder over the top of the still-wet truffles I was pleasantly surprised by how good they looked.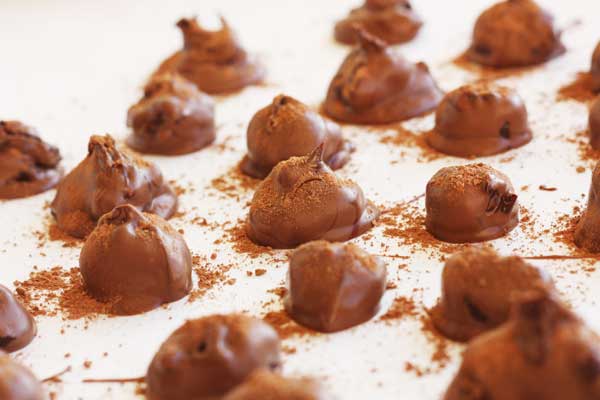 The true test, of course, was in whether Debs liked the truffles, and I'm happy to report that she did. A lot. So much in fact that she broke her Lenten chocolate fast in order to try them. A chocolate fast that I didn't know she was doing, I hasten to add. Oops. The best thing about this was that I got to 'taste-test' rather more than I was expecting to. Well, it really would have been rude and unhelpful not to.
For me, there were two great things about these truffles. Let's make that three. The first was the deep orange taste which cut perfectly through the sharp buttery high cocoa content dark chocolate of the truffle. The second was the contrast of the soft, creamy interior with the hard milk chocolate coating. The third was 'cleaning' out the leftover chocolate coating bowl after I found it hanging out in the fridge a week later.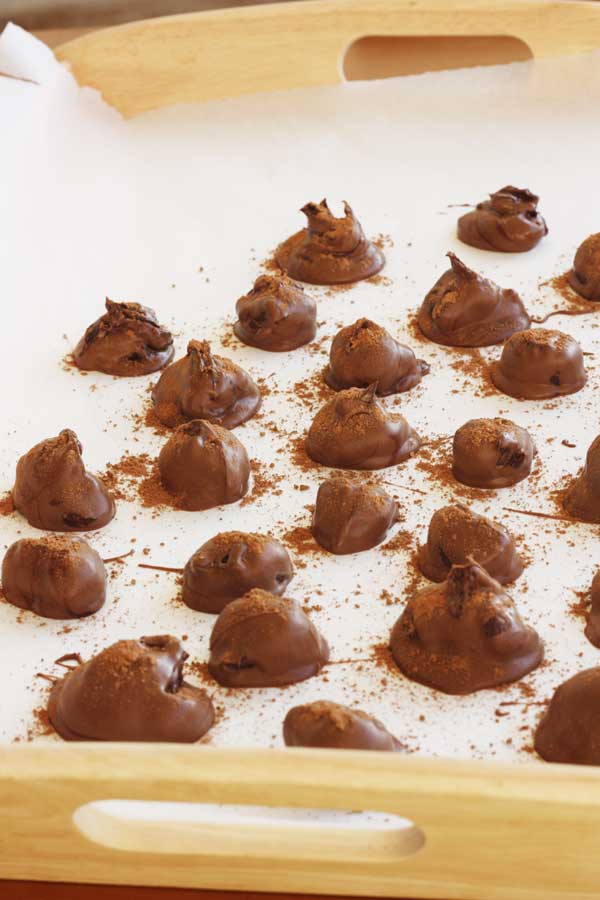 You may find, because the cocoa content of your chocolate is different, or you leave the mixture for longer in the fridge, that it ends up firmer than mine did and you can actually roll your cute little chocolates into classic truffle shapes instead. If you would prefer to do this anyway, I suspect that it would be best to leave your mixture in the fridge overnight. It seems that despite my many hours of rolling truffles for wedding favours last year, I'm still no expert in the science of working with chocolate!
Personally, I don't mind at all that every batch of truffles has the potential to turn out slightly differently. And I think you'd be pleased with the result no matter what. This is one delicious truffle, if I may say so, and definitely worthy of giving as a gift. Perhaps even for Mother's Day if you happen to be from a country celebrating that very important day this Sunday.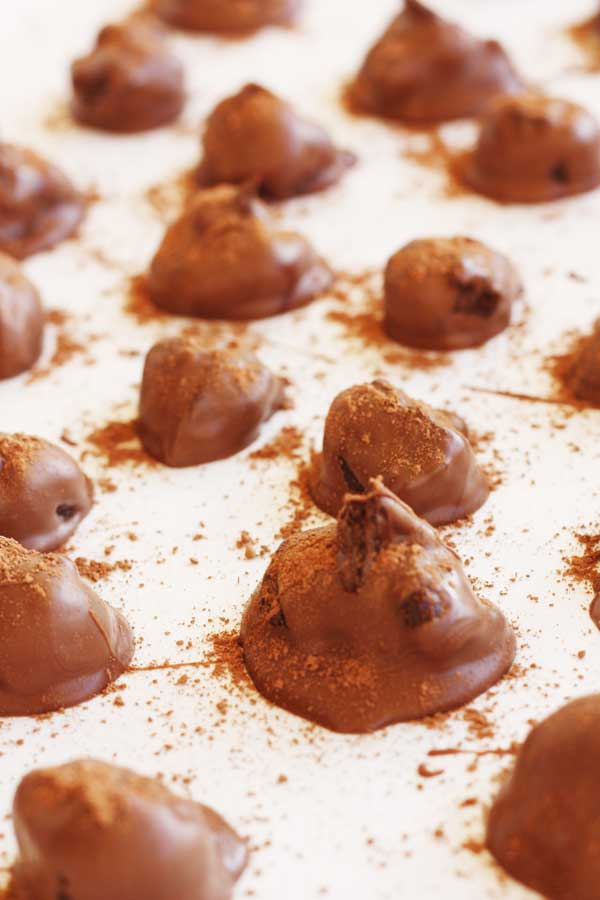 I didn't manage to get a photograph of this, but I packaged my truffles by piling them into the corner of a meat roasting bag
, of all things, then twisting the bag closed at the top and tying with a an odd piece of wide ribbon that I found. So easy and yet they looked really great. You can also do this with chocolate bark, I might add, which looks fantastic, too.
So if, like me, your gift-giving skills have a little room for improvement, hopefully I've given you a little bit of inspiration today.
Hope you're having a great week!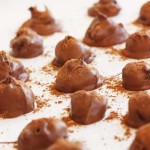 Print
Chocolate orange truffles
'Rustic' chocolate truffles with soft and buttery bitter orange centres. Just pour hot cream over dark chocolate and butter, add a little orange juice & zest, let set, form into truffle shapes and dip into milk chocolate. A perfect little homemade gift!
Ingredients (UK/Australia? Click button below for grams & ml)
1/2

cup

heavy/double cream

3

tablespoons

brown sugar

4

ounces

dark chocolate

I used 70% cocoa content

2

tablespoons

butter

chopped into pieces

1

orange

the juice of half, the zest of the whole

9

ounces

milk chocolate

a little raw cacao powder to decorate
Instructions
Break up the dark chocolate and put it in the bowl with the butter and orange zest.

Heat the cream and sugar together on a low to medium heat until it almost comes to the boil.

Pour the cream and sugar mixture over the chocolate and butter and leave it to stand for a couple of minutes to allow the chocolate and butter to melt.

Stir the mixture until smooth, add a pinch of salt and the orange juice, then stir well again. Cover and put in the fridge for a few hours (or even overnight) to firm up.

When the mixture is firm, break up two thirds of the milk chocolate into a bowl and melt it in the

microwave

in 30-second spurts (alternatively, melt it over a bowl over a pan of simmering hot water, without allowing the bowl to touch the water). When the chocolate is melted, add the last third of chocolate* and allow it to melt into the rest, then give it a good stir.

Scoop up teaspoonsful of truffle mixture, roll or pat them into a rough ball, then dip them into the melted milk chocolate on the spoon. Quickly tip them out onto a sheet of baking paper to set. Sprinkle immediately with a little cocoa powder.
Notes
Recipe based on perfect chocolate truffles (Guardian life and style section).
*We add the last third of the milk chocolate to the already-melted chocolate as a quick and easy way to 'temper' it (to keep it shiny rather than matt and potentially crumbly).
Try packaging the truffles by piling them into the corner of a meat roasting bag
and tying the top with a nice piece of ribbon. They look beautiful and are perfect to give as a gift like this!
Nutrition
Calories:
111
kcal
|
Carbohydrates:
10
g
|
Fat:
8
g
|
Saturated Fat:
4
g
|
Cholesterol:
9
mg
|
Sodium:
12
mg
|
Potassium:
76
mg
|
Fiber:
1
g
|
Sugar:
8
g
|
Vitamin A:
110
IU
|
Vitamin C:
2.8
mg
|
Calcium:
12
mg
|
Iron:
0.8
mg
Follow me on Pinterest!
Follow @scrummylane to pin more quick and easy recipes for later
I hope you enjoyed this post! You can subscribe to receive posts directly to your inbox by entering your email address in the box below or at the top of the sidebar on the right.
You can also find more from Scrummy Lane on Facebook, Pinterest and Twitter  and follow me on Bloglovin! Thanks so much for reading!
*This post contains affiliate links which means that if you click on a link and make a purchase I get a small percentage of the amount you spend. At no extra cost to you, of course! Thank you!*