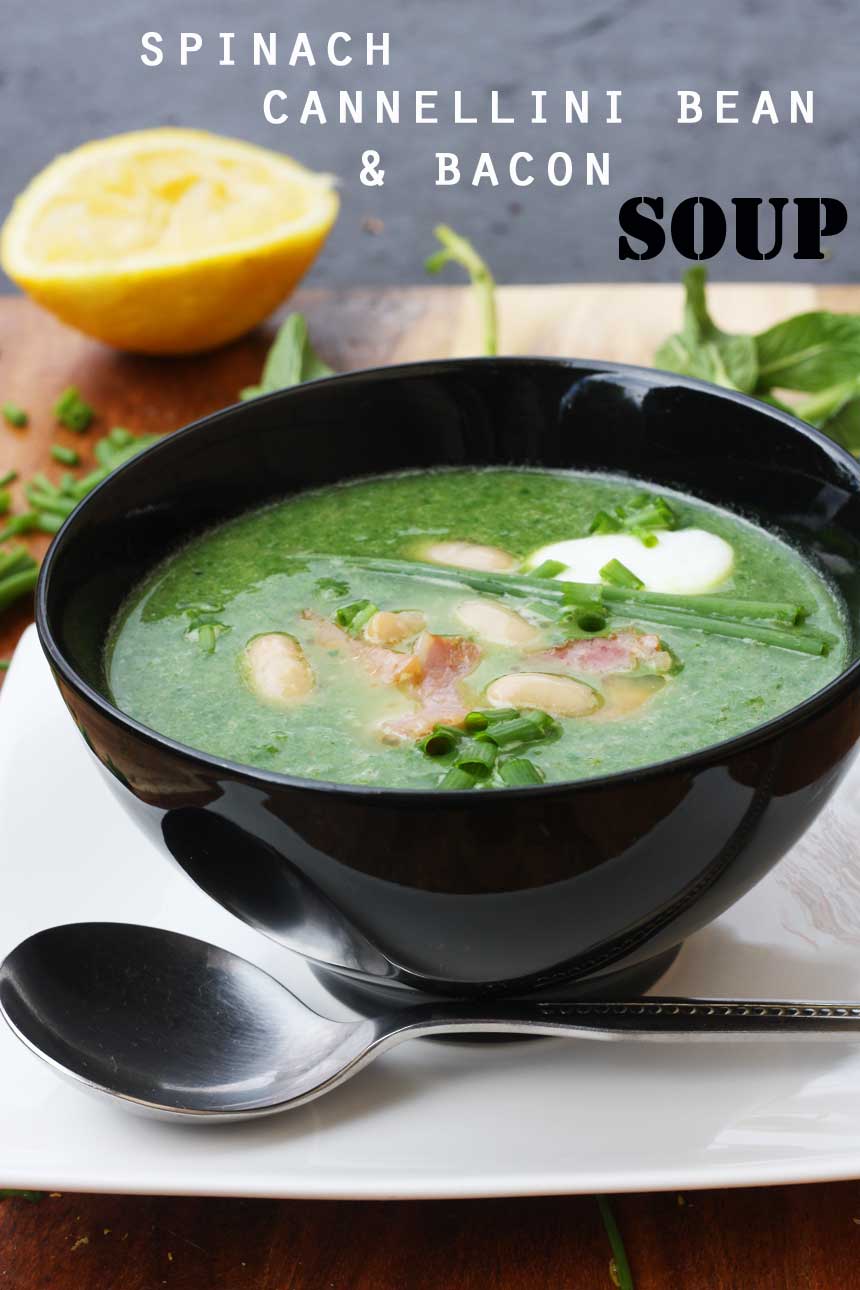 Last week, on the first morning of mine and Mr. Scrummy's short break in Melbourne, food capital of Australia, we encountered a brief awkward moment. Our friendly host at the B&B we were staying in greeted us at breakfast time and told us to help ourselves to cereal, yoghurt and fruit, then promptly sat down with a cup of coffee and started chatting to us. And chatting. And chatting. All well and good, but … erm … any chance of being offered any of that delicious-sounding cooked breakfast I could see out of the corner of my eye on the menu some time before Christmas?
So, a bit of a conundrum, really. Had we distracted him with our chatting and he'd simply forgotten that we hadn't ordered our breakfast? Was he hoping that we didn't want any because it was close to 10am when breakfast service ended? Were we only supposed to have either a continental OR a cooked breakfast and not both? I seriously considered kicking Mr. Scrummy under the table to get him to stop talking so that our host might get the hint.
In the end, Mr. Scrummy stopped talking of his own accord, gestured towards the menu and said something like 'Sooo … what's the deal here? Is it too late to order a cooked breakfast?' It definitely wasn't the smoothest of hints, but within a few seconds our host did catch on and spring into action in the kitchen. He emerged a short time later with a breakfast that was definitely worth the wait. But … well, weird (what would you have done??)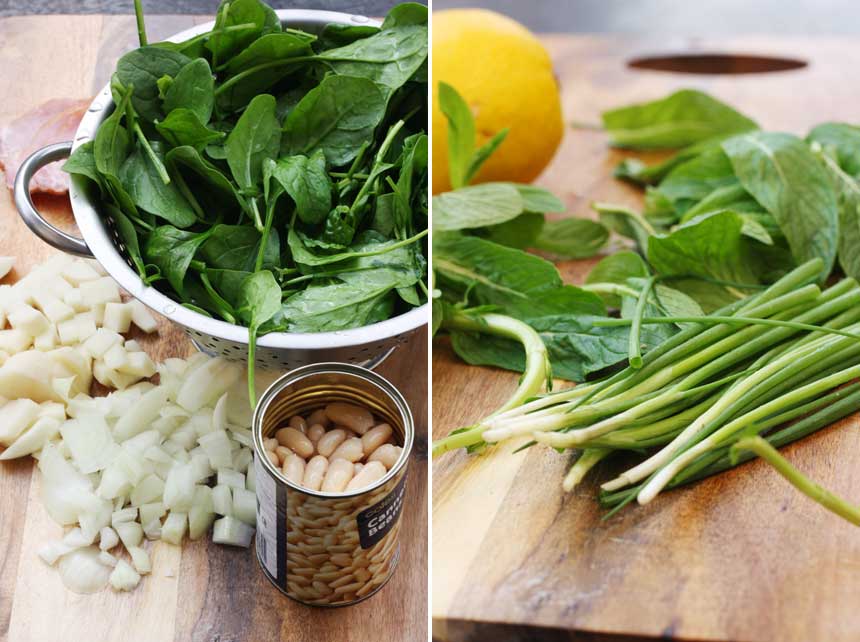 Soon after, we spilled out onto the streets of Melbourne and followed our noses to our next food experience … and our next … and our next. In just a few days, I think we sampled Spanish tapas, Vietnamese street food, Greek mezze, Italian, Mexican and Chinese, not to mention the umpteen coffees and cakes we had in the cute laneway cafes that are everywhere in this city. A highlight was our first evening when we scurried off to the well-over-a-century-old Queen Victoria market where there was a night market with a mouth-watering array of street food stalls. Our original plan was to have a quick look (Ha! Who were we kidding?) and then march on to a wonderfully authentic Italian restaurant we'd discovered on the famous Lygon Street on our previous visit. But how could we possibly resist a little taste of Malaysian roti with curry sauce? Or a teensy little Chinese dumpling or duck pancake? And what a shame to miss the crème brûlée that must be phenomenal considering the length of the queue at the stall.
Perhaps needless to say, we ended up having the equivalent of at least two meals that night. We had a couple of small tasters at the market, continued on to the Italian restaurant for carbonara (Mr. Scrummy) and eggplant parmigiana (me), then hurried back to the bustling market for a taste of that enticing crème brûlée. Oh, and since we had queued for so long we thought we might as well sample their chocolate cannoli as well. Yup, we were big piggies extraordinaires on this trip. The next morning, the whole routine began again, complete with longer-than-expected wait for breakfast. Lucky that we both love to walk and walk and walk and walk when we go on city breaks or I'm pretty sure we would have come back a few kilos heavier.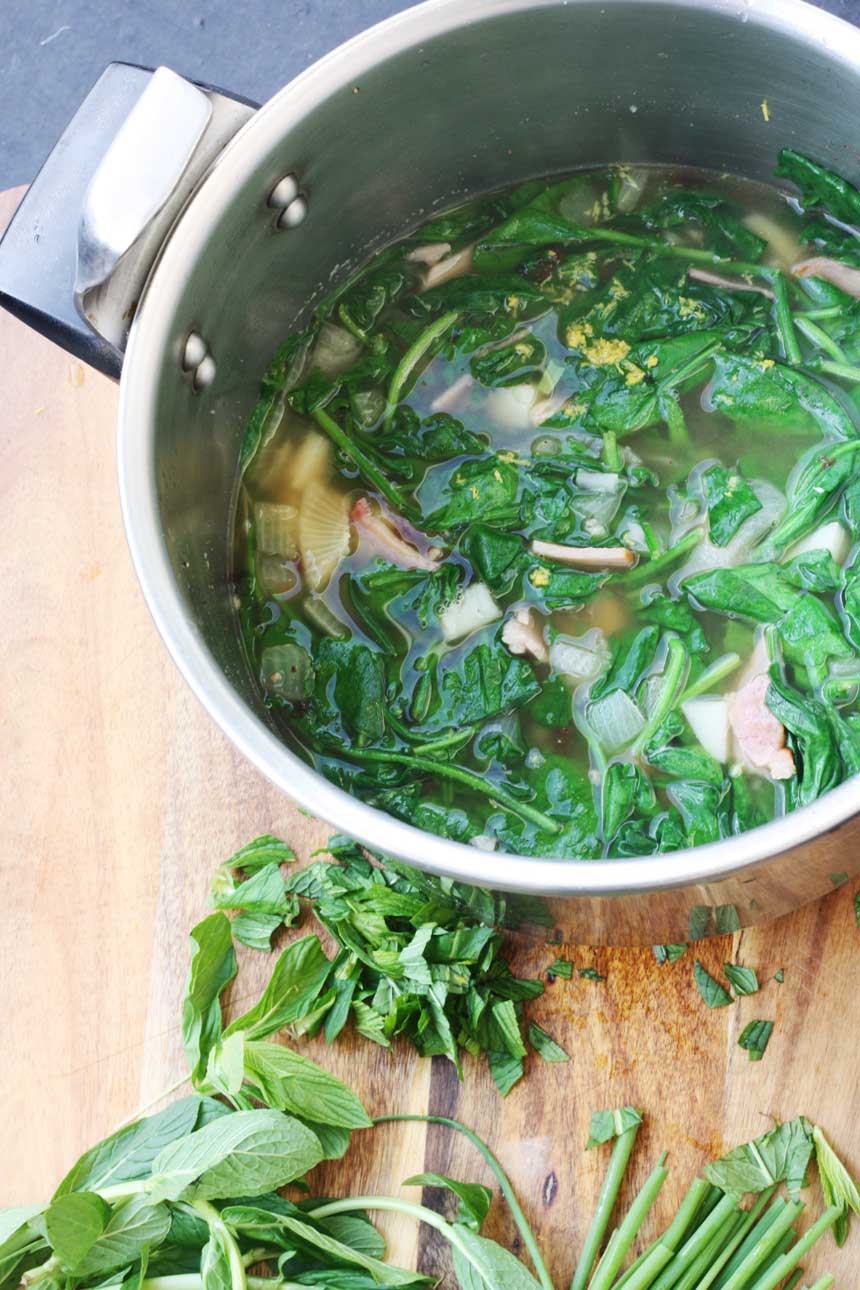 I absolutely loved the cosmopolitan energy of Melbourne and the fact that there always seemed to be a delicious smell emanating from some kind of eatery. Arriving back in Perth, though, I decided to try to give our bodies a rest from all the rich foods we'd eaten and made a simple-ish healthy soup – namely this spinach, cannellini bean & bacon soup. It really couldn't be simpler to make but the bacon filled the kitchen with an aroma that ensured we didn't miss our mini break too much!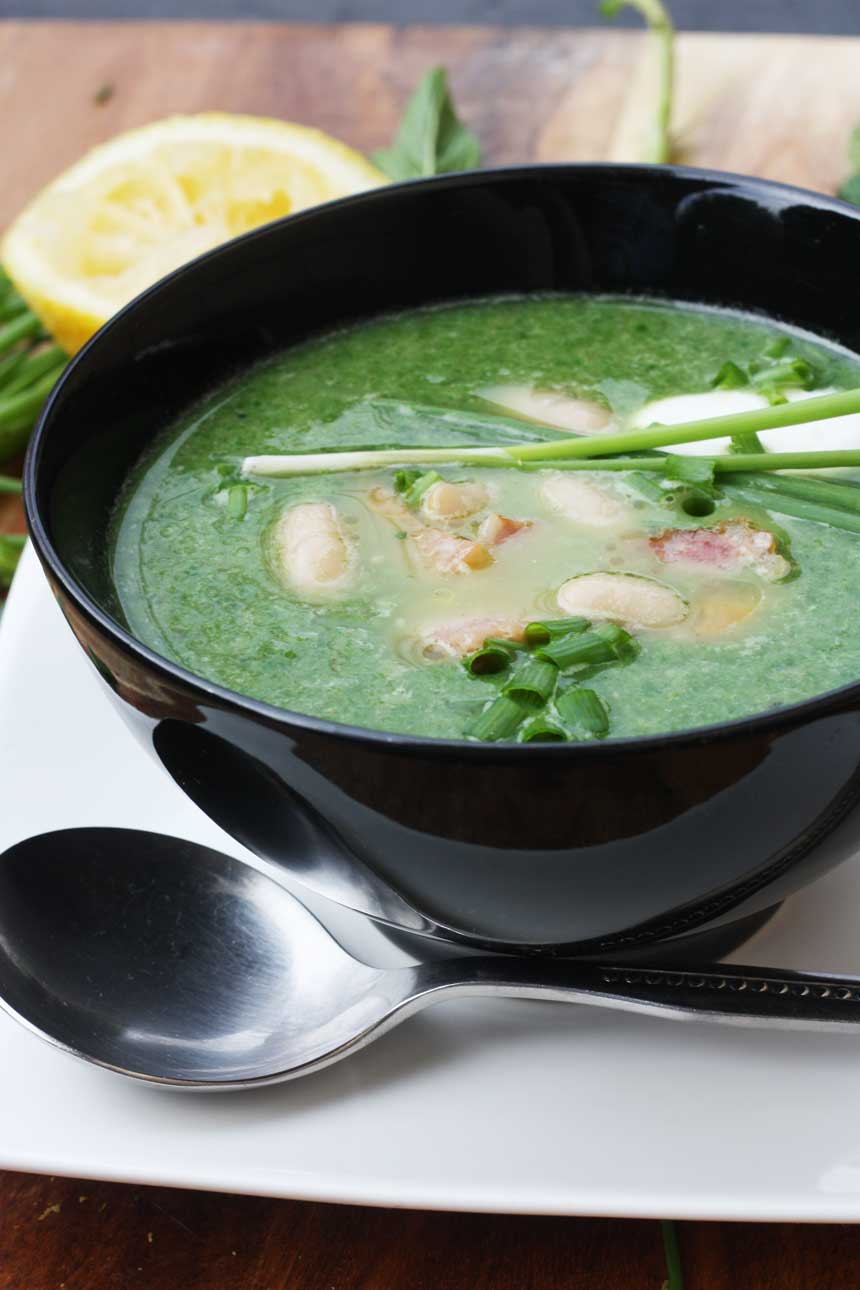 To keep this soup bright green and fresh, I pretty much just wilted the spinach into the stock that I'd poured over onion, garlic and some cubed potato before blending it with one of the cans of cannellini beans and half of the bacon. I also decided to add some mint, lemon and nutmeg for a bit of zing. After serving my soup out into bowls, I sprinkled over more beans and bacon along with a spoonful of Greek yoghurt and a sprinkling of fresh crisp chives.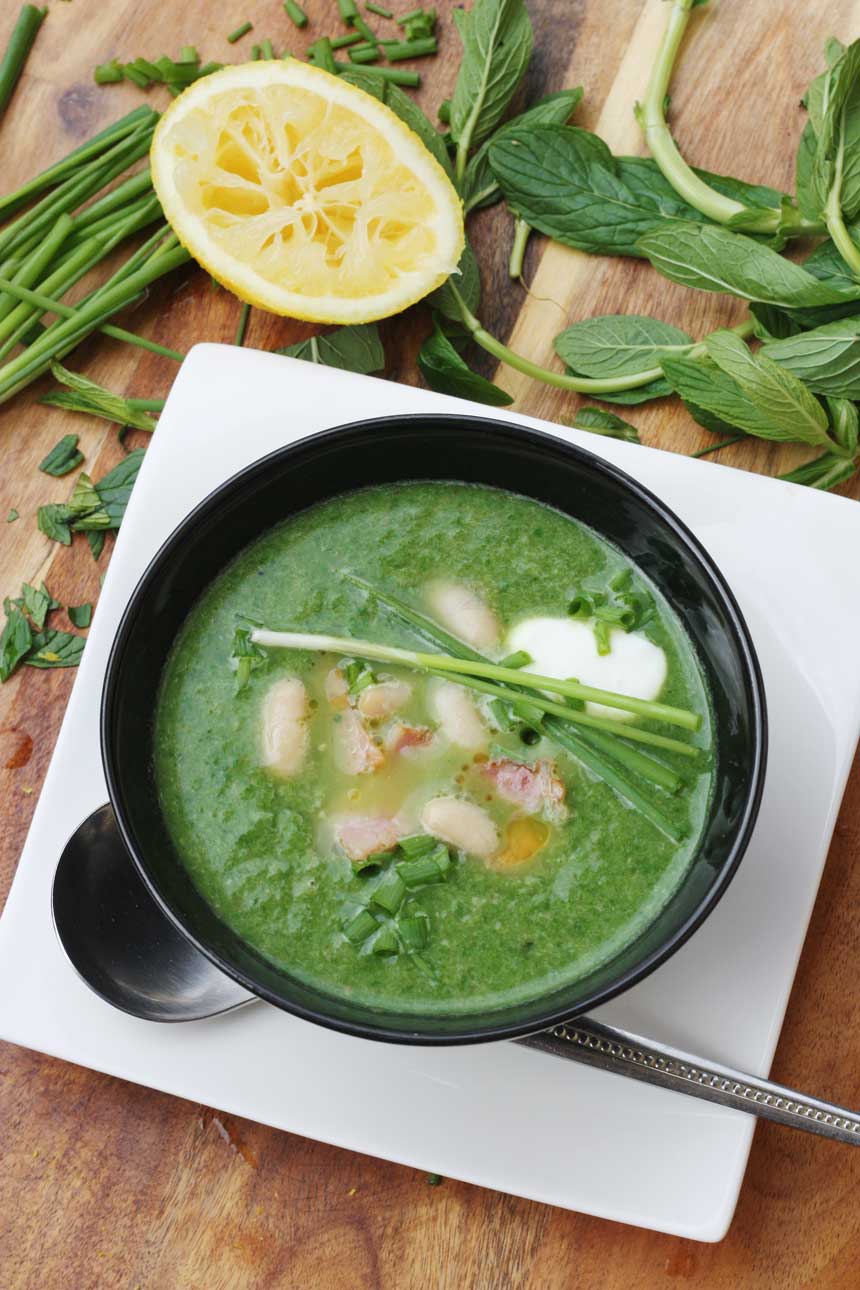 So delicious … and with all that spinach in there it should certainly give you back a bit of vitality after walking miles and miles and miles (and miles) around the food capital of Australia … or after whatever you've been doing to drain your strength this past week!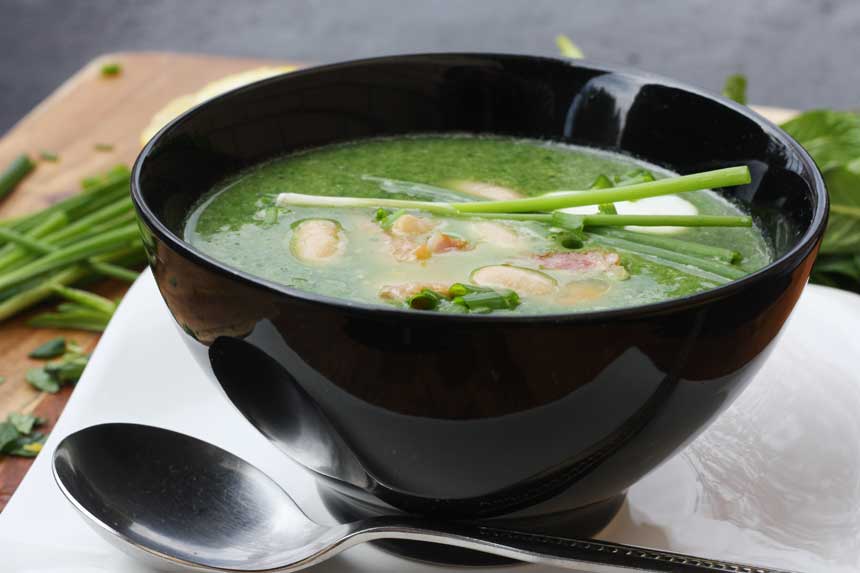 spinach, cannellini bean & bacon soup
Make this super easy soup with spinach, cannellini beans and bacon and you'll be effortlessly eating up your greens!
Ingredients (UK/Australia? Click below for grams/ml)
2

tablespoons

butter

10

ounces

bacon

about 8 to 9 rashers, chopped

1

onion

2

garlic cloves

crushed

1

medium potato

peeled and chopped into small cubes

4

cups

stock

chicken or vegetable

28

ounces

cannellini beans

(two cans)

10

ounces

fresh spinach

washed

2-3

tablespoons

chopped fresh mint

zest of a whole lemon and juice of ½ of it

1/2

teaspoon

ground nutmeg

freshly ground black pepper

Greek yoghurt & fresh chopped chives to serve

optional
Instructions
Melt the butter in a large pot, then when it's hot fry the bacon until cooked and crisp. Remove the bacon from the pot and put aside.

Fry the onion and garlic for a few minutes until softened and fragrant, then add the potato and stock and let simmer for about 10 minutes until the potato is cooked.

Add 1 can of the cannellini beans and the spinach, then stir and cook for a couple of minutes until the spinach has wilted into the liquid. Add about half of the cooked bacon and any juices that have drained from it, the mint, lemon, nutmeg and pepper, then remove from the heat and blend with a handheld blender or in batches in a food processor until smooth (I used a handheld blender like

this one

and it was super easy!)

When smooth, add the second can of beans and the rest of the bacon (reserving a tiny bit of each for decoration), then serve out into bowls. Top with a little Greek yoghurt and chopped chives, if you like.
Nutrition
Calories:
563
kcal
Carbohydrates:
46
g
Protein:
23
g
Fat:
34
g
Saturated Fat:
13
g
Cholesterol:
61
mg
Sodium:
1949
mg
Potassium:
810
mg
Fiber:
13
g
Sugar:
3
g
Vitamin A:
7455
IU
Vitamin C:
29.3
mg
Calcium:
224
mg
Iron:
8.4
mg
I hope you enjoyed this post! You can subscribe to receive posts directly to your inbox by entering your email address in the box below or at the top of the sidebar on the right.
You can also find more from Scrummy Lane on Facebook, Pinterest, Twitter and Instagram and follow me on Bloglovin! Thanks so much for reading!
*This post may contain affiliate links which means that if you click on a link and make a purchase I get a small percentage of the amount you spend. At no extra cost to you, of course! Thank you!*