This potato bake with bacon is a perfect 'posh' side for your next Thanksgiving, Christmas, Easter, or even midweek meal! There's no cream, but somehow it's still creamy and delicious. Just layer up caramelised onions, thinly sliced potatoes, bacon and parmesan cheese and bake with stock for amazing buttery potatoes that are soft inside and lightly crispy on top!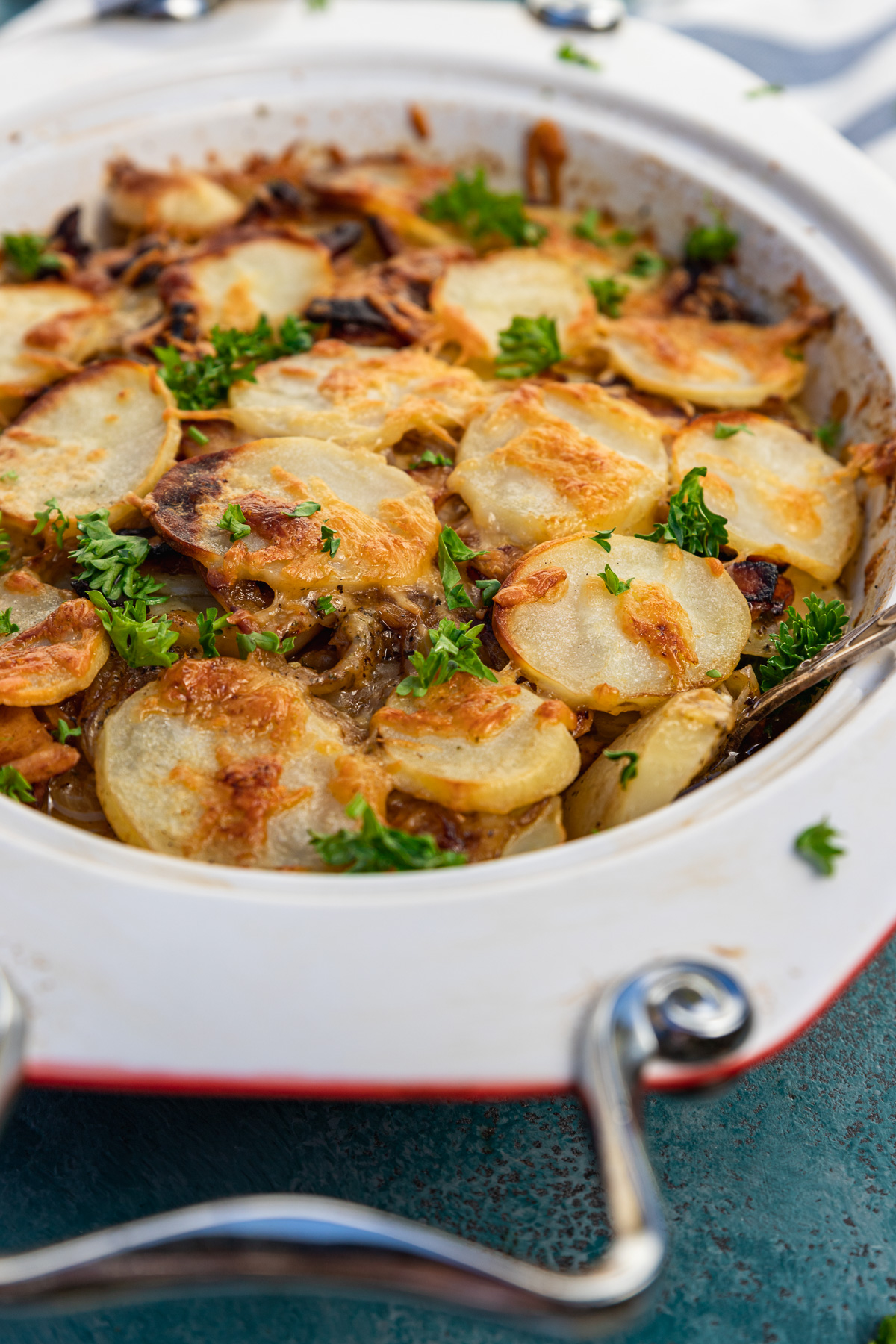 What are boulangere potatoes?
The French have been making this layered potato bake, otherwise known as boulangere potatoes, for hundreds of years. And of course the French know a thing or two about classy and delicious food!
Way back when, people used to take their potato dishes to the local bakery to be cooked after the bakers had done baking their bread. Hence the name: boulangere potatoes, or baker's potatoes.
What do they taste like? They're a little like a potato gratin, or dauphinoise potatoes, which I also love. BUT with one main difference. NO CREAM.
But before you click away, without cream doesn't mean any less delicious. These potatoes are perfectly cooked – soft and creamy on the inside without falling apart, with a little crisp on top. And then there's the creamy, cheesy, super flavourful 'sauce' that goes so perfectly with any kind of meat.
Note that normally boulangere potatoes don't contain any bacon or parmesan either. Without the bacon and parm you'll still have a mighty tasty dish of potatoes! My recommendation? Keep them in there, of course.
Why you'll love them
NO CREAM. As the potatoes are cooked in a stock/broth instead of cream, this is lighter than a classic potato bake recipe. But it's just as flavourful!
THEY'RE VERSATILE – fancy enough to serve to guests but simple and easy enough for a family midweek meal.
NO HARD-TO-FIND-INGREDIENTS. Make them with potatoes, bacon, parmesan cheese and a few other pantry ingredients in a few easy steps.
EASY TO PREPARE AHEAD. You can either prepare the different layers ahead, then assemble later. Or you can cook the whole dish ahead and reheat when ready to serve.
SUCH A CLASSY DISH! You can sound all fancy when you tell your guests (or family!) this is a traditional French dish called boulangere potatoes.
About the ingredients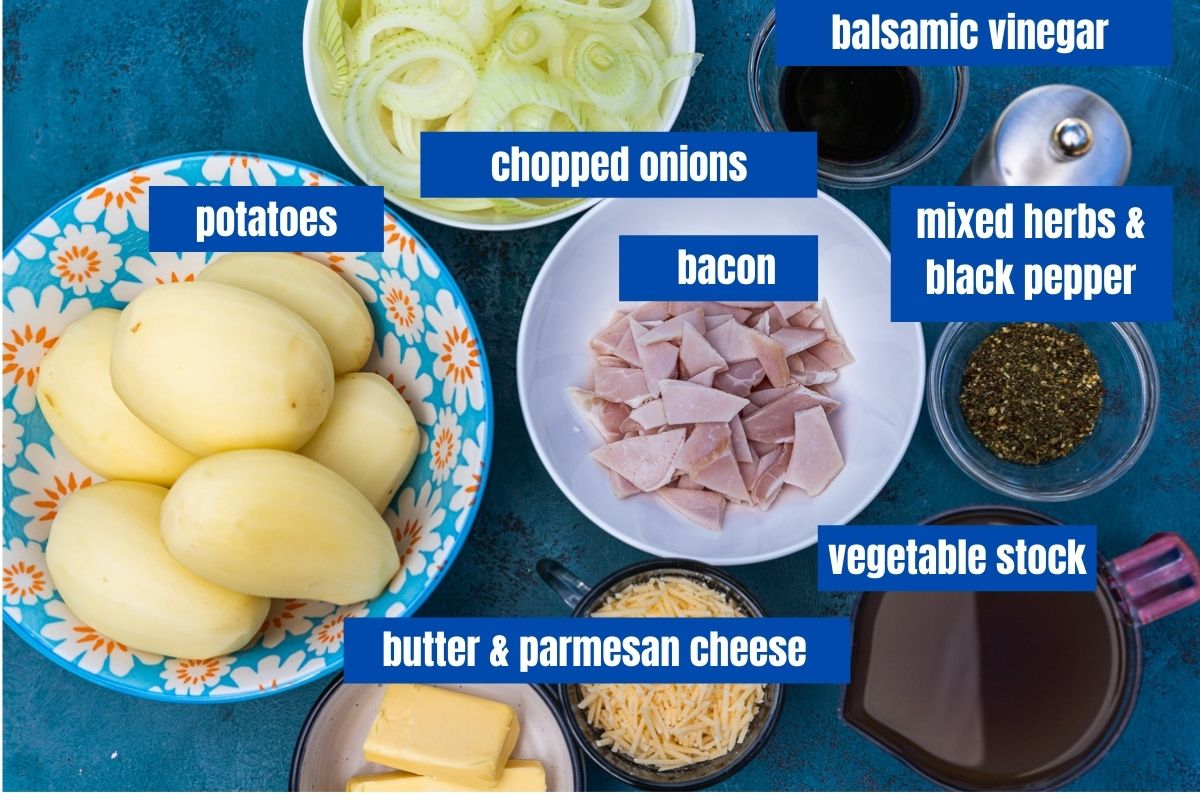 You really don't need anything fancy to make this dish:
Potatoes: What kind? Starchy potatoes such as Russets, Sebago, King Edwards, Maris Piper and Yukon Golds are great for any kind of potato gratin. However, general all-purpose potatoes work well too, such as Desiree which are waxy, floury and starchy all at the same time.
Bacon: Any kind, but smoked bacon will add the most flavour.
Onions: You'll need 2 medium to large sliced onions. It sounds like a lot, but they'll cook right down!
Butter: For caramelising the onions and dotting over the top of your potato bake.
Balsamic vinegar: Just a splash, to add to the cooked onions to make them even more sticky and sweet.
Parmesan cheese: Grated, for sprinkling between the layers of potato and on the top.
Mixed dried herbs: Use basil, oregano, thyme, or a mixture. I use mixed Italian style herbs.
Black pepper
Stock/Broth: You'll pour this all over the potatoes before baking. Either vegetable or chicken works – just try to choose a good quality brand.
How to make a potato bake with bacon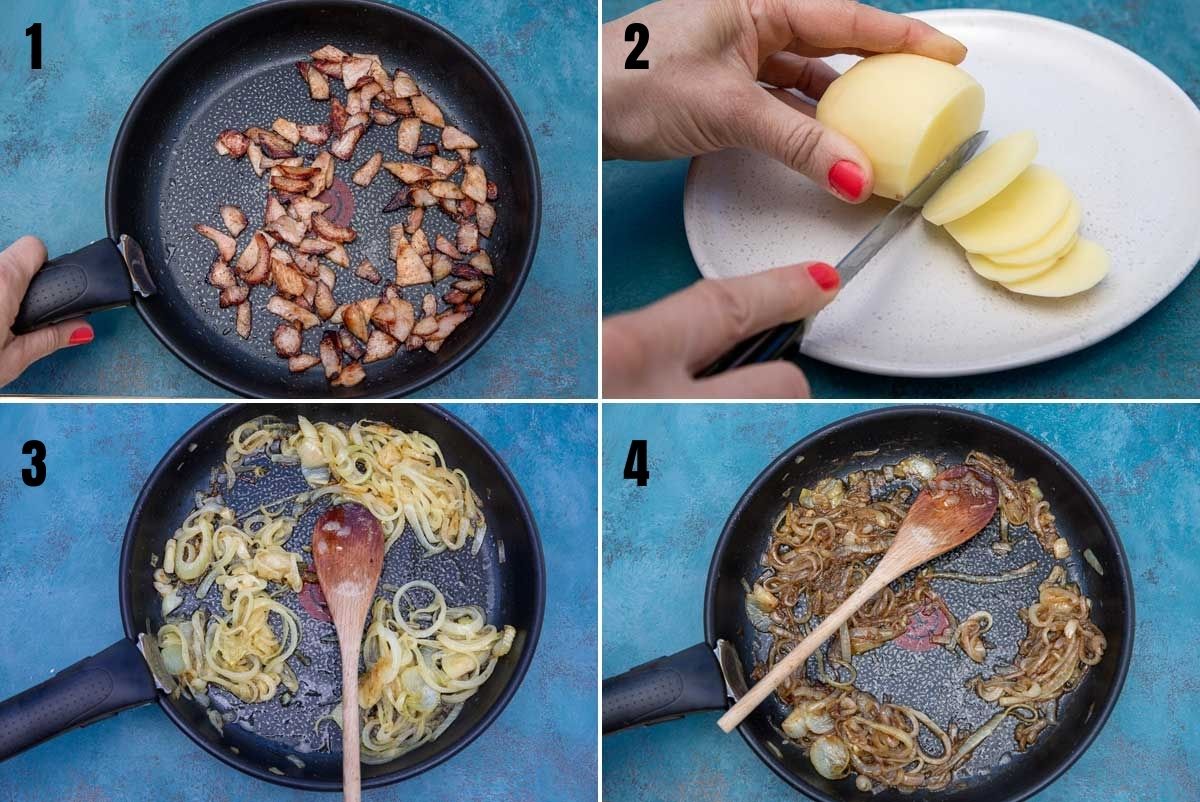 Step 1: The first thing you do is pan fry some delicious bacon pieces for around 10 minutes until crispy.
Step 2: While your bacon is cooking, finely slice the potatoes. You can either use a mandolin or food processor for this step, or just slice with a sharp knife.
Step 3: Then you use the same pan you cooked the bacon in to CARAMELISE 2 whole onions in butter. I'll leave you to imagine the flavour infusion!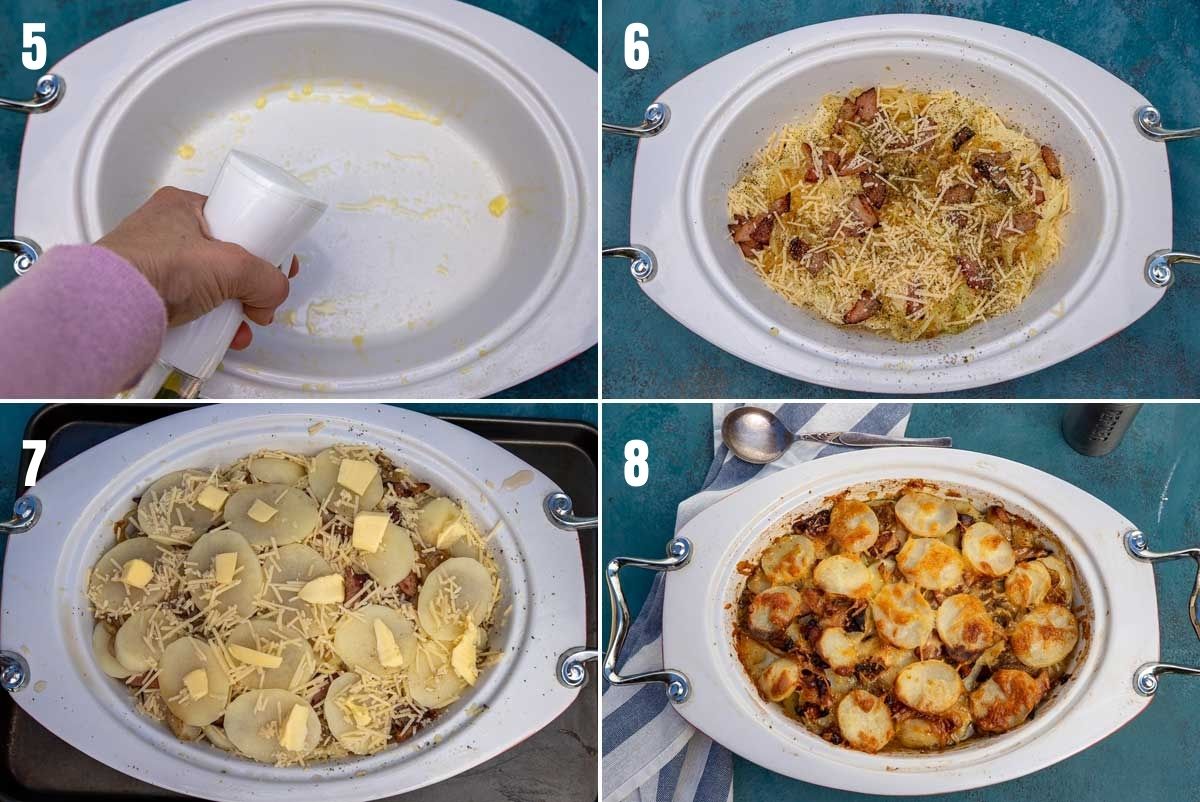 Step 5: Lightly spray your casserole dish with oil or grease with butter to stop sticking.
Step 6: Layer up your potato casserole like a lasagna. Begin with a layer of potatoes, then scatter over a layer of onions, bacon, parmesan, herbs and pepper. Complete 2 more layers, then finish with a final layer of potatoes.
Step 7: Pour over the hot broth/stock before baking. Then dot all over with butter.
Step 8: Bake until most of the stock/broth has been absorbed, the potatoes are cooked and the potato bake has an irresistible crispy, cheesy top.
After letting rest for a short while, either serve immediately, cool and reheat later, or cool and freeze for another day.
Helen's top tips
Use a food processor or mandolin to slice the potatoes if you have either of these. They're both quick and easy ways to get even slices.
Before layering up your casserole, roughly divide the potatoes and cheese into 4, and the bacon bits and onions into 3. This way you don't have to worry about running out of the yummy bacon and onions by the second layer!
DON'T wash your peeled potatoes, or soak them in water. You don't want to wash away any of the starch in the potatoes. You need it to work its magic in the oven and thicken up the yummy juice!
Let the finished dish stand for 15 to 20 minutes before serving. This will give the potatoes time to absorb a little more of the delicious juice. They'll also hold together a little better as you serve them.
Garnish with a little fresh parsley just before serving (optional, but looks good!).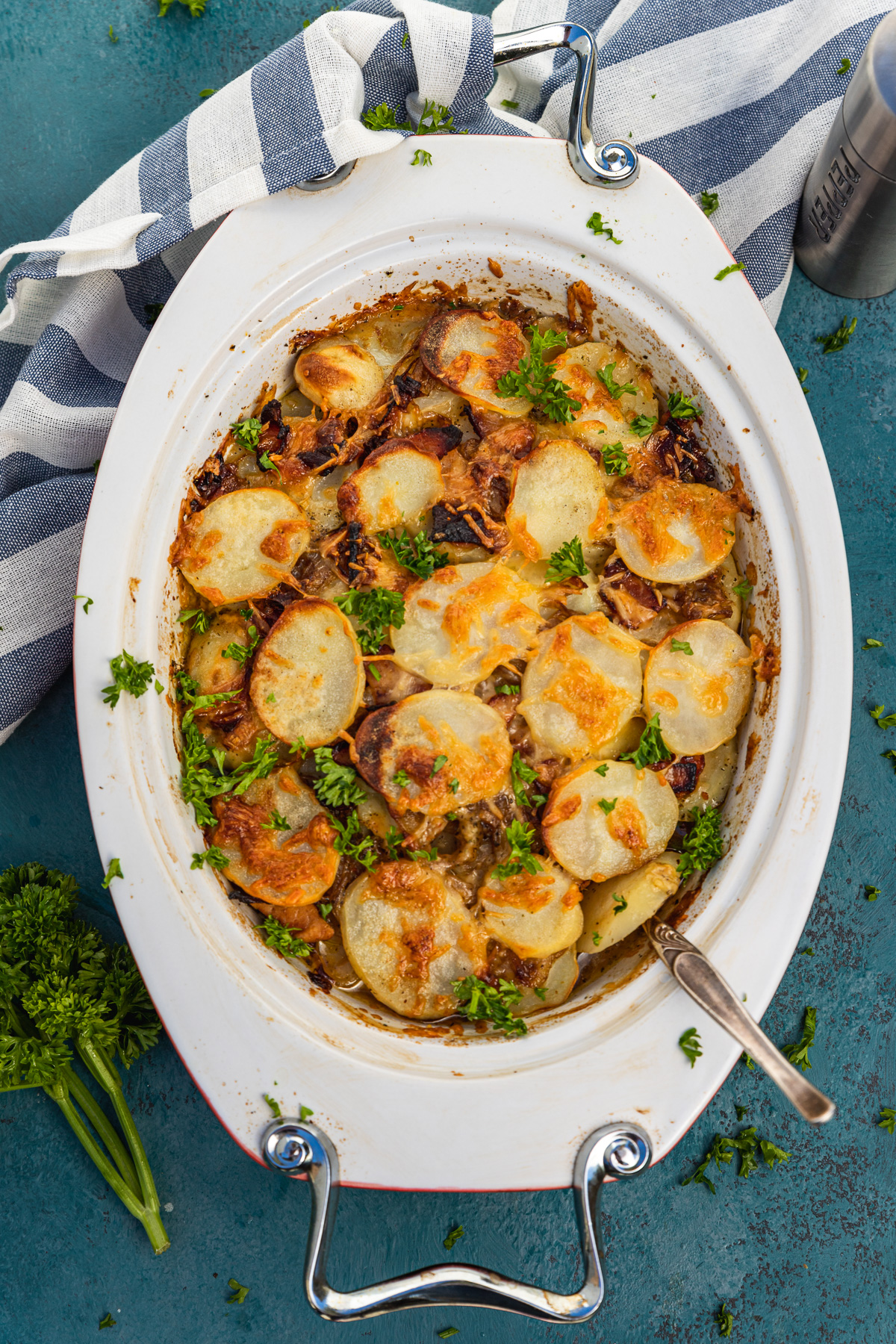 How to serve boulangere potatoes
If I'm making these potatoes for a family meal, I usually serve them with a supermarket rotisserie/cooked chicken and vegetables. Or, I make my own rotisserie chicken in my air fryer (only takes 1 hour). It's the perfect 'effortless' meal. To make it even easier, make the potatoes ahead and keep them in the fridge or freeze them until ready to eat.
If you aren't ready to eat your chicken just after you've bought it, or it's a warmer day, you can even pop it into the fridge and serve it cold. I love the combination of the cold meat with the piping hot crispy cheesy potatoes!
But the beauty of boulangere potatoes is that they're also posh enough to serve to guests. They can very easily serve 6 as a side dish to go with any kind of meat and vegetables you can think of.
They'd make a perfect Thanksgiving, Christmas or Easter side dish! You can even cook them ahead and freeze them until the big day.
More things to know (recipe FAQ)
What kind of potatoes should I use?
The best kind of potatoes to use for any kind of potato bake is starchy ones. The starch will thicken up the juices as the casserole bakes. Some examples of starchy potatoes are Desiree, King Edwards, Maris Piper, Russets, Gold Rush, Golden Wonder, and Vivaldi.

If you aren't sure which potatoes are starchy where you live, just use a good all-purpose variety, which are also good for potato gratins and bakes. Yukon Golds, Sebago, white potatoes and purple potatoes are all examples of all-purpose potatoes.
Can I slice the potatoes by hand?
Yes, no problem at all! It's very quick and easy to slice them with a food processor attachment or mandolin. But if you don't have either of these, slicing by hand is fine too.

Just slice 3 to 4 mm thick slices as evenly as you can, but don't worry about getting them perfect. Just slice quickly and confidently with a small sharp knife. You're only slicing 5 or 6 potatoes so it won't take too long.
Can I prepare the dish in advance?
Definitely! You can either layer up the casserole and pop it into the fridge or freezer until ready to bake. Then when you're ready to cook it, pour over the hot stock, dot butter over the top and bake.

OR you can bake the potatoes, then let them cool and pop them into the fridge (or freezer!) until ready to eat them. If you're going to freeze them, let cool completely, then wrap the whole dish in several layers of plastic wrap and foil before freezing.

You can freeze for up to 3 months. When you want to serve your potatoes, simply defrost completely (if frozen!) and reheat for 30 minutes at 355F/200C.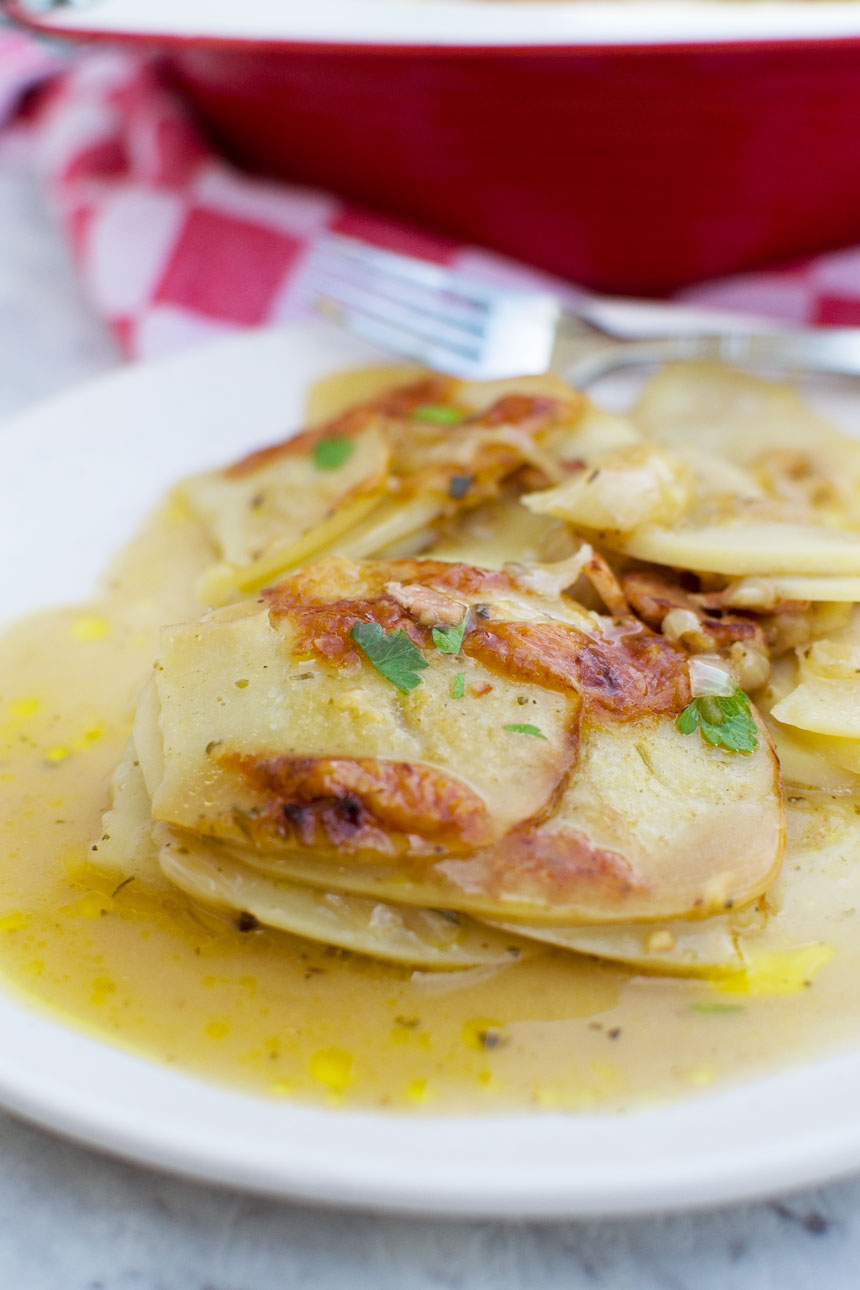 More amazing potato side dishes
IF YOU MAKE THIS RECIPE, LET ME KNOW HOW YOU GET ON BY LEAVING A COMMENT AND RATING BELOW… AND DON'T FORGET TO SIGN UP TO RECEIVE ALL MY NEW RECIPES BY EMAIL!
FOLLOW ME ON FACEBOOK, INSTAGRAM, PINTEREST AND YOUTUBE.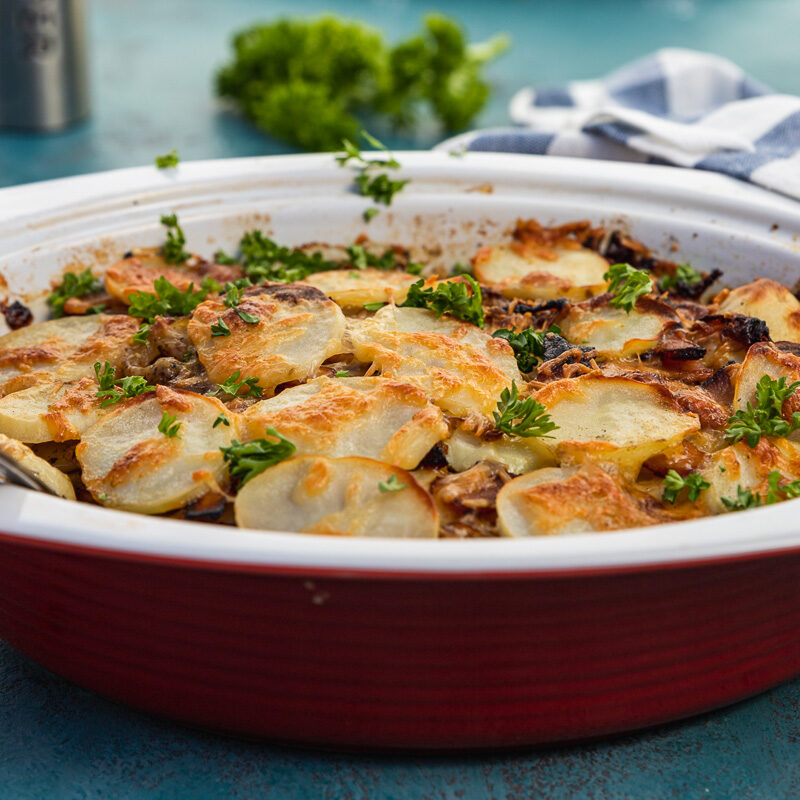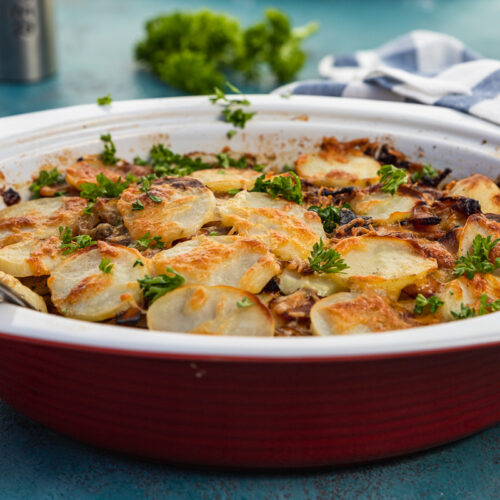 Potato Bake With Bacon (Boulangere Potatoes)
This super tasty, crispy, cheesy bacon-y potato bake with bacon, otherwise known as boulangere potatoes, is the perfect 'posh' side for serving with your meat and vegetables main. You'll find them a little lighter than a typical creamy potato gratin, but they're just as delicious and easy to make. Also great for making ahead.
Ingredients (UK/Australia? Click below for grams/ml)
2.2

pounds

potatoes

peeled (I find this is about 5 or 6 medium/large potatoes)

4.5

ounces

bacon

sliced into small bits

2

medium

onions

sliced into thin rounds (don't worry – the exact way you slice the onions doesn't really matter!)

2

ounces

butter

plus a bit extra to dot on top

1

tablespoon

balsamic vinegar

¾

cup

parmesan cheese

(2.5 ounces)

2

teaspoons

dried herbs

I usually use mixed dried Italian herbs, but any dried Italian style herbs work well (oregano, basil, thyme)

black pepper

1¾

cups

vegetable broth

(UK/Australia = stock) You can use chicken stock instead if you like

2

tablespoons

fresh parsley

chopped
Instructions
Pan fry the bacon in a little oil for about ten minutes or until starting to brown/crisp. Remove the bacon from the pan with a slotted spoon, leaving any pan juices behind.

Meanwhile, slice your potatoes thinly (about 3 to 4mm thick). Use a food processor or mandolin to get even slices, but this isn't essential.

Now slowly cook the onions in the butter in same pan you cooked the bacon in until they start to go golden and sticky (about 15 to 20 minutes). Stir from time to time (but not too much). Just before the end of the cooking time, add a splash of balsamic vinegar and let cook for a minute or two more.

2 medium onions,

2 ounces butter,

1 tablespoon balsamic vinegar

Preheat the oven to 190C.

While waiting for the oven to heat up, layer up your potato bake like a lasagna. Spray your baking dish with oil (a medium sized dish – I used the equivalent of a 12 x 9 inch dish). Cover the bottom of the dish with about ¼ of the potato slices. Sprinkle with 1/3 of the onions, 1/3 of the bacon, and ¼ of the parmesan. Sprinkle over a large pinch of herbs, and plenty of black pepper.

2.2 pounds potatoes,

4.5 ounces bacon,

2 medium onions,

¾ cup parmesan cheese,

2 teaspoons dried herbs,

black pepper

Continue layering until you have a fourth and final layer of potatoes on the top of your casserole. Press the potatoes down with your fingers, then sprinkle with the final ¼ of the parmesan.

Place the dish on a baking sheet, then carefully pour over the broth/stock.

Dot the top of the potato bake all over with butter, then bake for 1 hour to 1 hour and a quarter or until your potato bake is nicely browned on top and bubbling, most of the broth/stock has been absorbed, and the potatoes are tender.

Let stand for 20 minutes to let more of the broth/stock be absorbed. Sprinkle with a little chopped fresh parsley if you like before serving.

2 tablespoons fresh parsley
Notes
Preparing the potatoes: First of all, DON'T wash or soak your potatoes after peeling. This will wash all the starch away, which is essential for thickening up the juices in your potato casserole.
Type of potatoes to use: The best potatoes to use are starchy ones that will thicken the juices in your casserole such as Desiree Potatoes, King Edward Potatoes, Maris Piper Potatoes, Russet Potatoes, Gold Rush Potatoes, Golden Wonder Potatoes, or Vivaldi Potatoes.
Otherwise, you can use an all-purpose potato such as white or purple potatoes. You may end up with slightly runnier 'juice' in your casserole, but that's OK. These potatoes will still be absolutely delicious!
Making ahead and freezing: This potato bake with bacon can be made ahead and refrigerated and/or frozen until you want to eat it. Make and cool completely, then either store in the fridge for a day or two or wrap well and freeze for up to 3 months.
When you want to serve your potatoes, simply defrost completely (if frozen!) and reheat for 30 minutes at 355F/200C.
Alternatively, you can layer up the potato bake, then refrigerate or freeze before baking. Just wrap really really well in several layers of plastic wrap and/or aluminium foil if freezing. When you want to bake the casserole, defrost in the fridge for 24 hours, then pour over the hot stock and bake as per the recipe.
Nutrition
Calories:
227
kcal
Carbohydrates:
6
g
Protein:
8
g
Fat:
19
g
Saturated Fat:
10
g
Polyunsaturated Fat:
2
g
Monounsaturated Fat:
7
g
Trans Fat:
1
g
Cholesterol:
43
mg
Sodium:
686
mg
Potassium:
122
mg
Fiber:
1
g
Sugar:
3
g
Vitamin A:
613
IU
Vitamin C:
5
mg
Calcium:
169
mg
Iron:
1
mg