How about making a different kind of Christmas cookie this year? If you visit Greece close to Christmas, you'll eat far too many of these delicious Christmas honey cookies. Imagine a cross between baklava and an ooey, gooey pecan pie and you've got these. They're so perfect for giving as gifts to your neighbours and friends!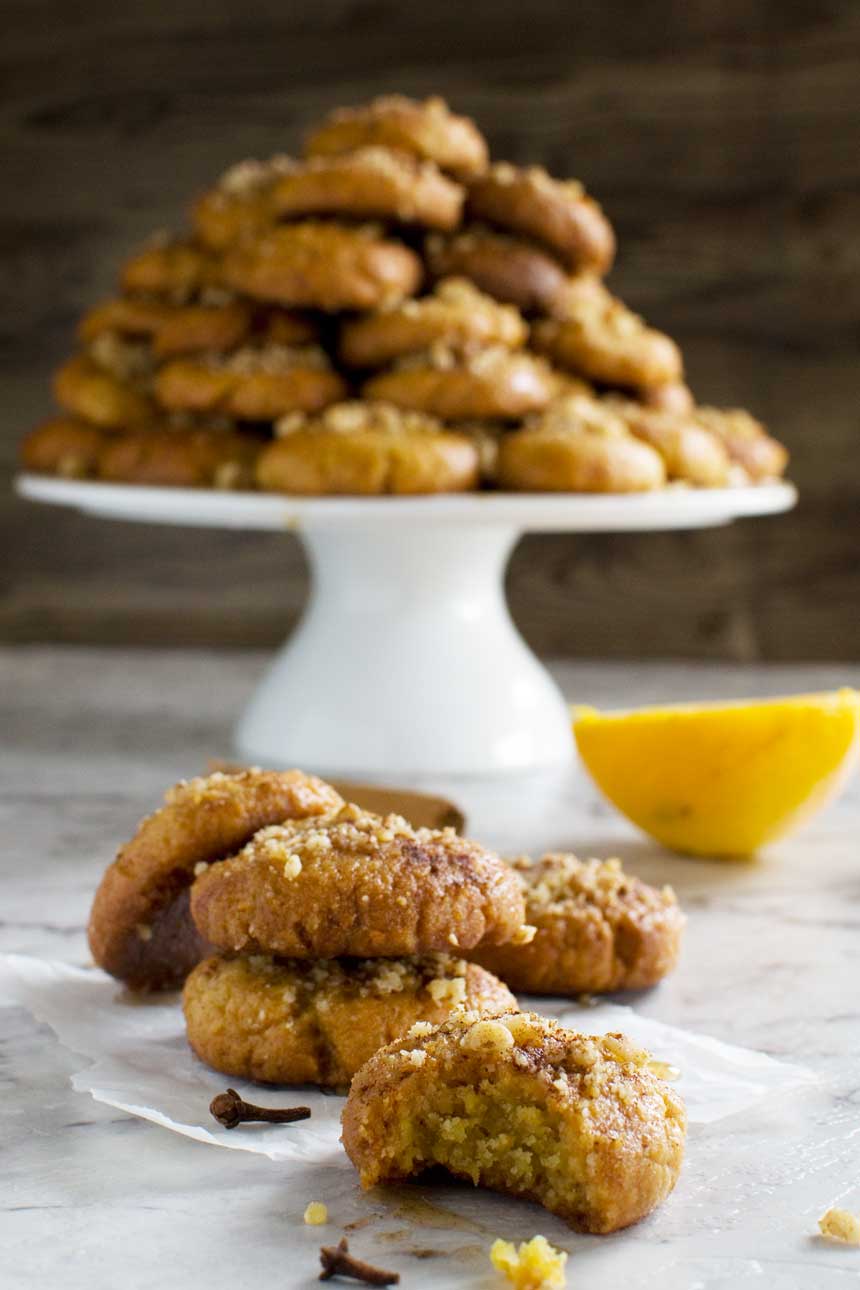 Delicious treats you'll make every year
It's been a few years now since I spent a run up to Christmas in Greece (sadly!), and one of the things I miss the most are these fabulous Greek Christmas cookies.
Every self-respecting Greek household has a huge pile of shop-bought or homemade melomakarona on their Christmas treat table.
And, frankly, so should you. They're:
oozy
nutty
spicy (in a delicious Christmas spice sort of way)
squidgy
caramel-y
baklava-like
bites of sheer delicious. You simply cannot stop at one.
Crowd pleasers
They're also a perfect gift to give to friends and neighbours. This recipe makes quite a big batch but sometimes I make double and package them up in gift boxes lined with baking paper and give them as a gift.
What do melomakarona taste like?
I find nearly everyone loves these!
I'm not sure I'd go as far as to say that they are healthy treats, but half of the sweetness is honey and they're made with a mix of olive and vegetable oils, not butter.
They're also dairy free, and vegan – if you're OK with honey.
Ingredients in melomakarana
This is all you need for the cookie dough:
flour: just plain white flour
baking powder and soda
oil: I use a cup of olive oil and a cup of something else, like canola oil, but you can use all one type if you like
sugar: not too much as you're also going to pour a syrup over the cookies
an orange: both the zest and juice
brandy: a sneaky little bit (well it is Christmas)! But you can easily skip this and add a bit more orange juice instead.
crushed walnuts and cinnamon: to sprinkle over the finished cookies
And for the syrup:
half and half honey and sugar: I like to keep the honey content high.
water and lemon juice
yummy flavourings: cloves, a cinnamon stick, and a piece of lemon rind. This is the part that will make your kitchen smell like Christmas!
How to make them
When I lived in Greece, for years I was afraid to try making my own melomakarona because I wrongly assumed they'd be difficult.
Here's how easy it is to make them from scratch:
Step 1: Mix together all the 'wet' ingredients
Step 2: Add the flour and baking powder/soda to the wet ingredients. Do it little by little until a stiff dough forms. Sometimes you might have to add a bit less or more flour, but that's OK!
This is what the dough looks like: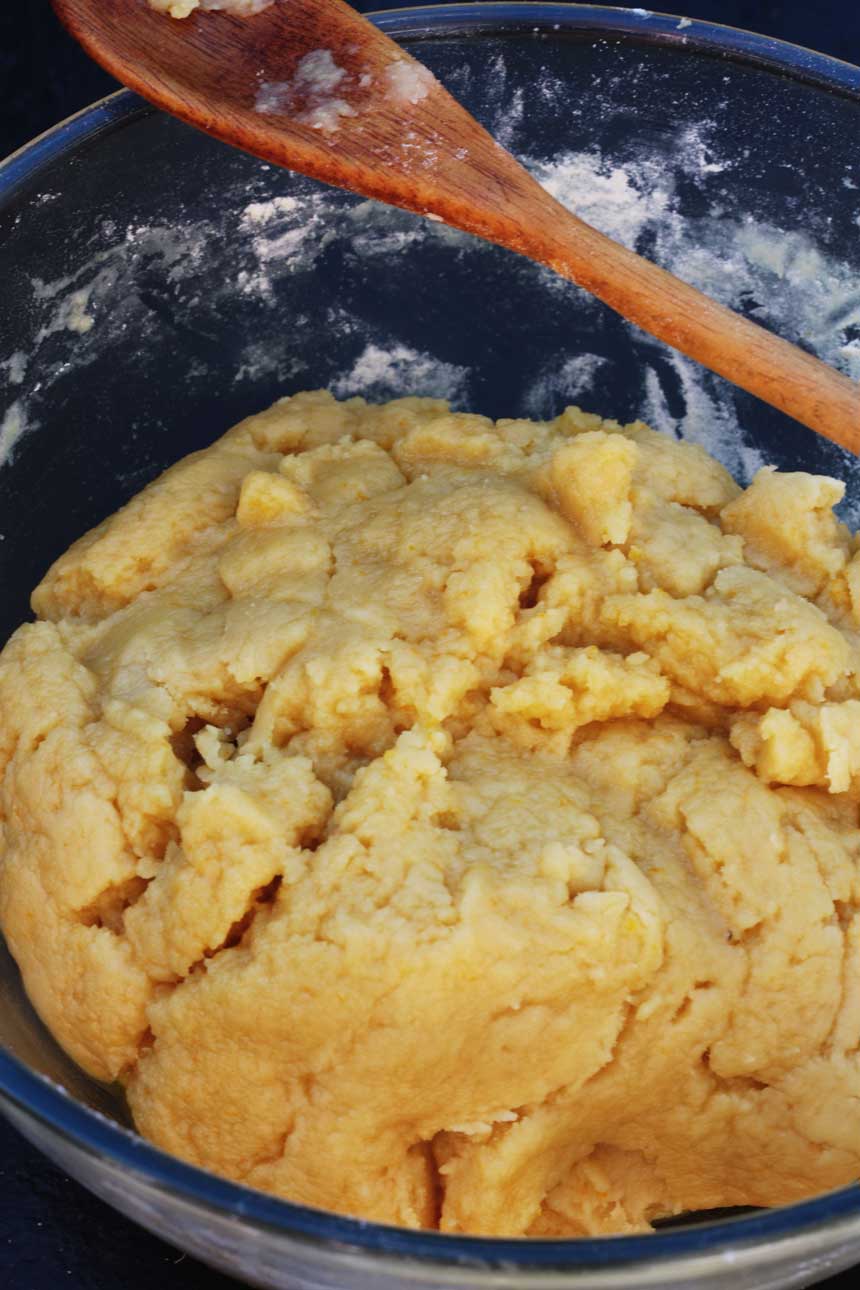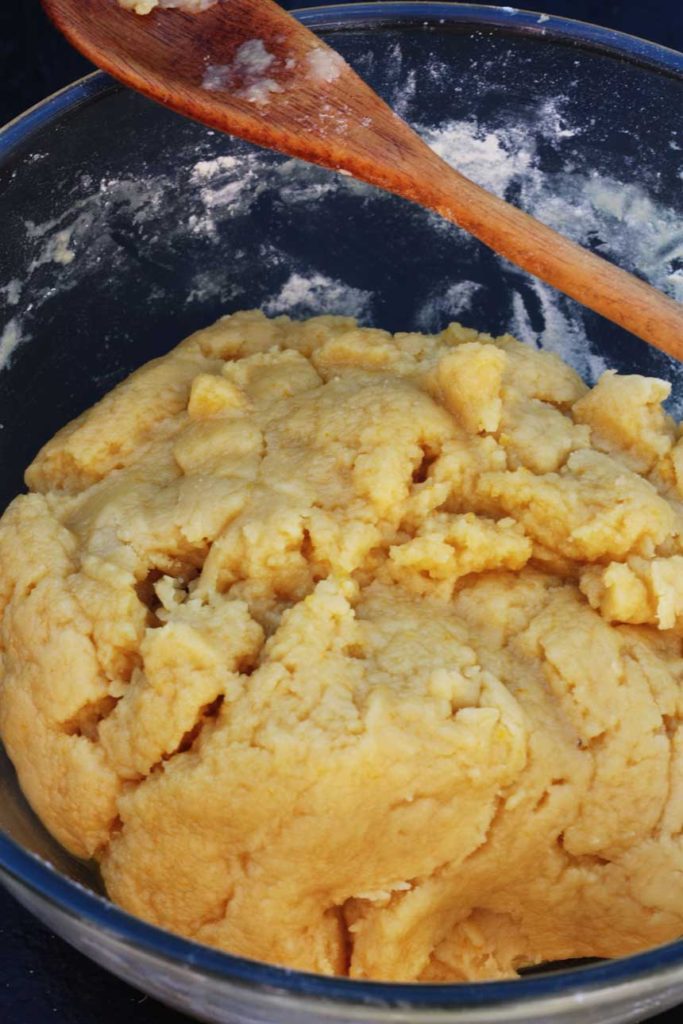 Step 3: Pinch off little bits of dough and roll them into a ball. Put them on a baking tray and flatten them slightly. Put a criss-cross pattern on them using the tines of a fork (this part isn't essential but it looks good!).
This is what the unbaked cookies will look like: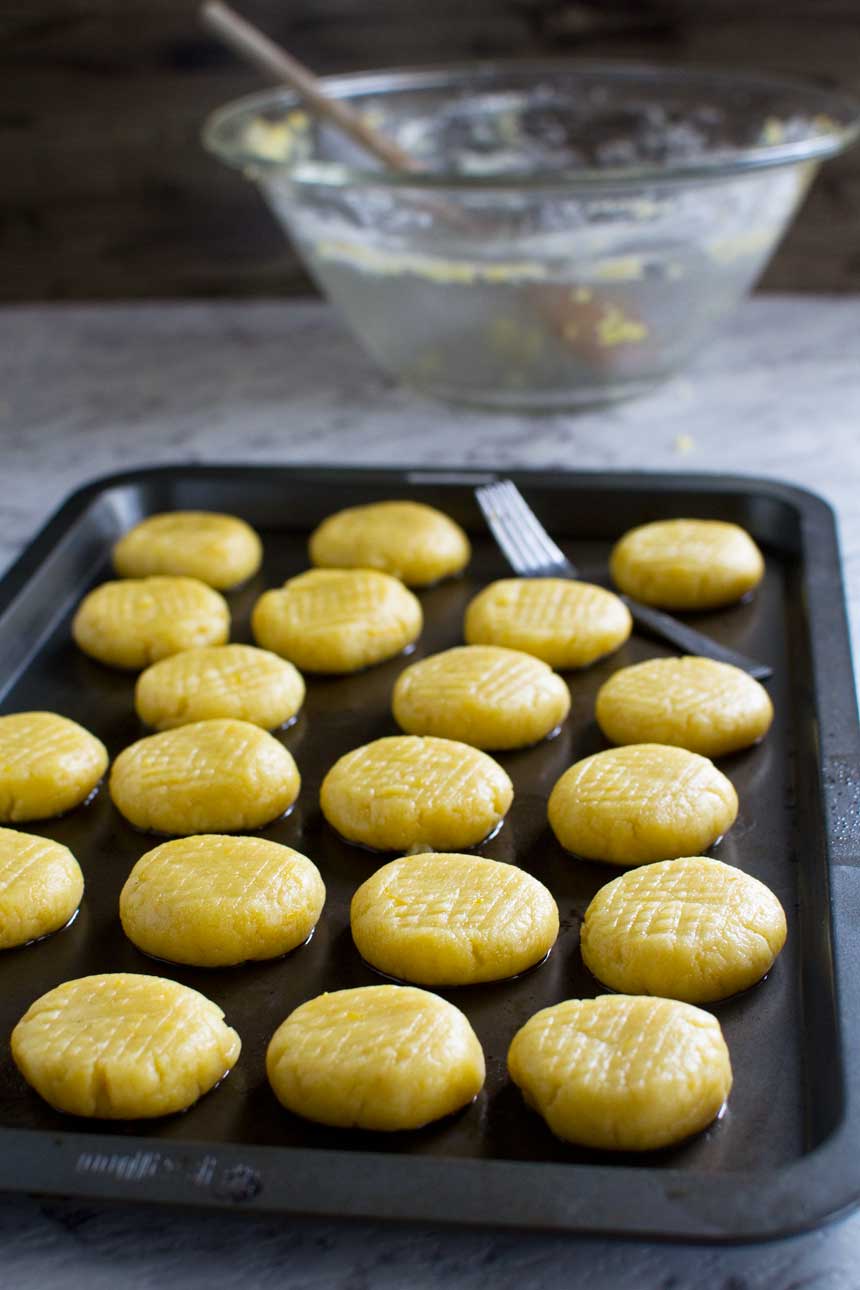 Step 4: Bake for about half an hour – just enough time to make the syrup!
The second part of the recipe involves making an easy and very yummy syrup to dip the cookies into.
I would normally shy away from a recipe involving a syrup but this syrup is incredibly easy – and it will make your kitchen smell absolutely amazing!
This is what you do to make the syrup:
Step 5: Just boil up sugar and honey with the yummy Christmassy flavours: a cinnamon stick, a few cloves and a piece of lemon rind.
The final steps:
Just a few more simple things to do.
Step 6: This is the fun part! There's a little controversy around this too. Some people think it's best to dip the biscuits in the syrup while still warm, and others think it's best to let them cool. I've tried both ways and I think more syrup sinks into the cookies (yum) if you dip them while they're still hot.
So… drop them into the hot syrup in the pan a few at a time. Flip them over and let them soak up the syrup for about 30 seconds or so.
Immediately place them on a big plate and sprinkle with crushed walnuts and a pinch of ground cinnamon. You can layer them up on top of each other in a kind of pyramid style if you like. I sometimes pour any leftover syrup over the top of the pyramid. Some of the syrup drips down onto the cookies below for extra moisture and flavour. Yum!
This pyramid style is the traditional way to display them. This looks great if you're going to serve all of them at a Christmas party or other event!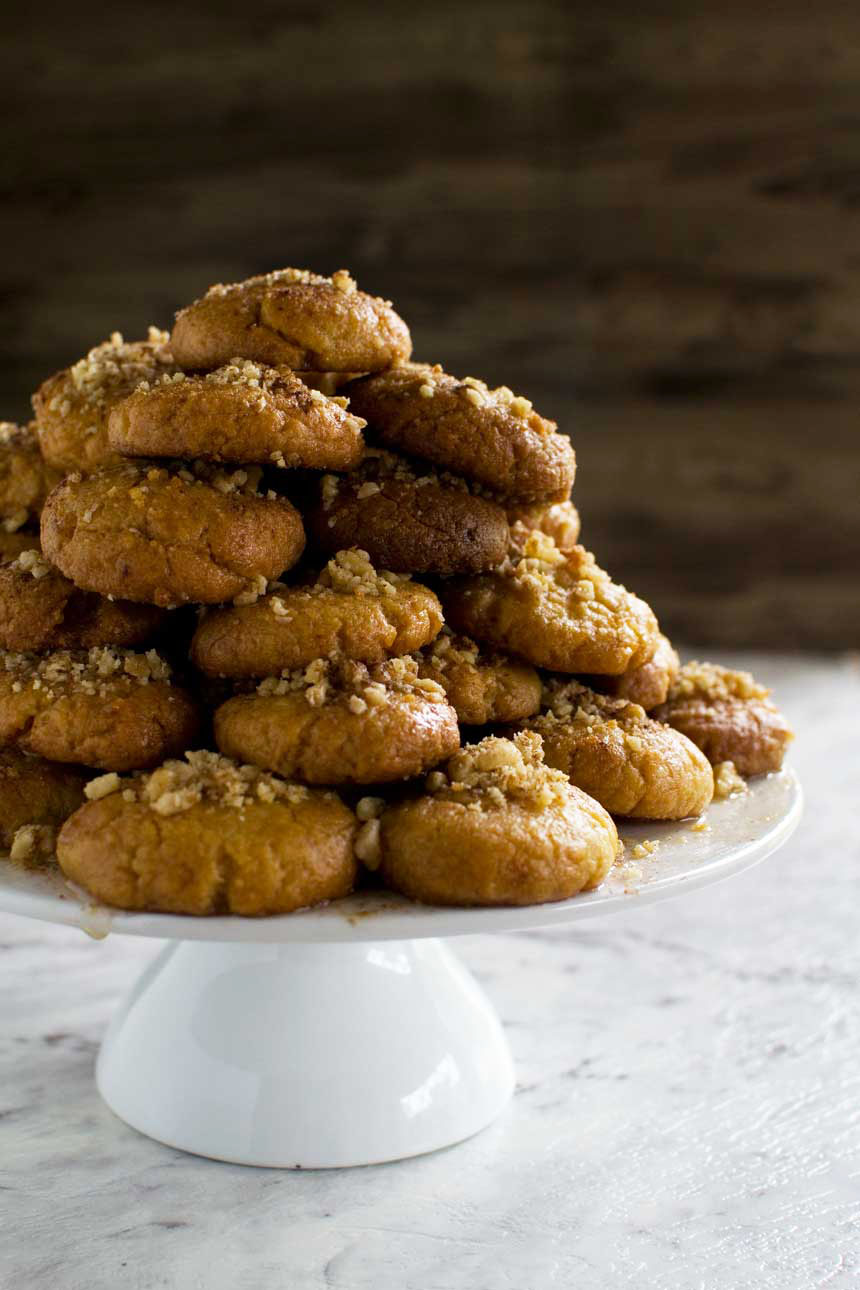 Ways to make them a bit differently
This is a traditional way to make these cookies, but every shop and Greek household has their own melomakarona recipe. It's just one of those recipes, which gives you freedom to create your own!
Usually I make them exactly as described in this recipe, but you can:
Dip half of (or even the whole!) of the cookie/biscuit in chocolate after you've dipped it into the syrup. Then you can either leave it plain or sprinkle over some nuts and cinnamon.
Vary the crushed nuts you sprinkle on the top. It's no problem to use crushed pistachios, almonds, hazelnuts, or a different kind of nut.
You can skip the brandy if you want. Just replace with a bit more orange juice. Or you can use a different flavour like Cointreau or Grand Marnier, Amaretto, or whiskey.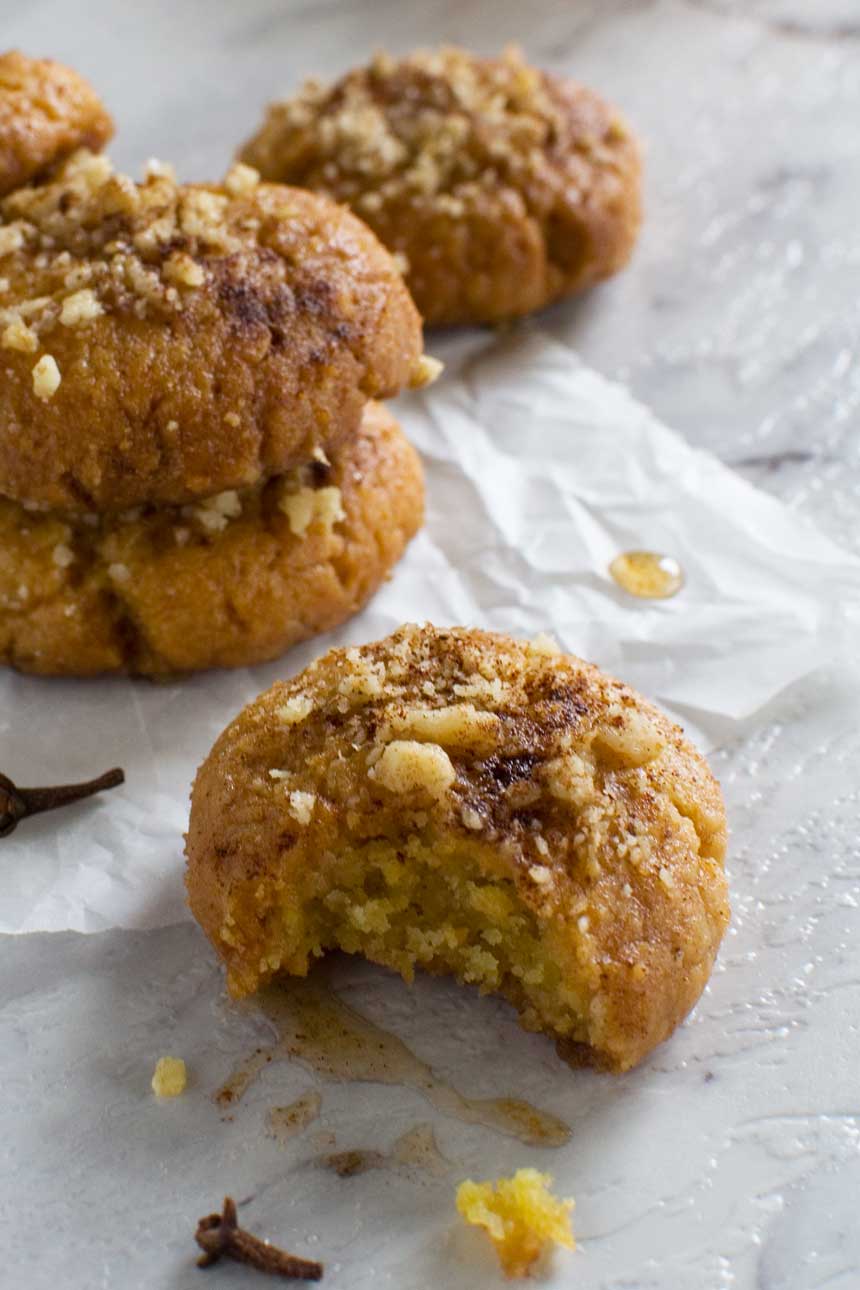 How long do they keep?
Another wonderful thing about these delicious Greek cookies or biscuits (UK!) is that they keep well for a really long time – I'd say 3 to 4 weeks.
They rival Christmas cake and Christmas pudding from this point of view! They're great treats to keep in the house for parties or for every occasion when friends and family pop over to your house over the Christmas period.
This means they're perfect for making ahead. Make them a week or two before Christmas and they'll still be delicious at New Year. I like to make at least a double or triple batch!
They don't go soggy, but they do get gooey-er and squidgy-er as time goes on. But in a really good way, I think.
Oh, and did I mention that Greek honey cookies also make great Christmas gifts? I love to package them up in boxes to give to family and friends!
More delicious Christmas treats
Or click here for all my Christmas recipes.
IF YOU MAKE THIS RECIPE, LET ME KNOW HOW YOU GET ON BY LEAVING A COMMENT AND RATING BELOW… AND DON'T FORGET TO SIGN UP TO RECEIVE ALL MY NEW RECIPES BY EMAIL!
FOLLOW ME ON FACEBOOK, INSTAGRAM, PINTEREST AND YOUTUBE.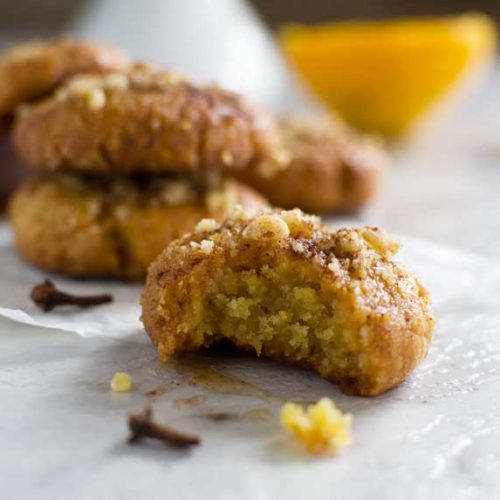 Greek Christmas Honey cookies (melomakarona)
Gooey, sticky traditional melomakarona or Greek Christmas honey cookies with delicious festive flavours. There's no way you'll be able to eat just one!
Equipment (affiliate links)
Ingredients (UK/Australia? Click below for grams/ml)
For the cookies
¾

cups

sugar

1

orange

zest of

¾

cups

orange juice

(I used the juice of 2 oranges)

1

cup

olive oil

1

cup

vegetable oil

(I used canola)

¼

cups

brandy

(optional – you can add more orange juice instead if you like, or a different liqueur)

6½

cups

plain flour

Approximately. You may need a little less or more.

2

teaspoons

baking powder

1

teaspoon

baking soda
For the syrup
1

cup

runny honey

1

cup

sugar

1.5

cups

water

1

cinnamon stick

4

cloves

2

inches

lemon rind

lemon juice

a few squeezes
for sprinkling at the end
¾

cups

walnuts

chopped/crushed (or use pistachios, almonds, hazelnuts, macadamias, even peanuts or another nut if you prefer)

1

tablespoon

ground cinnamon

approximately
Instructions
To make the cookies
Preheat the oven to 350F / 180C.

Zest the orange, then combine the zest with the sugar in a large bowl.

Pour the oils into the sugar/orange mixture and beat until well combined. Then add the orange juice and brandy and beat again.

Sift the flour with the baking powder and baking soda, then add to the liquid little by little until a stiff, wet dough forms. You may not need to use all the flour, or you may need a little more.

Pull off a walnut-sized piece of dough and shape it into a ball / oval in your hands, then place it on a baking sheet. Use a fork to flatten the dough and make a criss-cross pattern on it. Keep shaping and flattening balls of dough until it is all used up.

Bake for 25-30 minutes until the cookies are lightly browned.
To make the syrup
While the cookies are in the oven, make the syrup. Combine the honey, sugar, water, cinnamon, lemon peel and cloves in a saucepan, then bring to the boil.

Simmer uncovered for about 10 minutes until the syrup has thickened slightly.

Take out the cinnamon, lemon peel and cloves and stir in the lemon juice.
Dipping the cookies in the syrup
While the cakes are still very warm, float them in the syrup a few at a time, turning them over to make sure they soak up plenty of liquid.

After about 30 seconds, take the cookies out with a fork or spoon with holes in. Put them on a serving plate.

Press some walnuts into the top and sprinkle a pinch of cinnamon over them.

Once you've covered your plate, you can pile the others on top of each other if you like – this is how they are usually sold and served in Greece!
Notes
What to do with the leftover syrup
Also, don't pour away any leftover syrup. Simply drizzle it all over the top of the cookies. The more syrup sinking into these babies the better!
How to store them
Don't keep these Greek Christmas honey cookies in the fridge. They are better kept in an airtight container at room temperature.
How long they last
You can also confidently make them well ahead of Christmas (or any time you like really) as they will last for about a month. They actually get better after a few days after all the lovely syrup has sunk in.
How to give as a gift
Line a gift box with baking paper and stack the cookies in the box. Add a lid and ribbons for a really lovely gift that everyone seems to like!
Nutrition
Calories:
132
kcal
Carbohydrates:
26
g
Protein:
2
g
Fat:
2
g
Sodium:
23
mg
Potassium:
56
mg
Sugar:
13
g
Vitamin A:
15
IU
Vitamin C:
3.5
mg
Calcium:
15
mg
Iron:
0.9
mg