Last Updated on
How about making a different kind of Christmas cookie this year? If you visit Greece close to Christmas, you'll eat far too many of these delicious Christmas honey cookies. Imagine a cross between baklava and an ooey, gooey pecan pie and you've got these. I'm addicted!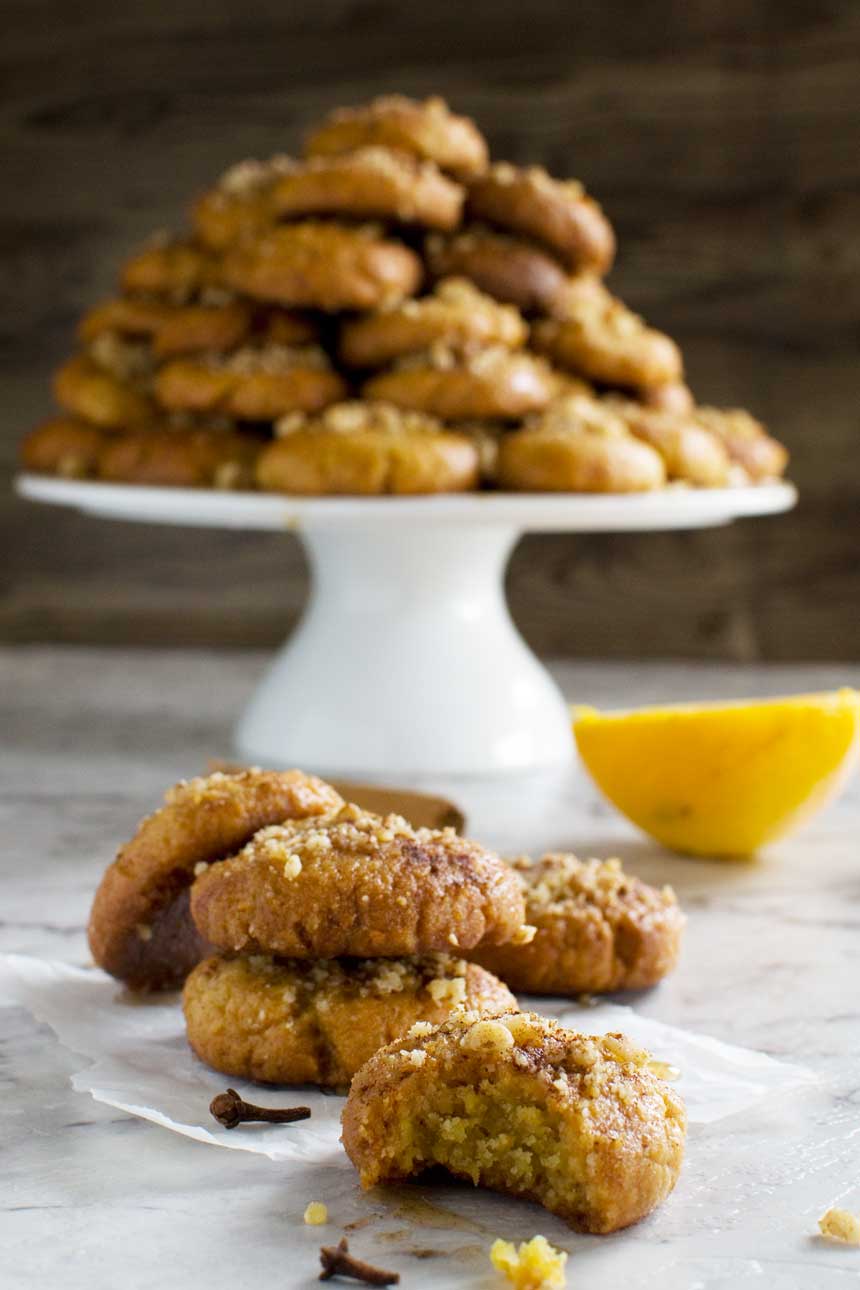 It's been a few years now since I spent a run up to Christmas in Greece (sadly!), and one of the things I miss the most are these fabulous Greek Christmas honey cookies.
Every self-respecting Greek household has a huge pile of these on their Christmas treat table.
And, frankly, so should you. They're:
oozy
nutty
spicy (in a delicious Christmas spice sort of way)
squidgy
caramel-y
baklava-like
bites of sheer delicious. You simply cannot stop at one. I think I ate at least 4 of them while making them. Oops.
I always loved the moment these started appearing in bakeries in Athens some time during November. I warn you, they are seriously addictive.
I'm not sure I'd go as far as to say that they are healthy treats, but half of the sweetness is honey and they're made with a mix of olive and vegetable oils, not butter. They're also dairy free, for anyone that's important to.
When you first taste these with their syrupy, gooey texture and Christmas spice flavour, you might think they're difficult to make. But they really aren't. The cookie dough comes together well and is easy to shape (see video below).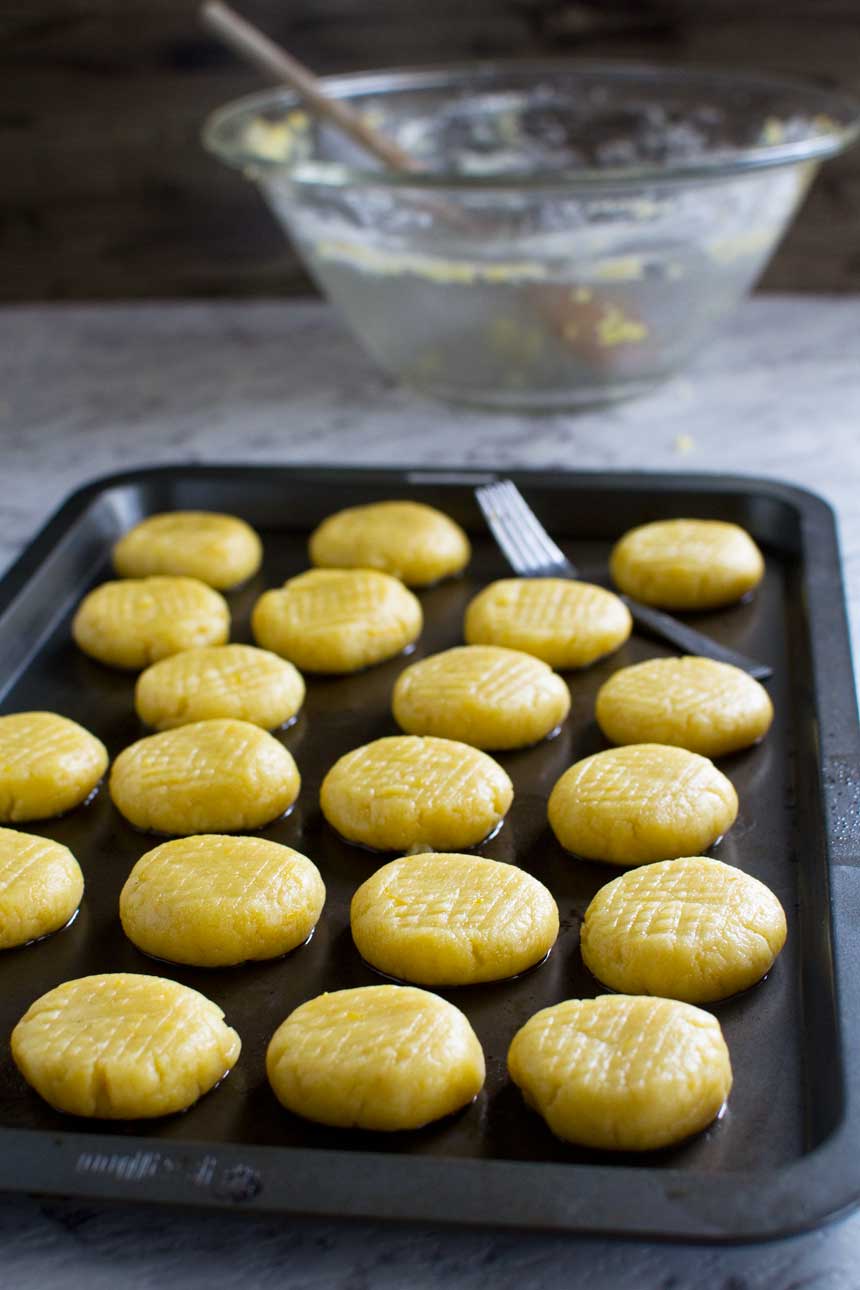 The only 'bit' of this recipe that may seem like harder work than you usually find around here is the syrup. And really that's easy too. Just boil up sugar and honey with a few Christmassy flavours (yummy) and you're done.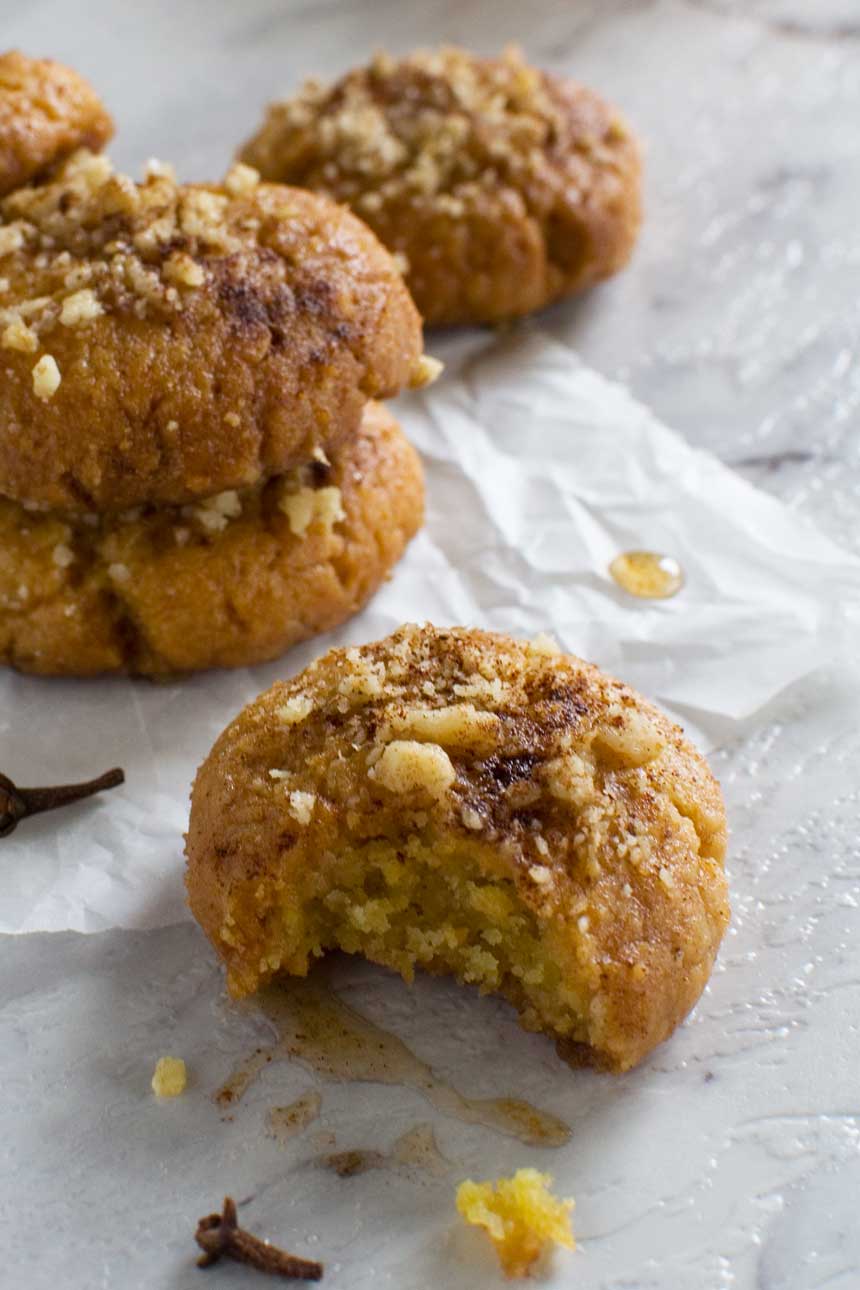 Once the cookies are baked, you float them in a simple syrup until they soak plenty up. Then you press crushed walnuts into the top and sprinkle over cinnamon.
I find there's usually a little syrup left over after you've floated all the cookies in it. Don't throw it away! Drizzle it over the cookies for a bit of extra moisture and flavour.
The cookies don't go soggy, but they do get gooey-er and squidgy-er as time goes on. In a really good way.
In fact, they stay good for AGES, a bit like British Christmas cakes and puddings. This means they're perfect for making ahead. Make them a week or two before Christmas and they'll still be delicious at New Year.
Greek Christmas honey cookies also make great Christmas gifts. I love to package them up in boxes to give to family and friends.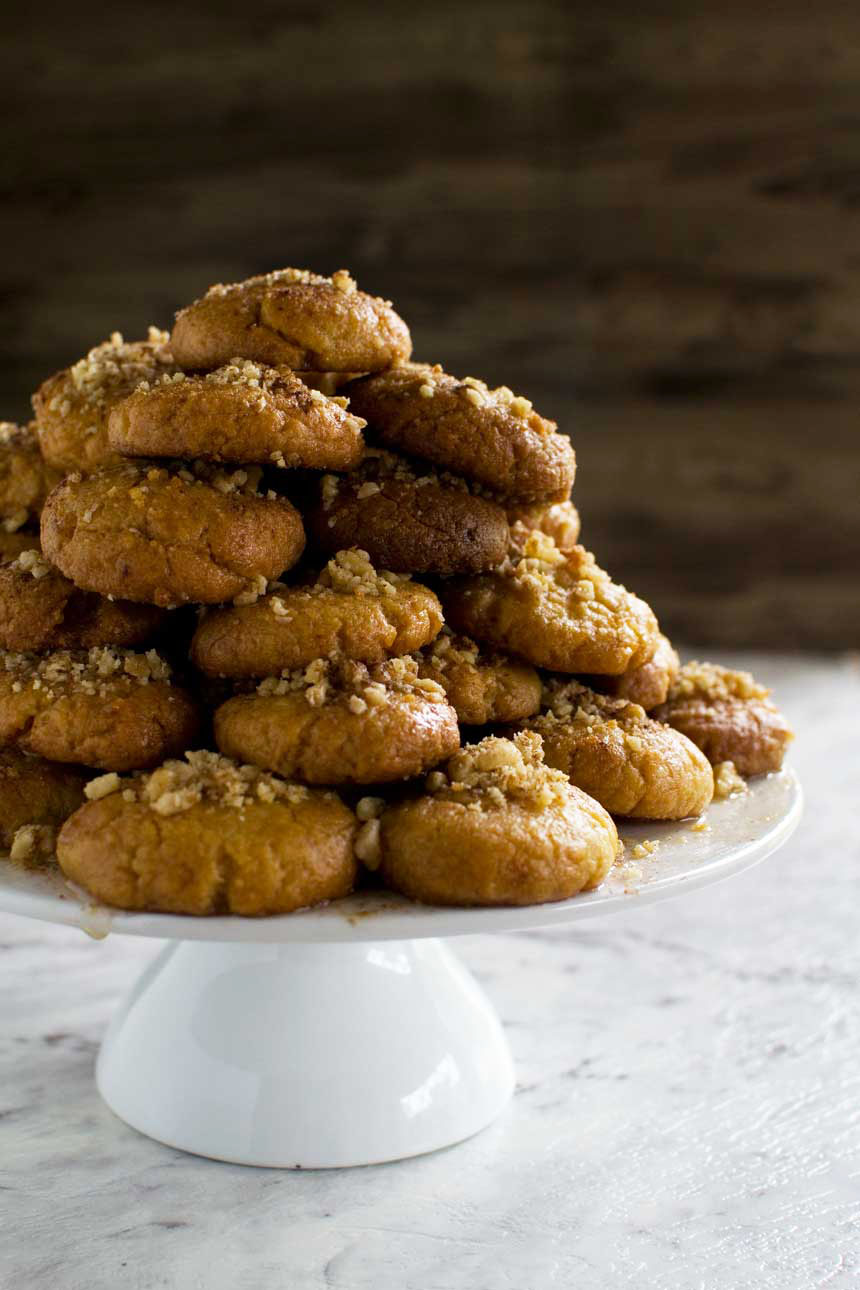 I first published this post at Christmas 2013 but these cookies are so good I decided to update the recipe with new photos and a video to show you exactly how to make them.
I was heavily pregnant this time last year and didn't quite get around to making any of these cookies. This year I'm making up for it! I made a first batch a few days ago, thinking that would be plenty. I'd gift some and keep the others for ourselves.
Hmm. Great in theory. Somehow we only have a few left. Oops, better make some more.
I hope you find this video helpful if you'd like to try making these!

I do hope you agree that these delicious Greek honey cookies are worth a try this festive season! But if they really don't seem like your sort of thing, try these gingerbread muffins with salted caramel frosting instead. They're just as delicious. Mmmmm!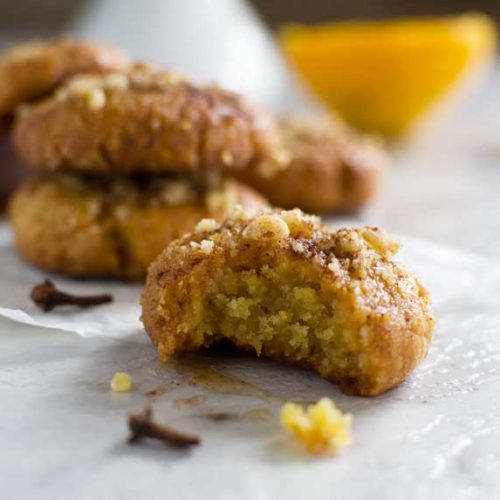 Greek Christmas Honey cookies (melomakarona)
Gooey, sticky traditional Greek Christmas honey cookies with delicious festive flavours. There's no way you'll be able to eat just one!
Ingredients
For the cookies
6.5

cups

plain flour

1

cup

olive oil

1

cup

vegetable oil

(I used canola)

0.75

cups

sugar

1

orange

zest of

0.75

cups

orange juice

(I used the juice of 2 oranges)

0.25

cups

brandy

(optional)

2

teaspoons

baking powder

1

teaspoon

baking soda

0.75

cups

walnuts

chopped

1

tablespoon

ground cinnamon
For the syrup
1

cup

runny honey

1

cup

sugar

1.5

cups

water

1

cinnamon stick

4

cloves

2

inches

lemon rind

lemon juice

a few squeezes
Instructions
Preheat the oven to 350F / 180C.

Zest the orange, then combine the zest with the sugar in a large bowl.

Pour the oils into the sugar/orange mixture and beat until well combined. Then add the orange juice and brandy and beat again.

Sift the flour with the baking powder and baking soda, then add to the liquid little by little until a stiff, wet dough forms.

Pull off a walnut-sized piece of dough and shape it into a ball / oval in your hands, then place it on a baking sheet. Use a fork to flatten the dough and make a criss-cross pattern on it. Keep shaping and flattening balls of dough until it is all used up.

Bake for 25-30 minutes until the cookies are lightly browned. While they are in the oven, make the syrup. Combine the honey, sugar, water, cinnamon, lemon peel and cloves in a saucepan, then bring to the boil. At this point, simmer uncovered for about 10 minutes until the syrup has thickened slightly. Then take out the cinnamon, lemon peel and cloves and stir in the lemon juice.

Then, while the cakes are still very warm, float them in the syrup a few at a time, turning them over to make sure they soak up plenty of liquid. After about 30 seconds, take the cookies out with a fork or spoon with holes in, put them on a serving plate and press some walnuts into the top. Lastly, sprinkle a bit of cinnamon over them.

Once you've covered your plate, you can pile the others on top of each other if you like - this is how they are usually sold and served in Greece!
Notes
Recipe slightly adapted from this one on About.com.
Don't keep these Greek Christmas honey cookies in the fridge. They are better kept in an airtight container at room temperature.
Also, don't pour away any leftover syrup. Simply drizzle it all over the top of the cookies. The more syrup sinking into these babies the better!
You can also confidently make them well ahead of Christmas (or any time you like really) as they will last for about a month. They actually get better after a few days after all the lovely syrup has sunk in.
Nutrition
Calories:
132
kcal
Carbohydrates:
26
g
Protein:
2
g
Fat:
2
g
Sodium:
23
mg
Potassium:
56
mg
Sugar:
13
g
Vitamin A:
15
IU
Vitamin C:
3.5
mg
Calcium:
15
mg
Iron:
0.9
mg