Last Updated on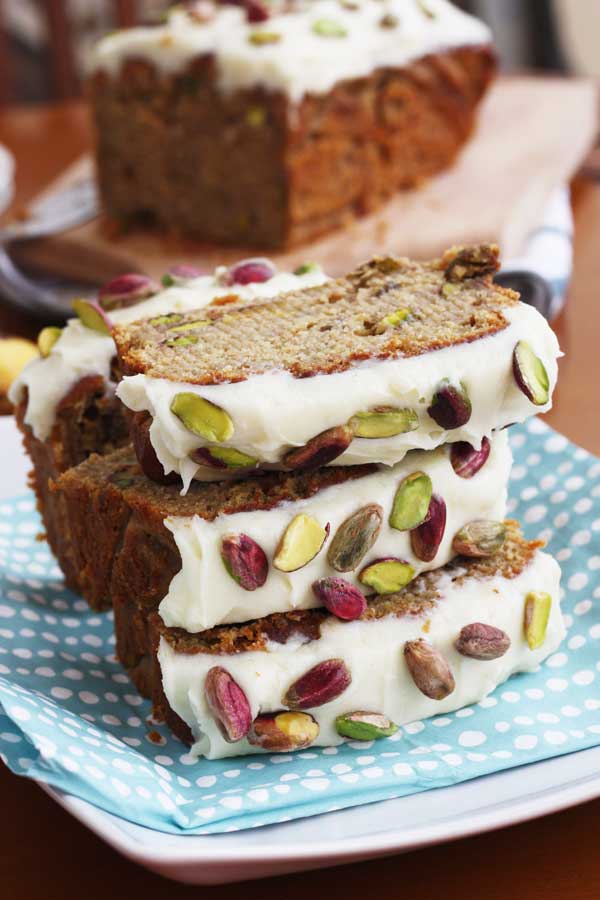 I have so been looking forward to sharing this with you! 
If you've read my About page, you may remember me saying this, in a roundabout way: I am not a baker. Which was pretty accurate until fairly recently. Sure, I would make a pan of brownies or two every now and again. And in fact, if you don't mind me blowing my own trumpet a little here, I somehow got myself a reputation among my friends for that pan of brownies or two and I've even been asked to bring them along to parties. Thank you Nigella for your excellent recipe! Really, though, that was more or less it for me on the baking front.
But now that I'm a big shot food blogger (ahem – don't think so, Helen, but you can dream), a curious thing is happening. Times are slowly but surely changing. I'm adding baking paper, cake tins and vanilla essence to my shopping lists. I'm learning how to cream butter and sugar, gently fold through the flour and whip up a scrummy frosting. I'm filling my kitchen with aromas to make the neighbours envious on a Sunday morning. I'm making these blueberry, white chocolate & macadamia blondies, these beetroot and ginger brownies and …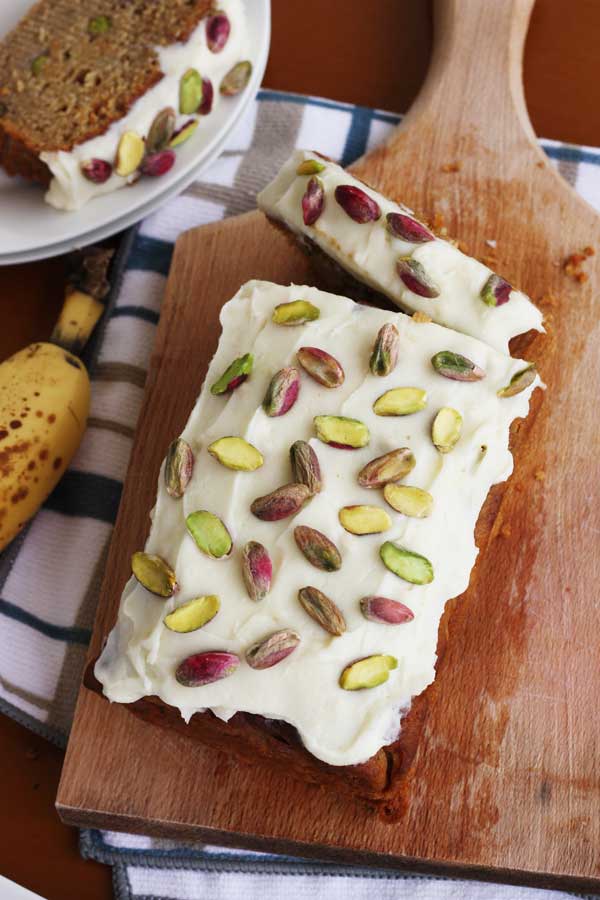 … this amazing clap-yourself-on-the-back, this-is-so-yummy-yummy, I-can't-believe-I-haven't-made-this-frosting-with-cream-cheese-in-it-to-go-on-top-before banana and pistachio loaf!
OK, so I admit it, as well as the brownies, I have made a few banana loaves before. With chocolate chips in, preferably. But believe me, I have never made a banana loaf which I enjoyed as much as this. And it was PRETTY if I may say so with all those green-and-pink-tinged pistachios on top.
Did I just say green? Could this in fact be a St. Patrick's day banana loaf? Hmmm, OK so maybe that's a bit of a stretch. Nice try, though, you have to admit. 😉
The only little 'issue' I had while making this was that, after some research on different kinds of banana breads, I was expecting it to take only about 35 minutes to bake. Wrong. It was clearly still wobbling away in the tin after only 35 minutes, so I put it back in the oven and checked it again every 10 minutes or so after that and, do you know, it ended up taking a whole HOUR to bake. Possibly a little over that. If I'd really thought about it, though, with my gradually-improving knowledge of all things baking (!), the batter for this loaf is fairly 'wet', with not many 'dry' ingredients in it at all, so it's bound to take a while longer to bake than loaves with a higher ratio of dry to wet.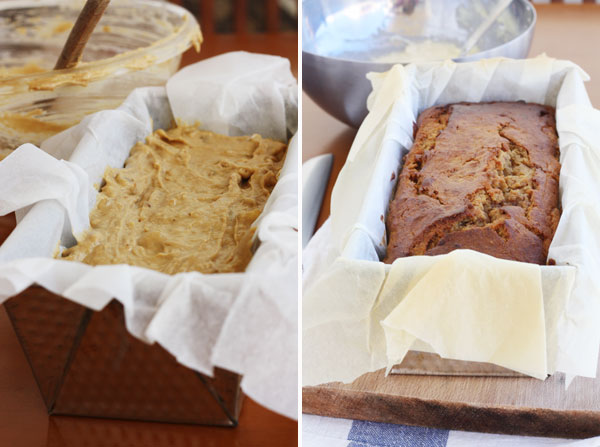 What this also means is that you end up with a beautifully moist loaf, but not at all soggy or heavy. The addition of the yoghurt and the almond meal helps to keep things from getting too dry, especially if you do choose to use gluten free flour as I did. I didn't test it with ordinary flour, but I'm pretty confident that the loaf will work just as well if you choose to use that instead. I understand that especially when there are smaller amounts of flour in a recipe, as in this one, it's usually fine to do a straight substitution like that.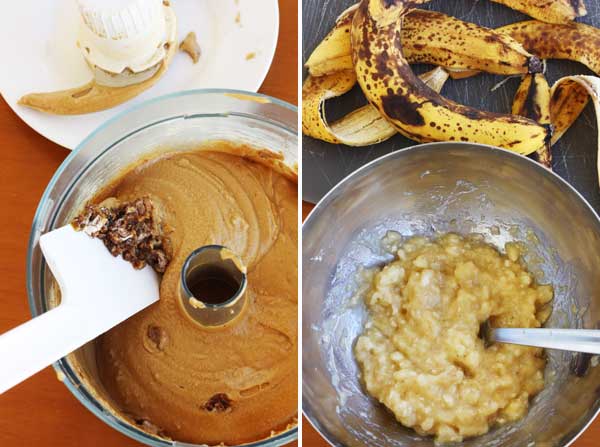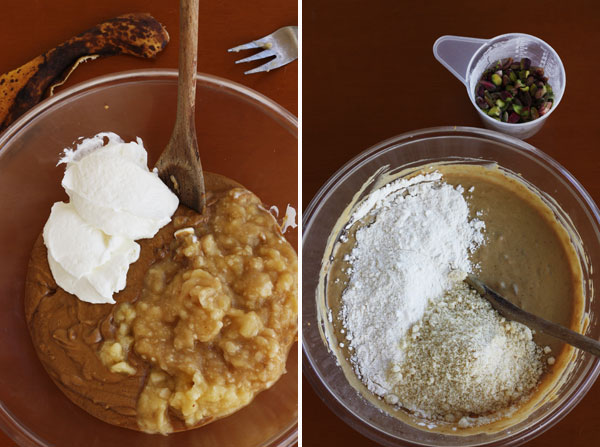 I would be very tempted to say this is the best banana loaf you could ever eat, but I think that might be a bit of a dangerous thing to do! Nearly everyone, after all, loves banana bread and most likely has their favourite one nailed already. But I think there's always room for one more kid on the block in the banana bread department, don't you? Especially when it's full of slightly salty pistachios and thickly slathered with a creamy, tangy, buttery, and accidentally crispy frosting.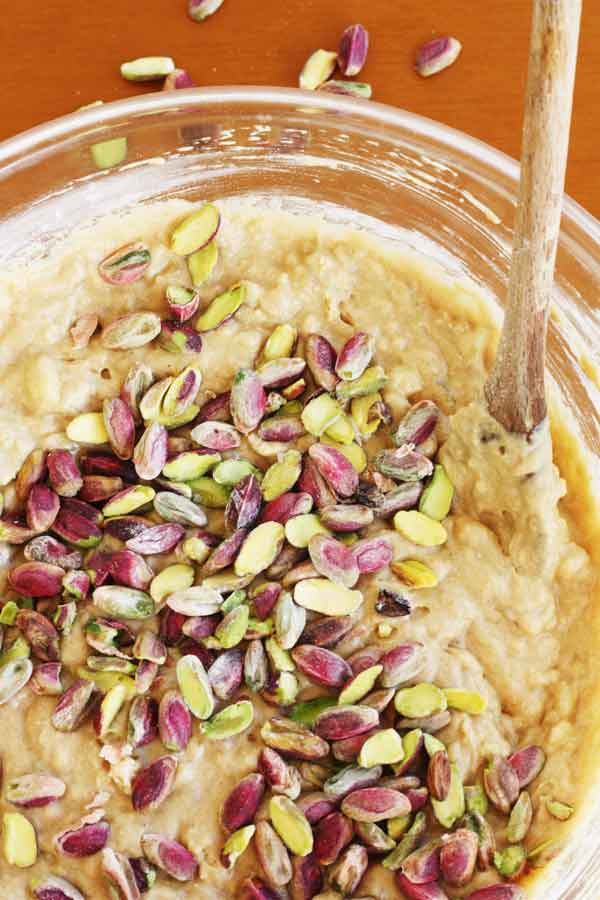 Accidentally crispy? OK, I'll explain. At the wonderful Greek supermarket I happened to go to for my ingredients, they didn't have any plain white chocolate bars, only white chocolate with crispy rice bits in it. I considered omitting the white chocolate from my frosting, but decided in the end to go ahead and put it in, crispy bits and all! Turns out I was pleasantly surprised by how the subtle crunch added to the overall loveliness of this banana loaf. Who would have thought it? So next time I make this, it'll be the white choc with the crispy bits in that I throw into my basket again, but this time very gladly!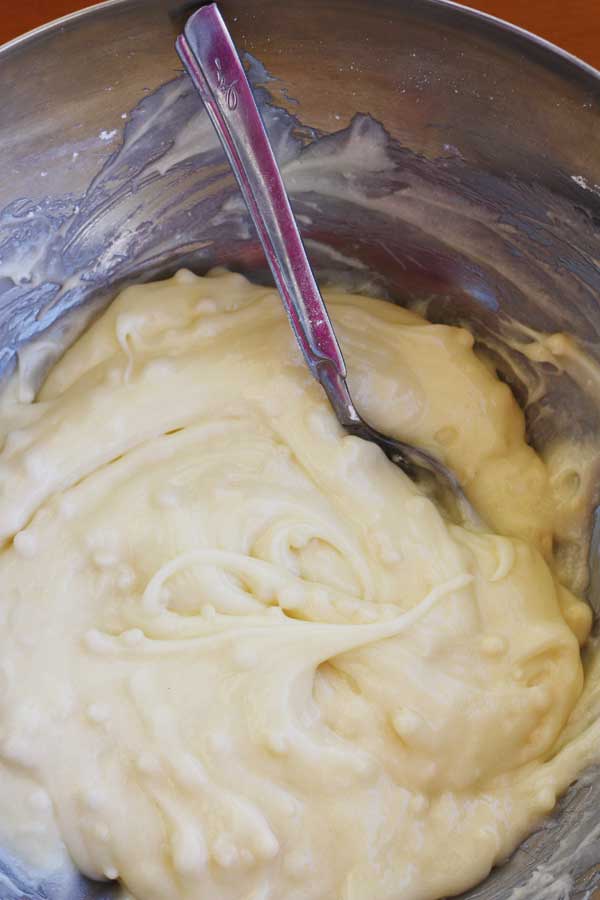 And there definitely will be a next time. The recipe I have below for the white chocolate cream cheese frosting actually makes enough to frost two loaves. You could halve the ingredients if you like of course, but I rather like the idea that I have my frosting all ready and waiting in the freezer for my next banana and pistachio loaf. Or perhaps to go on top of a different kind of cake. Or little cakes. Or muffins. Or brownies. Or blondies.
Or maybe just on a big spoon straight into my mouth! Yes, I think this frosting could be very versatile indeed!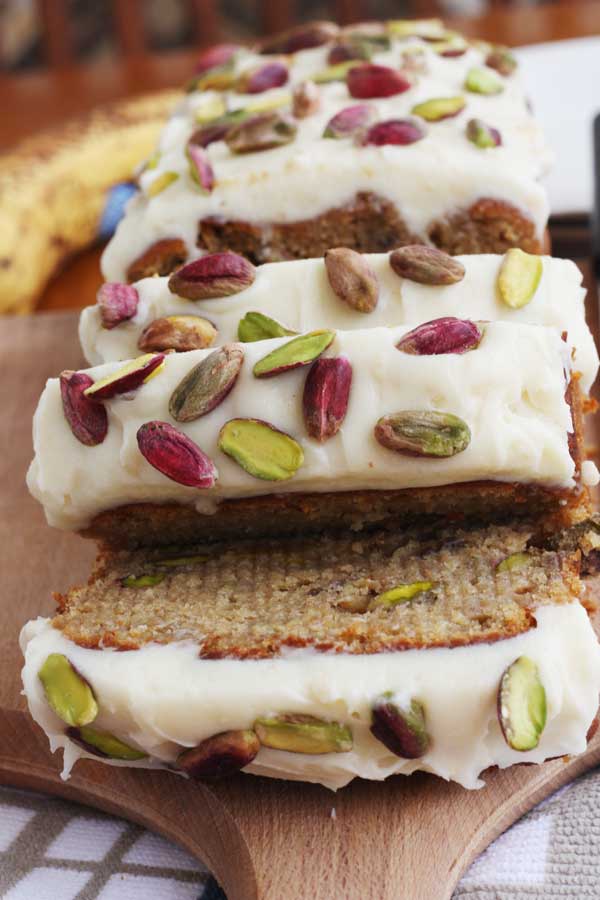 So now over to you … are you more of a cook or a baker? Has it always been this way? And are you ever tempted to eat cake frosting right off the spoon?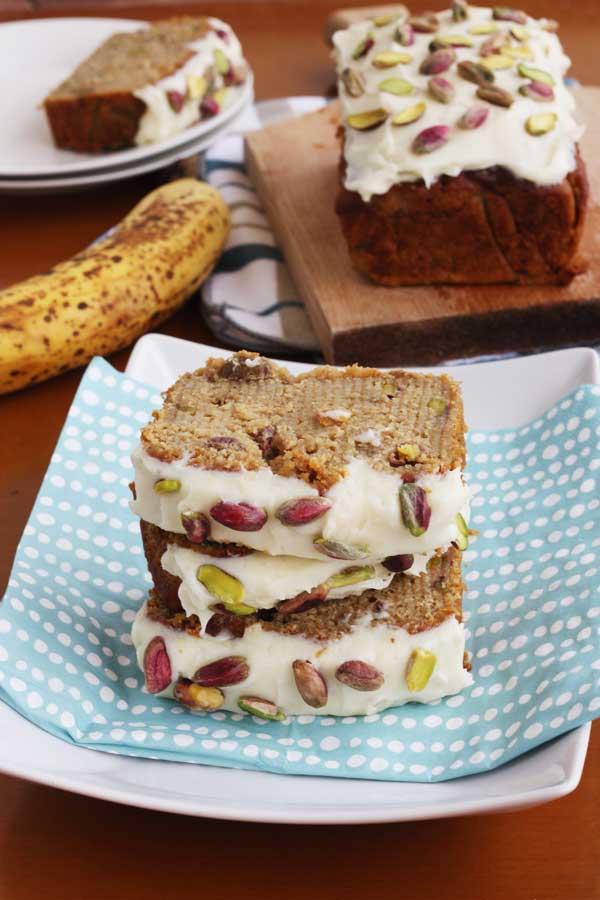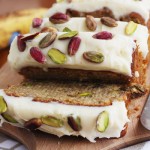 Print
Banana & pistachio loaf with white chocolate cream cheese frosting (gluten free)
A moist and flavoursome banana loaf full of pistachios and smothered with a white chocolate cream cheese frosting that will really have you licking your fingers! The loaf is gluten free and quite possibly will be the best banana bread you've ever eaten (or at least one of the best)!
Cook Time
1
hour
5
minutes
Total Time
1
hour
20
minutes
Ingredients (UK/Australia? Click button below for grams & ml)
For the loaf
8

tablespoons

butter

chopped into pieces (1 stick)

3/4

cup

brown sugar

2

eggs

2-3

ripe bananas

mashed (about 1 cup)

4

tablespoons

of Greek yoghurt

1

cup

all-purpose gluten free flour (or ordinary plain white flour if you prefer)

1/2

cup

almond meal

a large pinch of salt

1

teaspoon

baking powder

1/2

cup

pistachio nuts
For the frosting
3.5

ounces

cream cheese

2

tablespoons

unsalted butter

3.5

ounces

white chocolate

1

cup

plus a tablespoon of powdered/icing sugar
Instructions
For the loaf
Pre-heat the oven to 355F/180C and line a regular-sized loaf tin (approx. 23 x 13 x 7 cm) with baking paper.

Cream together the butter and sugar with an electric mixer or in a food processor, then add the eggs with the motor still running one at a time until well mixed in.

Scrape the mixture into a large bowl and add the banana and Greek yoghurt. Mix well.

Sift in the flour, almond meal, salt and baking soda and mix until just combined. Then fold in the pistachio nuts.

Pour the batter into the lined loaf tin and bake for 55 to 65 minutes or until a skewer or knife inserted into the loaf comes out clean. (Cover loosely with some kitchen foil after about 30 minutes to stop the loaf browning too much)

Leave to cool.
For the frosting
Whip the cream cheese and butter together, then melt the chocolate in 30-second spurts in the microwave (or in a bowl over simmering water). Let the chocolate cool slightly, then whisk into the cream cheese and butter mixture as well.

Add the powdered sugar and mix really well.

When the loaf is completely cool, use about half of the frosting to frost your loaf (you can freeze the rest). Decorate with the reserved pistachio nuts. Enjoy!
Notes
This lovely banana and pistachio loaf comfortably lasts for 4 or 5 days if kept wrapped up in the fridge – that's if you don't eat it all before then!
Nutrition
Calories:
552
kcal
|
Carbohydrates:
64
g
|
Protein:
8
g
|
Fat:
31
g
|
Saturated Fat:
14
g
|
Cholesterol:
95
mg
|
Sodium:
176
mg
|
Potassium:
330
mg
|
Fiber:
3
g
|
Sugar:
47
g
|
Vitamin A:
715
IU
|
Vitamin C:
3
mg
|
Calcium:
128
mg
|
Iron:
1.6
mg
Follow me on Pinterest!
Follow @scrummylane to pin more quick and easy recipes for later
I hope you enjoyed this post! You can subscribe to receive posts directly to your inbox by entering your email address in the box below or at the top of the sidebar on the right.
You can also find more from Scrummy Lane on Facebook and Pinterest and follow me on Bloglovin! Thanks so much for reading!