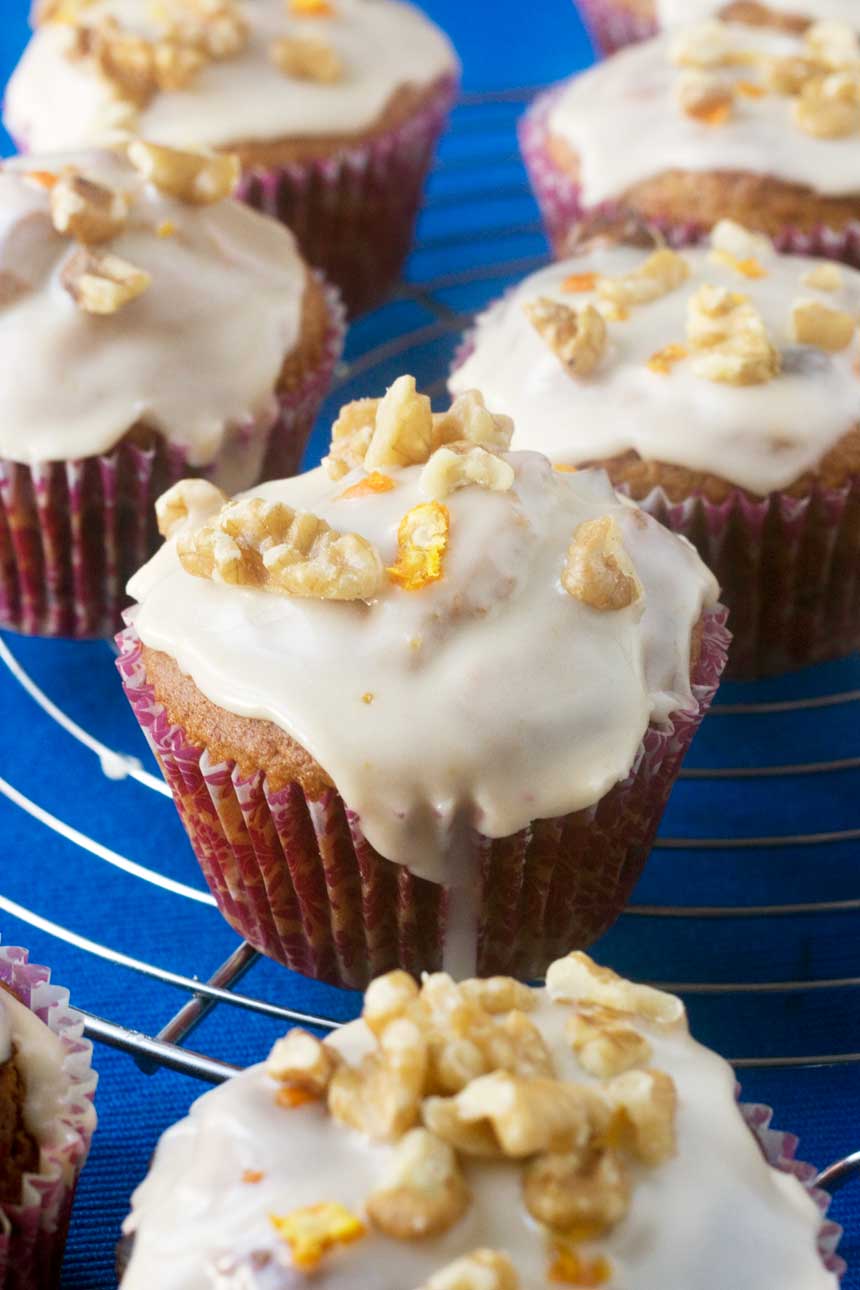 Mr. Scrummy and I have a little, let's say, 'discussion' every time I bake muffins or a cake, and it goes something like this:
Mr. Scrummy: "What are you making? Smells good …"
Me: "Oh, I'm making (insert first flavour here), (insert second flavour here) & chocolate chip muffins."
Mr. Scrummy: "Ohhhh … well, I should have known you'd put chocolate in there. Can't you make anything without adding chocolate? I hate chocolate muffins (insert five minutes more of grumbling here)."
Me: "Oh, sorry, Sweetie. I always forget." [slight fib] "Next time I make some cakes/muffins, I'll make them without chocolate in." [outright lie]
Such is the 'lot in life' of the husband of a food blogger, I'm afraid. It's a terribly hard life, isn't it?
I don't bake as often as I cook, but when I do bake I do indeed find it very difficult to make something that doesn't include chocolate. And I would have found it especially difficult to exclude it from these particular muffins because, well, the orange and chocolate combo rocks, right?
To be more specific, I decided to add lots of tangerine juice and zest to these muffins. I've never been much of a 'fruity' person, but to me the smell of tangerines is one of the best food aromas there are – that, along with tomatoes on the vine … swoon. But if you happen to have satsumas, mandarins or even plain old oranges hanging out in your fruit bowl rather than tangerines then by all means go ahead and use those in this recipe instead.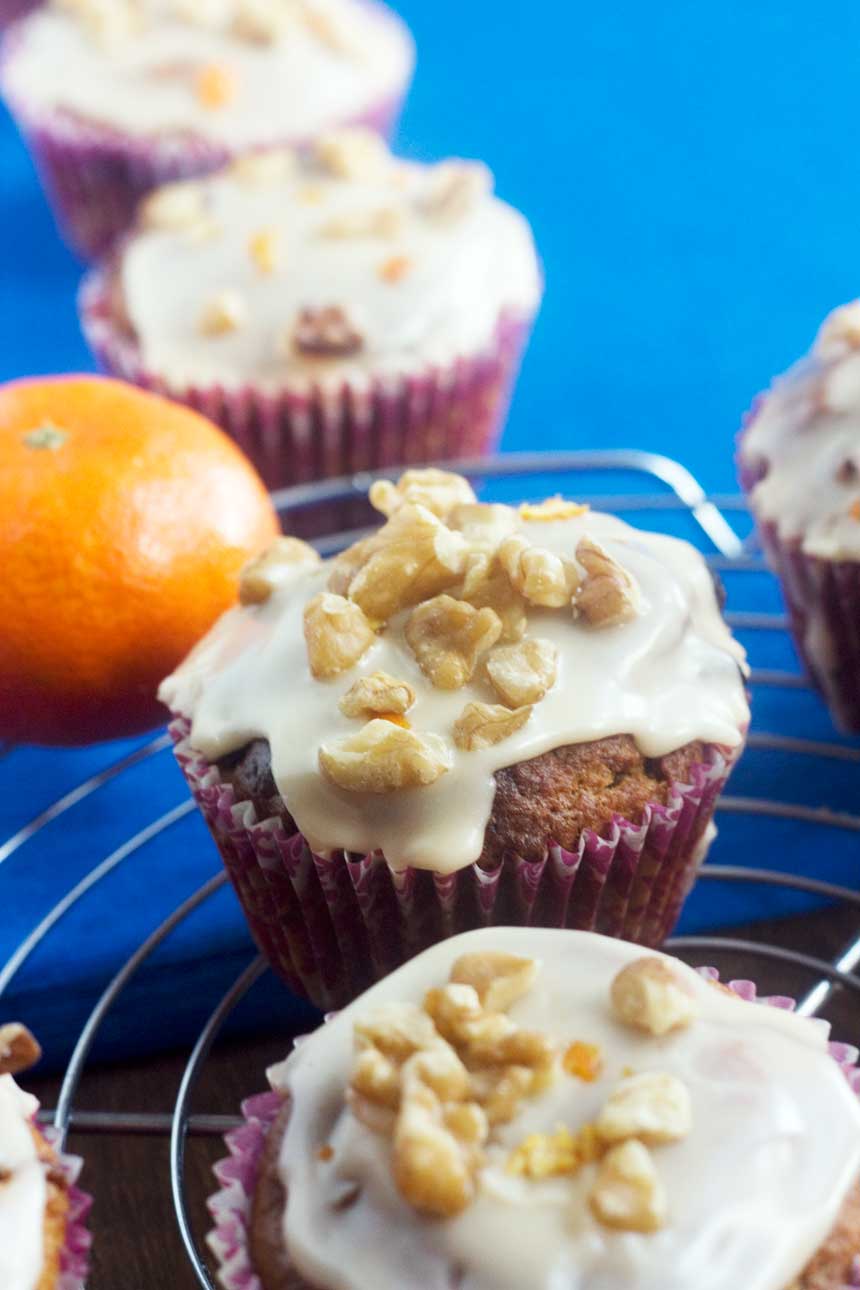 The muffins also have walnuts, cinnamon and nutmeg in them. The result is a lovely subtly spiced and orangey, moist and yet light crumbed muffin which is perfect for a grab-and-go breakfast or mid-morning or afternoon snack. They aren't overly-sweet and could be easily customised a little to your taste, too. If you're a 'bah humbug to chocolate' sort of person, like Mr. Scrummy, or want to keep the muffins a bit lighter, you could easily switch out the chocolate for fresh blueberries, or perhaps some dried cranberries or even plain old raisins.
I decided to finish my muffins off with a little drizzle of simple tangerine icing topped with orange zest and walnut pieces. Go ahead and miss this part out too, if you like. The muffins would still be yummy if you added a little sprinkle of brown sugar to the top before baking instead and just left it at that.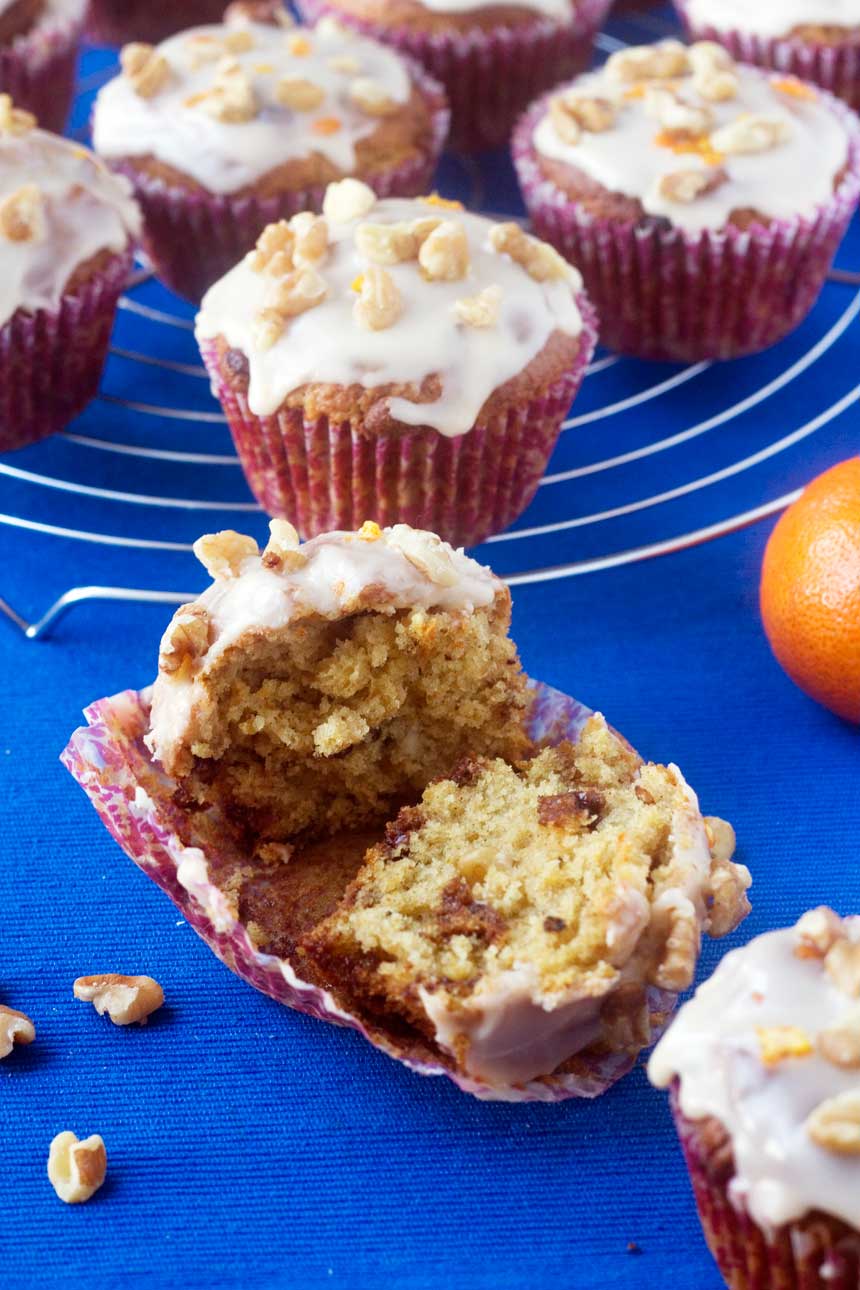 I must admit I'm looking forward to polishing these muffins off this week for snacks … all by myself, seeing as Mr. Scrummy isn't so keen. So there's a little useful tip for you. If there's something you really like, add something to them that you know your partner/flatmate/family member/whoever lives with you doesn't like.
Aren't I wicked?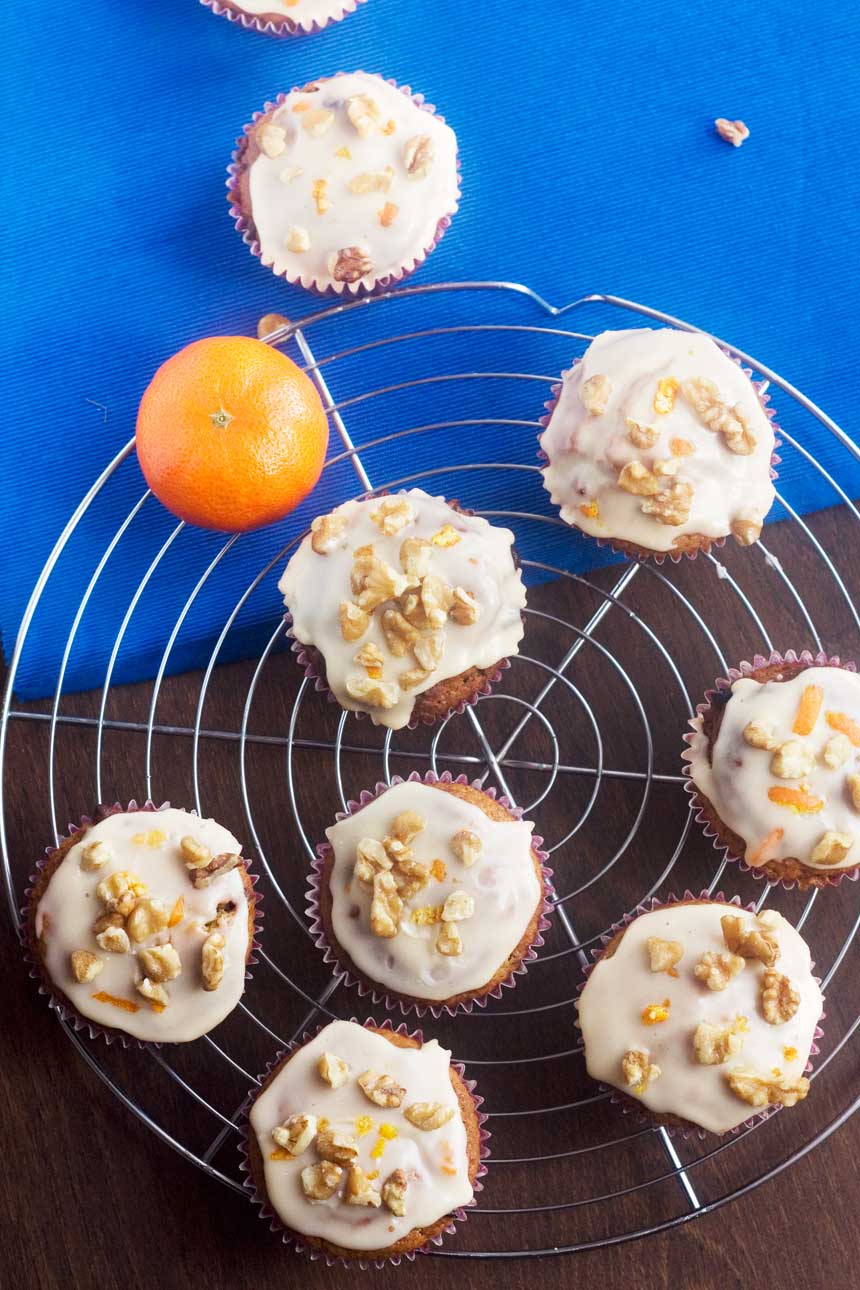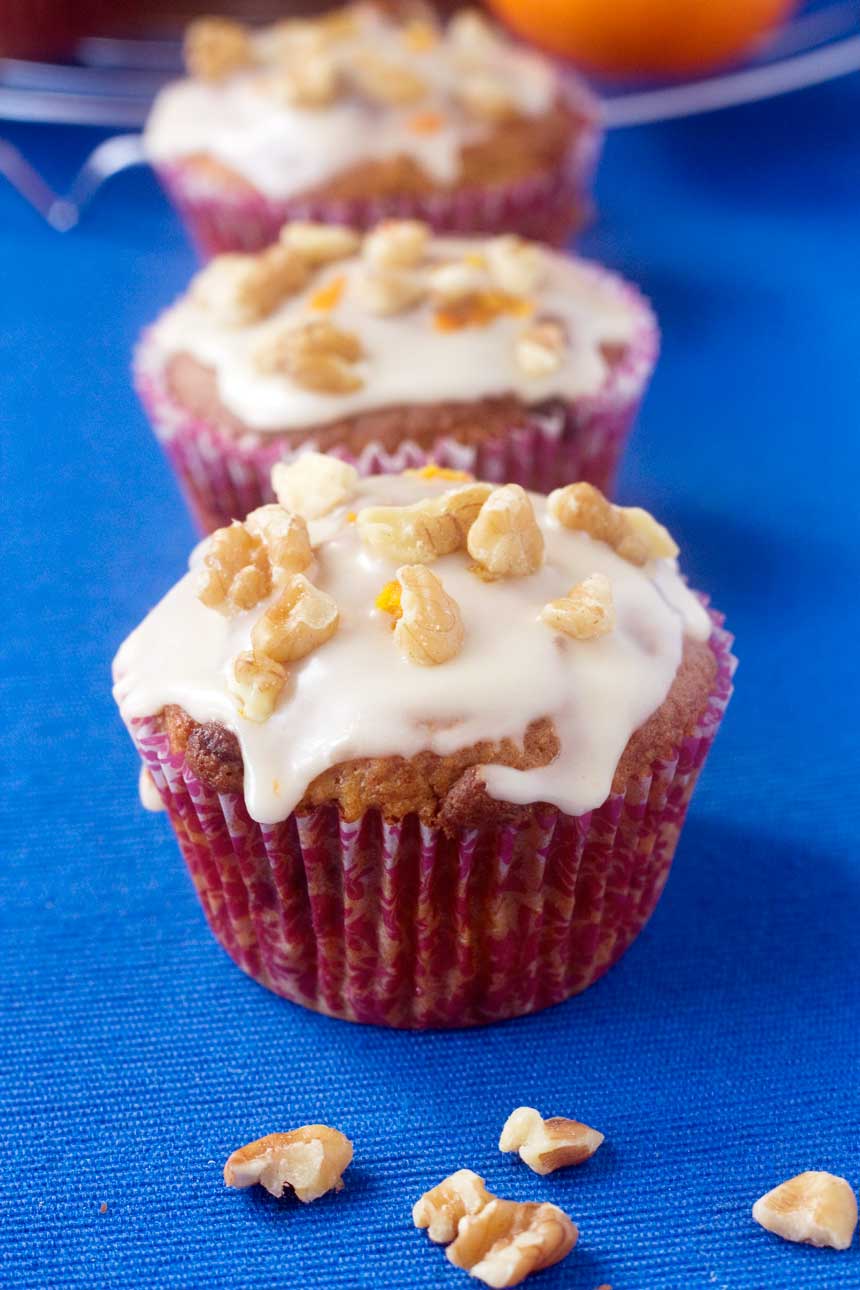 Spiced tangerine, walnut & choc chip muffins
Lightly cinnamon and nutmeg-spiced muffins stuffed with zesty tangerine flavour, crunchy walnuts and chocolate chips. The flavours are subtle and warming and the crumb light and moist. Yum!
Ingredients (UK/Australia? Click below for grams/ml)
1

cup

plain flour

1 1/2

teaspoons

baking powder

1/2

teaspoon

bicarbonate of soda

1/2

cup

sugar

1

teaspoon

ground cinnamon

1/4

teaspoon

ground nutmeg

or a good grating of fresh

2

tangerines

or clementines, or satsumas or 1 bigger orange, zest and juice

1/2

cup

milk

1/3

cup

oil

I used rapeseed oil, but any oil is fine, really

1

large egg

1/2

cup

walnut pieces & a few extra

for decoration

1/2

cup

chocolate chips
icing
2/3

cup

icing sugar/powdered sugar

juice of 1 more tangerine/clementine/satsuma/orange

& the zest, for decoration, if you like
Instructions
Preheat oven to 200C/390F and line a 12-hole muffin tin with muffin liners.

Add the flour, baking powder, bicarb of soda, sugar, cinnamon, nutmeg and orange zest to a large bowl and mix.

Now add the orange juice to a measuring jug and pour the milk in until you have 200ml (7 fl. ounces) of liquid altogether. Add the oil and egg and whisk.

Add the wet ingredients to the dry and mix until just combined (batter that's still a bit lumpy is OK- don't overmix).

Fold in the walnut pieces and chocolate chips and fill the muffin liners with the mixture. Bake for 18 to 20 minutes or until the muffins are well risen, golden and cooked in the middle.

Let cool on a wire rack. Meanwhile, make the icing, if using. Simply squeeze the orange juice into the icing sugar, little by little, until you have a fairly thick icing. Spread a little onto the top of each muffin when cool. Finally, sprinkle with a little orange zest and a few of the extra walnut pieces, if you like.
Nutrition
Calories:
240
kcal
Carbohydrates:
31
g
Protein:
3
g
Fat:
11
g
Saturated Fat:
2
g
Cholesterol:
15
mg
Sodium:
61
mg
Potassium:
125
mg
Fiber:
1
g
Sugar:
21
g
Vitamin A:
155
IU
Vitamin C:
3.9
mg
Calcium:
57
mg
Iron:
0.8
mg
Here are a couple more recipes for you from the blog featuring that winning orange-choc combo:
5 ingredient raw chocolate orange bars

You can also find more from Scrummy Lane on Facebook, Pinterest, Twitter and Instagram and follow me on Bloglovin! Thanks so much for reading!
*This post may contain affiliate links which means that if you click on a link and make a purchase I get a small percentage of the amount you spend. At no extra cost to you, of course! Thank you!*