If you've ever tried a fruit crumble or crisp, or enjoyed an oat flapjack or granola bar, you'll love this 7-ingredient healthy oat slice with rhubarb and ginger. Perfect for late night sweet snack cravings, lunch boxes and more!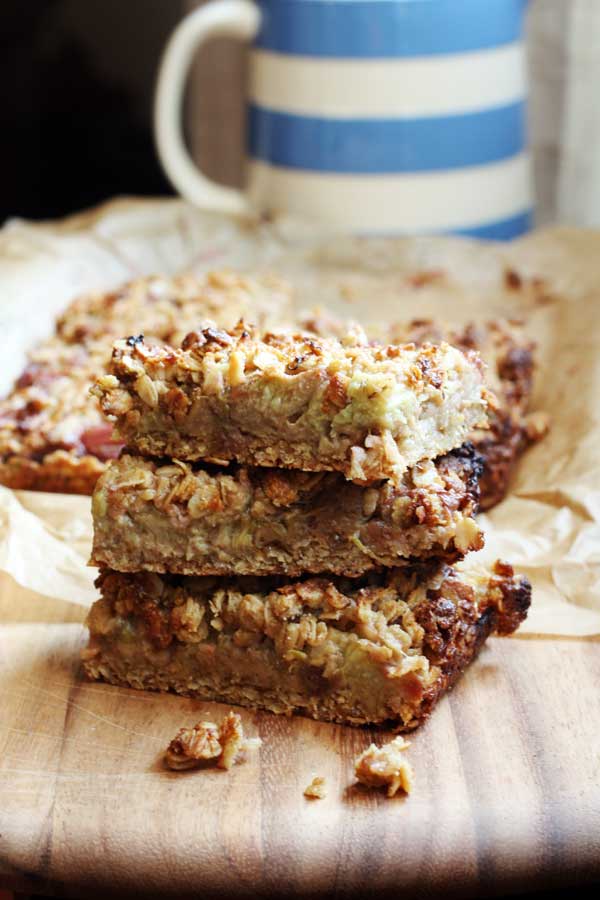 Growing up in England, many gardens had a rhubarb patch! Rhubarb is very sour when eaten raw, but cook it with a little sweetness and it's perfect in cakes, crumbles and bars.
I loved the 'rhubarb crumble and custard' that we Brits know so well when I was a child. I also loved a sort of chewy, oaty slice that we call 'flapjack'.
So I decided to see if I could come up with a healthy rhubarb recipe that was a kind of cross between a rhubarb and ginger crumble and a rhubarb flapjack. And I think I actually got it about right first time with this healthy rhubarb slice!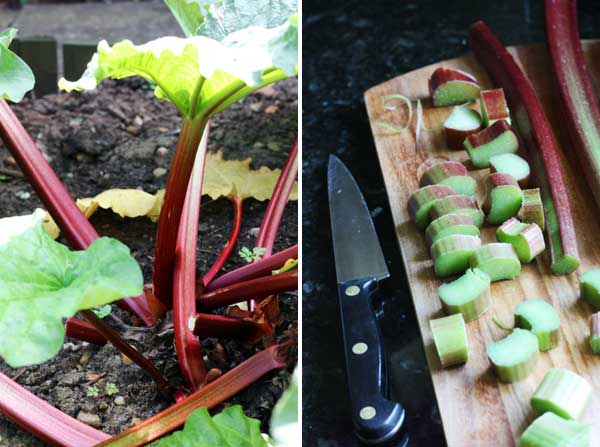 What you'll love about them
You only need 7 ingredients to make them.
They take less than 15 minutes to make (plus 30 minutes to bake!).
They're mostly made from wholesome gluten free ingredients, so they're a healthy treat.
They're delicious! Slightly crunchy on top, chewy and fruity in the middle. Like a cross between a rhubarb crumble and a flapjack.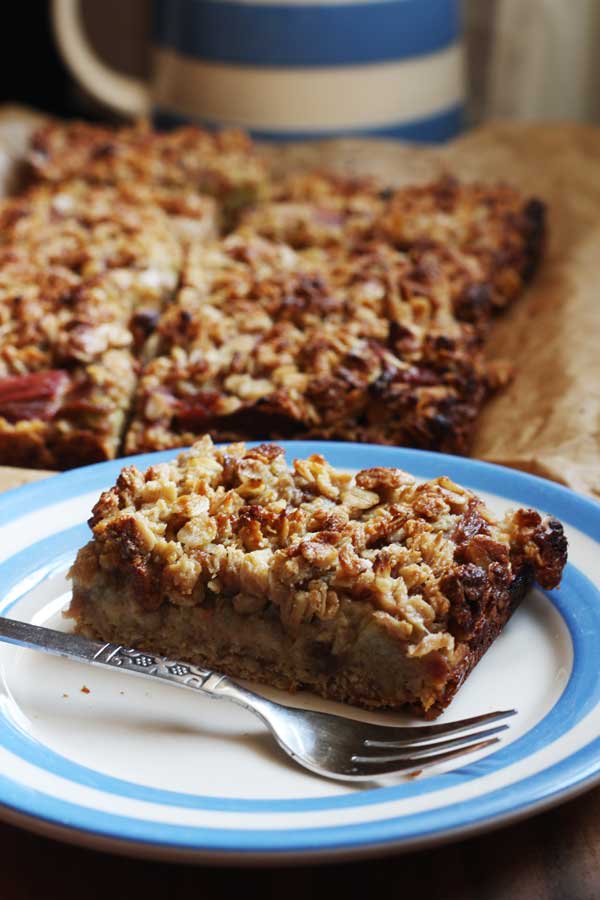 About the ingredients
Rhubarb: You only need about 4 'stalks' of rhubarb. Find out when it's in season where you live and grab some while you can! Chop off any tough or leafy parts, then chop into small pieces.
Brown sugar: Just a little, to take the edge off the sourness of the rhubarb.
Butter, brown sugar and honey: To mix into the oats. You can use just honey if you prefer to make them without refined sugar. I do find the mixture holds together better if you add a little brown sugar, however. Feel free to replace the butter with coconut oil, too.
Gluten free rolled oats: Check that the oats you use actually are gluten free (if that's important for you). Don't use quick oats.
Almond flour: This acts like a flour and also helps the oat mixture to stay together.
Ground ginger: You can add a bit of chopped candied ginger, preserved ginger or stem ginger too, for an extra gingery taste. Go easy though at first. You can always add more next time!
How to make a healthy oat slice
These healthy oat slices with rhubarb and ginger are super easy to make.
First, cook the rhubarb for about ten minutes with a little brown sugar.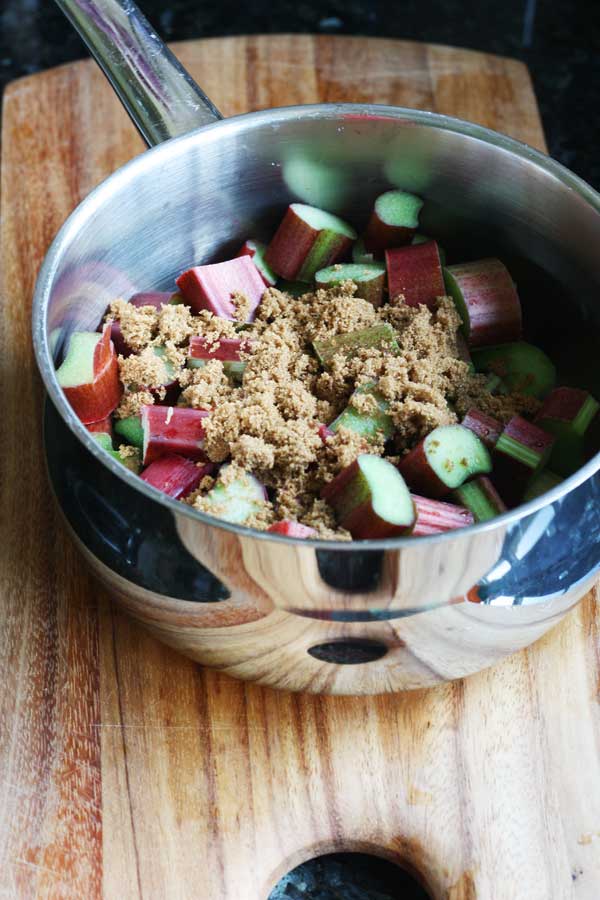 To make the oat mixture, melt a little butter and brown sugar and plenty of honey together before adding oats, ground almonds and ground ginger.
Finally, assemble everything by pressing two thirds of the oat mixture into the bottom of a baking tray. Then spread the cooked-down rhubarb on top.
Sprinkle the rest of the oat mixture on top of that. Then bake!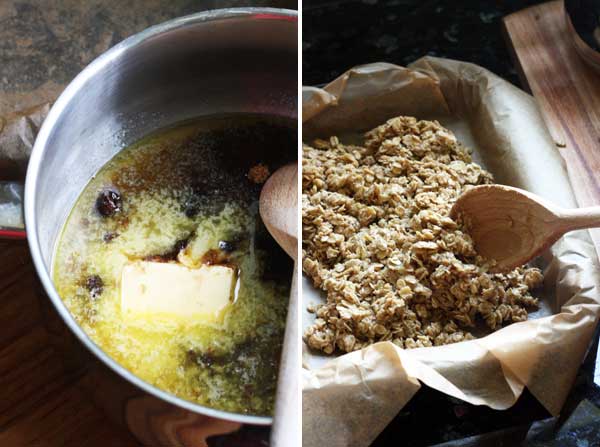 The finished result is so delicious and healthy.
As you take a bite there's the crumbly, oaty top, then the beautiful rhubarb gets your taste buds singing as only rhubarb does. Finally, there's the slightly chewy flapjack-y layer on the bottom.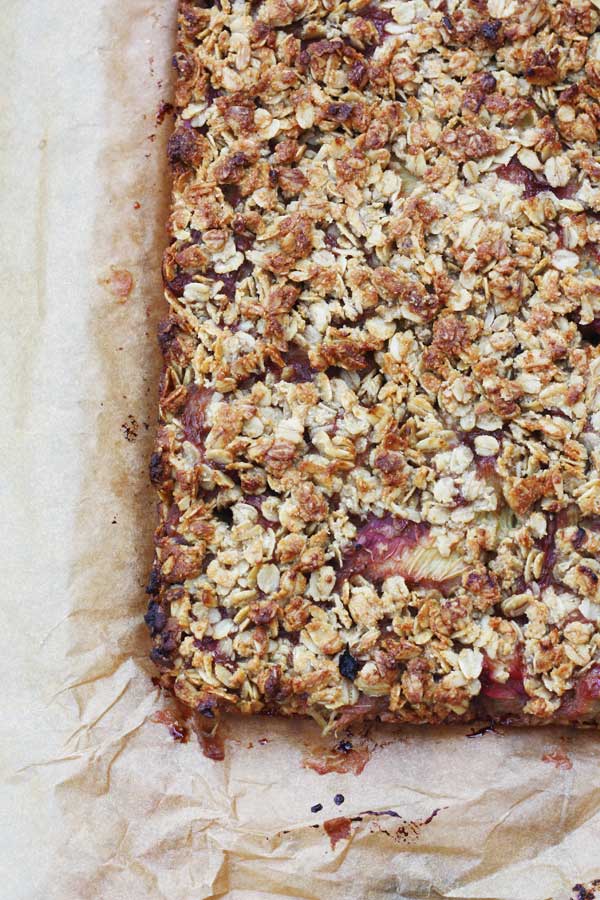 How to eat this healthy oat slice
with healthy ice cream or nice cream on top
with custard or cream if you fancy a treat
as a guilt-free lunch box, after school or late night treat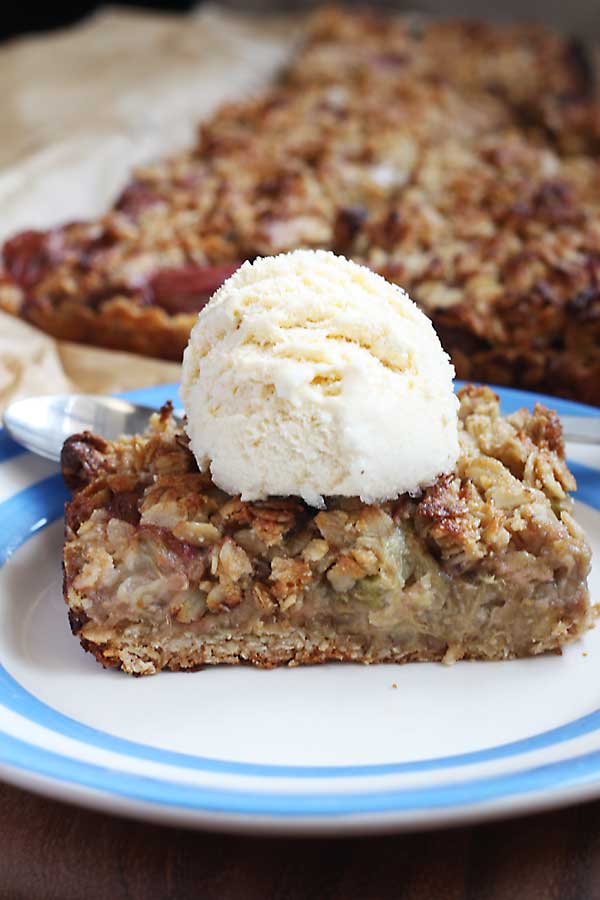 Variations
If you live in a place where you can't easily find rhubarb, you could go ahead and try these with berries (just don't cook them first) or really any other fruit.
You could also try nectarines or peaches, but don't add sugar or cook the fruit down first.
Please let me know how they turn out if you do try that.
Enjoy!
More things to know (recipe FAQ)
Do I have to cook the rhubarb?
Cooking the rhubarb for just a short time with a tiny bit of sugar makes it just the right consistency when the bars are baked. Undercooked rhubarb doesn't taste great!
The bars are really crumbly. What did I do wrong?
Nothing! These oat slices are definitely on the more crumbly side when they're warm, almost like a crumble or crispy. Feel free to eat when still warm, but they're better eaten with a bowl and spoon. Yum!

If you let them cool completely, or even chill them in the fridge, they'll hold together better.
Can I use coconut oil instead of butter?
Yes, that will work fine! If you also replace the honey with maple syrup or another sweetener, the slices are then vegan.
Can I use preserved or stem ginger instead of ground?
For a stronger ginger taste, chop up one or two 'balls' of preserved ginger or pieces of stem ginger into small pieces. It's best to start with less and then increase next time you make these!
Healthy snack box subscriptions
So… you love the idea of these and will try them soon, but… you'd also like to have some awesome pre-packaged snacks on hand. I get it. As much as I love this recipe, sometimes I just want to grab something yummy and healthy that someone ELSE has prepared.
The solution? Get healthy (and exciting!) ready-to-eat snacks delivered to you with Urthbox! They have Classic, Gluten free, Vegan or Diet box options, and a bonus free snack box offer, too.
Or browse more snack subscription boxes at Cratejoy to choose your own.
In love with smoothies? You can get read-to-blend organic smoothie packs delivered to your door from Smoothie Box , with $22 off your first order! (These are affiliate links!)
More healthy sweet snacks
Fan of healthy sweet snacks? Check out this 50+ healthy sweet snacks that don't taste boring!
IF YOU MAKE THIS RECIPE, LET ME KNOW HOW YOU GET ON BY LEAVING A COMMENT AND RATING BELOW… AND DON'T FORGET TO SIGN UP TO RECEIVE ALL MY NEW RECIPES BY EMAIL!
FOLLOW ME ON FACEBOOK, INSTAGRAM, PINTEREST AND YOUTUBE.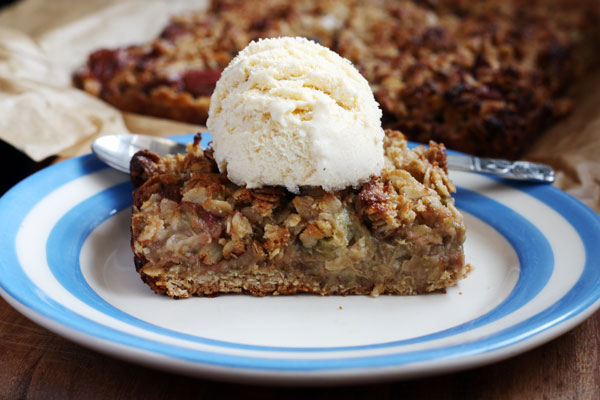 Healthy Oat Slice With Rhubarb And Ginger (Gluten-free)
If you've ever tried a fruit crumble or crisp, or enjoyed an oaty flapjack or granola bar, you'll love these oaty bars sandwiched together with fresh rhubarb. Perfect either cold or warm with custard, ice cream or cream.
Equipment (affiliate links)
Ingredients (UK/Australia? Click below for grams/ml)
For the rhubarb
4

full-size 'stalks' fresh rhubarb

chopped into 1-cm pieces

2

tablespoons

brown sugar
For the oaty mixture
3

tablespoons

butter

1/4

cup

brown sugar

3 1/2

tablespoons

clear honey

2 1/2

cups

gluten-free rolled oats*

1

cup

almond flour

1

teaspoon

ground ginger

custard

ice cream or cream, to serve (optional)
Instructions
Pre-heat the oven to 410F/210C and line a 8 x 8 inch pan with baking paper.

Heat the rhubarb and sugar in a large pan with 1 tablespoon water for 10 minutes until cooked down but with some pieces of rhubarb still whole. Set aside.

In another pan, melt the butter, sugar and honey, then take off the heat and stir in the oats, ground almonds and ginger until all the oats are well coated.

Spoon two thirds of the oaty mixture into the baking tray and press down well with the back of a metal spoon. Spread the rhubarb over the oats, then sprinkle the rest of the oaty mixture over the top.

Bake for 20 to 25 minutes or until the oats are golden brown. Leave to cool before cutting into slices or serve while still slightly warm with custard, ice cream or cream. Will keep in an air-tight container in the fridge for a few days.
Notes
*If you only eat gluten free, please check that the oats you use are in fact gluten free. In theory oats should be, but some brands can be contaminated with small amounts of gluten.
You could use another fruit instead of rhubarb, such as berries or nectarines/peaches, but don't add sugar or cook the fruit down first.
Adding a teaspoon of ground ginger gives a nice subtle taste of ginger. Add a little more ginger for a deeper gingery flavour if you like.
Nutrition
Calories:
284
kcal
Carbohydrates:
38
g
Protein:
6
g
Fat:
12
g
Saturated Fat:
3
g
Cholesterol:
11
mg
Sodium:
43
mg
Potassium:
178
mg
Fiber:
4
g
Sugar:
18
g
Vitamin A:
155
IU
Vitamin C:
2.1
mg
Calcium:
74
mg
Iron:
1.8
mg