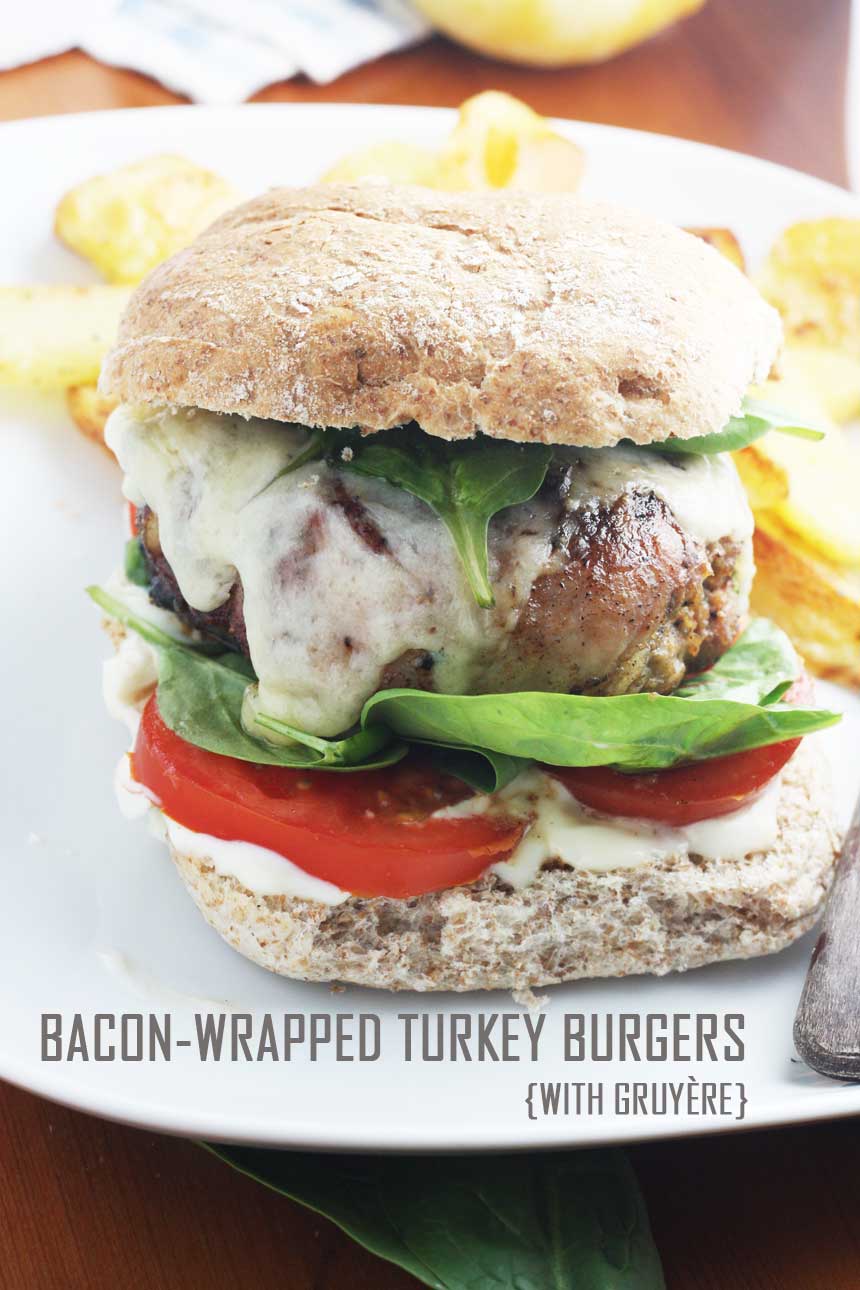 This past week was the week of 'Bonfire Night' over here in the UK.
Let me elaborate. Basically, in 1605, a very naughty man (to say the least) called Guy Fawkes plus friends plotted to blow up the Houses of Parliament. The wicked plan was foiled on the 5th November and huge bonfires were set alight on that night to celebrate. So today we still commemorate this every year with public bonfires and fireworks displays.
I remember loving this night when I was a child. We'd often go to an organised event, but also buy a box of fireworks for Dad to set off at home. Invariably most of the garden fireworks would splutter and splurt for a few seconds each before whizzing off in totally the wrong direction with a pathetic little scream. Not dangerous at all (hmmmm). We'd stand there in the freezing cold eating hot dogs and baked potatoes while we ooh-ed and ahhh-ed.
Now maybe my memory is not serving me very well, but I'm sure this evening (otherwise known as Guy Fawkes Night) only lasted the actual night of 5th November plus maybe the weekend either side if it happened to fall on a week night. I couldn't help noticing this year, though, that Bonfire Night seems to have turned into Bonfire Week. There have been so many fireworks night after night that it's sounded like World War Three has begun out there!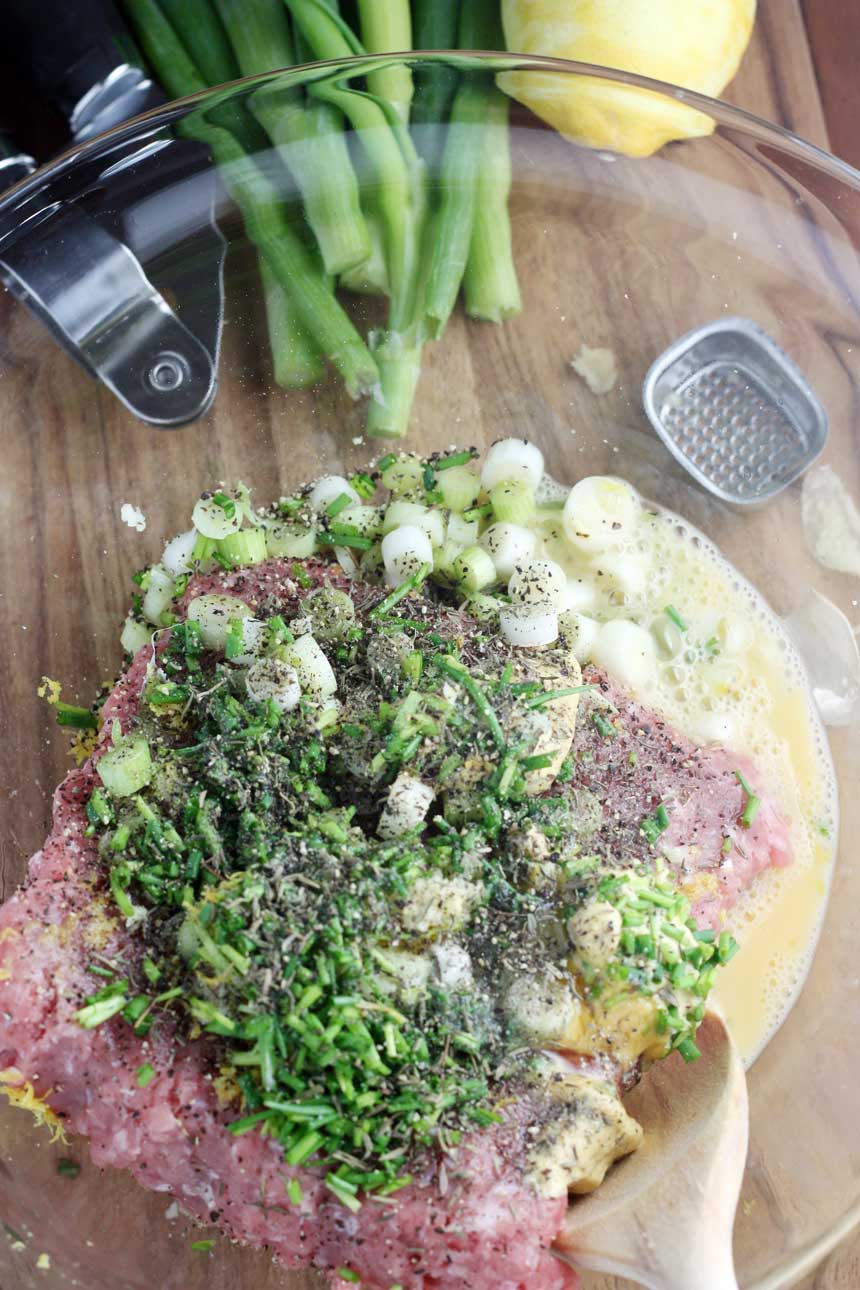 The same sort of thing seemed to happen with Halloween over here this year. As far as I remember, Halloween was never such a big deal when I was growing up. This year there were posters up everywhere announcing Halloween this and Halloween that, trick or treat goodies packs and piles of pumpkins being sold in shops and even elaborately decorated houses. And as for Christmas … yup, similar deal. While I was cooking these bacon-wrapped turkey burgers yesterday, no less than two Christmas films were on TV one after the other. Same this afternoon. I flicked on the TV as I sat down to write this and what should be on but … Polar Express. Erm, TV guys … did no one tell you it's only a week into November?
Not that I'm complaining about all this, you understand. Just an observation. And in any case, I suppose it's the perfect excuse to start acting all Christmasy myself at least a month too early. Christmas tree decoration shopping and glasses of mulled wine here I come!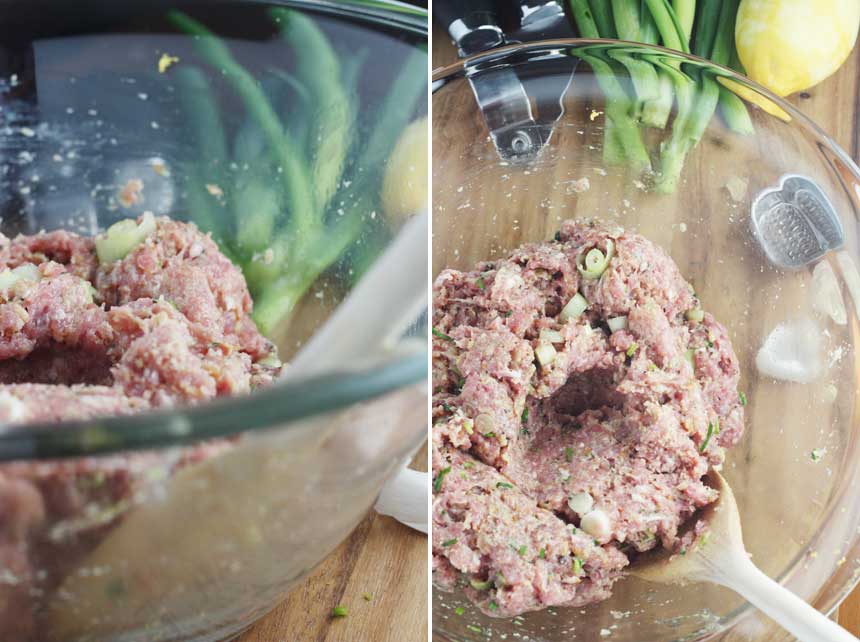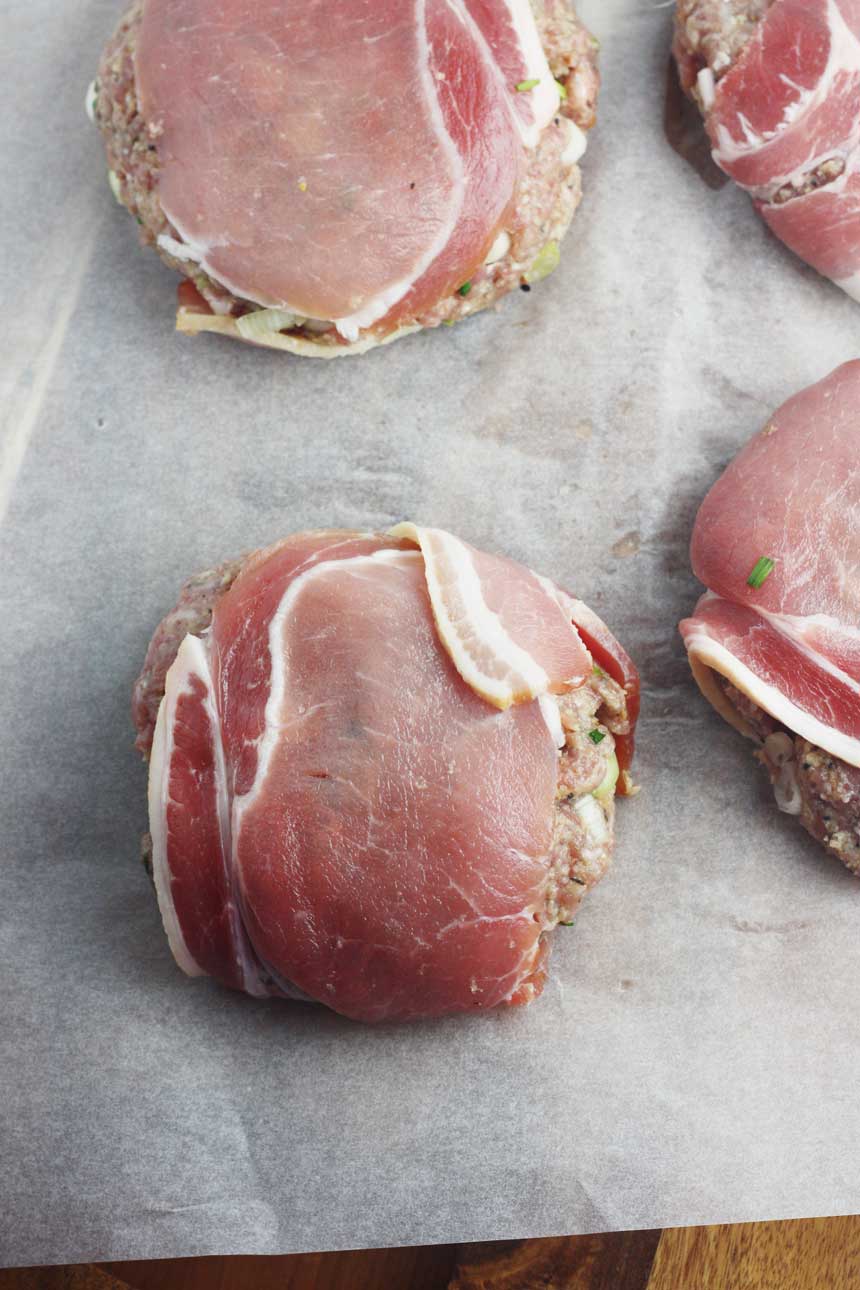 In the meantime, I thought I'd begin easing myself into the spirit of things by cooking up some turkey burgers! Burgers are really not something I make very often at all, much less turkey versions, but I must say I was really pleased with how these tasted. I started by mixing breadcrumbs, lemon zest, mustard, chives, garlic, spring onions, thyme, honey, salt and pepper and an egg into my turkey mince, then I shaped the mixture into burgers and wrapped a rasher of bacon around each. I pan fried them for five minutes or so on each side, then melted a strong and nutty Swiss Gruyère cheese over the top (under the grill/broiler to get it all nice and melty) before stacking them up in toasted burger buns with a little mayo, tomato and lettuce.
Served with some homemade chunky chips (or fries – whatever you want to call them … but anyhow, made as in this recipe), this was the tastiest meal I've had in a long while, and fabulous to cozy up with while watching inappropriately early Christmas movies!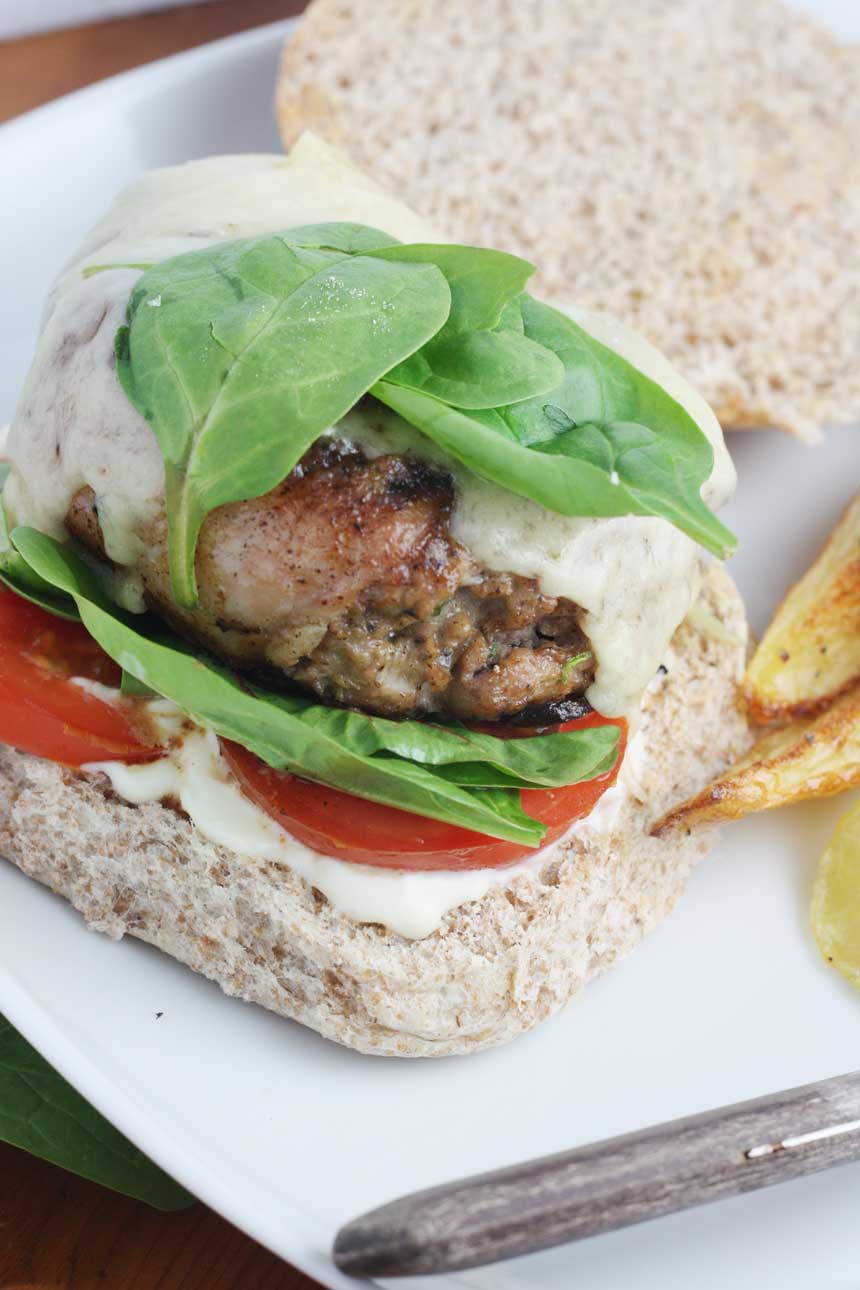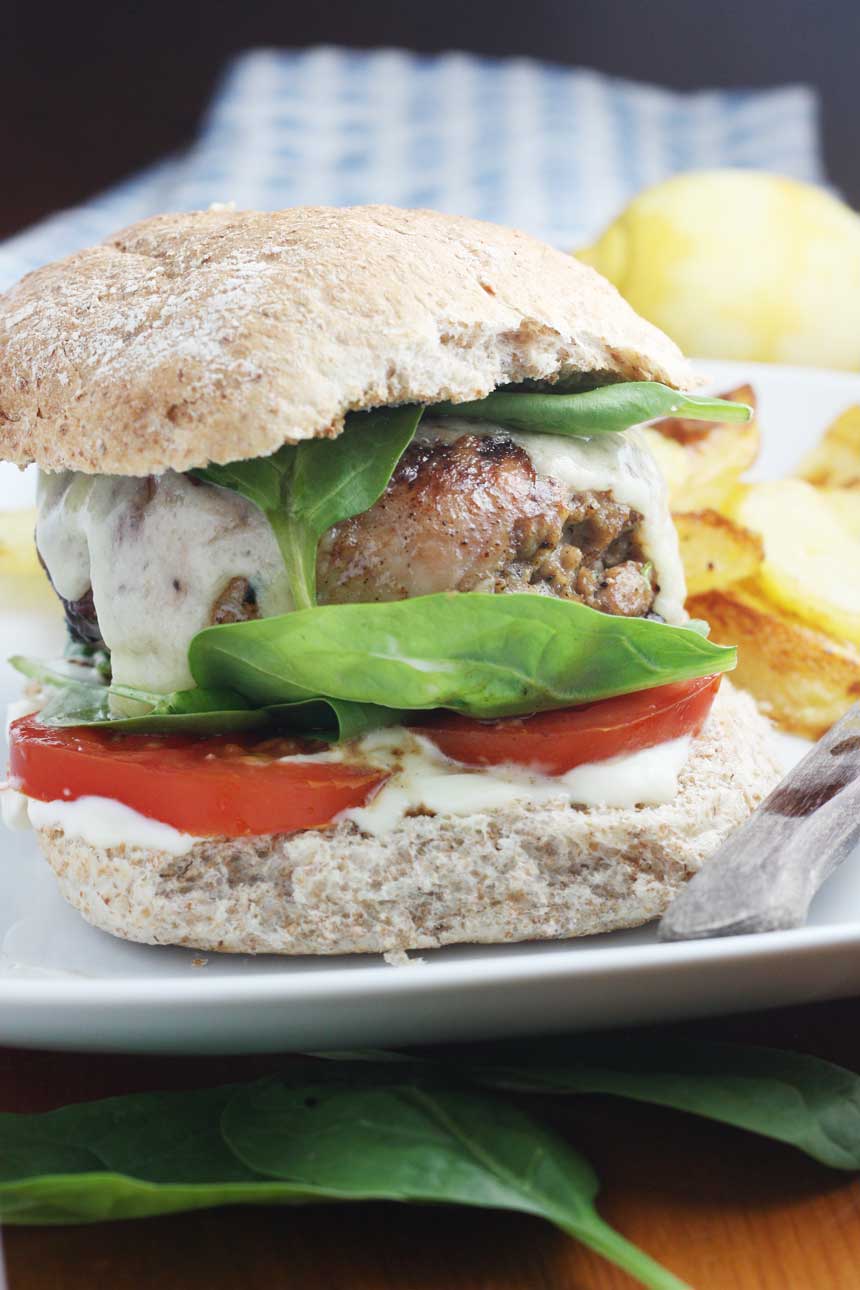 Just a few tips before I go so that you can get these burgers right if you give them a go:
If you have a choice in the supermarket, make sure you buy the slightly higher fat content meat – trust me, it makes for a much juicier, flavoursome burger! (against my better judgement, I chose 7% fat, but ended up not regretting it for a moment) I got this tip from the wonderful Nagi, owner of the equally as wonderful blog Recipe Tin Eats.
Don't make your burgers too thick. I did and it was a struggle to get them cooked through without over-cooking the bacon (although they still ended up delicious). About an inch or so thick is about right.
As usual when making burgers, chill your meat mixture for half an hour or so before trying to shape them. This will make them much easier to shape.
Make more than you need and freeze some raw patties – already wrapped in bacon – separated with and wrapped in greaseproof paper for your next burger craving.
Cook your burgers either in a skillet/frying pan or on a griddle pan on medium heat. This will ensure you don't burn your bacon too much. Don't press them down too much while cooking, either. You'll squeeze out all the flavoursome juices if you do.
Lightly toast your burger buns in the toaster while you're melting your cheese onto your patties under the broiler. This way, both will be ready at the same time and you'll get a lovely hot burger and bun.
So do you think people celebrate things in a more over the top way in your country now compared to the past? What about Christmas (if you celebrate it)? Are you an early indulger, or do you wait until well into December to start getting into the spirit of things?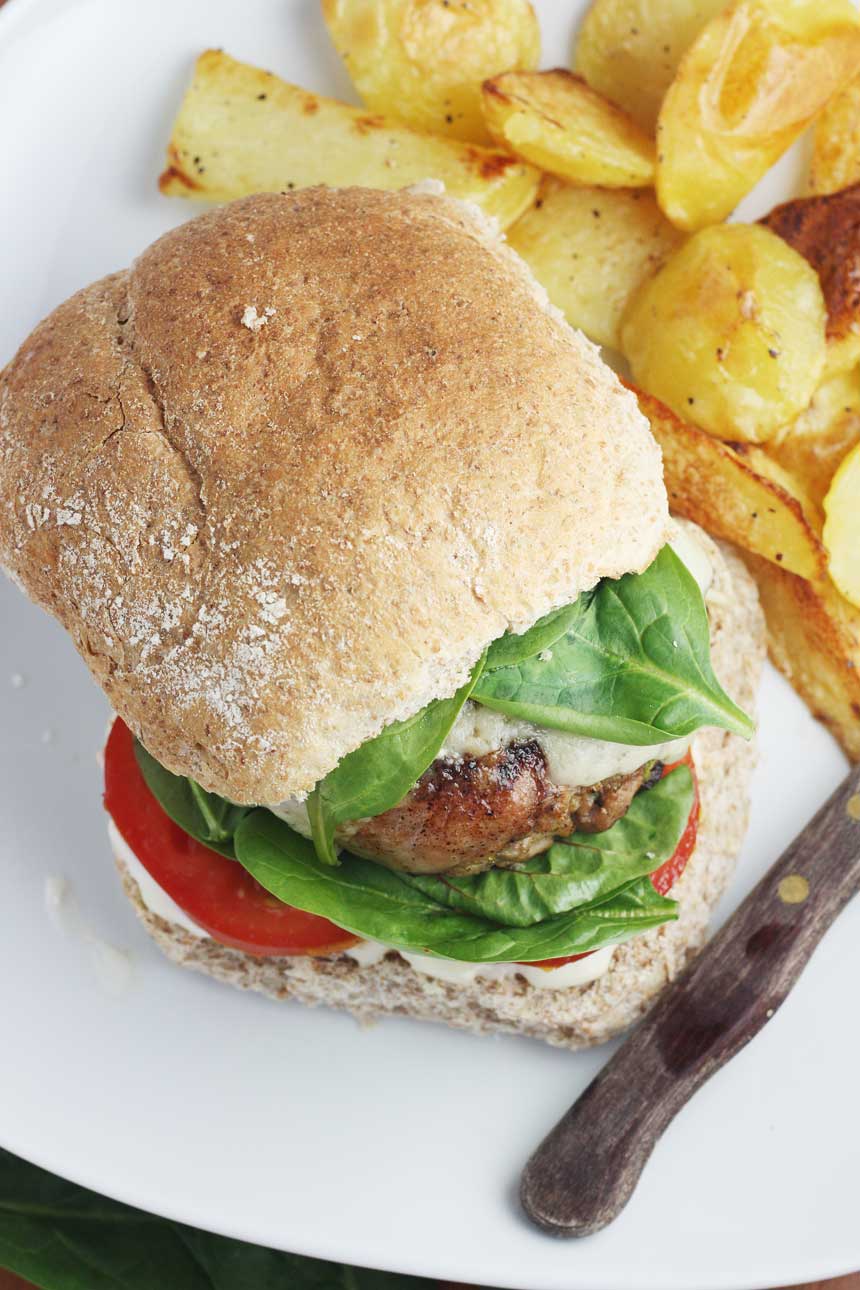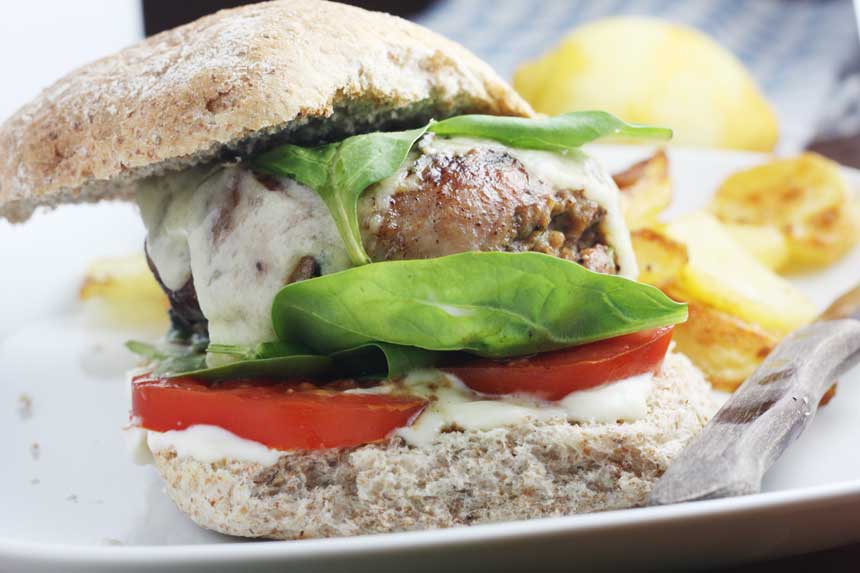 Bacon-wrapped turkey burgers with gruyère
Deliciously moist and flavoursome turkey burgers wrapped in bacon and topped with melted gruyère cheese. Served in a burger bun with mayo, lettuce and tomatoes = pretty much a perfect burger!
Ingredients (UK/Australia? Click below for grams/ml)
For the burger patties
17-18

ounces

minced turkey meat

breadcrumbs

I used 1 slice of wholemeal bread whizzed up in a mini food processor

zest of 1 lemon

small bunch of scallions/spring onions

finely chopped

2

garlic cloves

minced

2

tablespoons

chopped fresh chives

2

teaspoons

Dijon mustard

1

tablespoon

honey

1/2

teaspoon

dried thyme

1/2

teaspoon

each salt & pepper

1

egg

lightly whisked

bacon rashers

1 for each burger
To serve
1

thick slice of gruyère cheese for each burger

or tasty cheese of your choice

wholemeal burger buns

or buns of your choice

sliced tomato

lettuce/green salad leaves & mayonnaise

chunky chips

I used the recipe in this post
Instructions
Combine all of the burger ingredients well (either with your hands or with a wooden spoon) except the bacon, then cover and chill for at least 30 minutes in the fridge.

Shape the burgers into patties (about 1 inch thick), then wrap a rasher of bacon around each.

Heat up a skillet/frying pan or grill pan (medium heat), then fry the patties for 5 or 6 minutes on each side (or until cooked through - check by slicing part of the way into one burger).

Place a slice of the cheese on top of each patty, then place under the grill (UK)/broil (US) until melted. At the same time, lightly toast your burger buns in the toaster, then assemble your burgers. Start with a good squirt of mayonnaise on the bottom half of the buns followed by tomato, green leaves and finally your burger patty with the melted cheese on it. Top with the other half of the buns and enjoy!
Nutrition
Calories:
174
kcal
Carbohydrates:
4
g
Protein:
19
g
Fat:
9
g
Saturated Fat:
2
g
Cholesterol:
104
mg
Sodium:
335
mg
Potassium:
217
mg
Sugar:
3
g
Vitamin A:
170
IU
Vitamin C:
1.1
mg
Calcium:
27
mg
Iron:
1.4
mg
I hope you enjoyed this post! You can subscribe to receive posts directly to your inbox by entering your email address in the box below or at the top of the sidebar on the right.
You can also find more from Scrummy Lane on Facebook, Pinterest, Twitter and Instagram and follow me on Bloglovin! Thanks so much for reading!
*This post may contain affiliate links which means that if you click on a link and make a purchase I get a small percentage of the amount you spend. At no extra cost to you, of course! Thank you!*