If you love crispy roasted potatoes (that aren't fried), you've got to try these parmesan and garlic hasselback baby potatoes – baby roasted potatoes all prettied up and smothered in garlicky, cheesy heaven!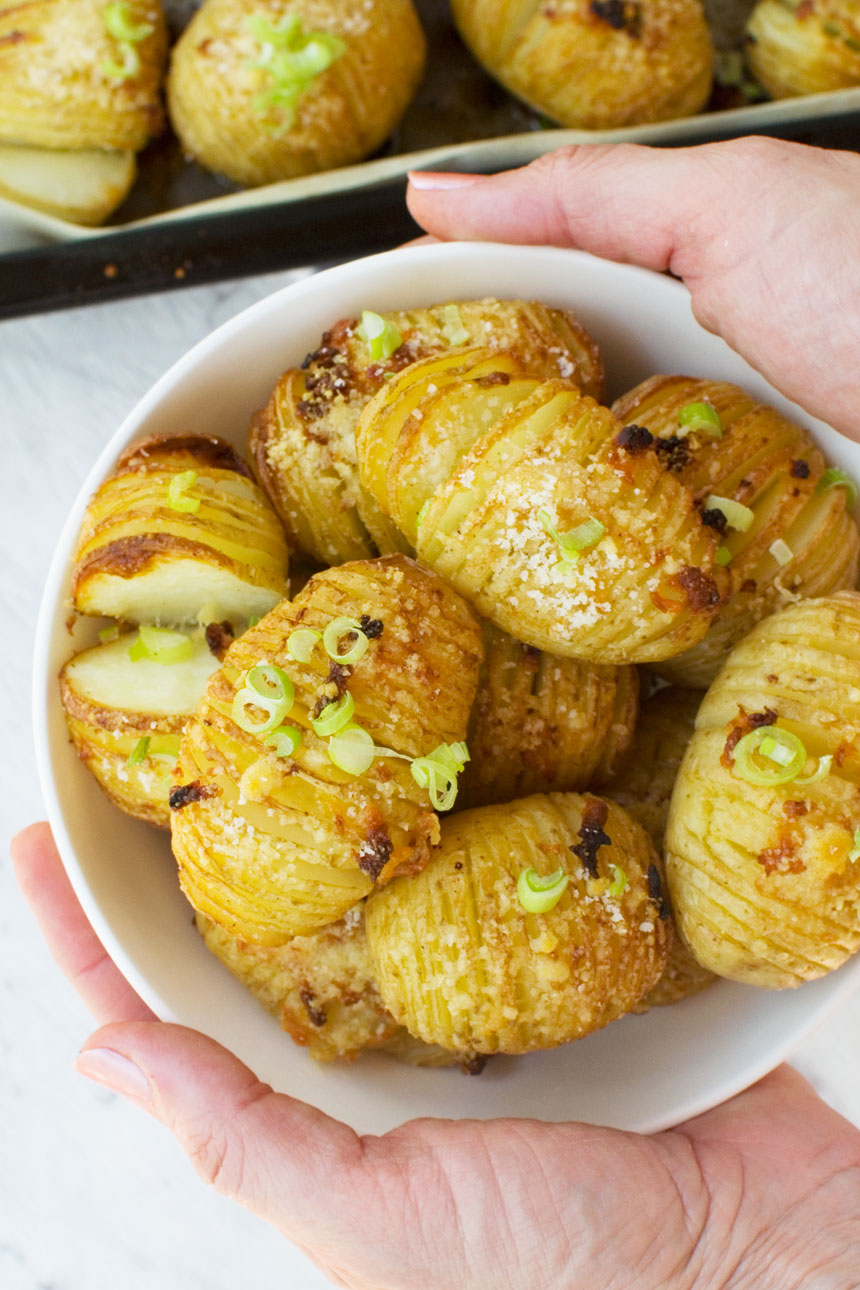 Easy, cute and impressive
Over the years I've collected some really good potato recipes to pull out of the hat for any occasion – and I love to share those with you!
My very favourite are these AMAZING Greek potatoes. If you haven't tried them, stop reading this post and go and read that one instead. Those potatoes will literally change your life.
But I'm a big fan of these cute parmesan garlic hasselback potatoes, too. Here's why:
They're cute and impressive, but easy to make. They're a fun side dish for a family dinner, but also fancy enough to serve at a dinner party.
They're golden and crispy on the outside and creamy and super tasty on the inside. The buttery, garlicky, cheesy goodness gets into all the grooves. It's crispy roasted potato heaven!
Looking specifically for baby or new potato recipes? Make these garlic parmesan hasselback potatoes and you won't be disappointed.
So what are hasselback potatoes, anyway?
Hasselback potatoes are a Swedish invention. Swedish recipes have the potential to be very delicious. Just try this 6-ingredient Swedish chocolate cake, and these copycat Swedish meatballs (aka Ikea meatballs!) to see what I mean!
The basic idea is that you make cuts all the way across the width of the potatoes. You slice deeply, but not all the way through.
Then you drench the potatoes all over with a mixture of melted butter, olive oil and garlic before roasting.
Sometimes they're known as hedgehog potatoes (one for the kids). Essentially, they're fancy baked potatoes – but with the addictive crispy edges of the most decadent fries.
Whatever you want to call them, they end up:
crispy
creamy
buttery
garlicky
cheesy
good looking (!)
In other words, heaven on a plate. Am I making you hungry yet?
What kind of potatoes should you use?
This mini hasselback potato recipe is perfect for when small potatoes (perhaps called baby or new potatoes where you live) are in season.
The waxier and creamy the potatoes are, the better. But you can use any kind of small potatoes that you don't have to remove the skins from before cooking.
In this recipe I've chosen to use mini potatoes for extra cuteness. But of course you can make hasselback potatoes with big baking potatoes too. Or how about hasselback sweet potatoes?
What ingredients you need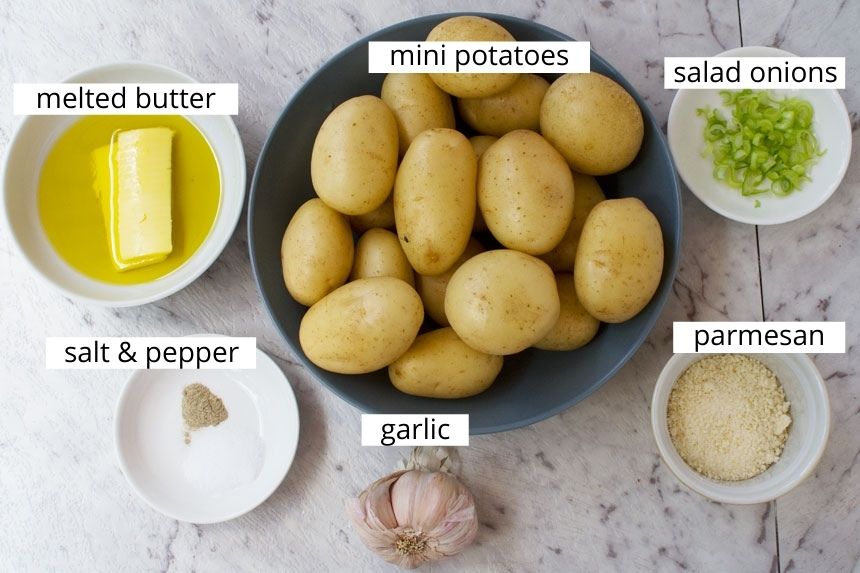 You only need 6 (or 7!) main ingredients to make these gorgeous baby hasselback potatoes.
How do you make hasselback potatoes?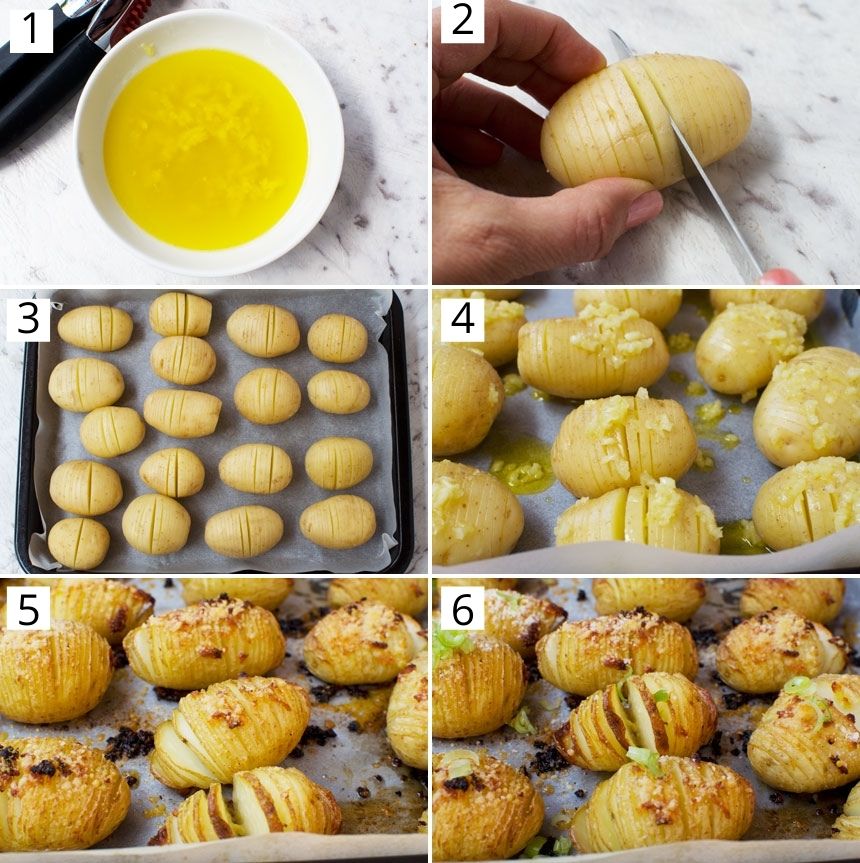 This is all you have to do:
Step 1: Make deep cuts all the way across each potato at 2 to 3mm intervals. Go quite deep.
Some people like to rest the potato on 2 chopsticks so that the knife doesn't cut all the way through. I don't mind if I cut all the way through 1 or 2 potatoes, though. I do it nearly every time I make them. Oops.
Pro tip: I find the easiest way to slice is to hold the potato tightly with one hand and slice from one end into the middle. Then I turn the potato around and start slicing from the other end.
step 2: Baste with a mixture of melted butter, olive oil and tons of garlic!
Step 3: Season and bake for 30 minutes.
Step 4: Baste again – I use the juices in the pan first – and sprinkle with lots of parmesan cheese. Bake for around 25 to 30 minutes longer.
If you want to be really fancy, you can buy a hasselback potato cutter to help you slice the potatoes!
How long do you bake hasselback potatoes for?
You need to put aside a good 10 to 15 minutes to slice all the potatoes hasselback-style. Once you've done the first few you'll get faster at it!
The rest is really easy. The cooking time can vary a little according to your oven and the exact size of the potatoes. I find roasting for 25 minutes, then basting, then roasting again for another 25 to 30 minutes to be about right.
You'll find that the potatoes start to fan out as they bake during the second half of the cooking time! All the better to get the flavours right inside!
Of course you can make hasselback potatoes in the traditional way with bigger potatoes instead. If you do, make sure you increase the cooking time to about an hour and 10 minutes.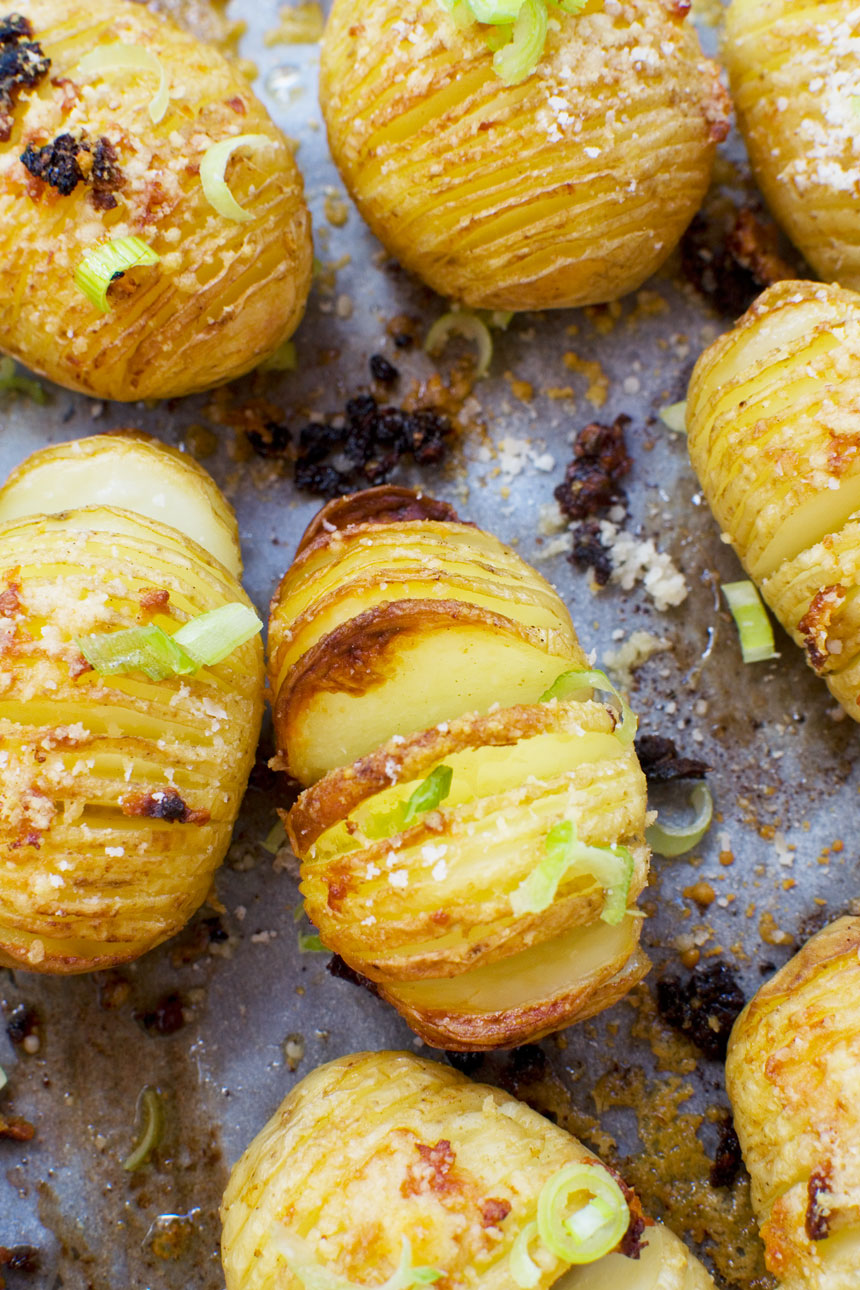 Or make them in your air fryer
If you have an air fryer, you'll be pleased to know it's ideal for cooking mini hasselback potatoes in!
The main advantage of air fryer hasselback potatoes is the faster cooking time. I air fry my mini potatoes for around 30 to 40 minutes. Cooking time may vary according to the model you have, but it's easy to 'see' when they're done. Alternatively you can just taste one and see!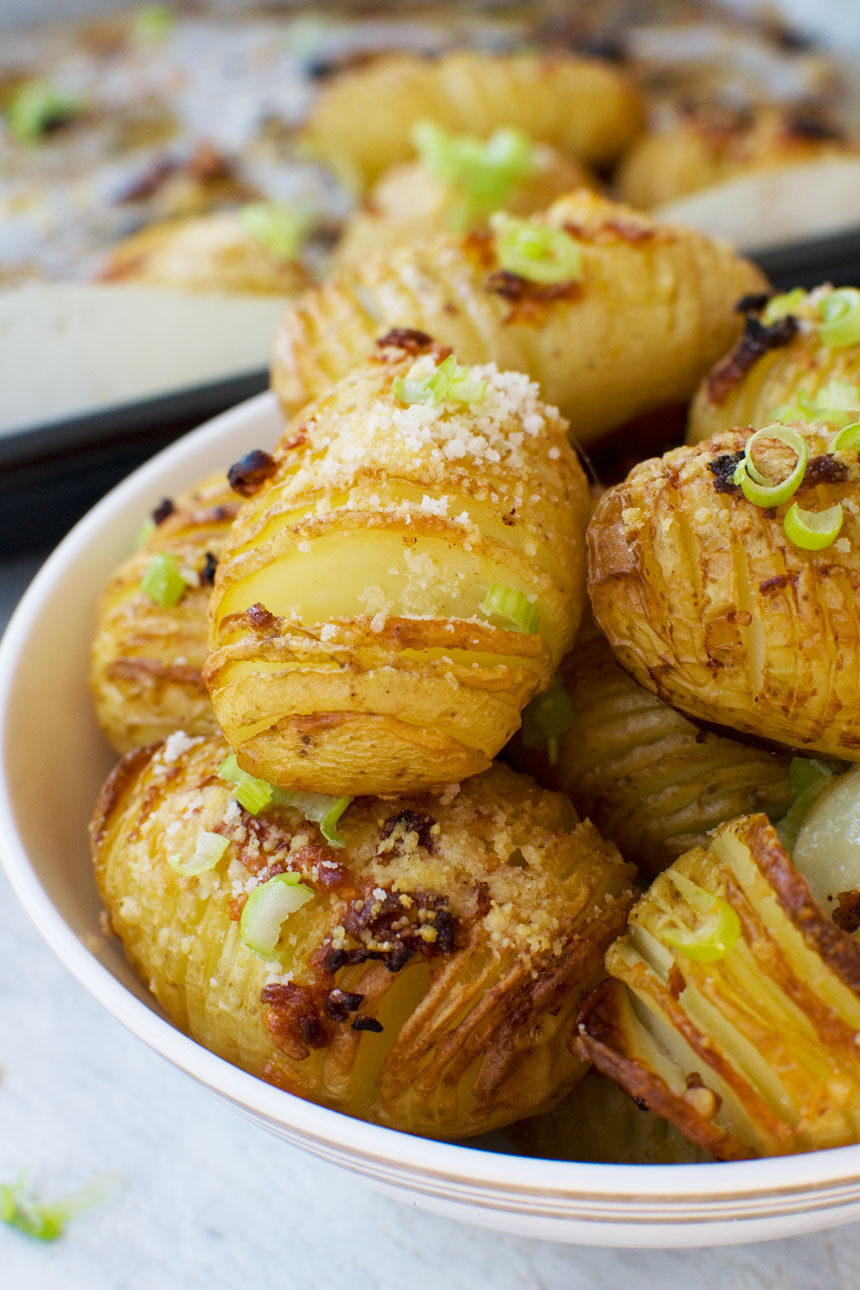 Ways to vary them
You can't go wrong with garlic and parmesan potatoes. But here are some alternative flavour combinations, just in case you'd like to switch things up a bit!
– paprika & thyme (just baste with the garlic butter and oil first, then sprinkle generously with paprika and thyme when you baste the potatoes again)
– plain salt & pepper, then serve with sour cream or Greek yoghurt and a big sprinkle of chives
– sprinkle over a little cumin, a pinch of cayenne pepper (just a pinch!) & fresh coriander at the end. You could even add a dollop of lime-infused Greek yoghurt to serve, too …mmmm!
– simple rosemary and black pepper
As mentioned before, you can also make larger hasselback potatoes. Or even hasselback sweet potatoes, which are particularly yummy!
How do you serve hasselback potatoes?
I'm pretty sure these mini parmesan and garlic hasselback potatoes would be very popular if they were handed around as party appetizers. Sprinkle with fresh herbs or finely chopped salad onions (spring onions!). Add small bowls of sour cream, or any kind of dip.
We usually eat them as a side dish with simply cooked meat or fish, and vegetables or salad. They're really delicious with these easy baked chicken thighs.
If you're a vegetarian, they're also great with this popular baked eggplant with tomato and feta.
Feed me more potatoes!
These crispy smashed air fryer potatoes are also Greek style, but ready a little quicker than the potatoes above. You can make them in your regular oven if you prefer.
IF YOU MAKE THIS RECIPE, LET ME KNOW HOW YOU GET ON BY LEAVING A COMMENT AND RATING BELOW… AND DON'T FORGET TO SIGN UP TO RECEIVE ALL MY NEW RECIPES BY EMAIL!
FOLLOW ME ON FACEBOOK, INSTAGRAM, PINTEREST AND YOUTUBE.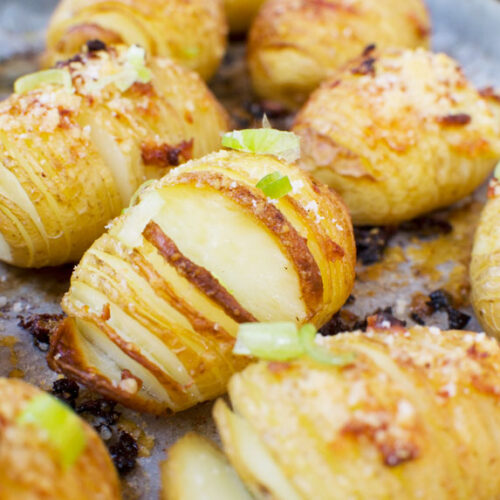 Mini parmesan and garlic hasselback potatoes
If you're a fan of crispy potatoes, you're going to love these super cute mini parmesan and garlic hasselback potatoes. Make them as a treat for the family, or serve them at your next dinner party.
Ingredients (UK/Australia? Click below for grams/ml)
2

pounds

small potatoes

1 kilo or 18-20 small or 'new' potatoes

4

garlic cloves

crushed (4-5 cloves)

3

tablespoons

olive oil

1

ounce

butter

melted (about 2 tablespoons or 30 grams)

½

teaspoon

salt

⅛

teaspoon

pepper

1

ounce

parmesan cheese

grated

fresh herbs or finely sliced salad onions/spring onions to garnish

basil, chives, parsley, mint etc. (optional)
Instructions
Pre-heat oven to 400F/205C and prepare a large baking tray (you can line it with baking paper for easier cleaning if you like).

Cut each potato into slices about 2 to 3 mm apart, without cutting all the way through. Place on a baking tray.

Melt the butter in a small dish in the microwave (30 seconds should do it) or in a small saucepan if you prefer. Add the olive oil and garlic and stir together.

Baste each potato well with the butter/olive oil/garlic mixture with a pastry/basting brush (make sure you scoop up plenty of the garlicky bits!). Sprinkle with the salt and pepper. Bake for 25 minutes.

Take the potatoes out of the oven and baste again with the leftover olive oil/butter/garlic mixture as well as the juices in the pan. Then sprinkle most of the parmesan over them, poking plenty down into the 'gaps'. Then return to the oven for about another 25 to 30 minutes or until the potatoes are cooked through, golden and crispy.

Garnish with a bit more parmesan and the fresh herbs (if you like).
Notes
How to slice the potatoes: Hold one end tightly and slice at even(ish) 3 to 4mm intervals. I find it easier to turn the potato around and cut from the other end once I've reached the middle.
What kind of potatoes to use: You can use any small potatoes for this recipe. I find the creamy, waxy ones get the best results, but don't worry too much because sometimes it's difficult to know what kind of potato you're buying!
You can even use bigger potatoes. If you use large potatoes however you'll need to increase the cooking time a little, to around 1 hour and 10 minutes.
Nutrition
Calories:
176
kcal
Carbohydrates:
1
g
Protein:
3
g
Fat:
18
g
Saturated Fat:
6
g
Cholesterol:
20
mg
Sodium:
456
mg
Potassium:
12
mg
Fiber:
1
g
Sugar:
1
g
Vitamin A:
232
IU
Vitamin C:
1
mg
Calcium:
89
mg
Iron:
1
mg