Everyone loves a good blueberry muffin, don't they? Enter these super light, moist and airy blueberry muffins made with protein-packed Greek yogurt. And as they're relatively low sugar, you can enjoy one (or two – why not?) guilt free!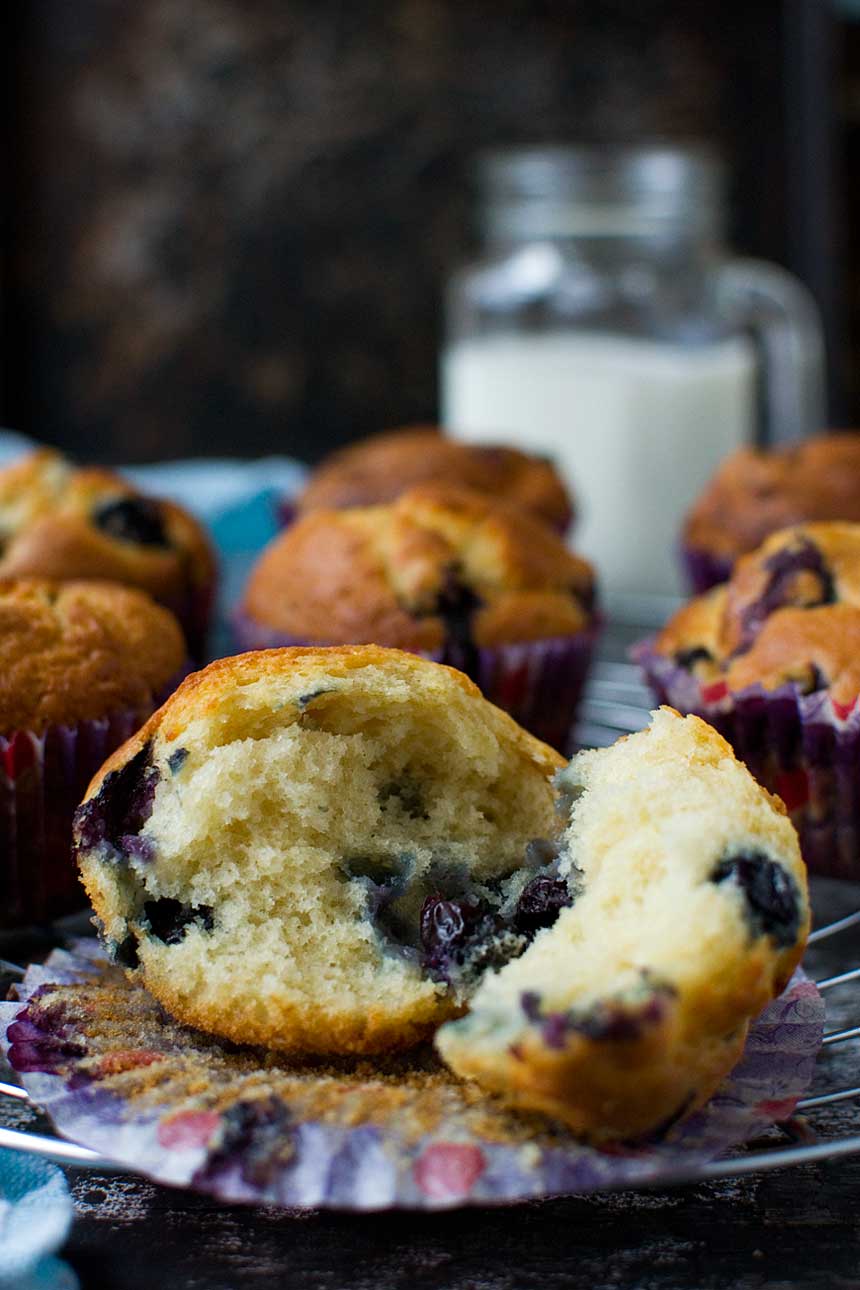 Get ready for the best blueberry muffins you've ever had
I received a rare compliment indeed from Mr. Scrummy the other day when I made these Greek yogurt blueberry muffins.
He said "As you know, I'm not much of a muffin man, but I think this was the best muffin I've ever tasted. It was perfect."
Now maybe this isn't saying much coming from someone who isn't really a fan of muffins (how can that be?!), but all the same I'm going to take it as a compliment, and as an extra vote of confidence that these are good – really good.
This was one of those recipes that I was expecting to have to experiment with for a while to get right. But to my surprise it actually worked out perfectly first time. I think the thing with muffins is that there is a bit of wiggle room with the ingredients. If you add a tiny bit more or less liquid or sugar, for instance, you'll still likely get a decent result, so long as you follow some simple guidelines.
UPDATE 2019: Just take a read through of the comments below. Many readers have made adaptations and substitutions and these muffins always seem to turn out well!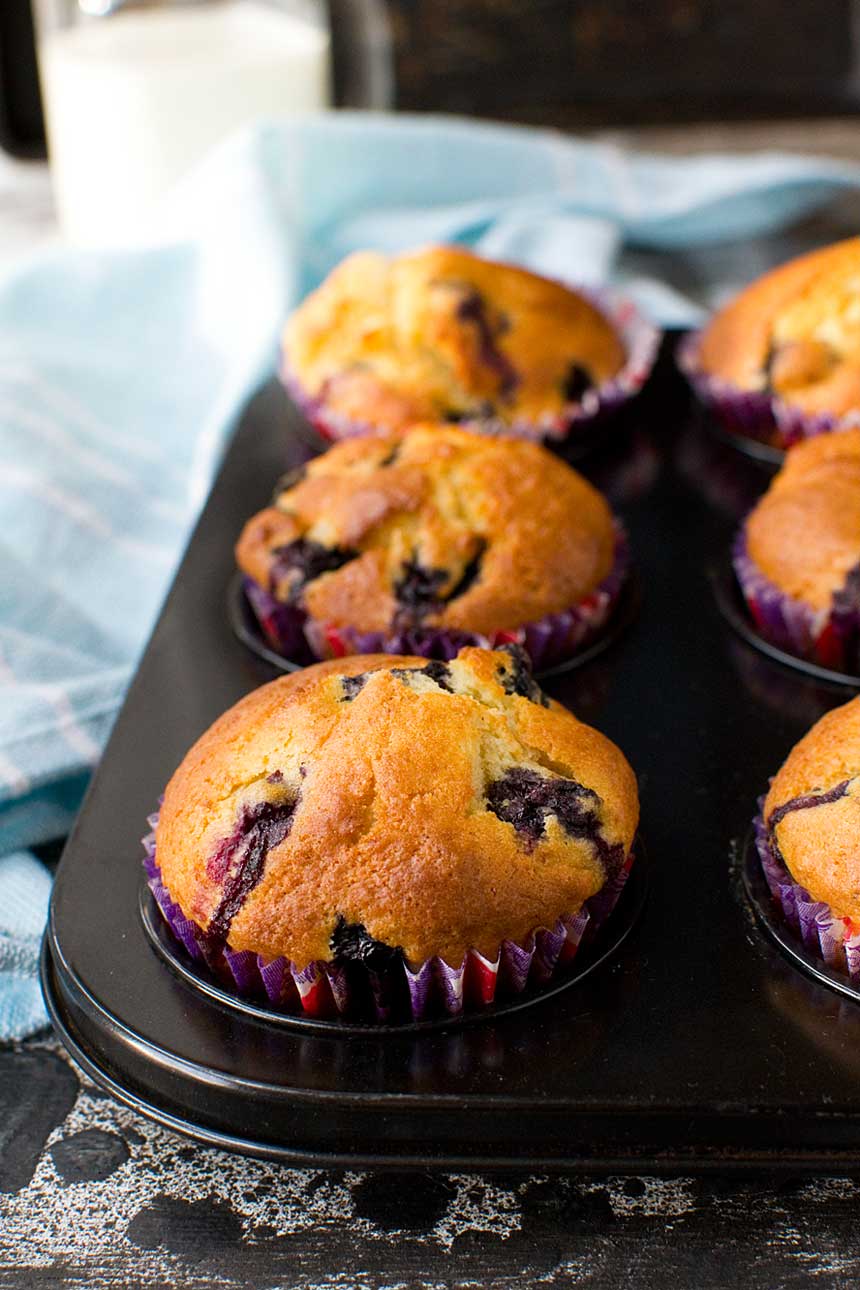 What guidelines, you ask?
Well, nothing earth-shattering – but there's nothing wrong with a little reminder!
I think the keys to success for these particular Greek yogurt muffins are the following:
1 Don't forget the 'basic' rule of muffin making i.e. keep the dry and wet ingredients separate until the last minute, then mix until barely combined. A few lumps are fine. You just don't want to overmix, get the gluten in the flour all excited and make your muffins tough.
2 Add a tiny bit of milk (about a quarter cup) to thin out the mixture a bit. Using loads of Greek yogurt is great, but it's thick, so we need to keep the consistency right!
3 As well as using baking powder, add a half teaspoon of bicarb of soda to balance out the acid in the yogurt and make sure you get a good rise and colour on your muffins.
4 Add PLENTY of blueberries so there are blueberries in every bite. Mmmm!
5 Erm… don't forget the oil! I made these again last weekend and ended up having to make them twice as I forgot to add the oil the first time. I wondered why the batter was so dry and added more milk before I realised what I'd done. Duh. Can I still blame baby brain?
I really enjoyed making these muffins because, well… BLUEBERRY MUFFINS!!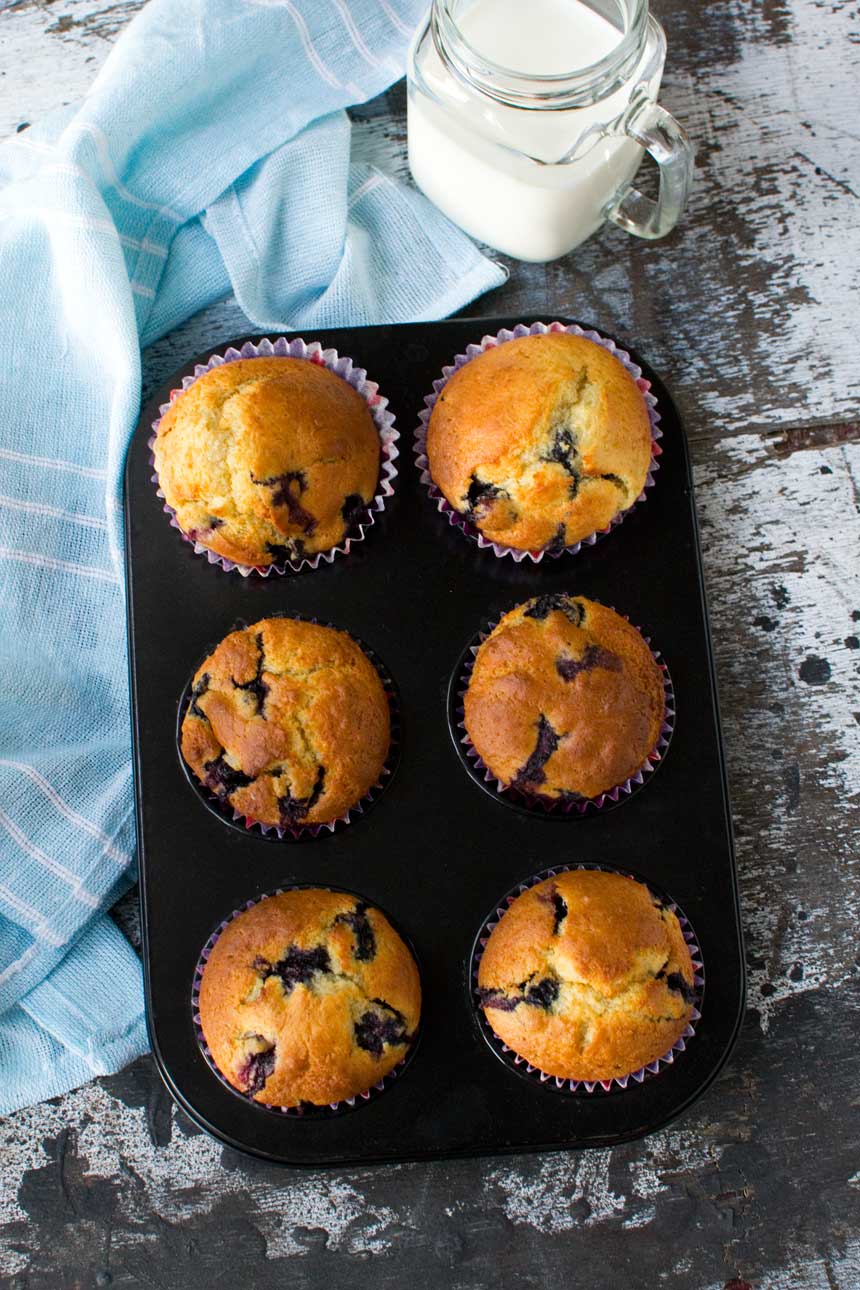 Not quite skinny muffins!
But also… I have to say it's pretty satisfying enjoying a truly light and airy muffin that also happens to be fairly light on sugar. And if calories happen to be important to you, each of these muffins only contain about 270 calories.
I'm not sure if that makes them 'skinny' muffins, but then again Starbucks' skinny blueberry muffins contain 317 calories, so I'll leave you to decide.
It's also very satisfying being able to cook up a batch of these so quickly. As they contain oil not butter (I used a combination of canola and olive, but any is fine), there's no creaming or even melting involved.
Just throw everything together (but not too quickly, in case you forget an ingredient like I did a few days ago!), pop into muffin cases, and bake.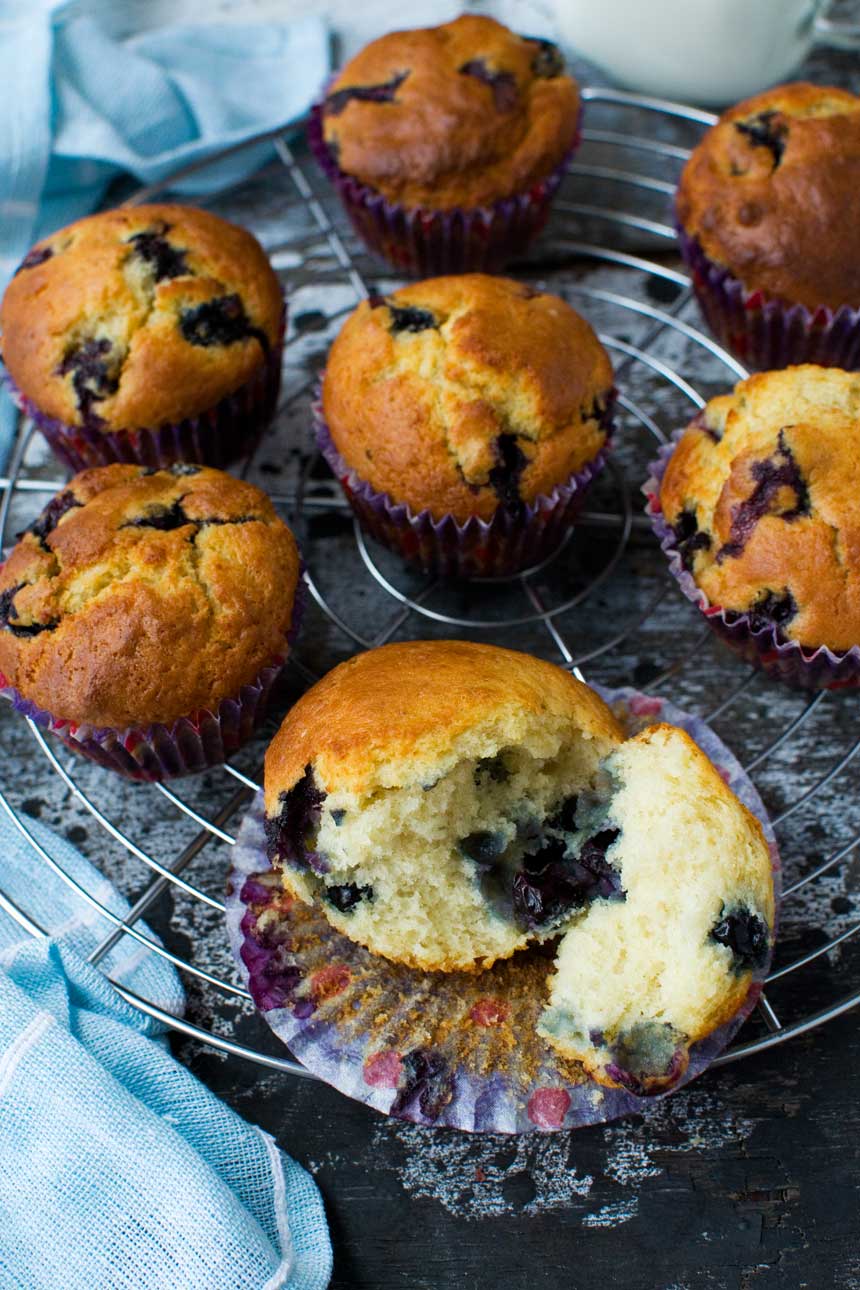 How long do these blueberry muffins last, and can you freeze them?
I thought I'd have to freeze some of these muffins as we wouldn't be able to eat them all before they went past their best, but no. I just ate the last one 4 days after baking (sorry not sorry, Mr. Scrummy!), and it was still light and moist. Although I do find they don't last quite as long in the summer.
And when they truly are on their last legs, just pop them in the microwave for about 15 seconds before eating. Spoon over a little extra Greek yogurt (why not?) and enjoy!
But you can freeze them of course, if for some bizarre reason you can't eat them all in a few days. Just make sure you cool them completely, then store in freezer bags for up to 3 months!
Update: October 2018
These Greek yogurt blueberry muffins have proven so popular (and I still make them ALL THE TIME) that I decided to post a chocolate chip version!
You can find my recipe for Greek yogurt choc chip muffins (also fairly low sugar) here. Enjoy!
I've also added a how-to video to this post (scroll down to below the recipe, or see top of post on desktop). You'll see that I'm making the chocolate chip muffins in the video, but the method and ingredients for this blueberry muffin recipe are exactly the same. Just switch the chocolate for blueberries!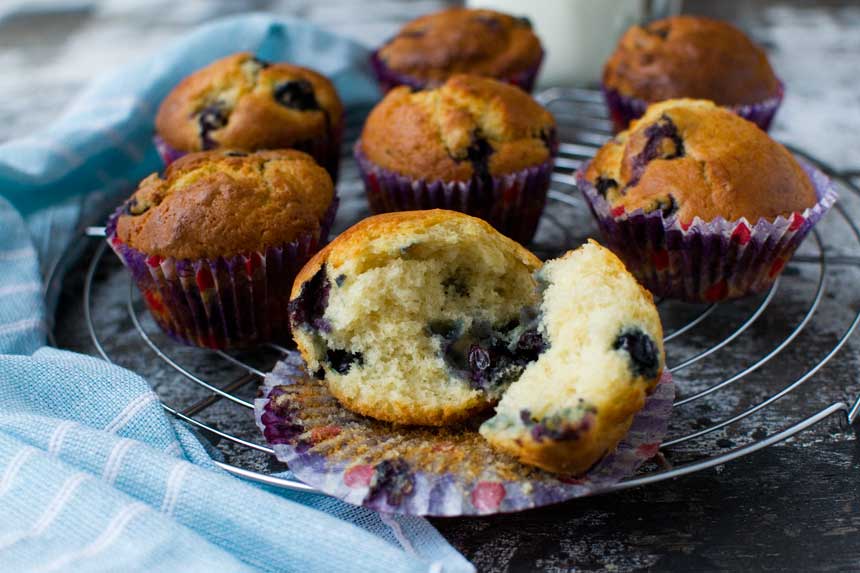 Greek yogurt blueberry muffins (low sugar recipe)
Light, fluffy and pretty low calorie blueberry muffins. And they couldn't be easier - just throw the wet ingredients into the dry, stir, and bake!
Ingredients (UK/Australia? Click below for grams/ml)
2½

cups

plain flour

1

tablespoon

baking powder

½

teaspoon

bicarbonate of soda

½

cup

sugar

(heaped)

½

teaspoon

salt

2

eggs

lightly beaten

⅔

cups

oil

(I used a mixture of canola and olive, but any is fine. Add a little more milk if the mixture still seems too thick)

1

cup

Greek yogurt

¼

cup

milk

1½

cups

blueberries

extra sugar

for sprinkling (optional)
Instructions
Preheat the oven to 190C/375F.

Combine the flour, baking powder, soda, sugar and salt in a large bowl.

Combine the eggs, oil, yogurt, and milk in another bowl or jug.

Add the wet ingredients to the dry. Stir until just combined. Fold in the blueberries. Add a tiny bit more milk if the mixture still seems too thick (the consistency of the batter can vary depending on which brand of yoghurt you use). You want the batter to be a soft dropping consistency.

Spoon the batter into muffin cases placed in muffin pans (you can fill almost to the top). Sprinkle a little extra sugar (white or brown) over the top of the muffins, if you like, then bake for 17 to 20 minutes or until risen and golden and a skewer pushed into the centre comes out clean.

Cool on a wire rack, then store in an air tight container.
Notes
Sugar content
These are NOT like the super sweet blueberry muffins you usually find in cafes and bakeries. If you have a sweeter tooth and think you'd prefer them a bit sweeter, simply sprinkle a bit of extra sugar over the top of your muffins before baking. Brown sugar works well!
Batch size
Although I've said this recipe makes 12 to 14 muffins, it really depends on the size of your muffin cases! I've made just 10 in big muffin cases, and a lot more in smaller ones.
Getting your batter just right
I find that sometimes my batter is a bit thicker than other times, depending on which brand of yoghurt I use. If the mixture still seems a bit thick to you (you want it to be a soft dropping consistency, but not too runny) just add a bit more milk until it's thinned out a bit.
The result will still be good if your mixture's too thick, but I find the muffins end up looking better if it's exactly the right consistency!!!
Cooking time
And as for cooking time... although I usually bake my muffins for 17 to 20 minutes, sometimes they take longer to cook if they're bigger.
One time I made some really big ones and they took a good 10 minutes longer to bake. Just keep checking with a skewer every few minutes if you don't think they're done after 20 minutes.
A final note on substitutions/variations!
This is now one of my oldest and most successful recipes!
I still make these blueberries regularly - at least once a month. We all love them!
So we can safely say this is a tried and tested recipe. I hope you like it as much as we do.
The greatest thing about these blueberry muffins is that no matter what substitutions or adaptations you make, they seem to come out well. Take a read of the comments below to see the different ways readers have adapted them.
It really is hard to get them wrong!
Nutrition
Calories:
272
kcal
Carbohydrates:
32
g
Protein:
5
g
Fat:
13
g
Saturated Fat:
1
g
Cholesterol:
28
mg
Sodium:
65
mg
Potassium:
183
mg
Fiber:
1
g
Sugar:
11
g
Vitamin A:
60
IU
Vitamin C:
1.8
mg
Calcium:
77
mg
Iron:
1.5
mg