This 10-minute hoi sin beef and noodles dish is so easy it's really more of an idea than a recipe. You can cut a few corners and still end up with a healthy, freshly-prepared home-cooked meal.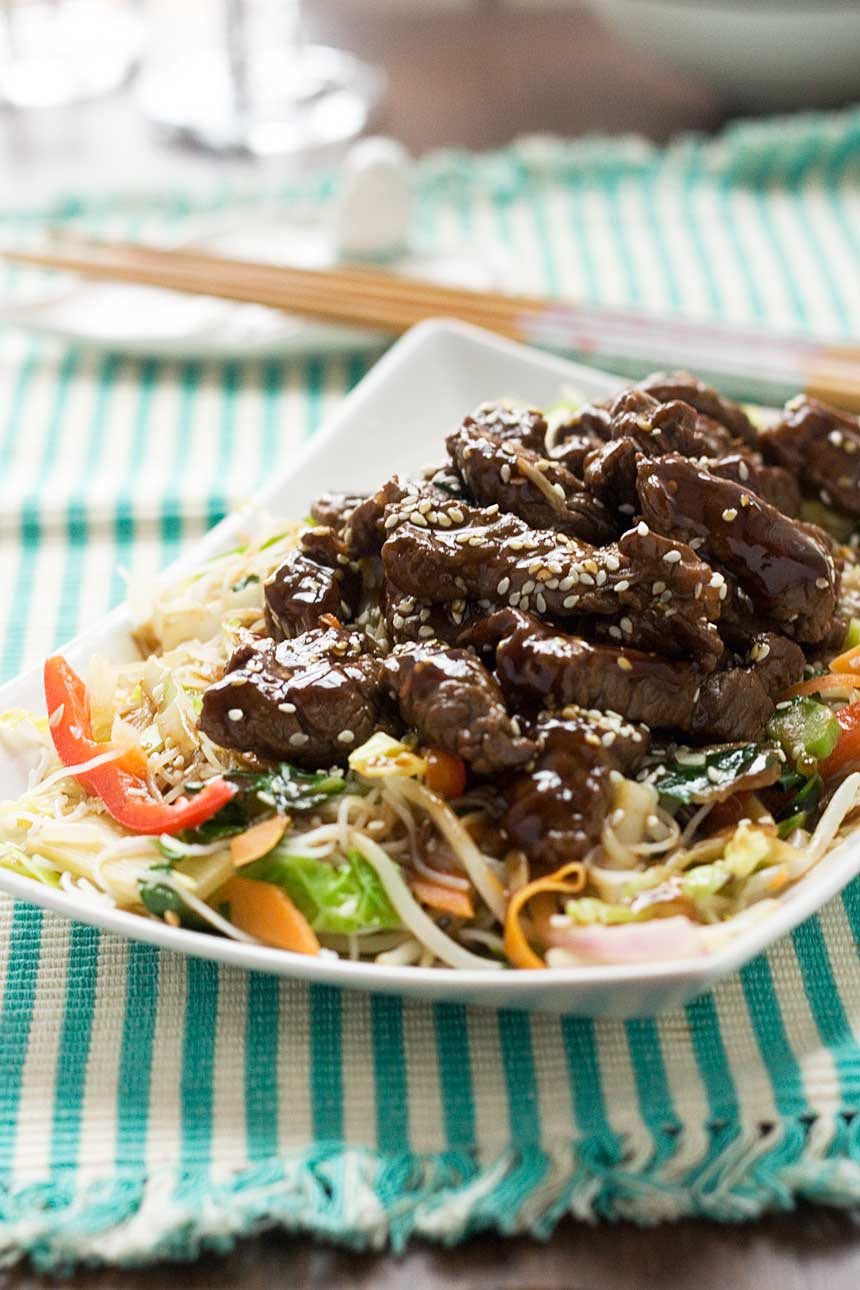 I've probably (OK then, definitely) become a little lazier lately when it comes to cooking meals for myself and Mr. Scrummy. For instance, this was me the other day when shopping for this hoi sin beef and noodles recipe: "Hmm, I need some stir-fry veggies – is that a packet of ready-prepared on special offer? Oh and it's got water chestnuts and beansprouts in it – bonus!" Into the shopping basket they went along with a bag of straight-to-wok noodles for two.
Until fairly recently, I used to feel a little like I SHOULD or even HAD TO chop, whisk, wash or whatever absolutely every element of a dinner myself to feel like it was a good one. It probably came from my time living in Greece where convenience foods aren't so much of an option.
But really, Helen … why? Seriously, get over yourself. I've come to realise that there's no shame at all in grabbing a couple of ready-chopped or portioned this or that to help yourself out on a busy day.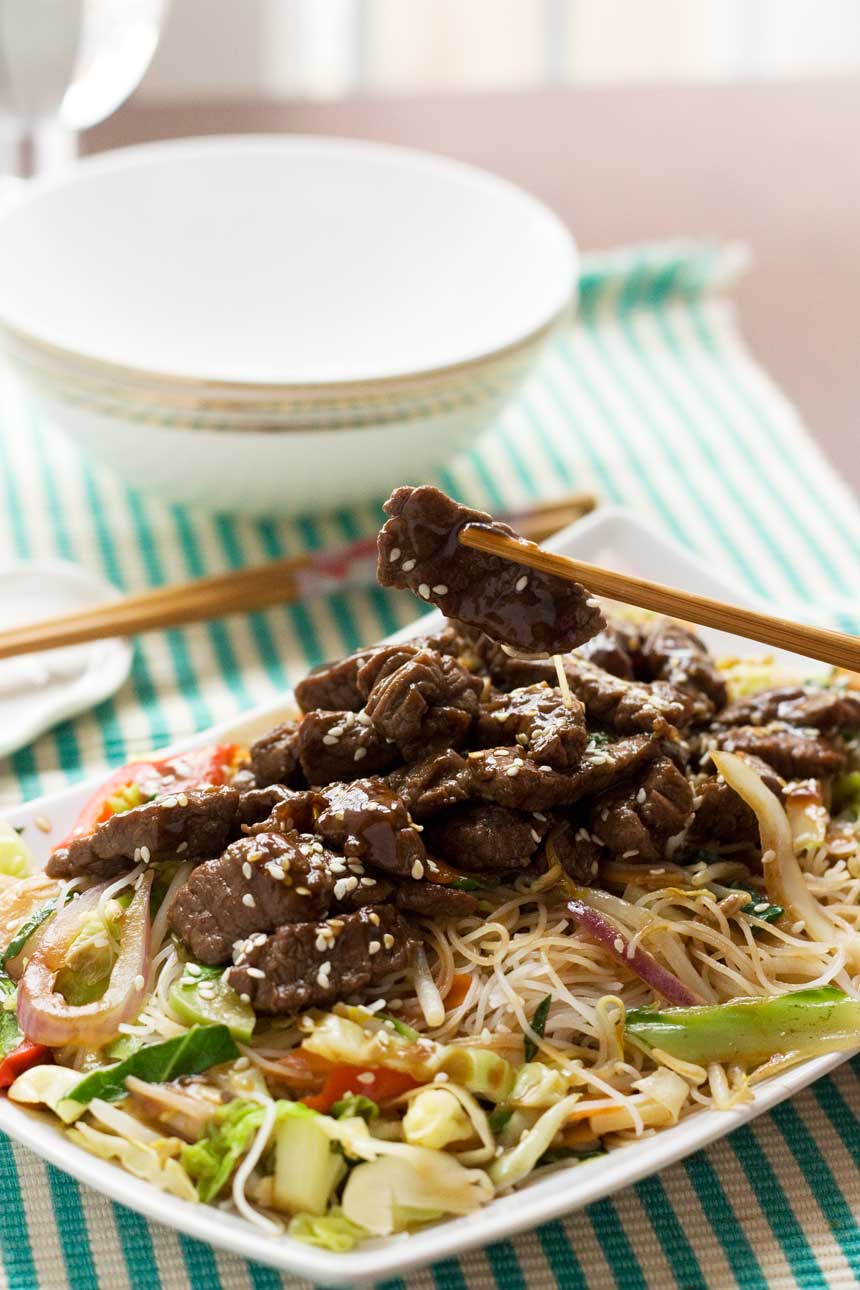 So if you cut a few corners by buying ready prepared veggies and/or noodles (heck, even ready chopped steak if you like, although personally I stopped short at that!) this meal seriously takes ten minutes to get on the table. The sauce is just plain old hoi sin sauce with a little water, so you whisk that up then prepare your noodles and stir-fry your veggies and put them aside. You stir-fry your beef in a hot wok for, literally, 1 minute (any more and you'll end up with tough meat), then add your sauce and bubble for barely half a minute more.
And … done. Just layer your noodles and veg in your dishes and top with the beef and sauce and a sprinkling of sesame seeds if you have them.
Now you might remember how saucy Mr. Scrummy is from this sticky banana and caramel pancakes post, so I made double the amount of sauce that most similar recipes seem to call for. That was about right for us as hoi sin is a pretty strong flavour, but you might even want to serve up a bit more sauce (just microwave for 20 or 30 seconds and serve alongside in a little dish) for drizzling just in case you end up with a few dry noodles at the bottom of the dish (horror of horrors).
This is just a really basic recipe, obviously, but you can 'jazz it up' a bit if you like by frying a bit of grated ginger with a small finely chopped chili before you add the beef. But with or without the extra heat and spice, I really hope you try this idea soon!
And of course you don't have to be as lazy as me – it's totally fine to chop your own veggies and cook your noodles if you prefer. You will still amaze your family/friends/dog by how fast you get that mighty tasty plate of food on the table! 🙂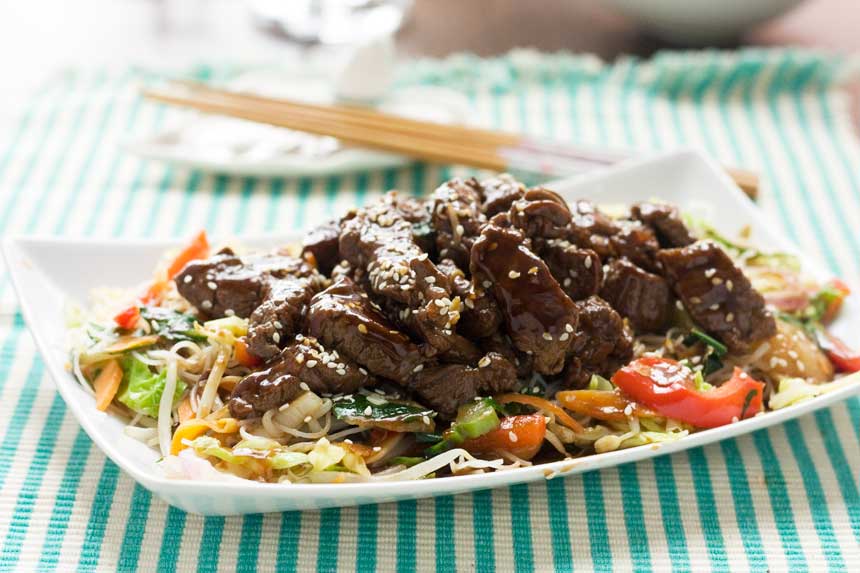 10-minute hoi sin beef and noodles
Everyone loves stir fries, don't they? They are usually pretty fast and easy to make, of course, but this hoi sin beef and noodles gives 'fast and easy' a new meaning! Ready in only 10 minutes!
Ingredients (UK/Australia? Click below for grams/ml)
8

ounces

rice or egg noodles

I used fresh rice noodles

10.5

ounces

packet of stir-fry vegetables

see note below

8

ounce

rump steak

or any steak of your choice, sliced into about 1cm-wide strips

4

tablespoons

hoisin sauce

mixed with 4 tablespoons water (see note below)

sesame seeds for sprinking
Instructions
Prepare your noodles according to the packet instructions, then tip into a large bowl and cover with foil to keep warm.

Meanwhile, heat a large drizzle of oil in a wok or deep frying pan and stir-fry your vegetables for 3 to 5 minutes until tender. Toss them with the noodles.

Add another large drizzle of oil to the pan and stir-fry the beef on a high heat for 1 minute. Add the sauce and let bubble with the beef for 20 to 30 seconds longer (no more or the beef will overcook).

Serve the noodles and veggies out into bowls, then top with the beef and sauce. Sprinkle the beef generously with sesame seeds and serve a little more sauce on the side if you like (see note below).
Notes
Make sure you chop your beef before you start cooking so it's all ready to go!
My packet of vegetables included onion, cabbage, peppers, carrot strips, water chestnuts, beansprouts and a Chinese vegetable that I don't know the name of 😉 But, of course, chop your own veggies if you prefer!
Make a little extra sauce for drizzling if you like. Just mix together a bit more hoi sin sauce and water, microwave for 20 to 30 seconds and serve in a little pot with a spoon.
Nutrition
Calories:
836
kcal
Carbohydrates:
114
g
Protein:
44
g
Fat:
22
g
Saturated Fat:
8
g
Cholesterol:
165
mg
Sodium:
669
mg
Potassium:
934
mg
Fiber:
10
g
Sugar:
10
g
Vitamin A:
7630
IU
Vitamin C:
15.5
mg
Calcium:
95
mg
Iron:
5.9
mg

You can also find more from Scrummy Lane on Facebook, Pinterest, Twitter and Instagram and follow me on Bloglovin! Thanks so much for reading!
*This post may contain affiliate links which means that if you click on a link and make a purchase I get a small percentage of the amount you spend. At no extra cost to you, of course! Thank you!*