Do you bore yourself with your lack of 'pre-dinner nibble' imagination when you have guests over? I certainly do, so I thought I'd replace those dull dishes of crisps & nuts with something a bit more impressive … these easy puff pastry 'palmiers' stuffed with tasty sun-dried tomatoes, parmesan & fresh rosemary. Mmmm!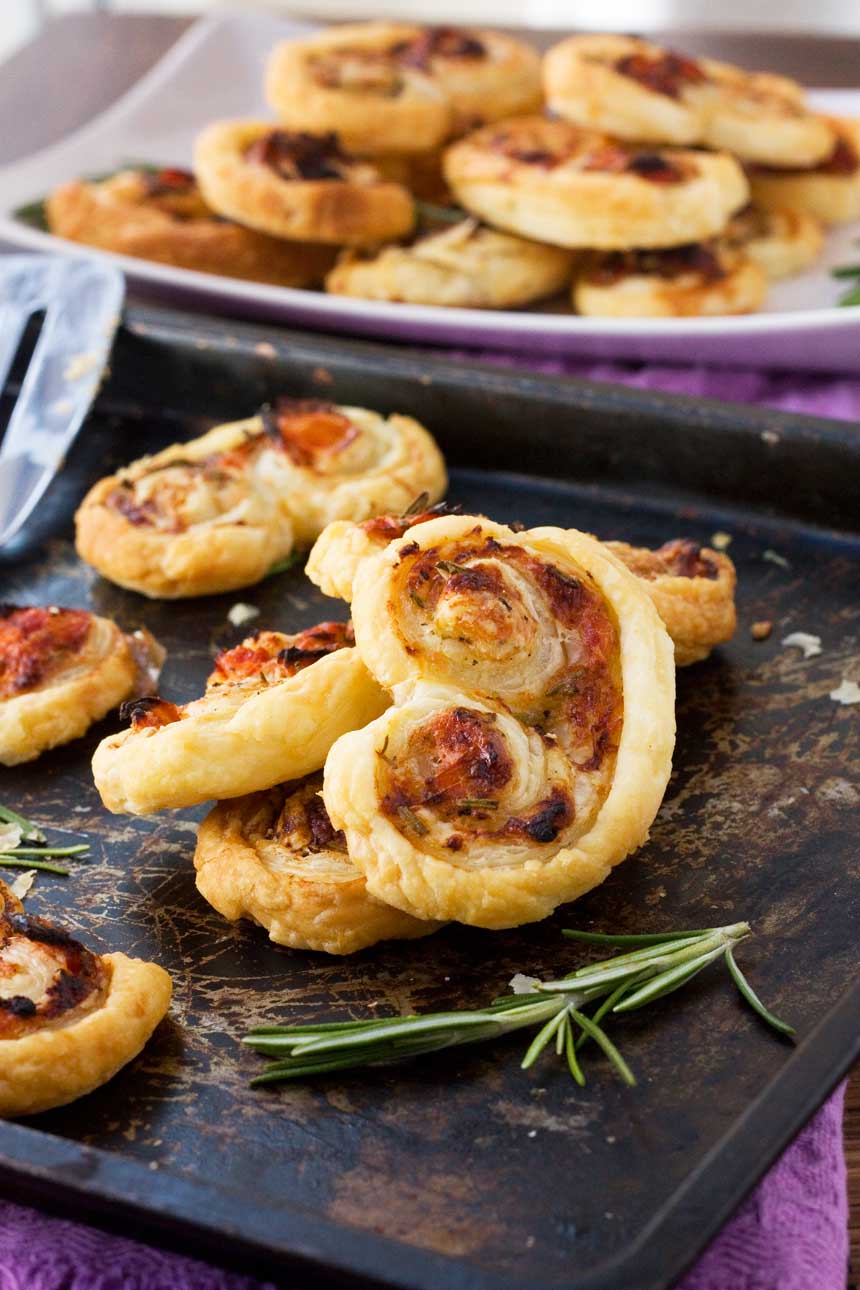 One of the things I thought that the Australians were really good at when I lived there recently was chips 'n' dips and 'nibbles' before dinner. They love 'em and have all sorts of different kinds like little rice crackers, different kinds of fancy breadsticks, pots of stuffed olives and loads of interesting hummus-type dips. It's really hard not to eat a few too many and end up spoiling your appetite!
Over here in the UK we're pretty boring about this kind of thing and you won't usually get more than a few crisps or maybe if you're extra lucky some mixed salted nuts. If that sounds a bit rude of me to say so, then let me assure you that I'm no better myself. I will usually just plonk down dishes of said crisps or nuts to have with drinks before dinner if I have guests over. The shame!
I suppose we could blame the better weather over there. After all, if you're going to sit around at BBQs every summer weekend, you need plenty of interesting pre-dinner nibblies. 😉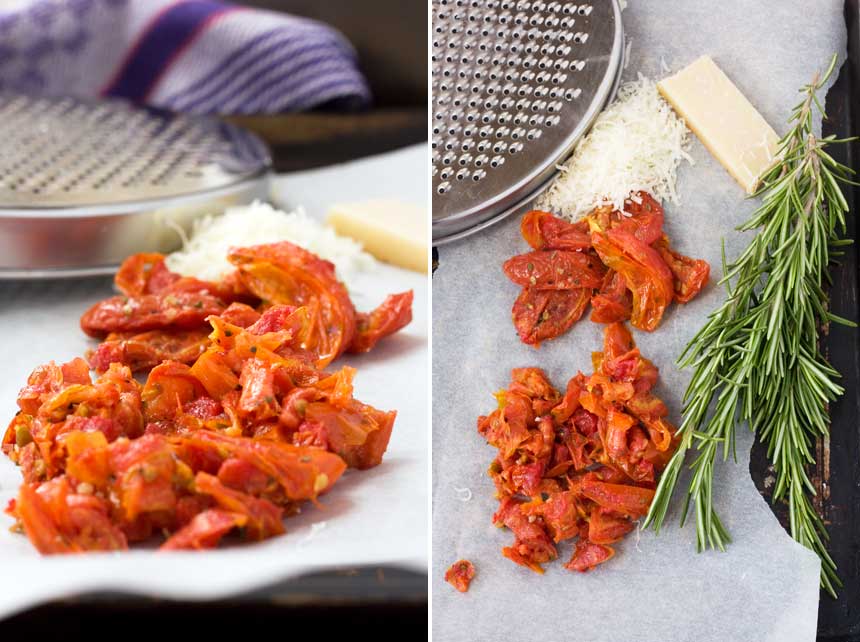 Whatever the reason, I thought these cute little savoury puff pastry palmiers would be perfect for spicing up my pre-dinner offerings at my next dinner party! And the great thing about them is that they not only take mere minutes to put together, as you use a whole sheet of ready-rolled puff pastry, but you can make them, put them on a baking sheet, then pop them in the fridge until your guests arrive. When you hear the door-bell ring, you can pop them in the oven and hey presto, 10 minutes later you've got warm, cheesy, tomato-y little fresh pastries for your guests to nibble on until dinner's ready.
These are nothing more complicated than two or three ingredients sprinkled generously over puff pastry and then rolled up tightly from both of the long sides so that they meet in the middle. You end up with a long roll of pastry that you then slice, like a sausage, in about 1cm-thick rounds. Pop on a baking tray, brush with a little egg, then bake.
Silly me fully intended to take a picture of the long roll before I cut it into rounds, but totally forgot in my excitement to get them into the oven. Sorry! (when I make them again I'll take a photo and pop back here and post it!) Hopefully though the recipe explains clearly enough how to do the rolling in part. It isn't complicated to understand – promise!
Although I chose to make sun-dried tomato, parmesan & rosemary palmiers this time, you could of course choose other flavours. And really the possibilities are endless. How about olives, oregano & feta? Or bacon, thyme & cheddar? Pesto & prosciutto? I could go on and on!
Hmm, any tips before I leave you with the recipe? Let's see … oh yes, pop the rolled-up pastry roll in the fridge for half an hour so that it's easier to slice through. And of course you can freeze any uncooked palmiers until you want to eat them. Just carefully place them in containers with the layers separated by baking paper and then cook straight from frozen when you want fresh palmiers – just give them a few extra minutes in the oven.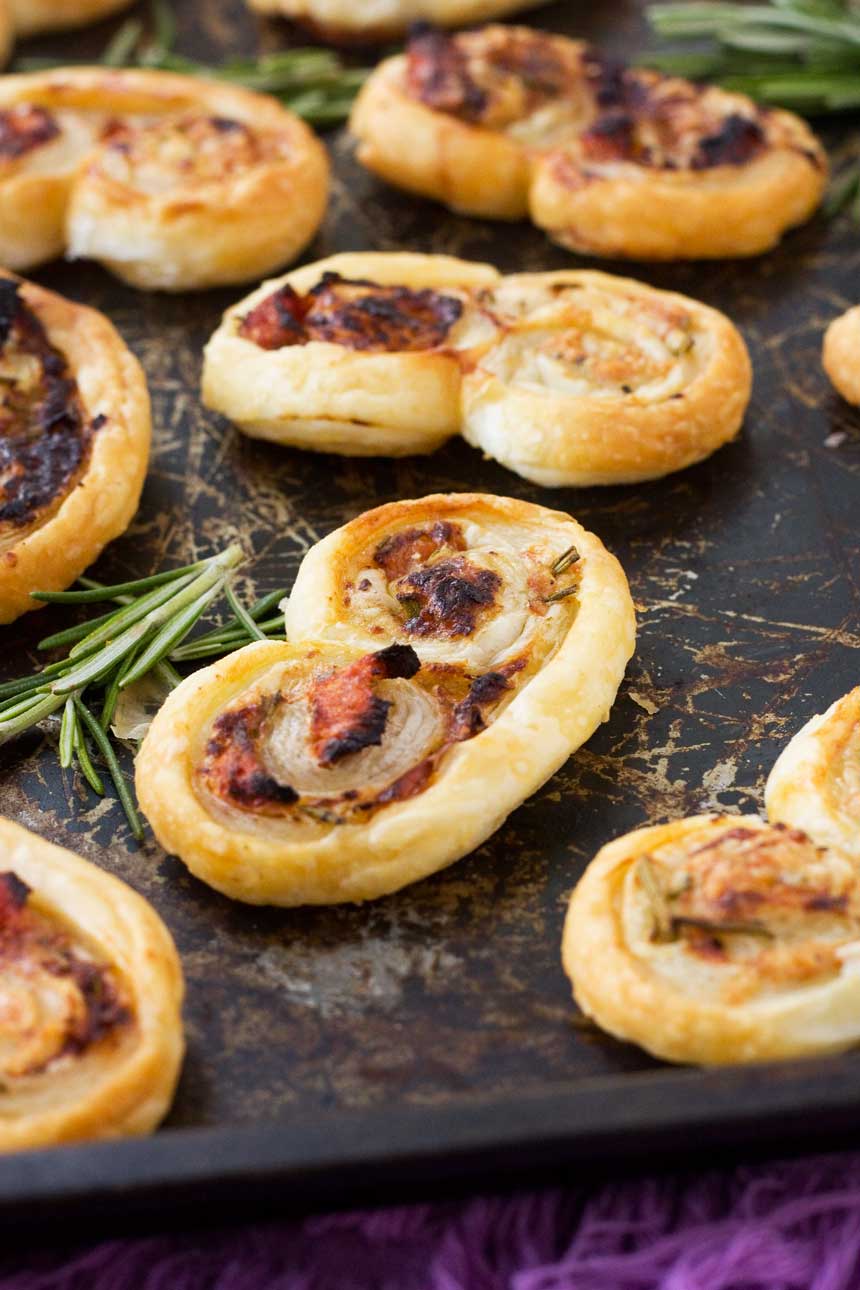 So I guess this means goodbye oh-so-boring pre-dinner crisps … hello much-more-interesting palmiers. What lucky guests you'll all have at your next dinner party!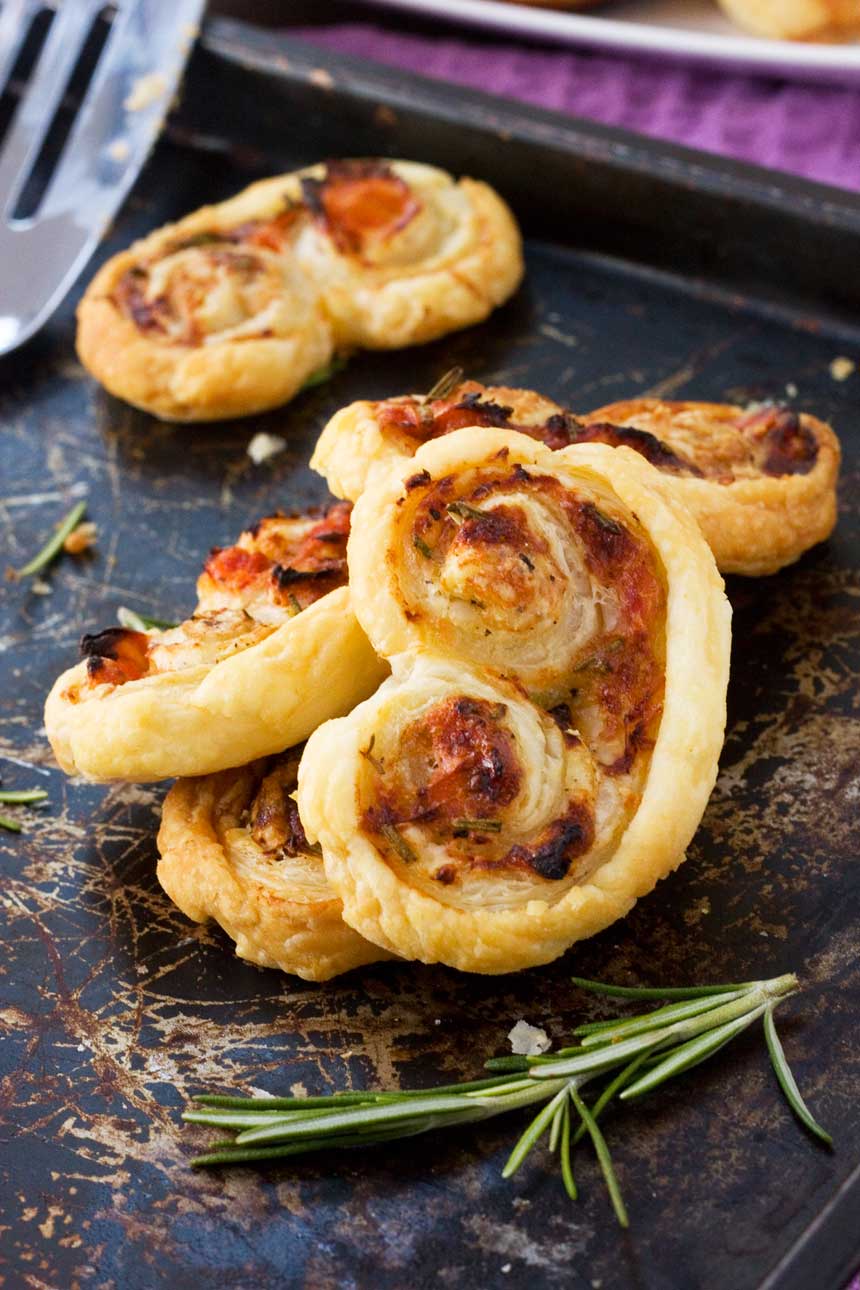 Sun-dried tomato, parmesan & rosemary palmiers
Say goodbye to boring 'crisps & nuts' nibbles when you next have guests over and hello to these tasty puff pastry palmiers stuffed with sun-dried tomatoes, parmesan & fresh rosemary!
Ingredients (UK/Australia? Click below for grams/ml)
1

sheet ready-rolled puff pastry

the one I used was 375 grams/13 ounces – see notes below*

a bit of flour

for dusting

5

ounces

sun-dried tomatoes

chopped finely

1/4

cup

parmesan cheese

grated

a very large sprig fresh rosemary

or 2 smaller ones, leaves shredded off & finely chopped

black pepper

1

egg

lightly beaten
Instructions
Lay the pastry out on a well-floured board, then sprinkle evenly with the tomatoes, parmesan, rosemary & plenty of pepper.

Carefully roll up both of the long sides of the pastry until they meet in the middle. Brush the area between the two parts of the roll with a little egg and push the two parts together so that they stick. Pop the whole roll into the fridge for at least half an hour (either pop it in on the board or if it won't fit in the fridge carefully side onto something smaller like a baking tray.) Meanwhile, heat the oven to 200C/390F.

Remove from the fridge and slice into roughly 1cm-slices with a big sharp knife. Carefully place the slices on a baking tray lined with non-stick baking paper. Reshape them a little if necessary, then brush the tops with the egg.

Bake for 10 to 15 minutes until the palmiers are puffed and golden. Cool slightly on the tray, then serve while still warm!
Notes
It doesn't really matter if your sheet of pastry is a little smaller or larger. Just adjust the amount of toppings you add accordingly.
Nutrition
Calories:
75
kcal
Carbohydrates:
7
g
Protein:
2
g
Fat:
4
g
Saturated Fat:
1
g
Cholesterol:
7
mg
Sodium:
56
mg
Potassium:
202
mg
Sugar:
2
g
Vitamin A:
65
IU
Vitamin C:
2.2
mg
Calcium:
20
mg
Iron:
0.8
mg

You can also find more from Scrummy Lane on Facebook, Pinterest, Twitter and Instagram and follow me on Bloglovin! Thanks so much for reading!
*This post may contain affiliate links which means that if you click on a link and make a purchase I get a small percentage of the amount you spend. At no extra cost to you, of course! Thank you!*