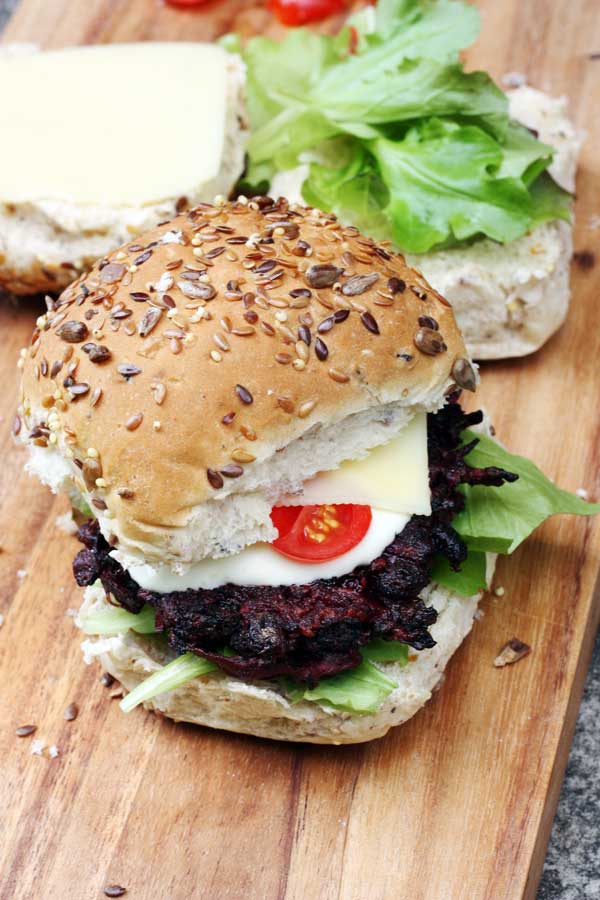 There is a chance, after reading this post, that you will never believe anything you read here again.
'Why ever not?' I hear you gasp. Well, you may remember this post, when I told you all about how Mr. Scrummy and I are settling down in England now. How I'm looking forward to reconnecting with family and friends, not being a 'foreigner' anymore and, most of all, having my own kitchen to run backwards and forwards in with pots and pans and make as much mess as I like.
Well hold the phone because we're flying to Australia for a few more months on Sunday. Oh-oh. The country walks and polite conversations about the weather and roaring fires in pubs will have to wait for yet a little while longer. OK, maybe I would have had to wait a few more months for the roaring fires, anyway.
So a few weeks ago we spent a week here hunting for a home to rent. We settled on a lovely apartment with a little balcony and a great view of Nottinghamshire from almost the highest point in the county and were just about to put down our deposit when a little voice (aka Mr. Scrummy) started to doubt whether the time was quite right (from the point of view of his business, mainly). I've well and truly got my head around the idea now, but at first my heart immediately sank. Right down to about the level of my feet, I'd say. Take heed all you single readers out there: this is what you get when you marry an Australian (wouldn't change it for the world, though, of course).
So I guess the point to take from all this is that life is an adventure. It's uncertain. You have to be willing to adapt with the winds of change and see the opportunities rather than the disappointments. Hmm. Well, this is what I'm trying to tell myself, anyhow. I've been trying to picture myself and Mr. Scrummy with a big smile on our faces jogging around that beautiful river 9,000 miles away in Perth, scoffing our potato wedges with sour cream and sweet chili sauce afterwards then meeting up with our friends and family. And for the most part it's working. Especially after I saw this:
Weather forecast for Perth, Australia
Weather forecast for Nottingham, England
Hmm. Anyone else think the Perth winter looks suspiciously like an English summer? Except possibly a bit warmer. Scary.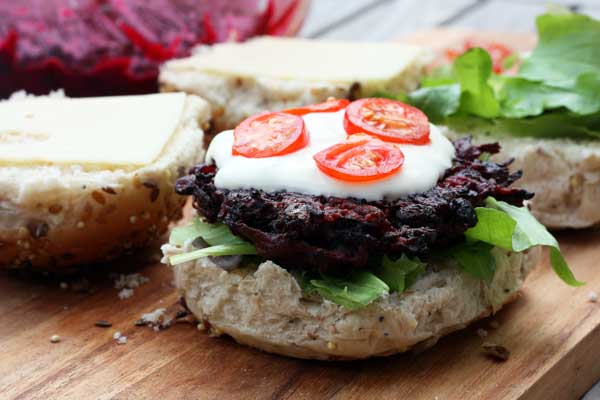 My point about 'adapting and seeing opportunities' was drummed home again, in a sense, while testing out these beetroot and black bean fritters. They were a bit of a labour of love, which you may remember me alluding to in my last post. My first attempt flopped, not spectacularly, but into a bit of a bore, quite frankly. So for my next attempt I made a few changes and … bingo! The fritters were somehow crunchy, sweet, textured, zingy & generally flavoursome all at the same time. The crunch came from the onion and grated beetroot on the fried edges, the zingy-ness from the chili of course, the sweetness was, I'm guessing, also from the beetroot and then there was the softer, slightly-chewy-around-the-edges black bean element as well. Delicious! From the moment I took my first 'test' bite, I knew that these 'destined-to-be-burgers' little patties could easily 'graduate' to become 'fritters' as well. Not only because it seemed a shame to hide that beautiful crispy sweet bite away in a big bready burger bun, but also because I thought 'spicy beetroot & black bean fritters two ways' sounded better as a post title than just plain old beetroot & black bean burger.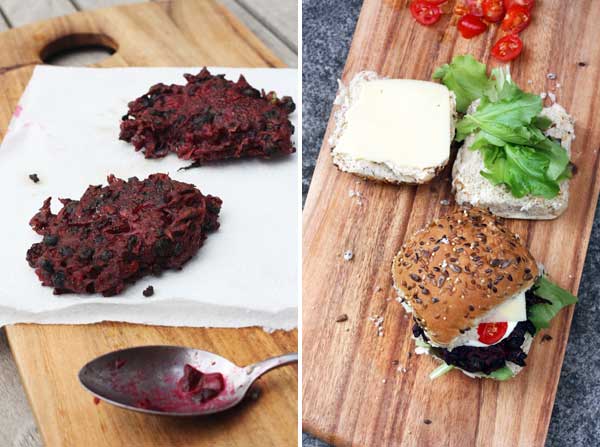 I think that there are a couple of keys to making these burgers/fritters a success. The first is to find some nice fresh raw beetroot and cook it yourself. Which at first I thought would be a pain. A messy pain. But actually, it wasn't so bad. All you have to do is chop off the beetroot leaves and boil them whole for about 15 minutes or until tender. You then let them cool and peel off the skins as best you can and grate them coarsely.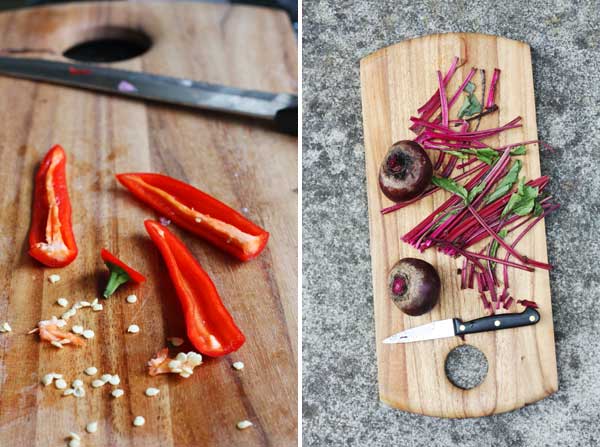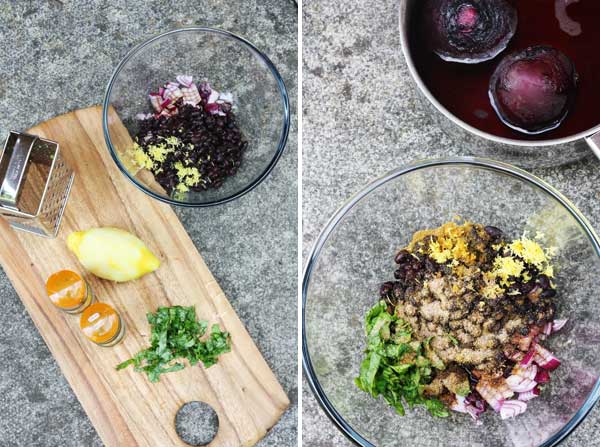 And guess who impatiently peeled and grated their beetroot while they were still far too hot so not only were the skins more difficult to peel off but they burnt their fingers a little, too? They also didn't wear any plastic gloves, so yes, they did end up with purple hands. Don't worry, though, they are not going to be flying to Australia with purple hands – they washed clean pretty easily!
Anyway, once you've got your grated beetroot, you squeeze it out into the sink a handful at a time to get most of the moisture out of it (hello even more purply hands). This squeezed-out beetroot goes into a big bowl with some black beans, chopped onion, cumin and coriander, basil, lemon zest, worcestershire sauce, an egg and a little flour, then you're ready to fry up your fritters!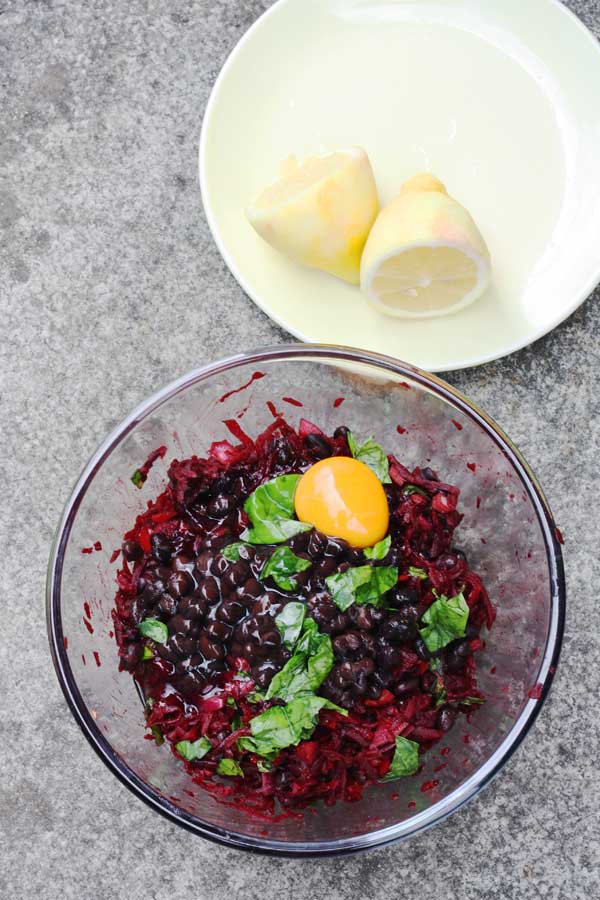 Don't try to shape this mixture in your hands. I found that the best way to do this was to drop tablespoons of the mixture into a thin layer of hot oil and flatten them slightly with the back of the spoon as they start sizzling away.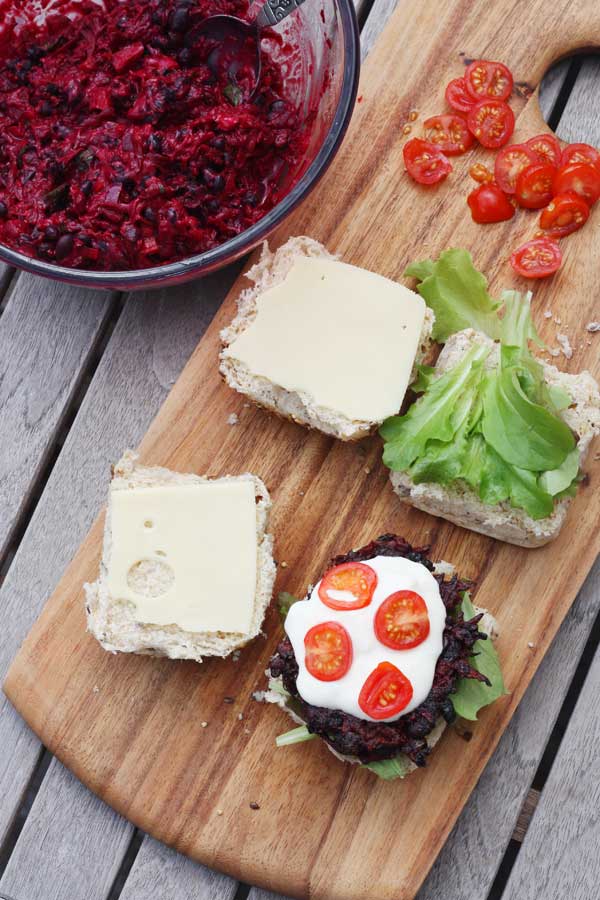 As you can see from my photos, the first time we ate these fritters (as burgers – is this getting a bit confusing?), I served them in a wholemeal burger bun with lettuce, tomatoes, cheese, and a big spoonful of sour cream. Big piggies that we are, we then ate a little more of the mixture as slightly smaller fritters, dipped into sour cream, as so:
The next day, as there were still some leftovers (honestly, they seem to just go on and on …) I fried some more little fritters up and served them alongside some curry, which worked surprisingly well. The fritters tasted almost like slightly sweeter onion bhajis eaten in this way. Maybe I should have called this post spicy beetroot & black bean fritters three ways!
So I guess the moral of this recipe is that I adapted my 'plans' for it as I went along and it turned out great in the end. Likewise, I might be having to wait a little while longer to get settled in my home country, but maybe the end story will turn out better this way. For the moment, I just have to go with the flow. But however you look at it, I reckon I don't really have any grounds to complain.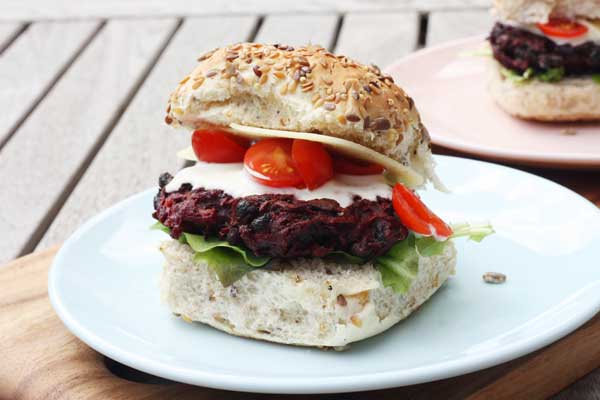 Spicy beetroot & black bean fritters two ways
Delightfully sweet, crispy, spicy & generally flavoursome fritters made of grated fresh beetroot and black beans. Serve them in a burger bun for one of the most satisfying veggie burgers you've had, or as proper 'fritters' with a sour cream dip.
Ingredients (UK/Australia? Click below for grams/ml)
9

ounces

raw beetroot

I used 2 small/medium-sized ones

14

ounces

cooked black beans

about 1 can, drained

1

small to medium onion

chopped

1

tablespoon

chopped fresh basil

grated zest of half a lemon

1

teaspoon

ground cumin

1

teaspoon

ground coriander

1

red or green chilli

finely chopped

2

tablespoons

Worcestershire Sauce

1/4

teaspoon

each of salt & black pepper

1

small egg

2

tablespoons

flour

normal or gluten free

oil for cooking

enough to cover the bottom of a wide skillet/frying pan

burger buns

lettuce, cheese, tomato & sour cream to serve (or just sour cream & perhaps salad leaves if you're serving as smaller fritters)
Instructions
Chop the leaves off the beetroot, then boil the beets for about 15 minutes or until tender. Drain and leave to cool, then peel and grate coarsely. Squeeze out as much of the water as you can by grabbing handfuls and squeezing over the sink. Put the squeezed-out beetroot in a large bowl.

Add all of the other ingredients to the bowl and mix well.

Pour a good layer of oil into a wide skillet/frying pan and heat it up until it starts to simmer. Then drop heaped tablespoons (for burgers) or heaped teaspoons (for smaller fritters) of mixture into the pan and flatten slightly with the back of the spoon. Cook them for a few minutes on each side until crispy and cooked through.

Serve in a toasted burger bun with lettuce, tomato & sour cream or as fritters with sour cream for dipping.
Notes
These fritters also go really well with a curry. They reminded me of onion bhajis!
Nutrition
Calories:
211
kcal
Carbohydrates:
38
g
Protein:
12
g
Fat:
1
g
Cholesterol:
40
mg
Sodium:
298
mg
Potassium:
728
mg
Fiber:
11
g
Sugar:
6
g
Vitamin A:
215
IU
Vitamin C:
22.4
mg
Calcium:
63
mg
Iron:
3.9
mg
I hope you enjoyed this post! You can subscribe to receive posts directly to your inbox by entering your email address in the box below or at the top of the sidebar on the right.
You can also find more from Scrummy Lane on Facebook, Pinterest, Twitter and Instagram and follow me on Bloglovin! Thanks so much for reading!
*This post contains affiliate links which means that if you click on a link and make a purchase I get a small percentage of the amount you spend. At no extra cost to you, of course! Thank you!*