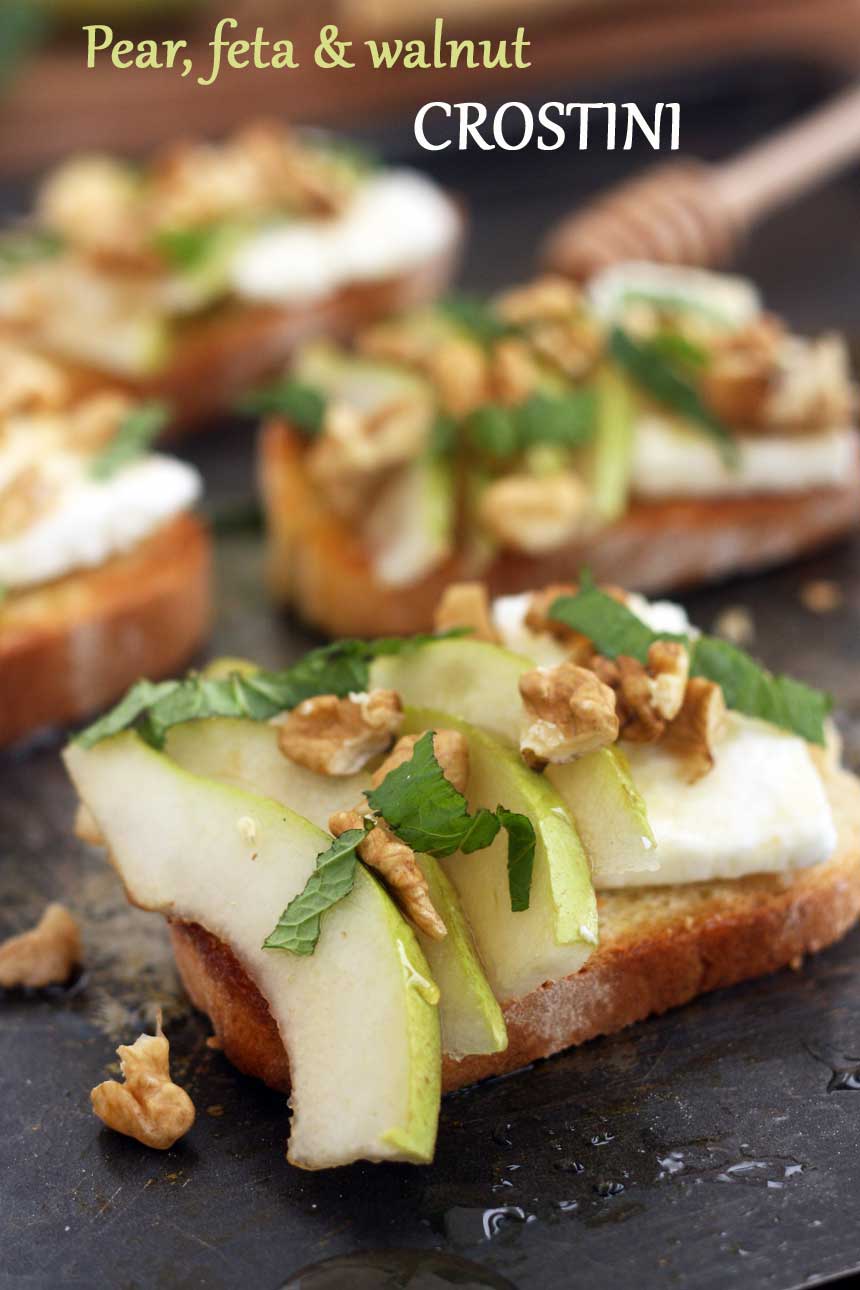 There is a distinct possibility that I will turn into a chunk of feta cheese before this week's out. Yes, my serious feta cheese addiction has grabbed ahold of me with a vengeance since Mr. Scrummy and I arrived in Greece for a little visit last week. It doesn't help that there are at least 10 varieties in even the smallest local supermarket and that you can buy big tubs of it for pretty much the same price as a tiddly little package back at home.
So what's a girl to do but try to find a way to channel her 'little problem' into something lovely for today's post? And this pear, feta & walnut crostini is what I came up with …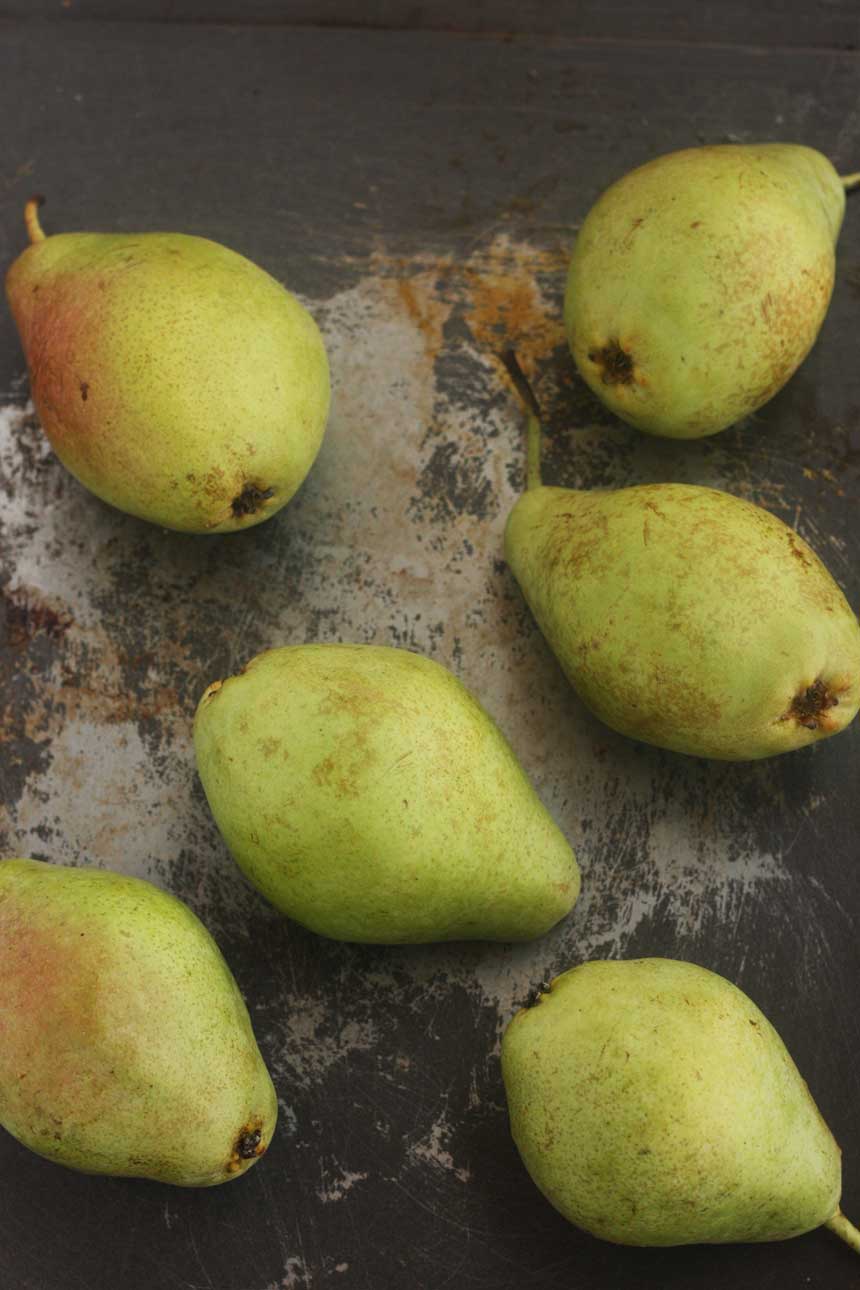 The inspiration for this, as for the roasted red pepper & eggplant dip in my last post, came from last week's local market trip. As well as scooping up piles of huge ripe tomatoes, peppers, cucumbers and olives for our daily (well, OK, twice daily) Greek salads, we also couldn't resist grabbing a few of these cute little rosy pears. The idea of using them for a topping on a crostini came to me as I took a look around our kitchen here and was reminded of the lack of baking dishes, equipment and appliances. I realised that I would probably have to keep what I make on the simpler side while we're over here … not that this is any kind of hardship! The fresh ingredients I picked up don't really need, after all, a whole lot doing to them to make them shine.
Feta cheese and fruit and feta cheese and honey are tried and tested combinations, so I was pretty sure that combining ripe slices of pear with feta cheese and honey would go down a treat! I've also seen walnuts thrown into a salad with pears and cheese before, so walnuts got added to my crostini, as well. As did a little touch of fresh mint which I thought would add a welcome hint of colour and 'oomph' to the final taste.
The resulting crostini made a very satisfying late morning snack for myself and Mr. Scrummy. Very satisfying indeed. Just imagine those juicy, ripe pears contrasting with the sourness of the cheese, the crunchy earthiness of the walnuts, the sweet hit of honey and the touch of freshness from the chopped mint leaves. Am I making you hungry for a little snack yet?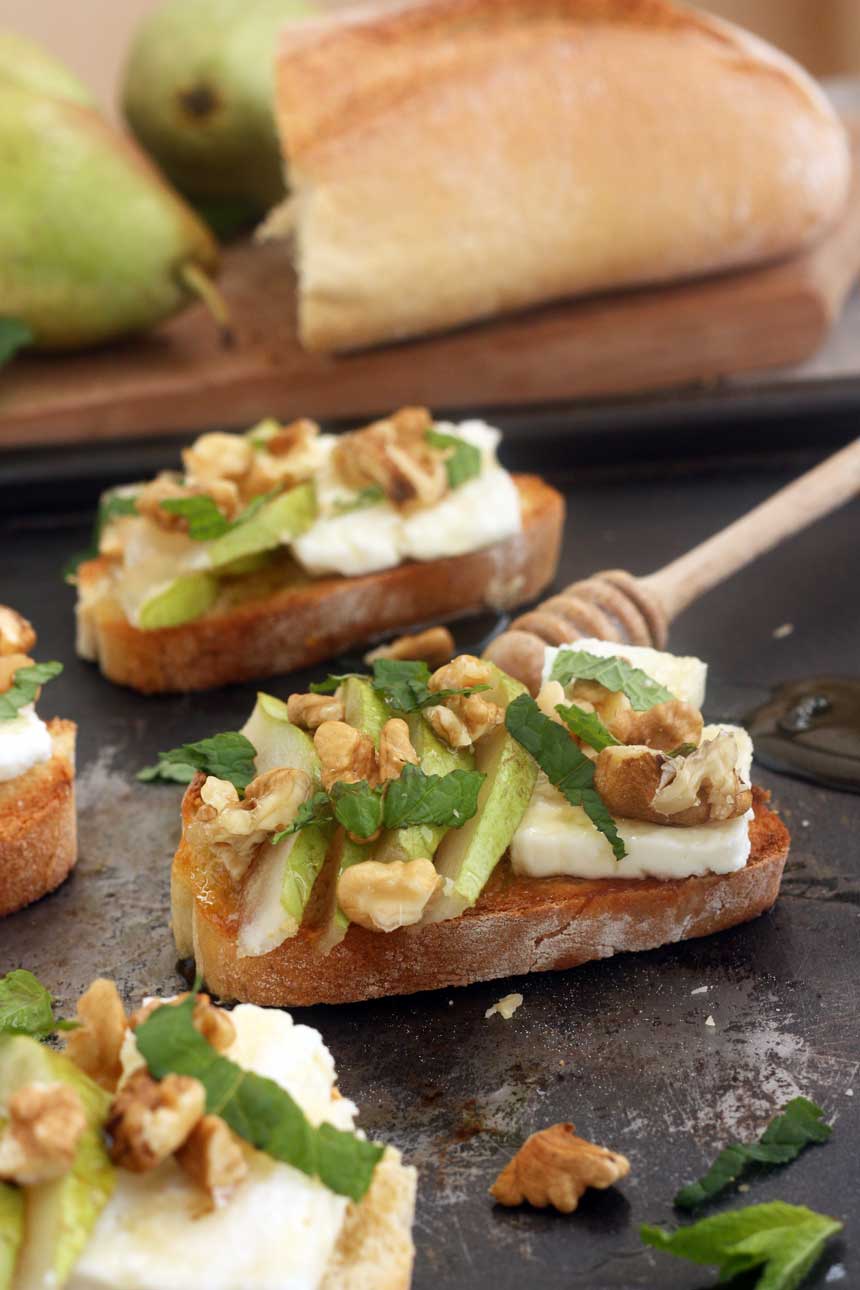 Before piling on my toppings, I prepared my crostini bread in the traditional Italian way (and who can argue with that?) by toasting it on both sides under the grill and then rubbing it briefly with a clove of garlic and drizzling it with good quality olive oil. Then all I did was lay a slice of feta and slices of pear on each piece of toast before drizzling with honey and scattering over walnut pieces and shredded bits of fresh mint. The crostini looked very pretty like this for serving, but to be honest when I ate it I ended up breaking up the slice of feta and scattering it all over the crostini rather than keeping it at one end. If you prefer the sound of getting a bit of everything in each bite, then simply crumble up your feta and scatter your toppings a bit more haphazardly over the toast than you see in these pictures of mine.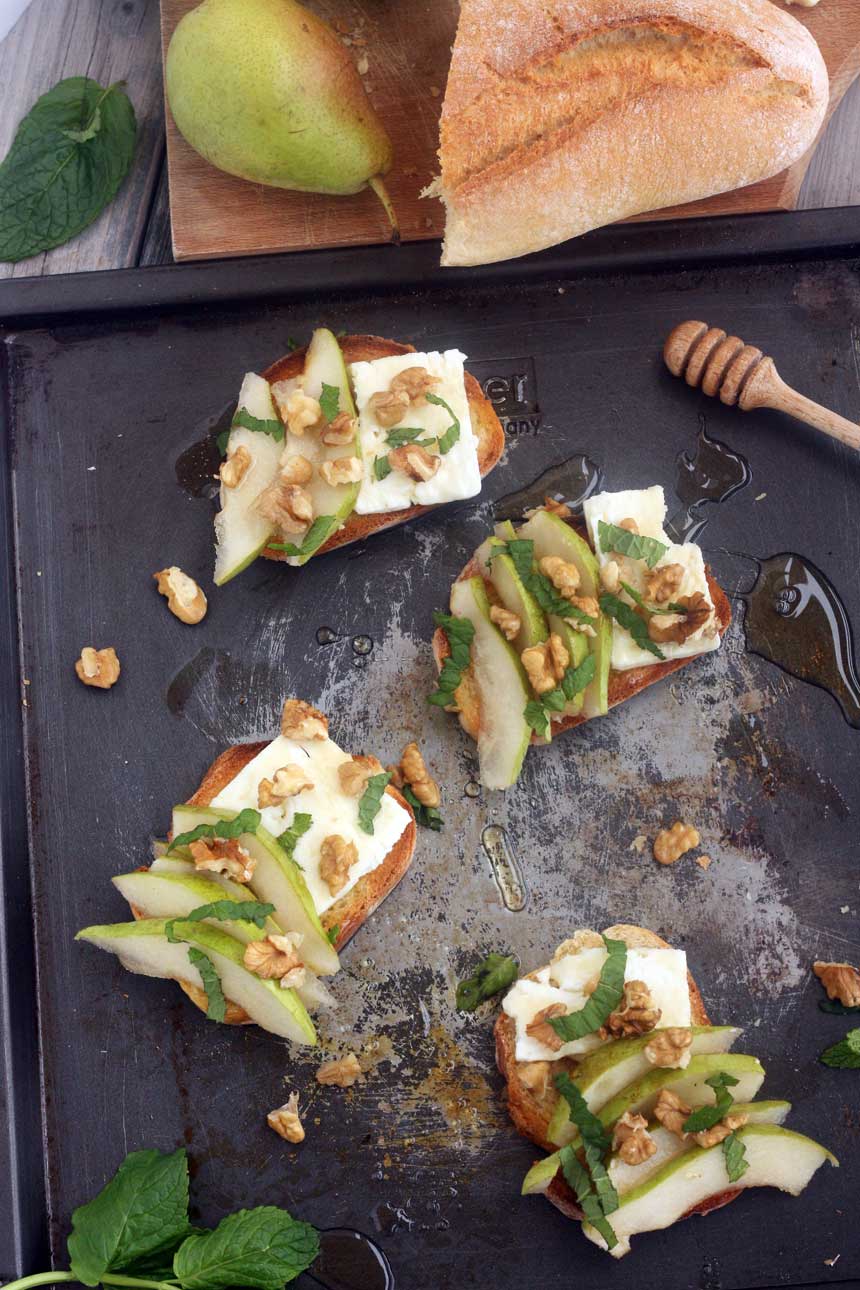 Mmm … divine. Honey is sometimes known as the food of the gods, but I'm going to stick my neck out here and say that this is the crostini of the gods! Enjoy!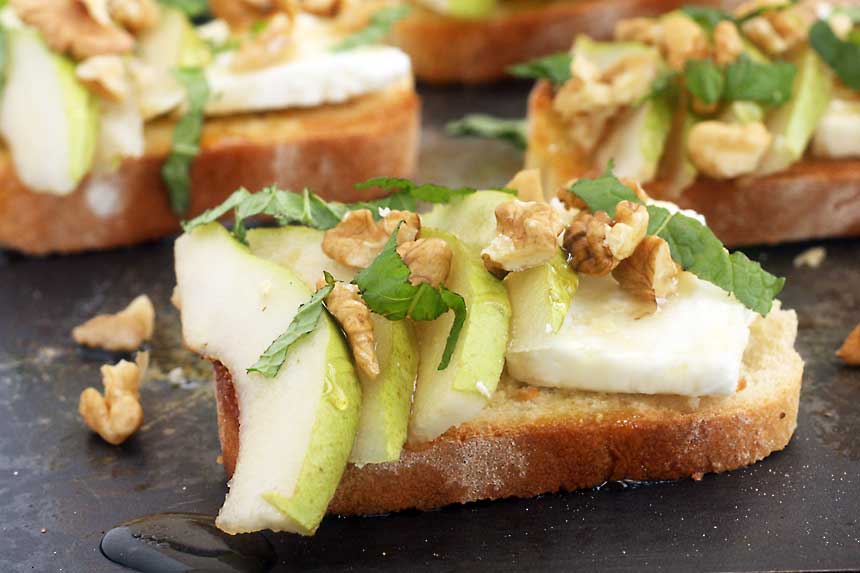 Pear, feta & walnut crostini
A traditional Italian crostini topped with pear slices, feta cheese, walnuts, honey and shreds of fresh mint. The sweet & savoury flavours balance each other out beautifully!
Ingredients (UK/Australia? Click below for grams/ml)
slices

of fresh crusty bread e.g. ciabatta

1

garlic clove

peeled and chopped in half

good quality extra virgin olive oil

thin -ish slices of feta cheese

1

or 2 pears

chopped in half, cored and sliced into thin slices

honey to drizzle

walnuts

broken roughly into pieces

fresh mint

chopped into thin shreds
Instructions
Toast the bread on both sides under a grill. Then rub over briefly with the cut side of the garlic and drizzle with the olive oil.

Now top each piece of toast with a slice of feta and 4 or 5 of the pear slices. Drizzle with honey, then scatter over the walnut pieces and mint. Serve while the toast is still warm.
Notes
Rub the pear slices with the cut side of half a lemon to keep them from going brown.
Nutrition
Calories:
26
kcal
Carbohydrates:
7
g
Potassium:
51
mg
Fiber:
1
g
Sugar:
4
g
Vitamin C:
2.1
mg
Calcium:
4
mg
Iron:
0.1
mg
I hope you enjoyed this post! You can subscribe to receive posts directly to your inbox (for free, of course!) by clicking here or entering your email address into the box at the top of the sidebar on the right.
You can also find more from Scrummy Lane on Facebook, Pinterest, Twitter and Instagram and follow me on Bloglovin! Thanks so much for reading!
*This post may contain affiliate links which means that if you click on a link and make a purchase I get a small percentage of the amount you spend. At no extra cost to you, of course! Thank you!*