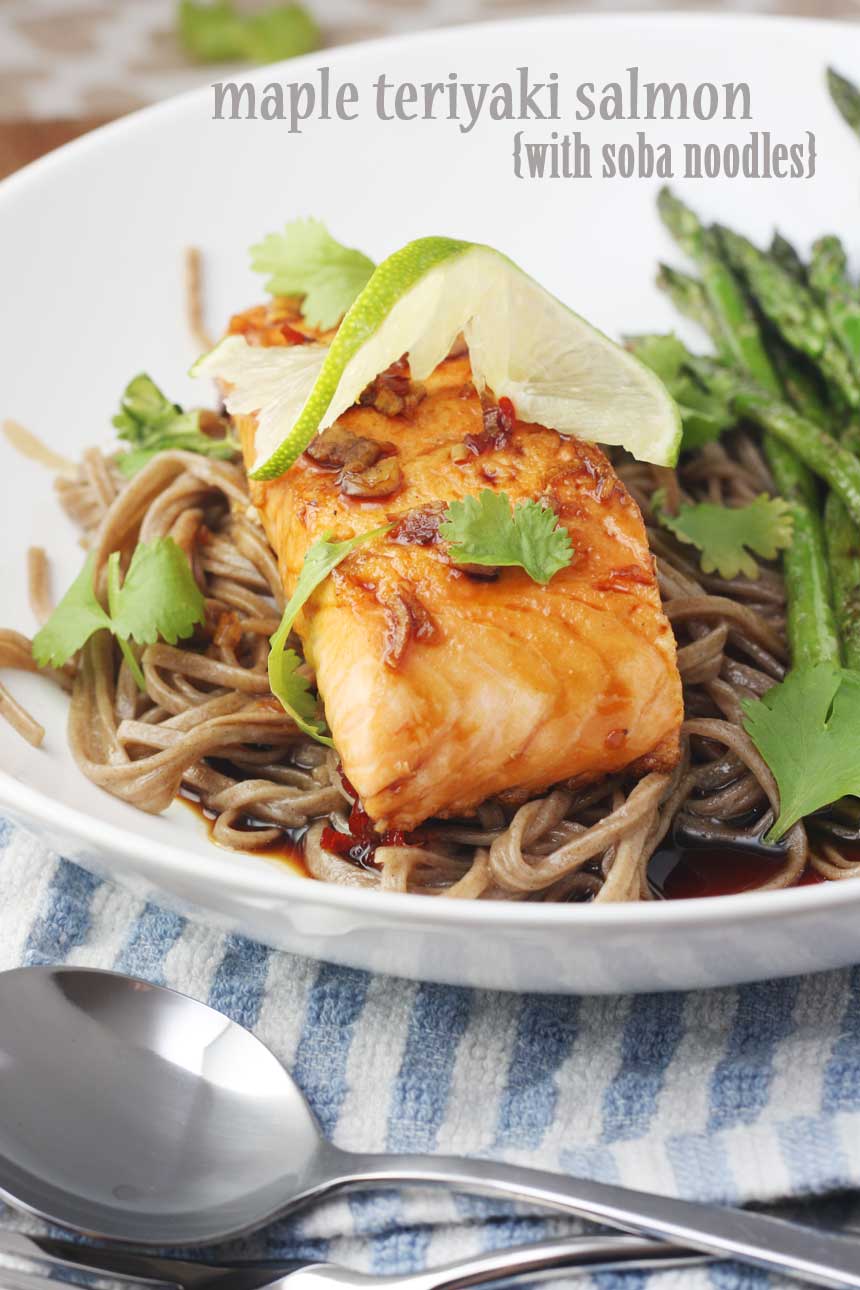 You may be surprised to hear this from a food blogger, but as much as I like cooking and eating, I'm not always the most enthusiastic dinner party host. I like the thought of them in theory, and enjoy the socialising part, but in practice I always find them just a little bit stressful. I mean, before your guests even arrive there's the recipe planning, the shopping and the preparation of at least two courses. Then how do you juggle welcoming your guests, getting them drinks and being the perfect host while also getting that meal on the table? Chatting with my guests while cooking gets me even more flustered. I'm usually a pretty good multi-tasker but put guests and a recipe in front of me at the same time and mild panic starts rising!
Despite this, when I was sharing an apartment in Greece with a really good friend (who was 'ever so slightly flappable' on such occasions, just like me … what a pair!) we 'discovered' a recipe that helped us to relax when entertaining because it was such a cinch to make and never failed to impress. While I don't remember the exact ingredients, it was very similar to this maple teriyaki salmon with soba noodles that I've made a few times over the last couple of weeks. All you need is a couple of pieces of fresh best-quality salmon, fresh ginger and garlic, 1 fresh chili, soy sauce, maple syrup, mirin (Japanese rice wine), sesame oil, lime juice and coriander. Oh, and some soba noodles, of course.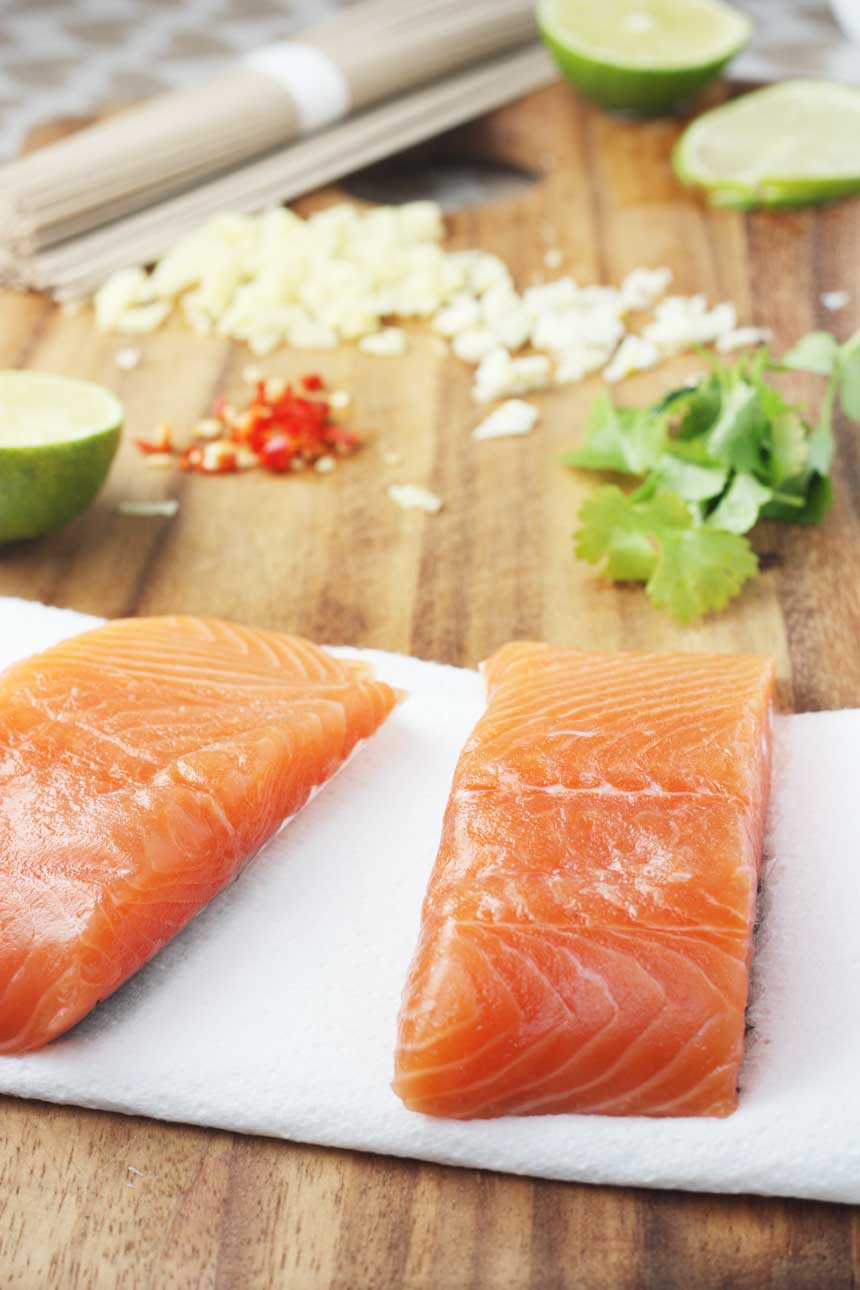 This is definitely that kind of dish that ends up seeming as if you've spent hours and hours slaving over it, but in reality, once you've chopped up your ginger, garlic and chili, it comes together in what feels like moments. I would even go as far as to say that it's pretty fool proof. So long as you don't overcook the salmon, which you won't if you stick to the suggested cooking times.
For me, this is pretty much a perfect mid-week meal. Not just because it's easy, but … THE TASTE! It's sweet (from the syrup), zingy and refreshing (from the chili, ginger, garlic & wine), classic Asian (from the soy), nutty (from the sesame oil) and tangy (from the lime). It also feels sort of 'clean', if that makes sense – the flavours aren't too complex but there's just enough 'ooomph' in the dish to make you want to make it again and again.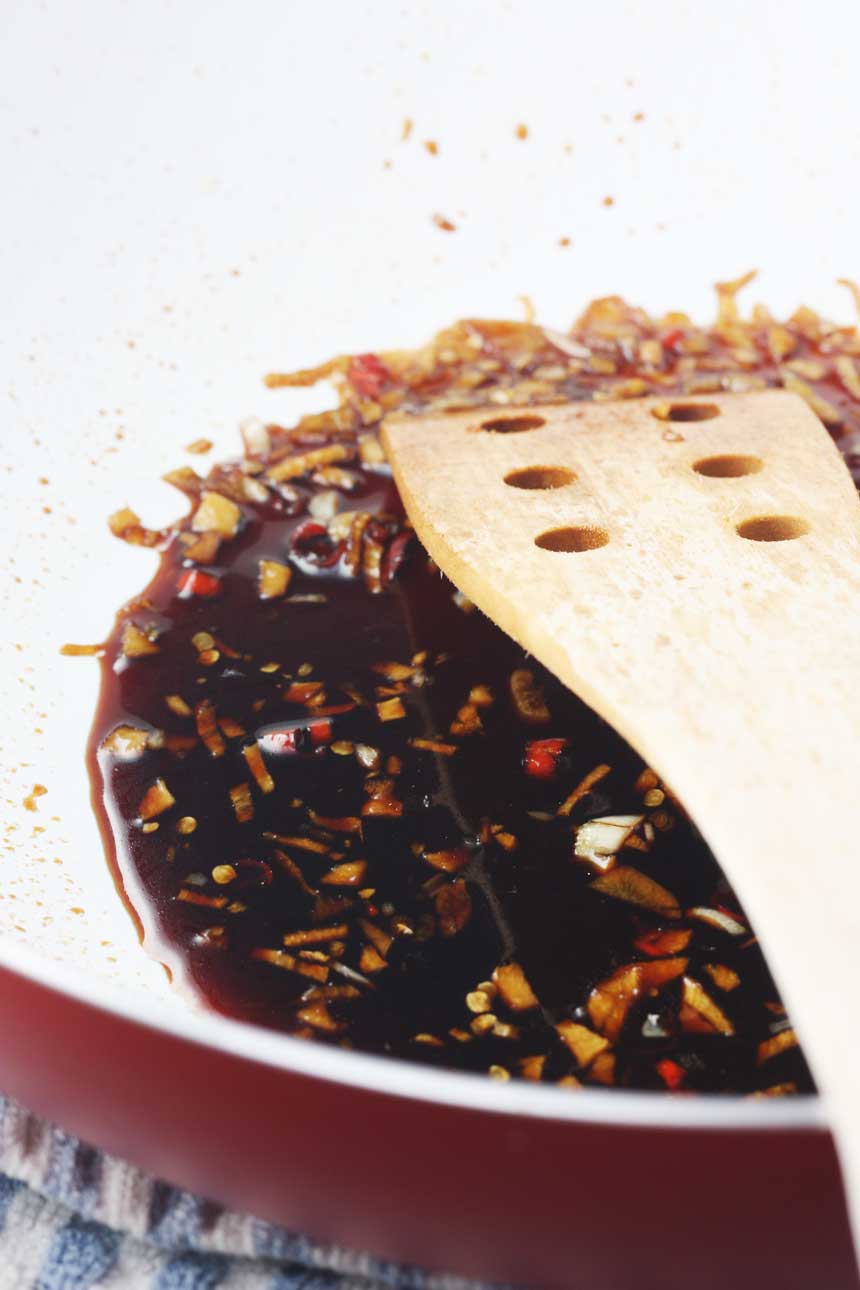 There, did I sell this to you yet? If not, then maybe raving on about the soba noodles will do it for you. Don't worry, I won't rave on too much, but I will say that these beige spaghetti-like noodles are made from healthy buckwheat flour and have a beautiful nutty 'bite' to them that I really like. Apparently, too, they contain antioxidants and all 8 essential amino acids and are easy to digest. Oh, and they're often gluten free, too (just check the packet to be sure if this is important for you). So … eat more soba noodles!
The only challenge to this dish is preparing everything at the same time. I found that slightly tricky the first time I made it but the next time I felt like I'd got it nailed, so I'm sure you will, too. Just start cooking the sauce, noodles and salmon at around the same time and everything will be fine. You can also safely leave the salmon basking in the sauce for a few minutes (off the heat) while you get the noodles and plates all ready to be served.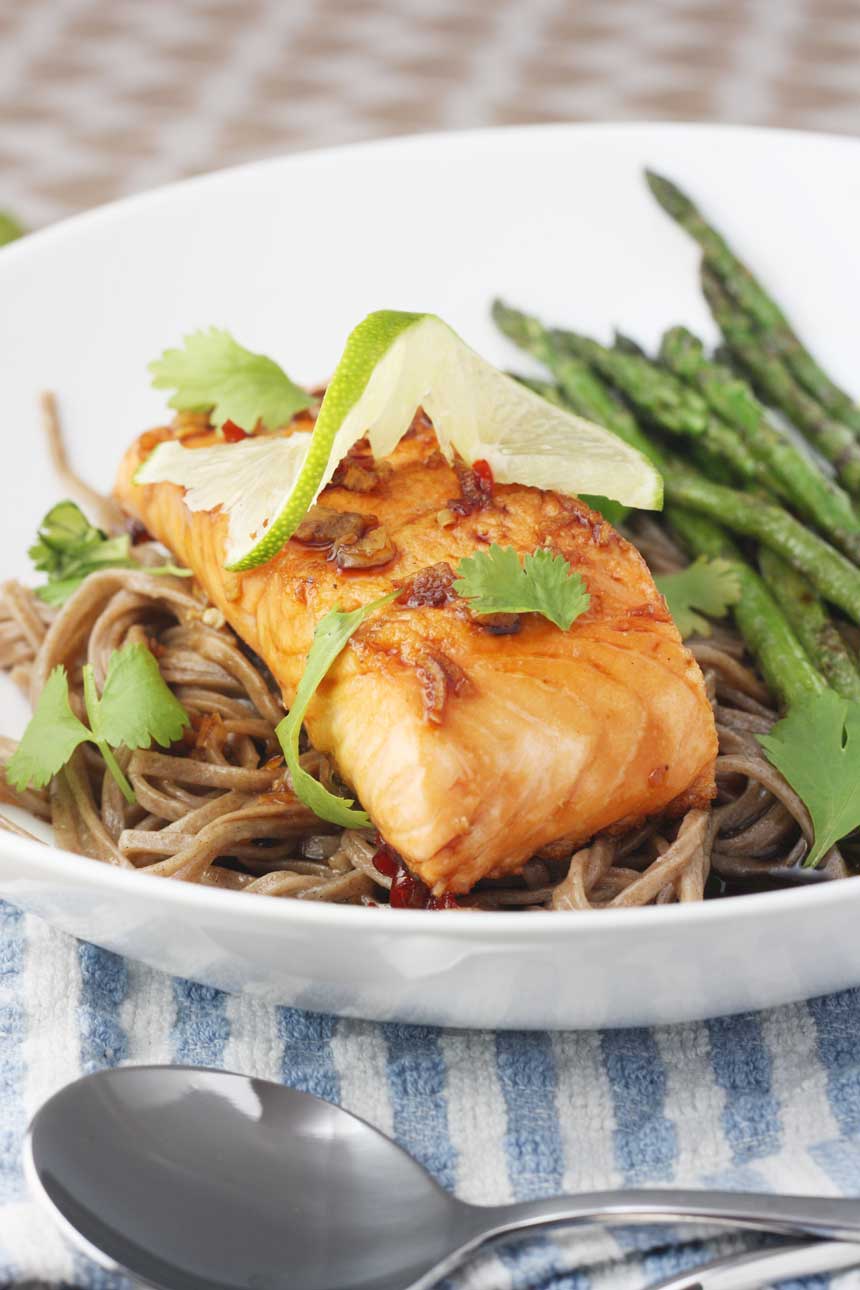 Now, just because I want to help myself to stop being such a stress-ball when I have guests over, here are a few simple tips …
1 Choose a one-pot, crockpot or make-ahead dish to avoid driving yourself crazy with flipping, checking, stirring and general fussing after your guests have arrived (this dish doesn't fit into that category, of course, but as it's so simple we'll let it off!)
2 Make a little extra food than you think you need, and then you won't flip out at a last-minute unexpected addiction to your guest list.
3 Do some prep a day or two before the party e.g. chop those veggies, make that dessert & set that table!
4 Take a few shortcuts like buying pre-made pastry for your tart or picking up some beautiful sweet treats from your local cake shop. Every little smidgen of your meal doesn't need to be Pinterest-perfect.
5 Delegate any last minute jobs. Get a friend to slice a lemon, serve the drinks or whisk the dressing and add it to the salad. Perhaps let them off doing the dishes, though. I'm not sure they'll accept another invitation to dinner if you do that!
6 Take a chill pill. This is probably the most important tip of all. Just relax, stay cheerful and don't take the whole thing (and yourself) too seriously. I mean, really, you want your guests to have a good time, but who cares if your cake sank in the middle a little or there was a slightly longer wait for the main course to be served? Anyone who does care isn't invited next time! 😉
So …. next time I have guests over to eat I'm going to be the perfect picture of untussled calm and serenity. Ahem (dream on, Helen).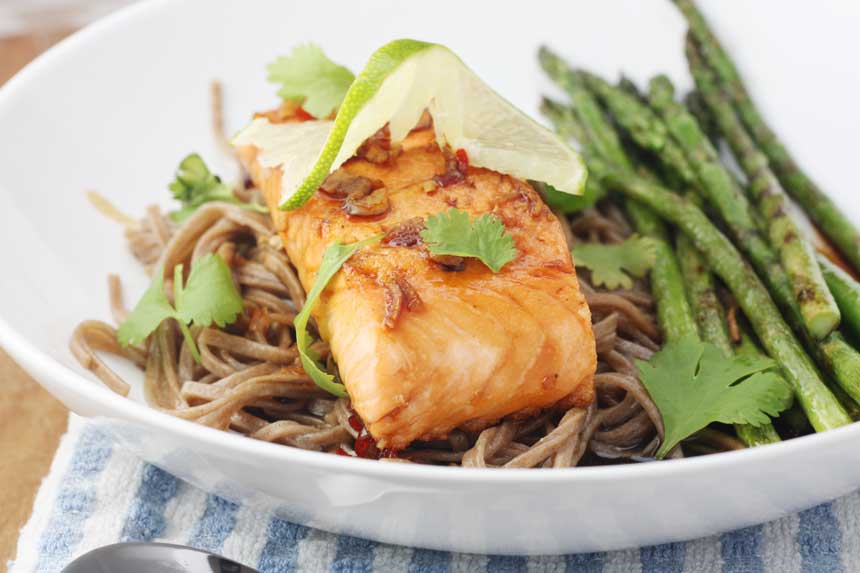 Maple teriyaki salmon with soba noodles
Pan-fried fresh salmon with a sweet and zingy maple teriyaki sauce served with healthy soba noodles. A perfect easy mid-week meal that comes together in next to no time.
Ingredients (UK/Australia? Click below for grams/ml)
vegetable or olive oil

for cooking

1

x 3cm or so chunk of fresh ginger

peeled and finely sliced or grated

1

large clove of garlic

finely sliced or crushed

1

small chili

very finely sliced (I used a red one, but any is fine)

2

fresh salmon fillets

4

tablespoons

soy sauce

2

tablespoons

maple syrup

1

tablespoon

mirin

Japanese rice wine

1

lime

5

ounces

soba noodles

1

tablespoon

sesame oil

a handful of fresh coriander

chopped
to serve on the side (optional)
Instructions
Put a pan of water on ready to boil for the noodles.

Heat up a little oil, then lightly pan-fry the ginger, garlic and chili together in a wok or deep-sided frying pan. After a couple of minutes or so, add the soy sauce, maple syrup, mirin and lime juice from half of the lime and let it bubble away and reduce.

Meanwhile, heat up a good drizzle of oil in a griddle pan or frying pan and pan-fry the salmon for a couple of minutes on each side or until just cooked through.

While the salmon is cooking, add the noodles to the boiling water and cook according to the packet instructions (they only take a few minutes).

Add the cooked salmon to the pan of sauce and spoon some of the 'bits' over it. Take it off the heat and put aside for a moment while you get everything else ready.

Drain the noodles, tip them back into the pan, then stir in the sesame oil and most of the coriander.

Share the noodles between two large bowls, carefully lift a piece of salmon onto the top of each and drizzle over the rest of the sauce. Squeeze over more lime juice to taste, then garnish with the reserved coriander. Serve immediately (something green like asparagus or green beans on the side is nice!)
Nutrition
Calories:
653
kcal
Carbohydrates:
78
g
Protein:
48
g
Fat:
18
g
Saturated Fat:
2
g
Cholesterol:
93
mg
Sodium:
2717
mg
Potassium:
1239
mg
Fiber:
1
g
Sugar:
16
g
Vitamin A:
280
IU
Vitamin C:
42.6
mg
Calcium:
85
mg
Iron:
4.6
mg
I hope you enjoyed this post! You can subscribe to receive posts directly to your inbox by entering your email address into the box at the top of the sidebar on the right.
You can also find more from Scrummy Lane on Facebook, Pinterest, Twitter and Instagram and follow me on Bloglovin! Thanks so much for reading!
*This post may contain affiliate links which means that if you click on a link and make a purchase I get a small percentage of the amount you spend. At no extra cost to you, of course! Thank you!*